These homemade Parker House Rolls are unbelievably soft and fluffy! A rich, buttery dough with potato flakes results in that cloud-like, puffy texture you love. The swirl of butter in the center of these dinner rolls makes them completely irresistible! You can even make this recipe ahead of time for Thanksgiving.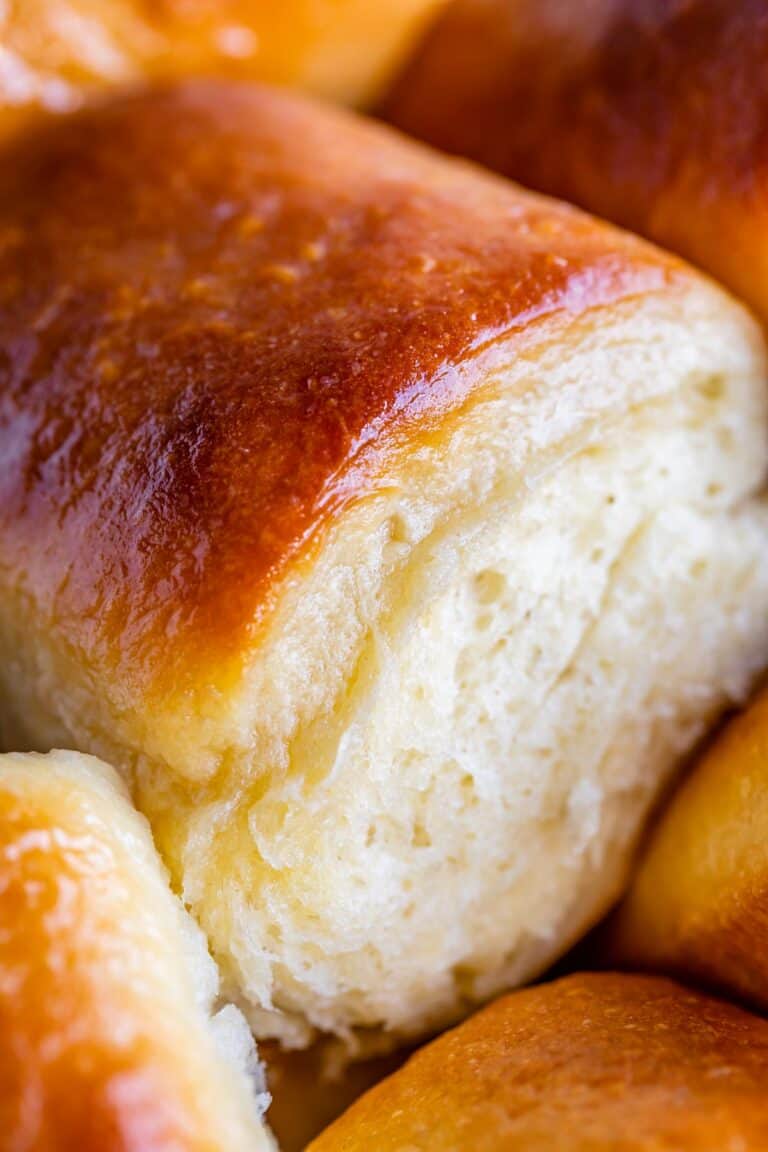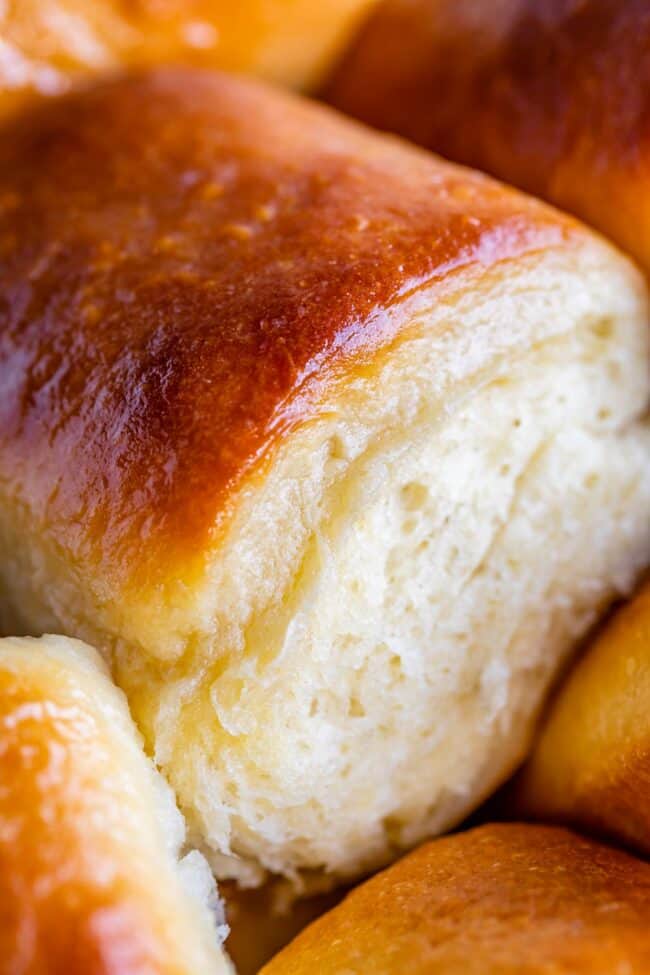 Eric decided to take the kids on a fun family bike ride yesterday. He's been building up to this trip for weeks: he got all the bikes fixed up, bought new helmets, attached the carrier-seat thing to his bike for Valentine to sit in.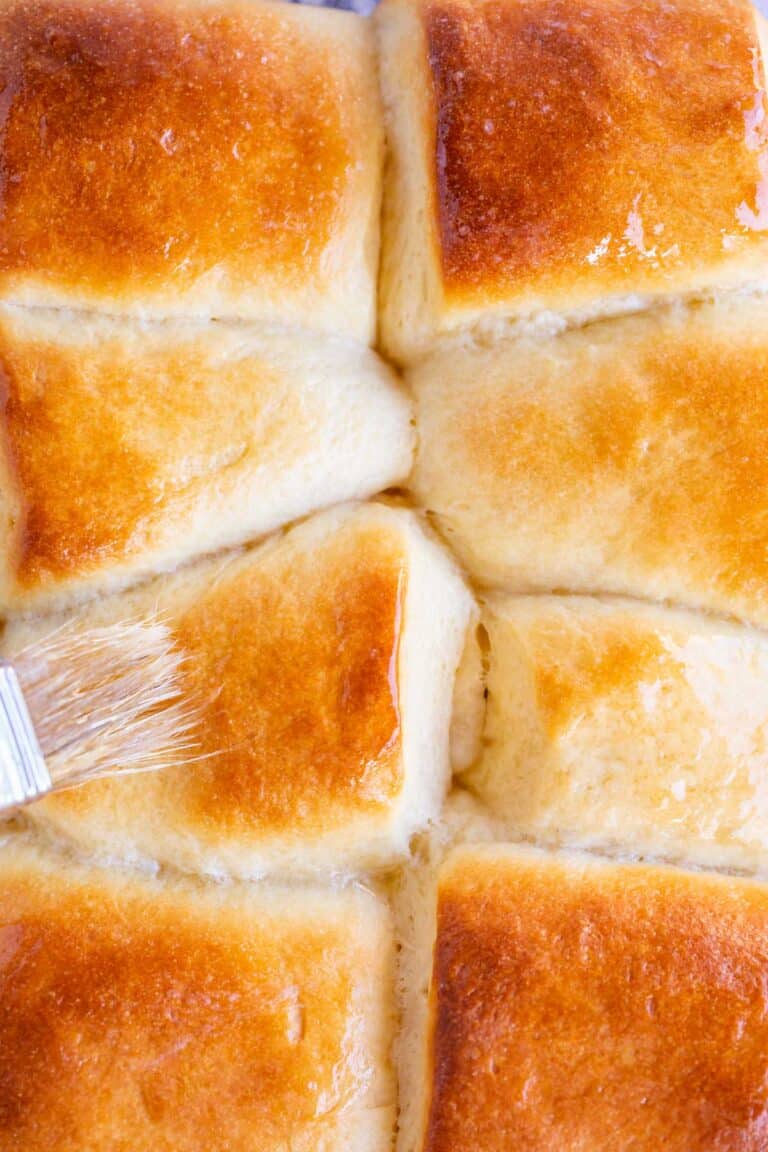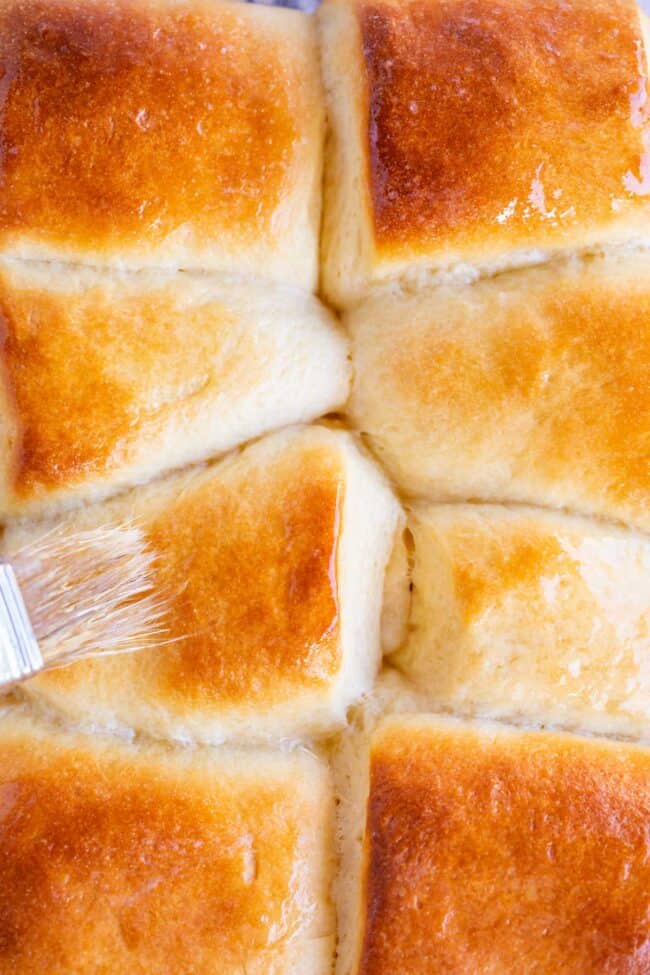 What he didn't count on was the epic melt down from one of the kids who decided they didn't WANT to go on a bike ride. This, after loading all the bikes in the car and driving to a pretty bike trail that's right by the river here in Sacramento.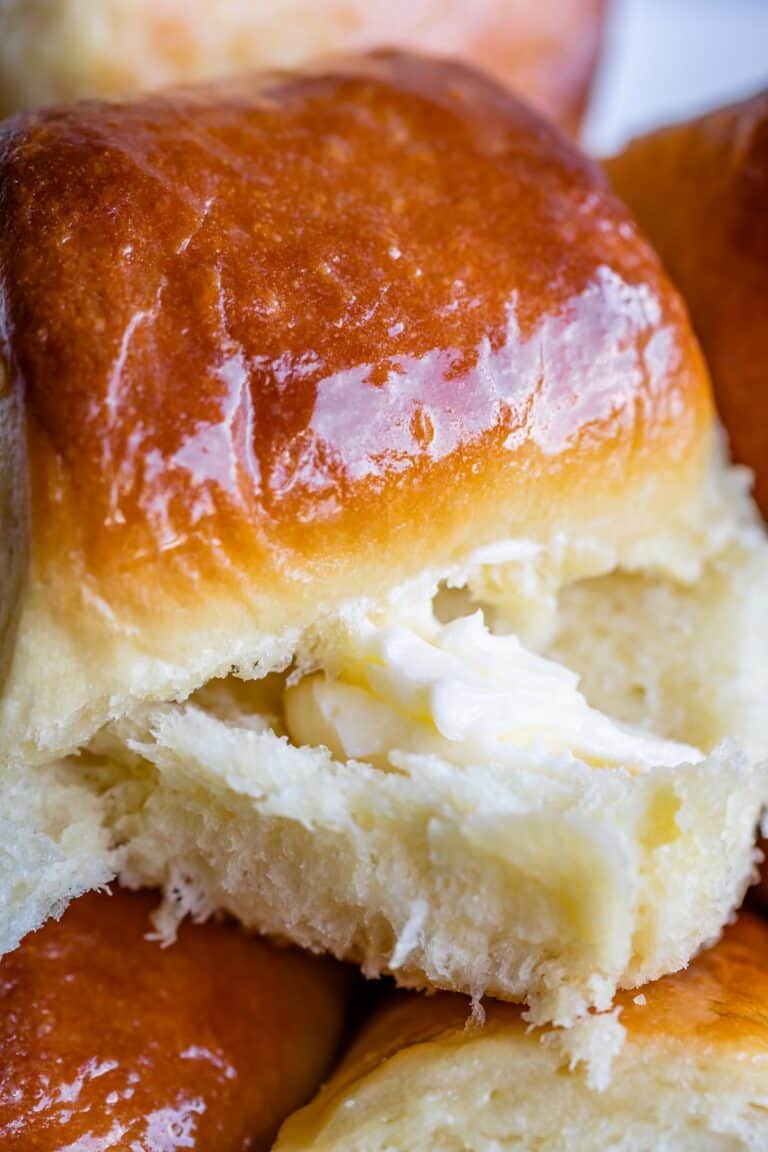 I felt a little guilty that instead of dealing with the screaming kids I was enjoying a nice diet root beer and my first cheesy Christmas movie of the season ("Most Wonderful Time of the Year" on Amazon Prime, featuring Henry Winkler! It was cute. Favorite quote: "You're doing Christmas wrong." And second favorite quote, during the climax as they race toward each other in the airport, "He's just the first person I've ever met who does Christmas RIGHT!" Sorry for giving away the ending, but you already knew it was coming, right? I'm such a sucker for these movies!)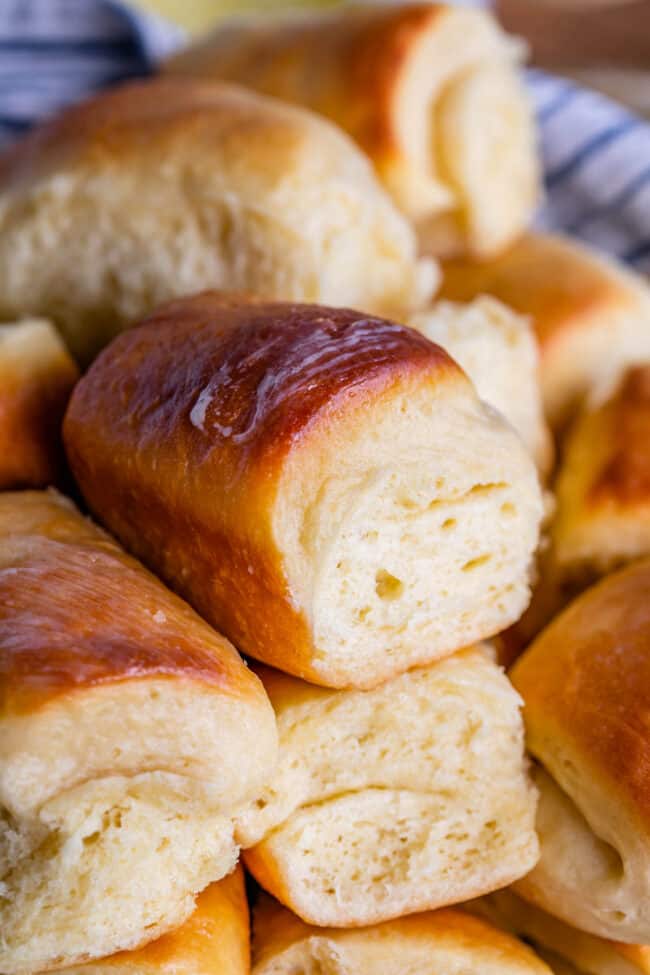 Don't worry, Christmas movies notwithstanding, I was on standby to come rescue the tantrum-thrower from death-by-parent. (Hey, we've all been there.) Good news, they kissed and made up in the end, and we finished the day with hot chocolate and Christmas cookies. File this one under "Super fun family activities that nearly ended in murder."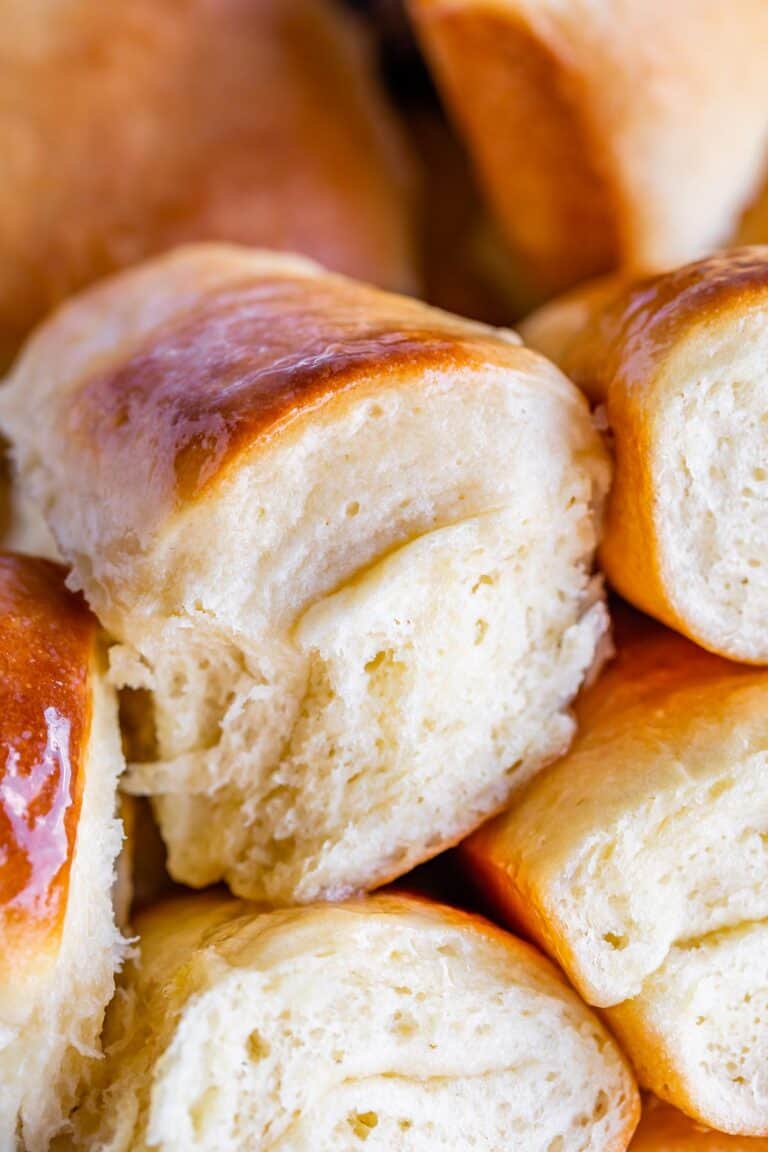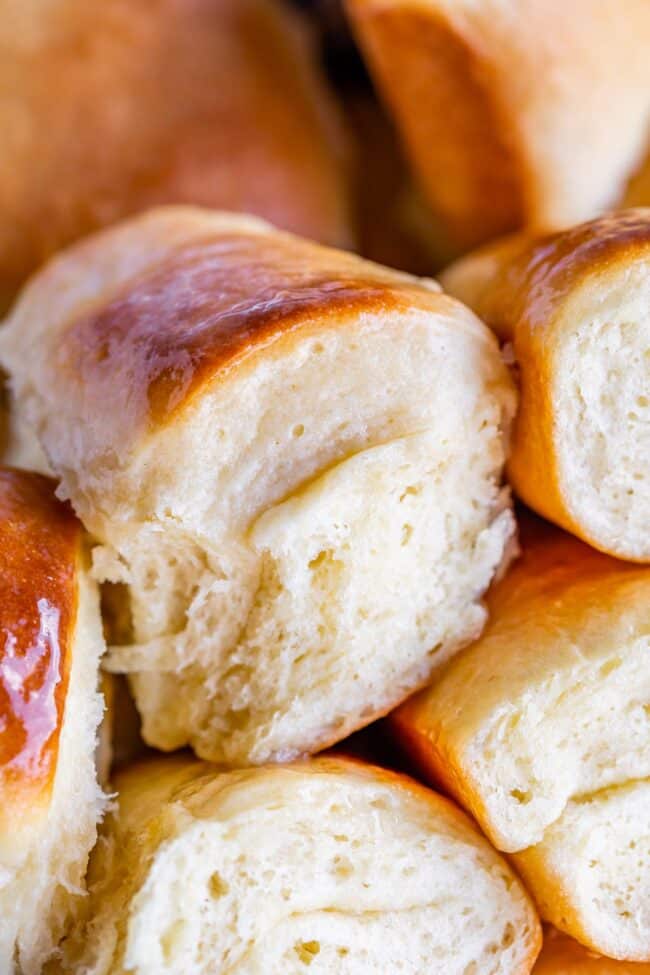 Who's ready for Thanksgiving recipes?? Have you started planning your menu yet? (Over the next two weeks I'm sending out emails with ALL my Thanksgiving recipes, be sure to subscribe to receive them!) Let's get started with these Parker House Rolls!
What are Parker House Rolls?
Parker House Rolls are a classic roll recipe from the 1800s! The old story goes that a baker at the Parker House Hotel in Boston got angry about something and threw the rolls in the oven unfinished. The original shape of the rolls is a circle of dough dipped in butter and folded in half.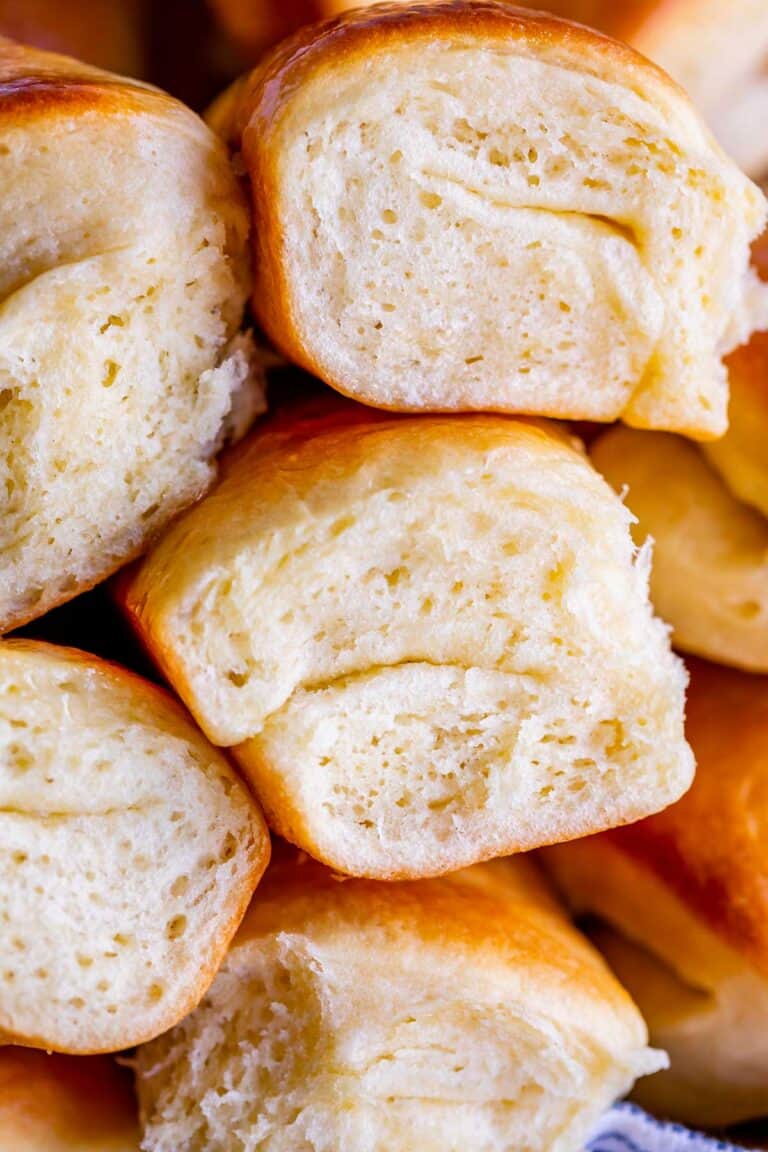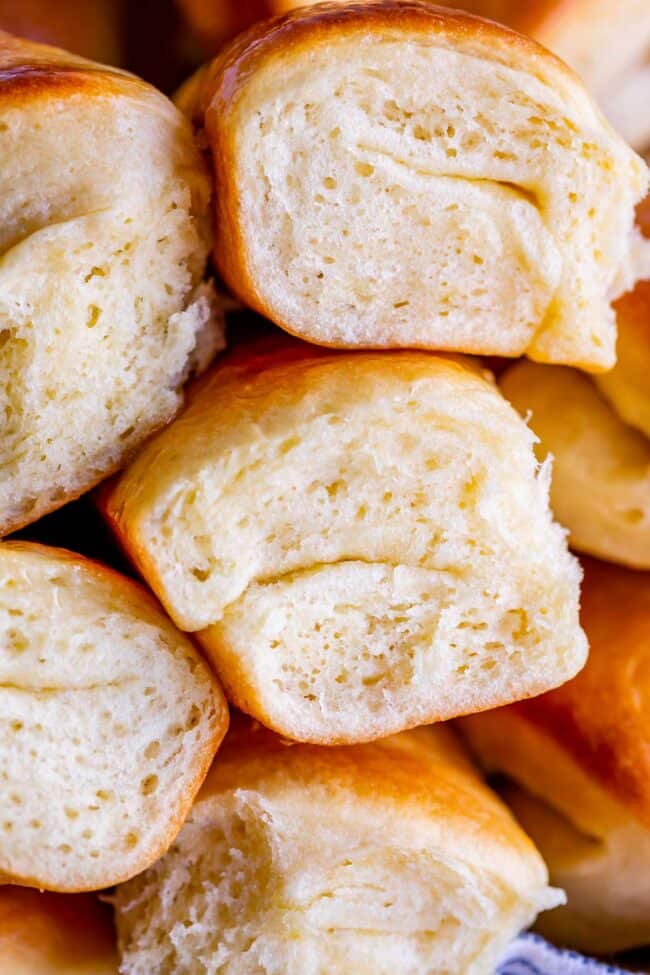 The magic of the Parker House Roll lies in the delicious butter-filled fold in the center. But we've improved on the original method over the years. The folded circle often results in a roll that is not super puffy and a bit too crispy on the edges (and that tends to unroll in the oven). Let me show you the modern way to make them that gives you that super tall, puffy roll, with a golden shiny top, and the perfect buttery swirl in the center.
How to make Parker House Rolls
I love the dough for these rolls. It is so easy to work with! And ridiculously flavorful, thanks to a few secret ingredients.


First we're starting out with some warm water, sugar, and active dry yeast. Let it get nice and bubbly!


Then add some warm milk, flour, both butter and shortening, more sugar, potato flakes, and an egg. I love using butter in my rolls because it adds tons of flavor. But I also love using shortening, because it makes your rolls SUPER soft and cloud-like and puffy. Butter has water in it and shortening is pure fat. Your rolls WILL be softer if you use shortening. Don't get me wrong, if you want to use all butter they will turn out totally fine! I love using both!


This recipe has potato flakes in it, which makes the dough a little shaggy at first (you can see on the left) before it starts to come together. I LOVE adding potato flakes to these Parker House rolls! It makes them so soft and puffy. You know how incredibly soft that sliced potato bread from the store is? It adds the same softness here. Just buy a box of instant potatoes, that's what I mean by potato flakes.


This dough gets thick REALLY fast. It's easy to add too much flour, so be very careful! For this recipe you want to add the LEAST amount of flour that you possibly can. We are using bread flour for this recipe. It has more protein than regular all-purpose flour, which gives you a nice chewy texture for your dinner roll. If you don't have bread flour, all purpose flour is a fine substitute.


Here it is after rising for an hour and punching down. Depending on the temperature in your house, you may need to let it rise more like 90 minutes. Then roll it out HALF the dough into an 8×12 inch rectangle. Use nonstick spray on your work surface, not flour! We don't want to add any extra flour to the dough!


Brush generously with butter. Generously I say! Then cut it in half the long way.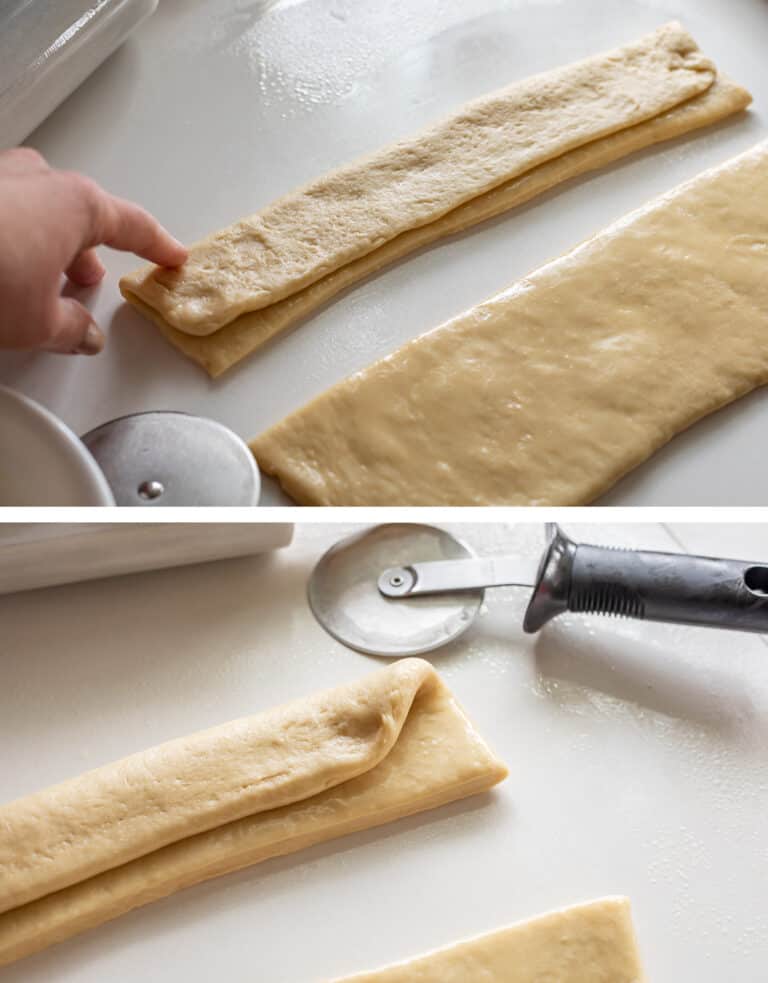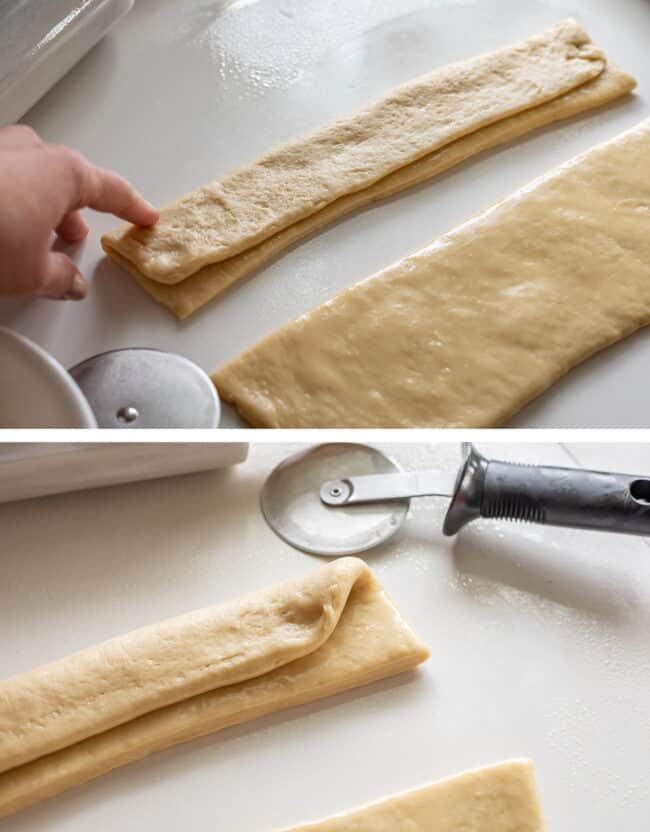 Fold each rectangle in half the long way, but leave about a half inch of the bottom layer hanging out. Stretch the dough as needed to make it line up.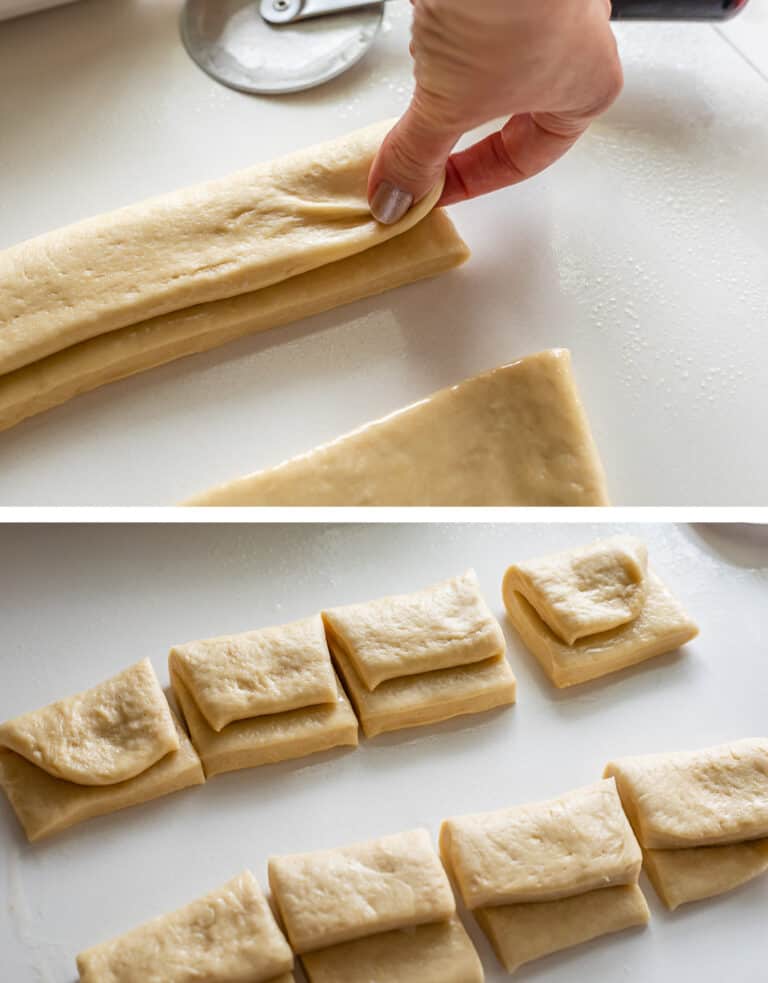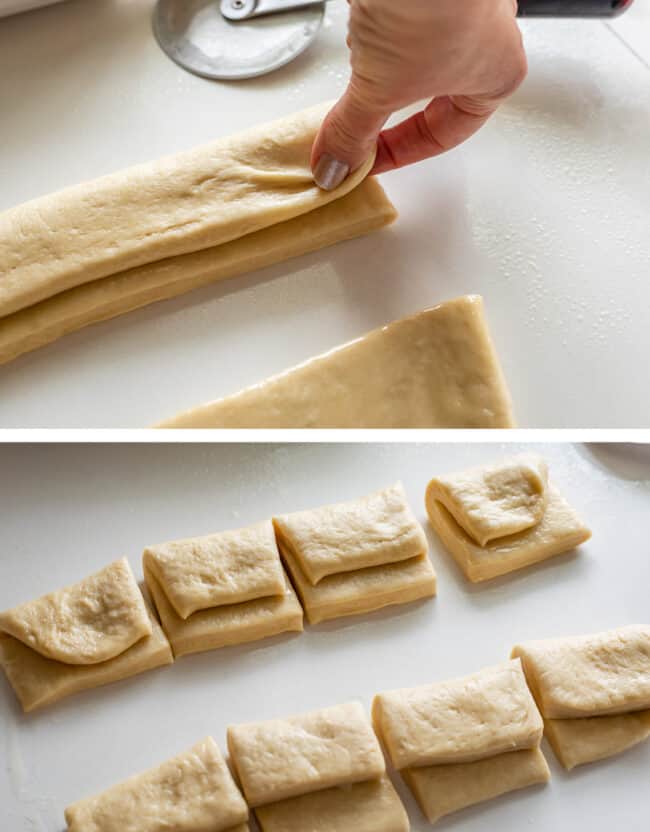 Then cut each folded strip into 4 pieces, for a total of 8 pieces. Each roll should be about 2 and 1/4 by 3 inches. Continue the process with the other half of the dough, for a total of 16 rolls.
Flip each roll over so that the short side of the fold is DOWN. Line them up in a greased pan. The longer edge of the shaped roll (which should be about 3 inches) should line up with the long side of the pan.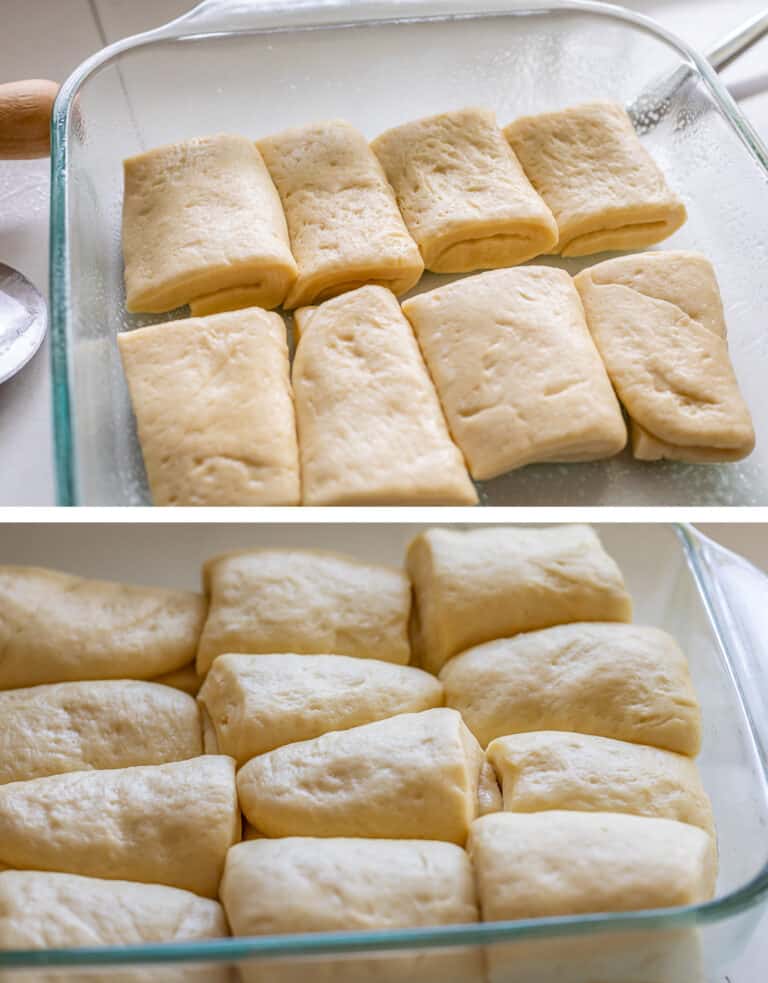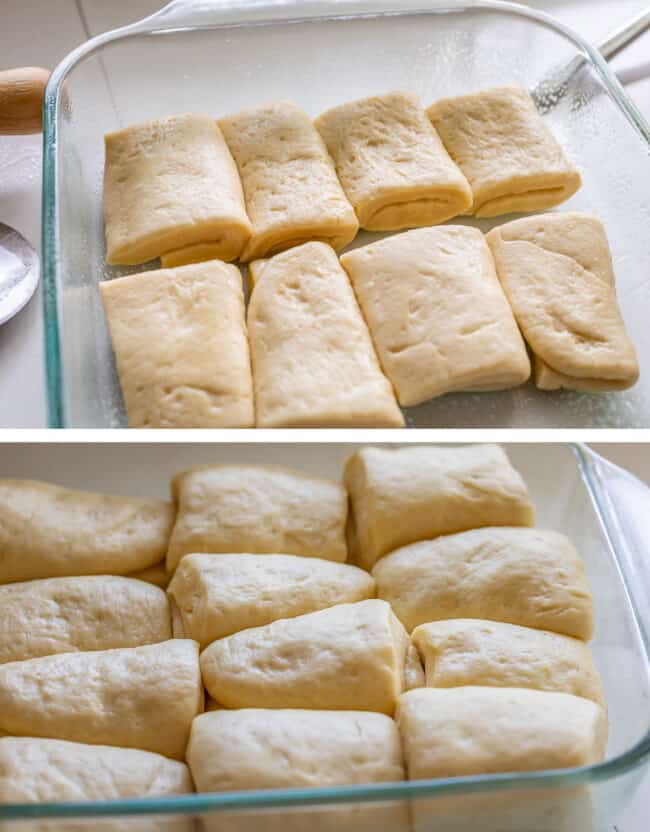 And here they are all risen! The second rise should take about 45 minutes to an hour. You want them to be puffy but it's okay if they are not quite doubled. I love to rise bread and rolls in an oven that has been just slightly warmed. See recipe notes for details!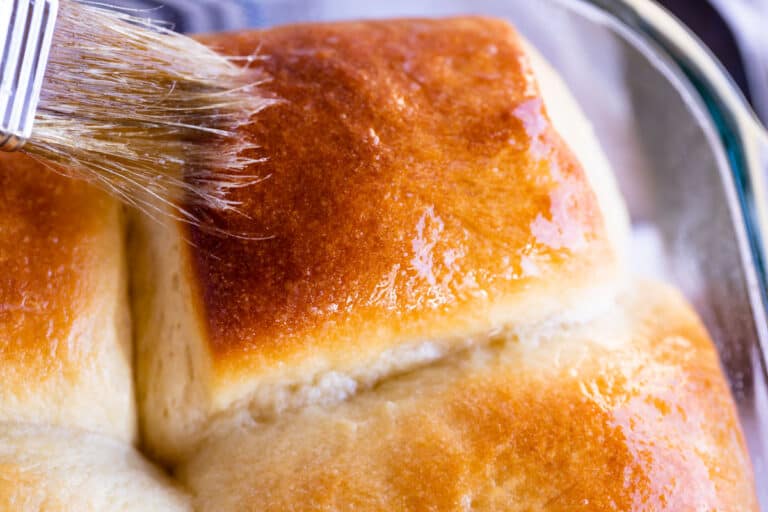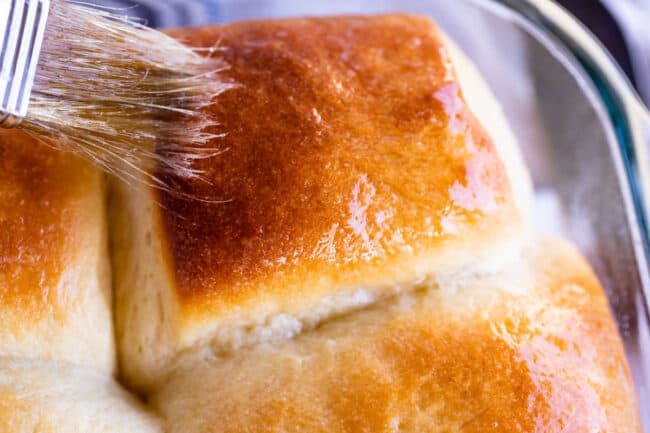 When the rolls come out of the oven, be sure to brush them with more melted butter! And for a really nice savory touch, sprinkle each roll with a bit of flaky sea salt. I forgot to do it but will definitely try it next time!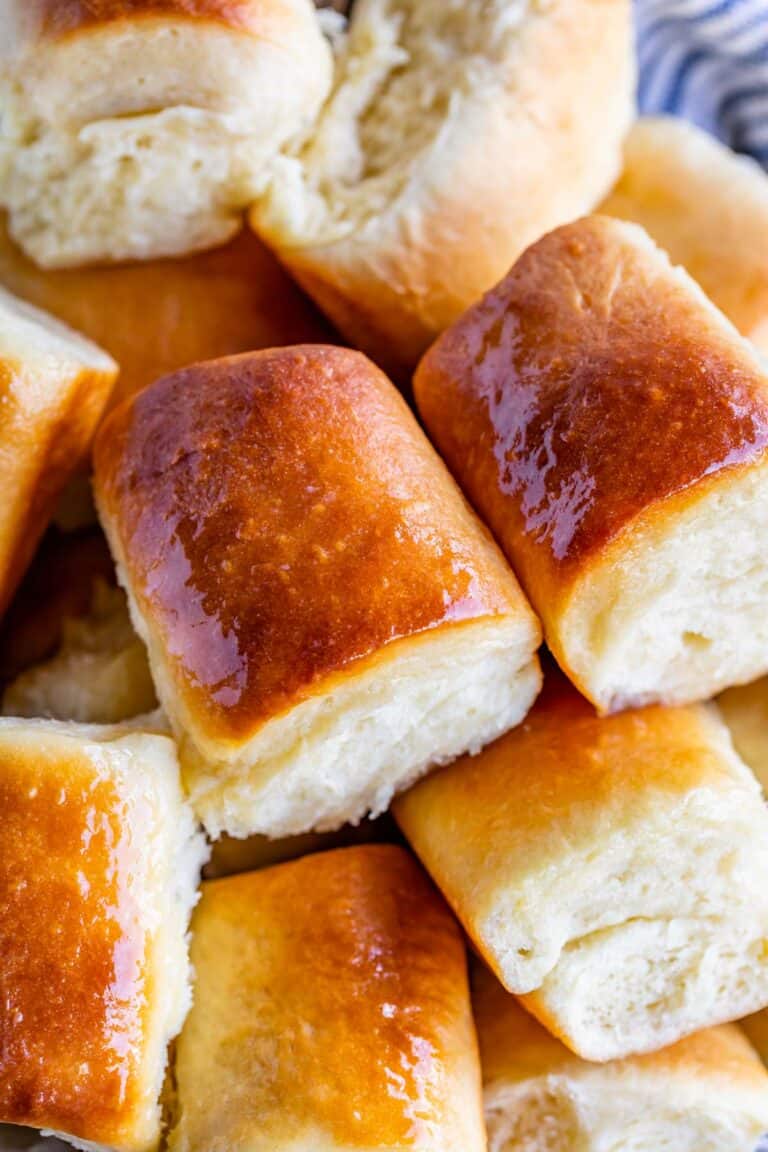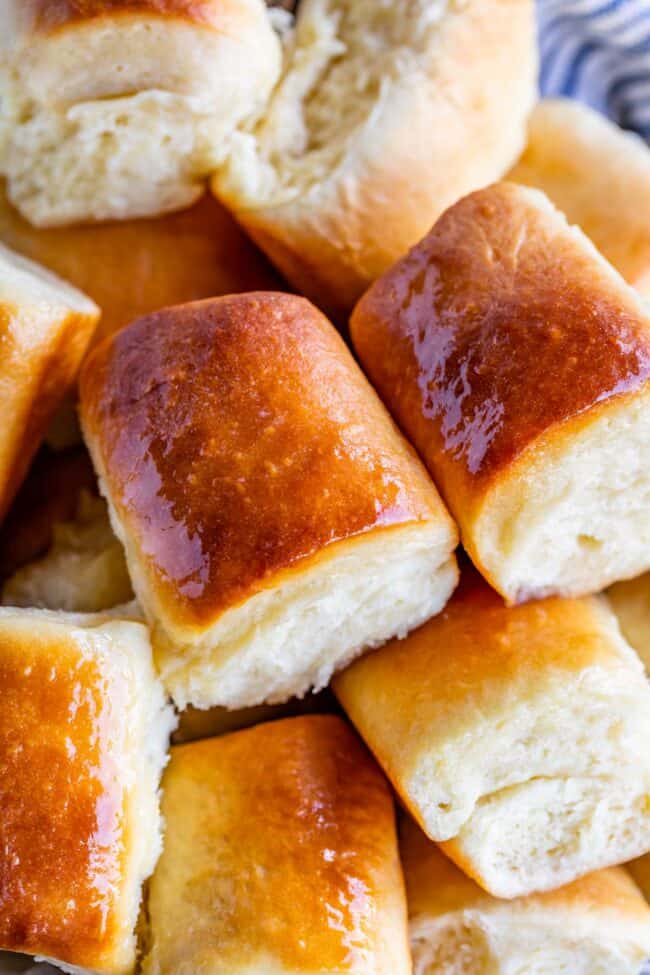 You could make these rolls TODAY if you wanted. Eat 5 of them over your kitchen sink with copious amounts of butter and jam, and then freeze the rest for your Thanksgiving meal! They freeze very well and you can reheat and brush with butter on Thanksgiving Day. Make them with this Cinnamon Honey Butter for a decadent treat. Yum!
Other dinner roll ideas for your Thanksgiving table!
Facebook | Pinterest | Instagram

Soft and Fluffy Parker House Rolls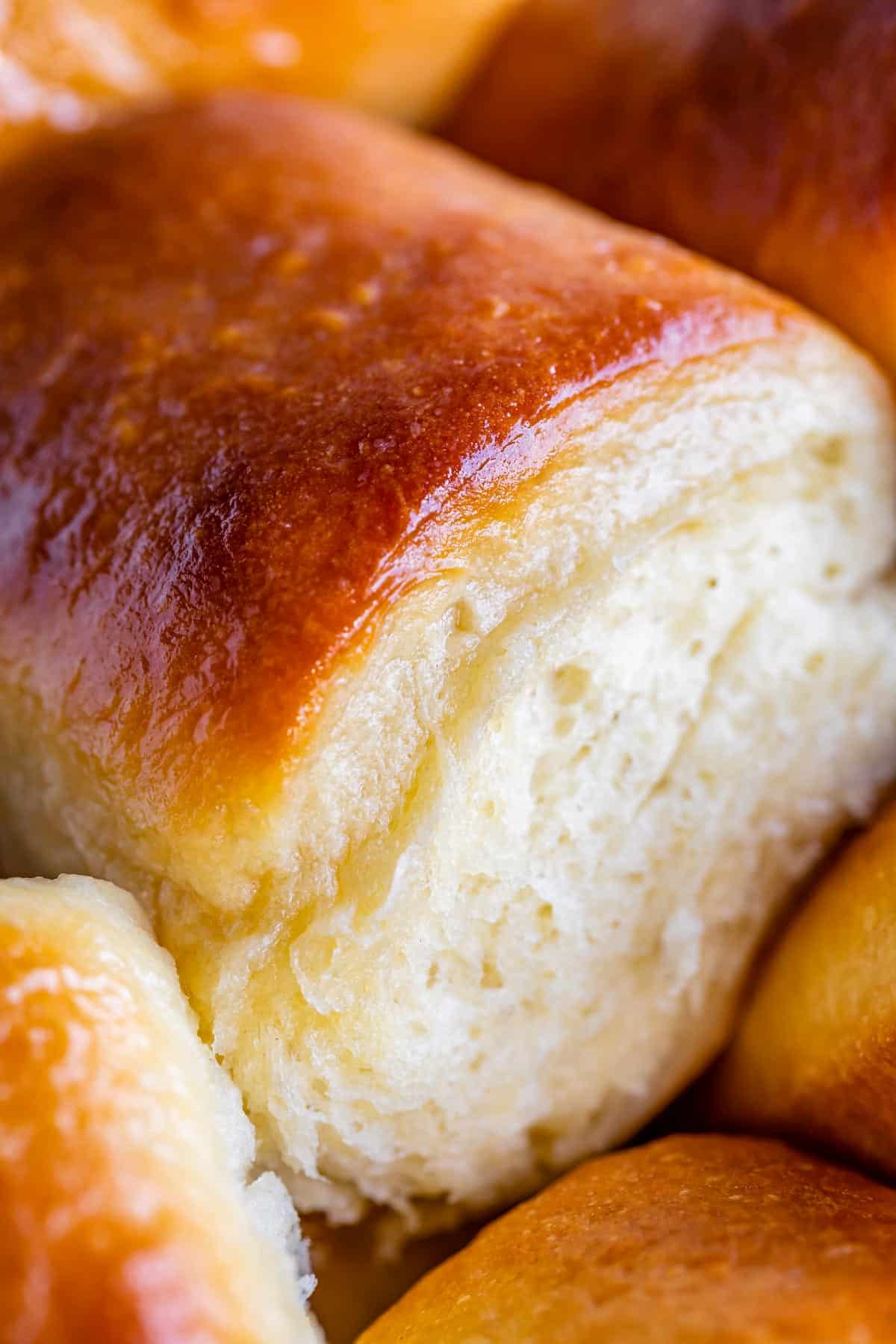 These homemade Parker House Rolls are unbelievably soft and fluffy! A rich, buttery dough with potato flakes results in that cloud-like, puffy texture you love. The swirl of butter in the center of these dinner rolls makes them completely irresistible! You can even make this recipe ahead of time for Thanksgiving.
Ingredients
1/4

cup

warm water

1

cup

warm milk

1 & 1/2

tablespoons

active dry yeast

2

teaspoon

granulated sugar

3

tablespoons

butter*

,

softened

3

tablespoons

shortening*

,

I used butter flavored shortening

1/3

cup

granulated sugar

2

teaspoons

kosher salt,

use less if all you have is table salt

1

large

egg

3/4

cup

instant potato flakes

,

from a box of instant potatoes

2 & 1/2

cups

bread flour

,

or up to 2 and 3/4 cup

4

tablespoon

butter

,

or more for brushing on dough
Instructions
Make the dough.

In a small bowl or

glass measuring cup

, add 1/4 cup water and 1 cup milk. Microwave in 20 second increments until the mixture is nice and warm but not hot. Stick your finger in: it should feel like a nice warm bath. If it is too hot you will kill your yeast. The temperature should be about 105-110 degrees F.

Add 1 and 1/2 tablespoons active dry yeast and 2 teaspoons sugar. Stir the mixture together and let it sit for 5 minutes while you prep the other ingredients.

In a large bowl or

stand mixer

, add 3 tablespoons soft butter and 3 tablespoons shortening.*

Add 1/3 cup granulated sugar, 2 teaspoons kosher salt, and 1 large egg.

By this time your yeast mixture should be nice and bubbly. (If it has not bubbled or foamed at all, (the top of the liquid looks flat) throw it out and start over, because your yeast is dead as a doornail. So sad but better to find out now than in an hour when your dough doesn't rise!) Add the foamy yeast mixture to the bowl with the butter and shortening. Stir it together. If you are using a stand mixer, use the paddle attachment.

Add 3/4 cup

instant potato flakes

and 2 cups bread flour. Continue stirring with the paddle attachment until the mixture has come together. The dough starts out a little bit chunkier than usual bread dough because of the potato flakes, but it will smooth out as you keep mixing.

Switch to the dough hook. (if you don't have a stand mixer, you can turn the dough out onto a floured work surface and start kneading.) Add 1/2 cup bread flour and mix with the dough hook until it is incorporated.

Touch the dough with your fingers. If it is still very sticky, add another 1/4 cup bread flour (for a total of 2 and 3/4 cup bread flour). When you mix it, it should clean the bowl or at least mostly clean it. Getting bread dough just right has a lot of variables, including climate and the weather, so you are going to have to use your best judgment. Use the least amount of flour possible, and remember that it will become even more homogenous after kneading. See photos.

Knead the dough with a dough hook for about 7 minutes, or knead by hand for 10 minutes.

First rise. Grease a large bowl with oil or nonstick spray. Gather the dough into a ball and smooth it out. Place in the bowl and turn it over so all sides are greased. Cover the dough with plastic wrap or a tea towel.

Let the dough rise in a warm place for 60-90 minutes, until doubled in size. I like to let my dough rise in a warm oven. Turn your oven on for about 1 minute, then turn it off, so that it is just nice and warm, but not hot. (If you can't touch the racks with your fingers, it's too hot.) Place the rising dough in the oven.

When the dough has doubled, and when a finger poked into it does not spring back immediately, it is ready to be shaped into the classic Parker House Roll shape.

Shape the rolls.

Prepare a work surface with nonstick spray. This is a thick dough and we don't want to add any more flour to it, so grease your workspace instead of flouring it. (Alternatively you could use

a large silicone mat

that is meant for rolling dough.)

Punch down the dough and divide it in half. Roll out half the dough into a rectangle that measure 8 inches by 12 inches. See photos.

Melt 4 tablespoons butter in a small bowl and use a pastry brush to brush a good and healthy amount of butter all over the top and edges of the dough. You won't use all the butter, you need the rest for brushing the other half of the dough, and for brushing the finished rolls.

Use a pizza cutter to slice the dough in half lengthwise, so you have two long rectangles. See photos.

Fold each rectangle in half the long way. Instead of folding it exactly in half, fold it so that there is about 1/2 inch of the underside of the dough exposed. So it should be folded over, but not quite all the way to the edge. See photos! Use your fingers to stretch the edges of the dough as necessary so that they line up.

Use a pizza cutter to cut each long rectangle into 4 pieces. (So cut it in half, then each half in half.) These are your shaped rolls. They should be about 2 and 1/4 inches by 3 inches. See photos.

Prepare

a 9x13 inch pan

with nonstick spray. Place the finished rolls in the pan upside down, meaning that the short end of the fold goes on

bottom

. The long edge of the rolls should line up with the long edge of the pan. You will place them 4 across and 4 down.

Roll out the other half of the dough and repeat the process. Don't forget to brush the dough with butter before cutting and folding.

Second rise. Cover the shaped rolls with plastic wrap or a tea towel and let rise in a warm place for about 45 minutes, until they have almost doubled and are looking quite puffy. Start preheating your oven about halfway through the rise time (be sure to take your rising rolls out of the oven if you are rising them there!)

Bake the rolls. Preheat your oven to 350 degrees F.

Bake the risen rolls for about 15-20 minutes. They should be completely golden on top, and the bottoms should also be golden (you can only tell this if you have a glass pan.) If the rolls have only slightly tanned, they are probably not done. The tallest rolls should be a deep golden or light brown color. A thermometer should read about 190 degrees.

Take the rolls out of the oven and brush the tops with remaining butter. (You might need to melt a couple tablespoons more butter.) Sprinkle with flaky sea salt, if desired. DIG IN!

If you are not serving them immediately, do not brush with butter. Remove the rolls from the pan after about 5-10 minutes so that the bottoms don't become soggy. Let cool on a wire rack before transferring (immediately, once cool) to a tightly sealed ziplock or tupperware.

These rolls freeze beautifully! Seal tightly and freeze for up to 3 months. Let thaw on the counter in the sealed container. If you know you are planning to freeze them, don't brush them with butter. (Brush with butter when reheating)

To rewarm rolls: Brush the rolls (make sure they are thaw) with butter if you haven't already (or even if you have! Who's going to say no to double butter helping?), sprinkle with flaky salt (optional), place the rolls in a pan, and bake at 350 for about 5-7 minutes, until warmed through.
Notes
*You can use all butter or all shortening if you like. I prefer a combination: butter for flavor and shortening for that ridiculous soft puffiness that it lends to rolls.
Nutrition
Serving:
1
roll
|
Calories:
179
kcal
|
Carbohydrates:
22
g
|
Protein:
4
g
|
Fat:
9
g
|
Saturated Fat:
4
g
|
Polyunsaturated Fat:
1
g
|
Monounsaturated Fat:
3
g
|
Trans Fat:
1
g
|
Cholesterol:
26
mg
|
Sodium:
349
mg
|
Potassium:
80
mg
|
Fiber:
1
g
|
Sugar:
6
g
|
Vitamin A:
195
IU
|
Vitamin C:
2
mg
|
Calcium:
25
mg
|
Iron:
1
mg