This saucy pork chops recipe uses off-the-shelf ingredients to create a quick and easy meal your whole family will love. Full of flavor and one you can make any day of the week.
I have finally got my rear in gear, people. No, that does not mean I have finally implemented an exercise regime. I'm pretty sure doctors no longer tell you to wait 6 weeks after childbirth to start exercising. It's "when your body is ready." But they change their minds about baby and pregnancy stuff all the time anyway, so I'm sticking with my 6 weeks of guilt-free couch potatoeing.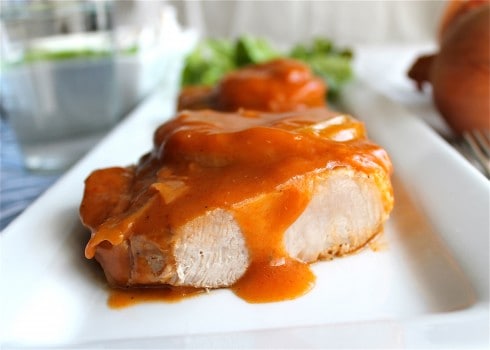 But back to my in-gear rear. Some exciting things have been going on over here at The Food Charlatan. I finally decided to stop mooching off WordPress and start self-hosting my blog, which, for those of you who don't speak white noise, means that I have more control over what's going on here in my little corner (speck, nanometer, quark, whatever) of the internet. That's why my recipes show up in those cute little boxes now, and how I can have the "You might also like:" pictures at the bottom of my posts.
I got that far. Then I had a baby earlier than I was expecting, which kind of threw a wrench in my plans. Babies do that. I got an email yesterday from a reader who was trying to figure out how to get email updates when I post, and I realized that there was no way to do that. Oops. But that's okay I fixed it! So now you guys can stalk me way more efficiently. Over there on the right side you will see an email subscribe button, as well as some social media buttons. You can add me to your Feedburner, and follow me on Facebook, Twitter, and Pinterest.
We will be such great virtual friends!! I'll be like that friend who likes you a little bit more than you like them. Except I'm so much easier to unsubscribe from. So if I bring up that awkward story about that one time you hit on that one guy and later I pointed out the massive leaf of spinach in your teeth one more time, you can end our relationship with no guilt.
How to make Saucy Pork Chops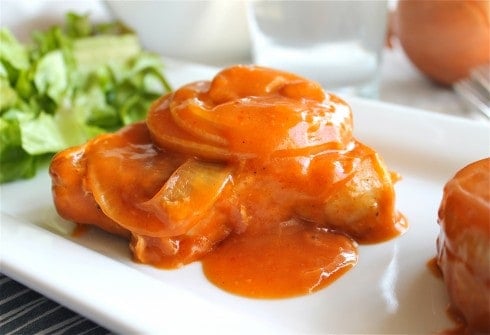 I am on a no-brainer-meal kick lately, for obvious reasons. I'm all about throwing cans of soup at my food and calling it dinner these days. Why is cream of chicken soup so comforting? Is it the sodium or the fat that makes you feel all warm and cozy inside? Either way, I'm digging it. Don't turn up your nose at these pork chops, you know you want some. My mom made this on special occasions when I was growing up, and had me convinced that it was a labor-intensive meal. Little did I know it only has 5 ingredients and requires no thought. I'll take it!
More great recipes that will impress!

Saucy Pork Chops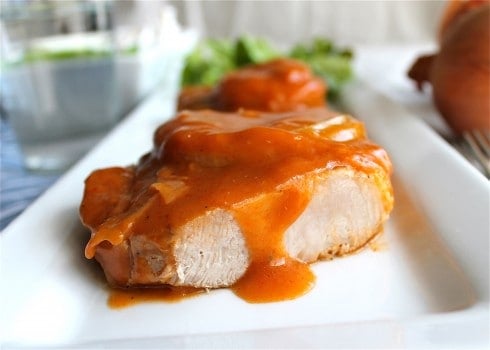 This pork chop recipe uses off-the-shelf ingredients to create a quick and easy meal your whole family will love. Full of flavor and one you can make any day of the week.
Ingredients
2

tablespoon

olive oil

,

divided

1

large onion

,

sliced

6

boneless pork chops

salt and pepper

,

to taste

2

10-oz cans

cream of chicken soup

1/2

cup

ketchup

2

tbsp

Worcestershire sauce
Instructions
In a large skillet, heat 1 tablespoon of olive oil over medium heat. Slice the onion into about 6 pieces. Depending on how big your onion is, they will be about a quarter to a half inch thick. Think onion-ring size. Add the onion slices to the pan and saute for about 12 minutes, flipping halfway through.

Remove the onions from the skillet and set aside. Turn the heat to medium high and add the other tablespoon of olive oil. Salt and pepper both sides of the pork chops. Add chops to the pan and brown on both sides. Shouldn't take more than a couple minutes per side.

Meanwhile, in a medium bowl combine the soup, ketchup, and Worcestershire sauce.

When the meat is browned, place one onion ring on top of each pork chop. Pour the soup mixture evenly over the onions and chops. Turn the heat down to a simmer. Cover and cook for another 30 minutes, or until the meat is no longer pink and a meat thermometer reads 160 degrees. We like to eat this with mashed potatoes.

Crock Pot instructions: Follow steps until the meat is browned. Then transfer the chops to a crock pot, cover with onions, and pour sauce on top. Heat on high for about 4 hours.
Notes
Source: my mom, who got it from an old Better Homes and Gardens cookbook
Nutrition
Serving:
1
pork chop
|
Calories:
286
kcal
|
Carbohydrates:
9
g
|
Protein:
29
g
|
Fat:
14
g
|
Saturated Fat:
4
g
|
Polyunsaturated Fat:
2
g
|
Monounsaturated Fat:
7
g
|
Trans Fat:
1
g
|
Cholesterol:
90
mg
|
Sodium:
311
mg
|
Potassium:
645
mg
|
Fiber:
1
g
|
Sugar:
6
g
|
Vitamin A:
114
IU
|
Vitamin C:
3
mg
|
Calcium:
24
mg
|
Iron:
1
mg