All the beauty of a classic Reuben sandwich, baked in a potato. Corned beef, sauerkraut, Thousand Island dressing, and swiss cheese is one of the best combos knows to man! This makes for an easy weeknight meal OR great game-day appetizer.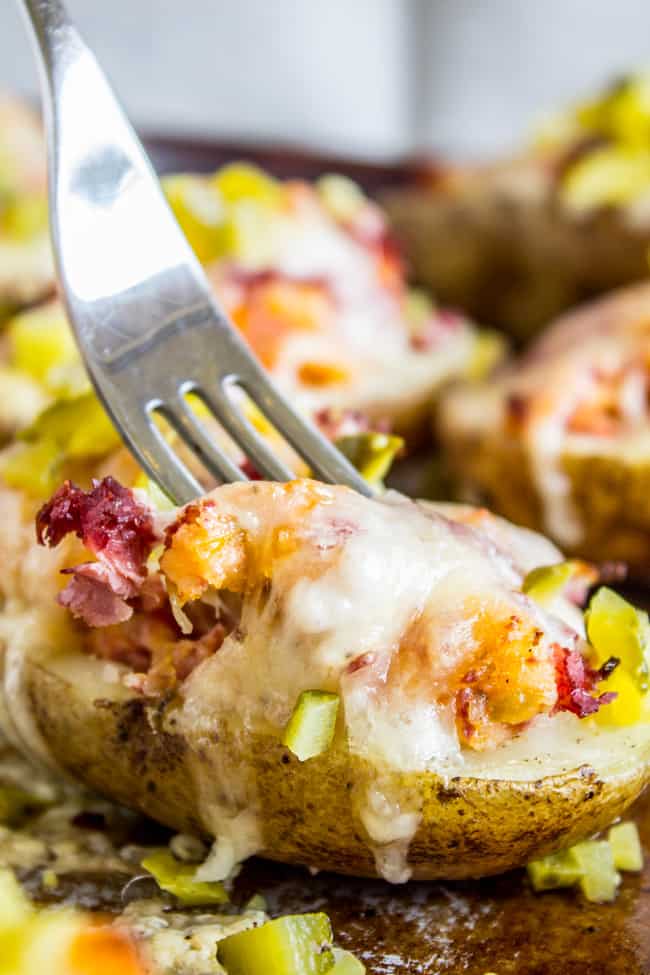 As a kid, I always wondered how dads arrived to be the kind of dad who told dad jokes. My dad was no exception. ("Dad, I'm hungry!!" "Nice to meet you, Hungry, I'm Thirsty.")
Well now I know, because my husband is turning into a living, breathing Dad Joke.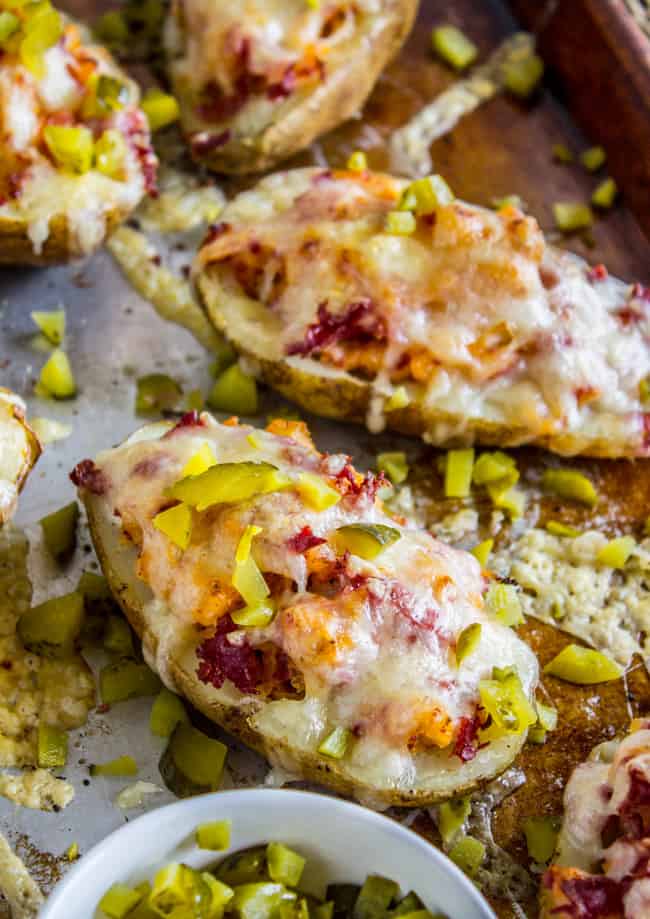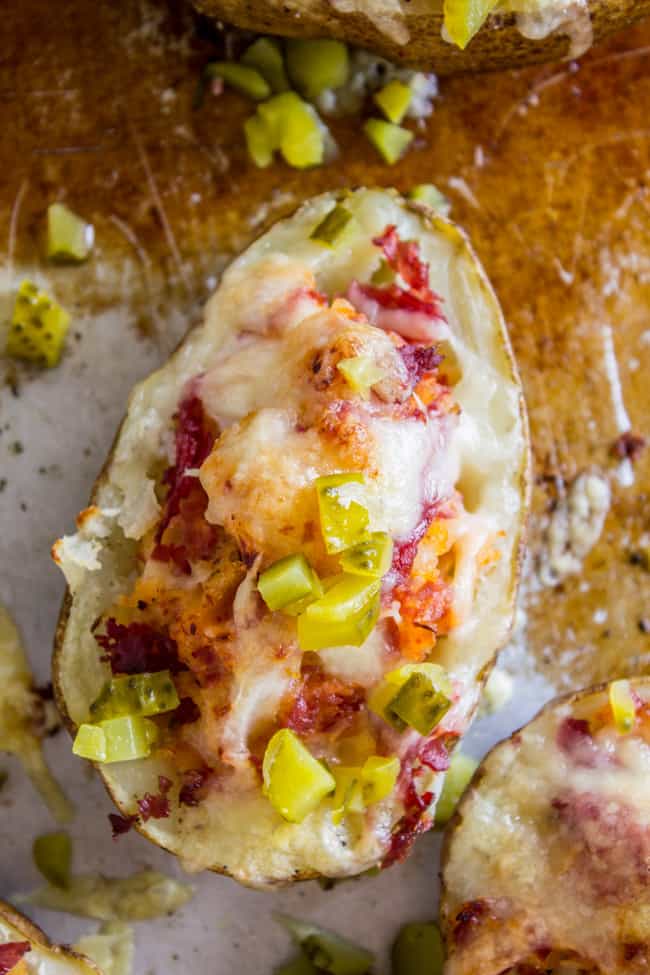 Take the Amelia Bedelia book we're reading aloud to the kids right now. He laughs (loud, belly-laughs) at every.single.pun. The kids sit in silence at first because they never get the joke, but then laugh because kids always laugh when someone else is laughing. (An admirable trait, I think.)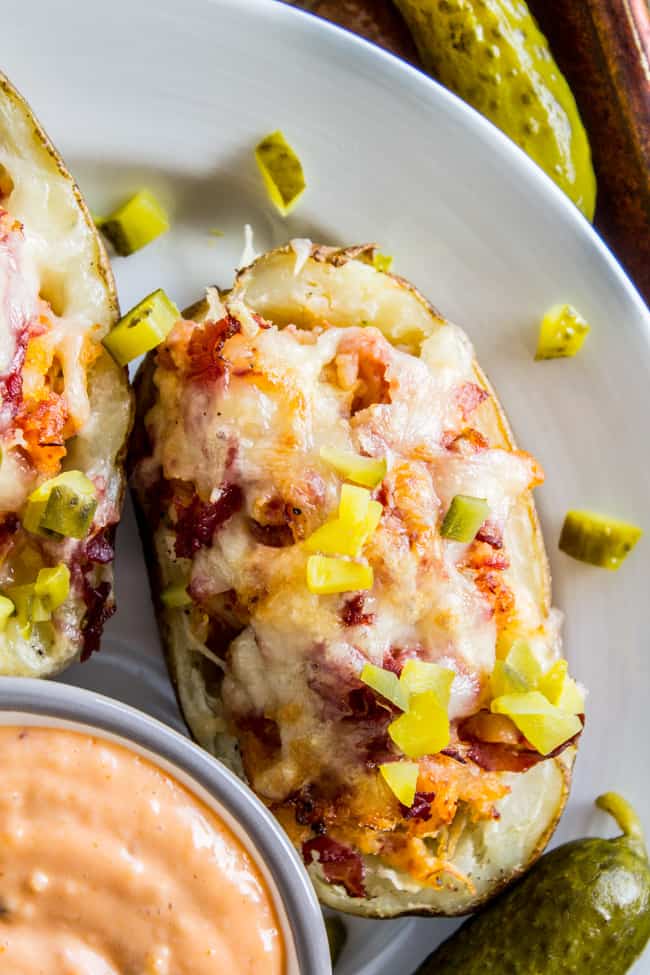 Amelia Bedelia is in ballet class. The teacher tells the kids to go to the barre. Amelia says, "I'm too young to go to a bar." I can hear Eric having a good chuckle at this behind me.
The teacher tells the kids to plie, and turn their feet out, "until a big piece of pizza would fit between your feet." They all do it, except Amelia, whose feet are much too far apart. "I love pizza," she says, "That's how much I would eat!" HE'S LAUGHING OUT LOUD.
Now the only thing left to wonder is when the Mom Jokes are going to start. Am I already there? How will I know??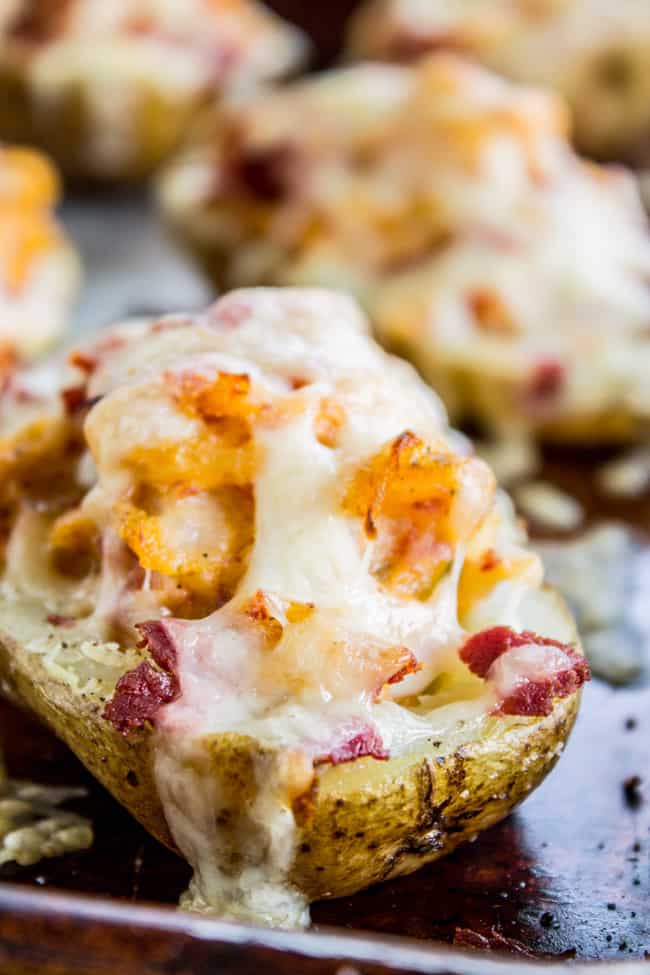 Back when Eric and I used to live in Indiana, we would always go to this amazing kosher-style restaurant called Shapiro's. (If you are ever in Indianapolis, look it up; it's LEGIT.) Specifically legit were their classic Reuben sandwiches. We are talking corned beef like a mile high and the most amazing rye bread ever. That is where I fell in love with all things Reuben. (Before that, I thought I didn't even like sauerkraut. The shame!)
I decided to throw the flavors into a Twice Baked Potato. I am seriously in love! I ate mine on top of a bunch of mixed greens and topped the whole thing off with more Thousand Island dressing. It was amazing!! (I have been throwing most of my dinners lately directly on top of my side salad. I'm kinda loving it.)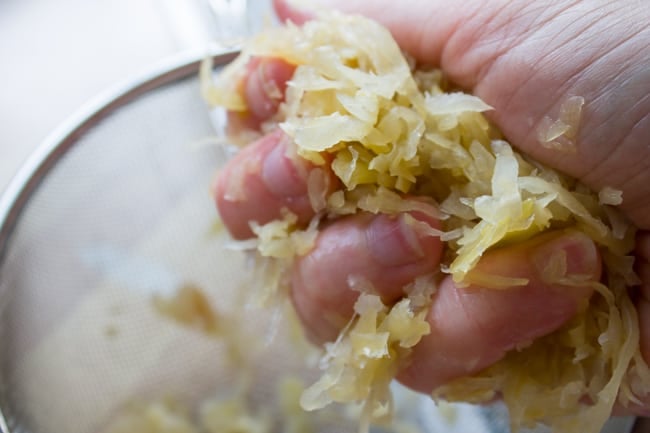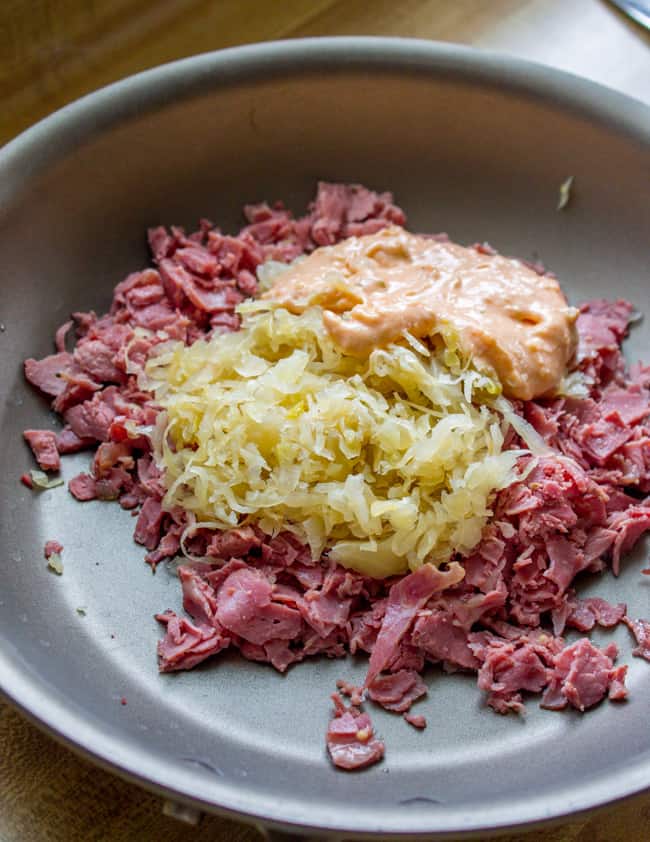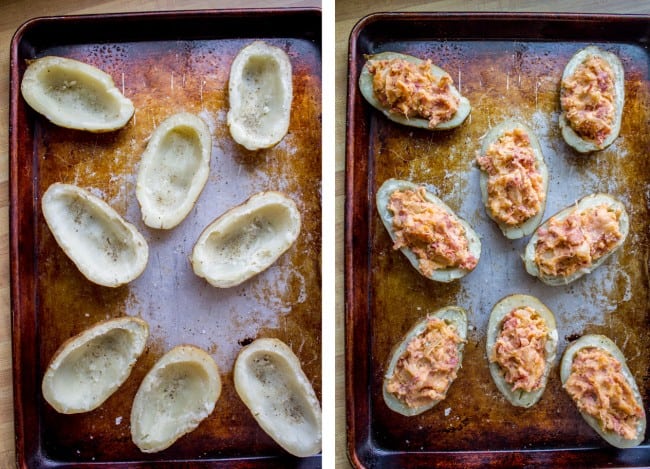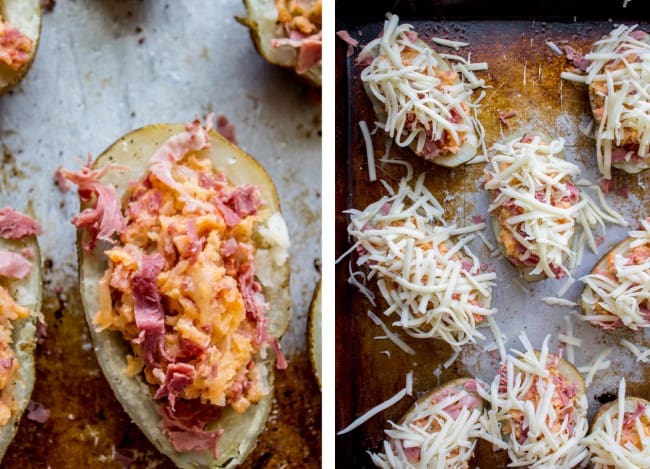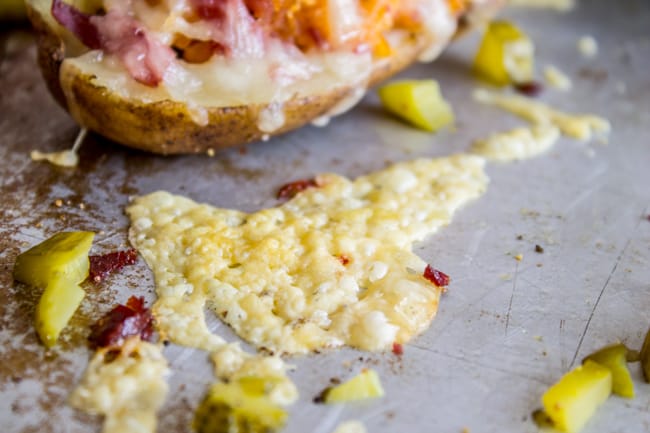 I was feeling pretty lazy as I threw the cheese on top of these potatoes, and tons landed on the sheet pan, meaning it got baked all crispy, like in the photo above. But then I scraped it off and threw it on top of the potato I was eating…OH MY GOSH. Crispy Swiss cheese is like this whole other thing!! Tons of flavor. So be a little lazy when you sprinkle your cheese.
We had these for dinner like I mentioned, but they are finger food enough that you could totally bring these as an appetizer to any March Madness games you plan to watch!
If you make this snap a photo and share on Instagram using #TheFoodCharlatan! I'd love to see what's going on in your kitchen!
Facebook | Pinterest | Instagram | Twitter

Reuben-Stuffed Twice Baked Potatoes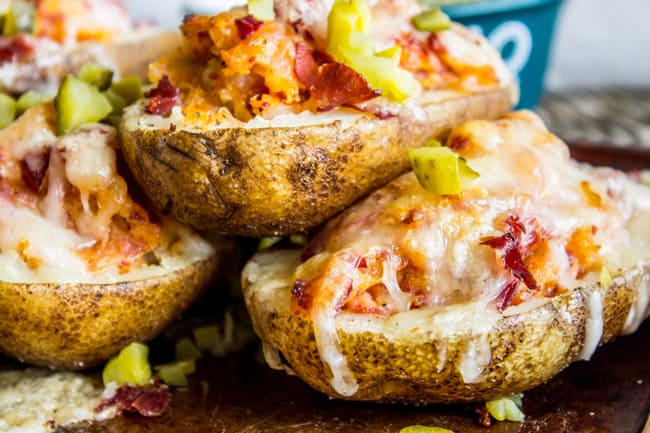 All the beauty of a classic Reuben sandwich, baked in a potato. Corned beef, sauerkraut, Thousand Island dressing, and swiss cheese!
Ingredients
4

russet potatoes

1-2

teaspoons

oil

salt and pepper

5-7

ounces

cooked corned beef

3/4

cup

sauerkraut

,

squeezed dry

1/2

cup

Thousand Island dressing

,

buy a decent brand!

1

cup

swiss cheese

,

shredded (or more to taste)

salt and pepper

,

to taste

chopped pickles

,

to garnish.

extra Thousand Island dressing
Instructions
Preheat the oven to 350 degrees F.

Start by baking the potatoes. You can either do it in the microwave or in the oven.* First, clean the potatoes well and pierce 2-3 times with a fork. Rub a small amount of oil all over the outside. Generously sprinkle each side with salt and pepper.

For the microwave, place the 4 potatoes on a microwave-safe plate. Cook on high for 5 minutes, then turn the potatoes and continue cooking for 3-5 minutes, or until fork-tender.

Slice the potatoes in half when they are cool enough to touch. Place each half on a greased sheet pan.

Use a spoon to gently scoop out the flesh of the potatoes. Leave a 1/2 inch or so on the bottom and edges so that the skins don't fall apart. Add the potato innards to a medium skillet and set aside. Sprinkle the inside of the skins with salt and pepper.

Meanwhile, chop the corned beef into bite size pieces.

Scoop out 3/4 cup sauerkraut and squeeze dry.

Add the corned beef, sauerkraut, and Thousand Island dressing to the skillet with the potatoes. Set over medium heat. Cook for about 5 minutes until warmed through, mashing the potato with a wooden spoon.

Distribute the filing evenly amongst the skins.

Top with 1 cup shredded Swiss cheese.

Bake at 375 for about 12-15 minutes, or until bubbly and warmed through.

If you like extra crispy cheese, turn on your broiler and broil for another 1-3 minutes.

Remove from the oven and garnish with chopped dill pickles. Serve with extra Thousand Island dressing!
Notes
*If you want to bake them in the oven the traditional way: oil and salt and pepper as stated above. Wrap in foil if you like soft skins, place directly on rack if you like crispy skins. Bake at 350 degrees F for about and hour, or longer if necessary. They are ready when a fork slides in easily.
Nutrition
Serving:
1
potato
|
Calories:
471
kcal
|
Carbohydrates:
46
g
|
Protein:
18
g
|
Fat:
25
g
|
Saturated Fat:
8
g
|
Polyunsaturated Fat:
7
g
|
Monounsaturated Fat:
8
g
|
Trans Fat:
1
g
|
Cholesterol:
52
mg
|
Sodium:
939
mg
|
Potassium:
1093
mg
|
Fiber:
4
g
|
Sugar:
7
g
|
Vitamin A:
297
IU
|
Vitamin C:
26
mg
|
Calcium:
257
mg
|
Iron:
3
mg
You will love these other recipes!
Reuben Stuffed Crescent Rolls: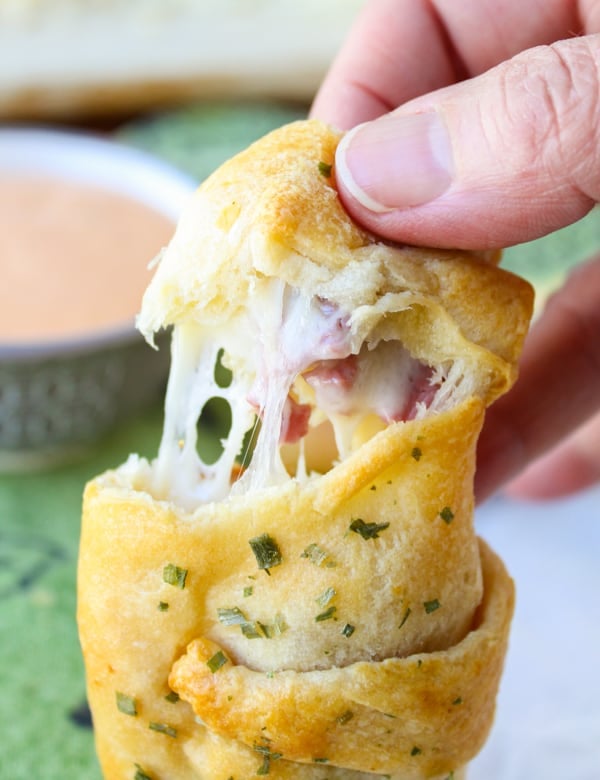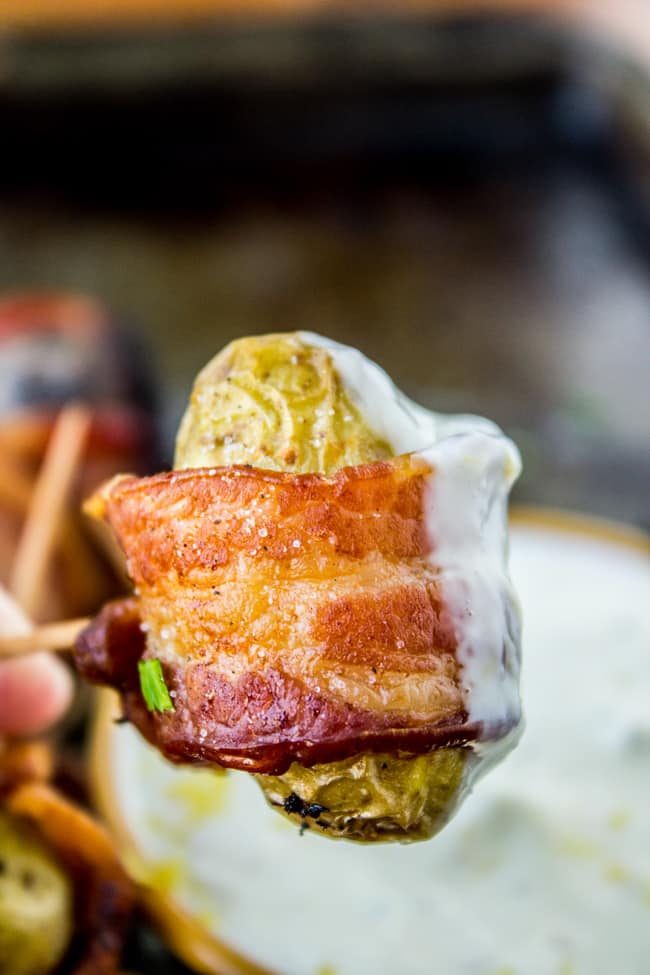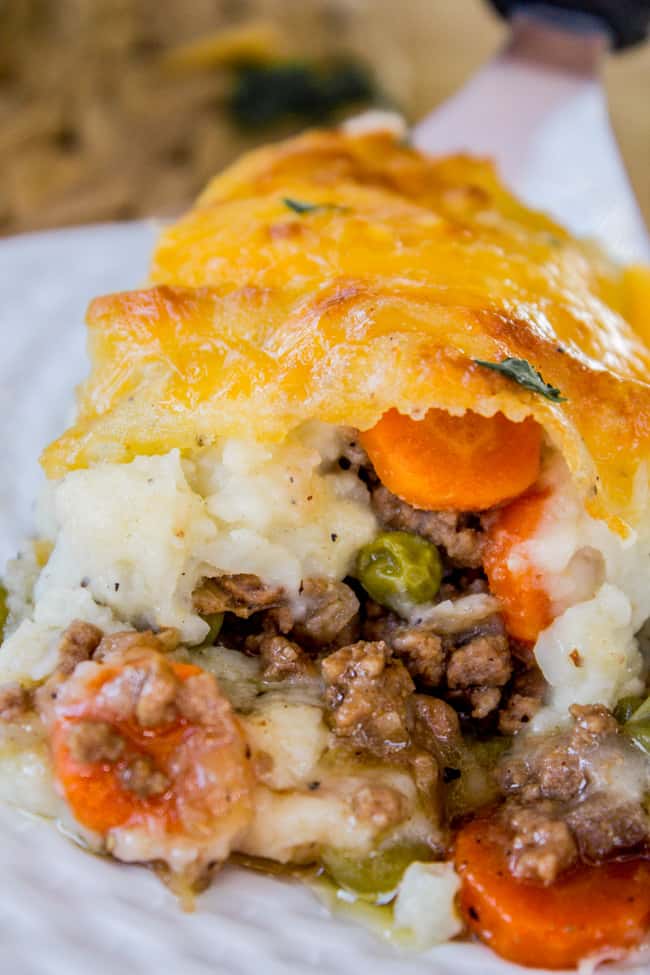 More twice-baked potatoes from friends!
Broccoli and Cheddar Twice Baked Potatoes from Baker by Nature
Taco-Stuffed Potatoes from Taste and Tell
Twice Baked Potatoes from Garnish and Glaze