It's like Shepherd's Pie and Chicken Pot Pie got together and had a baby to make a One Skillet Shepherd's Pot Pie! Regular skillet shepherd's pie would feature mashed potatoes, but instead we are covering ours up with a super flaky pie crust, just like it's a pot pie. It's comfort food heaven!!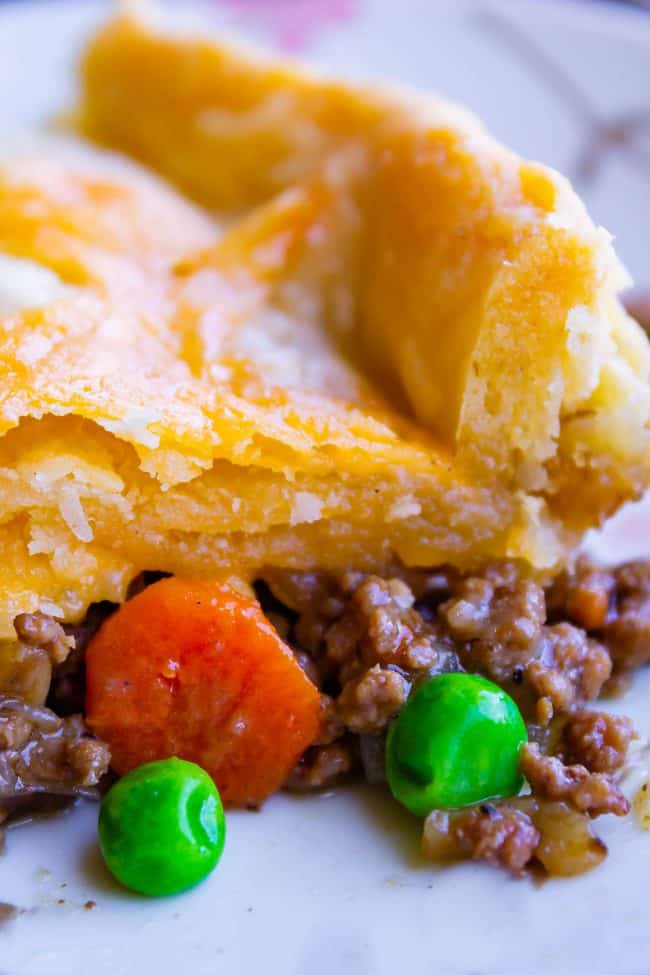 So we went on a big extended family vacation last week, and Eric and I managed to get away for a few minutes while grandma watched the kids. We went to the pool, sat on the edge and sunbathed for a while before jumping in. We swam some laps, enjoying our freedom, when all of the sudden Eric gives me this panicked look, and then starts climbing out of the pool. "What is it??"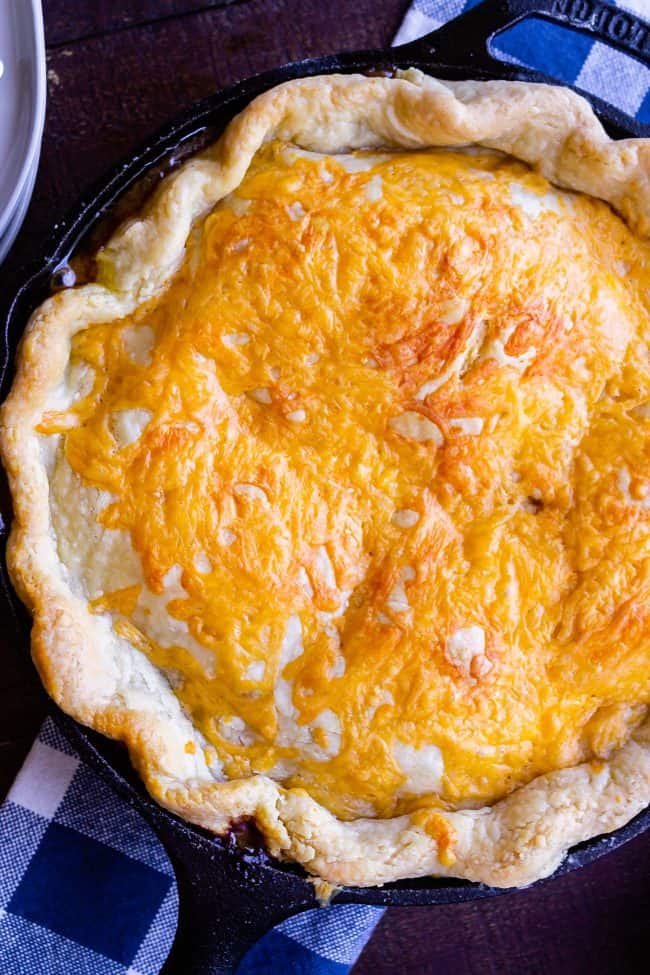 "My phone is in my pocket."  Dun dun DUNNNN
Why do they put pockets in swim trunks, why??? And even though I shouldn't have, I had to laugh. Sorry Eric. It's just too funny!!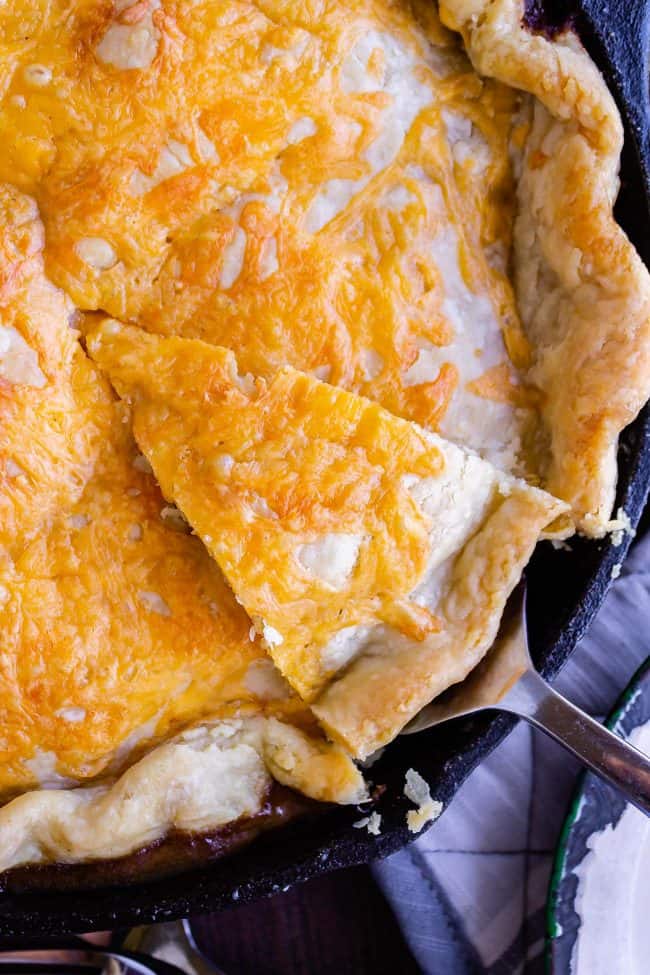 We were on a cruise, so there was no way to get it fixed or do anything besides order dry rice from room service. (Turns out that even 4 days packed in rice doesn't solve an iPhone 6 being underwater for 10 minutes…what gives, Apple?? ;)
And so we're going a week strong now with only one phone between us. I probably have to go through the thought process 30 times a day, "I should text Eric about…Oh wait." Seriously, how did people live before text messages. Sometimes I think about my little great-grandchildren gathering around me as an ancient, "So tell me granny, what was it like back then? Before phones? Before the INTERNET??"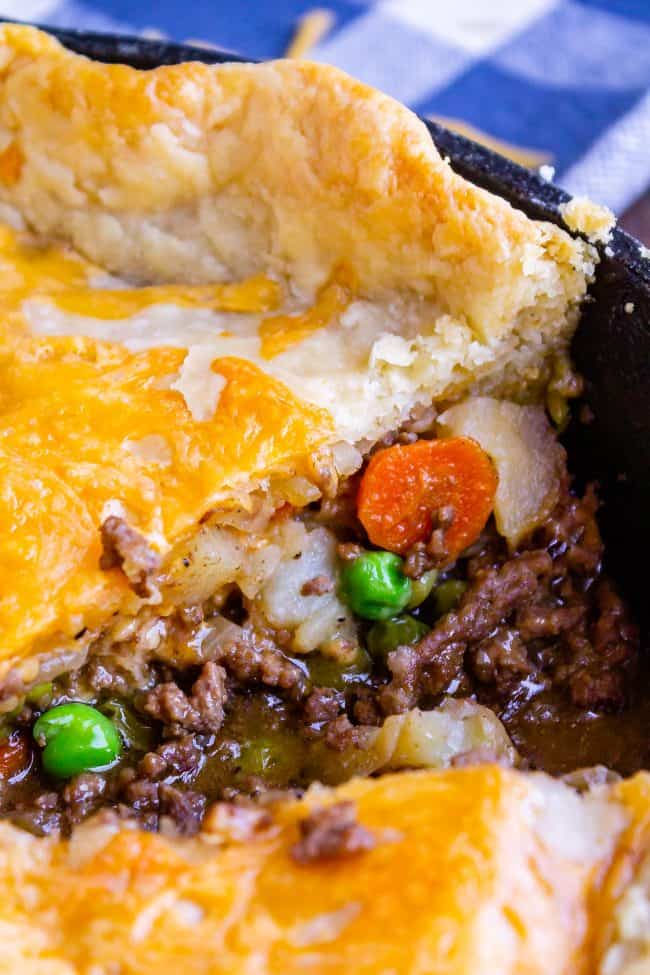 "Well, we had to talk to each other. It was horrible."
We are home now but I am still on cloud nine. I'm having such a time getting back into the swing of things. Not only because no one is offering me free ice cream every day (all the food on a cruise is free, right??) but because we all got sick right at the end. Not just a cold either, a doozie of a flu with chills and fever and the works. Our kids probably think it's summer vacation by now with all the school we're missing!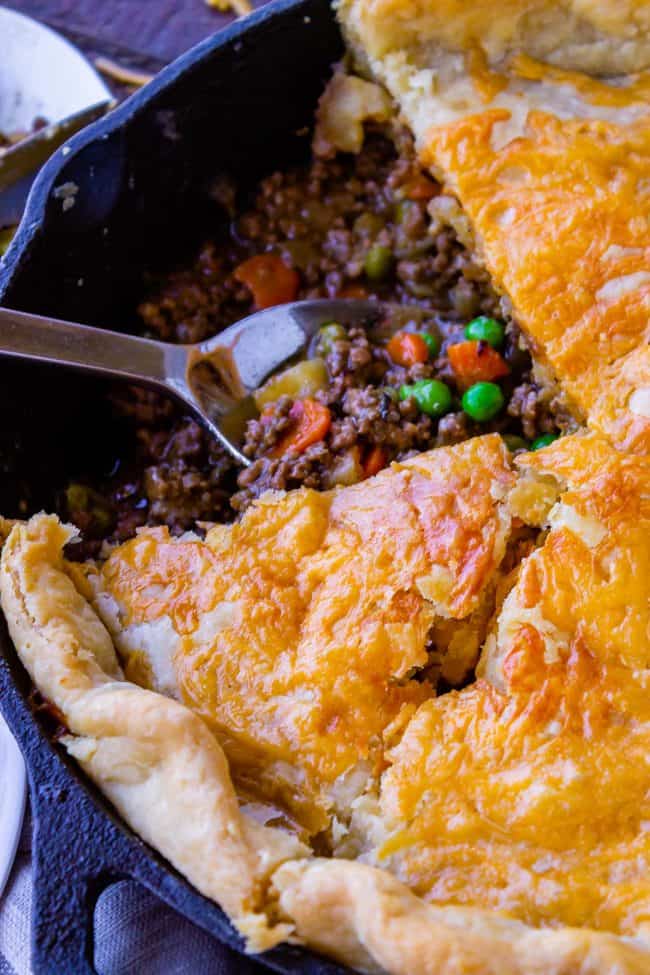 How to make Skillet Shepherd's Pie
Who is ready for St. Patrick's Day this year! I usually make this Classic Shepherd's Pie Recipe with Crispy Cheddar Topping for dinner. It's one of the top recipes on my site, and with good reason! It's so beefy and cheesy and mashed potato-y. I used 5 pounds of potatoes for the topping because excess is not a word in my vocabulary.
But instead of ridiculous amounts of mashed potatoes, I decided to top skillet shepherd's pie with the flakiest of flaky crusts and a sprinkle of cheddar cheese. It's kind of a mashup between a chicken pot pie and a Shepherd's Pie. It's the beefy filling from a regular skillet Shepherd's Pie, with onions, carrots, and peas, topped with a flaky homemade crust. I'm telling you, it's so delicious! I think a flaky crust is probably the only thing that could compete with mashed potatoes in this situation.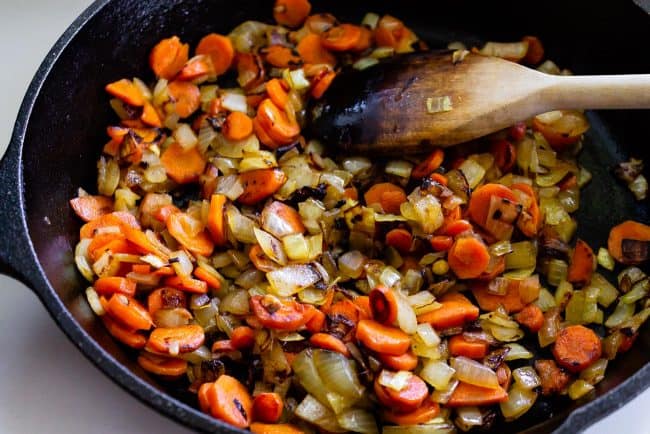 I incorporated potatoes by adding a cup of frozen cubed hash browns before baking. Didn't even thaw them. It worked perfectly. You could probably try using a large fresh potato, peeled and cubed small, but I would definitely par boil it or microwave it for a bit so that it's partially cooked. (Frozen hash browns have been partially cooked before being frozen.)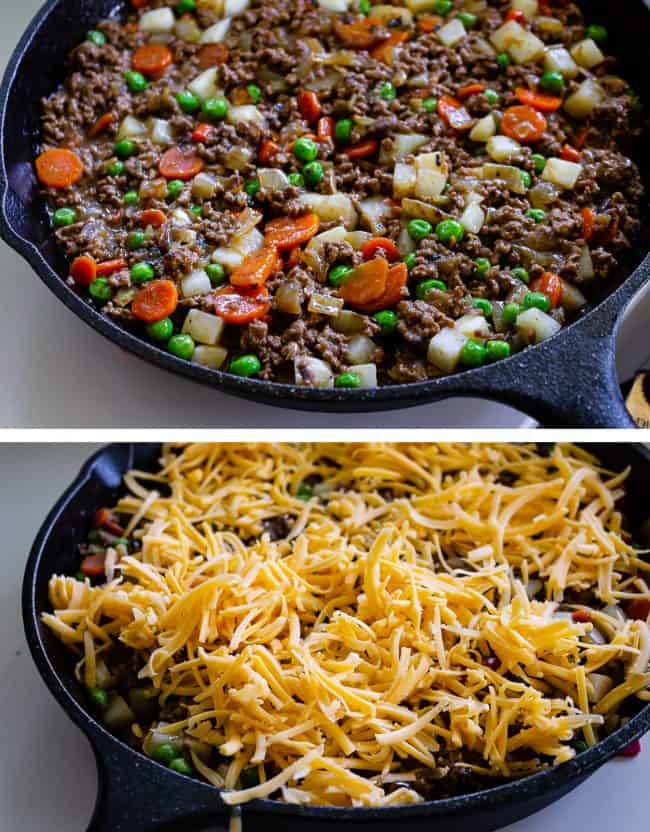 (You can use sliced cheddar here instead of shredded, I think I prefer it!)
This skillet shepherd's pie comes together really quick, especially if you are experienced at making pie crust. I infinitely prefer homemade pie crusts and don't trust anyone who says they can't tell the difference between homemade and store bought. (Also, my homemade crusts are bigger than the tiny store bought ones.)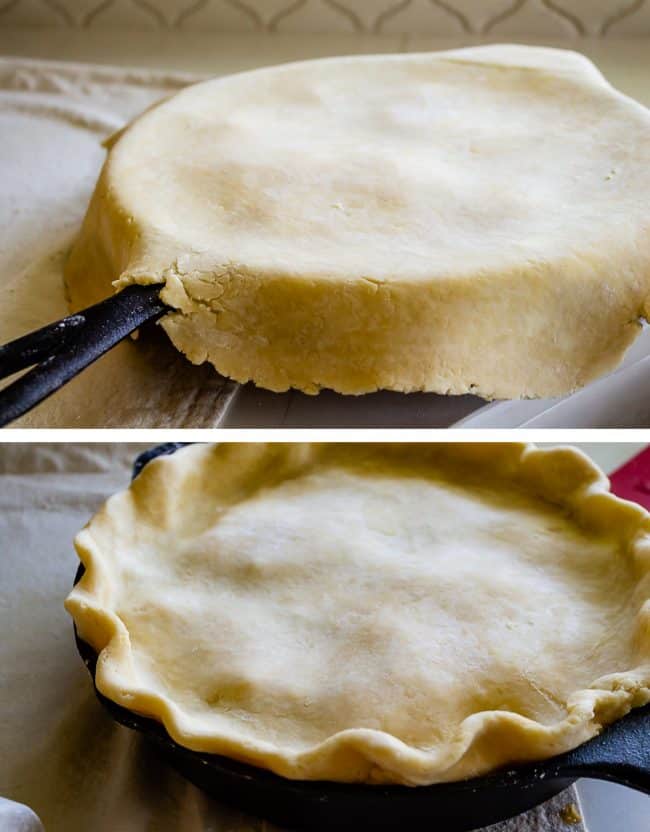 BUT, if you are in a pinch for time, seriously no judgment here. Use a Pillsbury pie crust. I'm all about the get dinner done mentality. (Literally, it's 5:25pm right now and I still have no idea what I'm making tonight. There is still skillet Shepherd's pie in the fridge…kids do you want leftovers??)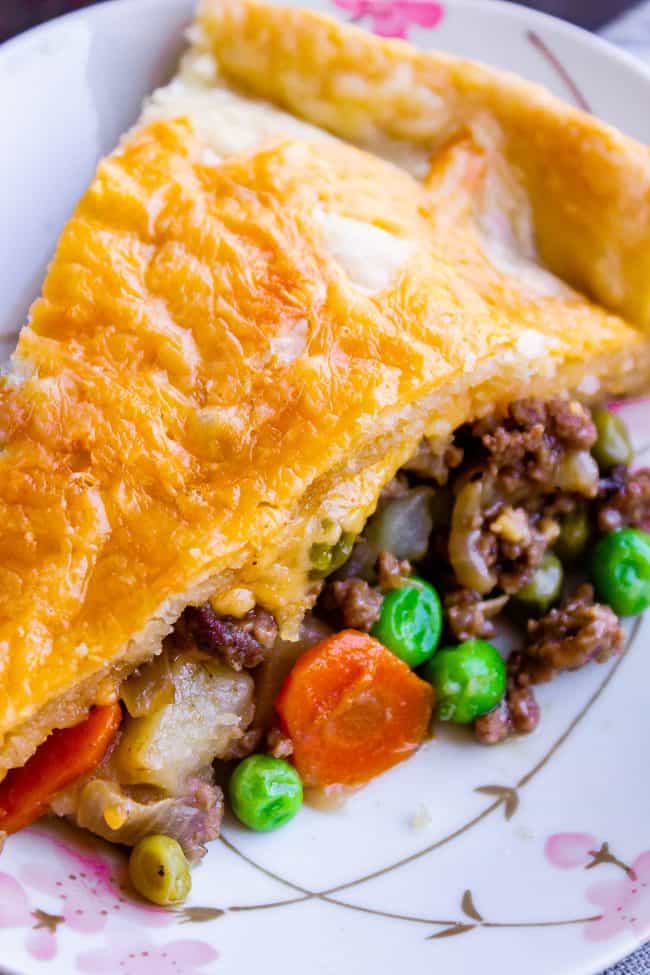 Update: yes. Yes they did.
More comfort food that you are going to love!
Facebook | Pinterest | Instagram

One Skillet Shepherd's Pot Pie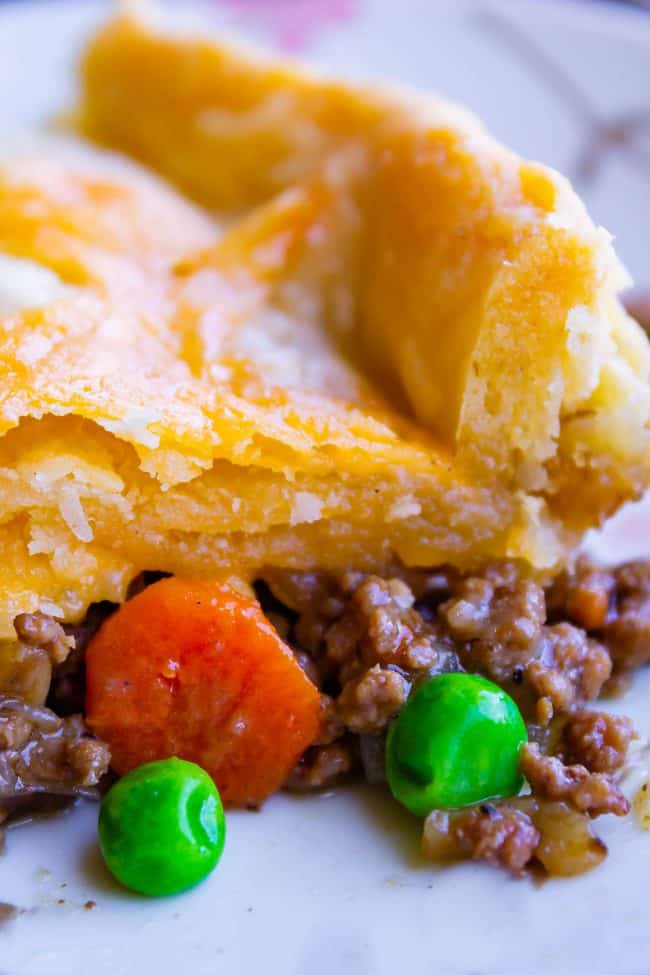 It's like Shepherd's Pie and Chicken Pot Pie got together and had a baby to make a One Skillet Shepherd's Pot Pie! Regular skillet shepherd's pie would feature mashed potatoes, but instead we are covering ours up with a super flaky pie crust, just like it's a pot pie. It's comfort food heaven!!
Ingredients
For the pie crust
1 & 1/2

cups

flour

,

spooned and leveled

3/4

teaspoon

salt

5

tablespoons

butter

1/4

cup

shortening

,

I like Butter-Flavored Crisco

1/4

cup

ice water
For the filling
2

teaspoons

olive oil

1

medium

onion

,

chopped (about 1 & 1/2 cups)

2-3

carrots

,

peeled and chopped (about 1 cup)

1

pound

ground beef

1

cup

cold beef broth*

1/2

tablespoon

cornstarch

1

teaspoon

Worcestershire sauce

1

teaspoon

salt

1/4

teaspoon

pepper

1

cup

frozen peas

1

cup

frozen diced hash browns

,

diced in little cubes, not shredded

1 & 1/2

cups

cheddar cheese

,

shredded (Or use sliced)

1

tablespoon

milk

2

tablespoons

shredded cheddar cheese

,

to top pie crust
Instructions
Begin by making the pie crust. (Of course you can skip this step and use a pre-made pie crust from the store!)

In a medium bowl, stir together flour and 3/4 teaspoon salt.

Use your hands, a fork, or a pastry cutter to cut in the butter and shortening. Work it together until it resembles coarse crumbs. There should be butter chunks the size of peas.

Add 1/4 cup ice water and combine with a fork until it has mostly come together. Dust your hands with flour and knead it together in the in bowl a couple times, until it has come together. Stick it in the fridge while you make the filling.

Preheat your oven to 375 degrees F.

Add the onions and carrots and saute for about 6-8 minutes, until the onions are translucent and the carrots are beginning to soften.

Add the ground beef and continue cooking over medium high heat for another 5-8 minutes, until the beef is well cooked and crumbled.

Tilt the pan and use a spoon to drain the grease from the pan. Or whatever method you like to use to get ground beef out of a skillet.

In a small bowl, stir together 1 cup COLD (or at least room temperature) beef broth and 1/2 tablespoon cornstarch until dissolved. (The broth cannot be warm when you add the cornstarch, or it will get lumpy.)

Stir the broth mixture into the ground beef, continuing to stir over medium high heat.

Add 1 teaspoon Worcestershire sauce, 1 teaspoon salt, and 1/4 teaspoon pepper.

Once the mixture has started to bubble, lower the heat to medium and cook for another 3 minutes, until the mixture has thickened a bit.

Add in 1 cup each frozen peas and hash browns (no need to thaw) and stir together. Turn off the heat and spread the beef mixture evenly in the skillet.

Sprinkle 1 and 1/2 cups cheddar cheese over the top of the beef mixture, don't stir. The second time I made this I used a few slices of cheddar cheese instead of shredding it, and I liked that even better!

Roll out the pie dough you already made onto a floured surface. Roll it into a circle that will cover your skillet, plus about 2 inches to hang over. (Mine was about 14-15 inches across.)

Have the tablespoon of milk, a pastry brush, and 2 tablespoons shredded cheddar ready to go.

Working quickly (because you want your pie dough to go into the oven as cold as possible) cover the skillet with the pie dough. Fold the edges underneath and use your fingers to quickly crimp the edges however you like.

Brush the top of the pie and the edges with milk. Sprinkle with a little bit of cheese. (Don't use too much, you want to be able to taste the flakiness on top of the crust. I used too much in the version I photographed.) Use a sharp knife to make 2-4 slits in the top of the pie to vent.

Place the skillet on a baking sheet just in case it bubbles over.

Bake in the oven at 375 degrees for about 30 minutes.

After 30 minutes, you may need to cover the edges of the dough so that it doesn't get too brown. Fold a large square of aluminum foil in half twice, then cut a circle out of the center. Unfold the foil and you should have a cover for the edges of your crust but not the center. Cover the edges of the crust well and continue baking for another 5 minutes or so, until the center of the crust is starting to turn golden.

Let the pie sit for 10 minutes before slicing and serving.
Notes
*I always use Better Than Bouillon Beef Base. 1 cup of cold water+1 teaspoon Beef base=1 cup of broth. (The water only has to be cold for this recipe because we are adding cornstarch to it. You can only dissolve cornstarch in cold liquids.)
Nutrition
Serving:
1
g
|
Calories:
504
kcal
|
Carbohydrates:
29
g
|
Protein:
20
g
|
Fat:
34
g
|
Saturated Fat:
16
g
|
Polyunsaturated Fat:
3
g
|
Monounsaturated Fat:
12
g
|
Trans Fat:
2
g
|
Cholesterol:
83
mg
|
Sodium:
892
mg
|
Potassium:
415
mg
|
Fiber:
3
g
|
Sugar:
3
g
|
Vitamin A:
3143
IU
|
Vitamin C:
11
mg
|
Calcium:
205
mg
|
Iron:
3
mg