These almost-homemade Mini Chicken Pot Pies are the perfect finger-food for a party! Or a last-minute dinner that your kids will love. Crescent rolls from a can make prep quick and easy! Originally posted October 29, 2015.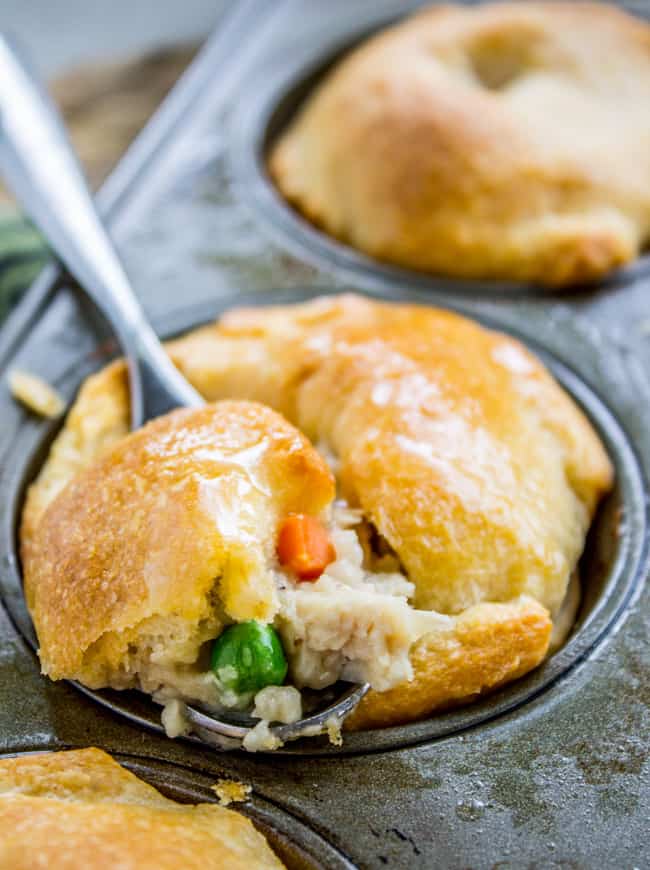 Table of Contents
I just want to start out by saying that when Bob Marley died, they found multiple species of bugs in his dreadlocks. Or so the stories say. Please, believe the stories, because it will soften the blow of what I'm about to tell you.
So we're in the kitchen getting dinner ready. Eric and Charlotte are coaching Truman on how to treat bugs. (You know, training him not to demolish them on sight.) "Be NICE to the bugs, Truman! Bugs are our friends!"
Then I run my fingers through my hair and there it is. The tiniest (dare I say cutest?) little slug, waving its antennae at me. No bigger than my pinky fingernail. We both just stared at each other. Then I screamed.
It's a good thing Eric was there to enforce the "let's be humane" lesson. Because that little slug would have been a goner.
My hair has been getting longer, and although it's obviously a gradual thing, I still feel like I'm not used to it. I know exactly why I had a slug in my hair: earlier I was doing acrobatic moves on my patio in the backyard to get shots for this Sugared Cranberry post. I seriously need to invest in some hair ties.
We just moved to our new house, and I'm still trying to figure out where the best place to do my food photography is. Today I tried to shoot by the window right next to my sink, and this happened.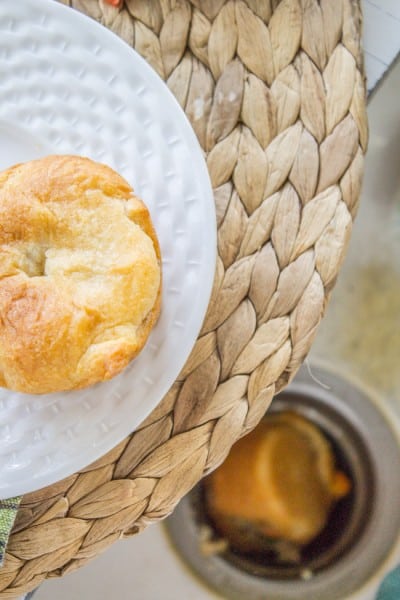 That's a mini pot pie. Literally down the drain. So, given the choice between a lost pot pie and an itty bitty slug, which would you choose? Priorities people.
Why you'll love Mini Pot Pies
I've got an easy dinner/finger food for you! Chicken pot pie is a CLASSIC. It's homey, feel-good comfort food you can find at your grandma's Sunday dinner table and your local diner alike. Anything's cuter in mini form (especially if you have tiny love like my husband Eric).
Everyone loves them. Seriously. The kids will love them, you'll love them, your parents will love them, your neighbors will love them. They're a crowd pleaser for sure!
They're quick to make. They're made with crescent roll dough for super easy prep and they're ready in just 25 minutes.
They're versatile. These pot pies work as a meal, as an appetizer, or as a quick handheld snack.
Sometimes good things come in small packages…this is definitely one of those times.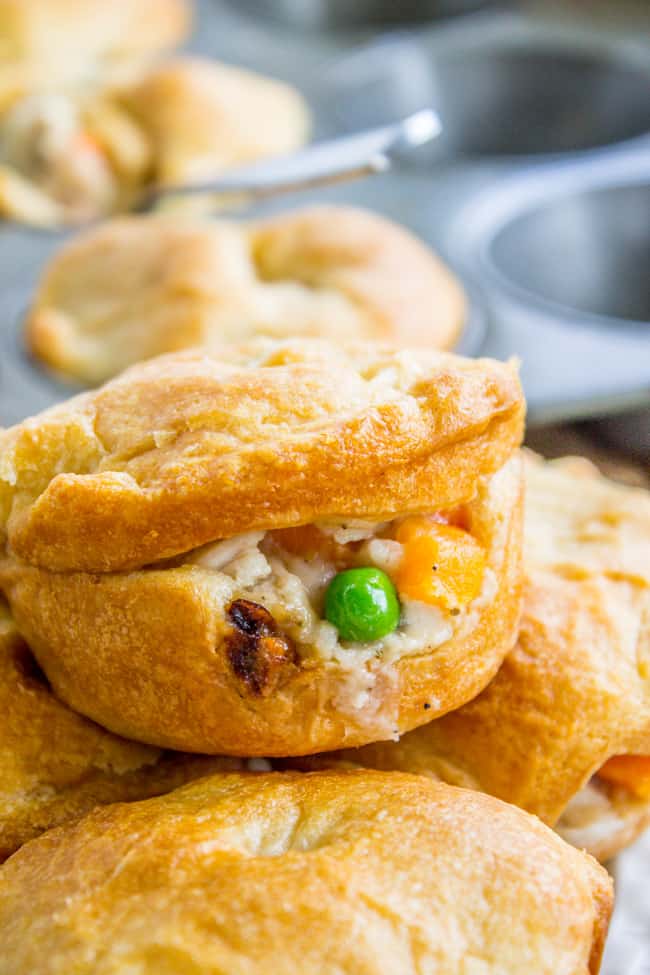 What you'll need for Chicken Pot Pie with Crescent Rolls
It's pretty simple! Full recipe can be found in the recipe card below.
Butter
Dried minced onion
Flour
Chicken broth
Milk
Salt
Pepper
Celery seed
Frozen peas and carrots
1 cup chicken (cooked and chopped)
1 8-ounce can crescent rolls
Mini Chicken Pot Pie recipe substitutions and alterations
Add more veggies. Feel free to use any frozen veggies you've got on hand. Frozen mixed veggies (includes the peas and carrots we already have, but adds green beans and corn too) would work great to provide a little more variety! You can also use fresh veggies, but you'll want to cook them first.
Make these vegetarian. Leave out the chicken and sub in canned chickpeas or add more veggies instead.
Use another meat. Feel free to use whatever cooked meat you have on hand. Chopped turkey or ham would both be delicious!
Make them cheesy. A handful of shredded cheddar would add delicious flavor to the filling. Just add it after you've whisked the chicken broth and milk into the butter, flour, and onion mixture.
How to make Mini Chicken Pot Pies
Get started with the best part: the filling. You start by melting butter in a pan, sauteing minced onion, adding flour, and slowly whisking in the milk and chicken broth.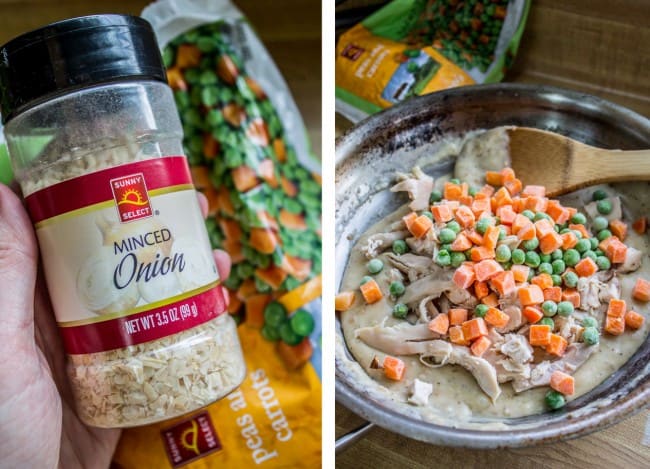 From there, we're making this easy by using rotisserie chicken and frozen veggies.

Making a chicken pot pie with crescent rolls dough is super easy! You simply roll out the dough, making sure to seal up those triangular cuts with your fingers right away, as you see in the photo on the left. Once that's done you can use a pizza cutter or a knife to divide it into 16 rectangles.

Next is the fun part where you assemble the mini pot pies. Add half of the cut dough pieces to a greased muffin pan and spoon an eighth of the mixture into each cup. Add the top layer and seal as best you can. If they don't seal perfectly, don't fret. They'll turn out when they puff up in the oven!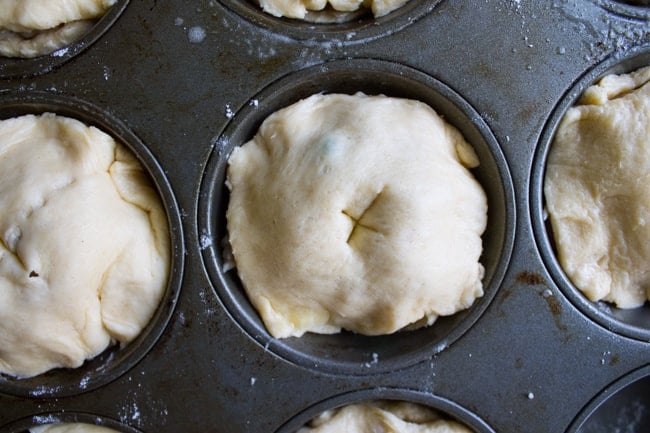 Don't forget to slit the top layer of each pie. This keeps them from over expanding as they heat up. Cook them until they're golden brown and try hard not to eat them too soon. They are so good but you want to keep your mouth from burning raw!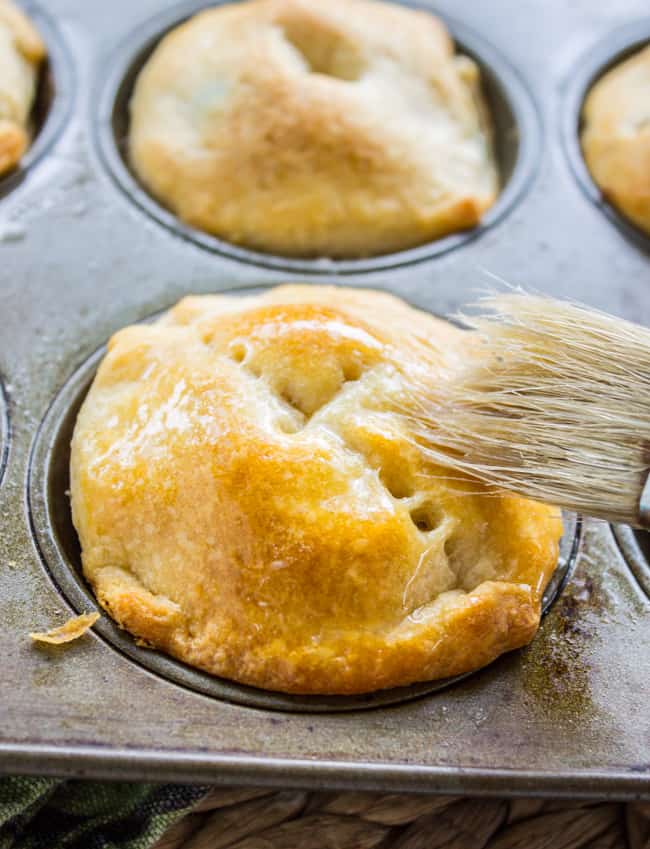 I originally tried these with a can of cream of chicken soup, veggies, and chopped chicken. It was not that great. If you are feeding children only, they might not care. But honestly, this sauce is so quick to throw together you may as well do it. It tastes amazing! You don't have to chop anything besides the chicken. I was done putting it together in about 20 minutes. Make it!
How to make Mini Pot Pies ahead of time
Yes! To prep this mini chicken pot pie recipe ahead of time, you have a couple of options.

First, you can make the filling ahead of time and store it in an airtight container in the fridge for a day or two or in the freezer for up to 1 month. When you're ready to use it, thaw it overnight in the fridge if frozen, then warm it on the stove, assemble the pies, and bake as instructed.

Another option is to assemble the pies fully and store them in the freezer for up to 3 months. To do so, make the filling and let it cool completely. Assemble the mini pot pies, then cover them and store them, uncooked, in the freezer. When you're ready to serve them, bake them from frozen until the filling is heated through and the crescent roll dough is fully cooked. Voila!
Is it better to freeze chicken pot pie cooked or uncooked?
Both are good options! And you get to choose!
To freeze unbaked mini pot pies, follow the instructions in the recipe card through step 7, then wrap the whole muffin tin tightly (I'm talkin' tin foil or plastic wrap) before freezing. That way all you have to do is take the pan out and bake straight from frozen, no need to defrost! You will probably need to add a few minutes to the baking time but otherwise, talk about easy. This could be a great way to prep for a crazy week where you KNOW it's cereal for dinner unless you plan ahead (I know you don't want your muffin tin stuck in the freezer for weeks).
If you want to freeze cooked mini pot pies, let them cool completely, then wrap them tightly before freezing for up to 3 months. You could put one or two into a ziplock sandwich bag and just pull them out for a fast lunch. I know you could use the oven…but you're going to use the microwave. Let's just be honest with each other. Wrap them in a paper towel if you like or just stick them on a plate and cover them with the microwave cover, then heat from frozen for a minute or two depending on how awesome your microwave is.
How to serve Mini Pot Pies
If you've making a dinner this easy, you might as well pair it with a bagged salad. Or steam some broccoli. I'm all about getting my veggies and sometimes the fastest, easiest path forward involves a microwave or something already prepped for you. No shame!
Crescent Roll Chicken Pot Pie storage
Baked crescent roll chicken pot pies will last in the fridge for 3-5 days. They can also be frozen for 3-4 months, but the texture won't be quite the same when they're thawed.
How do you reheat frozen mini chicken pot pies?
To reheat, thaw in the fridge if frozen, then warm in the oven until heated through. You can also wrap an individual pot pie in a paper towel and microwave it, straight from the freezer. Start with 30 seconds and add 30 seconds at a time until heated through.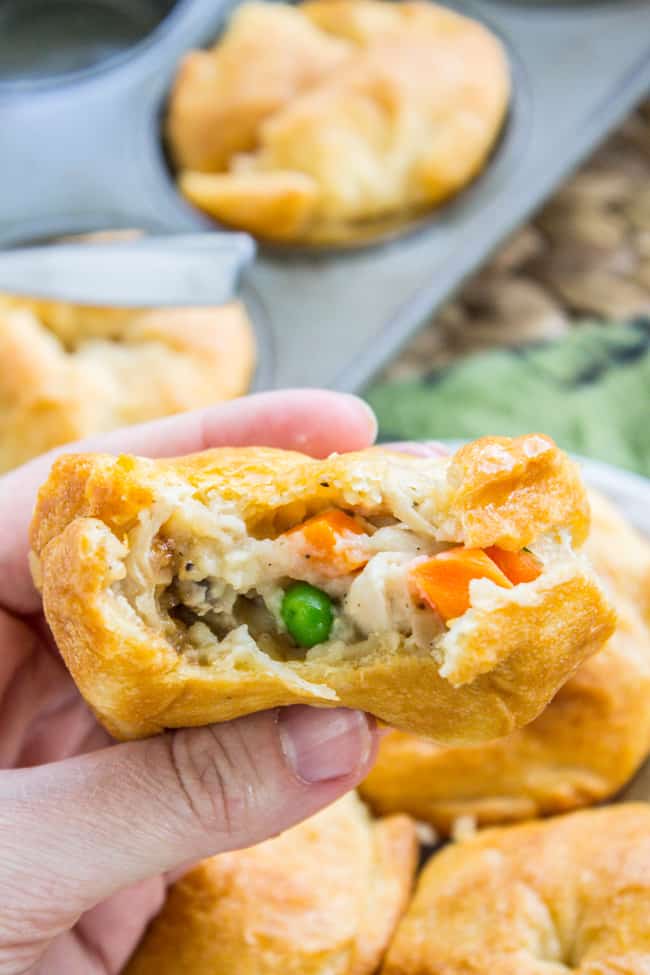 Individual Chicken Pot Pie Recipe FAQs
How many calories are in a mini chicken pot pie?
Each of these mini pot pies has about 200 calories, depending on how much filling you add to each and which substitutions you choose.
Is crescent dough sheet the same as pie crust?
Not quite. A pie crust has a denser, flakier texture, while crescent roll dough is going to have a lighter, fluffier texture.
What is the sauce made of in chicken pot pie?
Many chicken pot pies use canned soup as the sauce. But I much prefer to whip up a homemade cream "soup" for the sauce. It's super simple and made with just chicken broth, butter, milk, flour, and a few seasonings you probably already have on hand in your pantry.
How do you keep the bottom crust of a chicken pot pie from getting soggy?
The secret to keeping the bottom crust of these mini pot pies from getting soggy is to always add hot filling, never cool filling. If you do want to make the filling ahead of time, you can–even refrigerating or freezing it–you just need to heat it up again before putting it in the crust.
Should I cover chicken pot pie with foil when baking?
On a regular chicken pot pie I would say yes; I usually add foil halfway through the baking time so the crust can get golden brown, not burned. My method: take a pie-size square of aluminum foil, fold it into quarters, and cut out the middle so that when you open it you have a circle. Place over the pie crust. Of course you can use a pie crust cover instead if you have one.
But these are mini pot pies. They're only getting baked for 15 minutes. No cover needed!

How do you thicken chicken pot pie filling?
Chicken pot pie is best thickened with a roux. It's just a basic sauce made of butter, flour, and milk, but the flour acts as a thickener. You won't get any lumps if you make sure to whisk, whisk, whisk and add the milk slowly.
Other quick dinner recipes you'll love!
Facebook | Pinterest | Instagram

Individual Chicken Pot Pie Recipe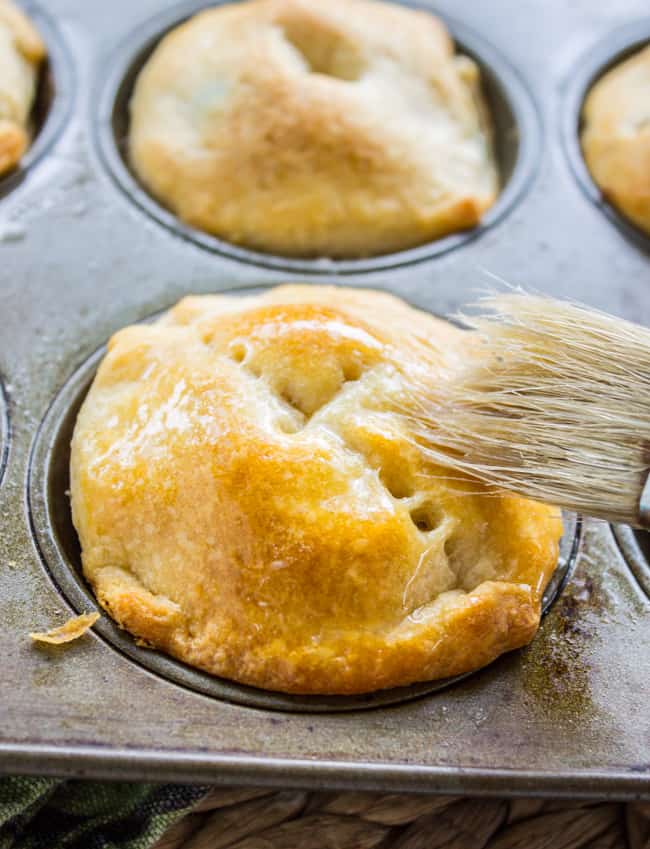 These almost-homemade Mini Chicken Pot Pies are the perfect finger-food for a party! Or a last-minute dinner that your kids will love. Crescent rolls from a can make prep quick and easy!
Ingredients
3

tablespoons

butter

1

tablespoon

dried minced onion

3

tablespoons

flour

1

cup

chicken broth

,

+ 1 tablespoon*

1/3

cup

milk

1/4

teaspoon

salt

,

more to taste

1/4

teaspoon

pepper

1/8

teaspoon

celery seed

1/2

cup

frozen peas and carrots

1

cup

chicken

,

cooked and chopped (rotisserie for the win!)

1

(8 ounce)

can crescent rolls

butter

,

melted, for brushing
Instructions
Preheat your oven to 375 degrees F. Grease 8 spots of a muffin tin very well.

Melt butter in a medium skillet. When it is hot, add the dried onions and let them cook for a minute or so. Add the flour and whisk together for 1 minute.

Slowly (not all at once!) whisk in the chicken broth and milk. Whisk out all the lumps.

Add salt, pepper, and celery seed.

Stir in the peas, carrots, and chicken. Turn off the heat.

Unroll the crescent dough. Use your fingers to quickly seal together the triangular cuts. Then cut the dough into 16 rectangles (see photos). A pizza cutter works well.

Place one rectangle into a muffin tin. Top with 1/8 of the chicken mixture. Top with another rectangle, using your fingers to seal it together if you can, but don't stress about it too much. Repeat with the remaining dough.

Poke a knife in the top to vent the pies.

Bake at 375 for about 15 minutes. You want the tops to be good and brown, so that you know the bottom is cooked.

Brush with melted butter if you want.

Serve immediately!
Notes
*I used water + Better Than Bouillon.
If the mixture doesn't seem very creamy, add more broth 1 tablespoon at a time until you reach a consistency you like.
Nutrition
Serving:
1
pot pie
|
Calories:
201
kcal
|
Carbohydrates:
16
g
|
Protein:
3
g
|
Fat:
15
g
|
Saturated Fat:
8
g
|
Polyunsaturated Fat:
3
g
|
Monounsaturated Fat:
3
g
|
Trans Fat:
1
g
|
Cholesterol:
25
mg
|
Sodium:
481
mg
|
Potassium:
83
mg
|
Fiber:
1
g
|
Sugar:
4
g
|
Vitamin A:
1077
IU
|
Vitamin C:
4
mg
|
Calcium:
21
mg
|
Iron:
1
mg