Mint Chocolate Chip Cookies Recipe
These Mint Chocolate Chip Cookies are like eating the ice cream in the form of a warm, buttery, gooey cookie. They're crisp on the edges while perfectly tender and chewy in the center. They are SO easy to make, and perfect for Christmas, St. Patrick's Day, or any random Tuesday!
Originally posted February 24, 2015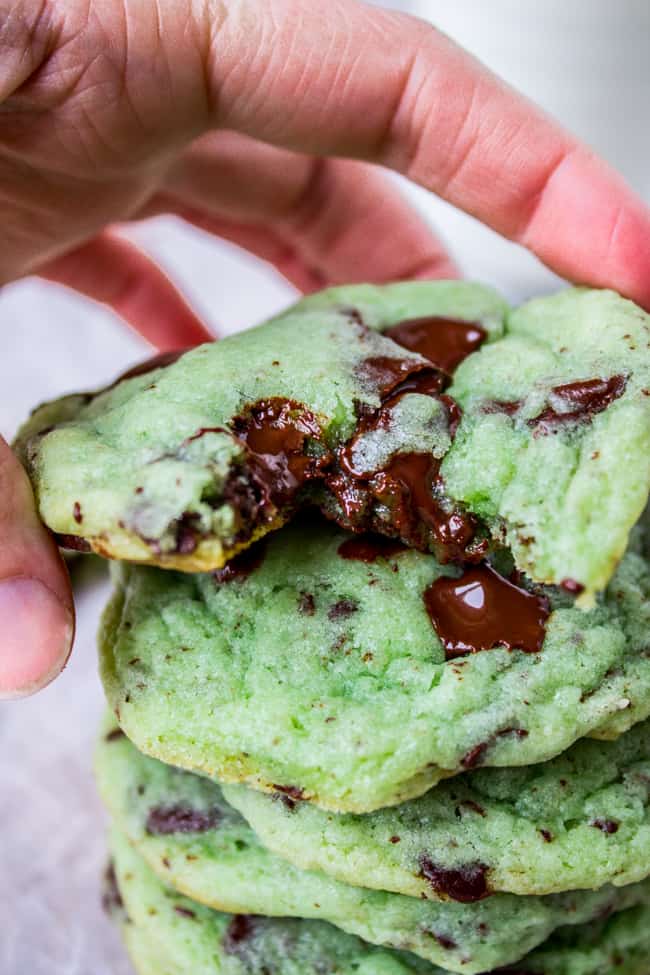 Mint Chocolate Chip Cookies
I totally forgot Truman at home when I was heading out somewhere today. I got halfway to where I was going before I realized I had left him. Here's the part where I rush home right?
Nah. I figured Truman could use some lessons on independence anyway. I mean, our house is pretty baby proof, right? He can deal.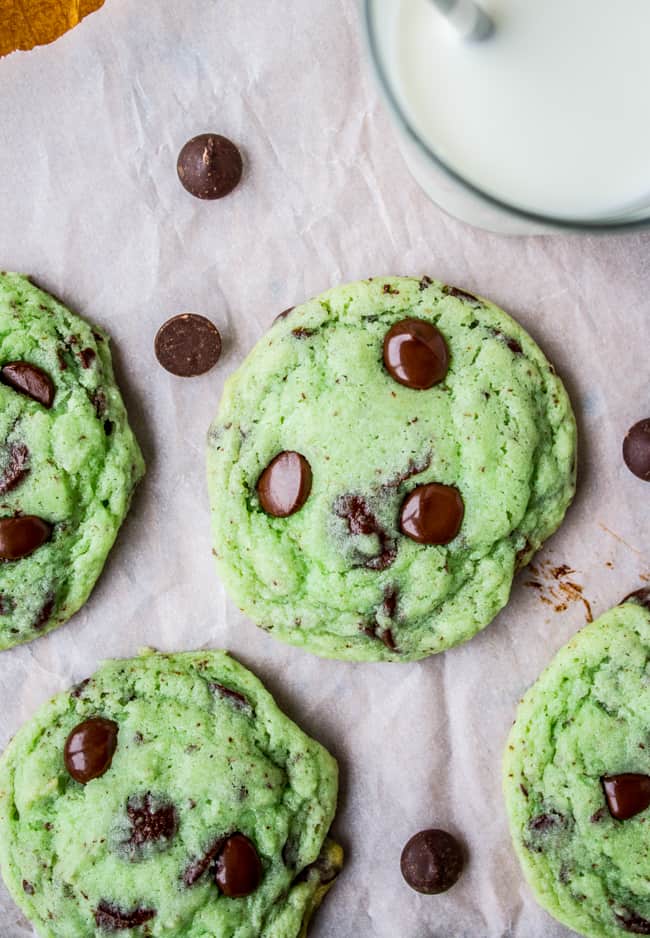 Just kidding! I'm not a monster! But I really did finish my (very short) errand before heading home. In my defense, Truman was asleep the whole time, so he didn't miss me. Idle Parent of the Year Award right here guys.
People who know my kids are always going on about how laid back and "easy" they are. They just don't really demand as much attention as some kids. (I just know I'm going to get major payback come the teen years). I think that if my kids lived thousands of years ago, they would have been eliminated by natural selection by now. I would be out picking berries or something, set my baby down somewhere, and forget about them because they are so quiet.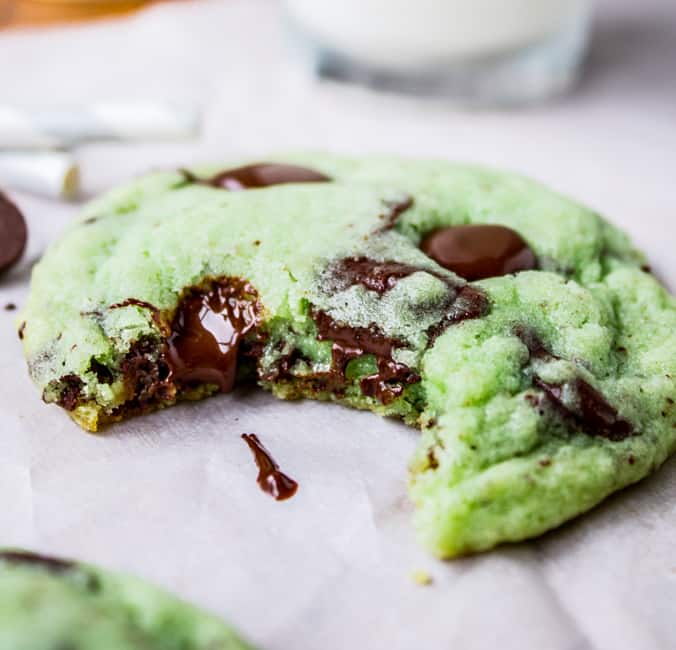 My sister was saying one time that natural selection is probably the reason toddlers are so adorably cute. After the 15th tantrum in a row, the ugly ones were removed from the evolutionary cycle, or in other words strangled by their frazzled mothers.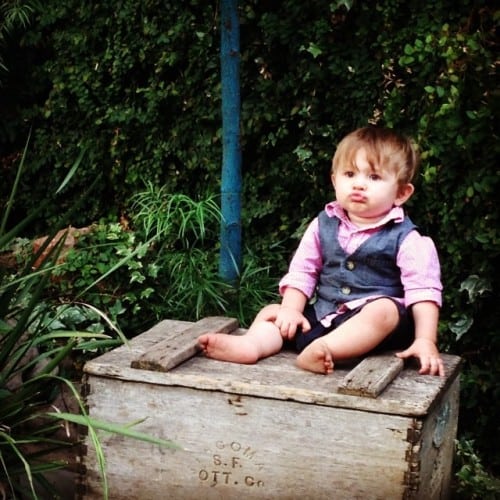 The result? Completely non-strangle-able children. With duckfaces to boot.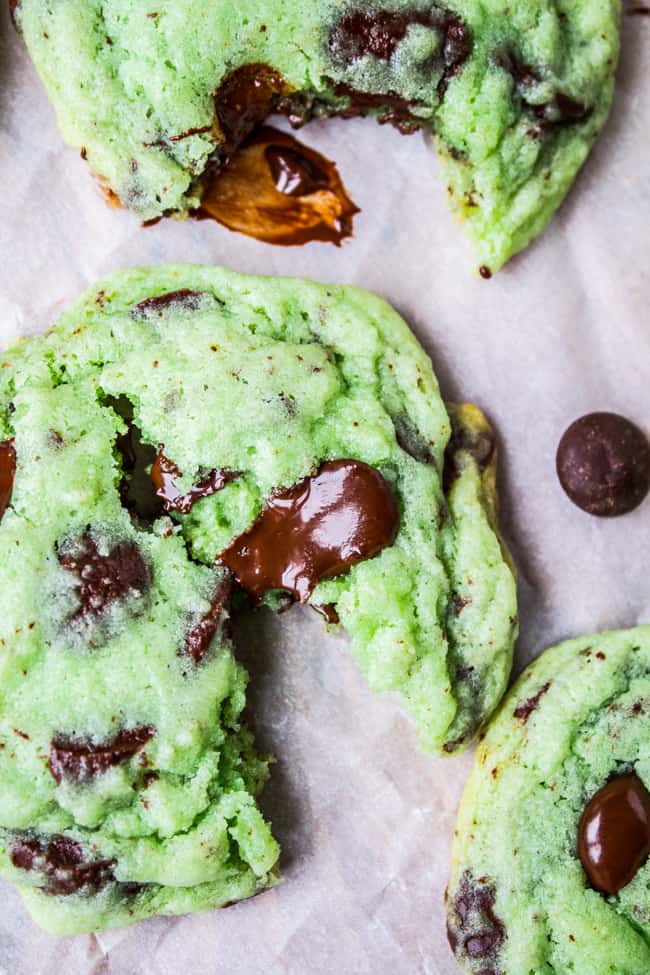 Mint forever
Do you guys love Mint Chocolate Chip Ice Cream? True confession here…it's not my favorite. I LOVE mint, but I hate the teeny tiny pieces of waxy chocolate. Why don't they make Mint Fudge Swirl Ice Cream? Or how bout just MINT? I would love that.
Anyway, these cookies are perfect for me because I get All The Mint, minus waxy chocolate, plus gooey melty darkness. WIN. The secret for extra chocolate is to chop up half the chips. That way you get big pockets of chocolate with the small pieces adding the flavor throughout the cookie. These would be super fun to make for St. Patrick's Day!
How to make Mint Chocolate Chip Cookies
They are SUPER easy to make. First, cream your butter and sugar together. Take a couple minutes to do this, let the chemistry happen! We're not just doing this part for fun. You really need to beat for a couple minutes to get enough air beaten into your butter and sugar.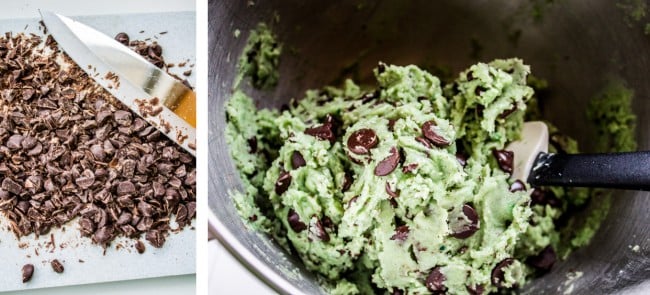 How To Make Chocolate Chip Cookies Chewy?
It has a lot to do with the level of moisture in your cookie dough. More wet ingredients=chewier cookies.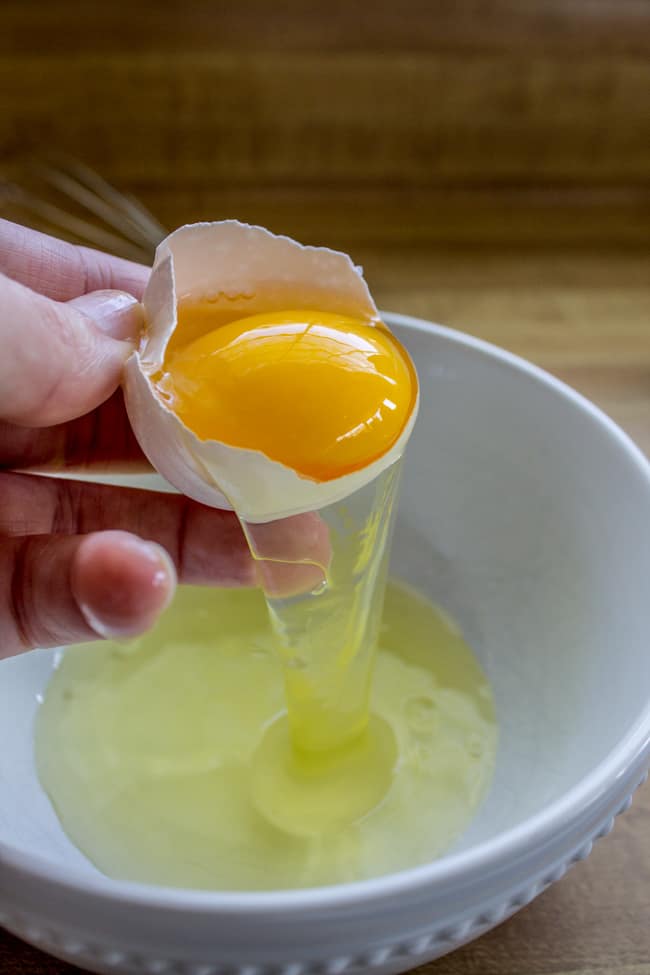 That's why this recipe calls for an extra egg yolk. I know it's kind of annoying to split an egg, but you won't be annoyed once you bite into the center of your unbelievably gooey and chewy cookie.
Next add in the peppermint extract (peppermint! Not regular mint! Say no to toothpaste cookies!) and a few drops of green food coloring. Don't go too wild, you can always add more. And keep in mind that the green flavor will intensify the longer it's in the dough.
It's also really important not to over beat your cookie dough. Once all the flour is mostly mixed in, add in your chocolate and mix it the rest of the way. You can see in the photo below that I totally had lots of flour still on the edges when I added in my chocolate. The less beating, the better! Make sure you scrape down the sides, but the minute the flour streaks are gone, stop!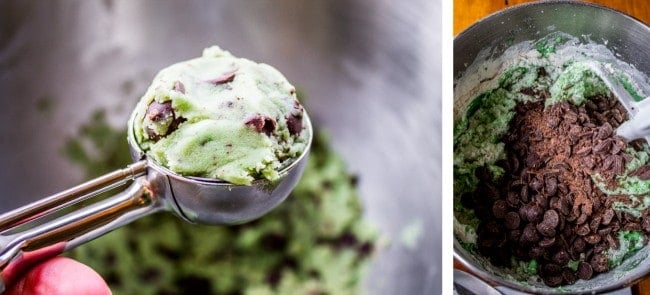 I also really love to chop half of my chocolate chips into itty bitty shards to get chocolate flavor in every single bite. So good!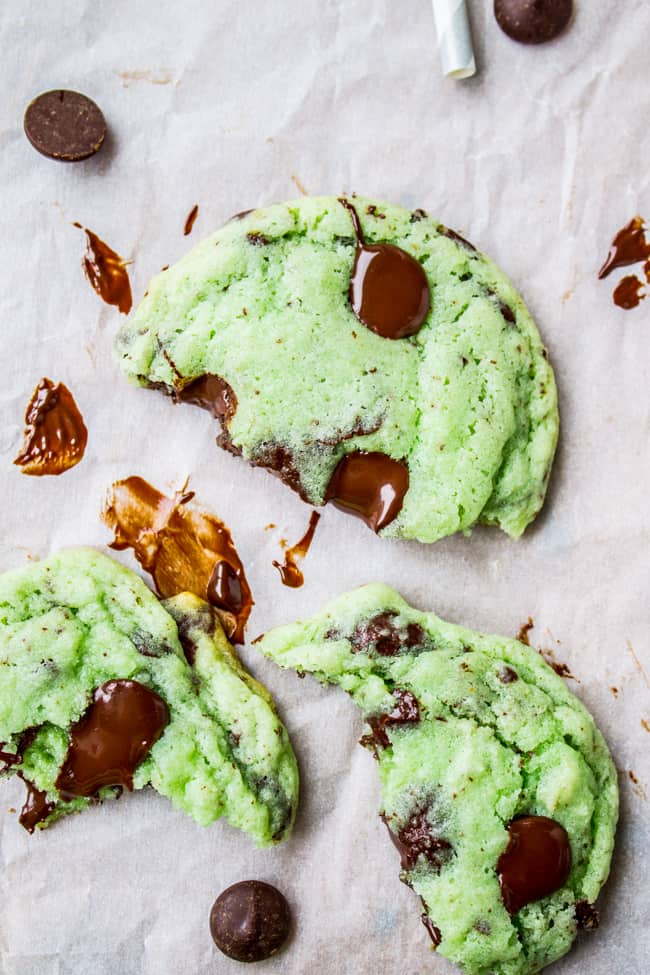 More mint recipes!
Facebook | Pinterest | Instagram
Mint Chocolate Chip Cookies
These Mint Chocolate Chip Cookies are like eating the ice cream in the form of a warm, buttery, gooey cookie. They're crisp on the edges while perfectly tender and chewy in the center. They are SO easy to make, and perfect for Christmas, St. Patrick's Day, or any random Tuesday!
Ingredients
1

cup

butter

,

softened

1 & 1/2

cups

sugar

2

large

eggs

,

plus 1 egg yolk

1

teaspoon

peppermint extract

,

or more to taste

10

drops

green food coloring

3 & 1/4

cups

flour

,

spooned and leveled

2

teaspoons

baking powder

1

teaspoon

baking soda

1

teaspoon

cream of tartar

1/2

teaspoon

kosher salt

12

ounces

dark chocolate chips

,

divided
Instructions
Preheat the oven to 350 degrees F. Line one or more baking sheets with parchment paper or a silpat.

In a large bowl or stand mixer, beat the butter and sugar together. Scrape the sides and bottom of the bowl, then beat on medium for about 2 minutes, or until light and fluffy.

Add the eggs + yolk, peppermint extract, and food coloring.

In a separate bowl, combine flour, baking powder, baking soda, cream of tartar, and salt. Add to the wet ingredients and combine until the flour is not quite incorporated.

Add half of the chocolate chips to the dough.* Chop the other half coarsely, with a knife or in a food processor.

Add the chopped chocolate to the dough, and mix until just combined.

Cover the dough and refrigerate for about an hour.**

Use a 2-inch cookie scoop to form balls of dough and drop them on the cookie sheet. These are very large cookies, I only did 8 cookies per pan.

Bake at 350 for about 8-10 minutes, or until BARELY starting to brown on the edges. The centers should mostly be not-shiny when you take them out, but a little shine is okay.

Let cool 5 minutes on the pan, then remove to a cooling rack.
Notes
*I reserved about 1/3 cup of the whole chips and pushed them into the baked cookies immediately after taking them out of the oven.
**Chilling is not mandatory. You can bake them right after you mix it, I tried it. They will still turn out fine. I prefer the texture and flavor after a little chilling though.
Nutrition
Serving:
1
cookie
,
Calories:
224
kcal
,
Carbohydrates:
29
g
,
Protein:
3
g
,
Fat:
11
g
,
Saturated Fat:
8
g
,
Polyunsaturated Fat:
1
g
,
Monounsaturated Fat:
2
g
,
Trans Fat:
1
g
,
Cholesterol:
31
mg
,
Sodium:
187
mg
,
Potassium:
117
mg
,
Fiber:
1
g
,
Sugar:
15
g
,
Vitamin A:
223
IU
,
Vitamin C:
1
mg
,
Calcium:
60
mg
,
Iron:
1
mg
We are a participant in the Amazon Services LLC Associates Program, an affiliate advertising program designed to provide a means for us to earn fees by linking to Amazon.com and affiliated sites.