Mint Chocolate Chip Cookies
These Mint Chocolate Chip Cookies are like eating the ice cream in the form of a warm, buttery, gooey cookie. For those days when curling up by the fire with a cookie sounds better than being outside in the freezing cold with an ice cream cone.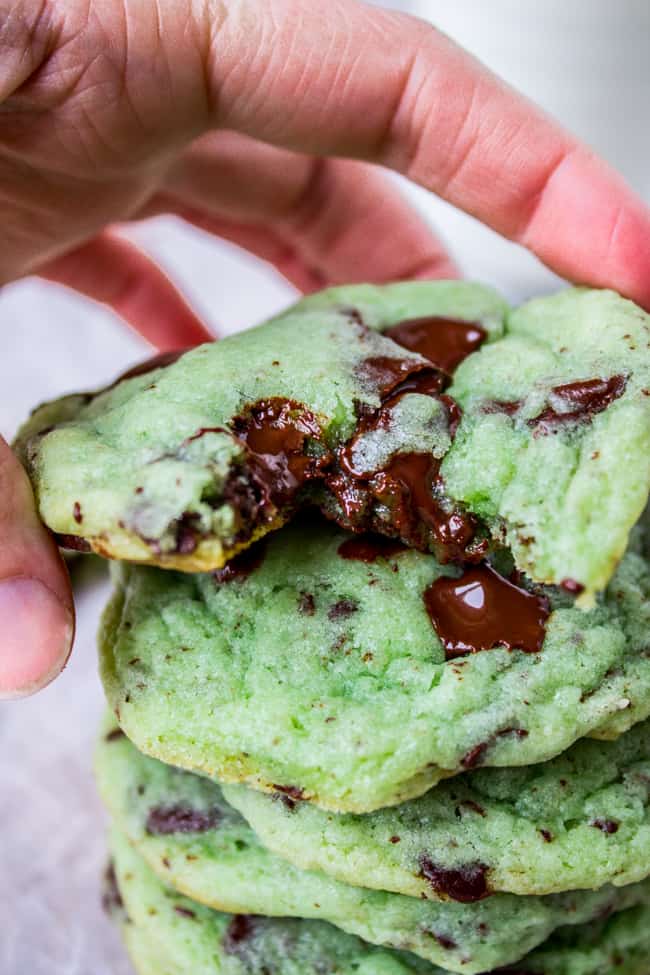 I totally forgot Truman at home when I was heading out somewhere today. I got halfway to where I was going before I realized I had left him. Here's the part where I rush home right?
Nah. I figured Truman could use some lessons on independence anyway. I mean, our house is pretty baby proof, right? He can deal.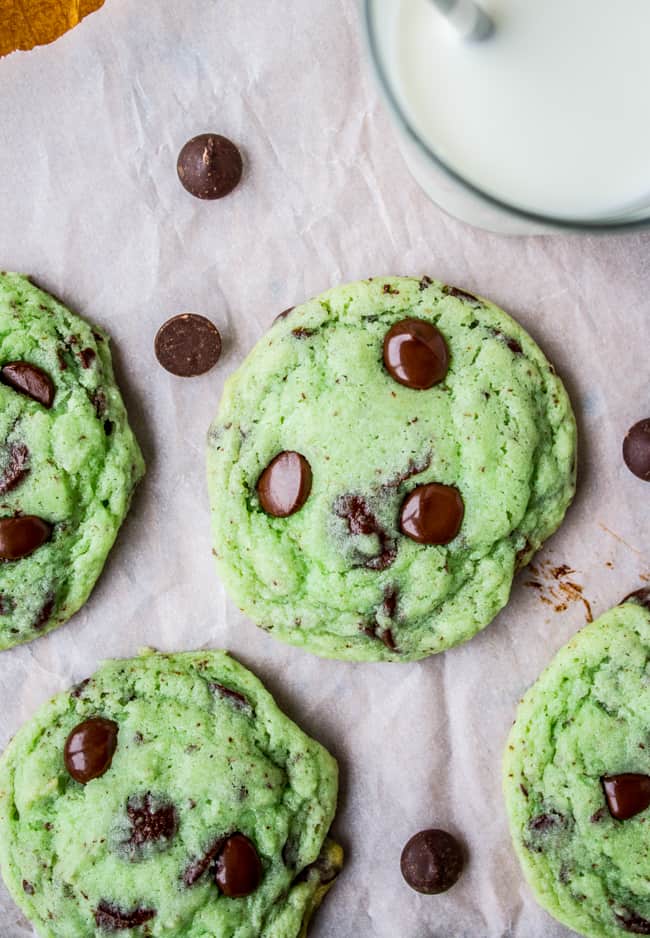 Just kidding! I'm not a monster! But I really did finish my (very short) errand before heading home. In my defense, Truman was asleep the whole time, so he didn't miss me. Idle Parent of the Year Award right here guys.
People who know my kids are always going on about how laid back and "easy" they are. They just don't really demand as much attention as some kids. (I just know I'm going to get major payback come the teen years). I think that if my kids lived thousands of years ago, they would have been eliminated by natural selection by now. I would be out picking berries or something, set my baby down somewhere, and forget about them because they are so quiet.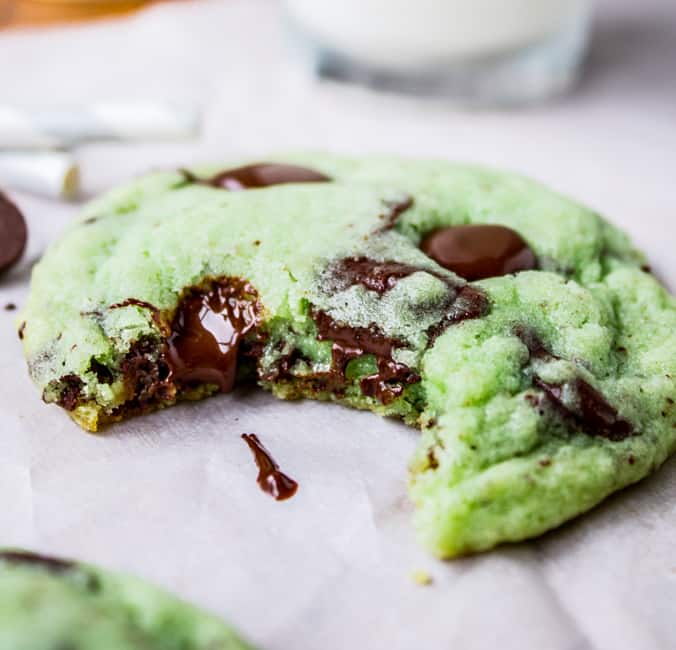 My sister was saying one time that natural selection is probably the reason toddlers are so adorably cute. After the 15th tantrum in a row, the ugly ones were removed from the evolutionary cycle, or in other words strangled by their frazzled mothers.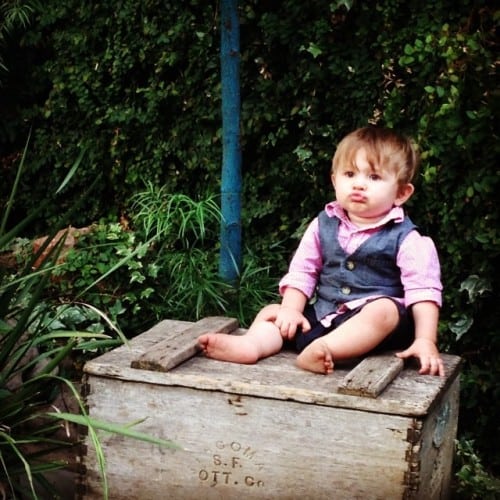 The result? Completely non-strangle-able children. With duckfaces to boot.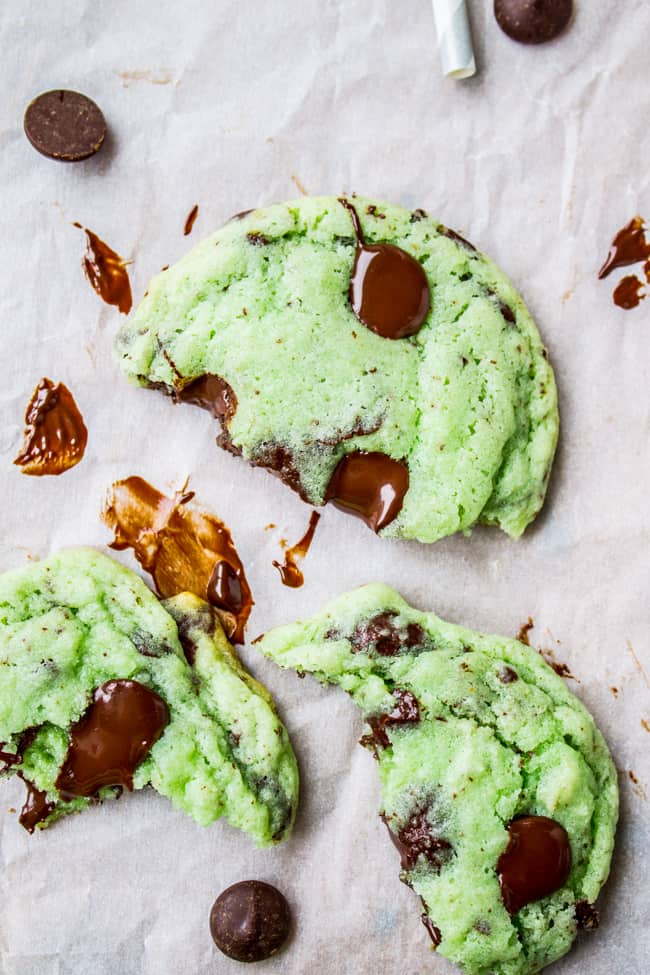 Do you guys love Mint Chocolate Chip Ice Cream? True confession here…it's not my favorite. I LOVE mint, but I hate the teeny tiny pieces of waxy chocolate. Why don't they make Mint Fudge Swirl Ice Cream? Or how bout just MINT? I would love that.
Anyway, these cookies are perfect for me because I get All The Mint, minus waxy chocolate, plus gooey melty darkness. WIN. These would be super fun to make for St. Patrick's Day!
Do you guys give up? Or are you thirsty for more?
Facebook | Pinterest | Instagram | Twitter


print
Did you make this recipe?
Leave a review »
Mint Chocolate Chip Cookies
about 20 large cookies
adjust servings
Ingredients
1

cup butter, softened

1

and 1/2 cups sugar

2

large eggs plus 1 egg yolk

1

teaspoon peppermint extract (or more to taste)

about 10 drops of green food coloring

3

and 1/4 cups all-purpose flour, spooned and leveled

2

teaspoons baking powder

1

teaspoon baking soda

1

teaspoon cream of tartar

1/2

teaspoon kosher salt

12

ounces dark chocolate chips, divided
Instructions
Preheat the oven to 350 degrees F. Line one or more baking sheets with parchment paper or a silpat.
In a large bowl or stand mixer, beat the butter and sugar together. Scrape the sides and bottom of the bowl, then beat on medium for about 2 minutes, or until light and fluffy.
Add the eggs + yolk, peppermint extract, and food coloring.
In a separate bowl, combine flour, baking powder, baking soda, cream of tartar, and salt. Add to the wet ingredients and combine until the flour is not quite incorporated.
Add half of the chocolate chips to the dough.* Chop the other half coarsely, with a knife or in a food processor.
Add the chopped chocolate to the dough, and mix until just combined.
Cover the dough and refrigerate for about an hour.**
Use a 1/4 cup measuring cup to form balls of dough and shape them into a long oval shape (not a ball shape, think more egg shape). Place them on the cookie sheet (the tall way) lined with parchment paper or a silicone mat. These are very large cookies, I only did 8 cookies per pan.
Bake at 350 for about 8-10 minutes, or until BARELY starting to brown on the edges. The centers should mostly be not-shiny when you take them out, but a little shine is okay.
Let cool 5 minutes on the pan, then remove to a cooling rack.
by The Food Charlatan

If you make this recipe,
share it on Instagram
 using the hashtag
#TheFoodCharlatan
so I can see it!
Source: adapted from Little Dairy on the Prairie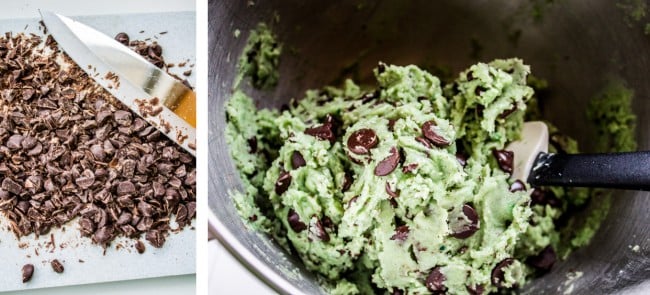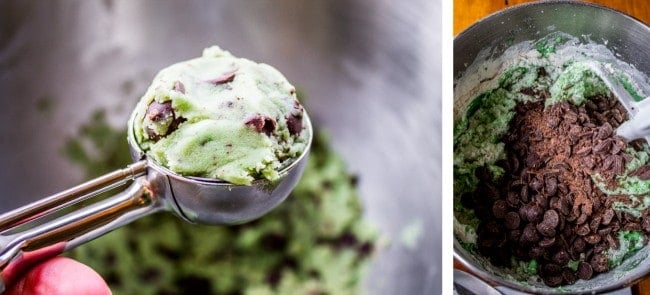 More mint recipes!
(P.S. Did you know that Mint chocolate chip ice cream usually uses peppermint, not mint flavor? So really the only difference between Christmas-y peppermint cookies and St. Patrick's Day ones is that one is red and the other is green :)
Oreo Shamrock Shake: Just like McDonald's…plus Oreo.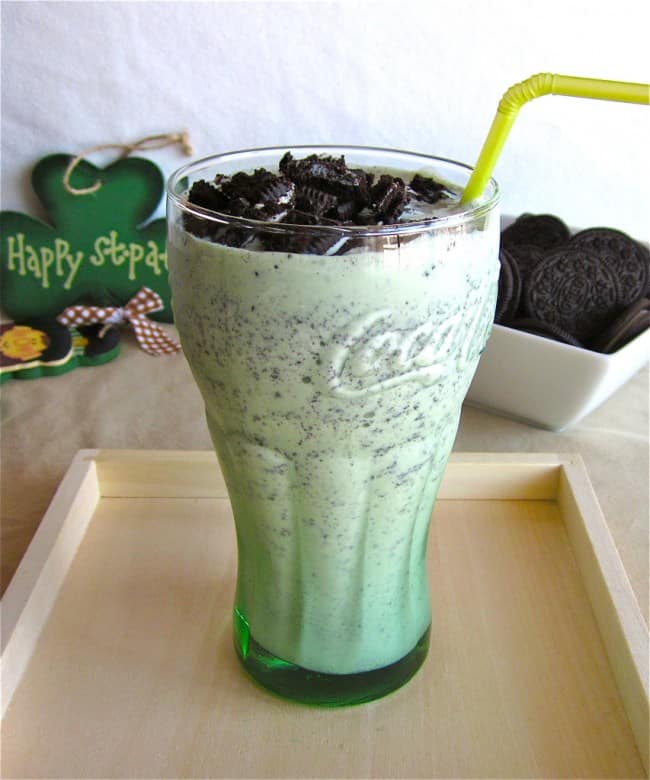 Mint Chocolate Covered Almonds: << these are a quick and easy HEALTHY snack that still satisfies that chocolate mint craving!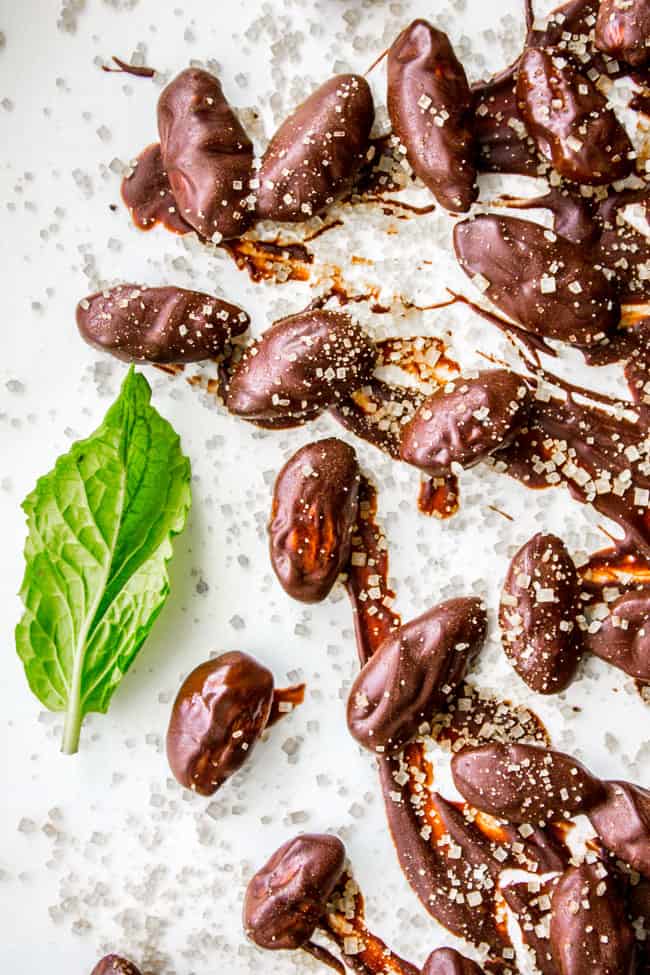 Candy Lasses << These are some of my favorite cookies of all time!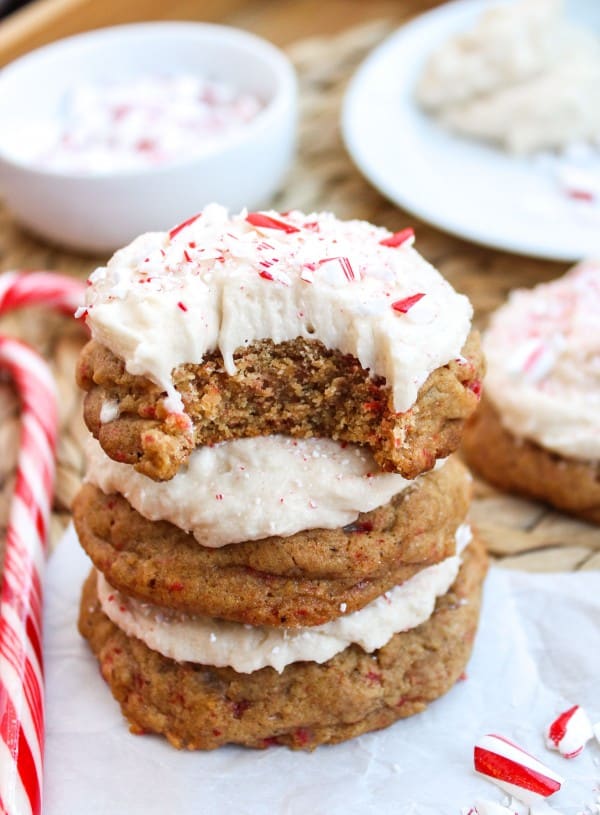 More mint chip!
Easy Mint Chip Sweet Rolls from Crazy for Crust
Mint Chip Brownie Ice Cream Squares from Glorious Treats
Mint Chocolate Chip Fudge from Sally's Baking Addiction
We are a participant in the Amazon Services LLC Associates Program, an affiliate advertising program designed to provide a means for us to earn fees by linking to Amazon.com and affiliated sites.