This delicious yeasty French bread recipe has only one 20-minute rise before going into a screaming hot oven for another 20 minutes. At the end you have golden crusty goodness just waiting to be slathered in butter or dipped in oil and balsamic! One hour, I promise!!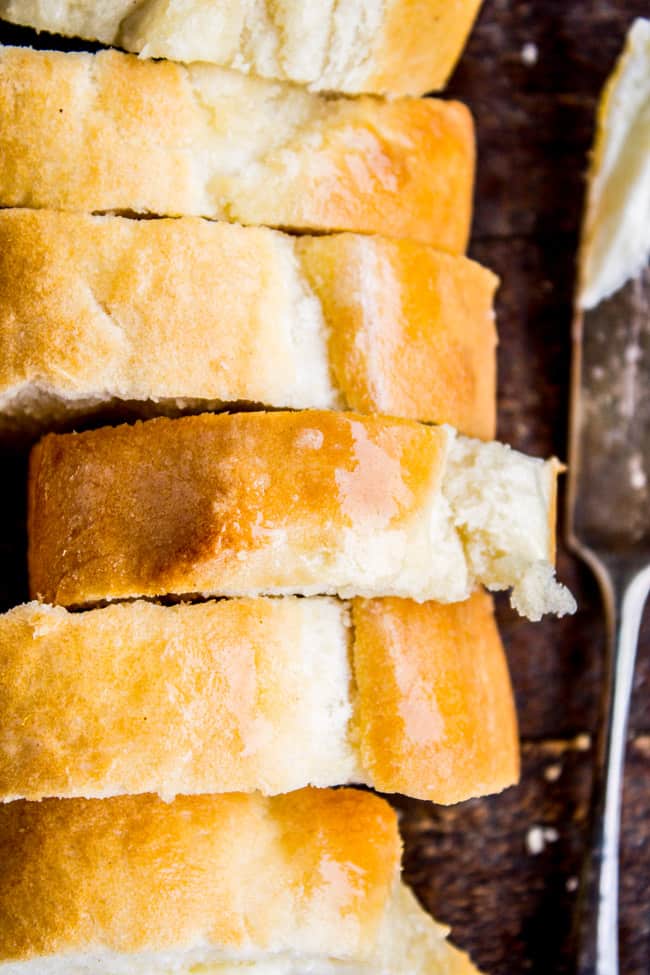 Originally posted February 23, 2017
Eric got home from work today and came into the kitchen (where else would I be) to say hello. After we hugged, I was stirring something on the stove when I heard him counting under his breath. 1…2…3…4…and on 5, he shut the fifth cupboard door that I had left open while making dinner. (He even dinged as a reinforcing tactic.)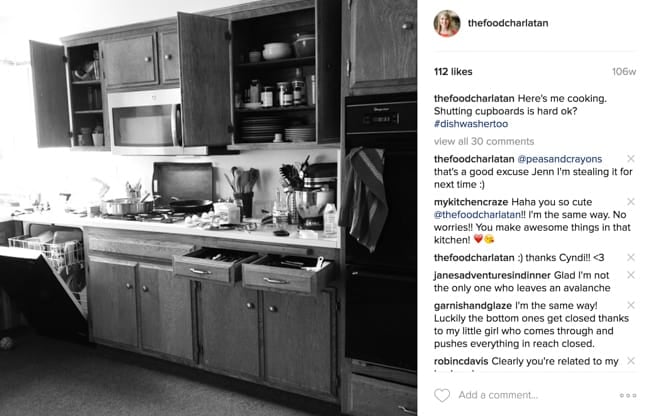 I took this photo over a year ago. You would think I would learn (because I smack my head all the time) but usually when I'm cooking I'm in a hurry. My brain subconsciously thinks to itself, "you don't have time to shut that drawer right now. You gotta get this cumin in the taco meat STAT." Or whatever it is I need to do next.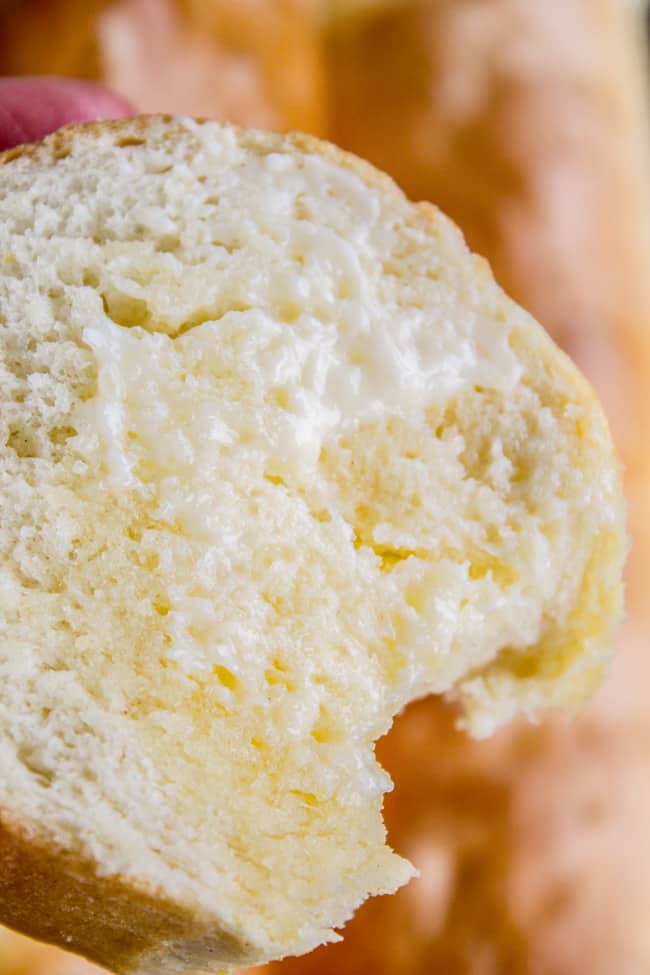 It's gotten to the point that whenever I bend over in my kitchen to put something away, I try to remember to come up slowly and check around for rogue cupboards. We got a new fridge a few months ago and it starts beeping at me when I leave it open. This happens approximately 12,000 times a day.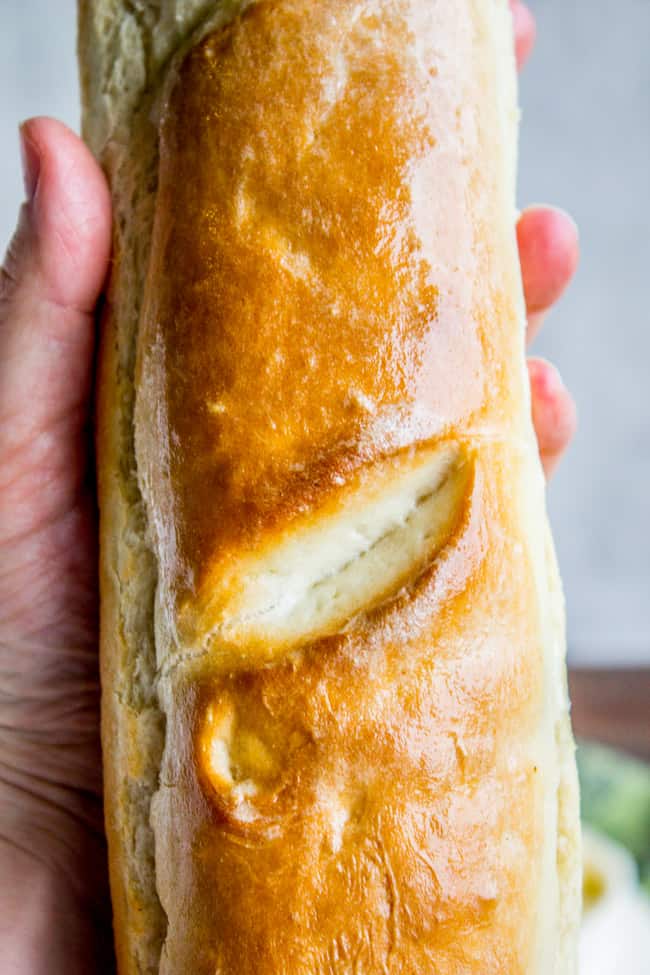 After he counted the open cupboards, Eric probably turned around and started counting children. 1…2…3…4…5…6…7. I have 7 children under the age of 7 in my house right now.  (Ages 6, 6, 5, 4, 3, 1, and 3 months. I think.) My best friend and her husband are on a trip to Sweden (!!) and I volunteered to take her 4 kids for a week. No one is dead yet, thank you very much. Pray for me, my friends. Pray no one dies, and that if they do, that it wasn't by my hand.
How to make French Bread (in one hour!)
So who's got 3+ hours to make French bread for dinner tonight? Not this girl. (Hello, just start counting the kids in my house.) But I think I could handle 1 hour bread. This stuff is SO good. I'm not sure that I'll ever go back to my trusty double rise French bread. I mean, that recipe is delicious, but so is this one, and ONE HOUR!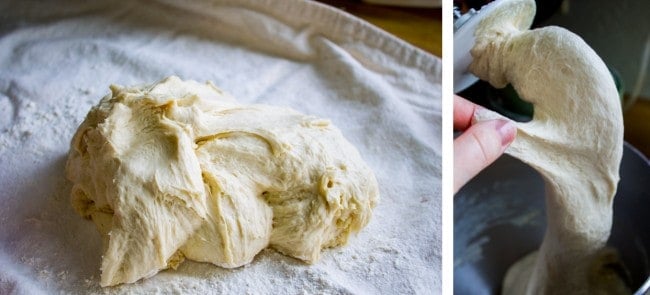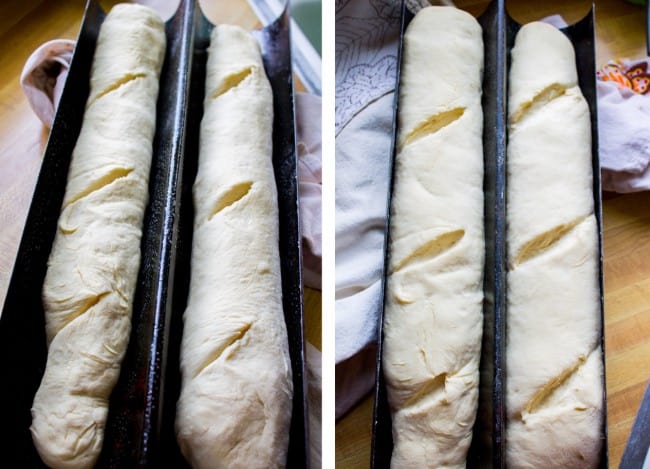 This French bread recipe has got the most gorgeous crust, and yes, part of that is because of the baguette pan that I used. (It's not the one I linked too, that's just a similar one.) Eric's grandma (Nana) gifted me her old baguette pan and I get excited every time I use it. I love the crispy crust it makes all over the bottom. But you can totally shape the loaf on a regular old baking sheet, no fancy pans required. It will still be delicious bread in the end. Soft and tender in the middle, crispy crust on the outside. Yes please! Pass the butter.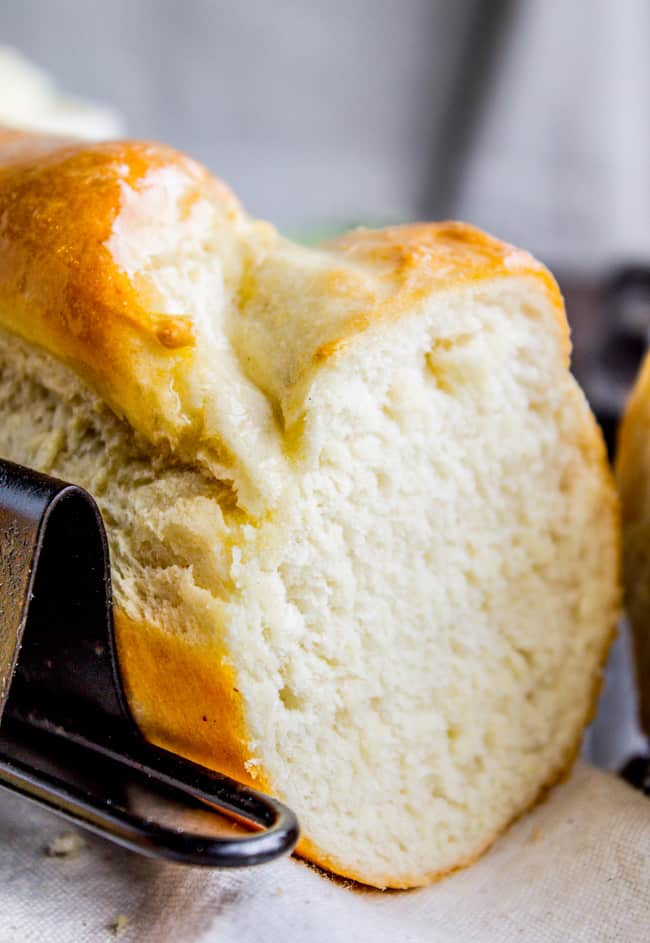 By the way, you should totally take an extra 5 minutes and make this Restaurant-Style Olive Oil and Balsamic Bread Dip. HEAVENLY! If you make any of my recipes, be sure to share them on Instagram using the hashtag #TheFoodCharlatan so I can see it! I love that.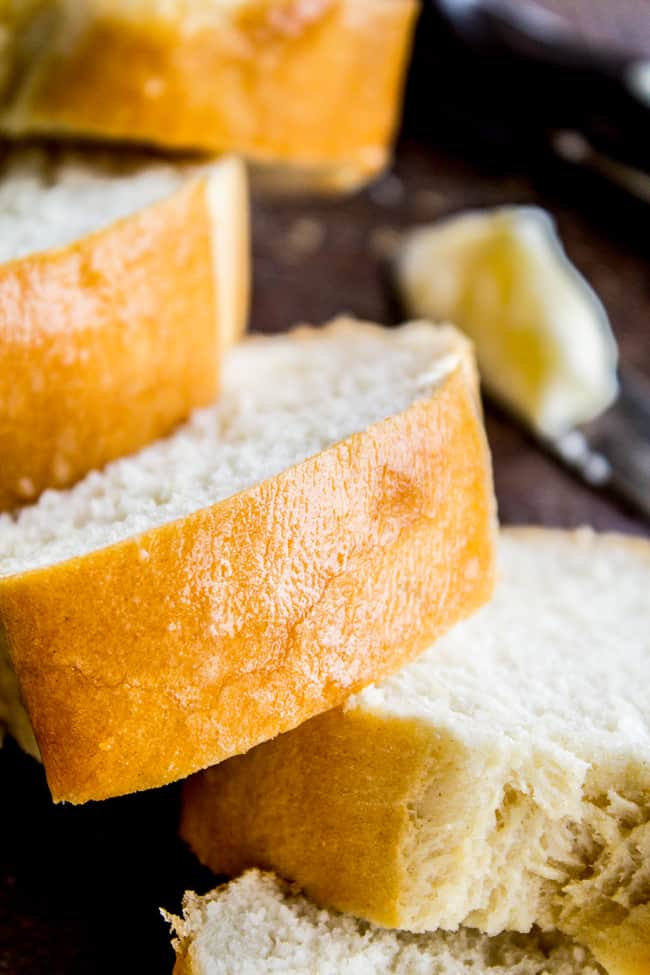 Other bread recipes to try!
One Hour Yeast Rolls (Reesy Rolls) << this was a classic for Eric growing up. You can tell by this photo I posted these a long time ago!
Aunt Shirley's Famous Dinner Rolls
Garlic and Rosemary Skillet Bread << Alllll the garlic
One Hour Dinner Rolls from Yellow Bliss Road
Classic Crusty Herbed Dinner Loaf from Sugar Dish Me
Easy No Knead Yeast Rolls from Melissa's Southern Style Kitchen
Facebook | Pinterest | Instagram | Twitter

One Hour French Bread Recipe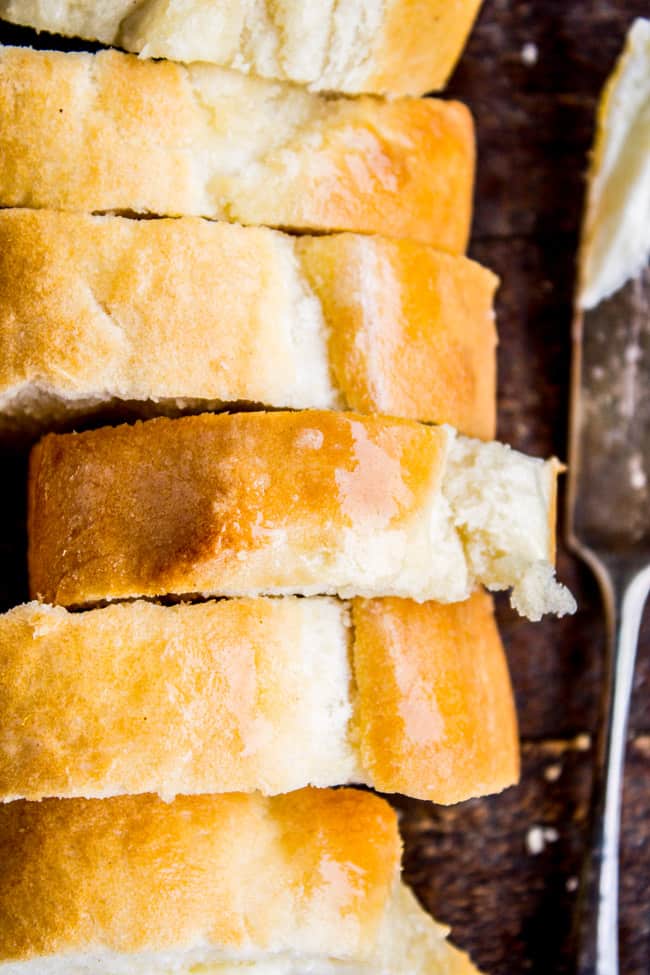 This delicious yeasty French bread recipe has only one 20-minute rise before going into a screaming hot oven for another 20 minutes. At the end you have golden crusty goodness! One hour, I promise!!
Ingredients
1 & 1/2

cups

warm water

1

tablespoon

white sugar

1 & 1/2

tablespoons

dry yeast*

1 & 1/2

teaspoons

salt

1 & 1/2

tablespoons

butter

,

softened

3-4

cups

all purpose flour

,

spooned and leveled

1

egg white

,

optional (for brushing)
Instructions
Preheat your oven to 450 degrees. Do it now so that your oven is nice and hot when you put the bread in.

In a large bowl or stand mixer, combine warm water, sugar, yeast, and salt. You want the water to be like a nice warm bath water. Feel it with your wrist.

Set your bowl on the preheating oven and wait a couple minutes. If you see bubbles from the yeast reacting, move forward. If not, you may have killed your yeast with too hot water. Dump it and start over!

Add the softened butter and 1 cup of flour, and stir together with a wooden spoon.

Use the dough hook (or continue with the wooden spoon) to stir in the rest of the flour. Start with 3 cups total in the recipe (including the cup you added in step 4). Then add the last cup 1/4 cup at a time to see how much you need. The dough should be pulling away from the sides of the bowl but still sticky. (see photos) I usually add most of the fourth cup.

Knead for 6-7 minutes, until the dough is smooth and elastic.

At this point you can either shape the dough into one large loaf that is about 12-14 inches, or you can make 2 smaller loaves. (I made two smaller loaves to fit in my baguette pan.)

Use a sharp serrated knife to make 3-4 half-inch slits on top.

Cover with a tea towel and let rise for 20 minutes.

When the loaf or loaves have roughly doubled in size, remove the towel.

In a small bowl, use a fork to whisk up 1 egg white. Make it nice and frothy. Use a pastry brush to coat the tops and sides of the bread. You can use all or most of the egg white.

Transfer the bread to the oven.

Bake for about 20 minutes. You will know it is done when the top is shiny and golden, and the bottom of the loaf is browned. The longer you leave it in, the crispier your crust will be.

Let cool for a bit and then devour hot with butter!
Notes
*That's about 1 and 1/2 packages. I buy Red Star yeast in bulk.
**I baked my bread in a baguette pan that Eric's grandmother used to use. She gave it to me recently and I wanted to try it out. But I've made this recipe on a regular old baking sheet and it works just fine, it will just be a different shape. Here is a baguette pan that would make a similar shape to the pictures shown here, or here is a regular French bread pan if you prefer larger loaves. Just remember the larger your loaves, the longer you will have to leave it in the oven.
For a great accompaniment, make my Restaurant-Style Olive Oil and Balsamic Bread Dip. It takes all of five minutes - you won't regret it!
Source: I adapted this recipe from a recipe card I got at a church activity. One of the ladies shared it with the group.
Nutrition
Serving:
1
g
|
Calories:
200
kcal
|
Carbohydrates:
38
g
|
Protein:
6
g
|
Fat:
3
g
|
Saturated Fat:
1
g
|
Polyunsaturated Fat:
1
g
|
Monounsaturated Fat:
1
g
|
Trans Fat:
1
g
|
Cholesterol:
6
mg
|
Sodium:
465
mg
|
Potassium:
65
mg
|
Fiber:
1
g
|
Sugar:
2
g
|
Vitamin A:
66
IU
|
Vitamin C:
1
mg
|
Calcium:
10
mg
|
Iron:
2
mg
This post contains affiliate links. Thanks for your support!