My mom is a great cook. When her kids left for college, she gave each of us a small folder of typed up recipes entitled "Some of my Favorite (and Easy) Stuff to Make and Eat." It includes some fabulous entries, such as "Meat and Potato Stuff" (no, I'm not joking), "Chicken Patties and Mashed Potatoes," (a staple growing up) and "Tuna Pia: Food of the Gods" (my dad refused to call it anything else, although looking back I'm wondering if this might have just been a ploy to get the kids to eat it.) In spite of what you might be thinking about the way my mom cooks, she really does make delicious food; I think she was trying to give us cheap and easy recipes since we were poor college students.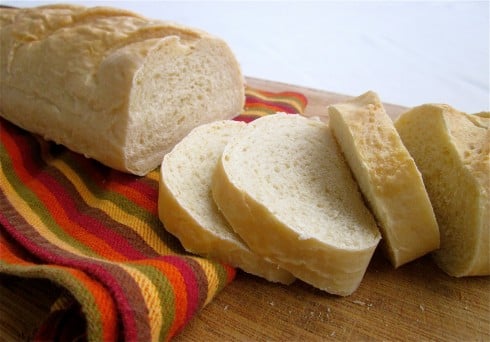 There is a table of contents at the beginning of the book which divides it into categories, like main dishes, side dishes, desserts, etc. My favorite by far is the "Bread" section. This is what it says, verbatim:
BREADS: Go to the bread aisle of the grocery store or day-old bread store. Pick out something that looks good, like garlic or French bread for Italian dishes, whole wheat or cracked wheat for toast and sandwiches, soft rolls for most everything else, though sourdough is also good. (Sorry–I don't do yeast. If you want recipes for actual homemade bread and rolls, I suggest calling your aunt Shirley.)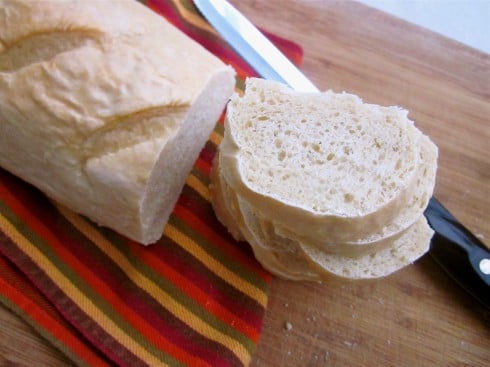 My mom has an aversion to kneading. This is understandable since she never had a stand mixer. I wouldn't make bread either if I didn't have a machine to do it for me. But since I have it, bread is easy, and I really enjoy making all sorts of bread now. Who can say no to hot bread out of the oven? This is my favorite French Bread recipe. It's very simple and incredibly delicious. Plus it freezes well. Yes please!
French Bread

Source: Allrecipes.com
Makes 2 large loaves
6 cups all-purpose flour
5 teaspoons active dry yeast
2 teaspoons salt
2 cups warm water (110 degrees F)
1 or 2 tablespoons softened butter
1 egg white
1 tablespoon water
In a large bowl, combine 2 cups flour, yeast, and salt. Stir in 2 cups warm water, and beat until well blended using a stand mixer with a dough hook attachment. Add the butter (I usually just scoop some out of my butter dish.)
Add the rest of the flour one cup at a time, using the hook to knead it in. You may need more or less than 6 cups of flour. Add flour until the dough is stiff, smooth, and elastic. Sometimes you will need to stop the mixer and rearrange the dough so that you are not just kneading the top half.  When you have added enough flour, the dough will not stick to the sides of the bowl or to your fingers. Once you have reached the right consistency, knead the dough with the hook for another 5 or 6 minutes.
Shape the dough into a ball. Place dough in a greased bowl, and turn once so that the top half is not dry. Cover with a dry towel, and let rise in a warm place until doubled, about one hour. (I usually turn my oven on to 170˚ for about 30 seconds, turn it off, and let my dough rise inside.)
Punch dough down, and divide in half. Turn out onto a lightly floured surface. Roll each half into a large rectangle. (Make sure the long side is no longer than your baking sheet.) Roll up, starting from a long side. Moisten edge with water and seal. Taper ends.
Grease a large baking sheet. Place loaves, seam side down, on the prepared baking sheet. With a very sharp knife, make 3 or 4 diagonal cuts about 1/4 inch deep across top of each loaf. Cover with a cloth. Let rise until nearly doubled, 35 to 40 minutes.
Using a whisk, beat the egg white with 1 tablespoon of water, and brush carefully all over the dough.
Bake in a preheated 375 degrees F (190 degrees C) oven for 15 minutes. Brush again with egg white mixture. Bake for an additional 15 to 20 minutes*, or until bread tests done. If necessary, cover loosely with foil to prevent over browning. Remove from baking sheet, and cool on a wire rack.
*I never cook mine that long, but that's because I don't like my crust very crunchy, which is technically how French bread is supposed to be. I take mine out whenever it starts to get golden brown on the bottom. (Use a spatula to check).