This is the perfect recipe for your Thanksgiving table! Or make it after the holiday with your leftover sweet potatoes, and use the rolls for turkey sandwiches. Nothing beats fresh homemade dinner rolls!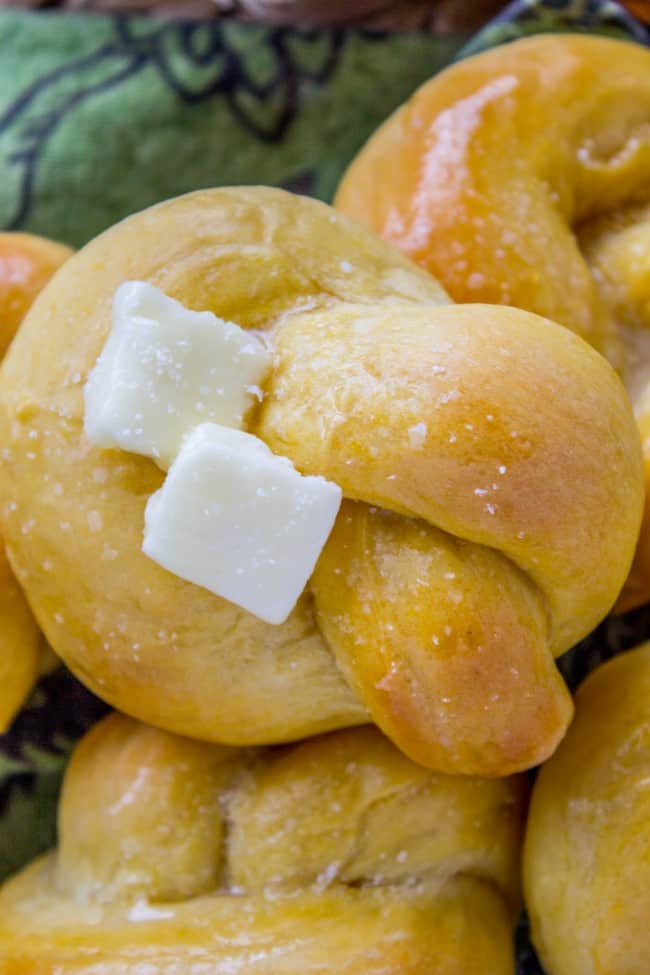 Last weekend I drove up to Chico for my friend Sarah's baby shower, mostly because I knew there would be good food there. I mean, when a food blogger friend throws a party, you go. No question. (The fact that she is one of the coolest people I know is totally secondary.)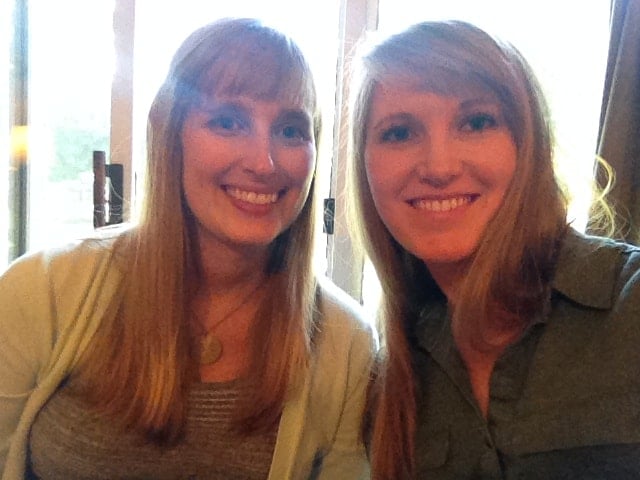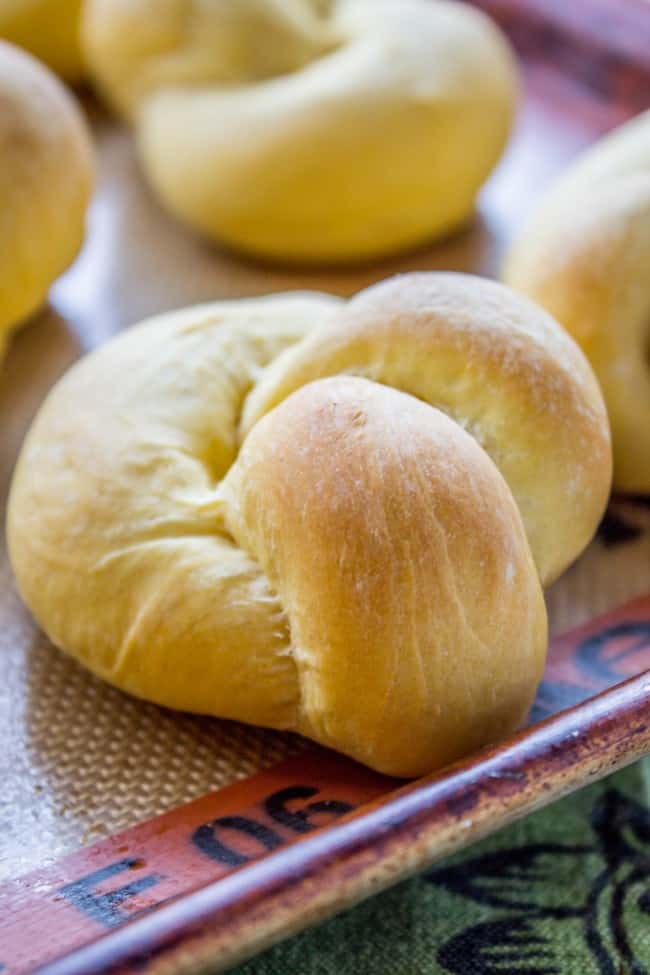 One of the gifts that Sarah got was a towel-apron that her mom sewed for her. It's to wear when you are giving your kid a bath so you don't get soaked. (Genius right??) I was complimenting Sarah's mom on the apron and asked her how she made it. "I didn't even know they made towel fabric!" I said.
Sarah took pity on me. "Karen, she just…used  a towel."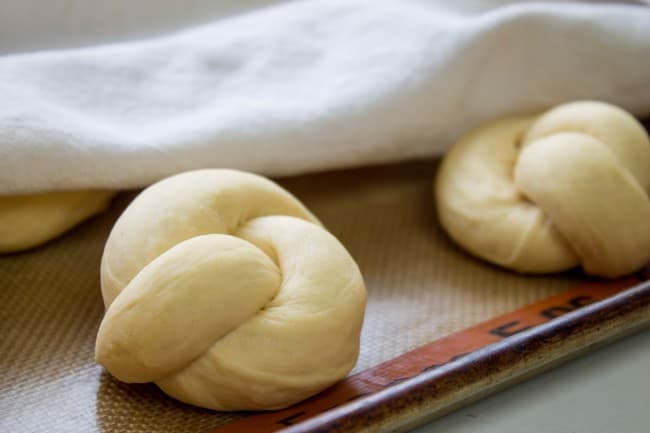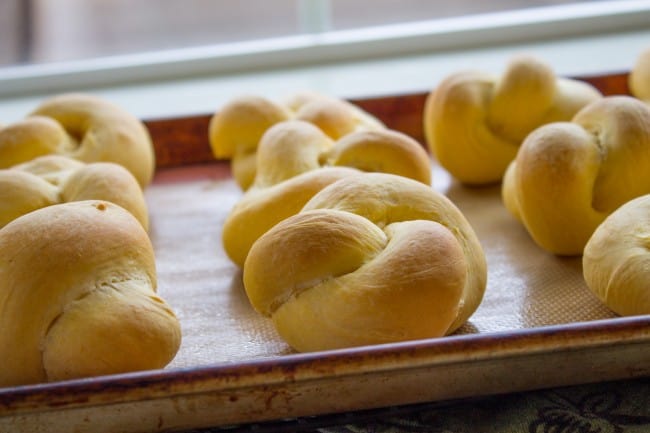 You know those moments when you are in a big group and suddenly everyone's side conversations all die at the exact same time? Why do I always manage to make towel-fabric comments exactly during these pauses?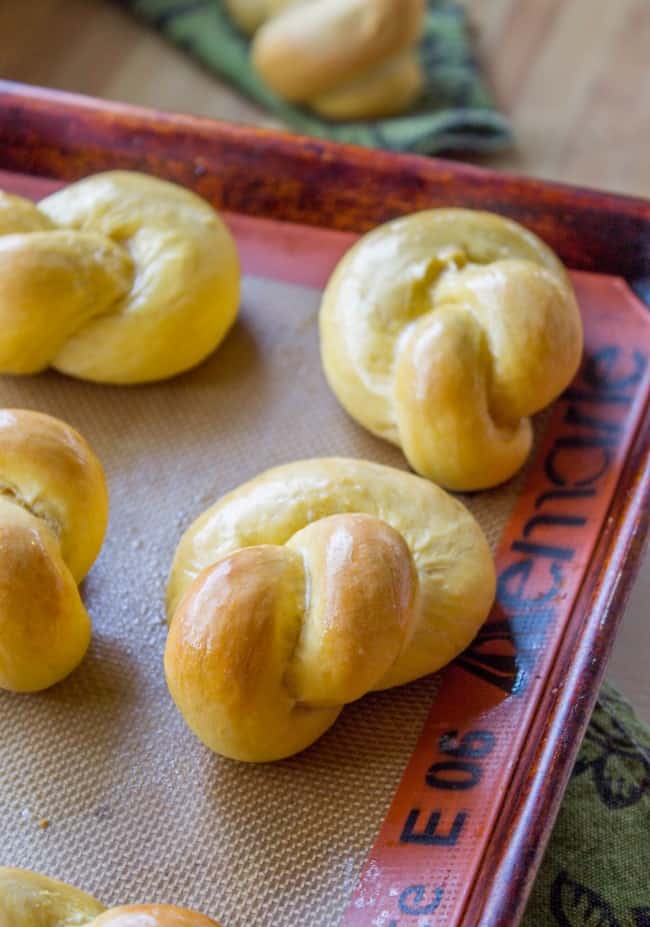 Well. At least I'm good at making rolls. Even if I'm not good at having common sense. Priorities, right? I would take these rolls over the smarts ANYWAY.
Wanna see how to make them?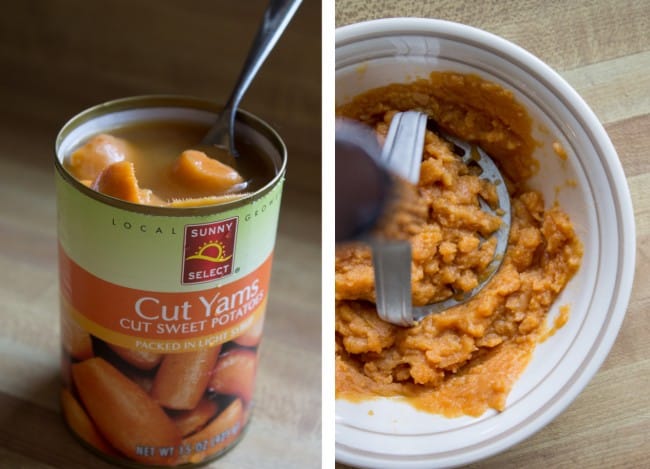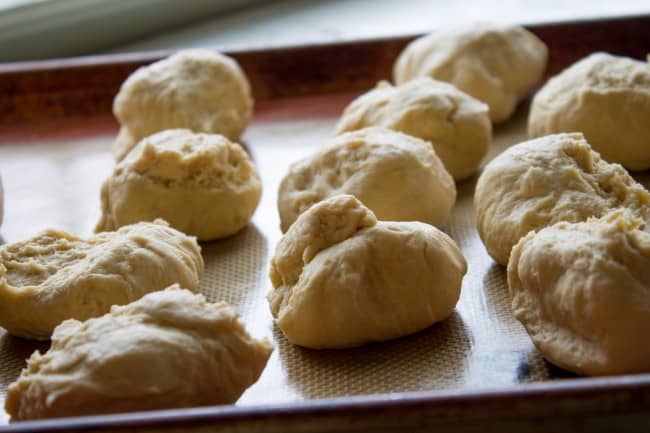 And look. I even made you a little video so you know exactly how to tie a knot, because I'm sure you didn't learn when you were five.
I just got a tripod so I thought I would try it out, don't hate me for my magenta hands, okay? Everyone told me after my TV appearance that I should do more video, but I have zero idea how to do them. It's kind of like when I first started blogging and posted pictures like this on my blog. Just roll with me okay people.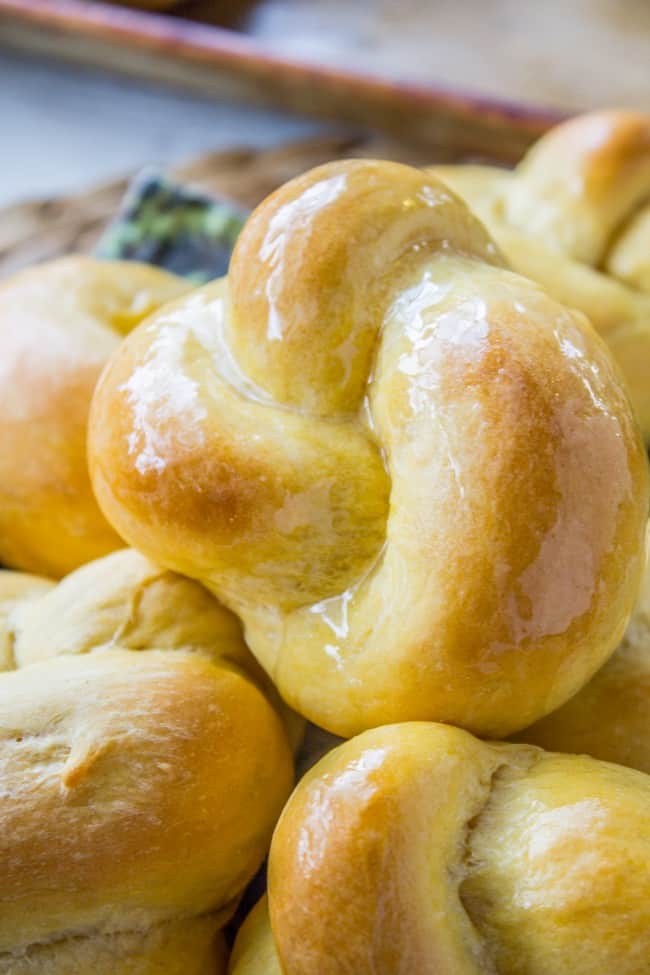 Oh and don't tell me there's too much butter on this roll. There's not.
These rolls are great for Thanksgiving! They are perfectly festive for the holiday table itself, but also great for making the few days after Thanksgiving, when you have leftover sweet potatoes. You can use any kind of sweet potato casserole, mashed sweet potatoes, whatever. You can even use mashed/canned pumpkin, or mashed butternut. Any squash will do! I used a regular ol' can of Yams, which turned out to be exactly the amount the recipe called for.
You can also freeze these! You could totally make these rolls TODAY, freeze them in ziplocks, then bust them out on Thanksgiving morning, let them thaw on the counter, then warm them in the oven for a couple minutes. Voila!
Do you guys give up? Or are you thirsty for more?
Facebook | Pinterest | Instagram | Twitter

Buttery Sweet Potato Rolls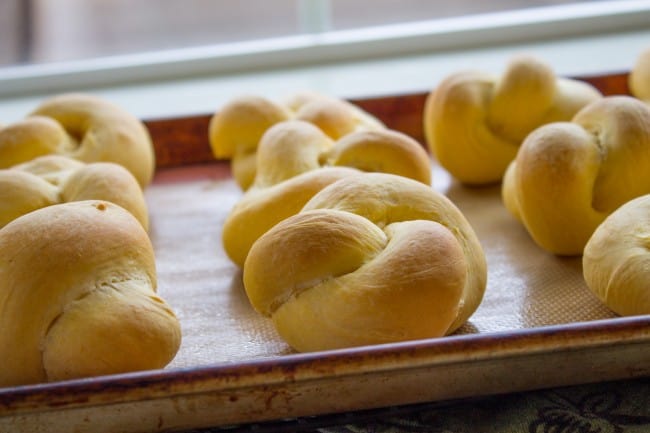 This is the perfect recipe for your Thanksgiving table! Or make it after the holiday with your leftover sweet potatoes, and use the rolls for turkey sandwiches. Nothing beats fresh homemade dinner rolls!
Ingredients
1

tablespoon

dry yeast

1

cup

2% or whole milk

,

warmed to 100 to 110 degrees F.

3/4

cup

sweet potatoes

,

mashed*

1

tablespoon

butter

,

melted

2 & 1/4

teaspoons

kosher salt,

**

2

large

egg yolks

4 & 1/2

cups

bread flour

,

plus more

Cooking spray

3

tablespoons

butter

,

melted

sea salt

,

for sprinkling
Instructions
In a large bowl or stand mixer combine yeast with 1 cup warm milk. (The milk should be just warm to the touch, not hot.)

Let the yeast proof (let it sit for a couple minutes until you see bubbles. This is just to make sure you didn't kill your yeast. Better to find out now than in 2 hours when your bread won't rise.)

Add sweet potatoes, 1 tablespoon butter, salt, and stir to combine. Add the 2 egg yolks and beat well until they are incorporated.

Add the flour 1 cup at a time, kneading with the dough hook or by hand in between each addition. The dough should clean the sides of the bowl but should still be tacky to the touch.

Grease a large bowl with plenty of cooking spray. Form the dough into a ball and place it in the bowl, then turn it so that all sides are greased.

Cover with a tea towel and let rise in a warm place for at least an hour, until the dough has doubled in size. When you push your finger into the dough, it should not immediately bounce back at you.

Punch down the dough and cover again to rest for 5 minutes while you prep your workspace.

Line 2 large baking sheets with parchment paper or silpats. Turn the dough onto the baking sheets and divide into 24 pieces.

Use your hands to roll each piece into a 9-inch snake. Tie the dough into a knot, then pinch the 2 ends together behind the top of the roll. (see photos)

Place the roll on the baking sheet and continue with the remaining dough. There should be 12 rolls to a pan. Cover each pan with a tea towel.

Let rise in a warm place for at least 30 minutes, or until they have doubled in size. Remove the towel and spray each roll with cooking spray.

Meanwhile, preheat your oven to 400 degrees F. Bake for 12-14 minutes or until the bottoms are brown and the tops are golden. If you want to bake both pans at the same time, rotate them halfway through.

Brush each roll with butter once you have removed them from the oven. Sprinkle with sea salt if you want, it tastes amazing! Let cool completely on wire racks.

To reheat rolls, place on a pan in a 300 degree F oven for about 5 minutes. These rolls freeze beautifully if you have any leftovers.
Notes
*I used 1 15-ounce can of yams, drained. It turned out to be almost exactly 3/4 cup when it was all mashed.
**I use kosher salt in all my recipes. It is coarser, so you need more of it to have the same effect as table salt. If you are using table salt, I recommend 2 teaspoons.
If you want to freeze these ahead of time, let cool completely, then put them in ziplock bags and seal tightly. Freeze for up to a month. On the day you want to eat them, get them out of the freezer a few hours before you want to eat, (leave them in the sealed bag to thaw) then warm them on a pan in a 300 degree oven for about 5 minutes. I've also had success defrosting these in the microwave (using the defrost button or a lower power level.)
Source: adapted from Cooking Light. Every time I make a recipe from them I think to myself, "this needs more salt and fat," so the recipe here reflects that. I don't think I'm a cooking light kind of person! I'm a salty fatty kind of person.
Nutrition
Serving:
1
roll
|
Calories:
116
kcal
|
Carbohydrates:
18
g
|
Protein:
4
g
|
Fat:
3
g
|
Saturated Fat:
2
g
|
Polyunsaturated Fat:
1
g
|
Monounsaturated Fat:
1
g
|
Trans Fat:
1
g
|
Cholesterol:
21
mg
|
Sodium:
243
mg
|
Potassium:
55
mg
|
Fiber:
1
g
|
Sugar:
1
g
|
Vitamin A:
685
IU
|
Vitamin C:
1
mg
|
Calcium:
19
mg
|
Iron:
1
mg
Eat all the rolls!!
Samoan Coconut Rolls (Pani Popo): (These rolls go AMAZING with turkey. Just sayin'.)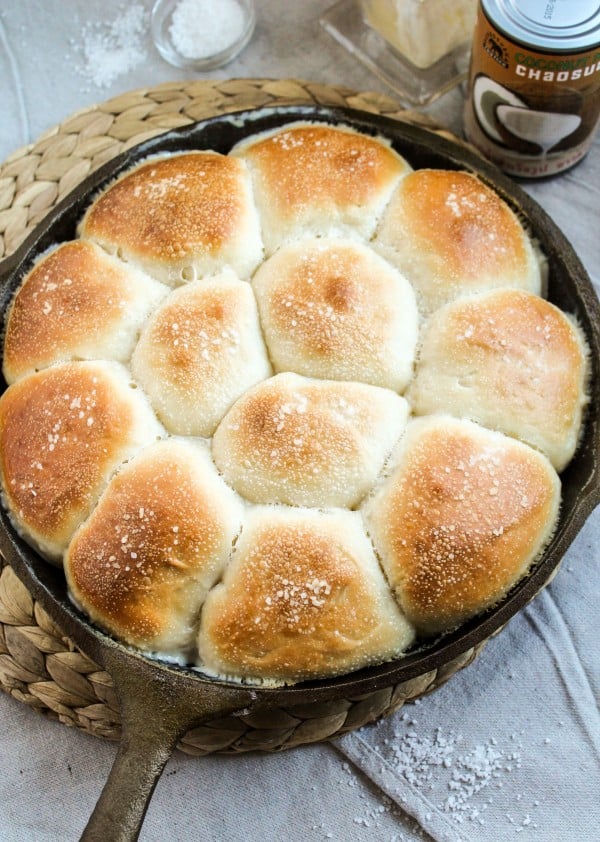 Ugly photo alert! These Reesy Rolls (One Hour Yeast Rolls) we've been making these for years: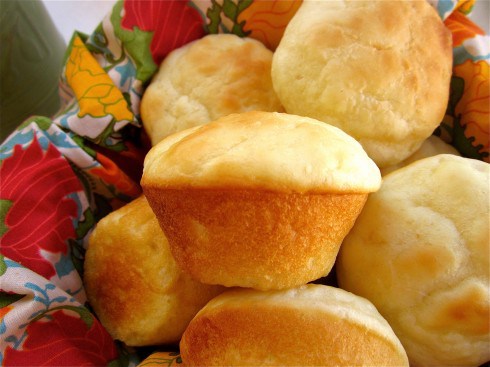 Big Fat Crescent Rolls << a huge family favorite! I've made these so many times.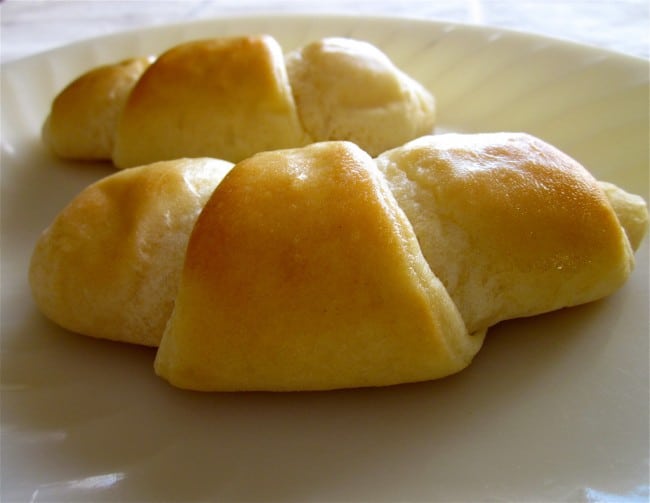 These Sweet Potato Rolls would taste AMAZING with this Cinnamon Honey Butter!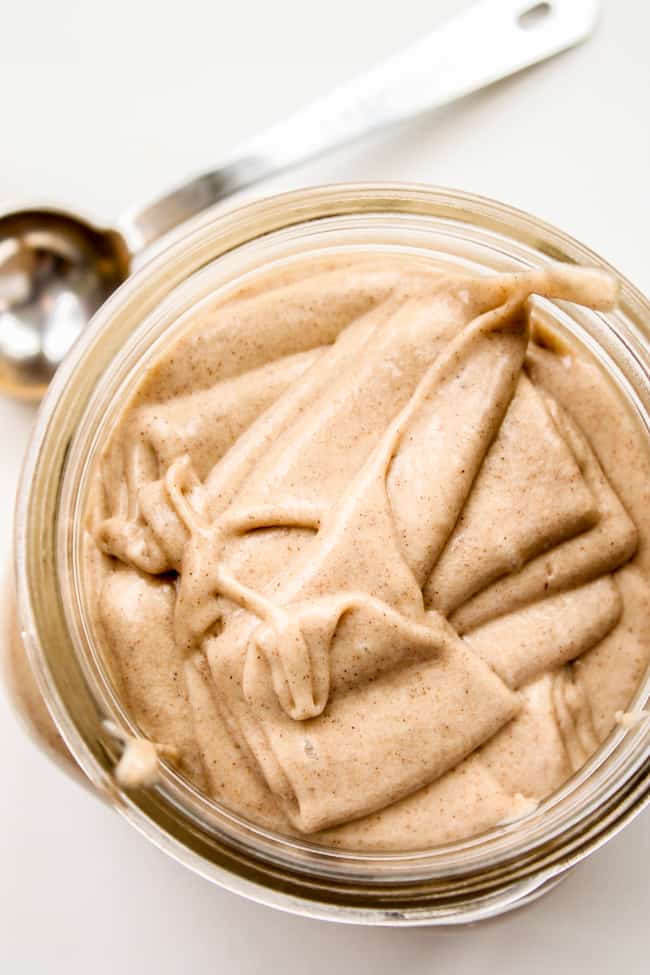 More amazing rolls to try from friends!
Foolproof 30 Minute Dinner Rolls from Roxana's Home Baking
Rosemary Dinner Rolls from Cooking Classy
Fluffy No Knead Refrigerator Rolls from Stephie Cooks