This slow cooker spaghetti sauce has zucchini and carrots hidden in it! Also chunks of sweet Italian sausage. It is so flavorful, you hardly need the pasta! (I said hardly..but let's be real) Perfect for making a huge batch and then freezing some for a rainy day. Originally published January 14, 2016.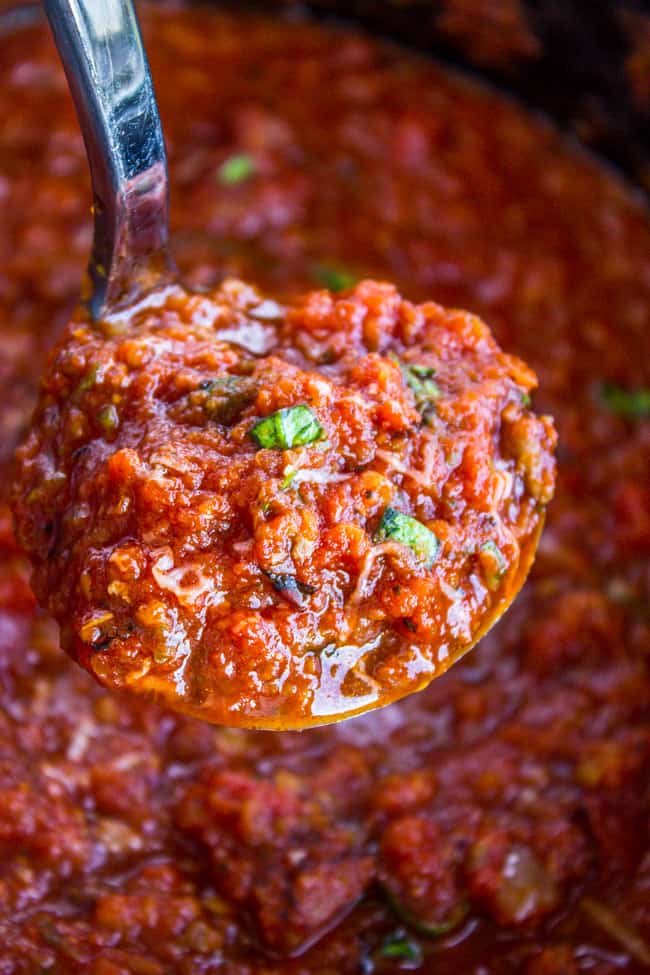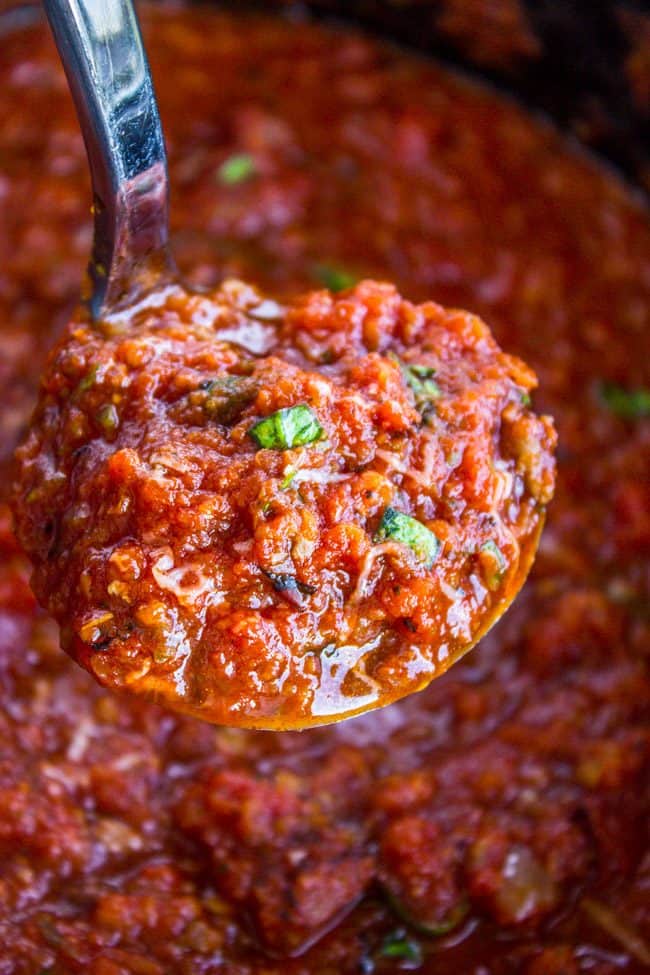 Table of Contents
Truman, who is 2, goes to nursery with a bunch of other kids every week at church. One of the nursery leaders told me that Truman was in class one Sunday, and held up 2 pieces of a broken crayon (that he had no doubt just snapped). He said, "Two halves." His leader told me, "I've got kids in this class who couldn't even tell you what COLOR that crayon is and this kid's over here doing FRACTIONS."
Well I will tell you one thing, he DIDN'T get it from me. My Dad is a genius rocket scientist though. Maybe it skips a generation? (really though, he's an actual rocket scientist. He makes lasers. His lab is trying to create fusion. This is literally all I know. When he talks about work, I nod my head and smile.)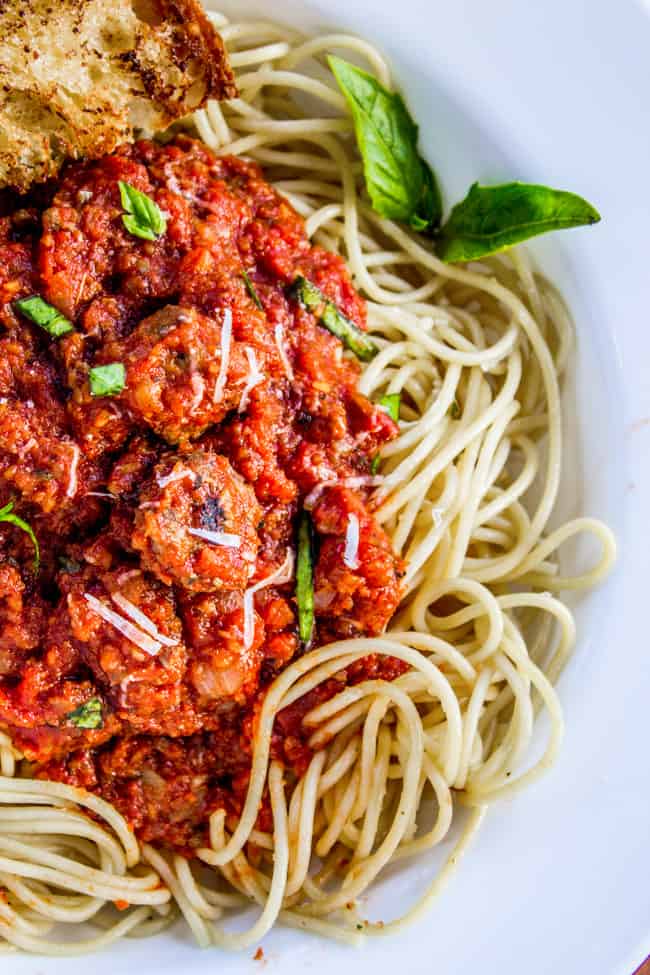 Actually, I nod my head and smile and think to myself, "I have the best job everrrrrrrrr." Because the only math I have to do are recipe adjustments that result in things like Chocolate Cake, or Raspberry Rolls, or this delicious spaghetti sauce. If my math teachers in high school had given me cupcakes for success in Algebra, I would have stuck with it a lot longer.
You'll love this Crock Pot Spaghetti Meat Sauce
Do you guys have a spaghetti sauce you love? True confession: I hated spaghetti as a kid. But now that I'm older and can call it "pasta," I like it a lot more.
Normally I am not into meat sauce. But I like this one because it's not just ground beef: there are chunks of sweet Italian sausage in there! It's almost like there are mini meatballs in the sauce.
There are also veggies! A couple carrots and a zucchini. The carrots add some of the sweetness that is necessary to round out the acidity of the tomatoes. It doesn't taste like carrots and zucchini. It just tastes like amazing meaty spaghetti sauce.
My other secret is Fire-Roasted diced tomatoes. Have you tried those? SO good! I love the depth that it adds. Normal diced tomatoes will work fine if you can't find them.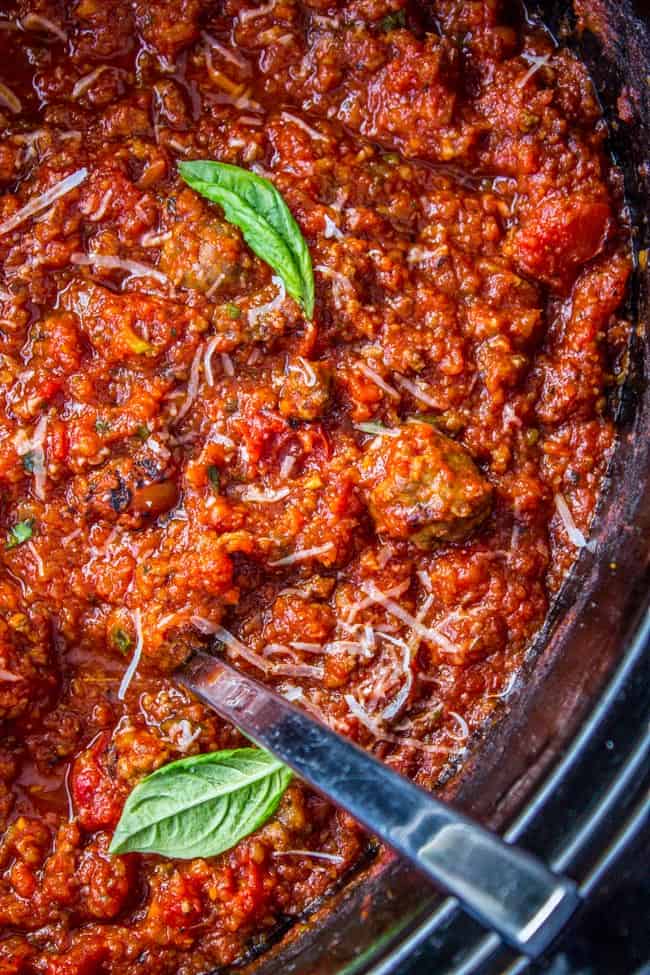 Crockpot Spaghetti Sauce Ingredients
Here's a quick shopping list to help you gather your ingredients. See the recipe card below for the full ingredients and instructions!
Olive oil
Sweet Italian sausage links
Onion
Garlic
Ground beef
White wine
Carrot
Zucchini
Tomato sauce
Tomato paste
Fire-roasted diced tomatoes
Italian seasoning
Thyme
Basil
Oregano
Brown sugar
Bay leaves
Cayenne pepper
Fresh basil (to garnish, optional)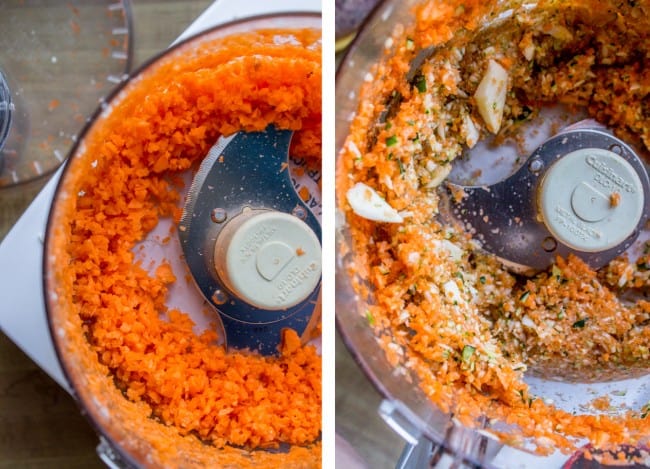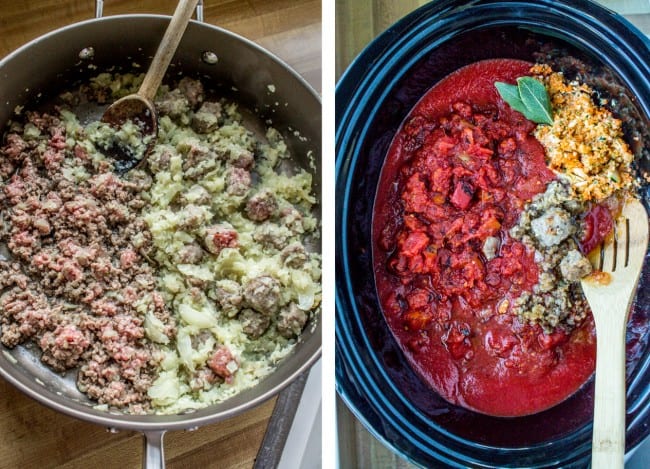 How to make Slow Cooker Spaghetti Sauce
Here's a quick rundown of how to make this sauce; keep scrolling down until you get to the recipe card for amounts and instructions in complete detail.
Sear Italian sausage, breaking into pieces.
Cook onions, garlic, and ground beef with the sausage.
Add and reduce wine, then add everything to the slow cooker.
Chop zucchini and carrots in the food processor, then add to the crockpot.
Add the following to the crockpot: tomato sauce, tomato paste, fire-roasted diced tomatoes, Italian seasoning, thyme, basil, oregano, brown sugar, bay leaves, cayenne pepper, salt, and pepper to taste.
Stir together and cook on low for 6-8 hours, or on high for 3-4 hours.
Meat Sauce in Slow Cooker Subs & Variations
One of the best things about meat sauce is the way you can infinitely vary it. Here are a few ideas for how to make this sauce your own!
Substitute the white wine with red wine for a richer, deeper flavor (like in Beef Bourguignon!) Alternatively, if you don't want to use wine, substitute the same amount of chicken broth or beef broth.
Use ground pork, turkey, or chicken in place of the ground beef.
Try hot Italian sausage instead of sweet Italian sausage for a spicy twist! Consider omitting the cayenne pepper if you do this (unless you can realllllly handle the heat).
Substitute the fire roasted diced tomatoes with regular or petite diced tomatoes.
Instead of processing the carrots and zucchini in the food processor, leave them in bite size pieces for a more stew-like sauce.
Omit the Italian sausage entirely, and after the meat sauce is complete, serve over pasta with baked frozen meatballs.
Serve your meat sauce over polenta or mashed potatoes.
What meat goes well in spaghetti?
Ground beef is a classic meat to include in spaghetti sauce for good reason! It's not super expensive, it's always available at the grocery store, and you probably have some on hand. But Italian sausage takes spaghetti sauce to the next level. Who doesn't love sausage?? It's super flavorful and takes an easy weeknight dinner from basic to fancy faster than you can say "Buongiorno!" I love keeping Italian sausage in my freezer so I can make this sauce anytime.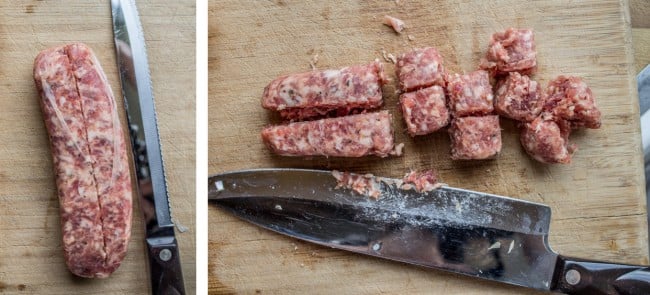 Crock Pot Spaghetti Sauce Tips & Tricks
This spaghetti sauce is pretty quick and easy to throw together (my kind of crockpot dinner). Here's how to make sure it turns out just right.
This makes a big enough batch that you could potentially save half of it and freeze it for a busy day. One batch of this sauce will be enough for about 2 pounds of spaghetti.
Fire roasted diced tomatoes add awesome flavor and are easy to find at the grocery store. It's the small things that make this sauce soooo good.
Don't skip the carrots in this sauce! Even if you're not a carrot lover. This sauce doesn't have a carrot flavor, but the carrots add a nice sweetness to combat the natural acidity of the tomatoes.
Stop yourself from chopping up the sausage too small! It has plenty of time to fully cook through after you sear it in the pan. We're going for a mini-meatball size for the sausage pieces. They're great in contrast to the smaller, more uniform pieces of ground beef in the spaghetti sauce.
Make sure to remove the sausage casings before you start cooking the sausage! An easy way to do this is with kitchen scissors/shears. If you forget and they're already in the hot pan, all is not lost: Italian sausage casings made from are totally edible and safe to consume, but they cling to the meat and don't allow it to be chopped into nice bite-size pieces with your spoon. The solution is to turn off the heat, get in there with your kitchen scissors right in the pan, and chop it up with the scissors. No, this has never happened to me, why do you ask?
Spray your tupperware with nonstick spray before you put the sauce in for storing in the fridge or freezer. It won't get stained, hurray!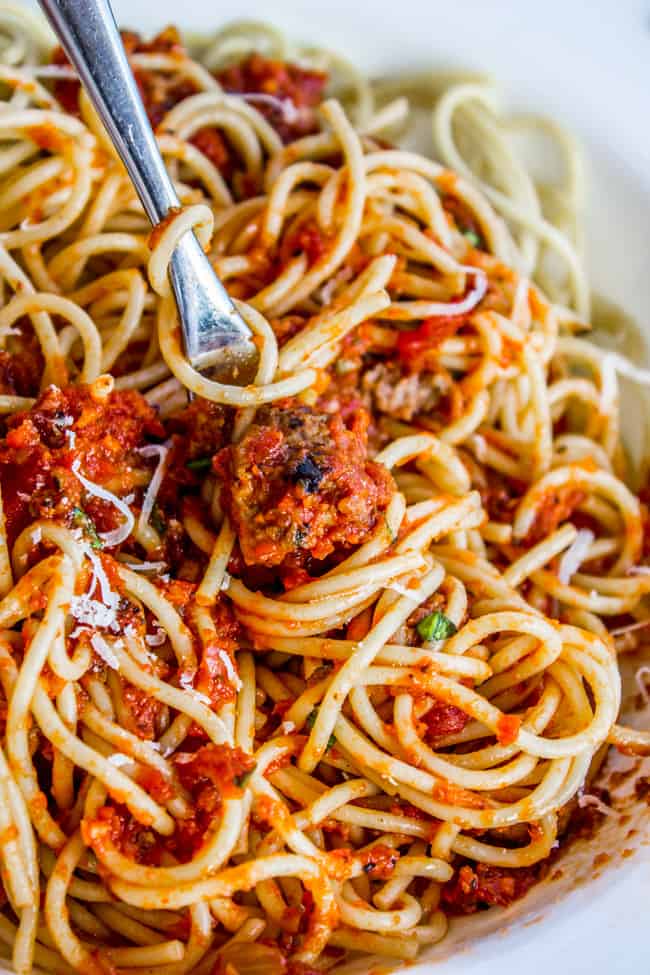 Best way to serve Crock Pot Spaghetti Meat Sauce
I love serving this spaghetti sauce over regular spaghetti, but zucchini noodles are also super good (and you can make them homemade without a Spiralizer!). Another awesome option would be polenta, store bought or homemade, or creamy mashed potatoes.
This spaghetti sauce is so easy to serve up because it's ready for you in the crockpot when you get home from a busy day. Slow cookin' 4 life!!
Spaghetti Meat Sauce Slow Cooker Storage
This spaghetti sauce keeps in the fridge for 3-4 days, or you can freeze it and it'll be good for 6 months. You can just put it in a tupperware, or you can pour your desired amounts into freezer Ziplock bags and store them flat so they defrost even faster. Make sure to label them! Nothing like pulling out what you thought was spaghetti sauce and finding out that it's actually, idk, chili or something.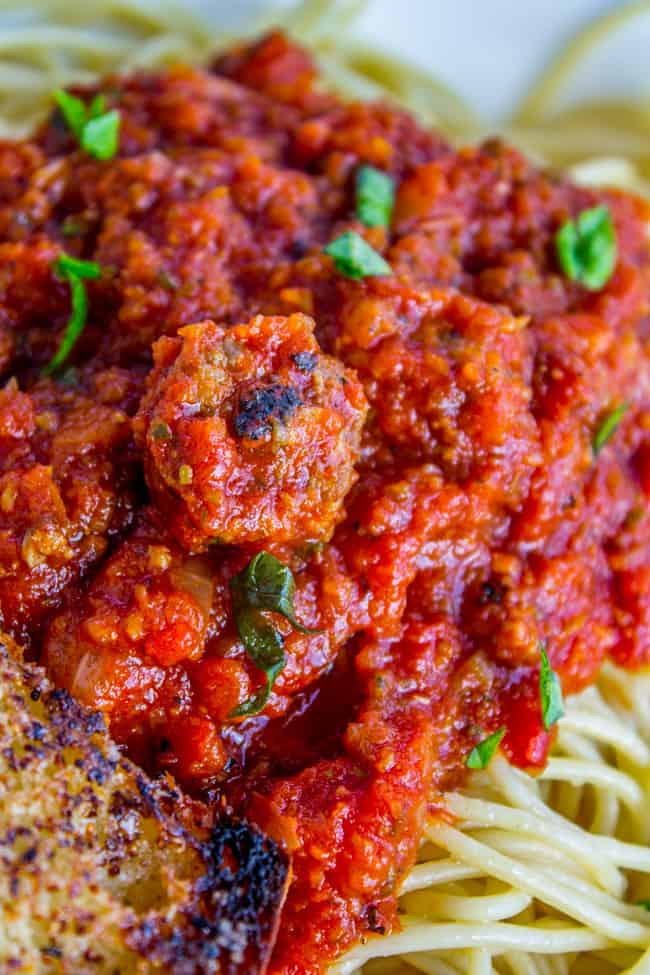 Meat Sauce in Slow Cooker FAQs
What is the difference between marinara sauce and spaghetti sauce?
Marinara sauce is really simple. It's made from tomatoes and can also include onions, garlic, and some very basic seasonings. It usually only takes 20-30 minutes to make, and while you can put it on pasta, it can also just be used as a dipping sauce.
Spaghetti sauce is more complex. It usually has a longer ingredient list, and may or may not include meat. There are endless variations with different meats, vegetables, and seasonings. This spaghetti sauce has carrots and zucchini for nutrition and complex flavor, and Italian sausage and ground beef for a hearty, satisfyingly meaty meal.
What is the difference between meat sauce and bolognese?
Meat sauce can mean a variety of things. Some use ground beef, some ground pork, some veal, some Italian sausage, some a combination of the above. Usually, tomatoes and ground meat shine equally.
In Bolognese sauce, meat is the star, no question. Tomatoes make their appearance too. Milk, oddly enough, is an essential component, and pancetta or other cured Italian meats are a part of the show. Bolognese sauce comes from the Bologna region of Italy and has a more mellow, nutty flavor than what we usually think of as "meat sauce."
How do you thicken spaghetti sauce in a slow cooker?
As the ingredients in spaghetti sauce break down in the slow cooker, some release liquid. You might think that this will lead to a watery sauce, but don't worry. We have a long time to let everything cook together, and that means there's time for liquid to evaporate. There's no need to add any kind of thickening agent. The sauce will thicken on its own.
Does sauce reduce in a slow cooker?
Sauces reduce when liquid evaporates. In a slow cooker, sauces reduce much more slowly than they would on the stovetop because they're covered the entire time they're cooking. Depending on the ingredients in a slow cooker sauce, a slurry (made with cornstarch and a bit of water) can be added near the end of the cooking time. In this sauce, the combination of meats, canned tomatoes, and vegetables thicken just great on their own.
Why is my sauce watery in the slow cooker?
Sauce can seem watery when the ingredients have released liquid, and the liquid hasn't had a chance to evaporate. If, for example, you decided to add extra zucchini in this spaghetti sauce recipe, you could definitely end up with a watery sauce. In the amounts suggested in this recipe, the vegetables will release a little moisture, but not so much that the sauce's consistency will be off. Also, this sauce uses tomato sauce and tomato paste in addition to diced tomatoes. This makes for a perfectly thick and meaty sauce.
What should you season spaghetti meat with?
Basil, oregano, thyme, bay leaves, and Italian seasoning are all great choices for seasoning spaghetti sauce. They add classic Italian flavors. You might be surprised to see brown sugar on the ingredient list, but it's the perfect way to combat the acidity of the tomatoes. The cayenne pepper in this sauce doesn't make it spicy! It just makes the flavor a little more complex.
Regular ground beef might require more seasonings, but we've got Italian sausage on our side. It's already seasoned and adds soooo much amazing flavor.
More Favorite Pasta Recipes
PS!! I keep forgetting to tell you guys–I made a "Top 10 Recipes Ever" page. I'll keep it updated with the top 10 recipes on The Food Charlatan, according to traffic. You can find it in the menu bar at the top of the site or CLICK HERE!
Are you making this spaghetti sauce? Snap a photo and tag #TheFoodCharlatan on social. I'd LOVE to see it!
Facebook | Pinterest | Instagram

Healthy Crock Pot Spaghetti Sauce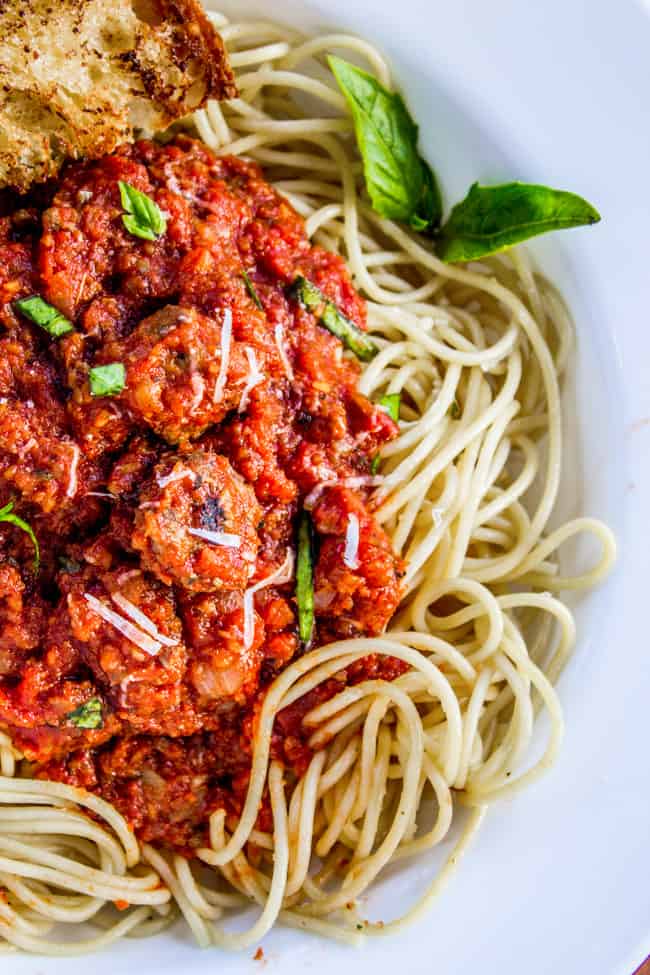 This slow cooker spaghetti sauce has zucchini and carrots hidden in it! Also chunks of sweet Italian sausage. It is so flavorful, you hardly need the pasta!
Ingredients
2

tablespoons

olive oil

1/2

pound

sweet Italian sausage links

1

large

onion

,

or 2 medium, chopped*

4-5

cloves

garlic

,

minced

1/2

pound

ground beef

1/2

cup

white wine

,

I used cooking wine**

2

medium

carrot

,

peeled and roughly chopped

1

medium

zucchini

,

roughly chopped

1

29-oz. can

tomato sauce

1

6-oz. can

tomato paste

2

15-oz. can

Fire-Roasted diced tomatoes

1

tablespoon

dried Italian seasoning

1/4

teaspoon

thyme

1/2

teaspoon

basil

1/2

teaspoon

oregano

2

teaspoons

brown sugar

2

bay leaves

1/8

teaspoon

cayenne pepper

1/2

teaspoon

salt

,

plus more to taste

pepper

,

to taste

fresh basil

,

to garnish
Instructions
In a large skillet, heat the olive oil over medium-high heat.

Remove the casings from the sausage and chop into bite-size pieces. Add to the pan and sear the sausage. Once it is brown (it doesn't need to be cooked through), lower the heat to medium.

Use a wooden spoon to move the sausage over to one side of the pan. Add the onions, garlic, and ground beef to the other side of the pan. Break up the ground beef, avoiding the sausage (you want bigger pieces of sausage).

Cook, stirring occasionally, for 6-8 minutes, until the ground beef and sausage are no longer pink and the onions are soft.

Add the wine to the pan. Cook for another 2 minutes or so until the wine has cooked down some.

Scrape everything into a large crock pot.

Meanwhile, use a food processor to chop the carrots. Get the pieces pretty small, but don't do it so much that it liquifies it.

I left the carrots in the food processor while I pulsed the zucchini as well. See photos.

Add the veggies to the crock pot, along with the tomato sauce, tomato paste, and the fire-roasted diced tomatoes.

Add the Italian seasoning, the thyme, basil, oregano, brown sugar.

Add the bay leaves, cayenne pepper, salt, and pepper to taste.

Stir everything together, put on the lid, and cook on low for 6-8 hours, or on high for 3-4 hours.

Garnish with fresh chopped basil. Makes about 9 cups.
Notes
* Normally I chop onions and garlic by hand, but since I will need it for the carrots and zucchini, I quartered the onions pulsed them in the food processor, along with the garlic, which I threw in whole.
**You can use chicken broth or beef broth or water.
Store leftovers in a tupperware that has been sprayed with nonstick spray.
Nutrition
Serving:
1
cup
|
Calories:
213
kcal
|
Carbohydrates:
6
g
|
Protein:
9
g
|
Fat:
16
g
|
Saturated Fat:
5
g
|
Polyunsaturated Fat:
2
g
|
Monounsaturated Fat:
8
g
|
Trans Fat:
1
g
|
Cholesterol:
37
mg
|
Sodium:
345
mg
|
Potassium:
284
mg
|
Fiber:
1
g
|
Sugar:
3
g
|
Vitamin A:
2338
IU
|
Vitamin C:
7
mg
|
Calcium:
37
mg
|
Iron:
1
mg