The Best Cinnamon Rolls Recipe of Your Life (So Fluffy! Can Make Overnight!)
If you guys have never tried making a homemade cinnamon rolls recipe with a simple sweet dough (brioche style) instead of regular bread dough, you are totally missing out. These are the FLUFFIEST homemade cinnamon rolls of your life, I promise! They are very easy, and you can make them overnight!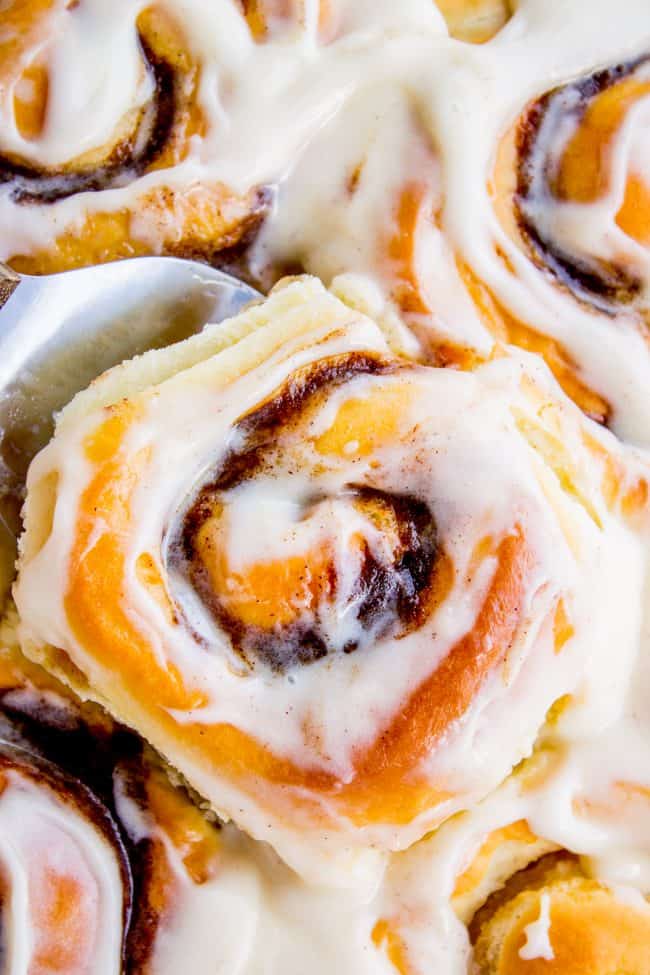 The other day Truman and I stopped by the grocery store on the way home from kindergarten pick up. He found a toy that he wanted, and I said no, and then the world exploded. 0-to-60 meltdown. At one point he screamed, "But Mom, Christmas is about GIVING!" I just about died laughing at that one, but then he quickly followed it up with, "And besides, I'M HUNGRY!!"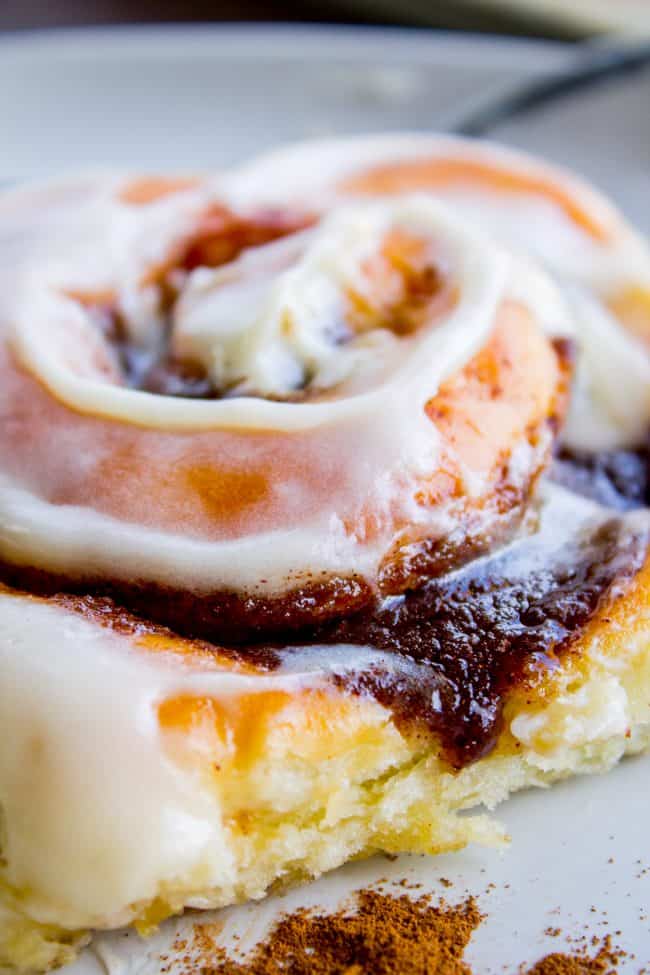 You know what, I have to give serious props to this 5-year-old-kid for being able to identify the root cause of his tantrum. I never realize I'm hangry until after I've eaten something.
Speaking of hangry…I have been on a MISSION my friends. A cinnamon roll mission. It's serious business, finding a cinnamon roll that is so soft and fluffy and absolutely perfect that it will make you want to cry tears of joy.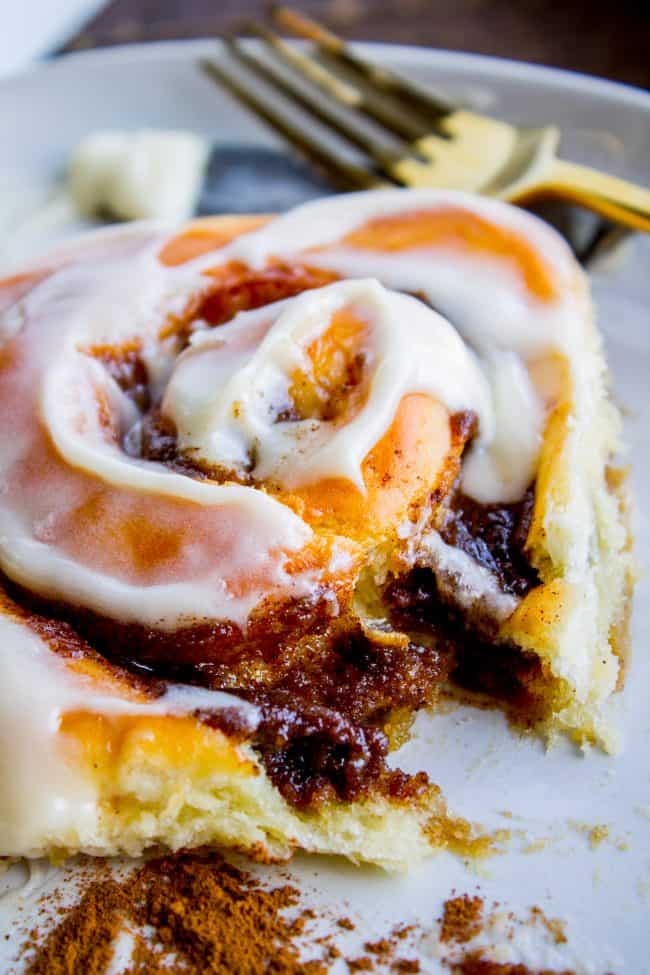 (First thing I had to google when I decided on the title of this post: fluffiest cinnamon rolls, or most fluffy?? Don't judge me!! Haha!)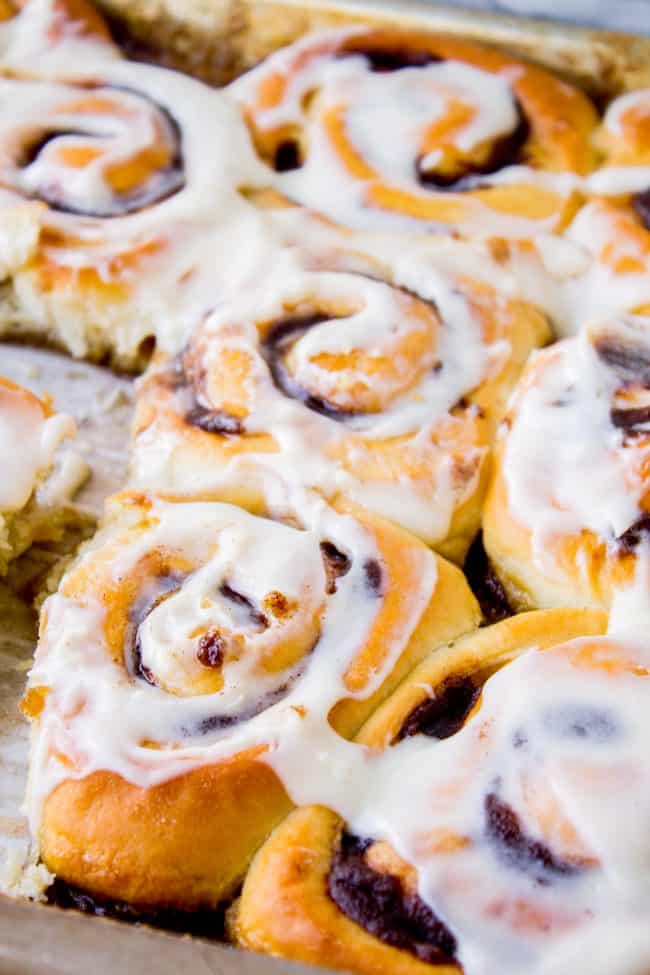 I am a little picky about cinnamon rolls. Okay, a lot picky. I used to accept any and all cinnamon rolls that came my way, but lately I've just been a little underwhelmed with the cinnamon rolls in my life. ("I know you can be overwhelmed, and I know you can be underwhelmed, but can you ever just be…whelmed?"   "I think you can in Europe!" (Name that movie!)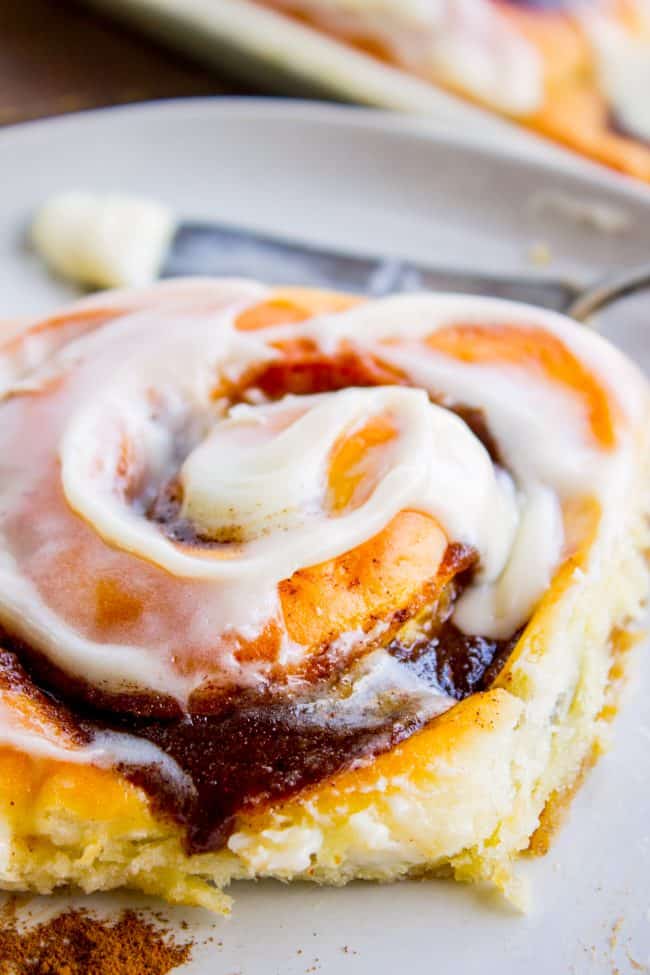 My main complaint is that most cinnamon rolls are too dry. Does anyone else feel this way? Any cinnamon roll coming hot out of the oven is going to be hard to argue with, but the real test comes when brunch is over and the leftover cinnamon rolls have cooled, and you're going back for seconds as a late afternoon treat. Even on the day they were baked, many of the cinnamon roll recipes that I've tried were just DRY.
I feel like a lot of cinnamon roll recipes solve the problem of not-great-dough by PILING on the brown sugar filling and cream cheese frosting to achieve the gooey factor. Now, I'm no heretic, I love a really thick and gooey filling and a healthy slather of frosting (and today's recipe does not skimp), but I also just need the actual roll part to be soft and fluffy and not just a medium for frosting. This recipe delivers 100%.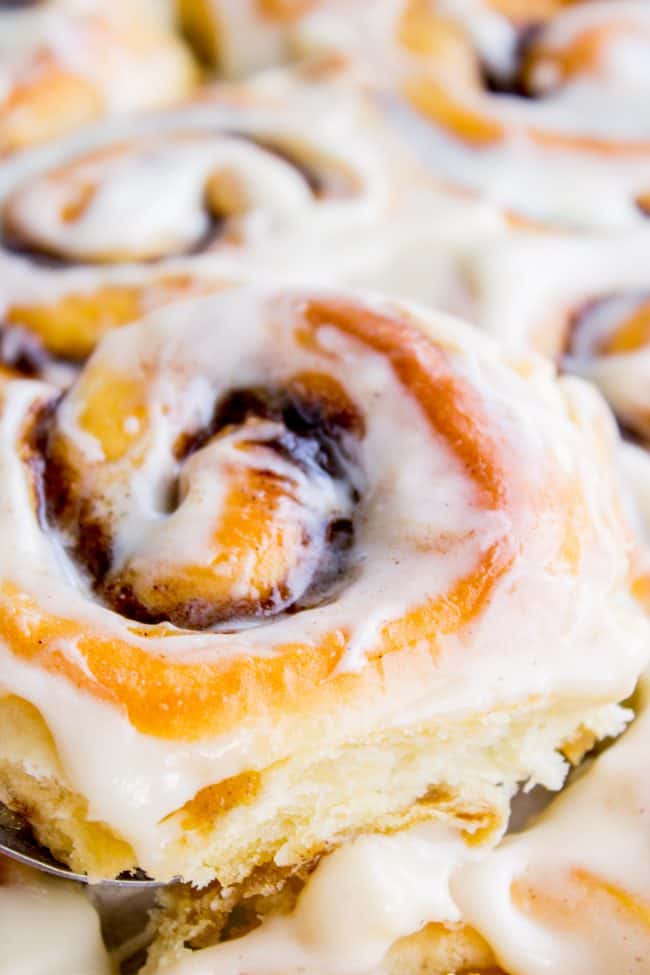 How to make Cinnamon Rolls
You can take any basic dinner roll recipe and turn it into homemade cinnamon rolls. Instead of shaping into balls, just roll out the dough into a rectangle and slather on some cinnamon sugar. That's what almost every cinnamon roll recipe that I researched calls for. The amounts of the ingredients are different, of course, but they almost all have warm liquid and yeast, combined with softened butter/shortening, eggs, sugar, and then add flour until the dough is workable.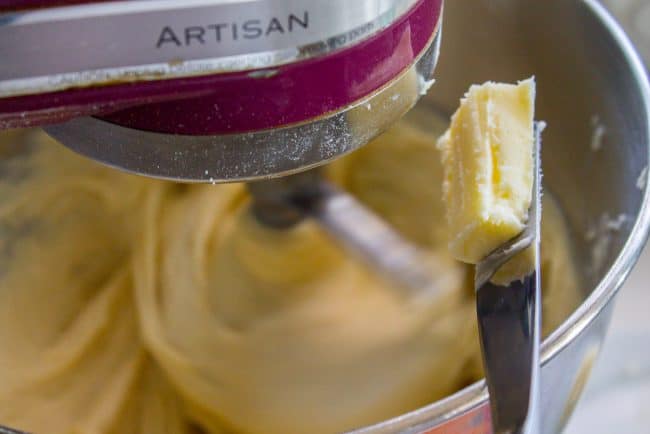 The ingredients for this recipe are essentially the same, but with WAY less flour than you would normally add. And a lot more butter. (ALLLL THE BUTTER). Like double the amount you see in most roll recipes.
This of course makes a super sticky dough that is impossible to roll out. That's where the chill step comes in. Instead of leaving the dough in a warm place to rise for an hour like most recipes, we're sticking our lovely dough straight into the fridge.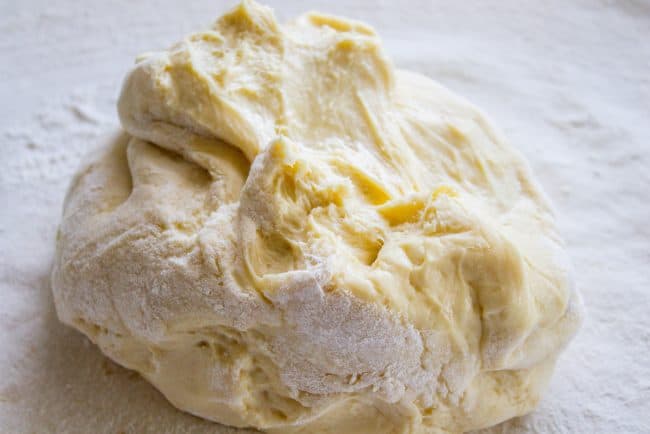 Before and after rising. The dough is really easy to work with once it has chilled, I promise.
I learned about this type of sweet dough when my mother-in-law Kris made these Ultimate Sticky Buns from Epicurious. (Which are amazing, btw.) My final recipe is a little different, but it's the same idea. Proof the yeast, stir together all the ingredients (including the minimal amount of flour), and then add softened butter in increments. I was reminded of this type of sweet dough recently when my friend Erica from Pancake Princess did a Cinnamon Roll Bake off, and the winning recipe uses a sweet dough. Regular bread dough is just never going to measure up when you compare it to this brioche style dough.

cardamommmmmmm yes you want it
There are two other things that make this recipe for homemade cinnamon rolls next level: a bit of cardamom in the filling, and brushing the pan with cream and butter before baking. The cardamom adds just a little bit more interest, it's not overwhelming. I absolutely love cardamom, but if you're not into it, you can leave it out no problem.

Now my trick for getting the gooiest homemade cinnamon rolls in all the land: Combine melted butter, cream, and brown sugar and spread it all over the bottom and sides of your pan before baking. I'm obsessed with this idea and will never go back to regular cinnamon rolls! It makes every inch of the cinnamon rolls ultra gooey and moist. I do the same thing with my favorite Bran Muffins: brush the pans with a molasses glaze. YUM.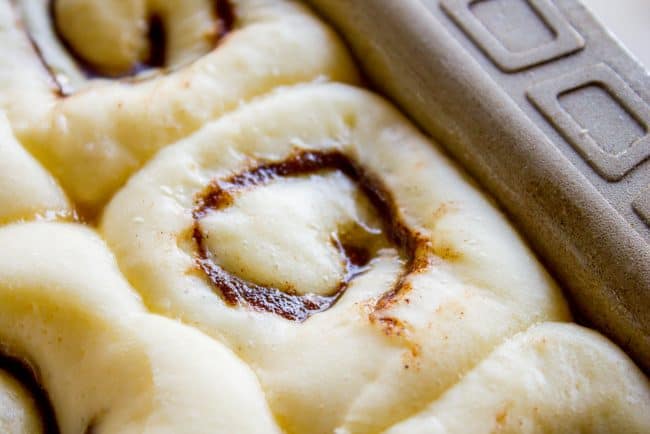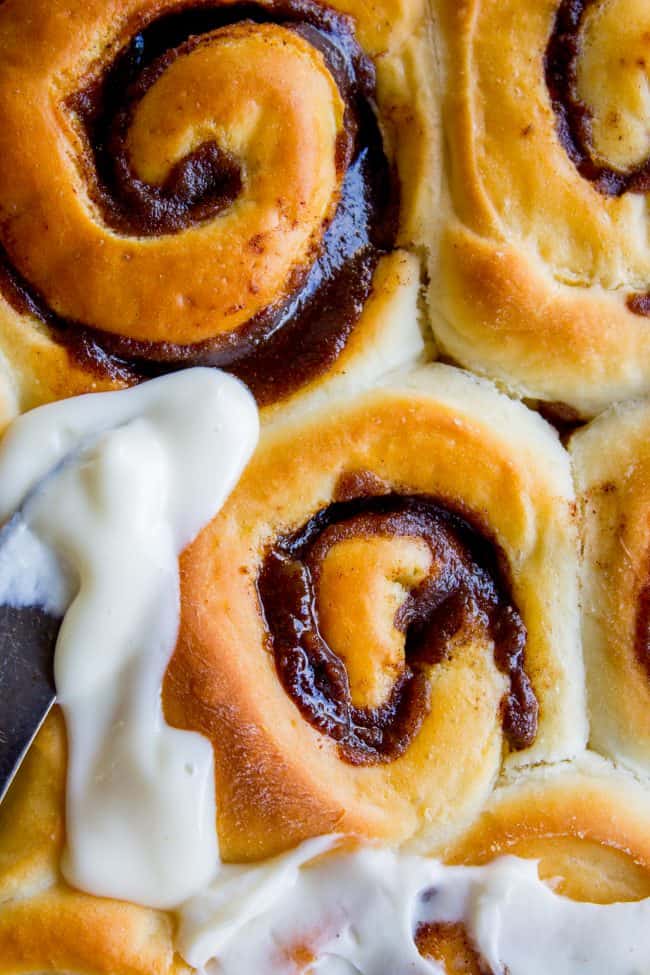 How to make the best Cinnamon Rolls overnight
These rolls would be perfect for Christmas morning, and it's what I plan on making for the big day this week! Make the dough and chill it on Christmas Eve during the day (or up to 2 days in advance!), roll out the dough and shape the rolls in the evening, and refrigerate overnight. Pick up with the final rise in the morning!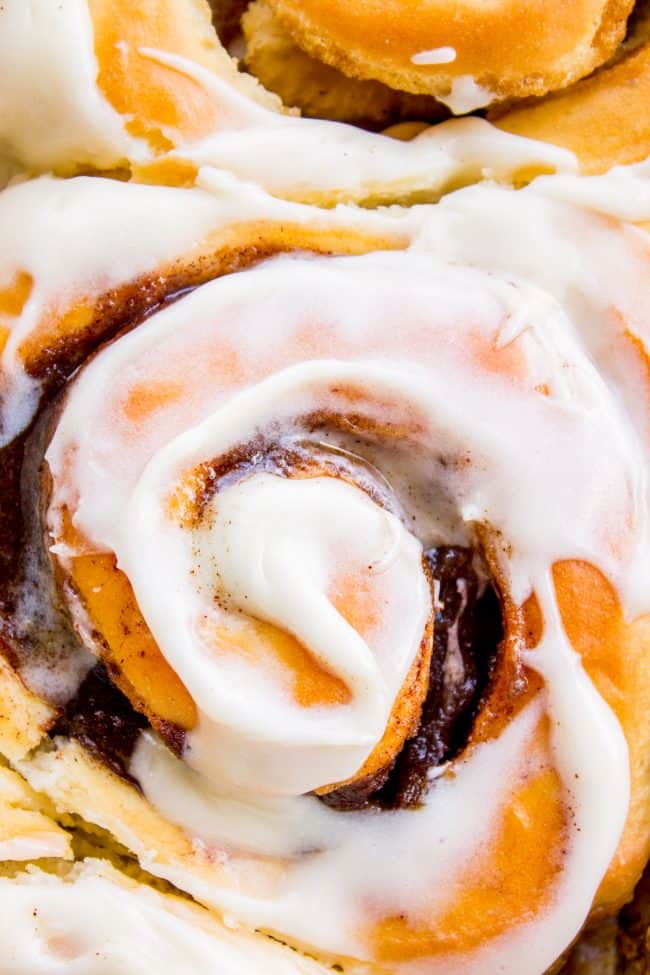 This is my last post before Christmas! Thank you so much for following along with my blog this year, it means so much to me. I love talking about food with all of you. It's the best! I hope that you have had a chance to try out some of these recipe for the holidays! It really is the most wonderful time of the year. Merry Christmas to all, and to all a soft tender cinnamon roll for brunch!
Facebook | Pinterest | Instagram
Three years ago: Easy Honey Hot Chocolate For One
Four years ago: 18 EASY Appetizer Ideas for New Years Eve
Five years ago: Chocolate Babka
Best Cinnamon Roll Recipe and Cinnamon Roll Icing Recipe
If you guys have never tried making a cinnamon rolls recipe with a simple sweet dough (brioche style) instead of with regular bread dough, you are totally missing out. These are the FLUFFIEST homemade cinnamon rolls of your life, I promise! They are very easy, and you can make them the night before!

Ingredients
For the sweet dough
1

cup

whole milk

,

warm

1

tablespoons

active dry yeast

5

tablespoons

granulated sugar

2

large eggs

3 & 1/4

cups

all purpose flour

,

spooned and leveled

1

teaspoon

kosher salt

1/2

cup

butter

,

1 stick, very soft (divided)
For the pan
1/4

cup

butter

,

1/2 stick, barely melted

1/4

cup

cream

5

tablespoons

brown sugar
For the filling
3/4

cup

butter

,

1 & 1/2 sticks, very soft

1

cup

plus 2 tablespoons brown sugar

2

tablespoons

cinnamon

1/4

teaspoon

kosher salt

1/2

cardamom

,

optional
For the cream cheese frosting
1 (8-oz)

package

cream cheese

,

softened

1/2

cup

butter

,

1 stick, softened

1

cup

powdered sugar

1/4

teaspoon

kosher salt
Instructions
Make the sweet dough: In a glass measuring cup, add 1 cup milk. Use whole milk if you have it. Warm the milk in the microwave in 20 second increments until it is nice and warm. Stir it with a small spoon and feel it with your finger. It should be about 105-110 degrees F, or about the temperature of nice bath water. If it feels at all HOT, stick it in the fridge until is cools down.

Add 1 tablespoon of yeast and 5 tablespoons granulated sugar and stir. Wait 5 minutes and check to make sure your yeast is getting bubbly. If not, you have killed your yeast; dump it and start over. Better to start over now than after hours or rising!

Once you are certain that your yeast is alive and well, add two eggs to the measuring cup and whisk it all together until smooth.

Meanwhile, add 3 and 1/4 cups flour to a large bowl

or stand mixer

. Make sure you spoon and level your flour. Add 1 teaspoon kosher salt.

Add the wet ingredients to the flour in the bowl. Use the paddle attachment on your mixer (or regular beaters if you're using a hand mixer) and beat until combined, about 1 minute. Make sure to stop and scrape the sides and bottom of the bowl.

With the mixer running on low or medium low, add 1 tablespoon of very soft butter at a time, until the entire 1/2 cup has been added in. Make sure each tablespoon of butter is fully incorporated before adding more butter. The process of adding in the butter should take a couple minutes at least.

Once all the butter is incorporated, beat on medium low speed for 5 minutes. The dough should be silky, smooth, and shiny. After 5 minutes, it will not have cleaned the sides of the bowl, but it should be formed together in a loose ball. It is VERY wet and not workable at all.

Grease a large bowl with butter or oil. Don't be stingy now.

Use a spatula to scrape the sweet dough into the greased bowl. Cover and refrigerate for 2 hours or up to 2 days. (Chilling is not optional. You won't be able to work with this dough until it is completely chilled!)

When you are ready to roll out the dough, prepare the pan and the filling.

To prepare the pan: In a small bowl, microwave 1/4 cup (1/2 stick) butter until it is just barely melted. Add 1/4 cup cream and 5 tablespoons brown sugar. Stir together and scrape it into the pan you are using to bake your cinnamon rolls in.

A note on what pan you use: I like to use

an 11x17x1 inch half baking sheet

. This will give you rolls that are not quite as tall but have a beautiful round shape. I prefer the ratio of cinnamon filling to dough when the rolls are baked. You can also use

a 9x13 inch pan

. This will give you taller rolls that will bake into each other in the oven. This recipe will work in either pan you use, but I recommend the 11x17 baking sheet.

Use a spoon or pastry brush to spread the cream, butter, and brown sugar mixture all over the bottom of the pan you are using, and all the way up the sides as well.

Prepare the filling for the rolls: Add 3/4 cup (1 and 1/2 sticks) very soft butter to a medium bowl. Add 1 cup plus 2 tablespoons brown sugar, 2 tablespoons cinnamon, 1/4 teaspoon kosher salt, and 1/2 or 3/4 teaspoon cardamom, if you are using it. (you should use it.) Stir it all together and set aside.

Bring a pot of water to a boil on the stove. Place a 9x13 inch pan on a bottom rack in your oven. Place another rack above it. Turn your oven on to 350 for about 3 minutes, then turn it off. Your rolls are going to rise in the oven with a water bath.

Roll out the dough: Prepare a work surface with a generous dusting of flour. I love to roll out dough on my pastry cloth, it makes it so easy.

Scrape the chilled dough onto the flour and knead it together a couple times with your hands. Press it out into a rectangle with your hands, then use a rolling pin to roll the dough into a large rectangle. It should be about 1/4 inch thick if not a little thicker. It should measure about 12 inches by 16-18 inches. It doesn't have to be exact.

Use a spatula to spread the filling on top of the dough, all the way to the edges. If the filling looks like it's not soft enough to spread easily, put it in the microwave for 5 seconds and stir. You want the filling to go into the oven thick, not melted, so don't put it in the microwave for too long.

Roll up the dough, starting from the long edge. As you roll, use your hands to smooth out the dough from the center to make the roll even (so that the center of your roll is not way thicker than the edge of your roll.)

Use your fingers to seal the roll.

Use a very long and sharp serrated knife to cut the dough into 1 or 1 and 1/2 inch rolls. Use a sawing motion. Dip your knife in flour in between cuts. The dough is pretty sticky on the inside.

Place each roll in the prepared pan. They should not touch each other.

Once all the rolls are on the pan, generously spray some plastic wrap with nonstick spray, and cover the rolls. Do NOT forget to spray the plastic wrap. Do NOT use a tea towel. The dough is pretty sticky, and if your cover sticks to them, it will ruin your beautiful rise when you try to take it off. No, I'm not at all bitter that this happened to me on one of my test runs, why do you ask??

Pour the boiling water that you have on the stove into the 9x13 inch pan that's on the lower rack in your oven. Make sure that you remembered to turn off the oven. It should be nice and warm but NOT HOT. You want the rolls to rise, not cook. If you accidentally left your oven on too long, leave the door open and let it cool down. If the racks are too hot to touch with your fingers, don't put the rolls in the oven. Let them start rising on top of the oven and put the rolls in when the oven has cooled a bit.

Let the covered rolls rise for about 45 minutes. They should be nice and puffy.

About 15 minutes before the rolls are finished rising, remove the rolls and the pan of water from the oven. Preheat the oven to 350 degrees F.

Once the rolls are quite puffy and have just about doubled in size, bake at 350 for about 15-18 minutes.

The rolls should be golden on top when fully baked. The best way to know if the rolls are done in the middle is to use a thermometer: the center of the rolls should be 190 degrees F. The bottom of the rolls should also be lightly browned, but lifting the edge of a roll can be tricky.

Make the cream cheese frosting while the rolls are in the oven. In a large bowl or stand mixer, beat 8 ounces softened cream cheese with 1/2 cup softened butter. Scrape the sides and bottom and beat for a couple minutes until it's nice and fluffy. Add 1 cup powdered sugar and 1/4 teaspoon salt, and beat well.

Let the rolls cool for about 10 minutes, then spread with HALF the cream cheese frosting. If you are serving these to a large group and they will all be eaten right away, frost with the entire amount. Otherwise, save the other half of the frosting to serve with leftover rolls, or to pass at the table for guests to serve themselves. I find that people have such different opinions on the level of frosting they enjoy, that it's better to let guests serve themselves.
Overnight Instructions:
Make the recipe as written through step 23 (except don't boil the water). Once the rolls are shaped and on the pan, cover as directed, then refrigerate overnight. In the morning, prepare the oven by preheating the oven (and then turning it off) and placing a pan of boiling water on a bottom rack. (Remember to turn the oven off, as described in step 24.) Let the rolls rise for the same amount of time and bake as directed.
More sweet breakfast ideas you are going to love!
One Hour Cinnamon Rolls << these have been my standard rolls for years and years. They are a GREAT one hour option.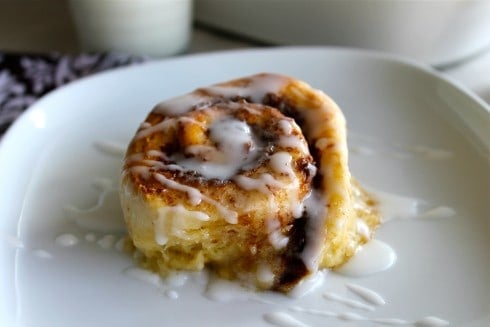 Almost One Hour Pumpkin Cinnamon Rolls with Caramel Cream Cheese Frosting << I think this wins for longest title ever.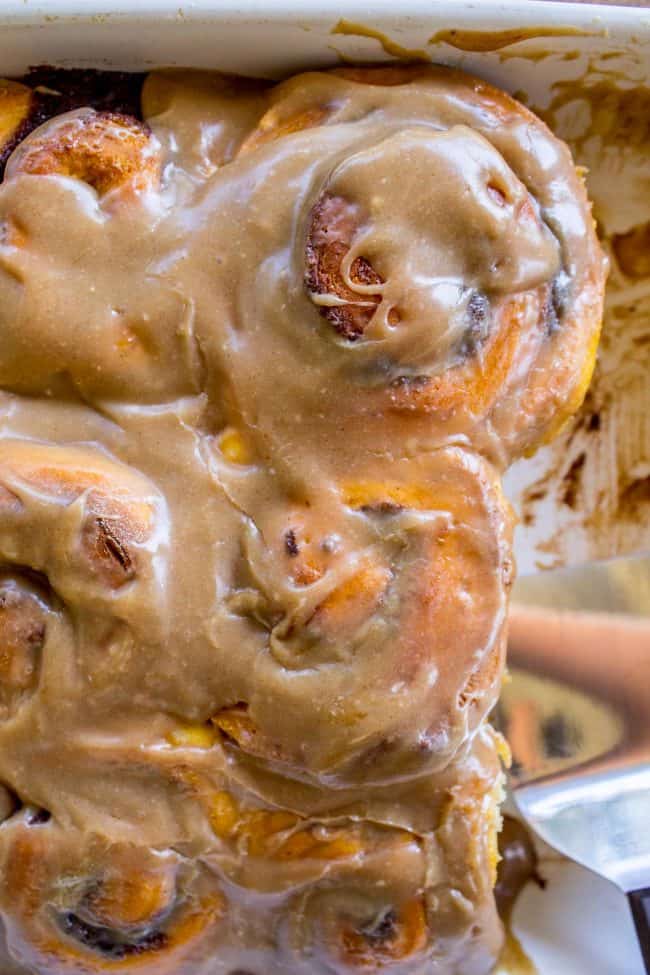 One Hour Honey Almond Crunch Rolls << this is like Honey Bunches of Oats…but in cinnamon roll form. SO GOOD.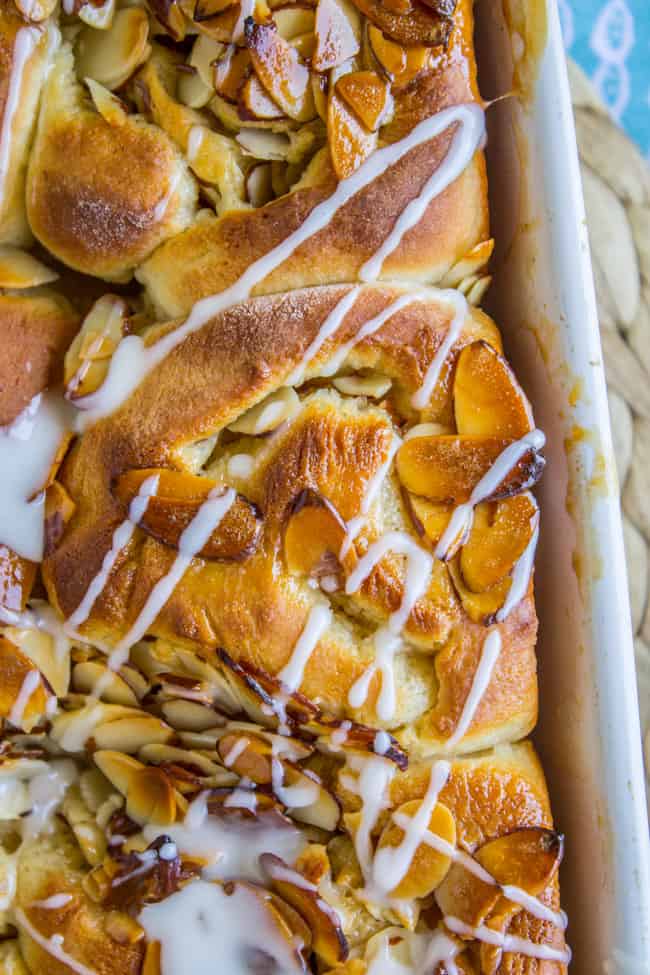 More cinnamon roll ideas from friends!
Mint Chocolate Chip Cinnamon Rolls from Lemons for Lulu
Chocolate Cinnamon Rolls from Inside Brucrew Life << totally intrigued by this!!
Apple Cider Cinnamon Rolls from Crazy for Crust
We are a participant in the Amazon Services LLC Associates Program, an affiliate advertising program designed to provide a means for us to earn fees by linking to Amazon.com and affiliated sites.