Garlic and Rosemary Skillet Bread
Need an easy but fabulous bread for Thanksgiving? Or heck, how about dinner tonight! This bread has tons of flavor from the fresh garlic and rosemary. Olive oil in a cast iron skillet gives it this unreal crust. You will love it!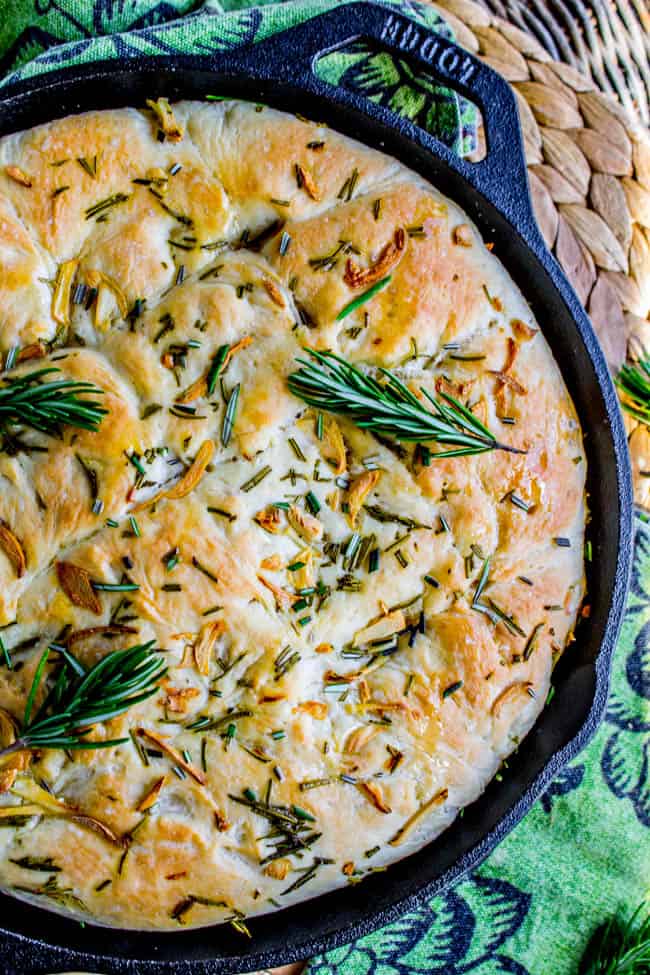 Have you ever done a handstand? How bout a handstand when you're 37 weeks pregnant? No? Well that's because YOU'RE NOT INSANE.
Seriously, I can't do a handstand on a regular day. Meaning a day when I'm not lugging around a 6 and 1/2 pound watermelon (or whatever fruit my baby is resembling these days). (I'm like "a melon strolling on two tendrils…" Sylvia Plath? Anyone?)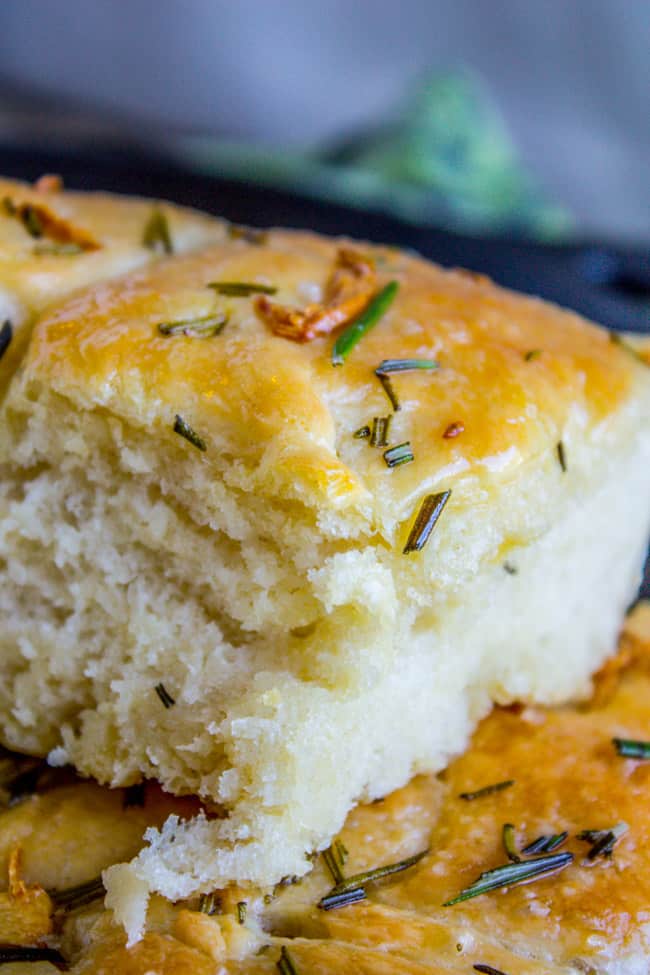 The doctor said my baby is oblique. That means she's not completely head down, she's diagonal. I told my sister about it. She said that she had a baby that was breech, so she did a handstand in the pool, and baby flipped around. So just do a handstand Karen. Easy. No problem. So what if I don't have access to a pool? Eric can help me, right? We got this.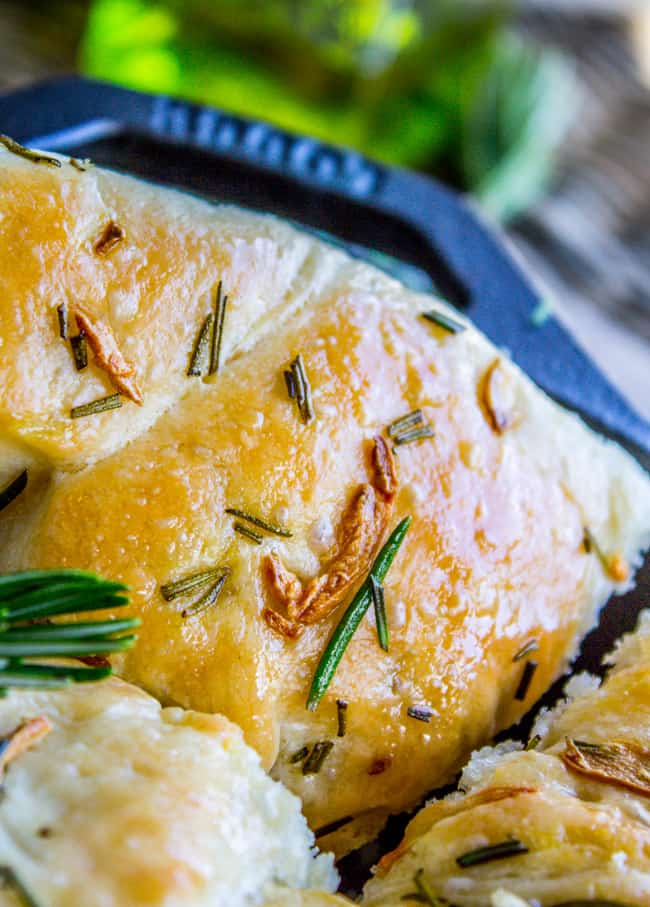 Oh, past-Karen. You silly thing. Note to future Karen: don't do a handstand, EVER, under any circumstances. I should have known that it would be a failure judging by the fact that I can't even stand up without losing my balance these days.
I have another appointment with the doctor tomorrow, and last week she said if the baby hasn't turned they will try to turn her manually, which can send you into labor. Wish me luck??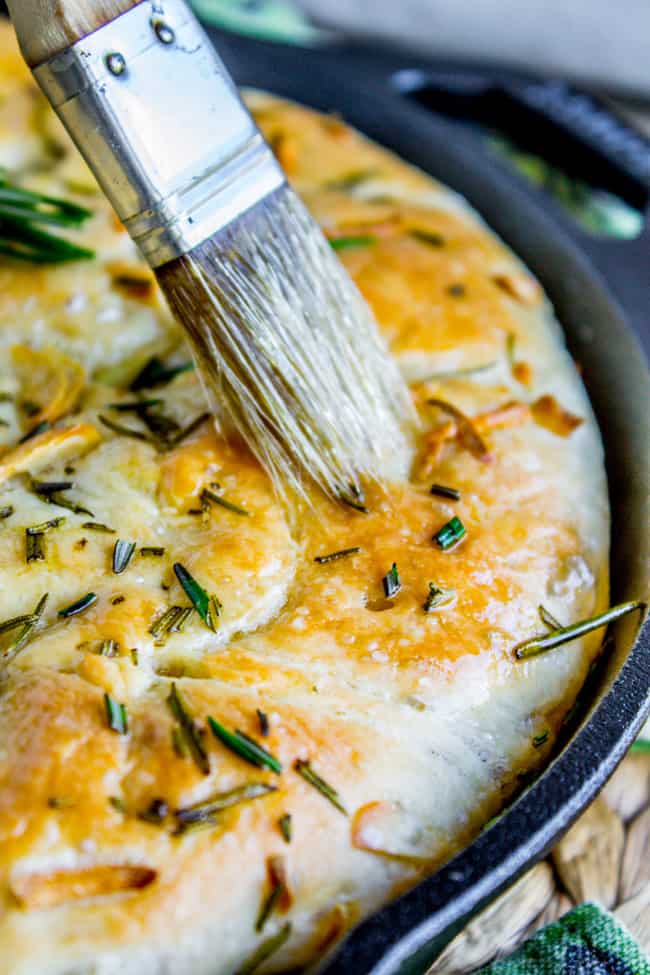 In preparation for potentially painful baby-turning business, I'm scarfing bread. Garlic and Rosemary Skillet Bread, actually. My last meal of preference, I think. ("except for a nice MLT – mutton, lettuce, and tomato sandwich, where the mutton is nice and lean and the tomatoes are ripe [smacks his lips]. They're so perky, I love that." (Miracle Max? Anyone? Okay sorry I'll stop with the obscure quotes.)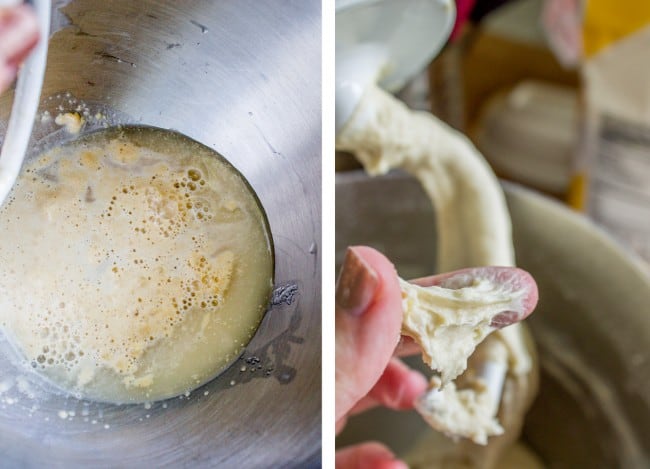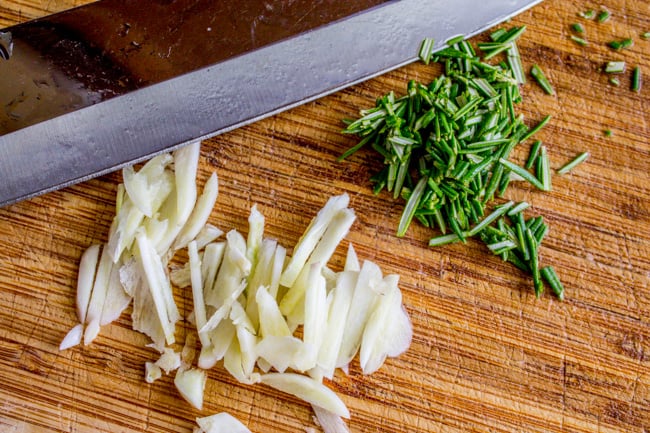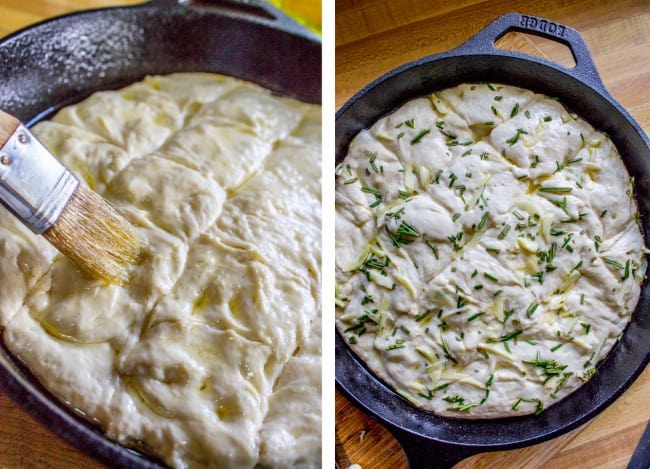 Today's recipe is from my best friend Sarah's mom, Anne. (Hi Anne!) The first time I tried it was when Sarah and her husband made it for me when we were camping. Yes, CAMPING, like, in the wilderness. I like good food as much as the next person, but camping is one instance where I let flavor fly out the window in favor of convenience. (Read: we pudding cup.) But not Sarah and Brian. They knead dough in the wilderness. And then heat fiery coals and put them all over their Dutch oven to bring me this rich olive oily goodness: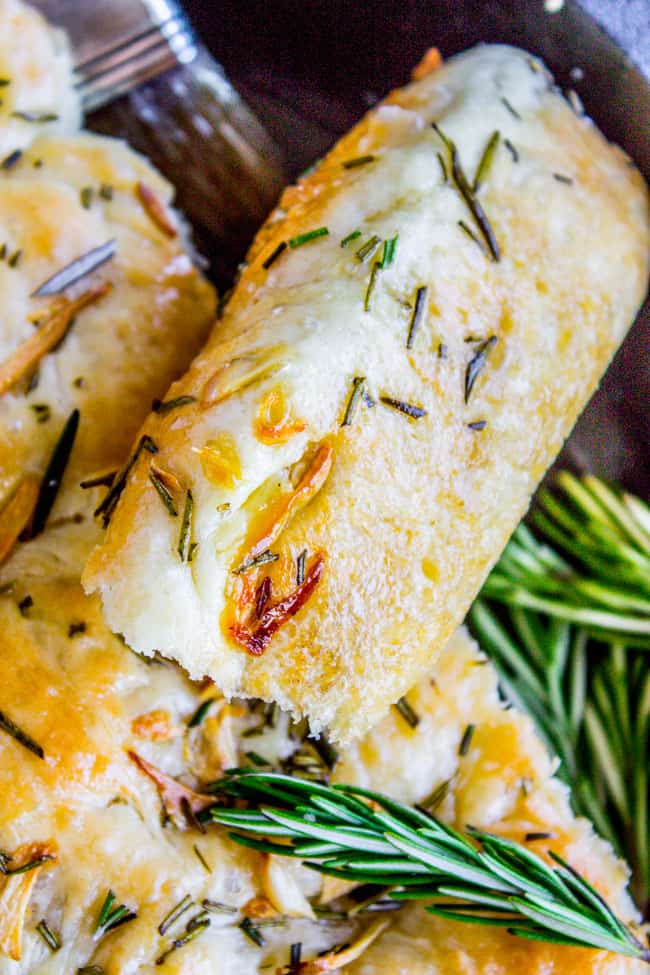 Can you see the crispity crunchy bottom? Have you ever had pan pizza from Pizza Hut? (If you haven't, how?? why??) But this is kind of how that crust is. They bake those puppies in straight up oil pretty much. And that's what you do with this bread. A full tablespoon of olive oil goes in the pan before you add the dough. It may look excessive; do it anyway. It's kind of like these biscuits that are baked in a pan of melted butter. Oh yeah.
This bread would be perfect for Thanksgiving! I know it seems like a ways off but it's really only a few weeks away. Crazy right??
Facebook | Pinterest | Instagram | Twitter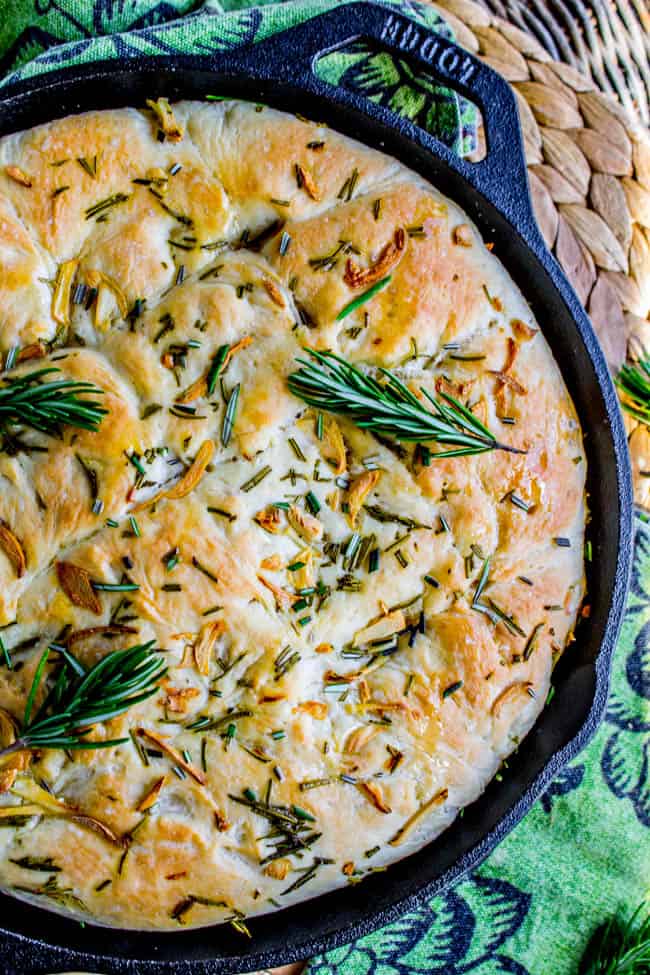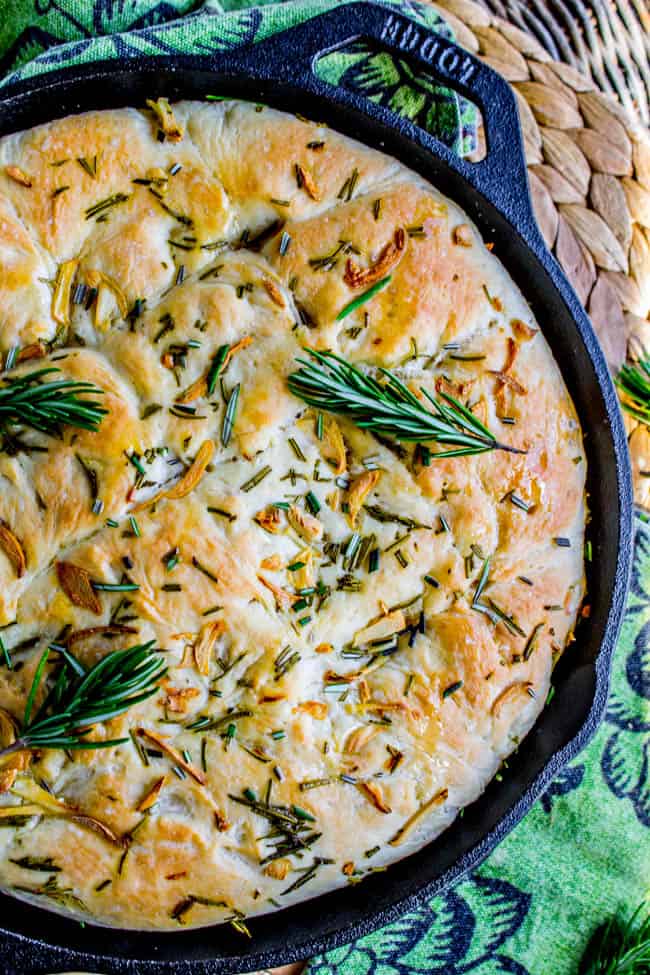 print
Did you make this recipe?
Leave a review »
Garlic and Rosemary Skillet Bread
Serves 6-8
adjust servings
Ingredients
1

cup warm water (not hot! not cold! Test it with your fingers. Like a nice warm bath.)

1

tablespoon white sugar

1

scant tablespoon active dry yeast (or 1 package)

3/4

teaspoon kosher or sea salt*

1/4

cup olive oil (goes in the dough)

2

and 1/4 cups all-purpose or bread flour, plus more as needed

1

tablespoon olive oil (for bottom of skillet)

1

tablespoon olive oil (for top of bread)

2

cloves garlic, thinly sliced

2

sprigs fresh rosemary, chopped (or 1 teaspoon dried)

1/2

teaspoon kosher or sea salt*
Instructions
In a large bowl or stand mixer, add warm water, sugar, and yeast. Stir together with a spoon, then set a timer for 5 minutes.
If your mixture is bubbly and a bit foamy after 5 minutes, congratulations! You didn't kill your yeast. If it's not reacting, then start over.
Add 3/4 teaspoon salt, 1/4 cup olive oil, and 2 and 1/4 cups flour. Stir together with a spoon until a soft dough forms. Then if you are using a stand mixer, switch to the dough hook and knead for 8-10 minutes. If you're kneading by hand, turn onto a well-floured work surface and knead for 8-10 minutes. Add more flour as needed. I used an extra 1/4 cup. You want the dough to be workable but it is still pretty sticky. (See photos)
Grease a large bowl. Scrape the dough into the bowl, form a ball, and turn to coat the top with oil. Cover with plastic wrap and let rise for 45 minutes. (Hang onto the plastic wrap for the second rise.)
Coat a 10-inch cast iron skillet** with 1 tablespoon olive oil. Punch down the dough and press it into the bottom of the pan. Use a sharp knife to score the bread on top in a crisscross pattern.
Brush the top with 1 tablespoon olive oil. Then sprinkle with garlic, rosemary, and 1/2 teaspoon salt.
Cover loosely with plastic wrap and let rise another 20 minutes.
Preheat your oven to 400 degrees F.
When the bread has risen, bake at 400 for 20-25 minutes.
Remove from the oven when the top is light golden brown all over.
Remove the bread from the skillet right away and let cool on a wire rack. If you leave it in the pan the crust will get soggy!
Drizzle with more olive oil, slice into wedges, and serve hot!
by The Food Charlatan

If you make this recipe,
share it on Instagram
 using the hashtag
#TheFoodCharlatan
so I can see it!
More recipes you will love!
Restaurant Style Olive Oil and Balsamic Bread Dip << you could dip your Skillet Bread in this. OH MAN.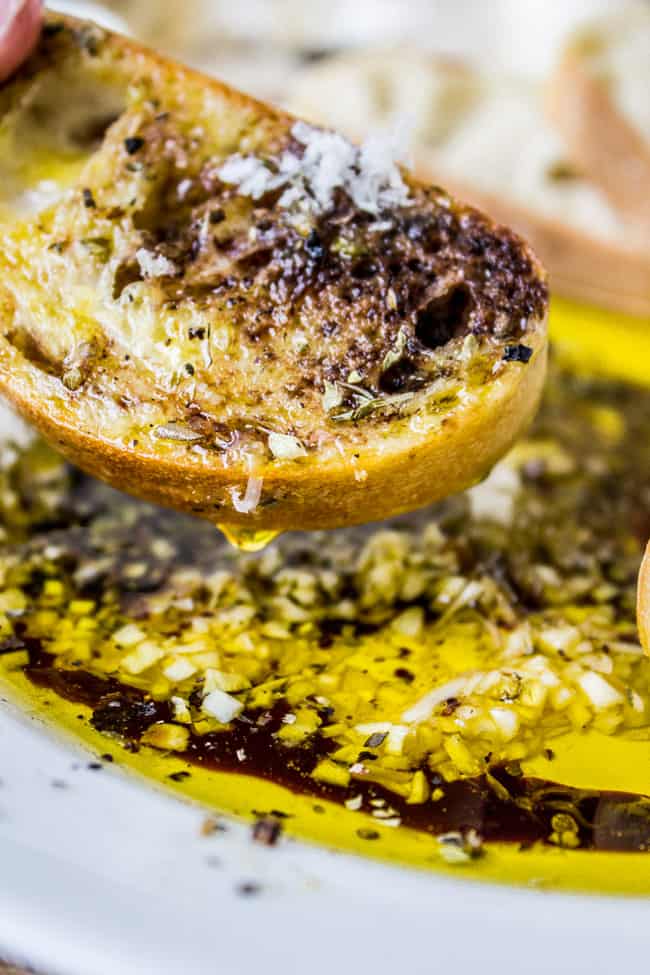 Fast Focaccia Bread << this is such an old recipe but I still use it all the time! Cheese ftw!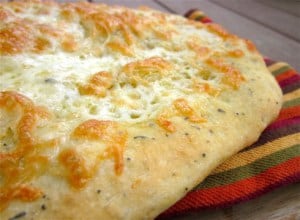 Aunt Shirley's Famous Dinner Rolls << the best dinner rolls guys. THE BEST.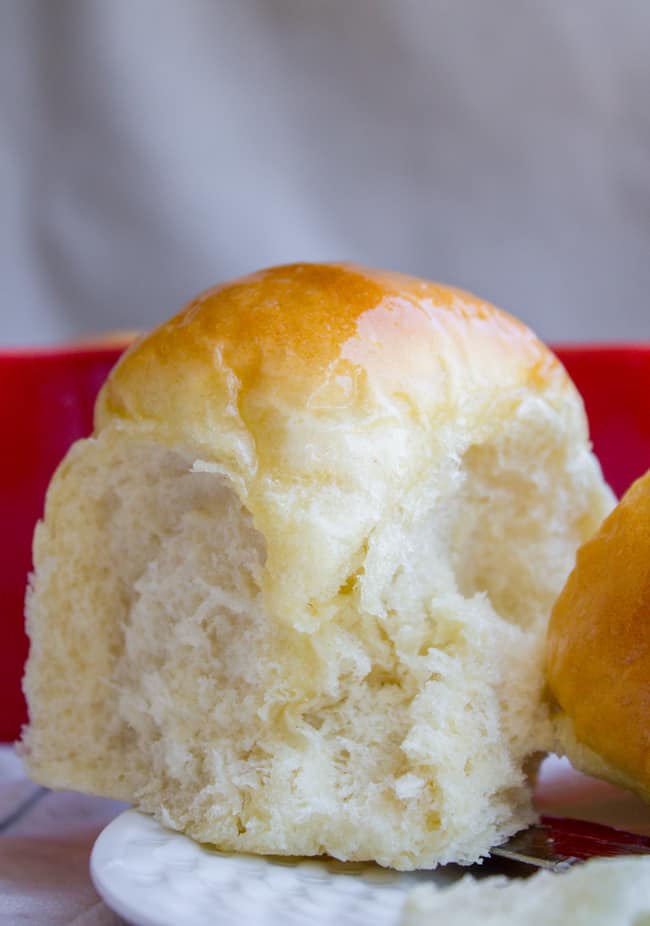 Buttery Sweet Potato Rolls << this would be another good one to make for Thanksgiving!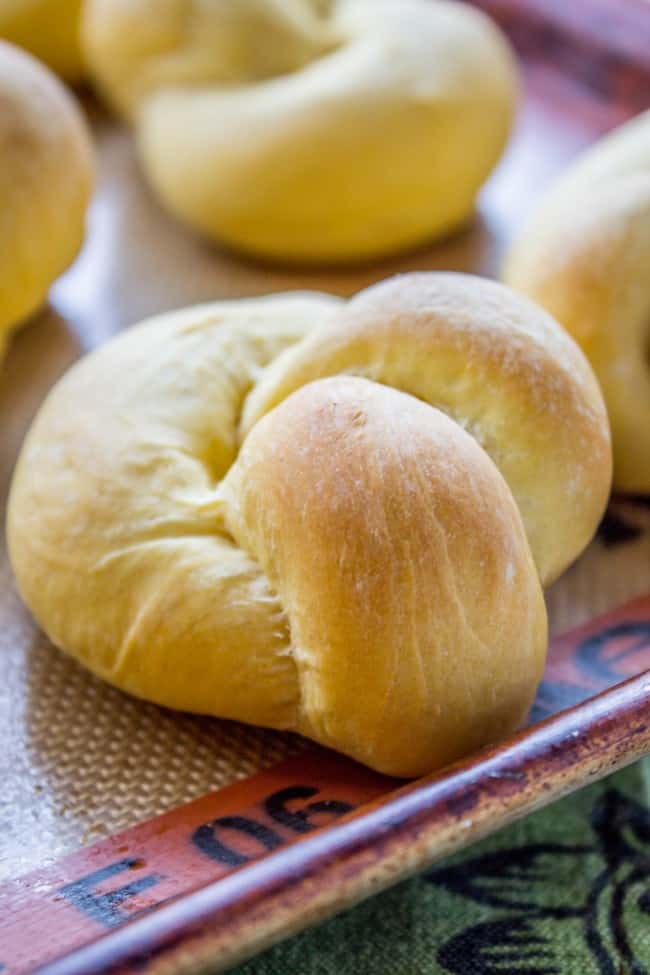 Other skillet breads from friends you might like!
One Hour Skillet Garlic Parmesan Focaccia from The Comfort of Cooking
No-Knead Skillet Bread from The Cooking Actress
Parmesan Ranch Skillet Bread from Crunchy Creamy Sweet
We are a participant in the Amazon Services LLC Associates Program, an affiliate advertising program designed to provide a means for us to earn fees by linking to Amazon.com and affiliated sites.