These easy dinner rolls are about to become your new best friend. You don't even have to knead them! They take just over an hour from start to finish. Originally published October 29, 2012.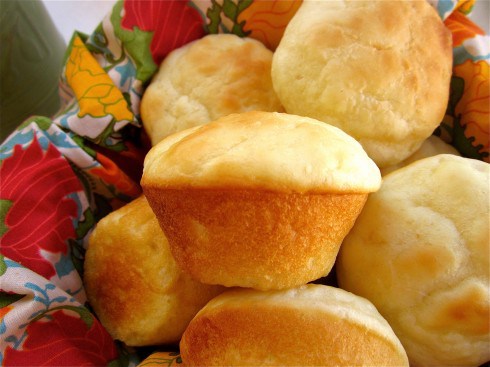 Table of Contents
I was having trouble finding something to wear this morning. This is to be expected when you are pregnant and starting to show. (And by "show" I don't mean that you look remotely pregnant. Instead you look like you just got done eating 5 lbs of Mexican food.) I ended up wearing a pair of creamish-tan tights to match my skirt. This in spite of the fact that years ago my best friend told me jokingly that these same tights "look like the pallid color of death." I guess they are appropriate for Halloween time. I should've just added some fake blood.
Eric and I made Halloween gingerbread houses with some friends the other night. Check it.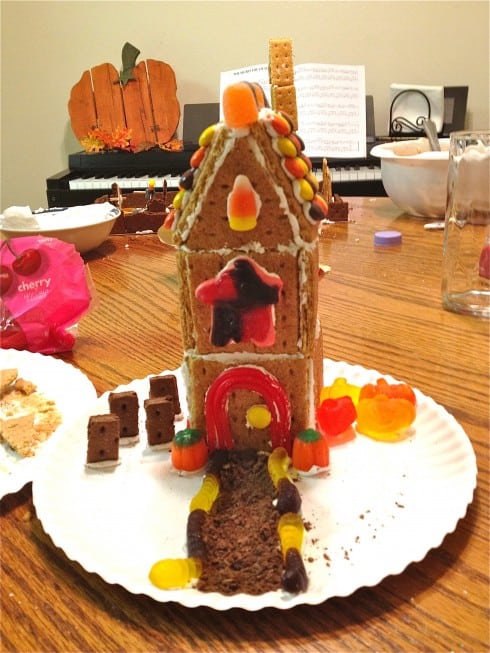 Here's mine…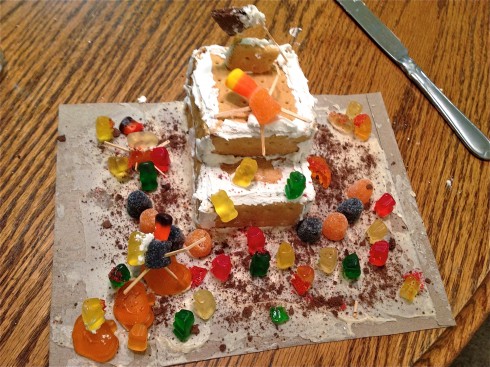 And here's Eric's. Can you see the rabid gummy zombies (artfully dipped in red sprinkles for blood) chasing down the gumdrop man, who is heading for the axe? He wanted to make a chain saw, but couldn't quite figure out how to do that using candy. I'm pretty sure he wins the Awesome Award. I'll take the Ho-Hum Award with no complaints.
Why you'll love this Easy Dinner Roll Recipe
Let me introduce you to your new best friend. Our family calls these Reesy Rolls. I'm sure they used to be called something else, but Eric's sister Reesy loved these rolls so much growing up that everyone just calls them Reesy Rolls now. I know they look like muffins, but don't be fooled. These are real deal yeast rolls, done in one hour flat. (Which I realize doesn't sound very fast, but for legit yeast rolls, it's pretty dang good.) And did I mention easy? No kneading. No roll-shaping. Just dump, stir, rise, bake, eat. Win, win, win. These rolls are soft and pillowy, and make you want to douse your entire life in butter.
Easy Dinner Rolls Ingredients
Here's a quick shopping list to help you gather your ingredients. See the recipe card below for the full ingredients and instructions!
Active dry yeast
Granulated sugar
All purpose flour
Kosher salt
Egg
Unsalted butter
How to make Easy Yeast Rolls for beginners
Here's a quick overview of how to make these easy beginner yeast rolls. Scroll down to the recipe card below for the complete instructions.
Dissolve yeast in water.
Add 1 cup of the flour and all remaining ingredients. Beat until smooth.
Add the remaining flour and beat until smooth, scraping sides. Cover the bowl and let rise.
Stir down the dough and spoon into muffin cups, then let the rolls rise.
Bake until they start turning golden on top.
Easy Dinner Roll Substitutions and Variations
Consider these rolls your blank canvas for creating a masterpiece. Here are some ideas!
Add raisins or Craisins to the dough for a fruity teatime bun.
Gently stir in shredded cheddar cheese and chopped pickled jalapeño peppers for a cheesy, spicy dinner roll.
Brush the finished rolls with garlic butter to accompany your spaghetti.
Add orange zest and ⅛ tsp of ground cardamom to the dough.
Put half the amount of batter into each muffin tin, spoon in a teaspoon of jam (any flavor!) and then put in the other half of the batter.
Substitute the sugar in the rolls with honey, then brush the tops of the rolls with honey butter after they come out of the oven.
Brush the tops of the finished rolls with olive oil and sprinkle with a little flaky sea salt and chopped fresh rosemary.
Favorite ways to serve Easy Yeast Rolls
My favorite way to serve rolls is by putting them straight into my mouth as quickly as possible ;-) But when I'm exercising a little more self control, I love serving them with soup or as part of a nice dinner. Here are some of my favorite dishes to serve them with.
Easy Broccoli Cheese Soup (30 Minutes) << while you're at it with the easy rolls, why not make an easy soup? This one is done in 30 minutes.
Crock Pot Beef and Barley Soup << you can make this one on the stove or in the crock pot. This is a winter time STAPLE at my house!
Honey Balsamic Pork Ribs in Crock Pot << ribs + rolls + an easy salad or veggie = ultimate Sunday dinner.
Easy Fall-Apart Crock Pot Roast with Carrots (Slow Cooker) << if your mashed potatoes haven't soaked up the pot roast gravy, let your rolls in on the party too.
Zucchini Lasagna Recipe << nothing like cheesy, veggie packed pasta with a nice warm roll.
Quick Yeast Rolls Storage
Rolls can be stored in a Tupperware or ziplock on the counter for up to 3 days. If you'd like to freeze them, just make sure they've cooled completely before you put them in the freezer in a tightly sealed container or bag. They'll last for about 3 months there, where you can pull them out on a busy day and still win dinner.
Easy Yeast Roll Recipe FAQs
Why are my dinner rolls not light and fluffy?
Dinner rolls can get hard and tough for a few reasons. Here are some perils that may befall the unaware baker (and how to avoid them).
Don't over work your dough. It's easy to avoid this when making these rolls, which don't require any kneading at all.
Use all purpose flour, not bread flour. Bread flour has a high gluten content and makes for great chewy baked items, like pizza dough or crusty sourdough, but that's not what we're going for in a dinner roll.
Measure your flour carefully. Fluff the flour, then scoop it into the measuring cup.
What makes homemade rolls tough?
Tough homemade rolls, tragedy indeed! The key to avoiding tough rolls is to carefully measure the correct kind of flour. Fluff the flour with a spoon, then use the spoon to scoop it into your measuring cup before gently leveling off the top. Make sure to use all purpose flour when called for, and not bread flour. While bread flour creates excellent pizza crust or chewy french baguettes, it's not what you want in a soft homemade dinner roll.
Do you let rolls rise before baking?
Yes, rolls need to rise for at least a little bit before you bake them. This gives the yeast a chance to do its job and make your rolls the fluffy, puffy marvels of carby deliciousness.
Is active dry yeast the same as instant yeast?
Active dry yeast and instant yeast are different–but not that different. You can mix instant yeast right into dry ingredients, while active dry yeast should be activated by putting it in water first. As you can see, this recipe calls for putting the active dry yeast in water as the very first step.
Can you over knead yeast rolls?
Yes, you can over knead yeast rolls. You'll be able to tell if the dough becomes difficult to stretch. One of the reasons this recipe is so great is that it requires no kneading at all!
Should I brush my dinner rolls before baking?
This depends on whether we're talking about brushing on an egg wash or brushing on butter. An egg wash (not used in this recipe!) is intended to give rolls or bread a shiny, golden brown color as they bake. Brushing on butter after rolls or bread bake gives them a buttery sheen but doesn't darken them in color. Of course, the butter also makes them even more buttery (yes please). You don't need to brush these easy yeast rolls with butter after they come out of the oven, but far be it from me to stop you!
Facebook | Pinterest | Instagram

Easy Yeast Rolls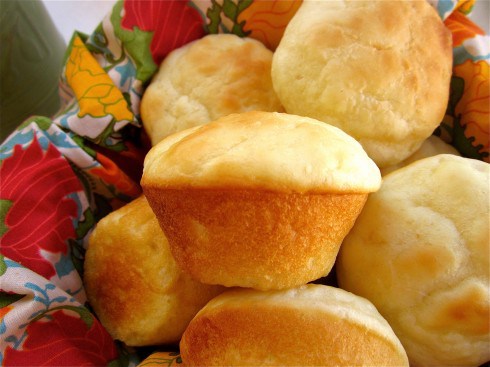 These are real deal yeast rolls, done in one hour flat. And did I mention easy? No kneading. No roll-shaping. Just dump, stir, rise, bake, eat.
Ingredients
1

package yeast

,

(1 tablespoon)

1

cup

warm water

2

tablespoons

sugar

1

teaspoon

salt

2

tablespoons

soft margarine or butter

1

egg

2 & 1/4

cups

flour
Instructions
Add 1 cup of the flour and all remaining ingredients. Beat until smooth.

Add the remaining flour. Beat until smooth, scraping sides. (The dough should be very sticky).

Cover the bowl and let rise 30 minutes.

Stir down and spoon into 12 very well greased muffin cups. (This "spooning" business can be tricky because the dough is so wet; I recommend a very well greased 1/4 measuring cup.)

Bake at 400 degrees for 15 minutes, or until they start turning golden on top.
Notes
Source: My mother-in-law-Kris
Nutrition
Serving:
1
roll
|
Calories:
116
kcal
|
Carbohydrates:
20
g
|
Protein:
3
g
|
Fat:
2
g
|
Saturated Fat:
1
g
|
Polyunsaturated Fat:
1
g
|
Monounsaturated Fat:
1
g
|
Trans Fat:
1
g
|
Cholesterol:
14
mg
|
Sodium:
223
mg
|
Potassium:
34
mg
|
Fiber:
1
g
|
Sugar:
2
g
|
Vitamin A:
103
IU
|
Vitamin C:
1
mg
|
Calcium:
7
mg
|
Iron:
1
mg