They are big. They are fat. They are the best Crescent Rolls of your life! I've been making these rolls for 10 years, and my mother-in-law Kris has been making them for 30. The recipe is tried and true, they always turn out perfect. They are ultra fluffy and light, plus super easy to make!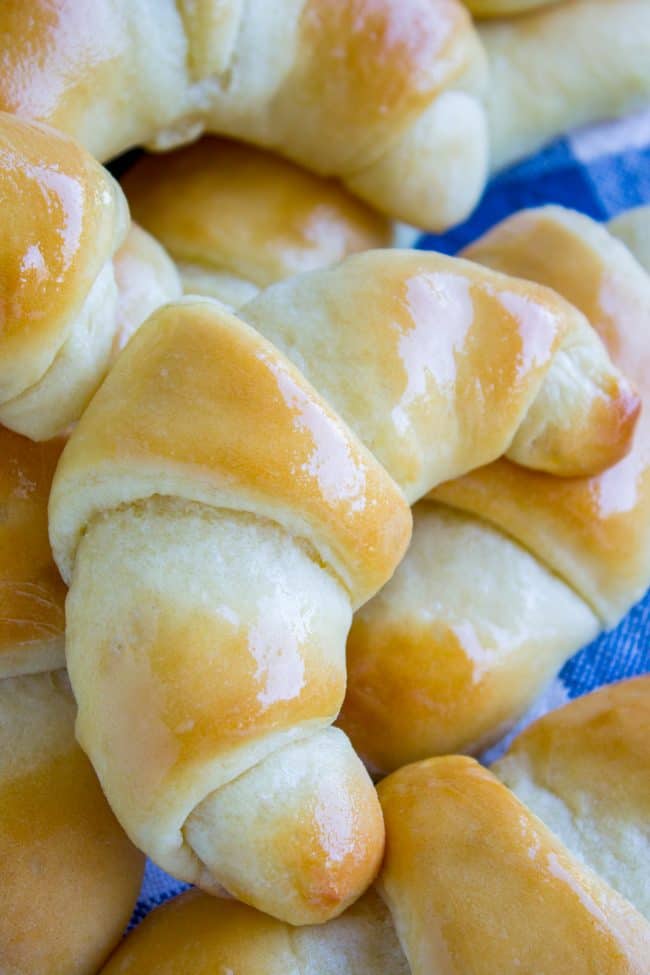 This recipe was published on February 1, 2012. I updated the photos and added more details for the recipe on November 7, 2018. So many of my favorite recipes were posted on the blog when I first started, before any of you were here! The world needs to know about these big fat crescent rolls! As usual, I'm keeping a portion of the original blog post for posterity's sake. Here's a blast from the past: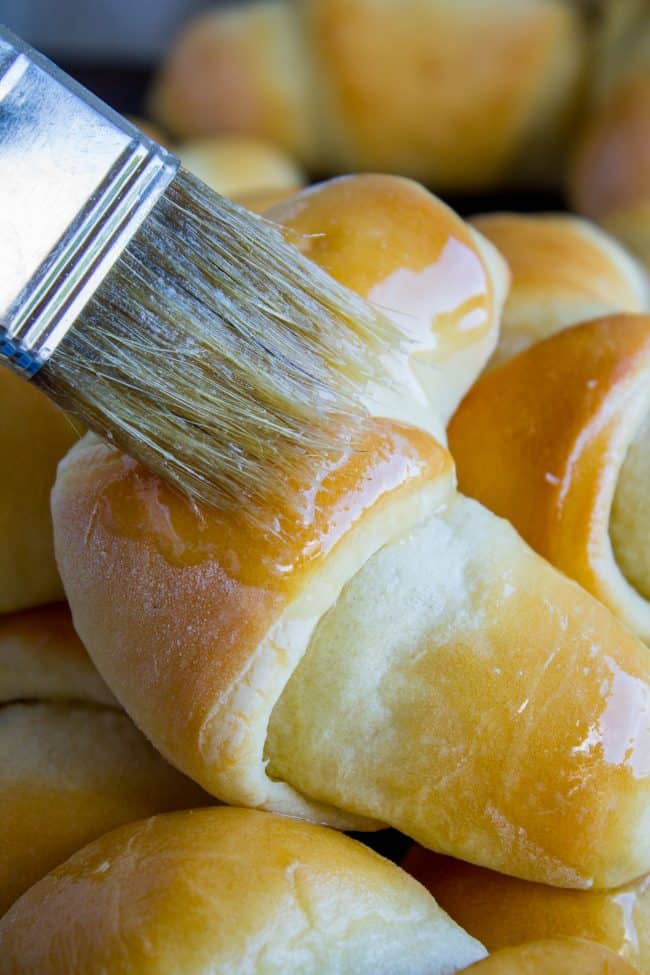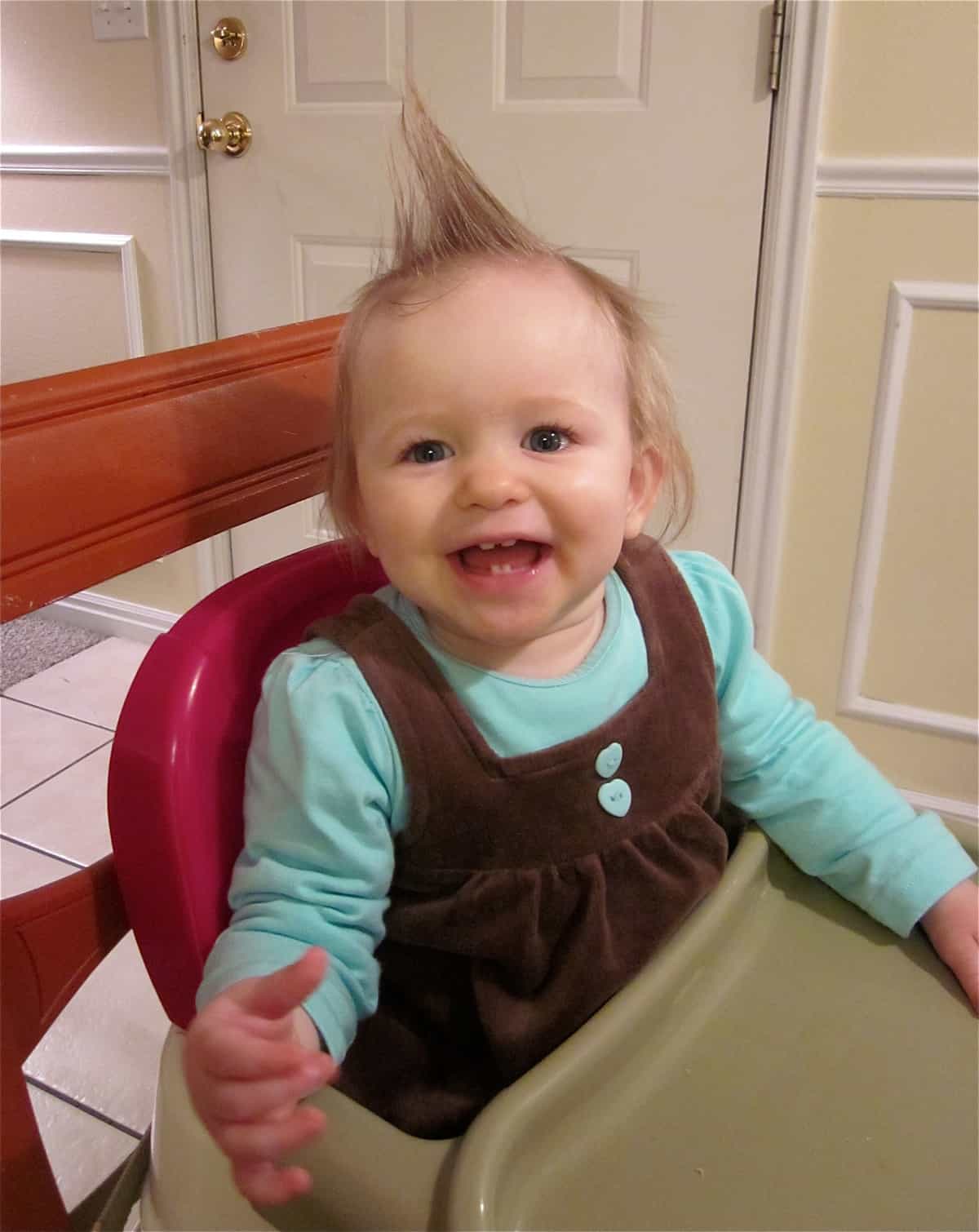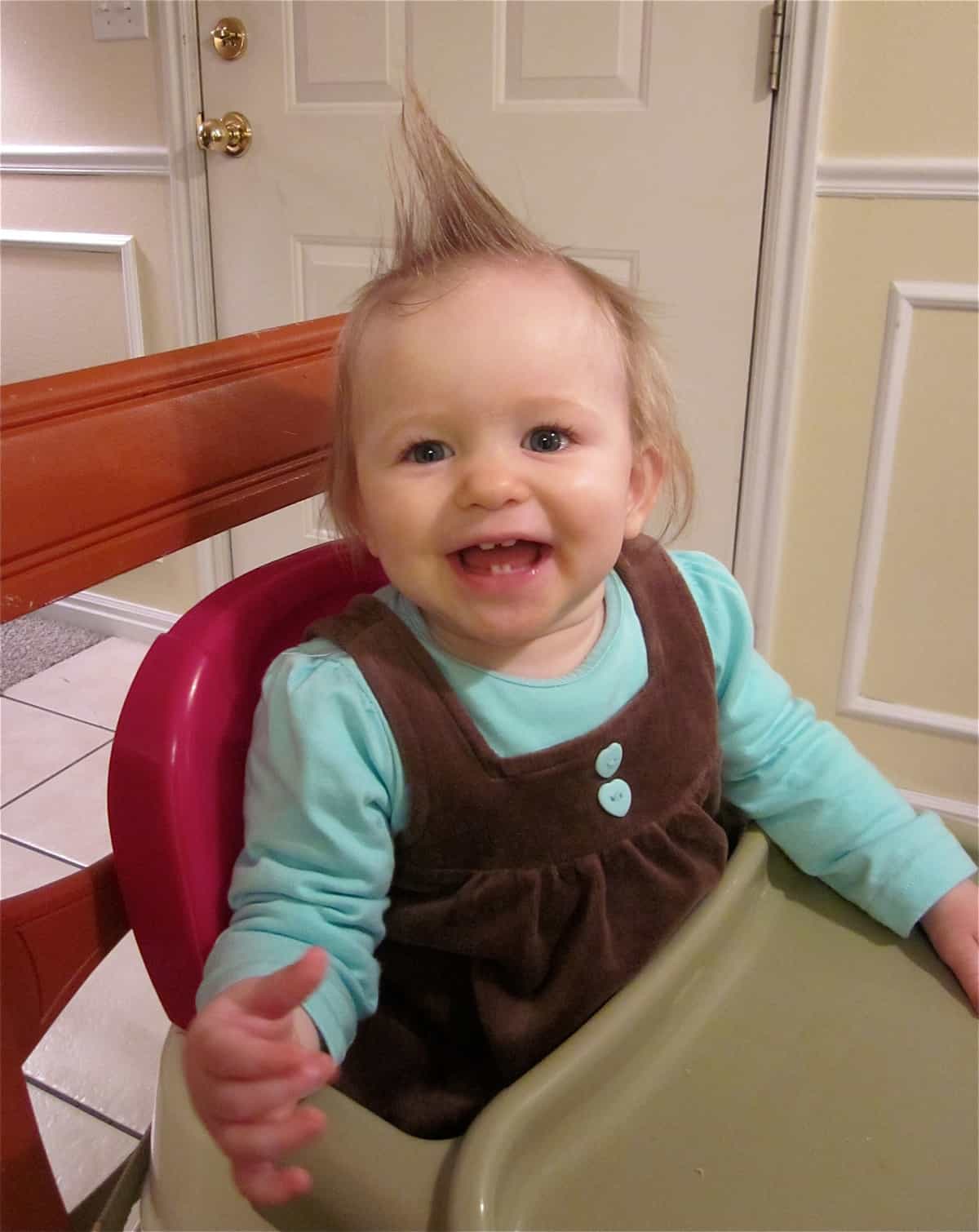 How do you like Charlotte's mohawk? Her hair is actually looking way better these days. She was born with a full head of hair, but by 4 months had developed a lovely combination of long side wings with the classic bald spot in the back, above a rockin' mullet. A true backstache.
We were blinded by being adoring parents. It took my sister-in-law Sandi to come into town with a pair of fresh eyes to finally wake us up. She said that Charlotte looked like an infant combination of Benjamin Franklin and Smeagol from Lord of the Rings.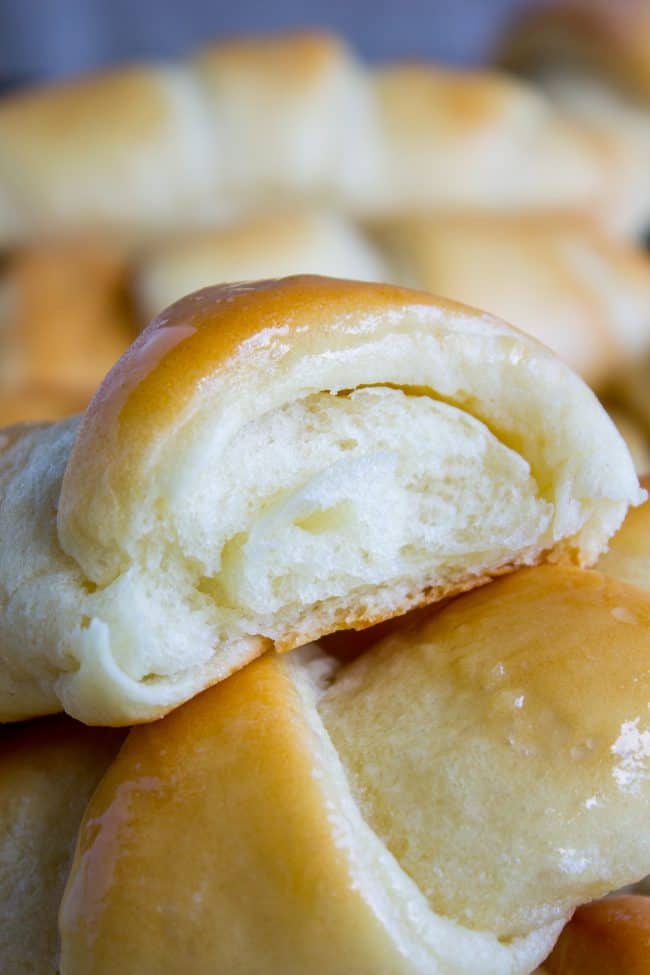 Sandi was totally right, Charlotte's hair was atrocious. Isn't it crazy how parents always think their babies are beautiful, and then even 6 months later you look back and think, wow, my kid is way cuter than that now. That newborn looks just as ugly as all the other newborns I've seen. I think it's God's way of helping up propagate the species.
How to make crescent rolls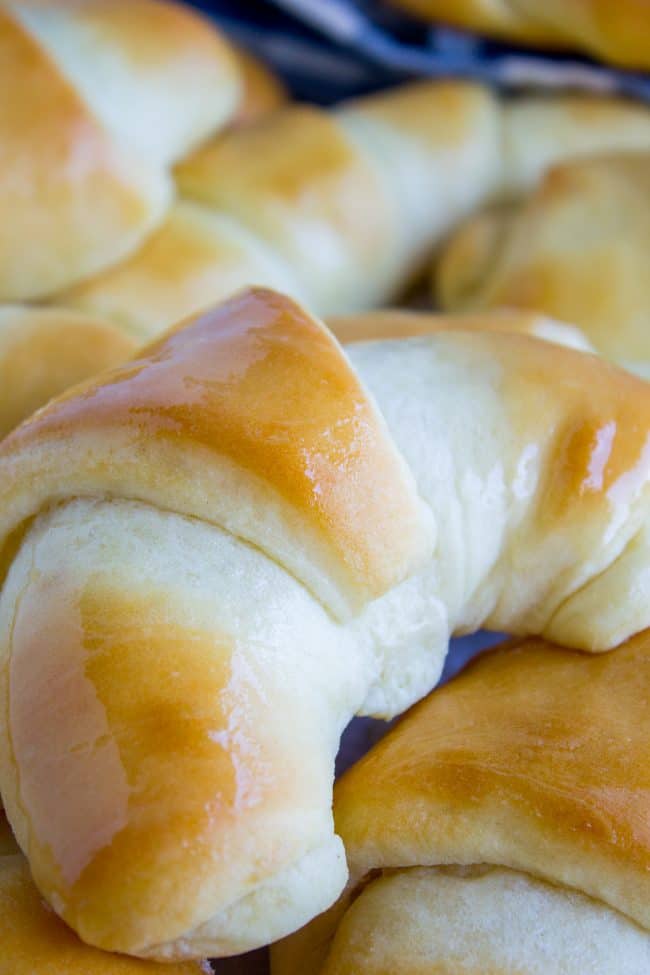 Have you ever made homemade crescent rolls? These little beauties always turn out perfect. Eric's mom Kris gave me the recipe years ago when I married into the family, and she's had it since 1987. It's definitely tried and true!
There is nothing more amazing than your house smelling like these yeasty, heavenly rolls. I can throw down about a dozen in one sitting. They are absolutely addictive. They are worth every ounce of effort, and whoever you share these with will be quick to agree.
I titled this "Big Fat Crescent Rolls, yeah" because Eric originally wrote the recipe in an email while his mom dictated it to him on the phone, and this is what he titled it. I edited out all the other slang in the instructions (mix it in the kitchenaid, yo) but in my mind I can't call them anything else.

Make sure your yeast gets nice and foamy.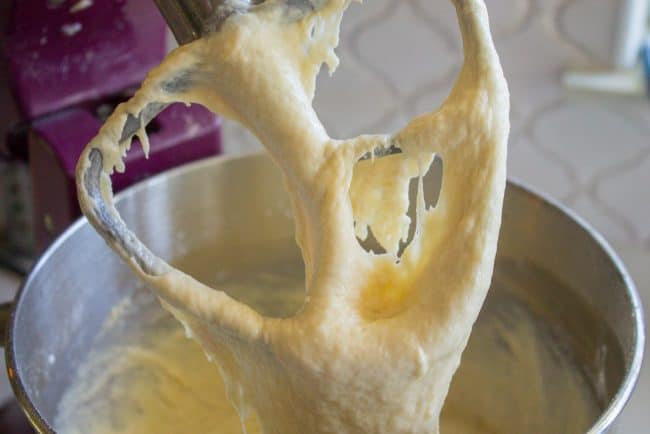 See how loose and sticky this dough is??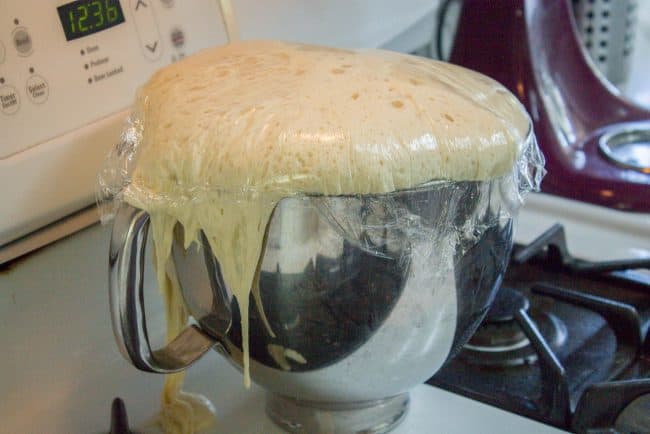 Don't leave to run errands while your dough rises. I always do this!!

It's a massive amount of dough.
How to roll crescent rolls
Get ready for a ton of pictures! Yeast rolls can be a little intimidating, especially when you have to shape the dough, so I've got it broken down for you here.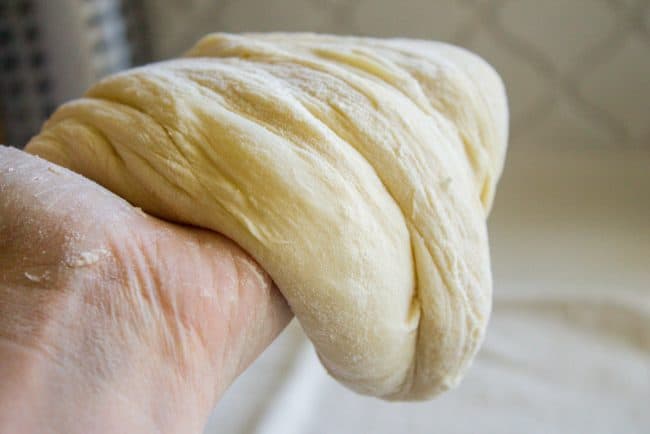 This dough is so soft, it just falls off your hand.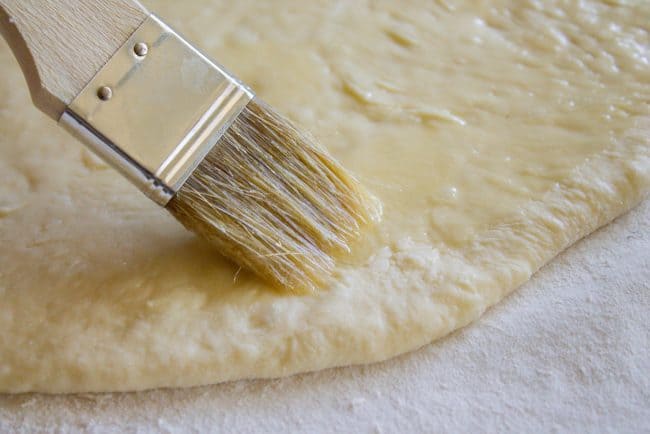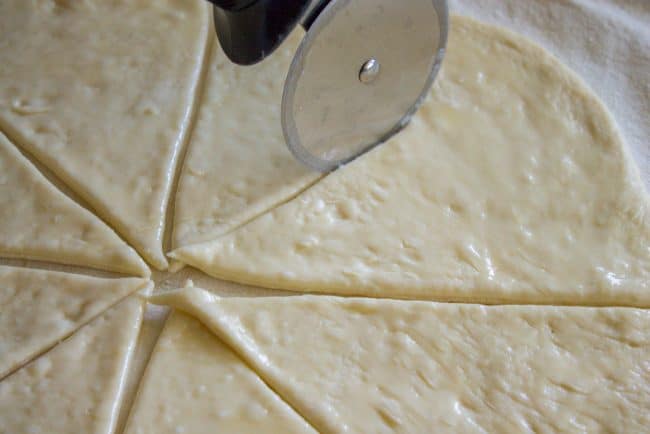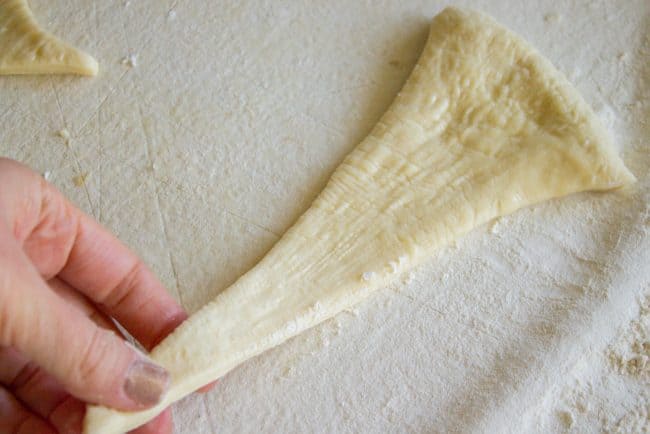 I like to stretch the skinny end of the triangle so that when you roll it you get lots of pretty layers.

Here's how to snip the long end of your triangle and fold it in on itself if it's looking too wide. You don't want the rolls to be too long. I forgot to include a picture, but when you place the roll on the baking sheet before it rises, you want to curl the edges so tht it is a crescent shape.
And just for fun, here is one of the original photos of this recipe, back from 2012: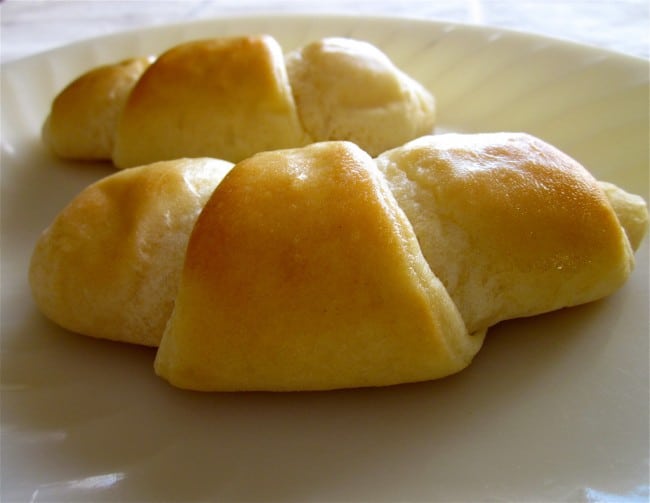 I know you are going to love this recipe! They are perfect for Thanksgiving. Make them ahead of time and freeze them so you have one less thing to do on the big day!
Facebook | Pinterest | Instagram
One year ago: Aunt Shirley's Famous Creamy Mashed Potatoes << I always make these for Thanksgiving
Three years ago: Slow Cooker Brown Butter Carrots <<these are so easy for Thanksgiving!
Seven years ago: Cherry Tomato and Goat Cheese Pizza

Big Fat Crescent Rolls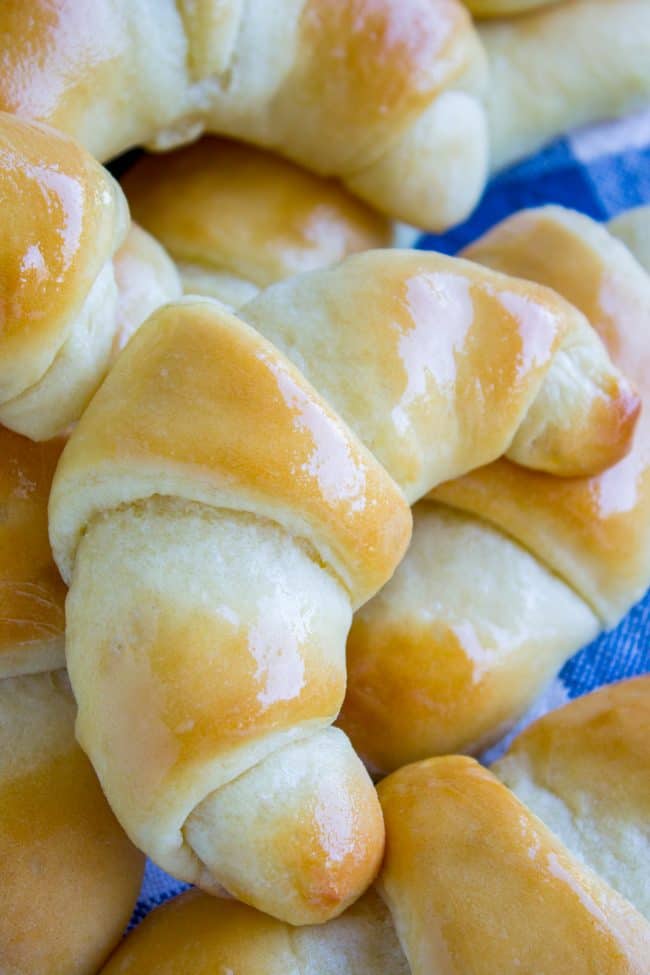 The best Crescent Rolls of your life! I've been making these rolls for 10 years, and my mother-in-law Kris (who gave me the recipe) has been making them for 30 years. The recipe is tried and true, and the rolls always turn out perfect. They are ultra fluffy and light, plus super easy to make!

Ingredients
2

tablespoons

active dry yeast

1/2

cup

water

,

warm, not hot

2

cups

milk

,

warm, not hot

1/2

cup

butter

,

1 stick

1/4

cup

sugar

2

teaspoons

salt

2

large

eggs

7

cups

all purpose flour

1/2

cup

butter

,

1 stick melted, for brushing
Instructions
In a large bowl or stand mixer, combine yeast and warm water. Touch the water with your wrist, it should feel like lukewarm bath water, about 105 degrees F. Let sit for 5 minutes and check to make sure it's getting bubbly. If not, you've killed your yeast with too hot water. Dump it and start over!

In a glass measuring cup, add 2 cups milk and a stick of butter. Warm in the microwave in 30 second intervals until the milk is warm (not hot!) It should be about the same temperature as the water. The butter will not melt completely, but will be soft enough to stir in.

Add the milk and butter to the bowl.

Add the sugar and salt and stir with the paddle attachment, if you are using a stand mixer.

Add the eggs and beat throughly.

Add about 7 cups of flour, one cup at a time. Mix with the paddle after each addition. (There is no need to switch to the dough hook. If you are using a hand mixer, eventually you will have to stir in the flour by hand.) The dough is very loose and sticky; it will not come together in a ball. Mix it for 2 minutes on medium speed.

Remove the paddle, cover the bowl with a greased sheet of plastic wrap, and let rise for one hour in a warm environment. Keep an eye on it to make sure it doesn't overflow the bowl.

Prepare 4 large baking sheets with silicone baking mats or parchment paper, or spray well with nonstick spray.

Use the mixer or paddle to punch down the dough.

Scrape the dough onto a very well floured work surface. Like we are talking dump at least a half cup of flour on the counter and spread it around. Flour your hands well and knead the dough a few times until it becomes manageable. You can add a little more flour if necessary, but remember it is supposed to be pretty sticky and loose. Sometimes I add up to a half cup more flour. Use your best judgment!

Use a serrated knife covered in flour to divide the dough into 4 equal pieces. Place 3 of the pieces on a floured surface and cover with a tea towel.

On a well flour surface, roll the 4th piece of dough into a 12 inch circle. Don't make it too big or your rolls will be too long.

Melt 1/2 cup butter in a small bowl. Use a pastry brush to spread melted butter generously all over the surface of the circle.

Use a pizza cutter to cut the dough (like a pizza) into 8 equal triangles. (see photos)

Starting from the large end of each triangle, roll the triangle, butter side up. I like to use my fingers to pull on the skinny end of the dough, to stretch it out a bit, and then roll it up. It makes it prettier when there are more layers. If the large end of your triangle is too long (which will make a really long roll), you can make a snip in the middle of the large end, and fold it in on itself. This will make the roll fatter in the middle instead of long. (see photos)

Place the rolls on the prepared baking sheets, about 2 inches apart, with the tip of the triangle on the bottom. Cover with a tea towel and let rise at least another half hour, or longer if your kitchen is cold.

Preheat the oven to 375 degrees F.

Continue with the rest of the dough. Remember to keep track of which pan started rising first, as it will take you several minutes to roll out each quarter of the dough.

Bake each pan of rolls at 375 for 12-15 minutes. And to quote Kris, They puff up real nice :) You want the tops of the rolls to reach a nice golden brown color. The bottom of each roll should also be golden.

You can bake 2 pans at a time. After 6-7 minutes of baking, rotate the pans (put the top pan on bottom and vice versa).

Brush with more melted butter as soon as they are out of the oven, and jam one in your mouth as fast as you can. If you plan to serve the rolls later, brush with melted butter just before serving. (If you brush them and serve later, the rolls will look a little wrinkled.)

To reheat these rolls, preheat the oven to 170 degrees F (Keep warm setting). Place on a baking sheet and warm for 5-10 minutes.

You can of course freeze these rolls in ziplock bags, for up to 3 weeks. Let thaw in the closed ziplock bag on the counter, and then follow reheating instructions. If you know you are panning to freeze them, I would wait to brush the tops with melted butter until just before serving.
Notes
This recipe is from my mother-in-law Kris!
Nutrition
Serving:
1
roll
|
Calories:
171
kcal
|
Carbohydrates:
23
g
|
Protein:
4
g
|
Fat:
7
g
|
Saturated Fat:
4
g
|
Polyunsaturated Fat:
1
g
|
Monounsaturated Fat:
2
g
|
Trans Fat:
1
g
|
Cholesterol:
28
mg
|
Sodium:
208
mg
|
Potassium:
58
mg
|
Fiber:
1
g
|
Sugar:
2
g
|
Vitamin A:
219
IU
|
Vitamin C:
1
mg
|
Calcium:
25
mg
|
Iron:
1
mg
Other ideas for Thanksgiving rolls!
Aunt Shirley's Famous Buttery Dinner Rolls << these are a classic and my go-to dinner roll!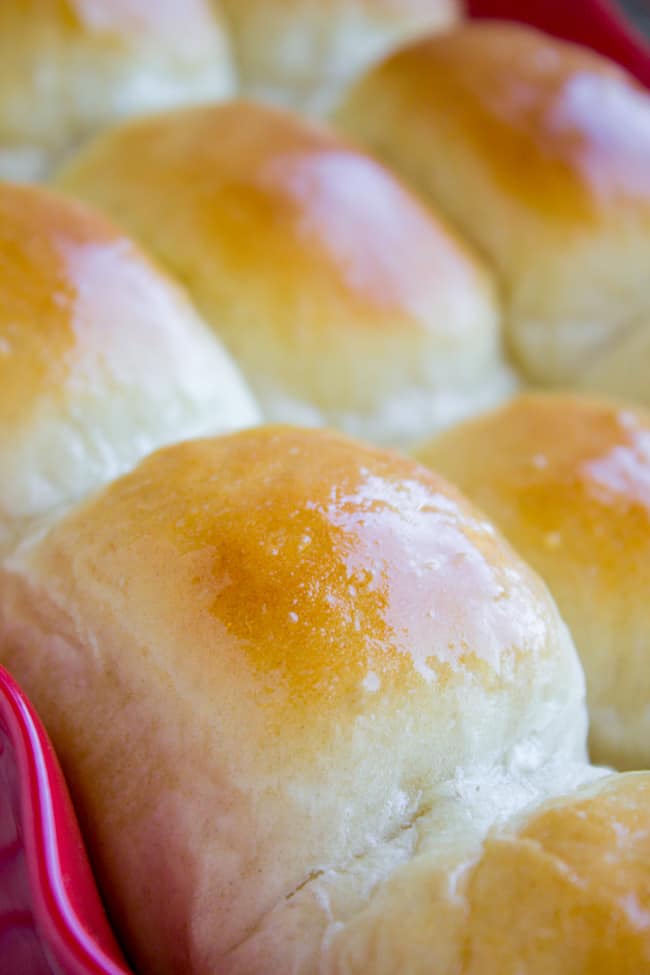 Garlic Knots << these have so much flavor. Hello garlic butter!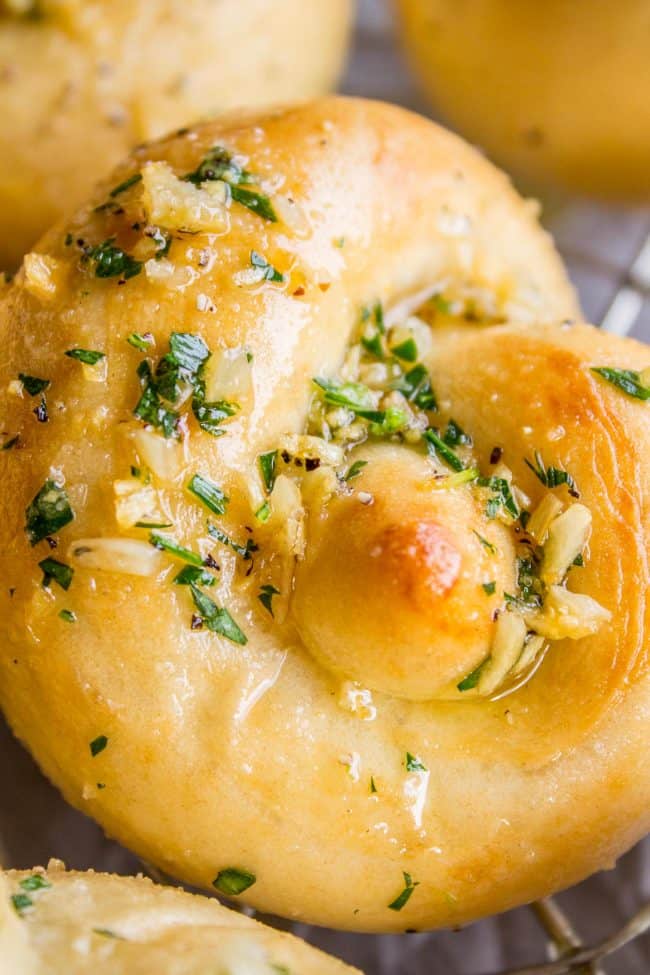 Garlic and Rosemary Skillet Bread << Save time on Thanksgiving and make this skillet bread instead of rolls!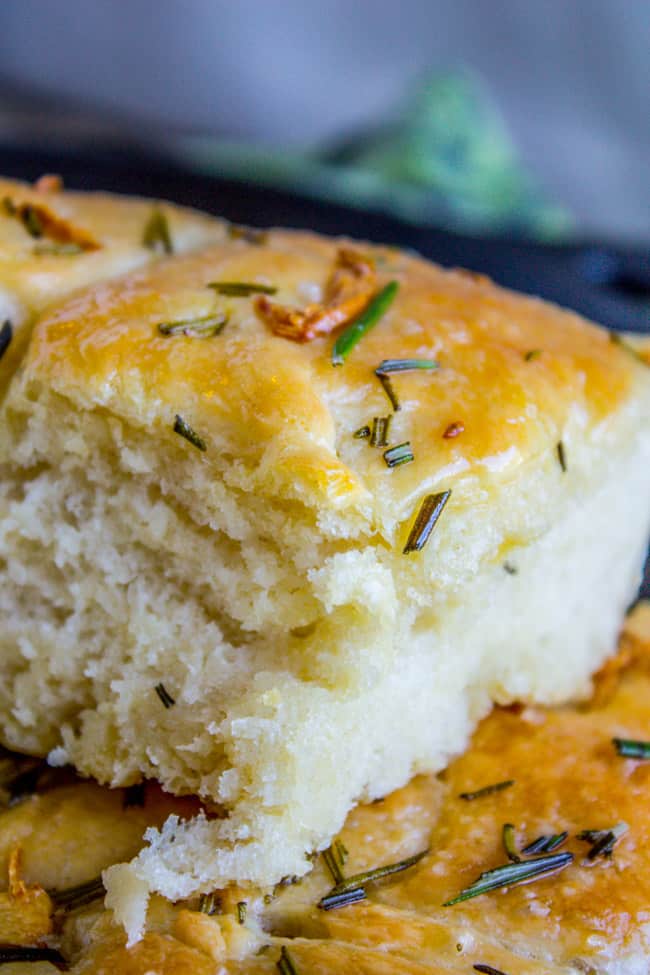 More Thanksgiving rolls from other bloggers!
Best Homemade Dinner Rolls from Wishes n Dishes
Rosemary Sea Salt Sweet Potato Rolls from Country Cleaver
Bretzel Rolls from Amanda's Cookin'