Instead of Eggs Benedict over ham and a biscuit, put it on top of double grilled cheese sandwich with bacon grilled into the outside! You heard me. Then smother with hollandaise sauce and take a nap because DAAAANG.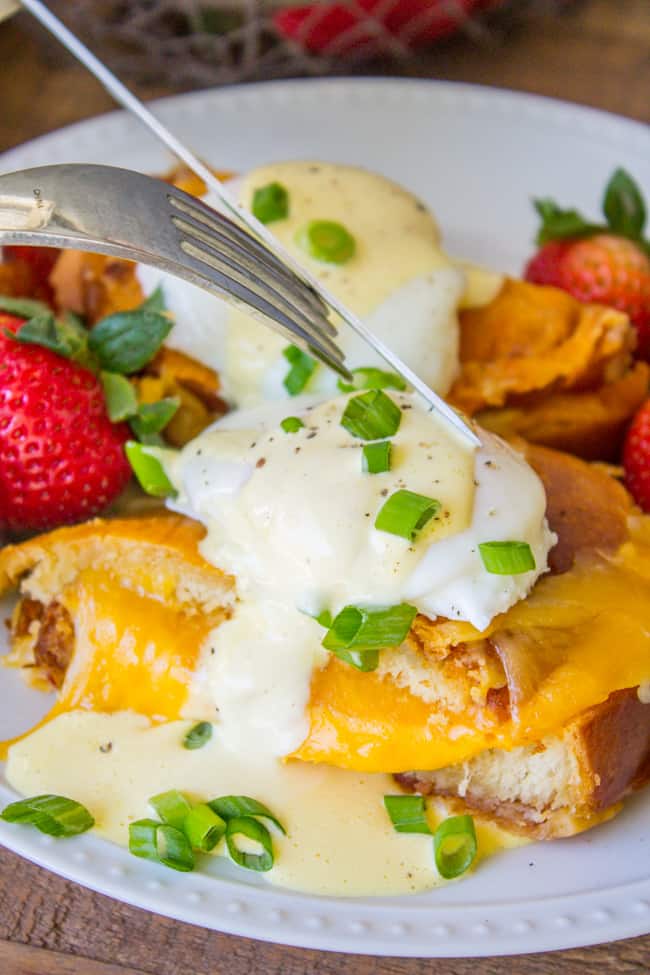 We recently attended the annual "Picnic Day" at UC Davis, which is kind of like a big carnival day at the school. (Also a day for most of the student body to get plastered. My brother is an ER doc and used to work in Davis. He said on Picnic Day he would have students in to the emergency room by TEN IN THE MORNING with alcohol poisoning. Can you imagine? I can't. I'm Mormon though, so I guess that explains my dumbfoundedness. <<not a word. Before going into any of the auditoriums for the day's events, they make you uncap your water bottles so they can smell them to check for booze. Crazy right?)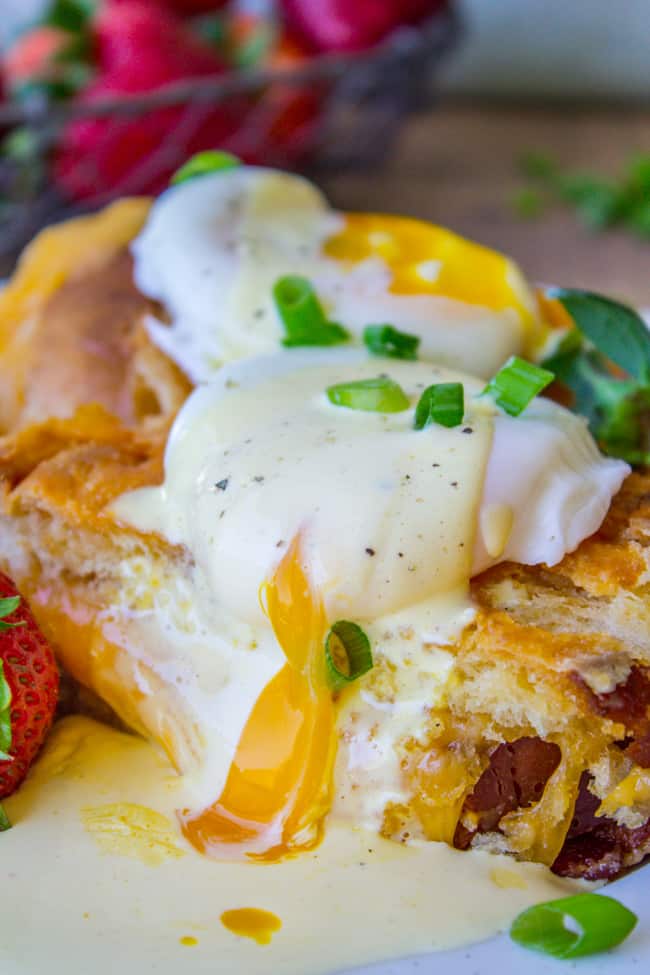 Anyway, all this to say that on Picnic Day, Eric scored some free t-shirts for himself and the kids. A week later he pulled on his freshly laundered shirt to work out in, and it was so tight he could barely get it over his head. He kept going on and on about how it shrunk in the wash SO MUCH, and how is that even possible for it to have gotten so small in one wash, and I'm just in the corner silently rocking with laughter, because of course I could tell that it was actually one of the kids' identical shirts, a Youth Large size. I really wish I had snapped a picture so that I could torture him publicly on the internet.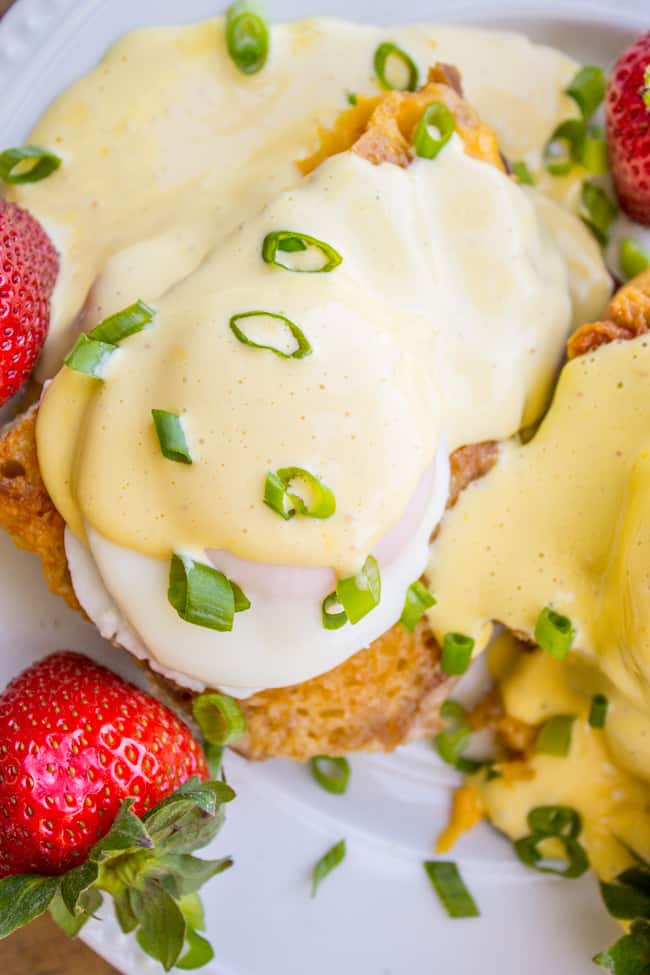 So if you read my last few posts (bacon, hollandaise, grilled cheese) you might have heard me mention today's recipe a hundred times at least. This recipe is worth 3 runner up posts, I promise.
Let's break it down a bit. Get some challah bread (I bought mine at a bakery). Use it to make a thick grilled cheese, but when you flip it the first time, layer some cooked bacon on the outside of the bread, cover with cheese, and then flip. This will give you a crispy cheesy layer on the OUTSIDE of your grilled cheese.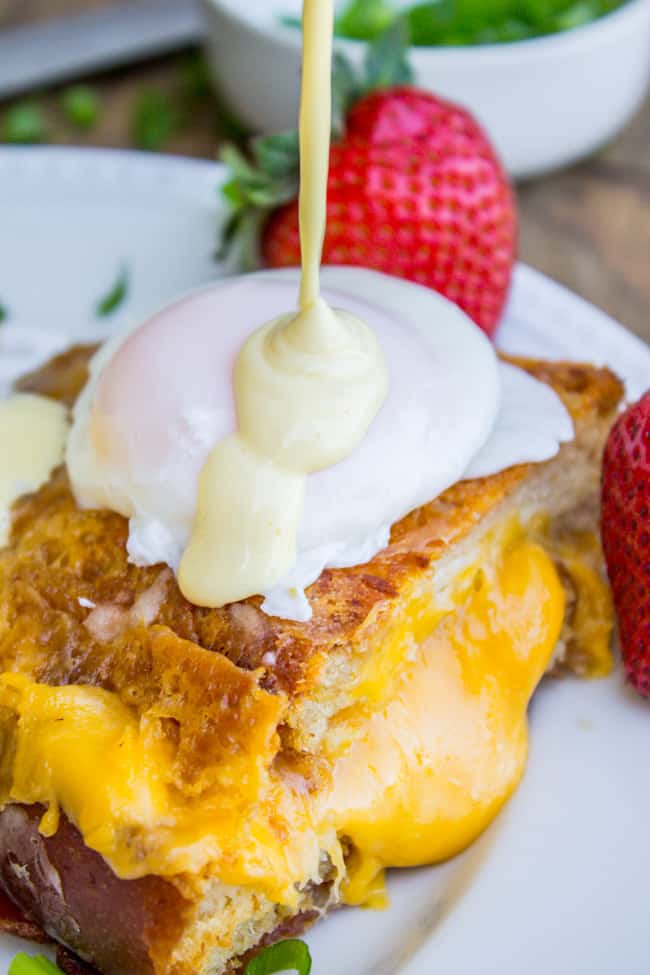 So this is already the best grilled cheese of your life, right? BUT WAIT THERE'S MORE. Poach some eggs. Add one to the top of your crispy, cheesy, melty sandwich, then smother with lemony hollandaise sauce, sprinkle with black pepper and green onions, and you've got yourself the best freaking brunch you've ever had in your life.
This is a famous dish at a local restaurant here in Sacramento called Bacon and Butter. (Yes, aptly named. If you are ever in Sacramento, GO.) I tried to get them to share the recipe with me, but nothing doing, they said it's secret. So I made up my own, and guys, I'm telling you, it is spot on. I have ordered this at least 5 times (it's my favorite dish at my favorite restaurant) and now I'm so excited to be able to make it at home too!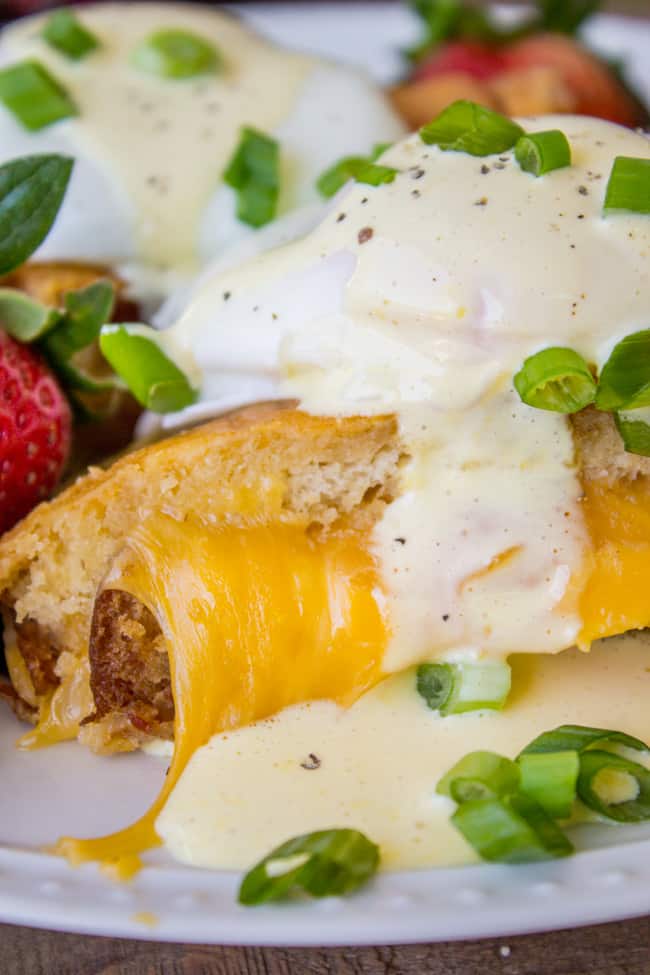 I loved how this turned out so much that I made it Saturday to take pictures of it, then again on Sunday when we had some friends over for dinner. Obsessed maybe?
I learned how to poach eggs just for this recipe. I've always been too scared to try it. I followed Alton Brown's video to a tee (including salt, vinegar, and using a thermometer to get the temperature just right). It wasn't as hard or fussy as I thought it would be. Don't be afraid to try it out!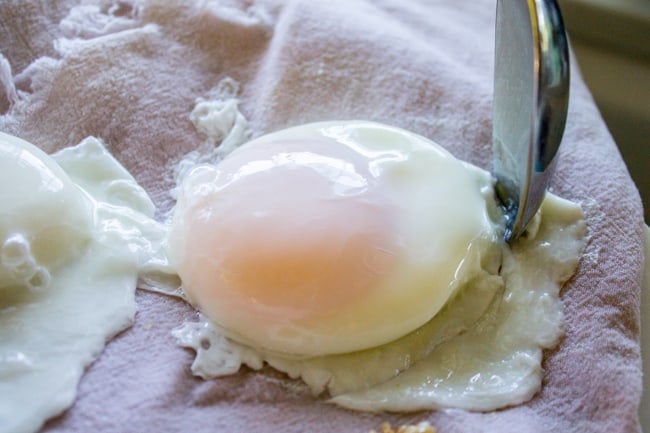 Do you know how to get perfectly round poached eggs? Just cut off the edges! I feel like if I knew the secret was cutting off all the ugly parts I wouldn't have been so scared to make poached eggs.
It would be easy to do a lot of the work for this meal ahead of time. Bake the bacon a day in advance. Make the hollandaise the day before. Shred and slice the cheese you're using. You can even make the poached eggs 8 hours ahead of time. Then all you really have to do last minute is make some grilled cheese and reheat everything, no bid deal!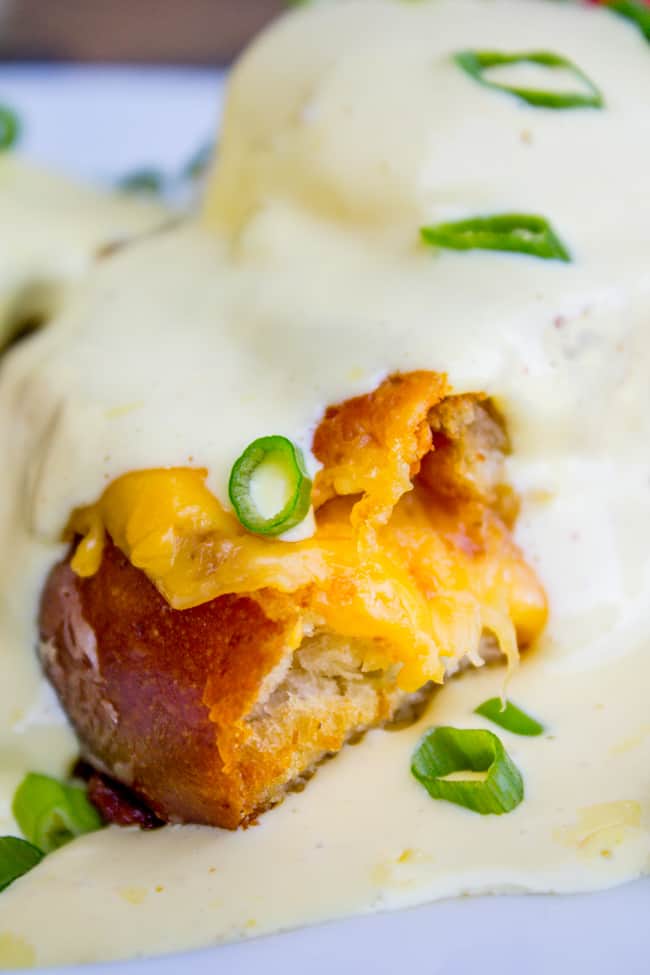 I think this would be the perfect Father's Day brunch, if you're into making breakfast in bed. Who wouldn't love to wake up to this??
If you make this recipe, share it on Instagram using the hashtag #TheFoodCharlatan so I can see it! I love that.
Facebook | Pinterest | Instagram | Twitter

One year ago: Aunt Shirley's Famous Dinner Rolls
Two years ago: Tomato Tart with Blue Cheese
Five years ago: Fast Spinach and Mushroom Tortellini

Grilled Cheese Eggs Benedict with Bacon and Hollandaise Sauce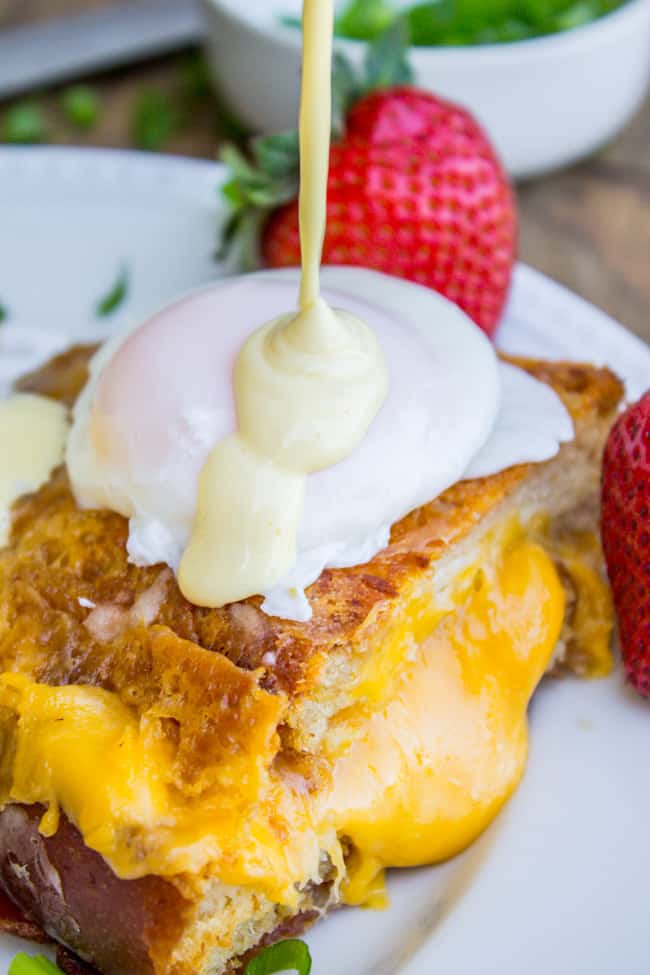 Instead of Eggs Benedict over ham and a biscuit, put it on top of double grilled cheese sandwich with bacon grilled into the outside! You heard me. Then smother with hollandaise sauce and take a nap because DAAAANG. 
Ingredients
8

very fresh eggs,

to poach; click here to watch video

1

teaspoon

salt

,

to poach

1

tablespoon

white vinegar

,

to poach

1/2

cup

sliced green onions

,

to garnish

freshly cracked black pepper

,

to garnish
Instructions
Make the

hollandaise sauce

first. Set it in a bowl of hot water to keep it warm (don't microwave it!)

Add an inch and a half of water to a wide nonstick skillet for poaching the eggs. Set it just below medium heat. It will take a few minutes to get to temperature (190 degrees F). (You probably wont be able to get all 8 eggs in one pan, so if it's important to you to have them all done at the same time, prepare 2 pans of water with the salt and vinegar called for in each pan.)

Meanwhile, preheat your oven to the "Keep warm" setting, or 170 degrees F. Set a cooling rack over a baking sheet and place it in the oven (to keep the completed sandwiches warm.)

Now make the

grilled cheese sandwiches (click here for the recipe).

If you're thinking, "I already know how to make grilled cheese! I'm not gonna click that link!" then you're going to miss out on important instructions (like the steps where we're adding bacon and creating a crispy cheese layer on the outside of the sandwich).

When each grilled cheese sandwich is finished, put it on the cooling rack in the oven. (so that the bottom stays crispy!)

Add 1 teaspoon salt and 1 tablespoon vinegar to the water.

While the water heats, crack each egg individually

into 8 ramekins

or 8 small bowls.

When the water reaches 190, use

a nonstick slotted spoon

to scrape the bottom of the pan, trying to release all the bubbles at the bottom. You want the water to be as smooth as possible.

When most of the bubbles are gone, gently lower each egg into the water as smoothly as you can. It's okay if water enters into the ramekin. Lower it down into the water at an angle, then slowly dump the egg and then lift the bowl out. Repeat with all the eggs (You may have to do it in 2 batches, or use two pans of water as mentioned above.) Then set a timer for 4 and 1/2 minutes.

When the timer goes off, use the slotted spoon to gently lift each egg out of the water. Add your poached egg to the top of your grilled cheese (see assembly instructions below). Or place the eggs in an ice bath and store in the fridge for up to 8 hours. (Reheat in hot water for 1 minute.) One tip for making your poached eggs look nice is to simply use a spoon to cut off the jagged edged whites.

To assemble: Plate each grilled cheese sandwich. Slice it in half. Top each half with a warm poached egg. Drizzle with warm hollandaise sauce. Sprinkle with green onions and a few grinds of black pepper. Serve hot! With a big glass of orange juice and some fresh fruit.
Notes
I recommend serving this dish with fresh fruit. It's pretty rich, and the fruit helps balance it out.
I wrote out a shopping list that includes the ingredients needed for the hollandaise sauce, grilled cheese, and poached eggs; all the stuff you need for this Grilled Cheese Eggs Benedict:
Hollandaise:
4 egg yolks
1/2 or 1 teaspoon dijon mustard
1 tablespoon + plus 1 teaspoon fresh squeezed lemon juice
1/8 teaspoon cayenne pepper*
2-3 dashes of salt
black pepper to taste
1 stick (1/2 cup) salted butter, melted (hot!)
Grilled Cheese:
1 loaf challah bread
plenty of butter (at least 4-6 tablespoons)
8 thick slices of sharp cheddar* cheese (or more)
8 slices of bacon, cooked (click here)
1+ cup shredded cheese
Eggs Benedict:
8 fresh eggs (to poach)
1 teaspoon salt
1 tablespoon white vinegar
1/2 cup sliced green onions
black pepper
Nutrition
Serving:
1
g
|
Calories:
485
kcal
|
Carbohydrates:
31
g
|
Protein:
18
g
|
Fat:
32
g
|
Saturated Fat:
8
g
|
Polyunsaturated Fat:
2
g
|
Monounsaturated Fat:
4
g
|
Trans Fat:
1
g
|
Cholesterol:
336
mg
|
Sodium:
1397
mg
|
Potassium:
214
mg
|
Fiber:
2
g
|
Sugar:
3
g
|
Vitamin A:
600
IU
|
Vitamin C:
2
mg
|
Calcium:
189
mg
|
Iron:
4
mg
Here's the Hollandaise Sauce I used for today's recipe: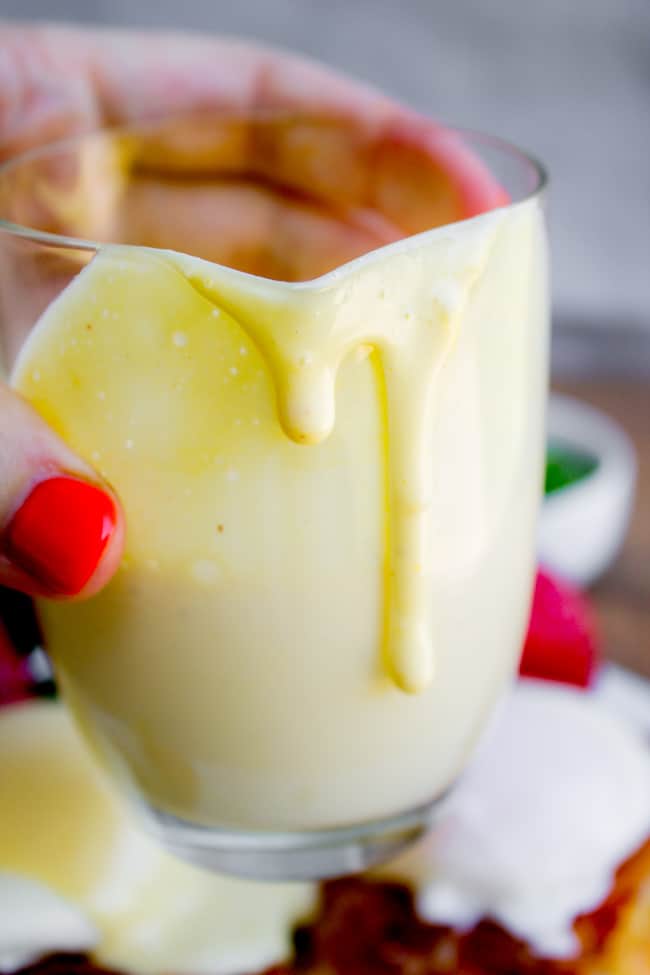 And here's the recipe for how to bake the bacon: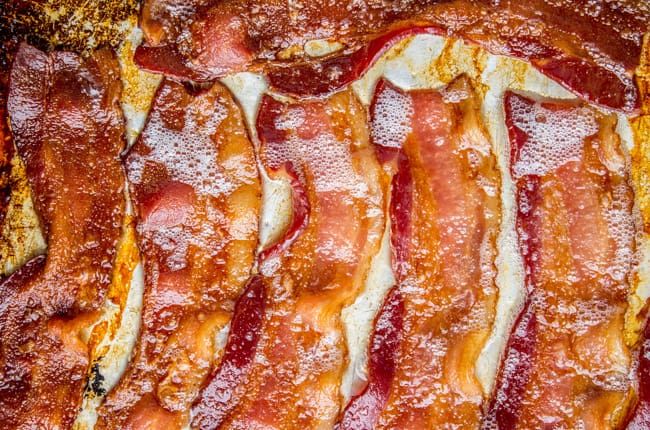 Here's how to make the Best Grilled Cheese of Your Life: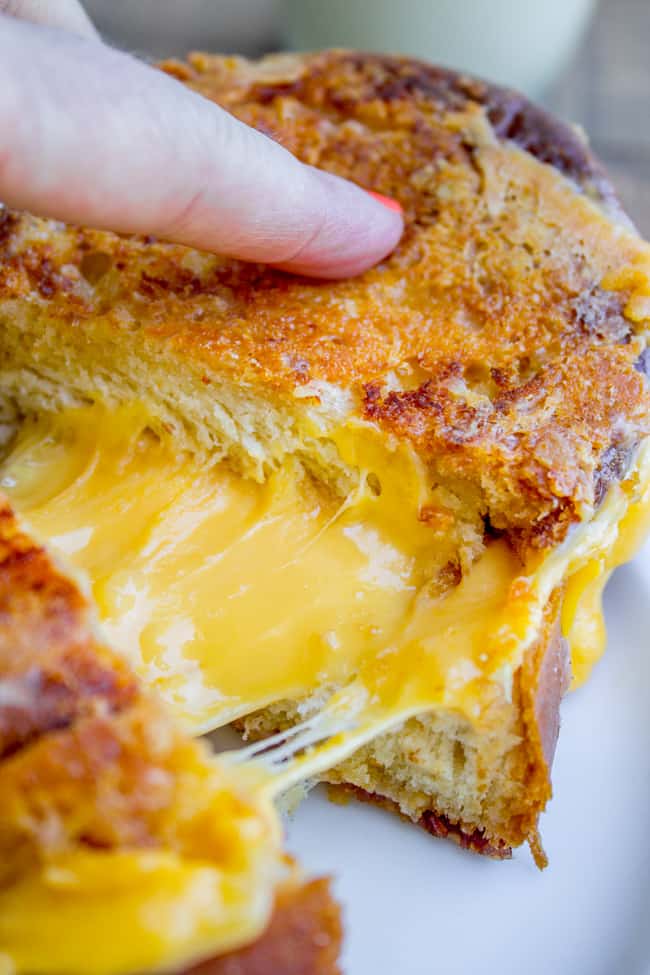 Breakfast of champions!
Cheesy Overnight Bacon and Egg Casserole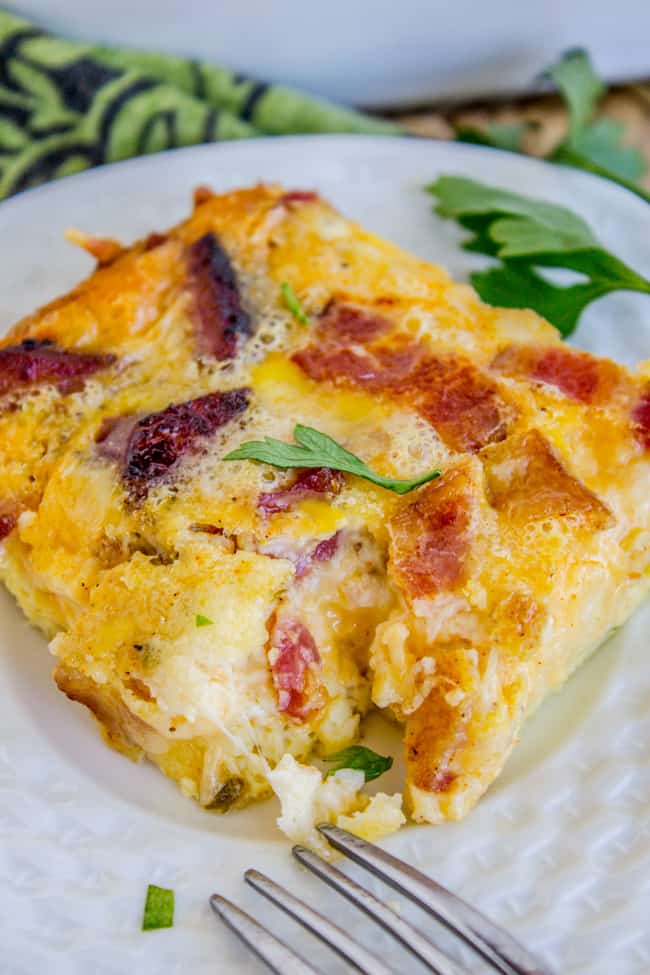 Overnight Biscuits and Gravy Casserole << personal favorite!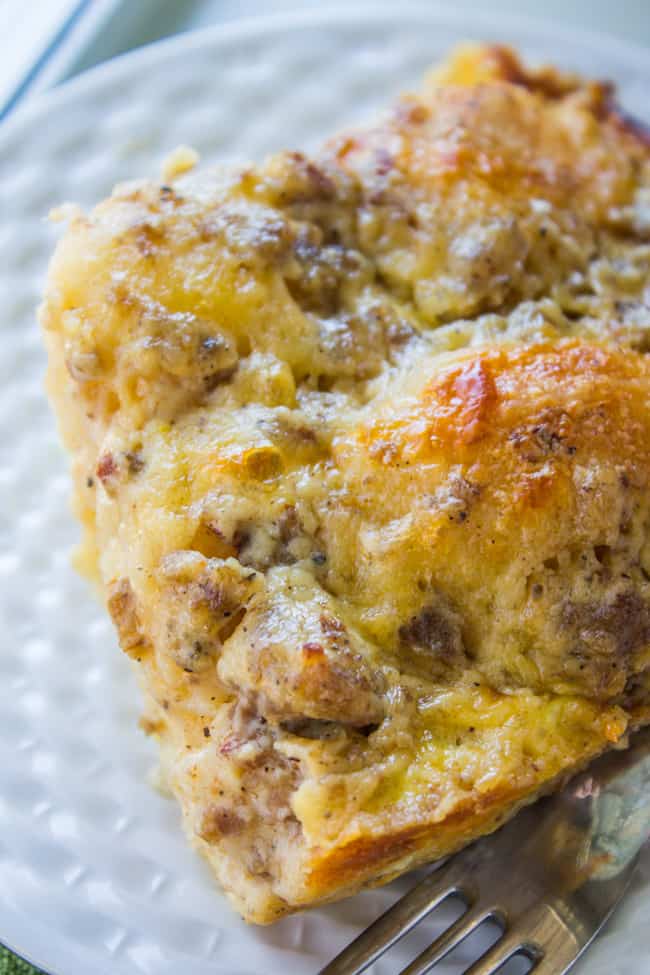 Savory Parmesan French Toast with Hollandaise Sauce: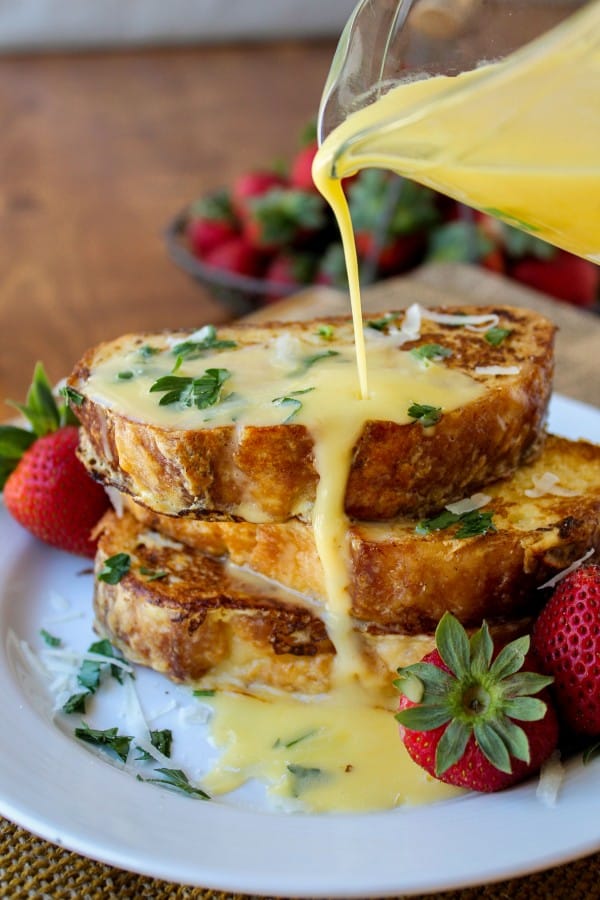 More benedict breakfasts!
Avocado Benedict with White Cheddar Hollandaise from Country Cleaver << whaaat mic drop
Chipotle Guacamole Eggs Benedict from Cookin Canuck
Bacon and Eggs Benedict from Taste and Tell