French Bread Pizza, 3 Ways
Throw toppings (like pesto and tomato, Alfredo and chicken, or Pepperoni and cheese) on some French bread, bake for a few minutes and you've got an easy back to school dinner!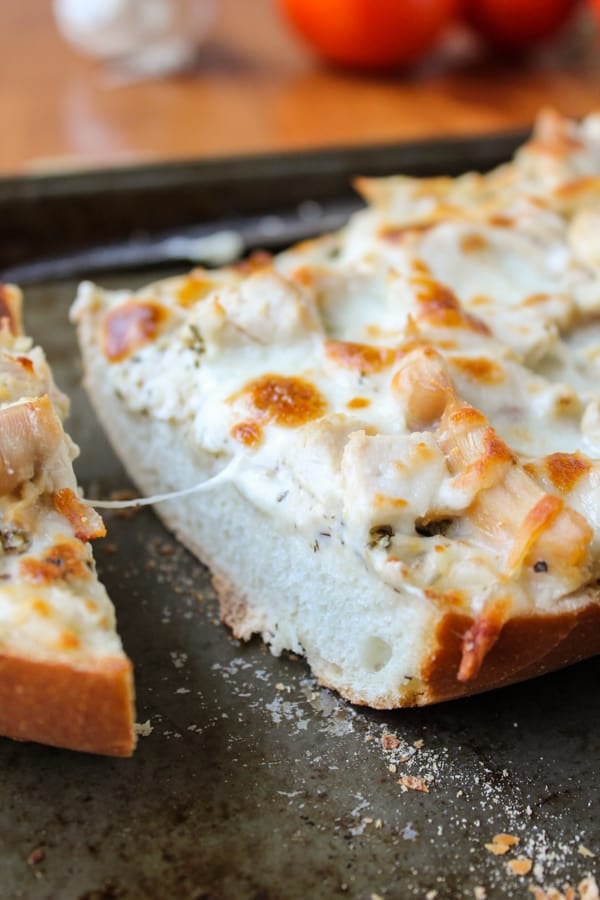 Guys, I finally did it. I lost my driving-in-San-Francisco-virginity.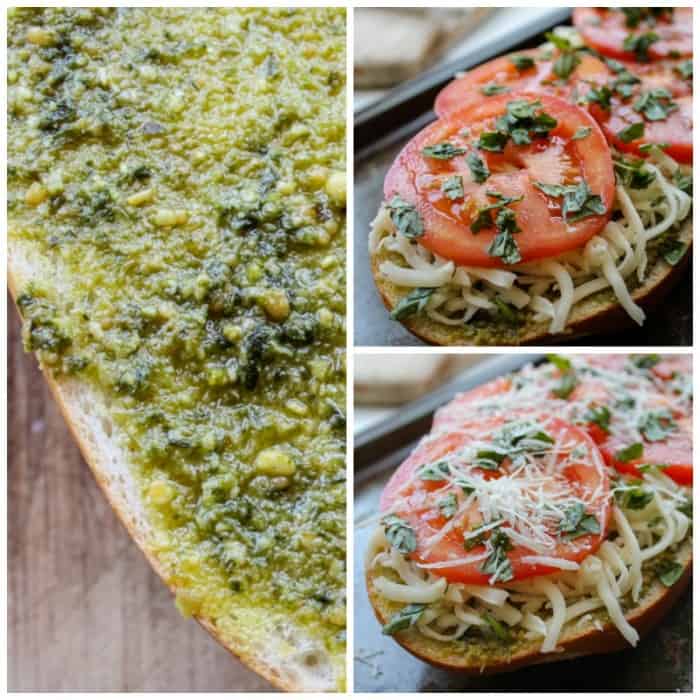 I can see you rolling your eyes. That's because you've never driven in San Francisco before. Driving there is like rewinding to the 11th grade. Remember all those obscure rules from Driver's Ed about turning your wheels a certain way when you park on a hill? Or remember that whole parallel parking thing? Yeah. Me neither.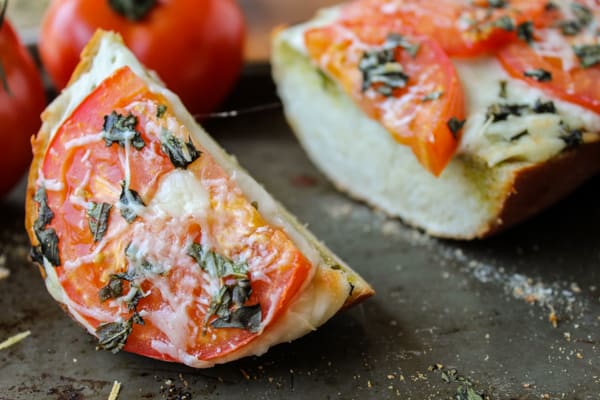 It took 4 grown women about 17 tries to get our car parallel parked. I swear I'm not exaggerating. I ran in the curb every time, awkwardly diagonal.  I felt like I was trying to squeeze my 10-pounds-overweight sedan into skinny jeans. Finally Eric's sister took the wheel. By this time almost everyone was out of the car, waving our hands in the air helpfully. Passersby probably thought we were trying to land an airplane.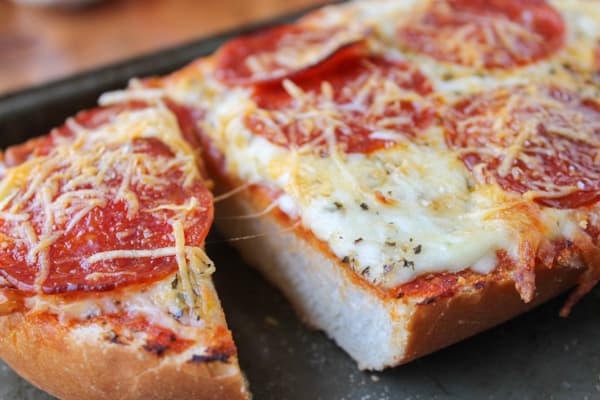 Meanwhile a tiny car stopped behind us, because they thought we were leaving. I waved them on. They stared at me. I waved again. And that was when I realized that they knew we had just arrived–they thought we were going to give up.
Aw heeeeeeck no.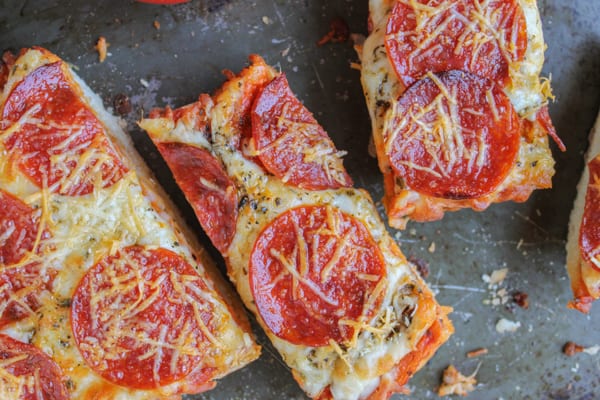 We did make it eventually. Motivational credit goes out to the unbelievers in the tiny car. BOOM, TAKE THAT TINY.
San Francisco, I own you. Unless you want me to parallel park by myself without moral support and at least 2 hand-wavers. Then you win.
We had a get together at my cousin Amber's house a while back. My cousin Misty made a huge batch of this Cream Cheese Chicken Chili, and Amber made a few French Bread Pizzas to appease the army of children. I had never even heard of French Bread Pizza, but I just googled it and realized I must live under a rock.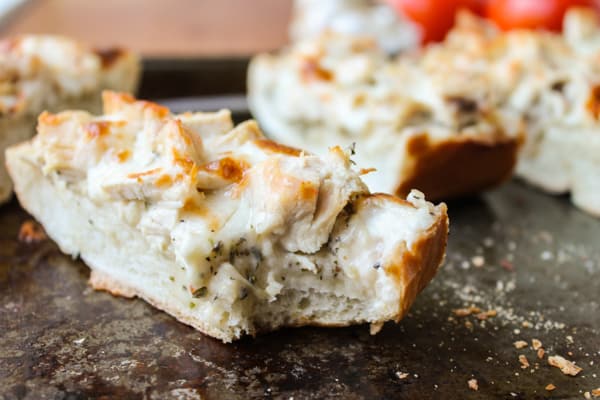 Amber did hers 3 ways: one with Alfredo, jarred garlic, chicken and cheese, another with pesto, cheese, and tomatoes (my personal favorite) and another with trusty ol' pepperoni. You really can't go wrong with French Bread Pizza though, any toppings will work. These make great appetizers or football food. Add a big green salad and call it an easy dinner. Or add a few to stretch out another main dish, like chili.  I totally plan on making this a new Halloween tradition. Fun food that the kids will like that doesn't involve anything hot and ready.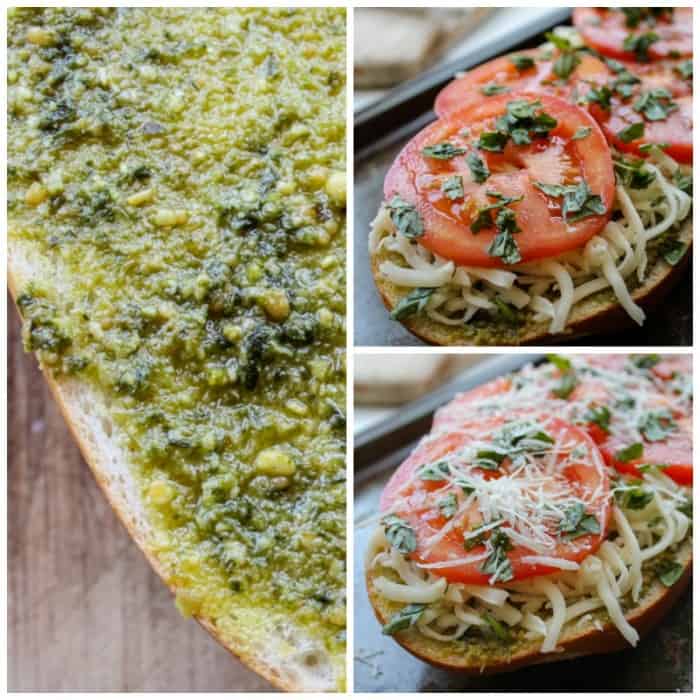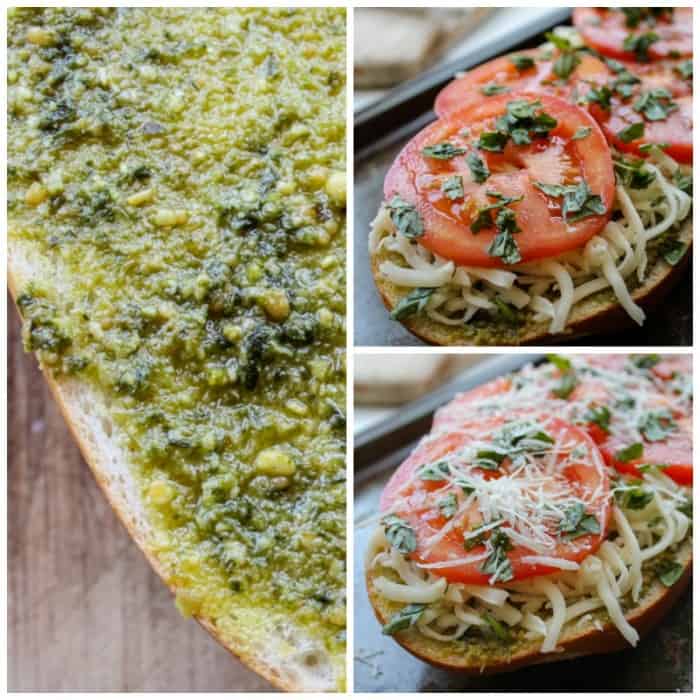 print
Did you make this recipe?
Leave a review »
French Bread Pizza, 3 Ways
1 half loaf serves 3
adjust servings
Ingredients
For the Tomato Pesto version
half a loaf of french bread, split horizontally

1/3

cup pesto

1/2

cup mozzarella

1

medium tomato, sliced

1

tablespoon fresh basil, chopped (optional)

1

tablespoon Parmesan cheese, shredded
For the Alfredo chicken version
half a loaf of french bread, split horizontally

1/2

cup Alfredo sauce

1

tablespoon minced garlic

1/2

teaspoon Italian seasoning

3/4

cup cooked chicken*, chopped (more or less)

1/2

cup mozzarella, shredded
For the Pepperoni
half a loaf of french bread, split horizontally

1/2

cup pizza sauce

1/2

teaspoon Italian seasoning

1/2

teaspoon garlic powder

3/4

cup mozzarella cheese, shredded

10-15

slices pepperoni

2

tablespoons Parmesan cheese, shredded
Instructions
Preheat your oven to 350 F.
Split your loaf of bread in half horizontally (see photos).
Add the toppings of whatever kind you are making (Alfredo, pesto, or pepperoni) in the order they appear listed above. Or use your own toppings! Sky's the limit.
Bake on a cookie sheet for 14-15 minutes. If it looks like it's getting browned on the edges but the cheese in the middle is not browning, turn on your broiler and move the oven rack to the top (closest to the heat). Heat for 1 minute or until cheese starts to brown. Don't walk away! It really only takes 1 minute or so.
Remove from oven, slice with a sharp serrated knife, and serve hot. With a big salad!
by The Food Charlatan

If you make this recipe,
share it on Instagram
 using the hashtag
#TheFoodCharlatan
so I can see it!
Source: my cousin Amber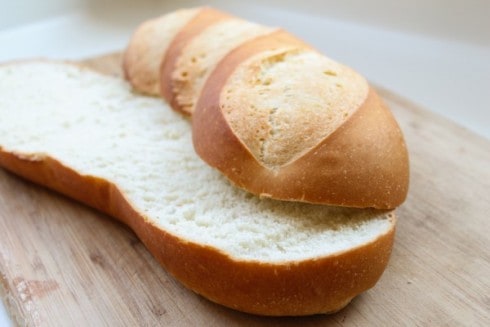 Cut each loaf the long way, like you're making one huge sandwich.



Some more easy dinner ideas: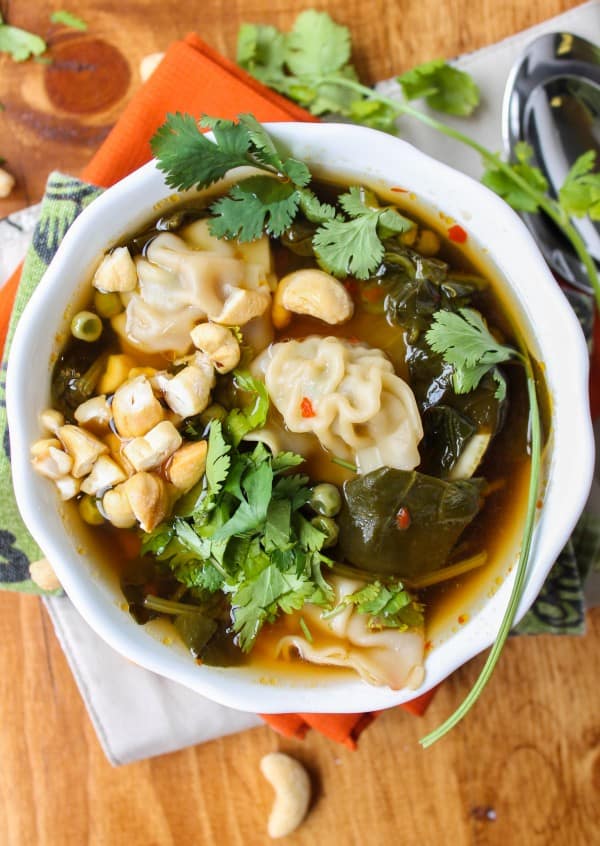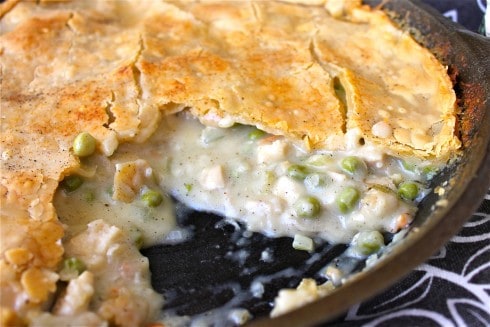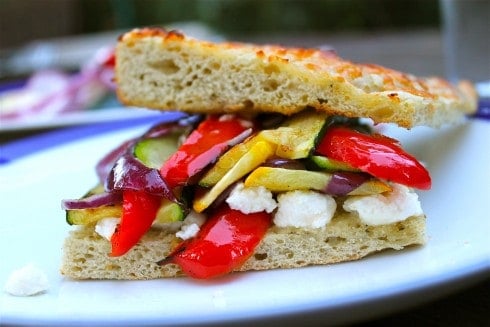 Grilled Squash, Red Pepper, and Feta Sandwich
More easy dinners from friends:
One Pan Chicken Alfredo from Number 2 Pencil
French Dip Crescents from Made from Pinterest
Skillet Nachos with Spicy Salsa Verde Chicken by Picky Palate
We are a participant in the Amazon Services LLC Associates Program, an affiliate advertising program designed to provide a means for us to earn fees by linking to Amazon.com and affiliated sites.