This Easy Broccoli Cheese Soup is a delicious and quick weeknight meal! I love this recipe because there is plenty of broccoli to go around. The sharp cheddar flavor really comes through thanks to a few spices, and the creamy sauce is velvety and smooth. Plus, it's done in 30 minutes! It's even better than Panera. How can you go wrong here?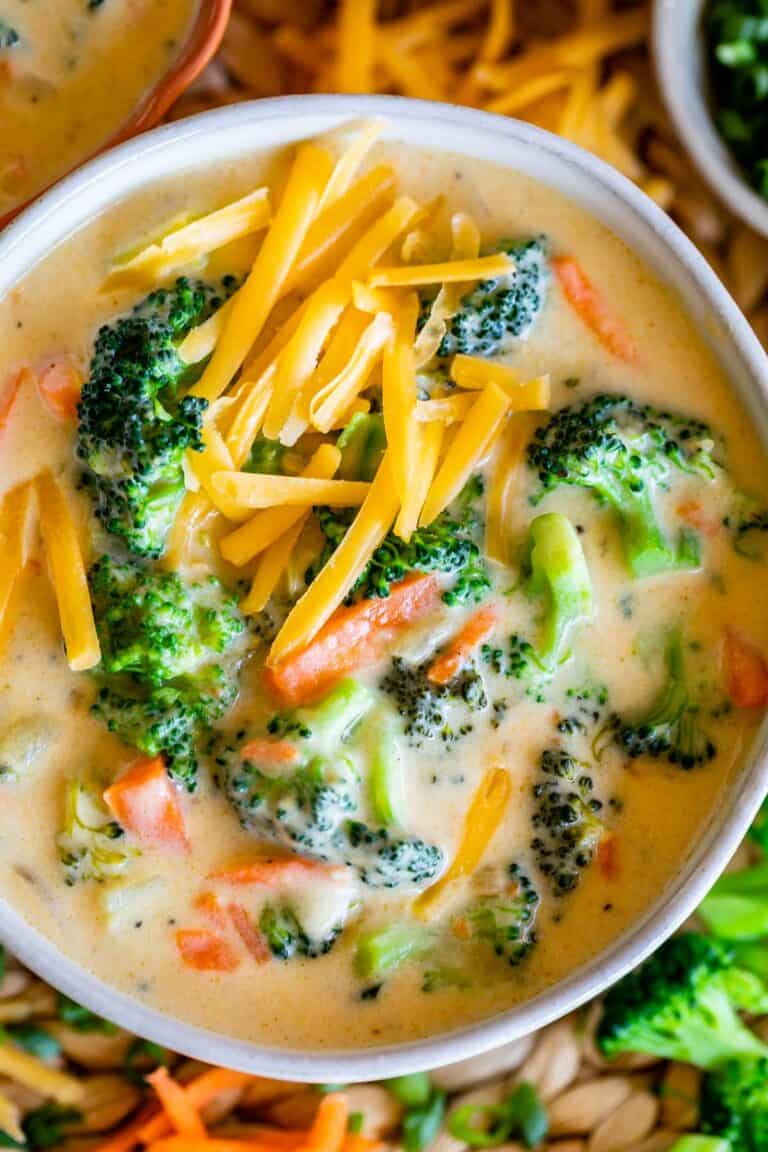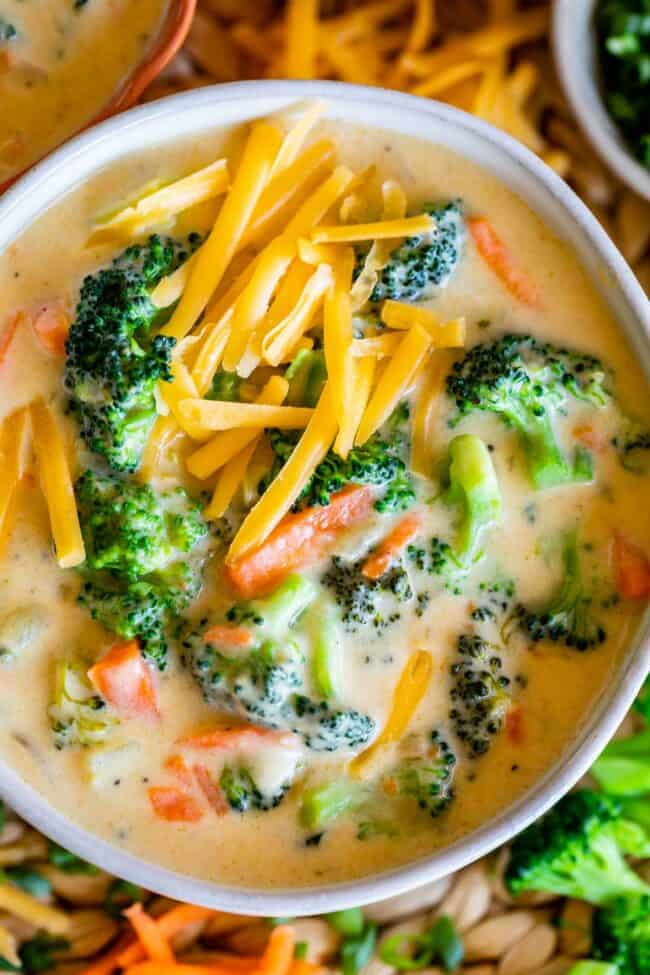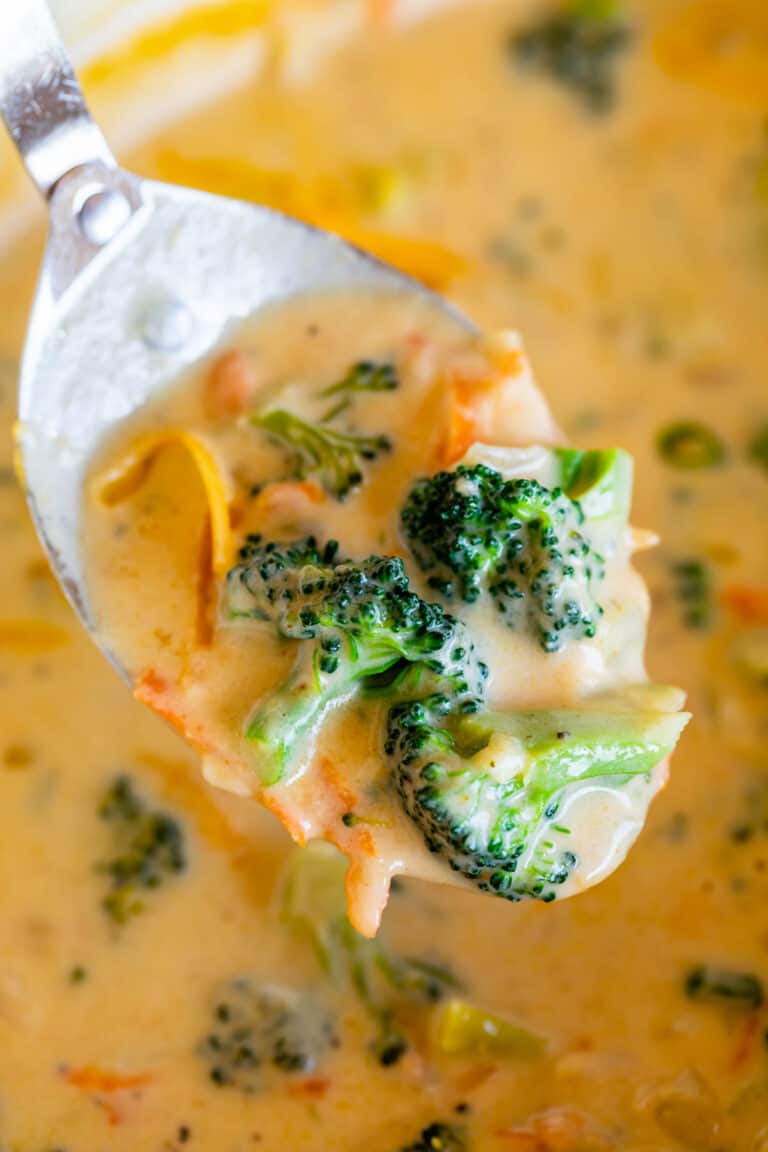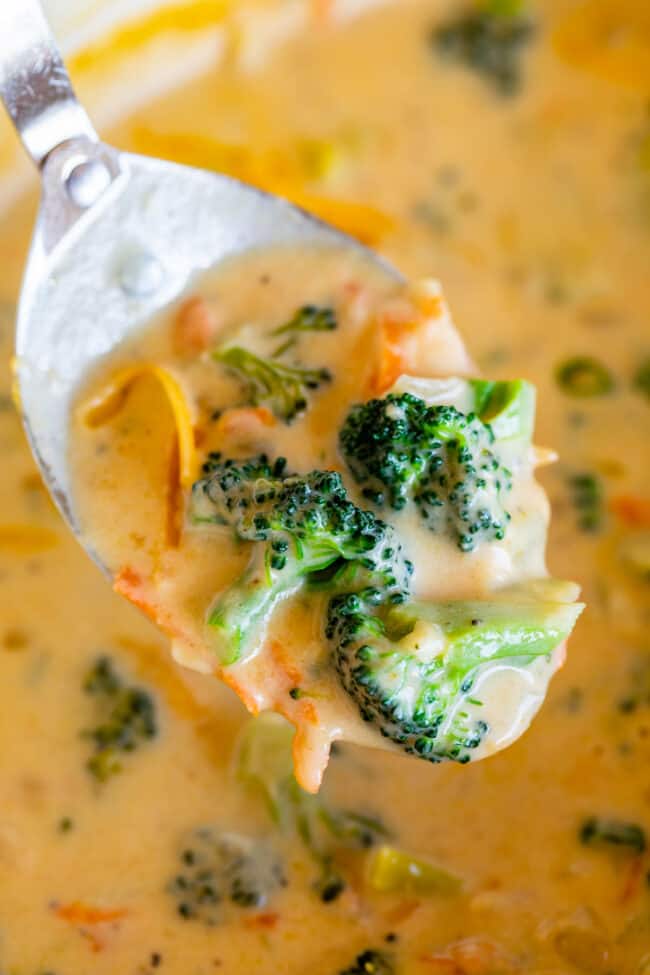 Well, we finally got a cast put on poor Edison. He fell off the top of this human pyramid the kids put together.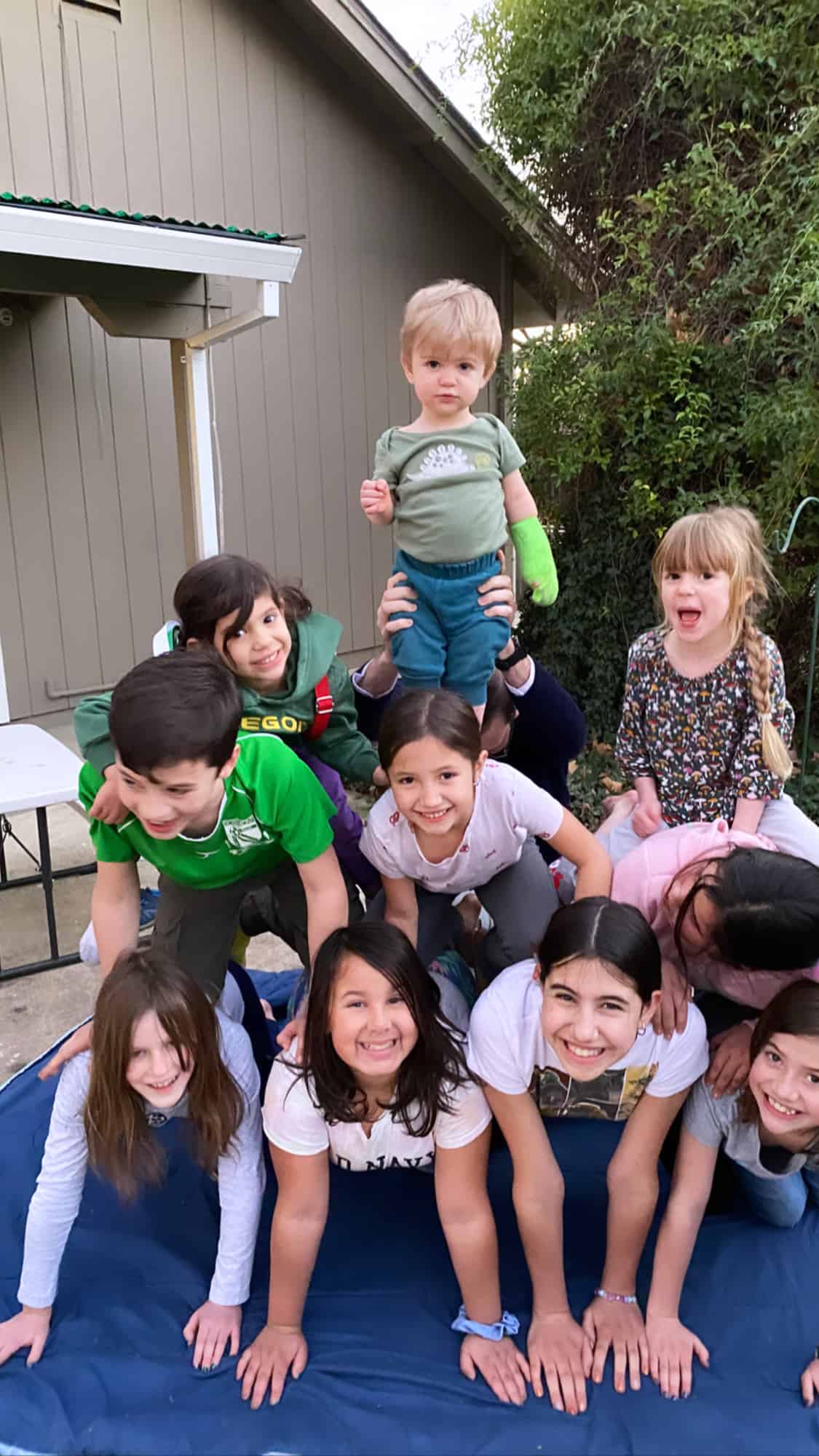 Oh my gosh, I'm totally kidding!! Look, he already has a splint in this picture! (The kids organized this pyramid themselves, by the way, and they were soooo excited about it. Eric held Edison on top as the final touch. I love our neighborhood kids and their creativity!)
Edison broke his wrist when he fell off the changing table last week. I feel terrible about it. Not stepping away from the changing table is like Mom 101 stuff, and here I am on my fourth kid, totally dropping the ball!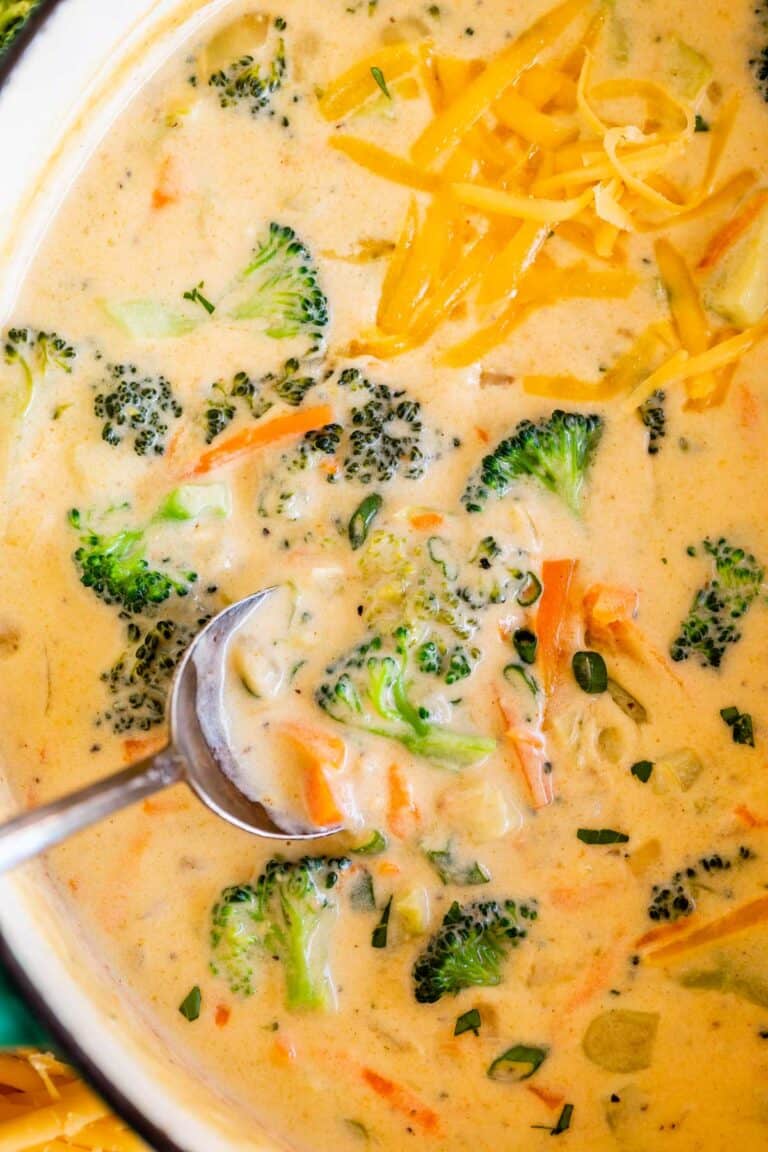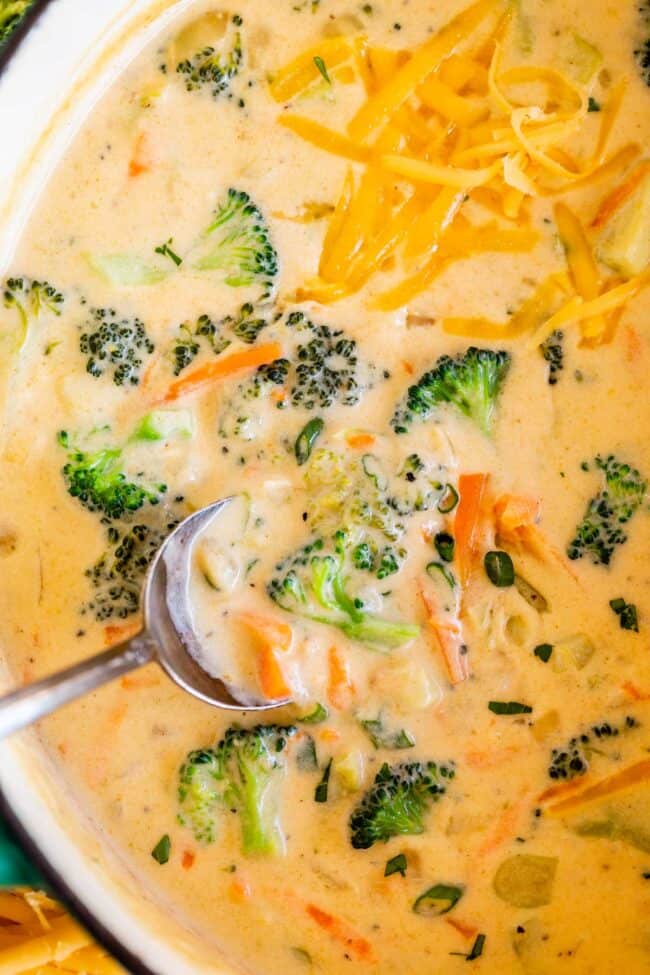 It actually makes me feel better to tell people about it, because I am inevitably rewarded with "even worse" stories, like the one time when my friend sent her daughter to school with a broken arm ("it wasn't even bruised. I told her to stop whining."), or when another friend let her baby on the trampoline and he broke his leg, then had to re-learn how to walk.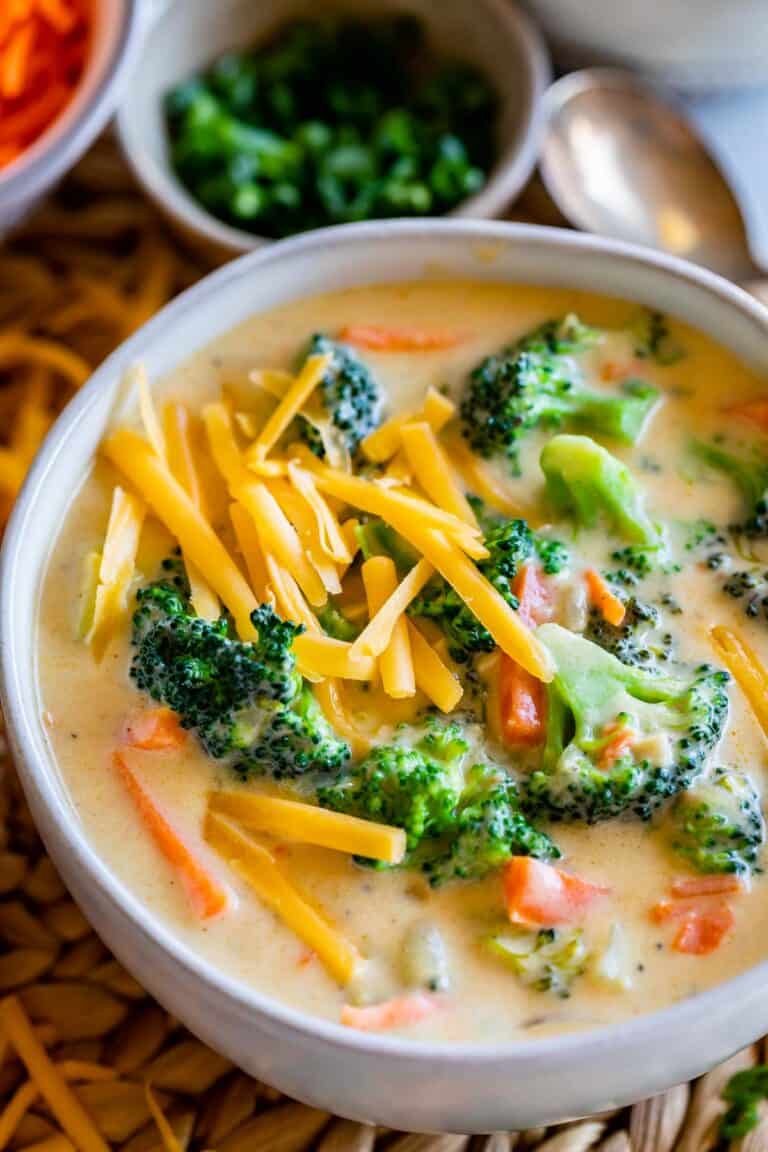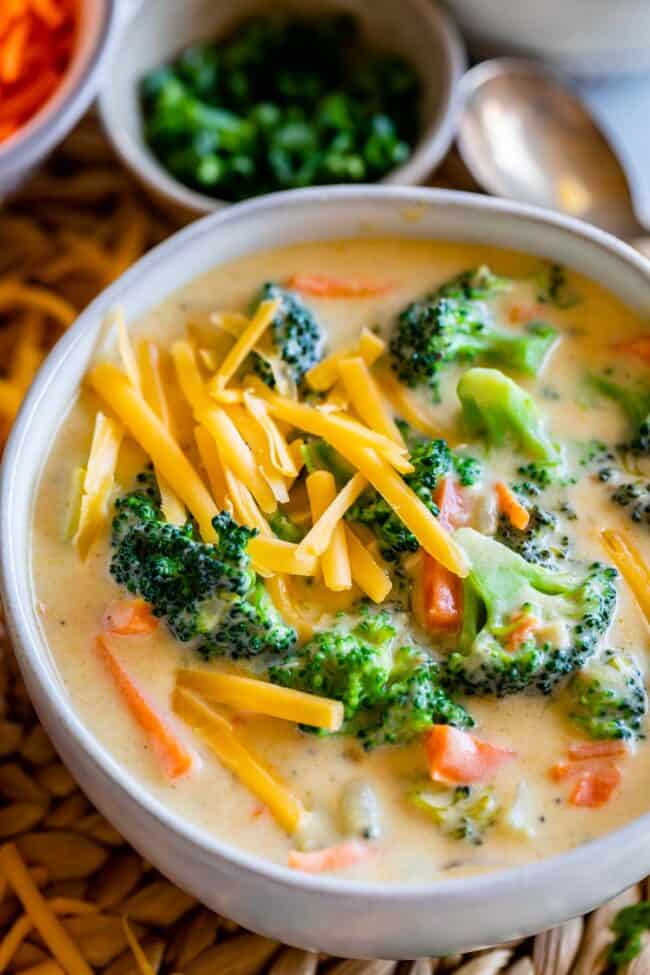 Now that I've horrified all of you more-attentive moms, I just want to put it out there for the record that this is our family's first break and I've been at this mom-ing gig for 10 years now. Don't I get any points for successful (and non-violent) time-served??
Broccoli Cheese Soup
Who loves a good broccoli cheese soup? It's hard to beat this old classic! I could eat it every day.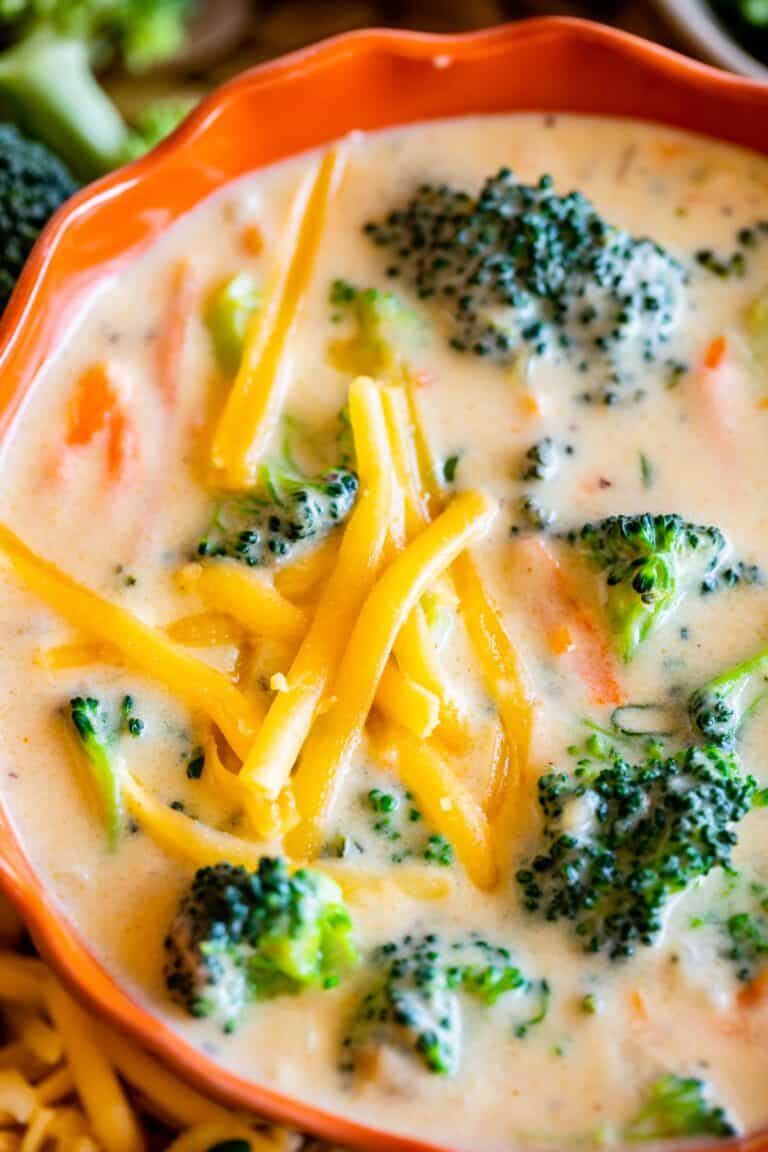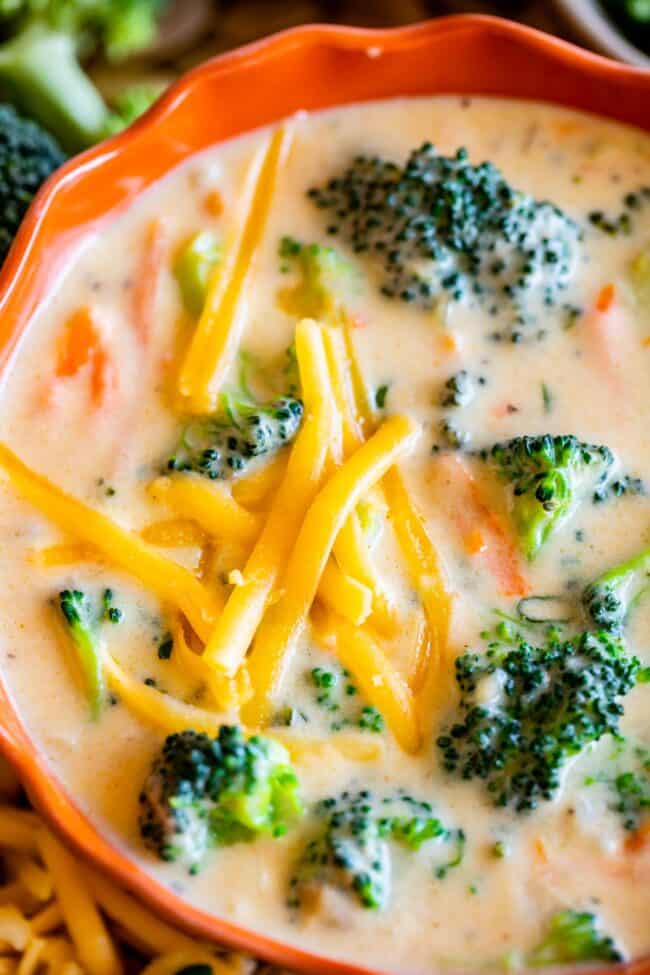 The problems with some broccoli cheese soup recipes are many fold: some recipes I've seen blend up the soup. I suppose there is a time and place for this, but call it something else; broccoli cheese soup has whole florets of tender broccoli in it, and a to-die-for cheesy base, thankyouverymuch. Other recipes don't add enough broccoli, and you are left hunting. Other recipes add so much cheese that you feel like you should be dipping chips in it (not a bad idea for game day, I suppose.) Other recipes don't add enough spices, and it turns out boring and bland.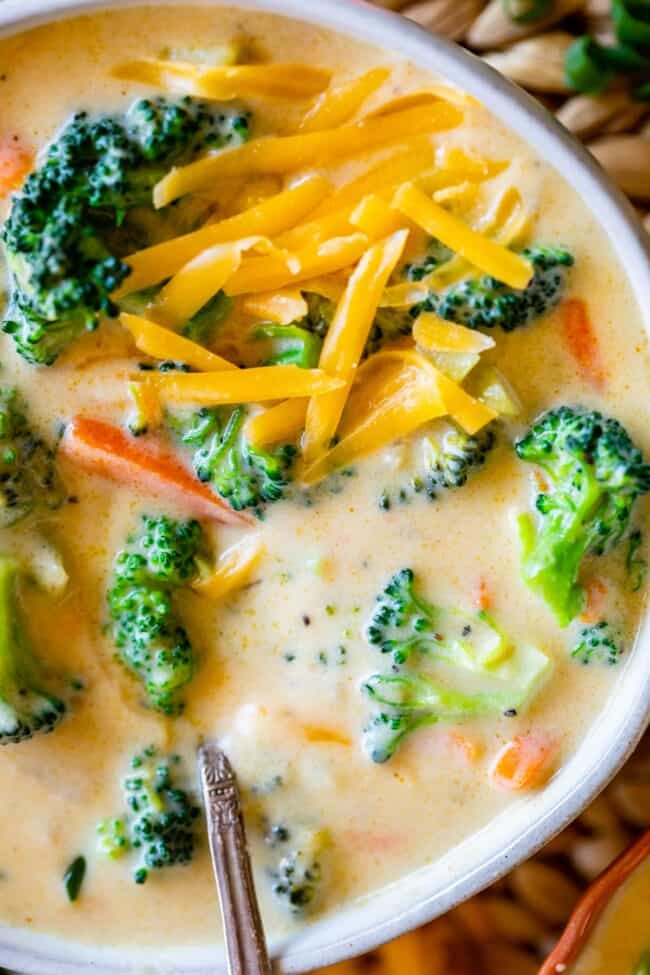 I wanted a classic recipe that was perfectly balanced: creamy and cheesy without being overwhelming, lots and lots of broccoli to go around, and with a few choice spices to enhance the broccoli and let it shine. This is the one! It's so good, especially on a rainy day with some nice crusty bread.
How to make Broccoli Cheese Soup
The nice thing about this soup is that we are not taking any shortcuts to make this a simple weeknight meal. It really is just an easy soup to put together.
I like to start out by chopping all the veggies. The soup is a little fussy in that you have to be prepared to add certain ingredients at certain times, so it's best to have everything prepped before you move to the stove.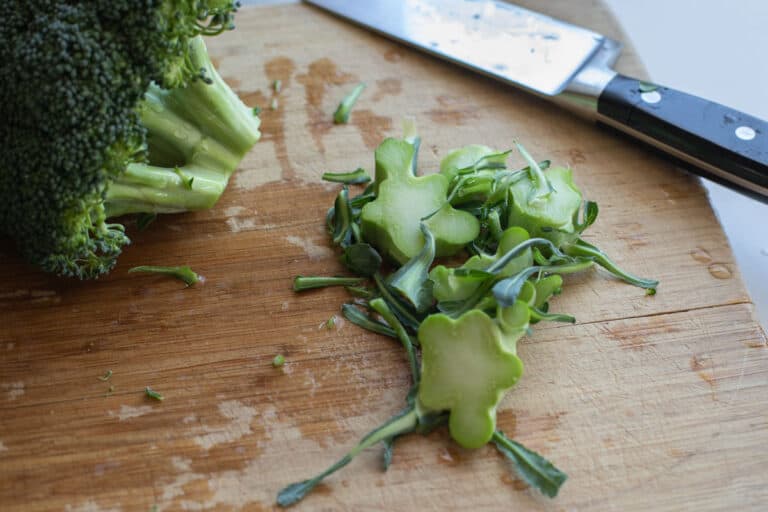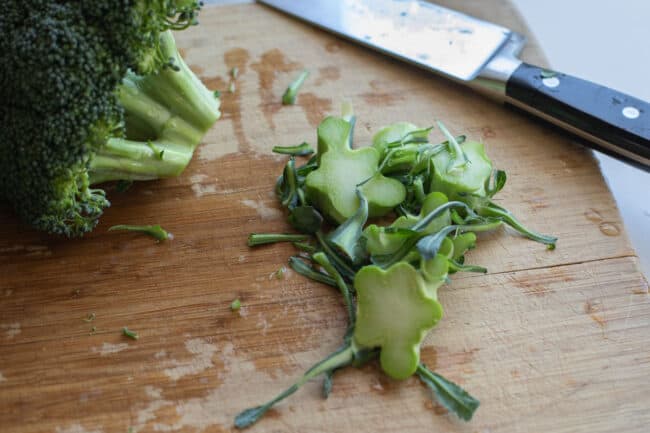 Does anyone eat these leaf thingies? I always peel mine off. I feel like this is a moment where my mother-in-law is going to come swooping in, "Oh I always add those in, they have great flavor!" At least that's what she said about celery leaves. (And she was right.) But, sorry imaginary Kris, I think those broccoli leaves are weird and I'm taking them off.


Here's how I chop my broccoli. Chop as far as you can up the stem, break the florets apart, then cut off more stem as far as you can, etc. Then flip the larger florets over and chop from the bottom stem into smaller pieces.


I like fairly small pieces of broccoli in my soup; bite sized pieces are just easier to eat! Nobody wants huge chunks in their soup.


But what about the stems? Don't be a broccoli stem hater. If you chop them small, they will become nice and tender in the soup. They taste great. No sense in throwing half your broccoli away.

Don't forget the carrots! You can grate them or chop them into matchsticks, or just chop them regular, don't let some food blogger tell you what to do. (They need to be kinda small though, so they don't take longer than it takes the broccoli to cook. Say no to mushy overcooked broccoli.)


Saute your onions in some butter and spices. I like to add dry mustard (it compliments cheddar so well!) and a little cayenne (it adds flavor, not heat) and smoked paprika. Smoked paprika is the secret ingredient in so many recipes, and it does amazing things for broccoli cheddar soup! Who can say no to a little smokey flavor? Next add in some flour to absorb all that butter and make a paste.


Make a roux by adding broth and milk to the paste. Go slow adding in your liquids. If you add it too fast, the sauce won't be smooth.
Add in your broccoli and carrots, and let them simmer just a few minutes until tender. See, I told you this was a fast soup!


Don't you skimp on the cheddar now. We've made it this far. Don't let your broccoli down by not giving it the cheesy support it needs. I know a pound of cheese sounds like a lot, but remember, this soup serves 10! You may as well grate some extra cheese right now for garnishing each bowl.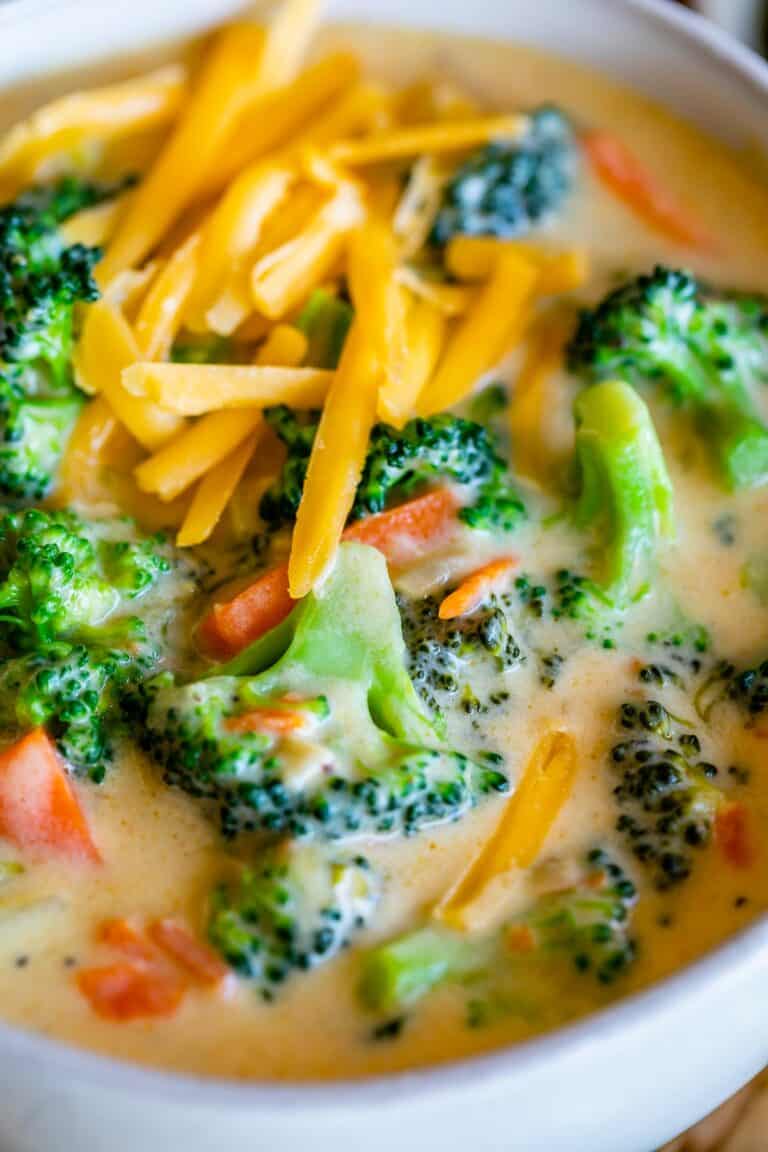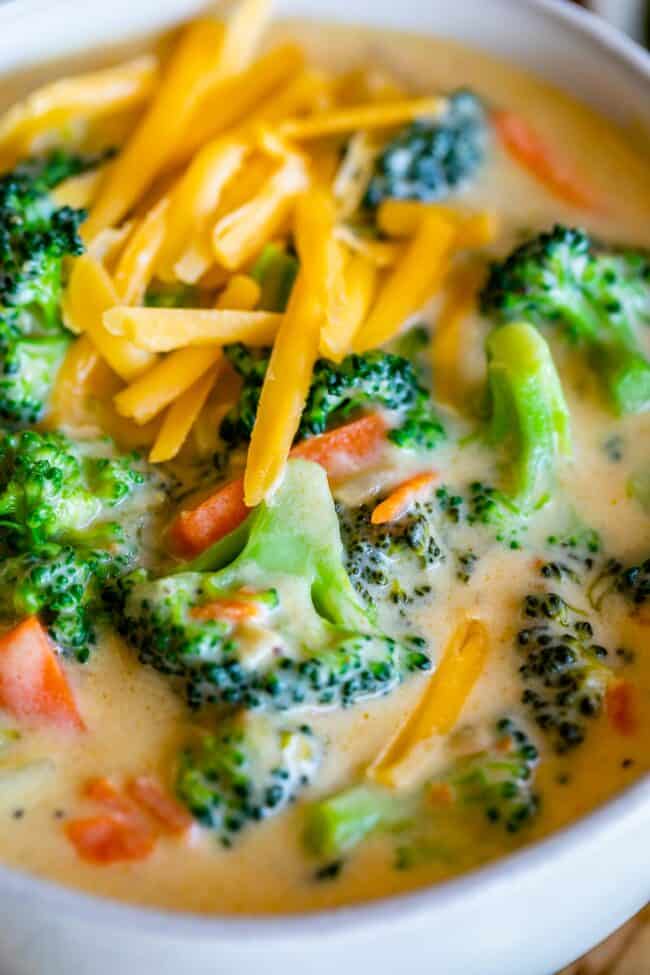 And that is it! Add some chopped green onions on top, plenty of extra cheddar, and voila! This soup is so warm and comforting!
More winter soups you are going to love!
Facebook | Pinterest | Instagram

Easy Broccoli Cheese Soup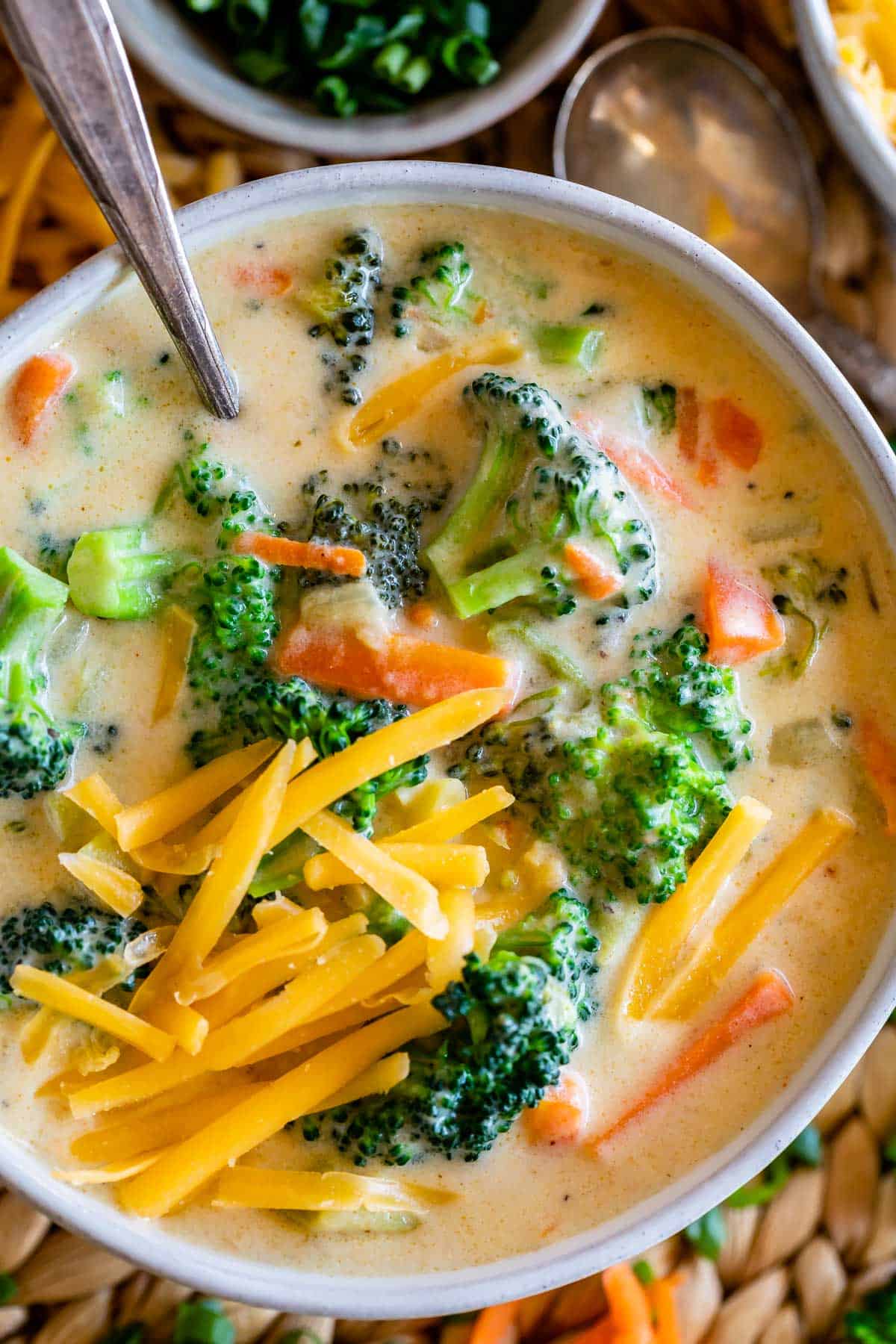 This Easy Broccoli Cheese Soup is a delicious and quick weeknight meal! I love this recipe because there is plenty of broccoli to go around. The sharp cheddar flavor really comes through thanks to a few spices, and the creamy sauce is velvety and smooth. Plus, it's done in 30 minutes! It's even better than Panera. How can you go wrong here? 
Ingredients
1/3

cup

butter

1

large

onion

,

chopped

1 & 3/4

teaspoons

kosher salt

3/4

teaspoon

black pepper

3/4

teaspoon

dry mustard

1/8 to 1/4

teaspoon

cayenne pepper

3/4

teaspoon

smoked paprika

2

cloves

garlic

,

smashed and minced

1/3

cup

flour

3

cups

chicken broth*

3

cups

whole milk

,

OR half and half

3

large heads

broccoli

,

about 8 cups chopped (1.5 lbs)

3

carrots

,

shredded or cut into matchsticks

1/2 to 1

cup

heavy cream

4

cups

sharp cheddar cheese

,

packed (about 14-16 ounces)

more cheddar cheese

,

to garnish

chopped green onions

,

to garnish
Instructions
Start by preparing your vegetables. Chop 3 large heads broccoli (I used 1.5 lbs and it came out to about 8 cups chopped. Don't throw out those stems! They are delicious!), shred your 3 carrots (or chop into matchsticks), chop the 1 onion and smash and mince 2 cloves garlic. Set aside.

In

a large soup pot

, melt 1/3 cup butter over medium heat. Add the chopped onion and stir to combine.

Add all the spices: 1 and 3/4 teaspoon kosher salt, 3/4 teaspoon black pepper, 3/4 teaspoon dry mustard, 1/8 to 1/4 teaspoon cayenne pepper, and 3/4 teaspoon smoked paprika.

Continue sautéing the onion until translucent, about 4-5 minutes.

Add 2 cloves of minced garlic and saute another minute until fragrant.

Gradually add 1/3 cup flour over the onion mixture. Don't add it all at once. Sprinkle a little bit on, stir to make it absorb into the butter, then add more, until you've added all of it and you have formed a paste with the butter and flour.

Use a whisk to gradually add in the 3 cups

chicken broth

. Go slow! Be careful! We are creating a roux; if you add the liquid too quickly, your sauce will never become creamy. Add in a little broth at a time, stirring until incorporated each time, until you've added it all.

Continue this same process with the 3 cups of whole milk. You can go a little faster this time.

Turn the heat up to medium high to bring to a low simmer.

Add in all the broccoli and carrots. Once you have reached a low simmer (small bubbles, nothing to wild) turn the heat back to low to maintain a very slow simmer. Let the mixture continue at a light simmer until the broccoli is just barely tender. Nobody wants mushy broccoli, so keep an eye on it. It shouldn't take more than 5-10 minutes. Do not let the soup come to a rapid boil, it will make your sauce grainy.

Turn off the heat. Stir in 1/2 cup cream.

Shred 4 cups of sharp cheddar cheese, or about 14-16 ounces. Shred it yourself, if possible! Pre-shredded cheese has anti-caking ingredients that inhibit melting.

Add in the shredded cheddar cheese, one cup at a time, stirring every time. Stir until the cheese is melted before adding in the next bit. If your soup has cooled and the cheese is not melting, turn the heat back on to low until it melts. Then turn the heat off right away. (If you heat it too much at this point, your sauce will get grainy.)

After all the cheese is added in, taste the soup and see if you want to add in that extra half cup of cream. Add more salt and pepper if it needs it.

Serve hot with a sprinkle of cheddar cheese on top and some chopped green onions! This soup goes really well with

One Hour French Bread.

Reheat leftovers on the stove over low heat. If you microwave leftovers, the sauce will become a bit grainy (it does still taste good, just not the same texture as freshly made).
Notes
FREEZER INSTRUCTIONS: You can freeze this soup, but you have to be pretty careful when reheating. Freeze in a ziplock bag. Thaw completely in the fridge overnight (at least), and reheat as low as possible on the stove, stirring. The sauce will curdle if you heat it fast. If you microwave it, the sauce will curdle.
*I always use Better than Bouillon Chicken Base, which is 3 teaspoons base to 3 cups water.
Nutrition
Serving:
1
g
|
Calories:
419
kcal
|
Carbohydrates:
24
g
|
Protein:
20
g
|
Fat:
29
g
|
Saturated Fat:
18
g
|
Polyunsaturated Fat:
1
g
|
Monounsaturated Fat:
8
g
|
Trans Fat:
1
g
|
Cholesterol:
87
mg
|
Sodium:
1109
mg
|
Potassium:
879
mg
|
Fiber:
6
g
|
Sugar:
9
g
|
Vitamin A:
5216
IU
|
Vitamin C:
170
mg
|
Calcium:
521
mg
|
Iron:
2
mg