I don't know about you, but I'm about to marry this Italian Wedding Soup recipe. It is PACKED with goodness! The flavorful broth, the juicy meatballs, the tiny pasta, the mountain of healthy greens making you feel like you're probably going to live to 150-years-old after eating all this leafy stuff. Make it on the stove or in the slow cooker, easy!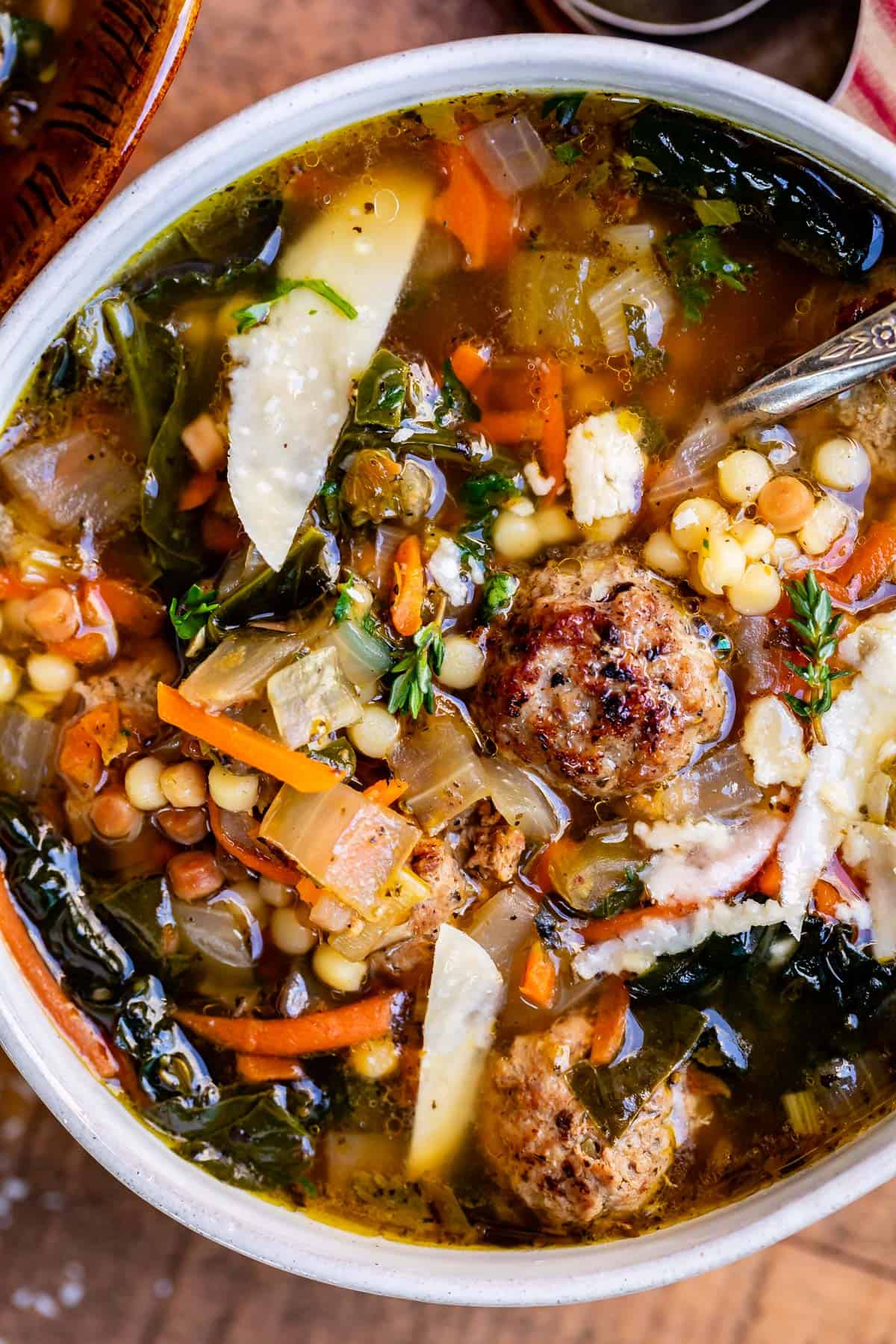 Table of Contents
I was reading my 3-year-old son a Star Wars board book the other day. "And along came the Imperial Star Destroyer" it said. Except that the picture was showing TIE fighters. I double checked it with Eric. "Look at this, aren't these ships called TIE fighters?"
He gave me a "come on" look (you know the c'mon look) and said, "We've been married almost 15 years and you still can't identify an Imperial Star Destroyer??" He asked this in the way I might respond if he forgot one of our children's middle names.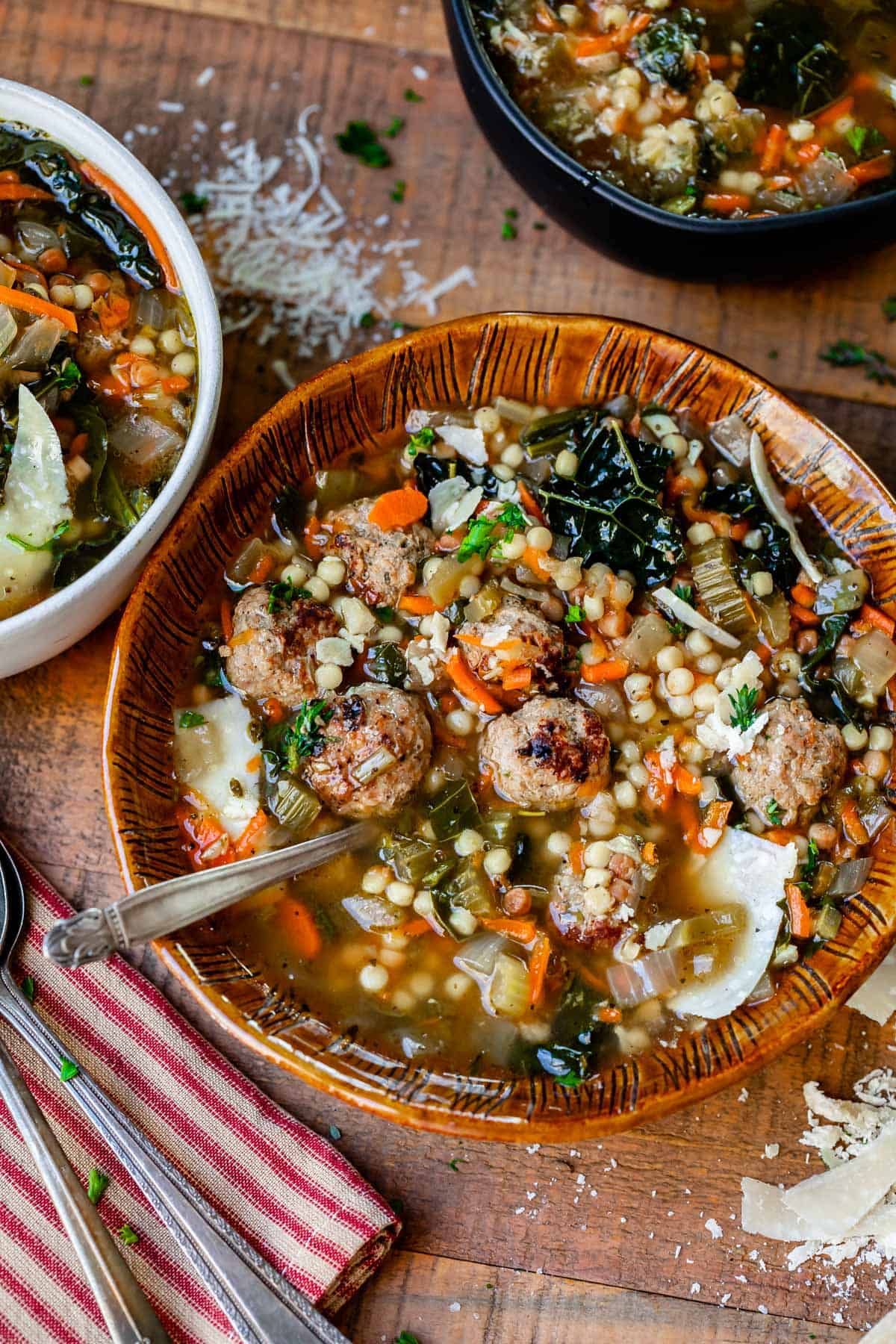 Clearly I need to work on my priorities. Just the other day I was cleaning out a box of old books from our move (which was almost a year ago and YES I still have boxes, gah, don't judge me!) I asked Eric if I could give away his dog-eared copy of "Essential Guide to Weapons and Technology" ('Your guide to the sophisticated armament of the Star Wars universe!') but he said no, it's a keeper. A KEEPER GUYS.
I have to ask you, are you one of those people who has a pretty bookshelf? I feel like there are two kinds of people in this world: those who have beautiful bookshelves, adorned with vases and random clay pots (and balls in a bowl made out of twigs? you know what I'm talking about??)
And then there is the other kind of person, the kind who lets her husband keep every random Essential Weapons & Armament Guide and then suddenly has stacks upon stacks of colorful, paperback, non-classic-y looking books shoved in this way and that. Not a twiggy-ball in sight. I didn't choose the tacky life, the tacky life chose me.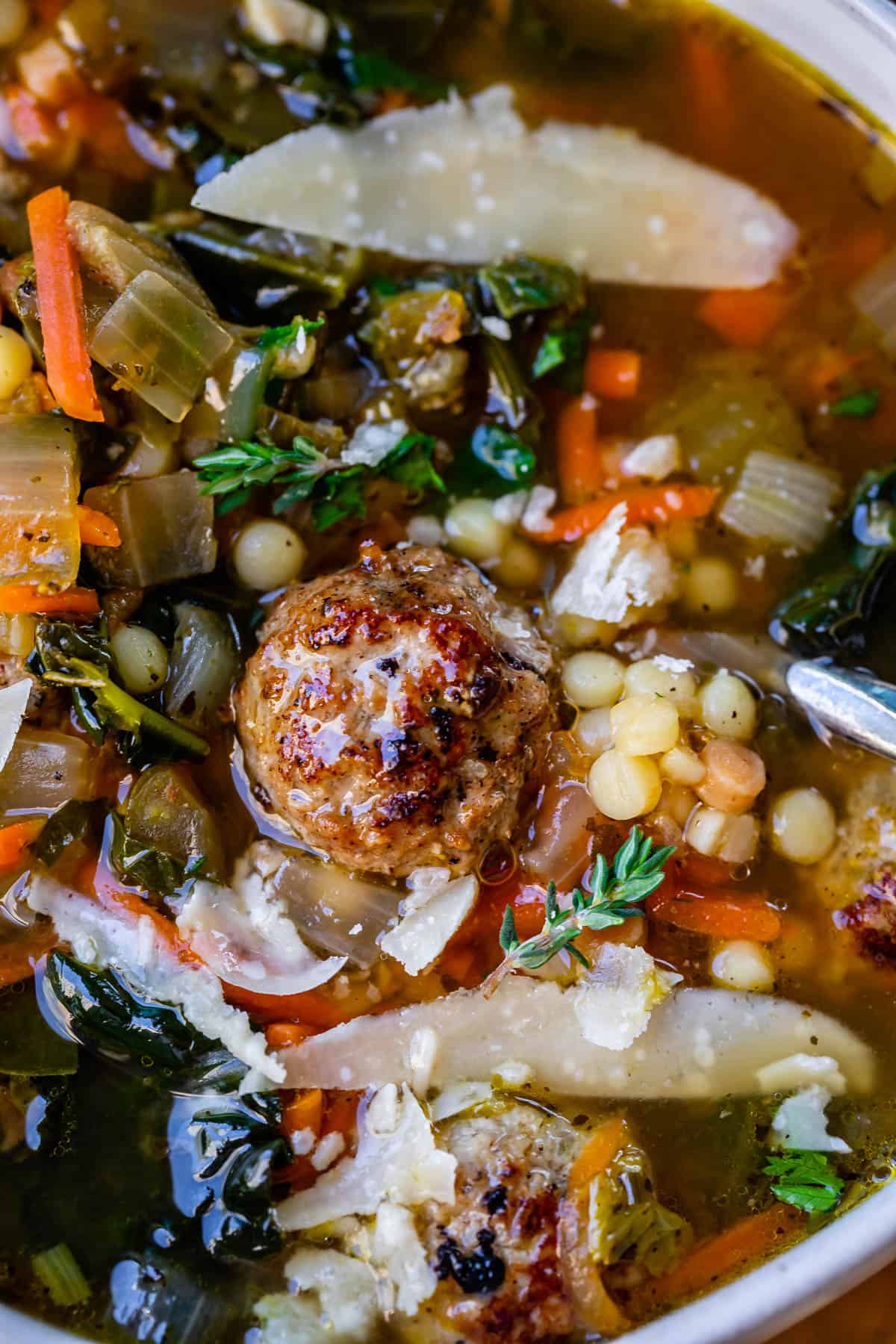 But let me tell you, it is NOT tacky to feed your family Italian Wedding Soup every night for days on end, I know because I tried it and still haven't gotten any walk-outs. This stuff is LEGIT, and you, your kids, your mama, and your neighbors are all going to know it by the time you feed them this mountain of a soup. They will be singing your praises indeed. (Alternative title to this post: "Karen's Essential Guide for How to Win Friends and Influence People…With Food.")
Italian Wedding Soup
Okay but seriously, have you had this soup before? It's got the GOODS. Meatballs, for starters. (I feel like we could just stop right there.) But then there are the aromatics, the veggies, the greens, the tiny pasta, the spicy kick! I love it, love it. It's like a hug in a bowl. From your Italian nonna. Or maybe just a hug from your neighbor who made too much soup. (it me, it me, want to come over??)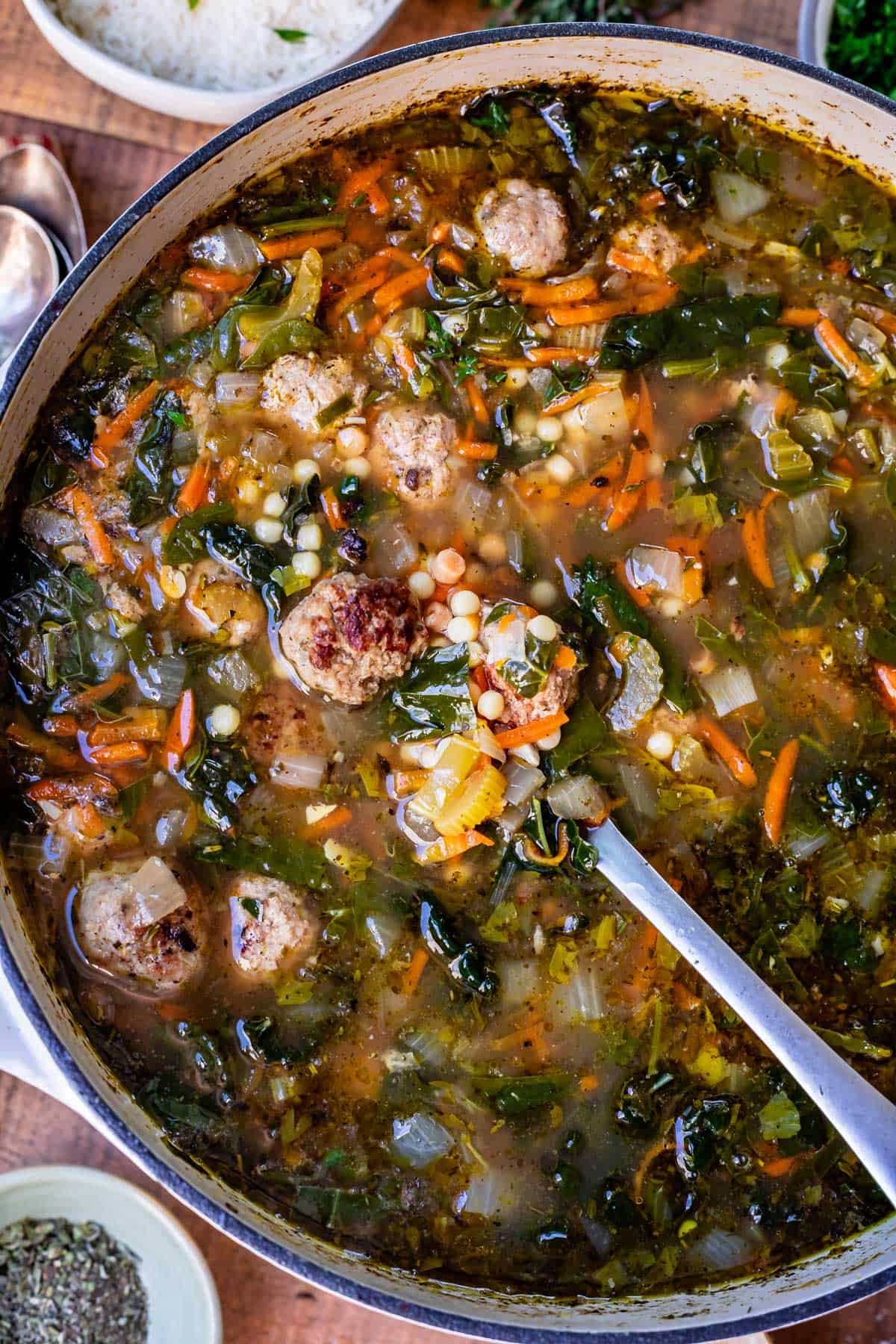 I love to make my own homemade meatballs for this soup. You will never get a store-bought meatball that is as tender as what you can make at home, because sellers need to make them sturdy enough to be packaged and shipped. They are ok, but not the best.
This soup is a labor of love, I'm not gonna lie. (People used to make it over the course of 3 days, way back when). First you make the meatballs, then you fry them, and then you make the soup; lots of chopping, lots of ingredients. You will save a lot of time if you use store bought meatballs, and I get it, sometimes you just have to git er done. I like the Italian meatballs from Costco, they taste pretty good and are a decent price. It will cut your time spent on this soup in half.
BUT…at least once in your life, you should make the meatballs at home. They are so good. And tiny. Everything tastes better when it's tiny, right? They are so juicy and fatty and tender. This is the classic Italian style meatball that I make for our family's spaghetti and meatballs, and they are totally stand-alone amazing.
If you buy store bought meatballs, you will also miss out on all the flavor that comes from frying the meatballs in oil, and then cooking the soup in the same pot. (This browning effect is called the Maillard reaction and it is magical.)
Okay okay, but I swear, if you can't make the meatballs homemade, you can still get an amazing soup with this recipe. The depth of flavor comes from using both chicken and a little bit of beef broth. I've never thought to combine broths before, but it's kind of an amazing idea. This soup is meant to have a light flavored (and colored) broth for the meatballs to float around in, but the added beef broth kicks up the beefy flavor a notch.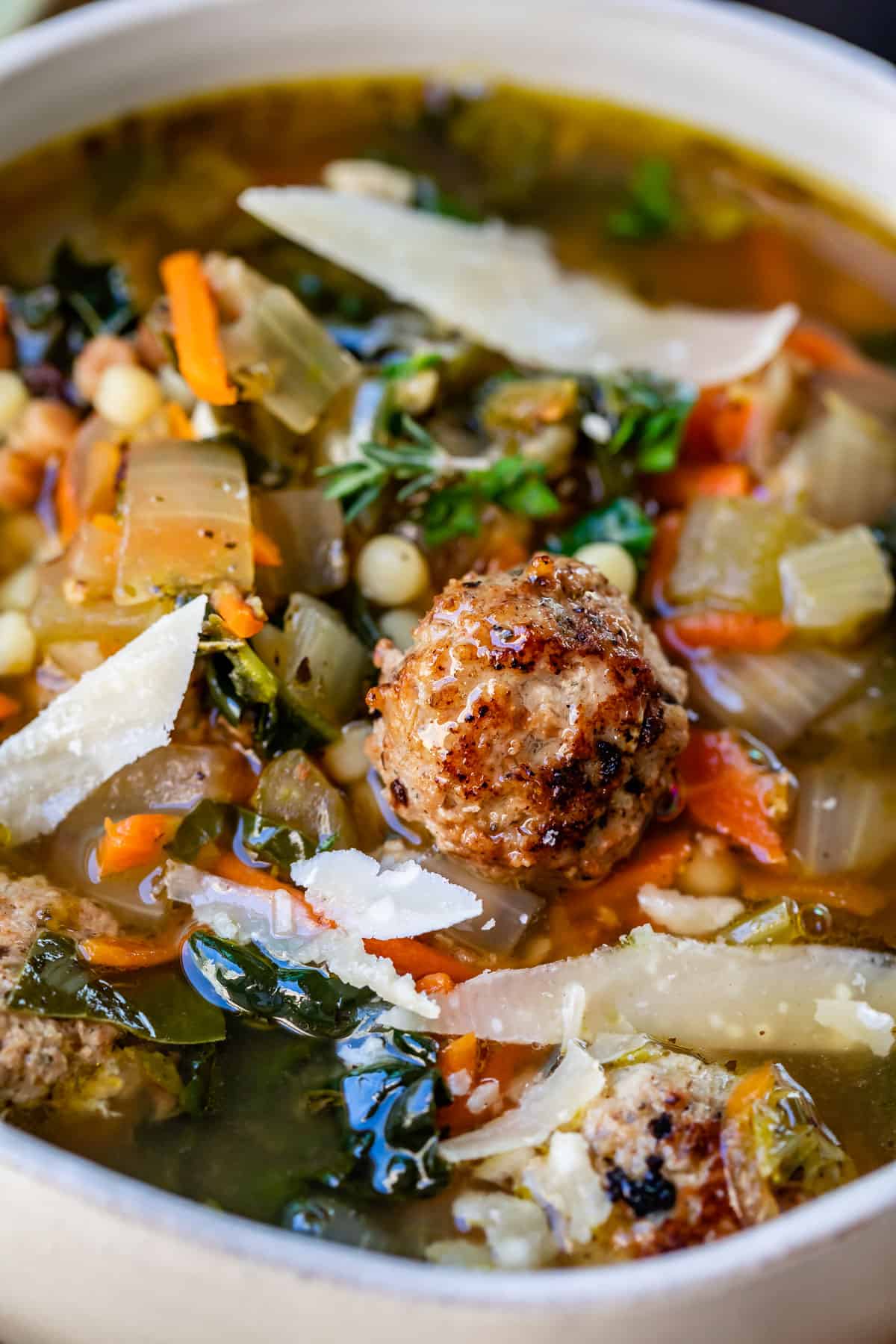 What is Italian Wedding Soup?
Like many "traditional" recipes, a typical Italian Wedding Soup in the US is actually American, in the sense that it was brought to the U.S. and changed over time as immigrants adapted to what was available. That's how a soup that started in Italy as a deep broth with various meats and local greens has become a soup with tiny meatballs, very small noodles, and some type of greens like spinach or kale.
To best mimic the spirit of this traditional poor-man's soup, we're making meatballs with ground beef AND ground pork (or Italian sausage), giving a nod to the soup's multi-meat heritage. Plus some classic Italian ingredients like onion, garlic, and Parmesan to give them depth of flavor.
The base of the soup is still its rich broth. Instead of boiling bones for 3 days, we're going to do our best to recreate the deliciousness of the original by using both beef AND chicken broth.
There is always pasta in Italian Wedding Soup. The traditional pasta is the teeny-tiny acini di pepe (which literally translates to "seeds of pepper" because of how similar in size and shape it is to peppercorns. How cute is that, right?) I couldn't find any at multiple stores, but you can just use any really small pasta you can find. I went with Fregola, but I almost bought alphabet pasta! Orecchiette or tiny shells would work.
After making the broth, add in the meatballs, pasta, and finally, add your greens. Back in the day in Italy they would literally walk around outside and grab whatever was growing on the hillside: dandelion greens, escarole, chicory, etc. I don't know about you, but I don't have any chicory or escarole in my yard. But a combo of spinach and kale gives just the right touch of green. Escarole is a great choice because it's a little spicy, so if you are into that give it a try! (again, I couldn't find any escarole at the store. What gives, supply chains??)
Do they eat Italian Wedding Soup at Italian weddings?
Turns out, Italian Wedding Soup is actually NOT a traditional food eaten at Italian Weddings. The name comes from a slight mistranslation of the original Italian: Minestra Maritata, which literally means Married Soup. The flavors of the rich, savory broth and the cooked greens "marry" so well in the soup. Different regions had different variations, and the point was to use up the meats and greens that were locally available. If you love food history like I do, check out this article about the history of Italian Wedding Soup about how this dish has changed over time! Food nerds, unite!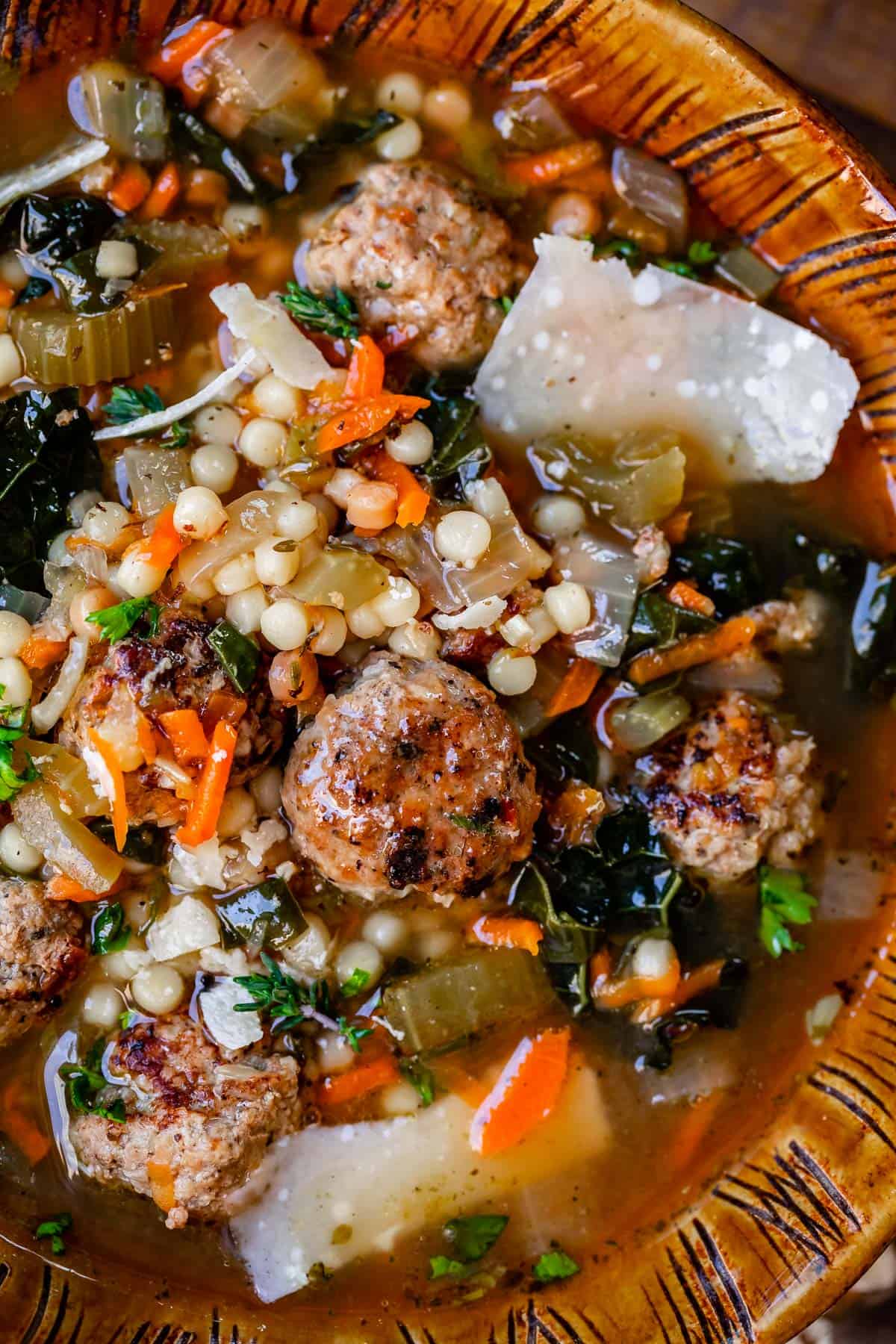 Italian Wedding Soup ingredients
Here's a quick shopping list of what will be in the recipe. As always, the full list and instructions are below on the recipe card!
ground meat (beef AND pork or Italian sausage)
kosher salt and pepper
dried spices (oregano, Italian seasoning, crushed red pepper, thyme, bay leaf)
egg
milk
Worcestershire sauce
Parmesan cheese
Panko bread crumbs
aromatics (garlic, yellow onion)
vegetable oil
vegetables (celery, carrot)
white wine
chicken and/or beef broth
parmesan rind, optional
spinach and kale (lacinato or any other kind. Or try escarole!)
acini di pepe pasta (or any tiny pasta; I saw alphabet pasta at the store and almost bought that!)
How to make Italian Wedding Soup
First up, let's make some meatballs! Gather up your ingredients: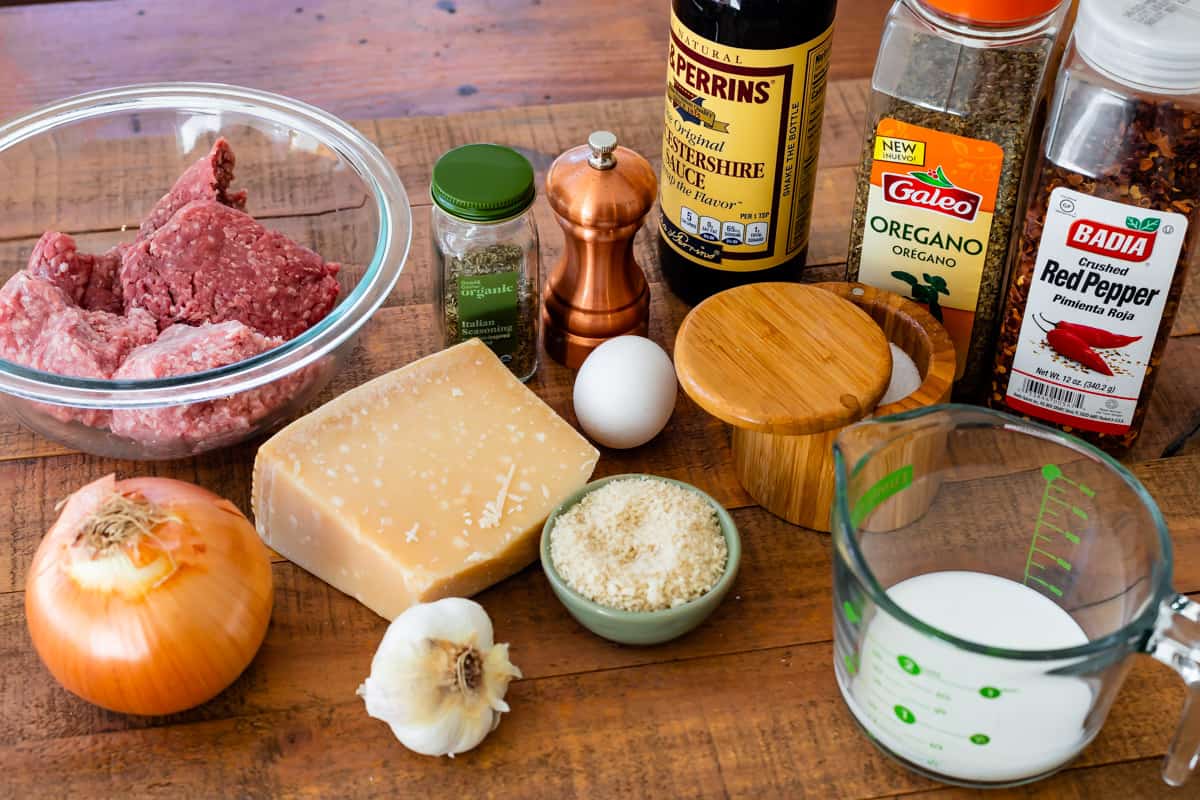 Add it all to a bowl. Take a few minutes right now to chop up some more garlic and onions. You need them for the soup later, and you're already crying. (I usually wear swim goggles when I chop onions. Works like a charm, no tears. But then I have raccoon eye imprints around my eyes for an hour after. You win some, you lose some.)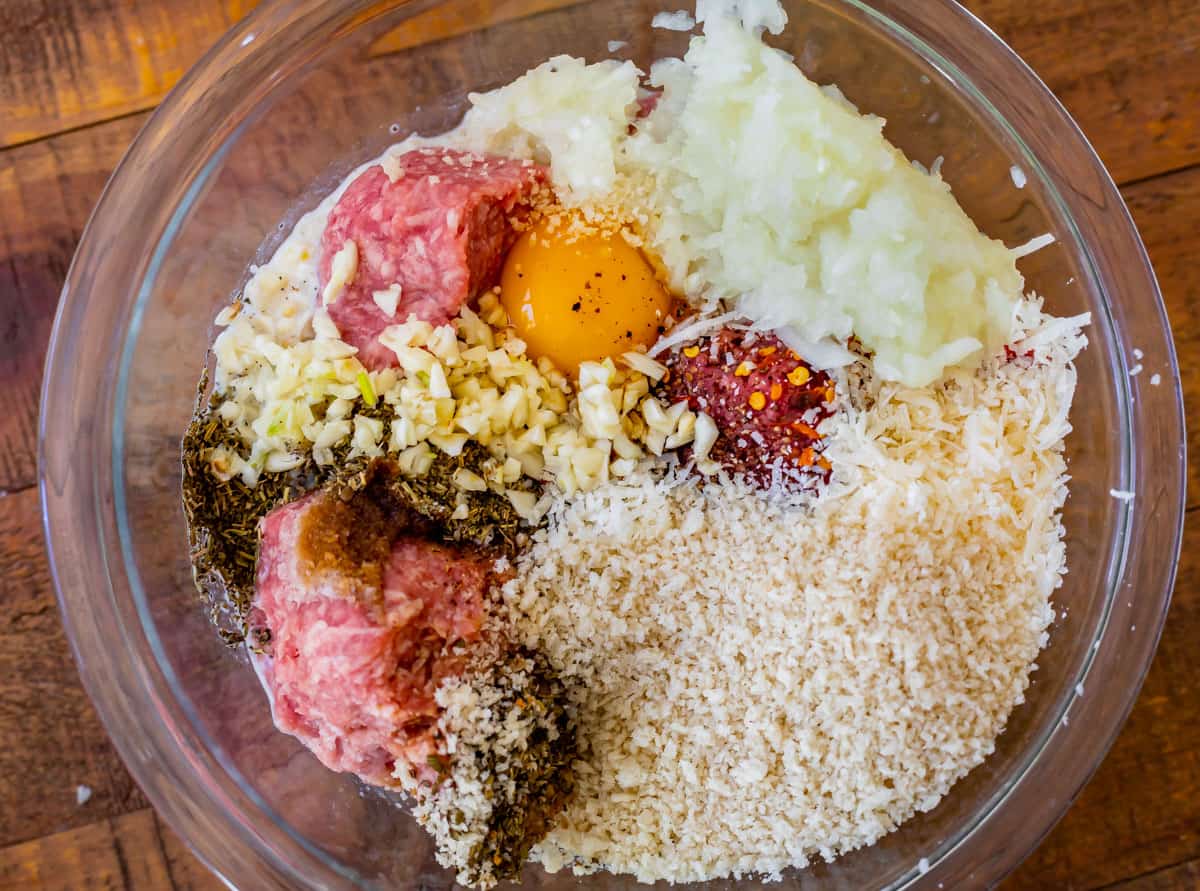 You are going to hate me for this, but you really should mix meatballs together with your hands. Get yourself some disposable gloves and have at it. A spoon just can't get the mixture as cohesive as we want it.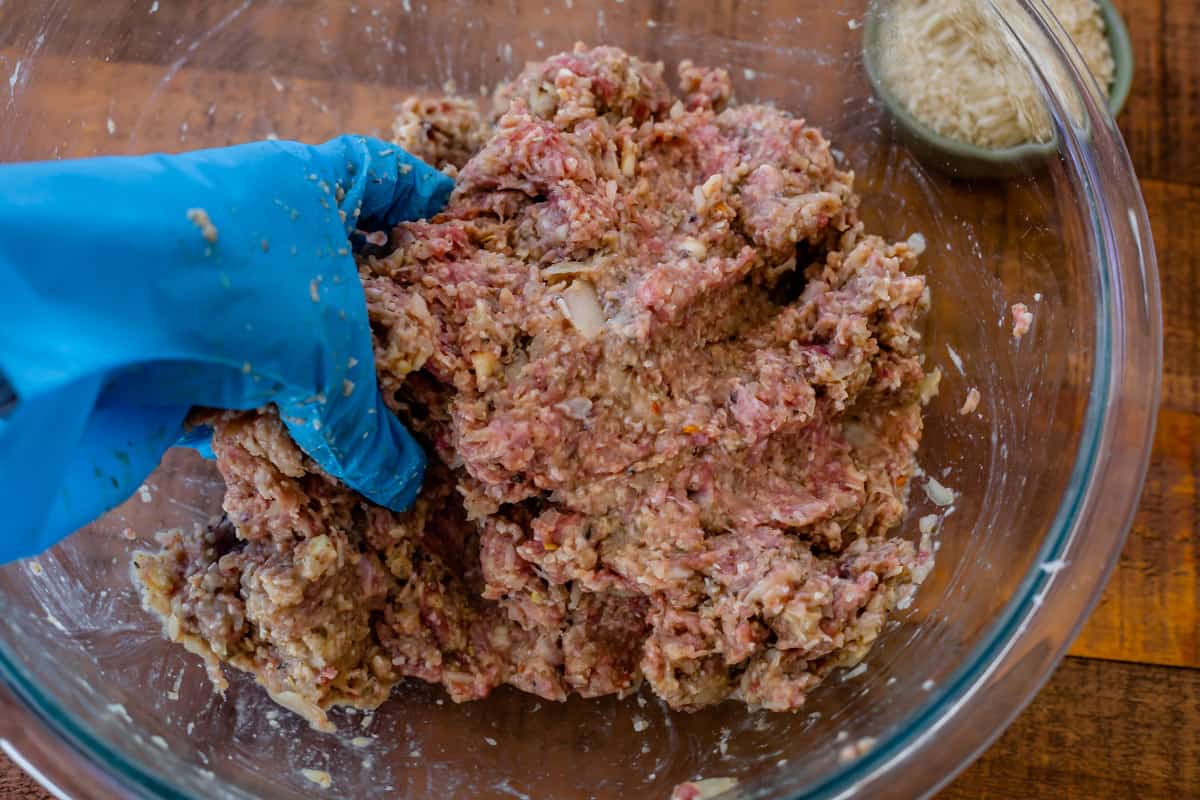 Use a 1-inch cookie scoop or a spoon and shape your meatballs. Don't make them too big! One of the most delightful things about this soup is how poppable the meatballs are!
Roll them in your hands and press the meatball together to make it smooth.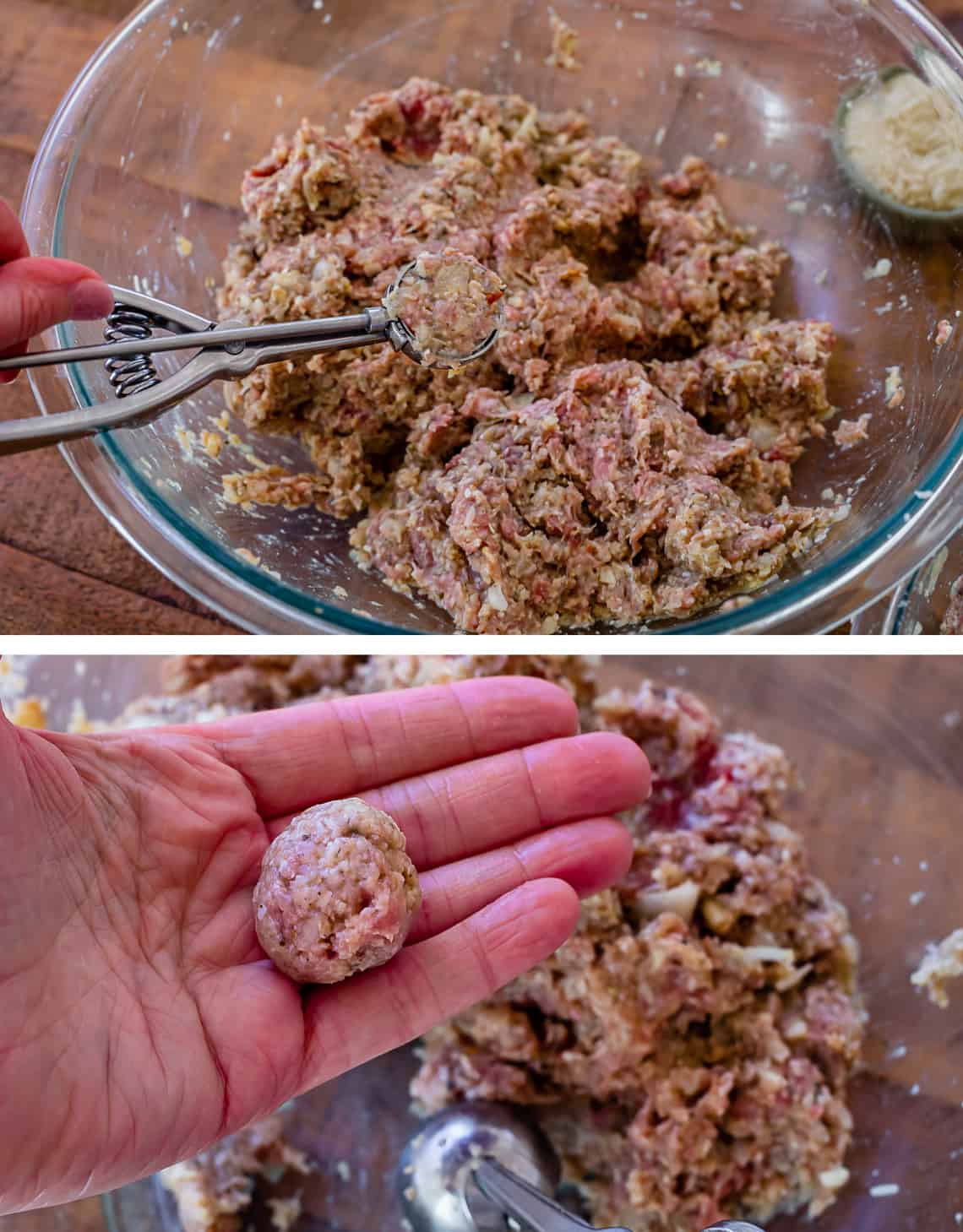 Heat up a big ol soup pot. You are going to need a 6 quart pot, at least. Add oil that has a high smoke point, like light olive oil or vegetable oil.
Add in the meatballs one at a time, with space in between so they brown properly.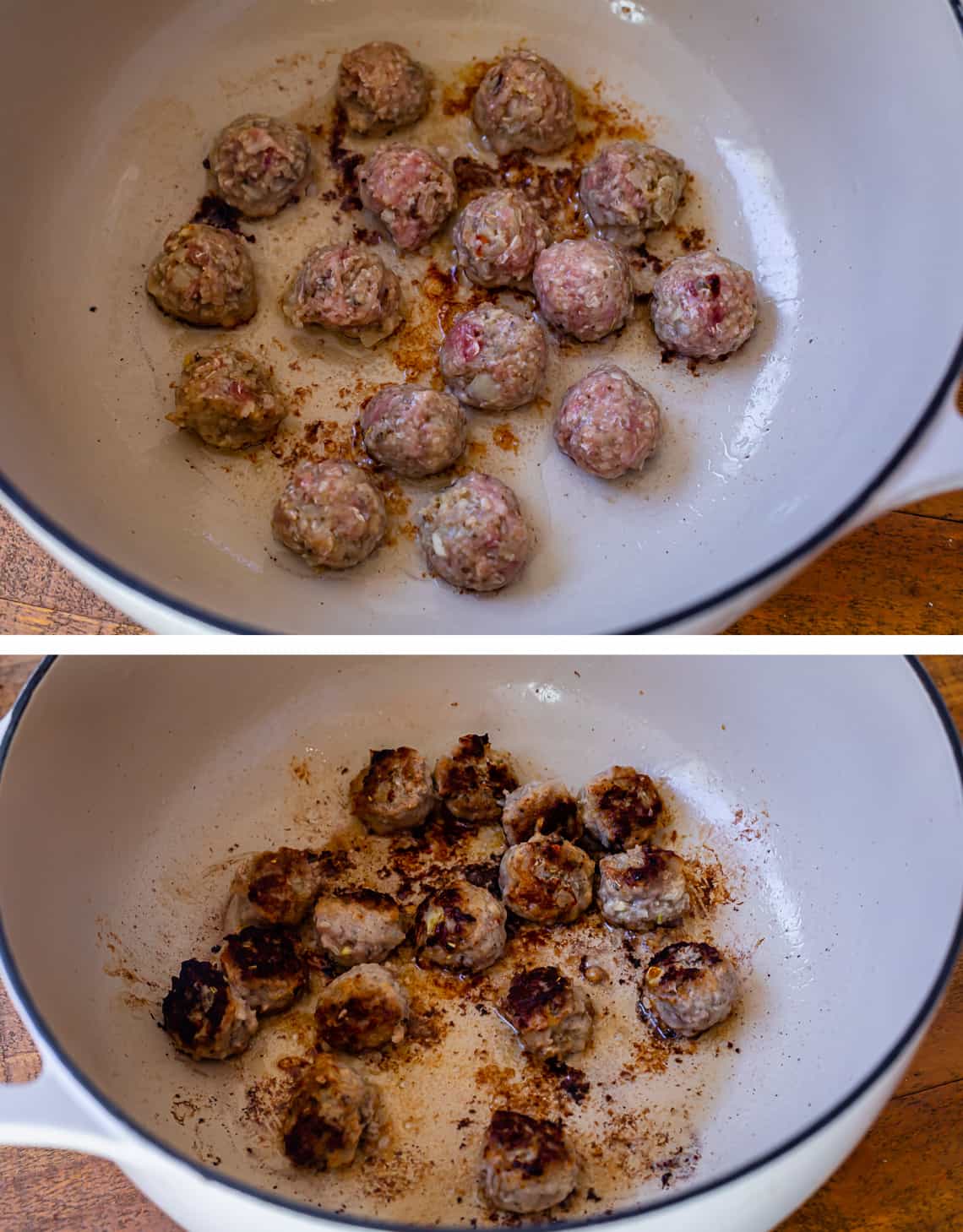 Flip them one at a time using a metal spatula. Try not to let them burn like I did 😂 But it's okay if you do. Keep the pot on medium or medium low. We are just browning the edges of the meatball, they don't need to be cooked inside. (They will finish cooking in the soup.)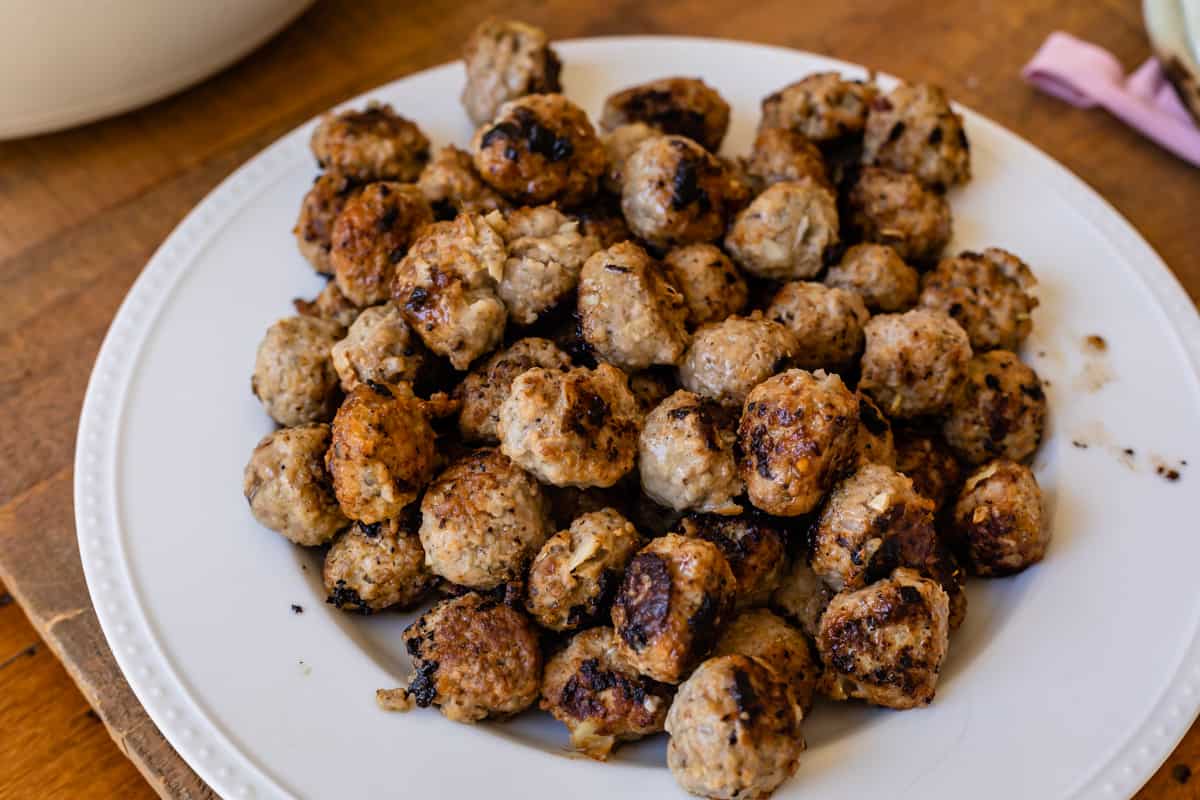 Remove the browned meatballs to a plate and set aside. (Undercooking these meatballs is also insurance against eating this whole plate one by one before the soup is even made. Make sure you cook at least one all the way. You deserve a snack.
Now it's time to make the soup. All those browned bits (ok, maybe a little bit blackened) are going to add tons of flavor to your soup!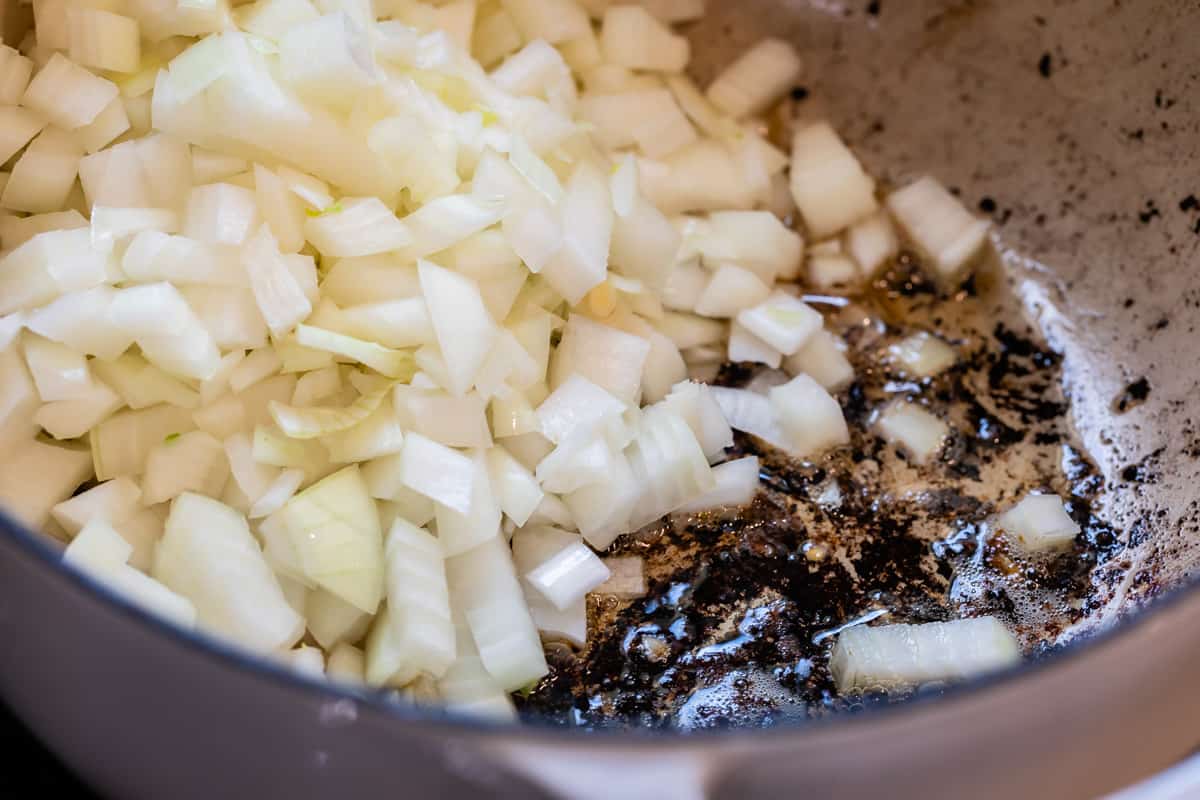 Don't hate me for my burnt up pot, ok?? I finally bought a new soup pot after years of having one with permanent stains on the bottom, and this is how I treat New Guy. Poor thing. (But whatever, the flavor of these onions was on point.)
Add in some celery and get sautéing. I love to chop my celery straight from the end, instead of snapping off individual stalks; those celery leaves on the end have tons of flavor.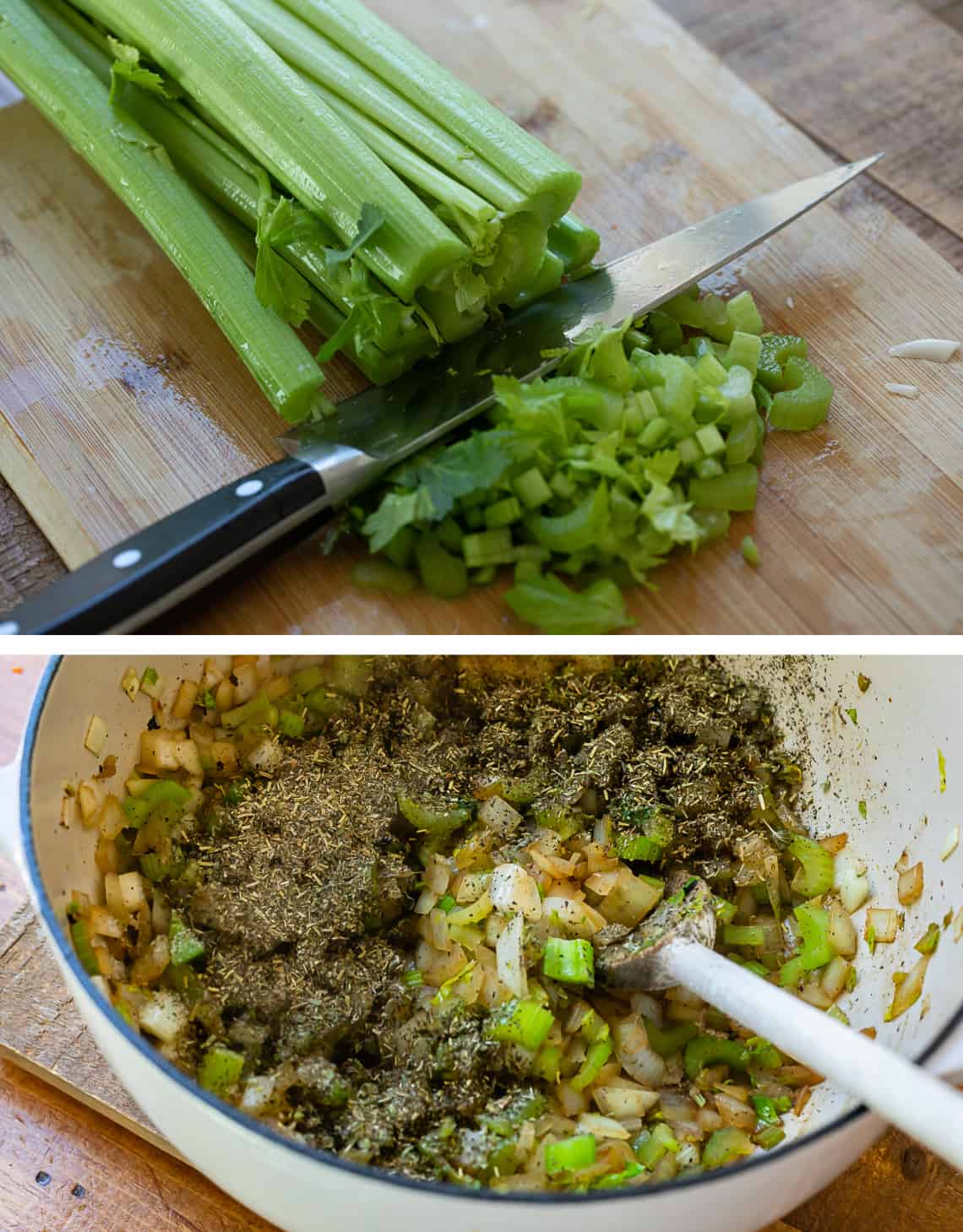 Add the spices while the veggies are sautéing, so they have a chance to wake up and get toasty. I love Italian seasoning and some extra oregano. You could also add in some crushed red pepper here if you like it spicy!
Next add in the broth. I like to use water and Better than Bouillon base.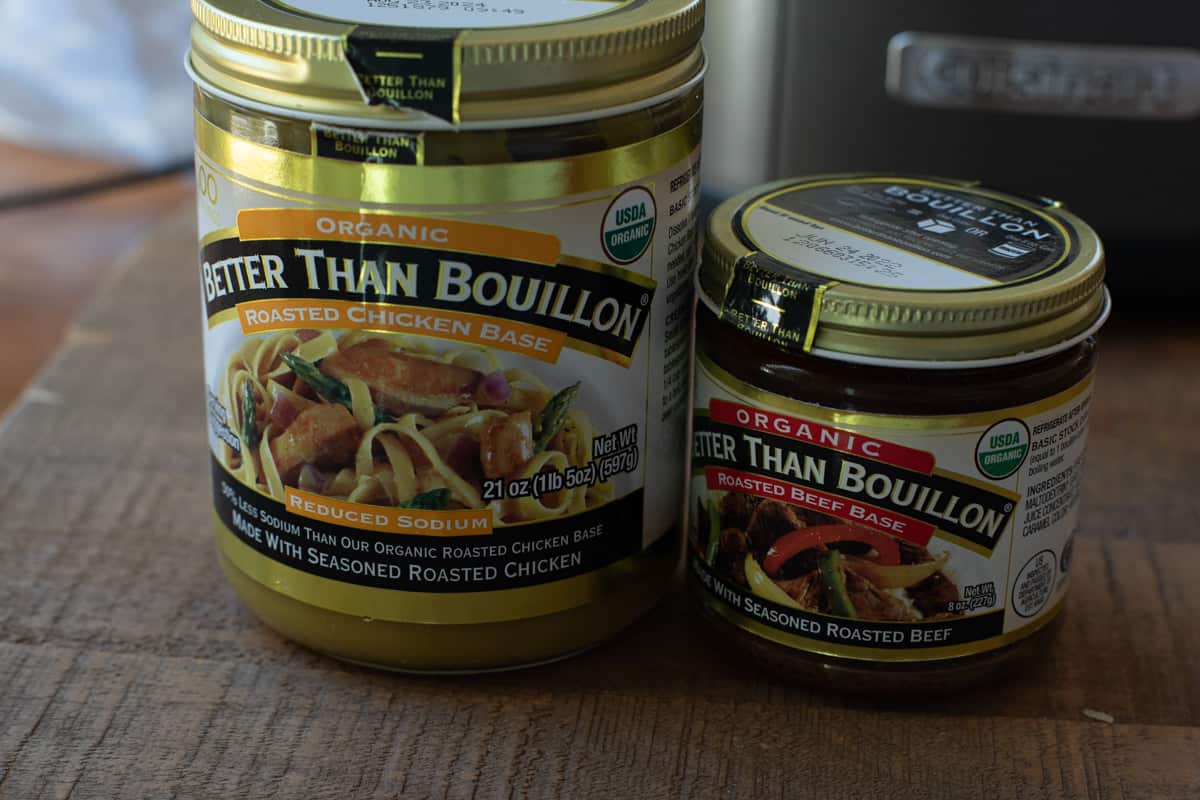 Italian Wedding Soup is usually made with chicken broth, but I like to add a little bit of beef broth too, to help amp up the beefy flavor from the meatballs. I got this tip from America's Test Kitchen. If you have never used Better That Bouillon Bases before, you are seriously missing out. A cook's secret weapon in these days of I'm-too-busy-for-homemade-stock.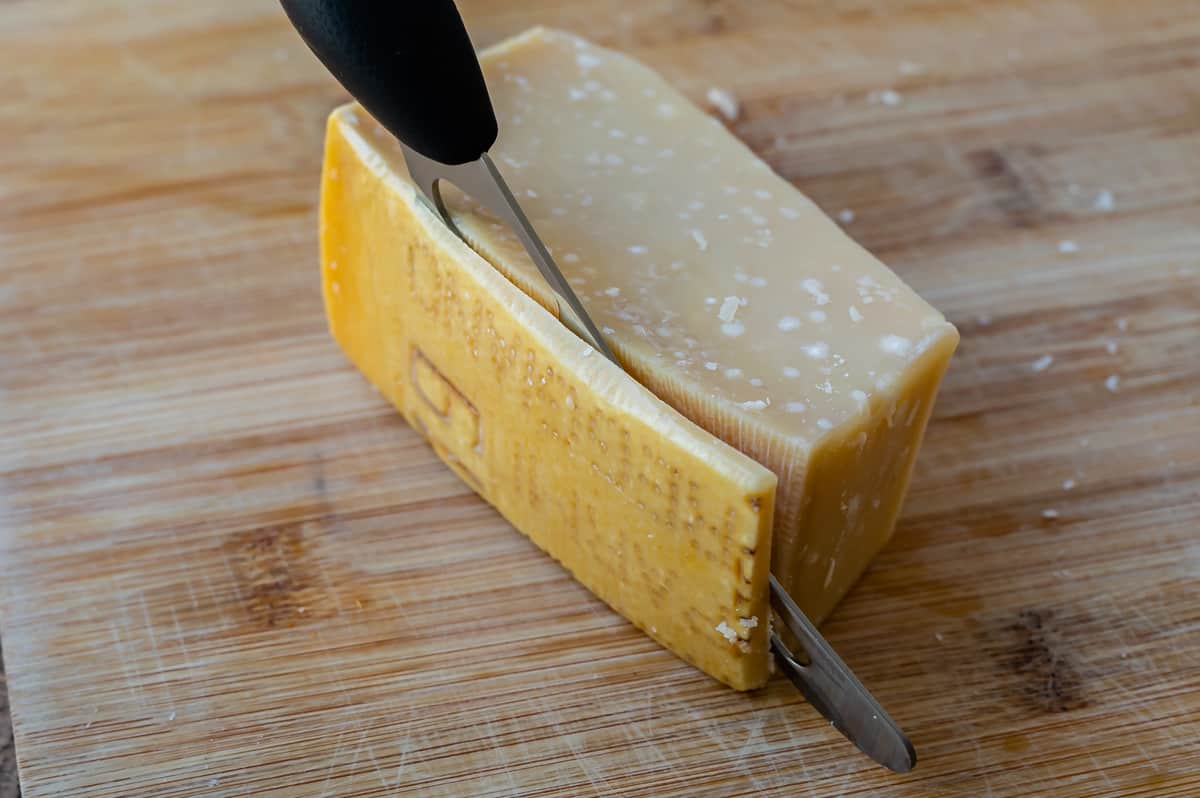 Don't forget to add in a Parmesan rind, if you have one. This means you need to buy a block of real parmesan cheese (look for "made in Italy" on the package) that has a rind on it, then chop it off yourself. This rind is full of tons of flavor and really amps up your broth! Throw in some fresh thyme at this point too, if you have it.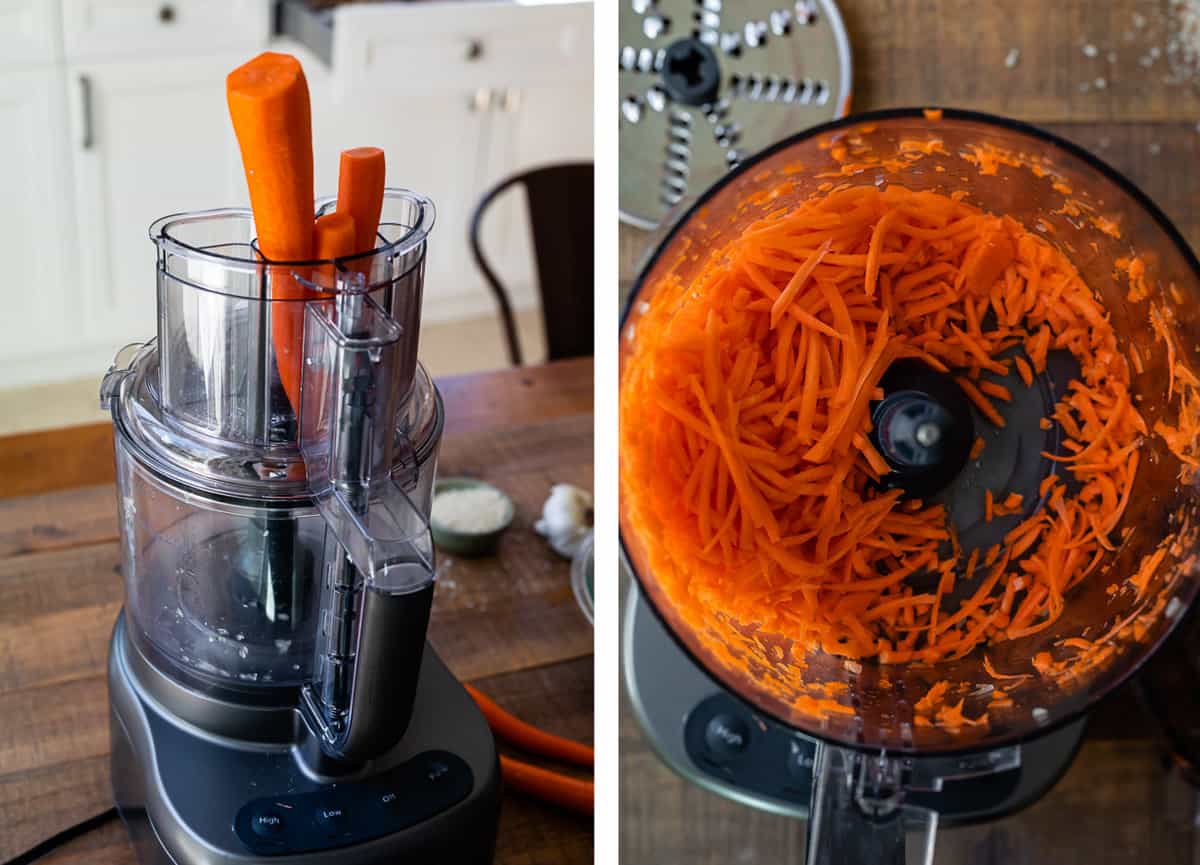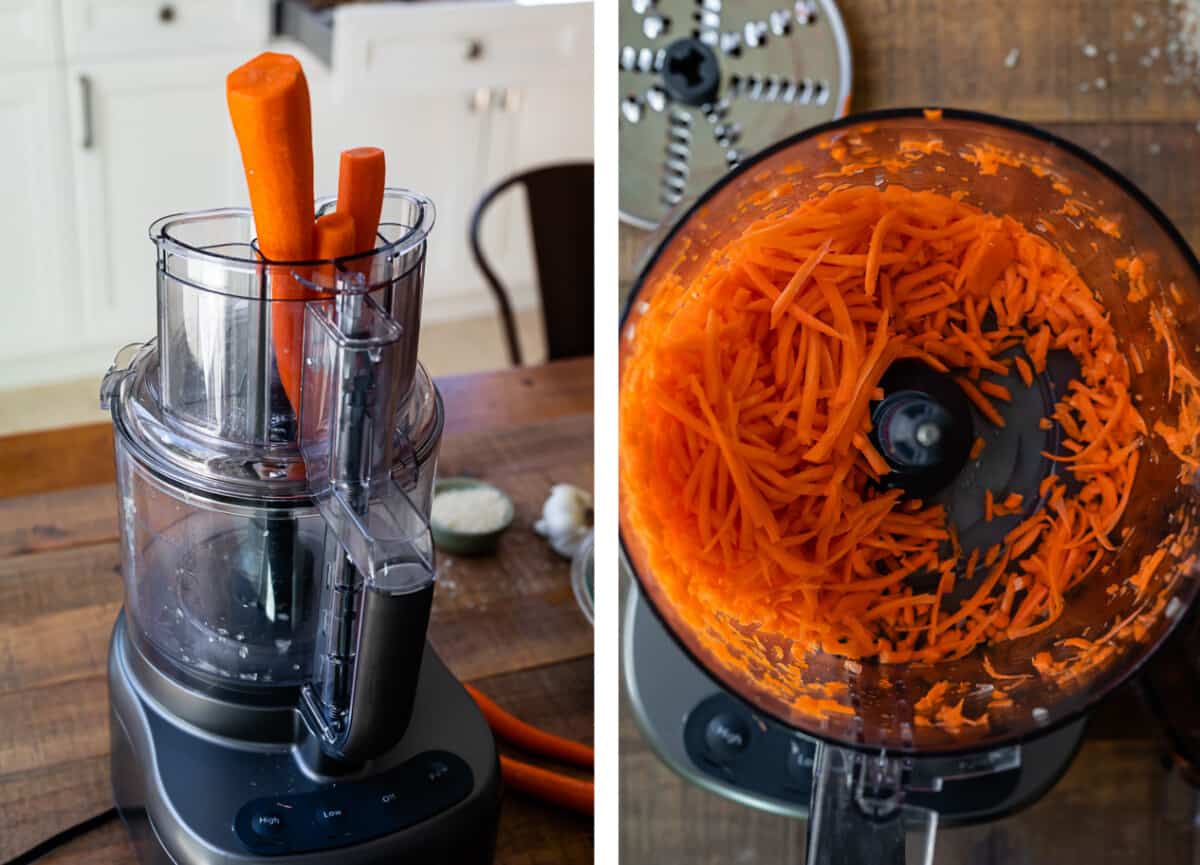 Next shred up your carrots. I love to shred because I'm a bit of a carrot diva and I like to have carrot in every bite of my soup. EVERY BITE, I SAY! Chopped carrots are fine though. You should have added them back in with the onions and celery to saute a bit though, whoops sorry. It's okay, add them in chopped or shredded, and wait for them to get tender in the simmering soup. Add your meatballs at this point too, so we can get them nice and cooked through.
Once your soup has simmered for a half hour or so, when the carrots are tender and the meatballs cooked through, it's time to add our greens and pasta. Adding them too early makes the greens wilty and the pasta soggy, so wait until the end.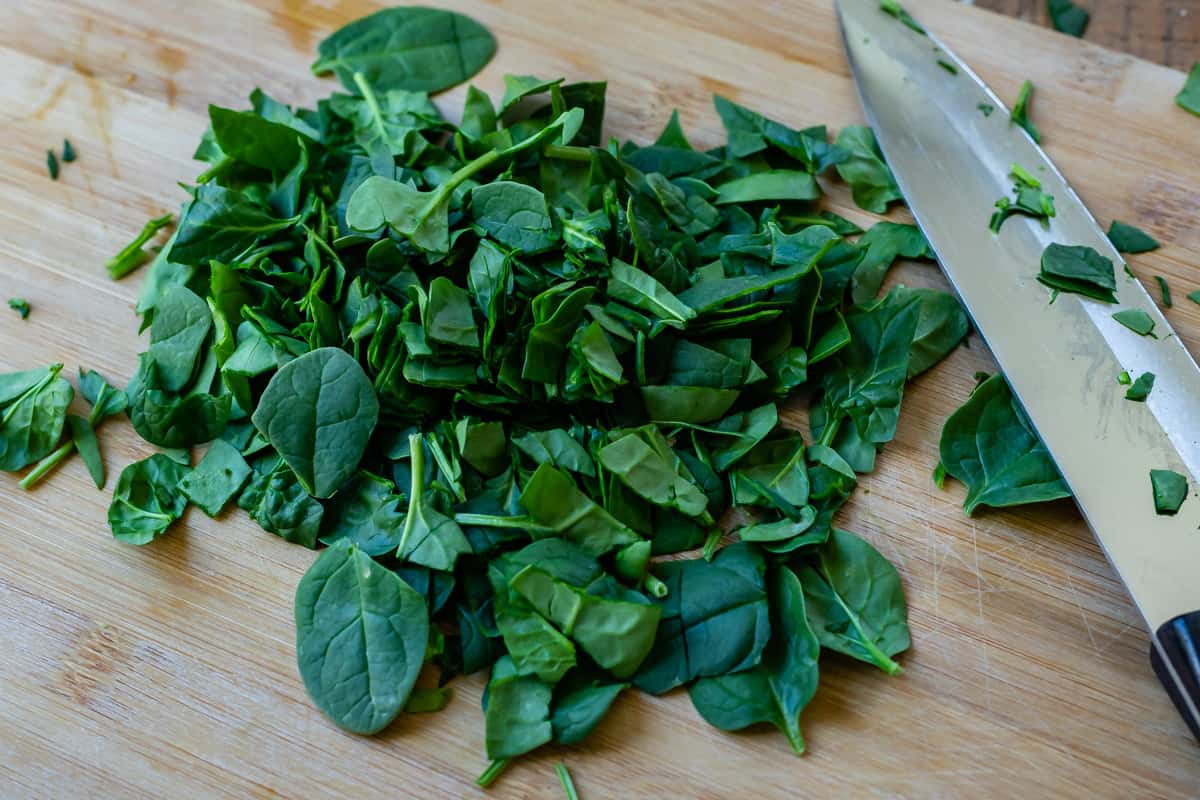 I love to use spinach and dinosaur kale, but you can use any greens you want! Have you ever cooked with dino kale before?? First timer over here 🙋‍♀️ it is SO fun. The texture of the leaves is intense and.. bubbly? I kept running water over the leave in the sink just watch it roll off in this beautiful cascade. (Do I sound like I'm stoned right now?? "It's a double rainbow!!" haha I'm telling you it was cool looking ok) When cooked in your soup, the rough texture of dino kale melts into tender deliciousness, the perfect compliment to the meatballs and broth.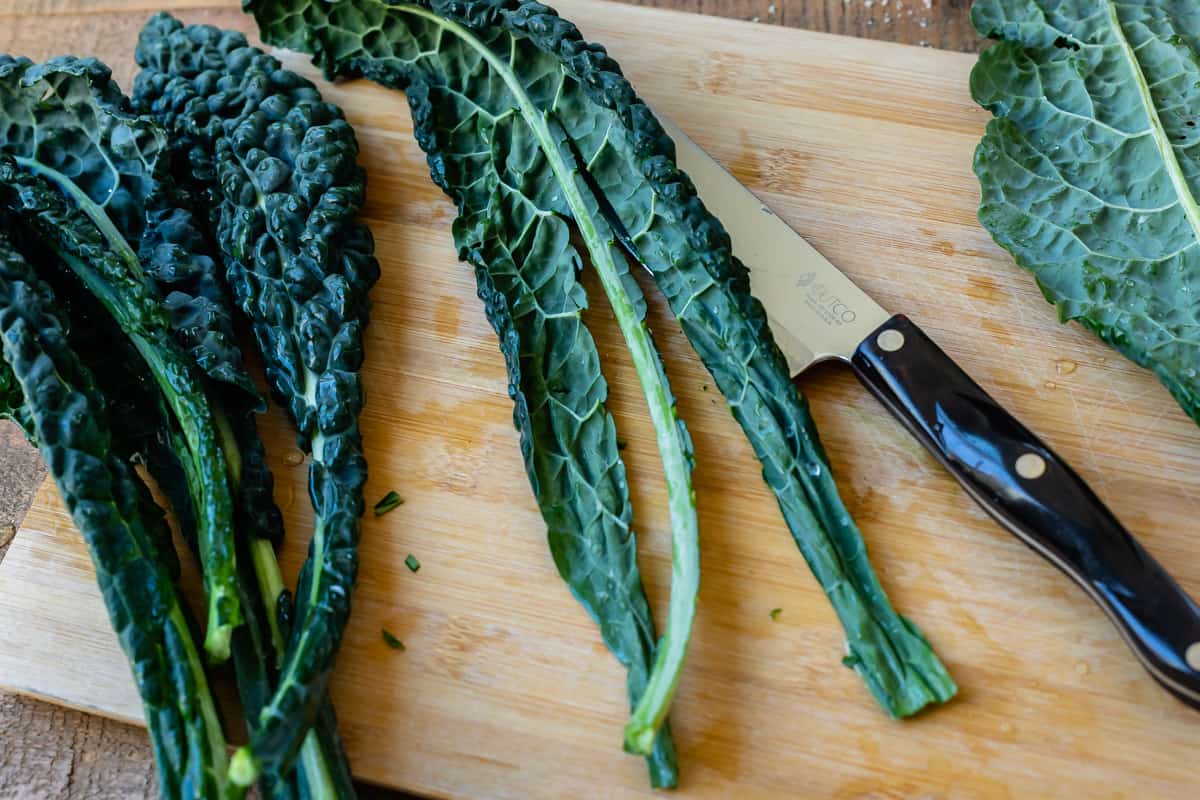 Use a knife to slice out the thick stems, then chop. I always prefer to buy whole kale (not the pre-chopped kind in the bag) so that I can easily remove the entire stem myself. The bagged kind just chops up the stem like it's nbd. No thanks.
One more thing, you can replace some or all of your greens with escarole if you like. It is a more traditional and a little bit spicy. I couldn't find any at the store! Any type of green will do.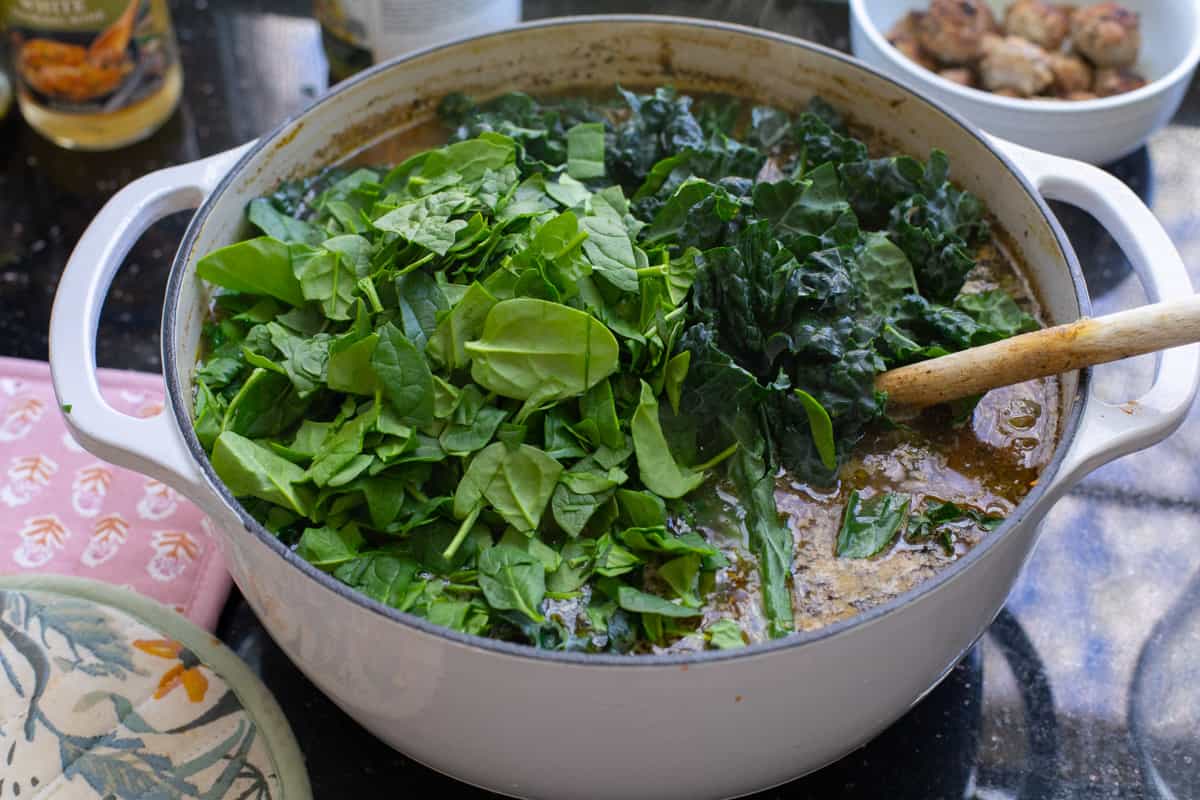 Nothing will make you feel more healthy than adding a giant mound of chopped leaves to your pot of soup. Look at you and all your vitamin consumption!! You are probably never getting sick again!!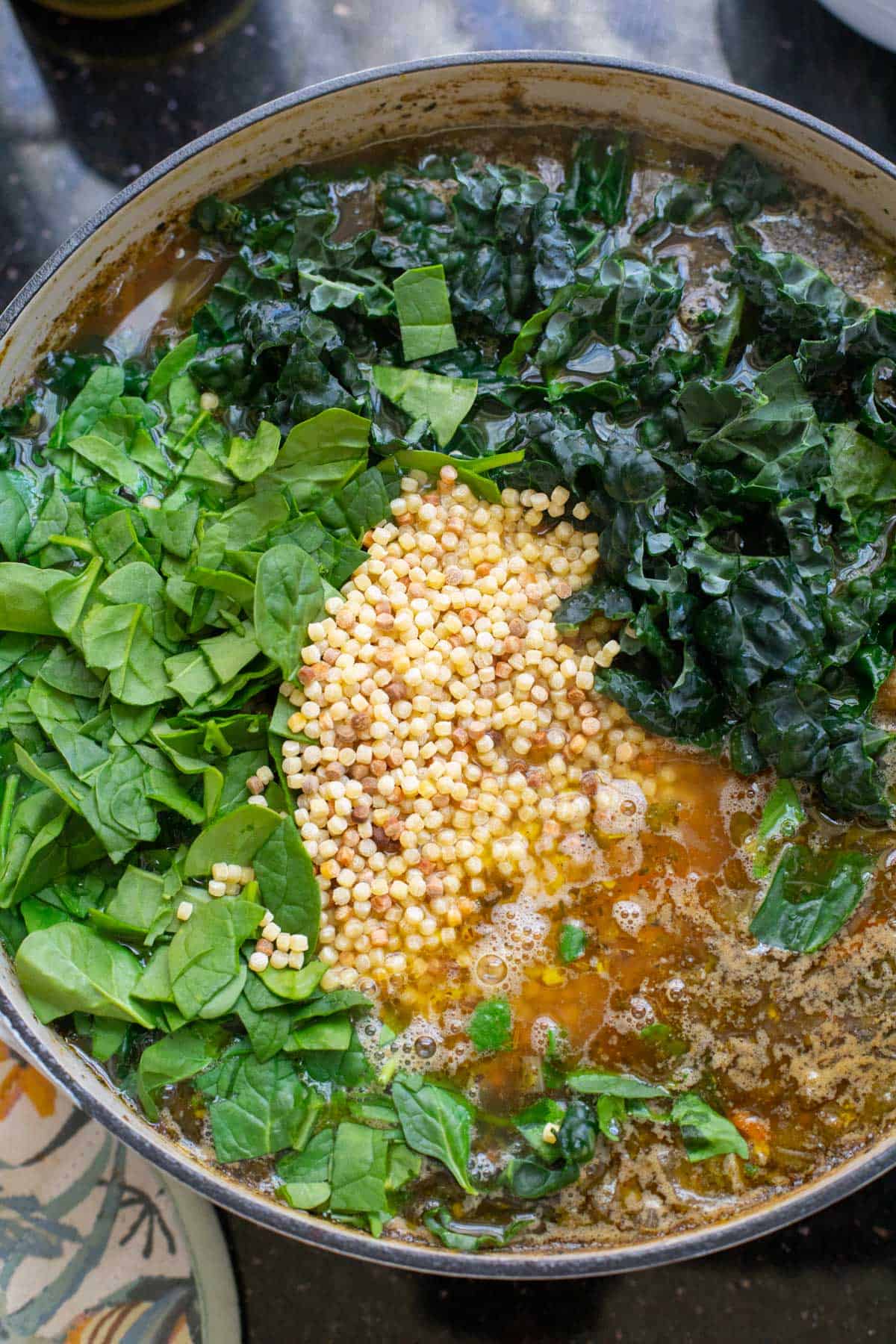 Last thing, add in your pasta, whatever kind you are using. It shouldn't take more than 7-10 minutes for the pasta to reach al dente. Make sure you boil your pasta in a separate pot of boiling water if you know you are going to have leftovers. Then you can add the cooked pasta to each serving. If the pasta sits with the leftovers, it will continue absorbing the broth, and pretty soon there won't be any broth left, which is a serious tragedy.
What to serve with Italian Wedding Soup
Italian wedding soup is basically a whole meal by itself, but honestly what's soup without a lil bread? And maybe a salad or veggies if you've got a big crowd:
How to store the leftovers
Italian Wedding Soup is so great for leftovers! Once the soup has cooled to room temperature, pour it into a container with a lid that seals, and put into the refrigerator. The soup will last 3-5 days in the refrigerator. As it sits, the broth will continue to absorb into the pasta. Add more chicken or beef broth as necessary to bring it back to soup consistency.
To reheat, I like to heat the soup in a small pot on the stove, only reheating the number of serving that will be eaten at that time. You can of course also use a microwave. I like to stir every thirty seconds or so (to avoid hot spots) until the soup is nice and hot.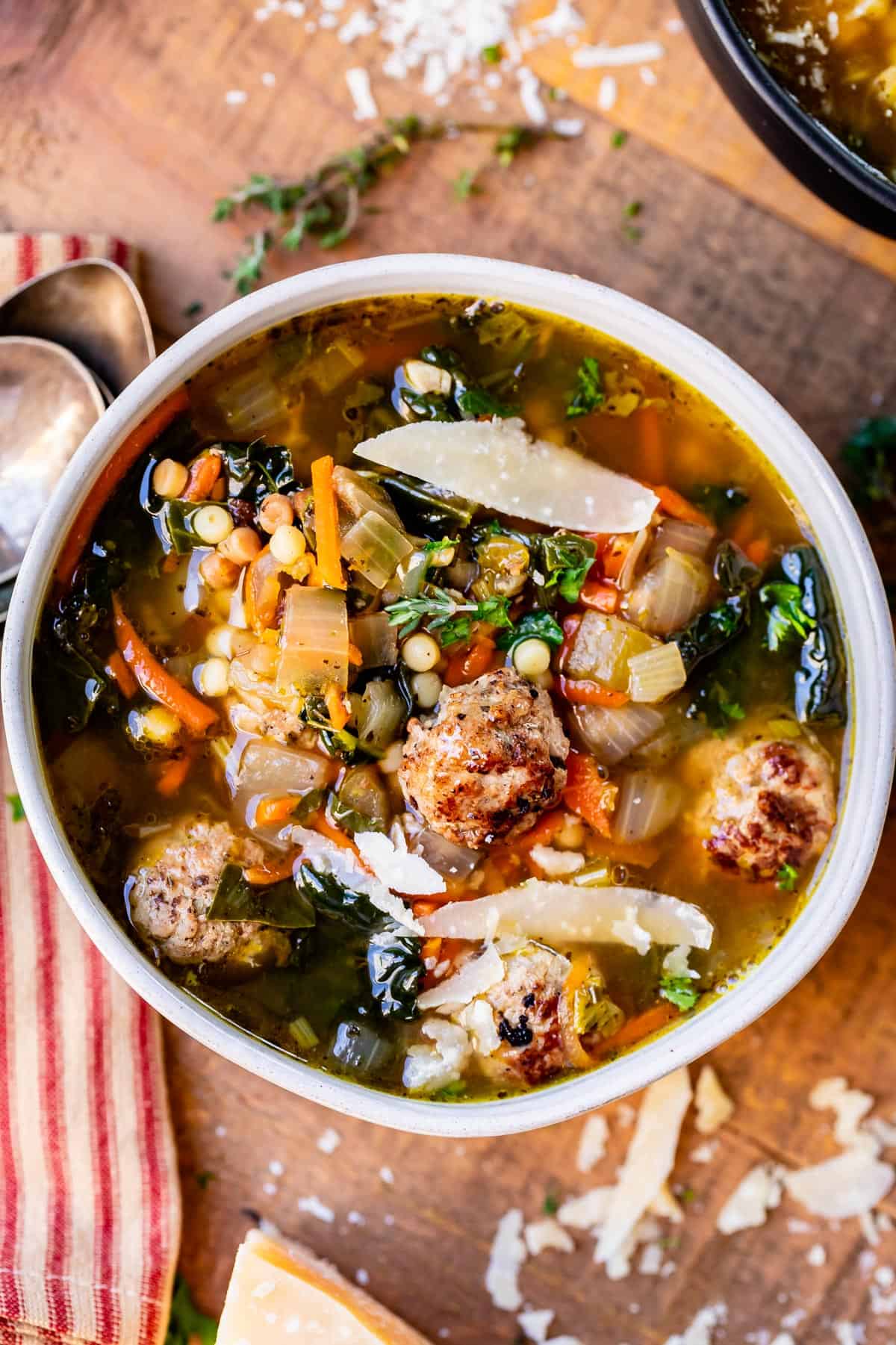 Can you freeze it?
Like most broth-based soups, Italian Wedding Soup freezes beautifully. If you have a smaller crew at your house, you could definitely freeze half the soup (or freeze in individual portions) for a super easy dinner in the future! To freeze, wait for the soup to come to room temperature and then package it in freezer ziplock bags or well-sealing tupperware. It should last about 3-4 months in the freezer. Once you've thawed the soup in a refrigerator overnight, it will easily rewarm on the stove over medium heat.
If you know ahead of time you are going to be freezing your soup, leave out the acini di pepe (or whatever pasta you are using) and add it when you serve it the second time. Cook the pasta separately in boiling water for 8-10 minutes.
Italian Wedding Soup FAQ
You got questions, we got answers. My sister Laura (hi Laura!!) helped me research Italian Wedding Soup for this post, and got so into it that she bought a book, Red Sauce: How Italian Food Became American. Sounds like a fun read! I'm borrowing it when she's done!
What is Italian Wedding Soup called in Italy?
In Italy, the original name is Minestra Maritata, which means married soup. It was named that for how well the flavors of the broth and greens "marry" or blend together soup. It's a marriage of flavors rather than people!
Do they eat italian wedding soup at italian weddings?
Nope! It's actually most commonly eaten at Christmas or Easter time.
What is the most famous soup in italy?
It's actually Minestrone! Any kind of variation of a bean, vegetable, and noodle soup is called minestrone so there are about as many versions as there are Italian nonnas.
WHat are the meatballs in Italian Wedding Soup made of?
Usually a mix of beef and pork, or sausage. This recipe calls for classic Italian flavors like onion, garlic, parmesan, oregano, etc. You can use any basic meatball recipe for this soup.
What kind of pasta goes in italian wedding soup?
Any type of smaller pasta will do. The most popular is acini di pepe, but ditalini, orzo, tubettini, or even chopped spaghetti noodles (if you're desperate) can be used.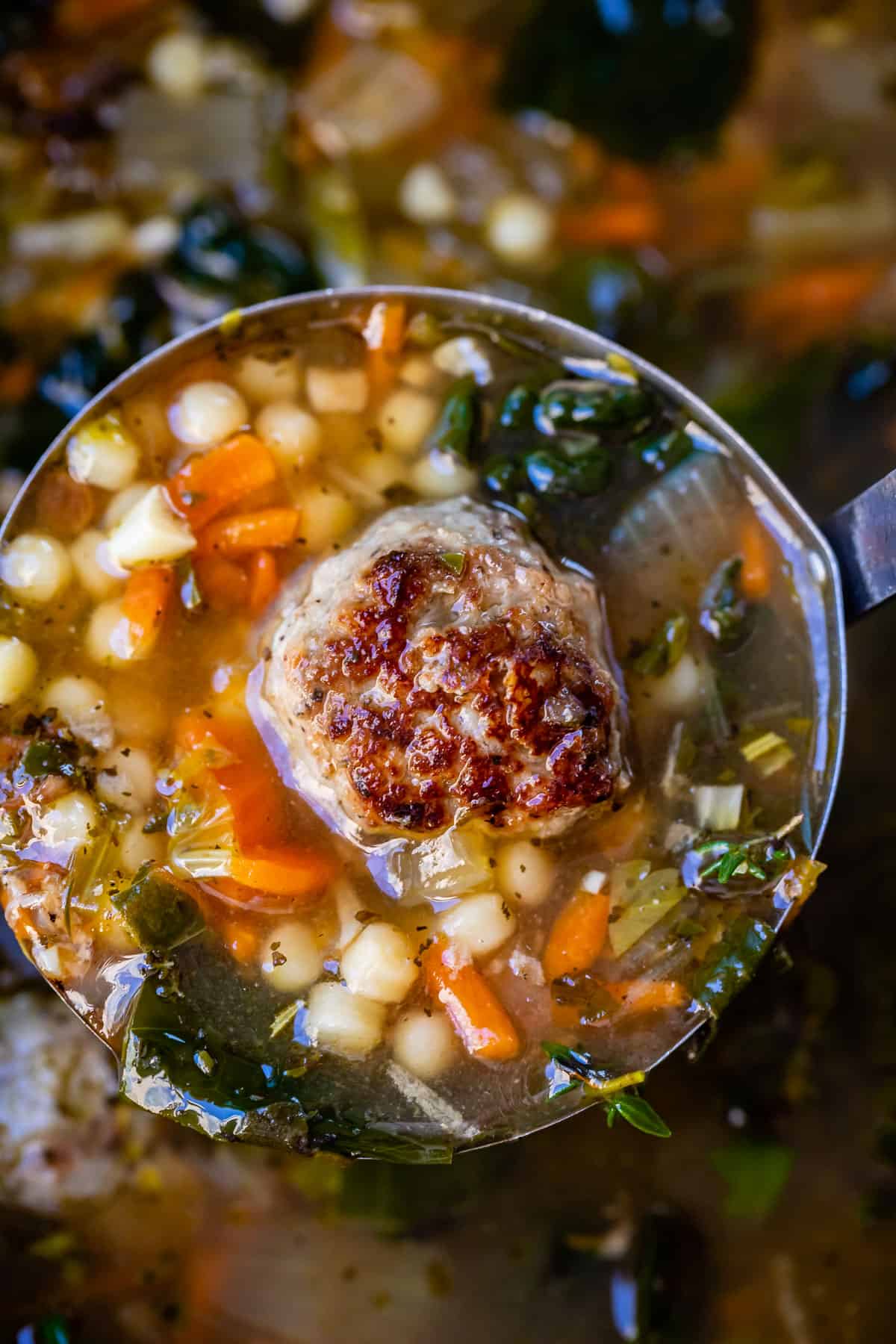 More cozy soup recipes to love!
Facebook | Pinterest | Instagram

Italian Wedding Soup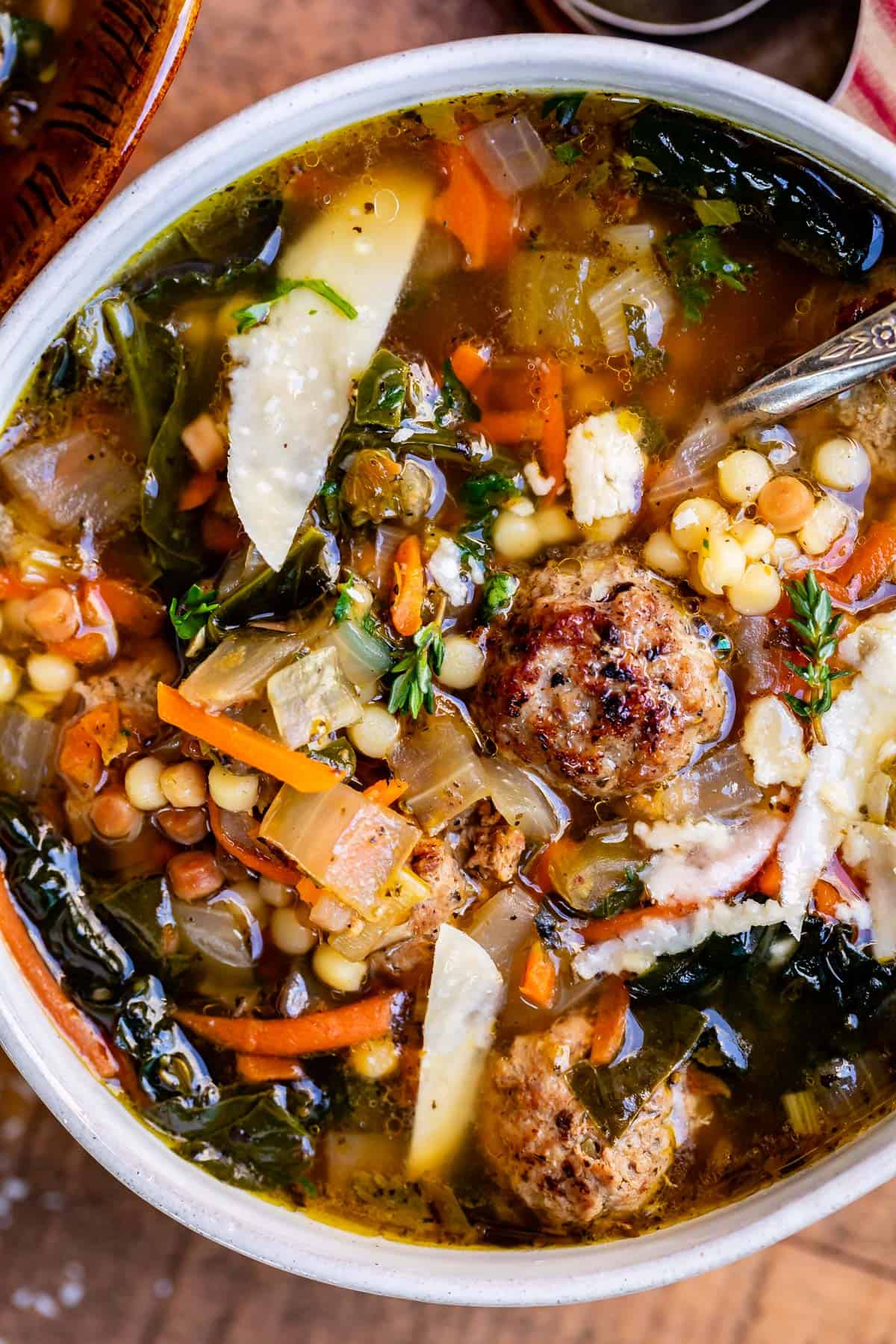 I don't know about you, but I'm about to marry this Italian Wedding Soup recipe. It is PACKED with goodness! The flavorful broth, the juicy meatballs, the tiny pasta, the mountain of healthy greens making you feel like you're probably going to live to 150 year old after eating all this leafy stuff. Make it on the stove or in the slow cooker, easy!
Ingredients
For the meatballs
1/2

pound

ground beef

1/2

pound

ground pork

,

or mild Italian sausage

1

teaspoon

kosher salt

1/4

teaspoon

freshly ground pepper

1

teaspoon

oregano

2

teaspoons

Italian seasoning

1/4

teaspoon

crushed red pepper

1

large

egg

1/2

cup

milk

1 and 1/2

tablespoons

Worcestershire sauce

3/4

cup

Parmesan cheese

,

grated

1/3

cup

Panko bread crumbs

4

cloves

garlic

,

smashed and minced

1/2

large

yellow onion

,

chopped fine, or grated

1

tablsepoon

vegetable oil

,

for frying (I use light olive oil)
For the soup
3

tablespoons

olive oil

1 and 1/2

large

yellow onion

,

chopped

3

cups

celery

,

chopped

1

teaspoon

kosher salt

1

tablespoon

dried oregano

2

teaspoons

Italian seasoning

4

cloves

garlic

,

smashed and minced

1/2

cup

white wine

,

I used cooking wine

2

cups

beef broth*

,

I use Better than Bouillon, see note

12

cups

chicken broth*

,

I use Better than Bouillon, see note

5

large

carrots

,

shredded or chopped

5

sprigs

thyme

,

or 1/2 teaspoon dried thyme

1

bay leaf

1

parmesan rind

,

optional

3

ounces

spinach

,

chopped

3

ounces

dinosaur kale (Lacinato kale)

,

(or any kale) or escarole, chopped

1

cup

acini di pepe pasta,

or fregola, or ditalini, or any tiny pasta
To garnish
fresh parsley

,

chopped, to garnish

parmesan

,

grated, to garnish

freshly cracked pepper

crushed red pepper
Instructions
For the meatballs:
In a large bowl, add all the meatball** ingredients: 1/2 pound ground beef, 1/2 pound ground pork, 1 teaspoon kosher salt, 1/4 teaspoon black pepper, 1 teaspoon oregano, 2 teaspoons Italian seasoning, 1/4 teaspoon crushed red pepper, 1 egg, 1/2 cup milk, 1 and 1/2 tablespoons Worcestershire sauce, 3/4 cup grated parmesan cheese, and 1/3 cup Panko bread crumbs.

You need 4 cloves of garlic and 1/2 yellow onion for the meatballs, plus more for the soup itself. So do yourself a favor and smash and mince 8 cloves of garlic (add half to the meat mixture, set the rest aside.)

Use a food processor or some time and patience with a knife to chop 1/2 yellow onion into tiny pieces. You can also use a cheese grater if you like. You want these pieces of onion to be quite small so that they melt into the tiny meatballs.

While you are already crying, use a knife to chop the remaining 1 and 1/2 onions. These onions don't have to be chopped especially small, they are going in the soup. Set aside.

Once you have the garlic and onion added to the meat mixture, use your hands to mix it all together. I like to use disposable gloves for this task. Using your hands really is the best way to combine meat; a spoon or spatula will never be able to get it as thoroughly mixed, and you will make your meat tough and heavy in your attempts to try.

In a large soup pot (I use my 6 quart Dutch oven) heat 1 tablespoon vegetable oil over medium heat. When it is shimmery, start adding meatballs. Use a 1-inch cookie scoop (or your hands) to shape the dough into tiny meatballs. Roll them between your palms to help them keep their shape while frying.

Add the meatballs to the hot oil one at a time, with plenty of space between each one so that they get nice and browned. Add as many meatballs as you can without having any touch each other.

Cook for about 1-2 minutes. Once browned, use metal tongs to carefully scrape the underside of the meatball and flip it to the other side. Cook for another 1 minute until browned.

Adjust the heat as necessary so they don't burn. You do not need to cook the center of the meatball; it will finish cooking in the soup. You just want nice brown edges.

Remove the browned meatballs to a plate and continue until all the meatballs are done. Add more oil if necessary. If the bottom of your pan turns black, embrace it, it adds flavor. If the oil starts smoking and it smells scorched, you've gone too far. Remove it all, wash the pot, and try again at a lower temperature. We are making our soup in this pot and you don't want that scorched flavor.
Make the soup
Add 3 tablespoons olive oil to whatever grease is leftover in the pot. Turn the heat to medium and add 1 and 1/2 chopped yellow onions, 3 cups chopped celery, 1 teaspoon kosher salt, 1 tablespoon dried oregano, and 2 teaspoons Italian seasoning. Let saute for 5-7 minutes, until the onion is translucent.

Add 4 cloves of minced garlic and cook for 1 minute until fragrant.

Add 1/2 cup white wine and scrape up all the browned bits on the pan. Cook for a couple minutes until the wine is mostly evaporated.

Add 2 cups beef broth and 10 cups chicken broth, see note* (I love to use Better Than Bouillon bases). Turn the heat to high and bring to a boil.

Peel and trim 5 large carrots. Use a food processor or grater to shred the carrots. (You can also just chop them. I love the texture of shredded carrots in soup.) Add the carrots any which way you do them.

Add 5 sprigs of thyme or 1/2 teaspoon dried thyme. Add 1 bay leaf.

Add in 1 parmesan rind, if you have one. It's totally okay if you don't!

Add all the meatballs to the soup. By this point the soup should be at a boil; turn the heat down to medium or medium low to maintain a low simmer.

Let the soup simmer for about 30 minutes.

Meanwhile, prep your greens. Slice the stems off each leaf of kale, then chop. You want about 3 ounces (about 4 cups). This is totally to taste, so feel free to add more or less. Chop 3 ounces spinach (about 2 cups) into bite size pieces.

Add the kale, spinach, and 1 cup acini de pepe pasta to the soup. Continue simmering on medium heat for another 6-10 minutes, until the kale is soft and the pasta is al dente.

(If you know you are going to have leftovers, you might consider boiling the pasta in a separate pot, draining, and adding it to each bowl of soup. The longer leftovers sit, the more the pasta will absorb the broth of your soup. Soggy pasta and broth-less soup would be a tragic outcome indeed.)

Ladle the soup into bowls and top with fresh chopped parsley, grated Parmesan cheese, and cracked black pepper or crushed red pepper. Serve with crusty French bread!
Slow cooker Italian Wedding Soup
Make the meatballs as instructed. Add the meatballs and these ingredients to a 6 quart slow cooker: 1 and 1/2 chopped onions, 3 cups celery, 1 teaspoon kosher salt, 1 tablespoon dried oregano, 2 teaspoons Italian seasoning, 4 cloves garlic, 1/2 cup white wine, 2 cups beef broth, 12 cups chicken broth, 5 sprigs thyme, 1 bay leaf, and 1 parmesan rind (optional).

Cook on low for 8-10 hours, or on high for 4-5 hours. Add 5 shredded carrots, 3 ounces chopped spinach, 3 ounces chopped kale, and 1 cup acini de pepe pasta. Stir, cover, and turn the crock pot to high heat. Cook for another 20-30 minutes until the carrots are tender and the pasta is al dente. Serve with chopped parsley, parmesan, and black pepper or crushed red pepper.
Notes
*I love to use Better Than Bouillon Base for my soups. Use 1 teaspoon base for 1 cup water. So for this soup, I used 2 teaspoons beef base, and 1/4 cup chicken base, and 14 cups water. (3 quarts + 2 cups) I don't mix the base with the water first, I just add the water to the soup and then stir in the base.
**I think it's super annoying to have half a pound of beef and pork leftover. When I make this, I always double all the meatball ingredients and then split the mixed meat in half. Make tiny meatballs for the soup, then use the other half to make regular size meatballs. Bake on a foil-lined baking sheet at 450 for 10-15 minutes until browned. Let cool, then carefully place meatballs in a few ziplocks and freeze. Don't lump them all together or they will freeze in a big mass. You can use these meatballs for any Italian dish, spaghetti and meatballs, Meatballs with Rice and Peas, Raspberry Balsamic meatballs, etc.
Doubled meatball ingredient list:
1 pound ground beef

1 pound ground pork

2 teaspoons kosher salt

1/2 teaspoon black pepper

2 teaspoon oregano

4 teaspoons Italian seasoning

1/2 teaspoon crushed red pepper

2 eggs

1 cup milk

3 tablespoons Worcestershire sauce

1 and 1/2 cups grated parmesan cheese

2/3 cup Panko bread crumbs

1 yellow onion, minced well
8 cloves garlic, smashed and minced
Nutrition
Calories:
313
kcal
|
Carbohydrates:
21
g
|
Protein:
17
g
|
Fat:
18
g
|
Saturated Fat:
6
g
|
Polyunsaturated Fat:
1
g
|
Monounsaturated Fat:
8
g
|
Trans Fat:
0.3
g
|
Cholesterol:
62
mg
|
Sodium:
1787
mg
|
Potassium:
608
mg
|
Fiber:
4
g
|
Sugar:
6
g
|
Vitamin A:
7982
IU
|
Vitamin C:
18
mg
|
Calcium:
226
mg
|
Iron:
3
mg