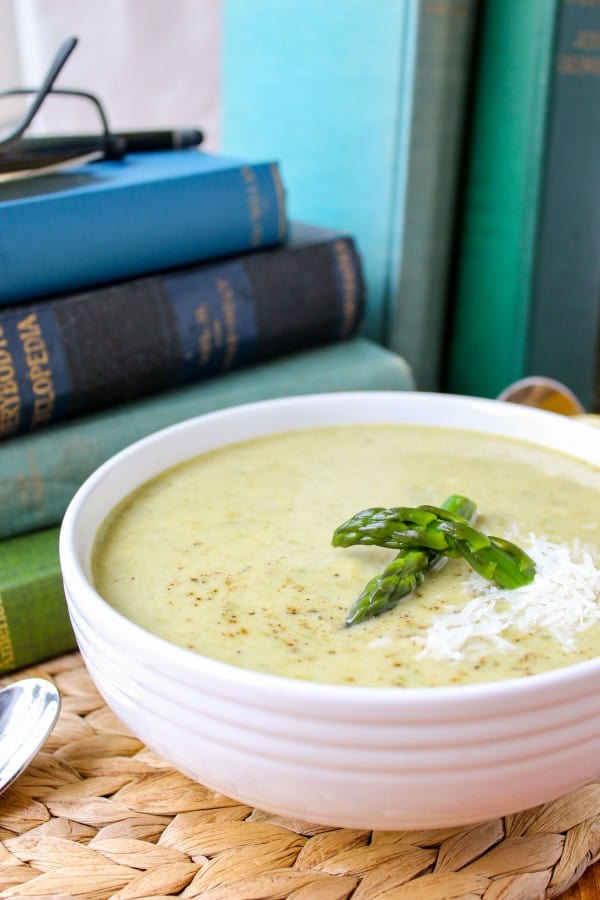 Do you guys actually follow recipes or do you use them more as cooking suggestions?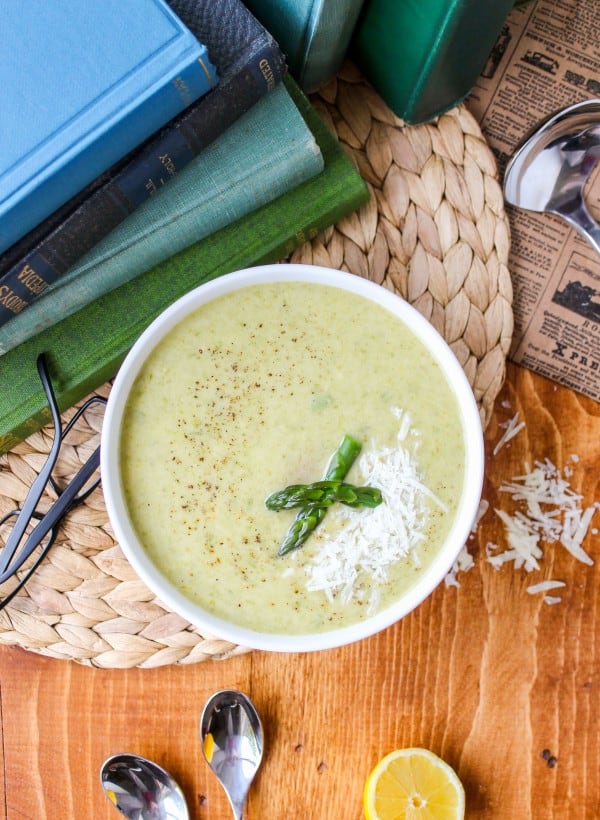 My sister Laura told me I should try out her Simple Asparagus Soup recipe when I was visiting her in Texas a couple months ago. So I took a quick shot on my phone: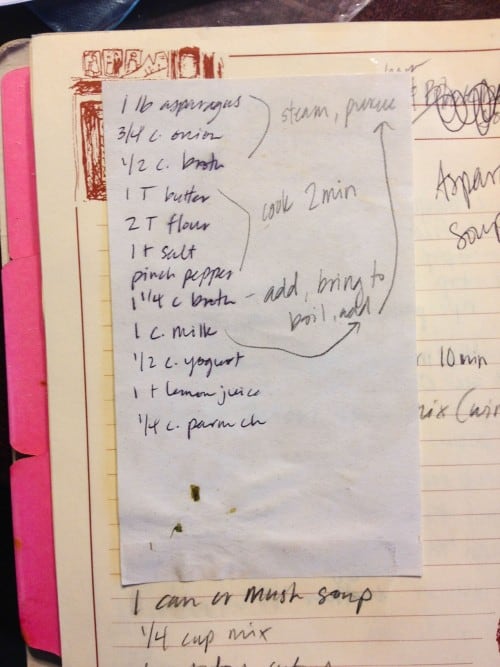 I thought I would be able to figure out the method when it came time to make the soup. ("I've totally got this." Famous last words.) But no matter how long I stared at that tiny scrap of paper it just didn't make sense. Steam the onions? In broth? While I make a roux in another pan? What??
I finally broke down and called Laura (while simultaneously photographing asparagus, which resulted in this). She walked me through her recipe. Kind of. She kept saying things like, "What I probably did was…" and "I definitely didn't steam anything."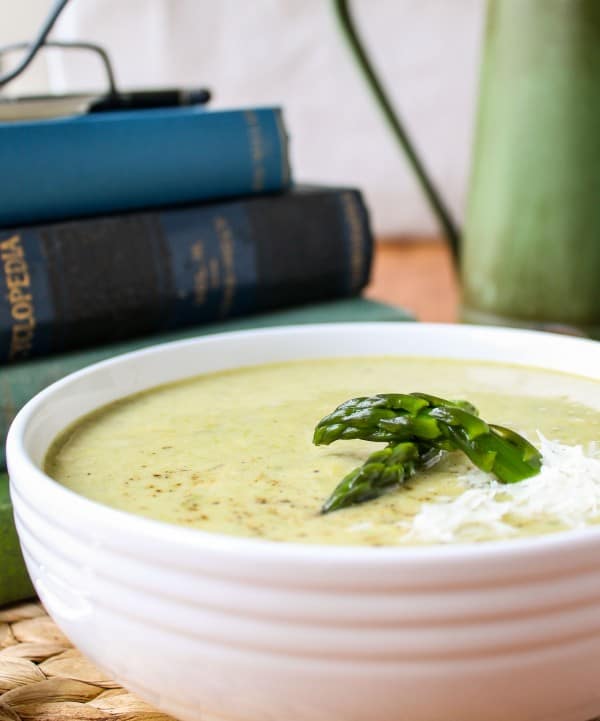 She told me that her husband is always trying to throw away random scraps of paper he finds around the house, but she has to stop him because they are actually recipes. She says she only needs to write down the part that's not in her head. Laura read in Cooking Light recently about different kinds of cooks, and realized that she is firmly entrenched in the Approximator category: adds ingredients willy nilly according to taste.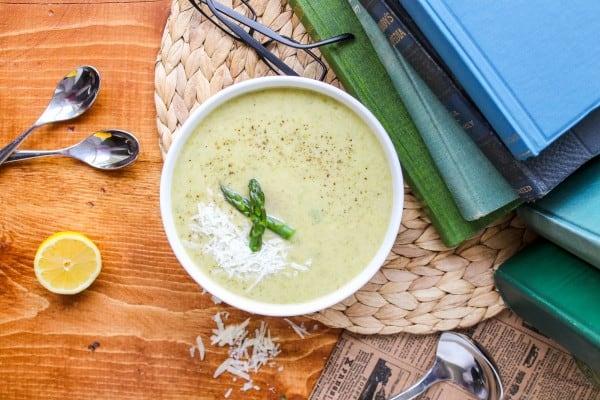 This is so NOT me. I tend to stick to recipes (at least the first time around.) I think I only have one recipe memorized (and that's because I make this Butterscotch Oatmeal for Charlotte every. single. morning.) I'm actually pretty bad at winging it in the kitchen. Why do you think I started a food blog? How else am I supposed to remember what to do?? So really, I want to know, do you guys usually follow recipes or not so much?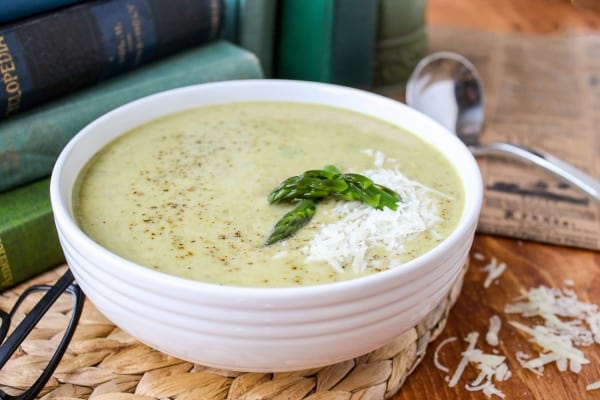 This Simple Asparagus Soup has a really unique flavor. I absolutely love it. As the name suggests, there's not much to it, but the asparagus itself really packs a punch, so you don't need too much else going on. I love that it calls for yogurt instead of cream. You save some calories but don't have to sacrifice flavor. Oh, did I mention this comes together in 30 minutes? #win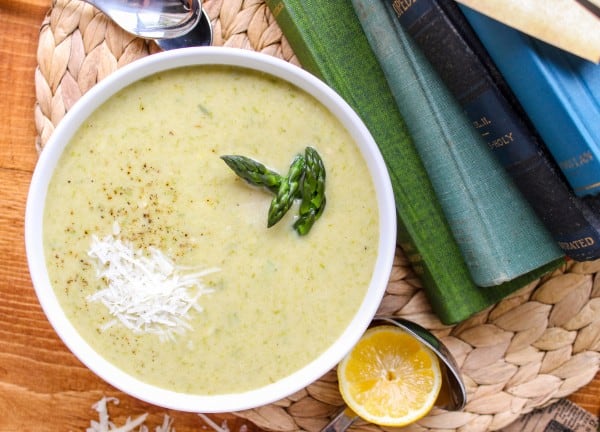 P.S. If you're wondering about the books in the photos today, it's because I joined a food photography challenge group. The first challenge was to tell a story with your photo, and include a non-food-related item. I got the non-food-item part, but I'm not really sure what the story is here. Peruse an ancient encyclopedia while feasting on Asparagus Soup? Relax with your husband's stolen glasses while you thumb through 'Song and Garden Birds of North America,' and let your soup get cold? Clearly I need to work on my artsy BS skills. 
 Do you guys give up? Or are you thirsty for more?
Facebook | Pinterest | Instagram | Twitter

Simple Asparagus Soup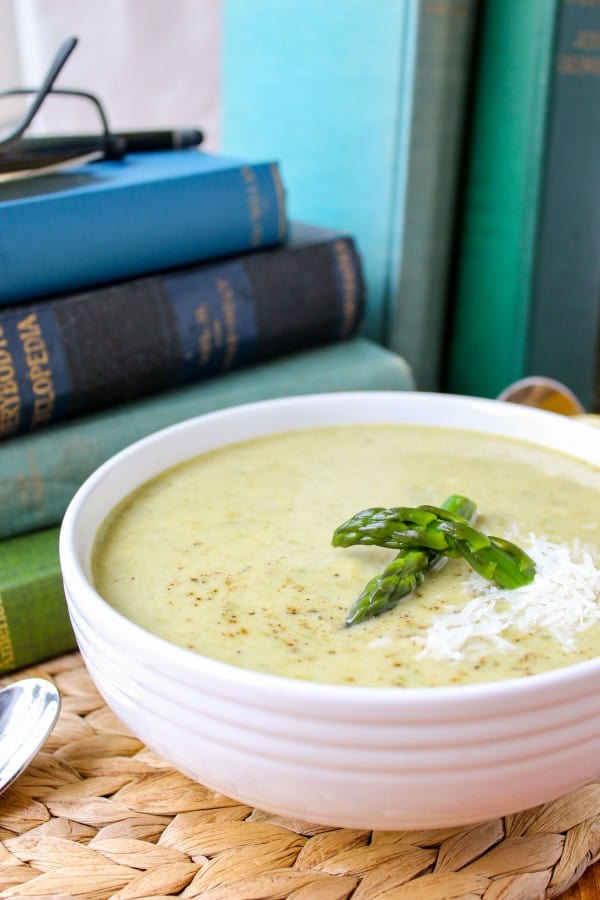 This Simple Asparagus Soup is made with yogurt instead of cream and comes together in 30 minutes. Spring veggies for the win!
Ingredients
1

tablespoon

butter

3/4

cup

onion

,

chopped

1

pound

asparagus

1

tablespoon

butter

2

tablespoons

flour

1/2

teaspoon

salt

pinch

pepper

1 & 3/4

cups

chicken or vegetable broth

1

cup

milk

1/2

cup

plain yogurt

,

I used nonfat

1

teaspoon

lemon juice

1/4

cup

Parmesan cheese

,

plus more for garnish

salt and pepper

,

to taste
Instructions
Prepare the asparagus: snap off the woody ends. Chop off the tips and set aside. Chop the remainder into 1/4 inch pieces. Set aside.

In a large pot, melt the butter over medium heat. Add the onions and saute for 2 minutes. Add the asparagus (but not the tips) and continue to saute until the asparagus and onion are tender, about 3-5 minutes.

In a small bowl, combine flour, salt, and pepper.

Use a wooden spoon to move the veggies to on side of the pot. Melt 1 tablespoon butter on the bottom of the pot. When it is hot, add the flour mixture and whisk it together to make a paste. Try to keep the veggies on the other side of the pan. Cook the mixture for about a minute, then add the broth in small increments, whisking between each addition. Whisk out any lumps. Add the milk and combine. (See photos.)

Bring the mixture to a boil, then reduce to a simmer. Simmer for about 10 minutes.

Meanwhile in a small saucepan, add 1 1/2 cups water and 1/2 teaspoon salt. Bring to a boil over high heat. When it is at a rolling boil, add the reserved asparagus tips. Cover and cook for 2 minutes. Immediately drain in a colander and rinse with cold water to stop the cooking process. Set aside.

Turn off the heat when the soup is done simmering. Puree the soup with an immersion blender. (Or use a regular blender. Do it in small batches and leave the spout on top open to allow steam to escape. Hold a towel over it to catch any splashes. Return the soup to the pot.)

Add the yogurt, lemon juice, and Parmesan. Add salt and pepper to taste. If the soup has cooled, heat on high, stirring until the soup is as hot as you like. Serve with the reserved asparagus tips and shredded Parmesan.
Notes
This is not a big batch of soup. You can serve it to 4 people if you have a couple other side dishes, like bread and salad. Otherwise it's probably more like 2-3 servings.
Source: my awesome sister Laura
Nutrition
Serving:
1
bowl
|
Calories:
246
kcal
|
Carbohydrates:
20
g
|
Protein:
12
g
|
Fat:
14
g
|
Saturated Fat:
9
g
|
Polyunsaturated Fat:
1
g
|
Monounsaturated Fat:
4
g
|
Trans Fat:
1
g
|
Cholesterol:
39
mg
|
Sodium:
1161
mg
|
Potassium:
661
mg
|
Fiber:
4
g
|
Sugar:
11
g
|
Vitamin A:
1617
IU
|
Vitamin C:
22
mg
|
Calcium:
297
mg
|
Iron:
4
mg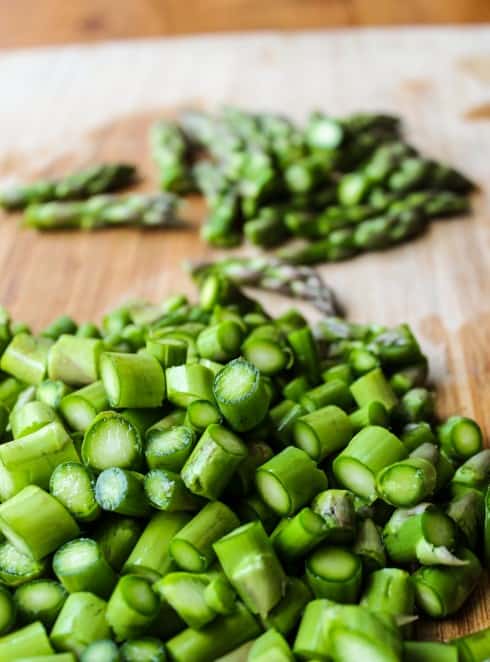 Chop up that asparagus. Reserve the tips.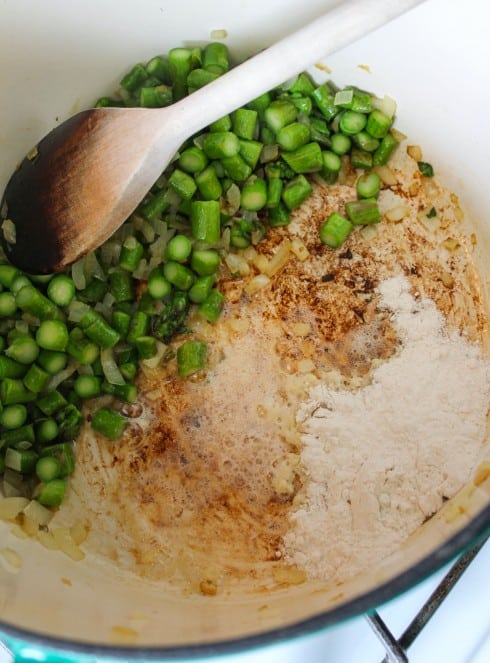 A real chef would probably scoff at this "push the veggies aside" method, but it works for me and saves me another pan to wash, so I'm sticking with it. If you end up with some flour lumps, don't sweat it too much. You're blending it anyway. (Said no chef ever. Sorry guys, it's the charlatan coming through.)