This is my favorite recipe for Creamy Turkey Wild Rice Soup! Use your leftover turkey and herbs from Thanksgiving to make a satisfying and healthy soup that is just what you need after all the carb loading you did on Thursday. (I know you.) The hint of lemon and the shredded carrots make this soup really unique and flavorful! Make it in the slow cooker or on the stove. Originally posted November 21, 2019.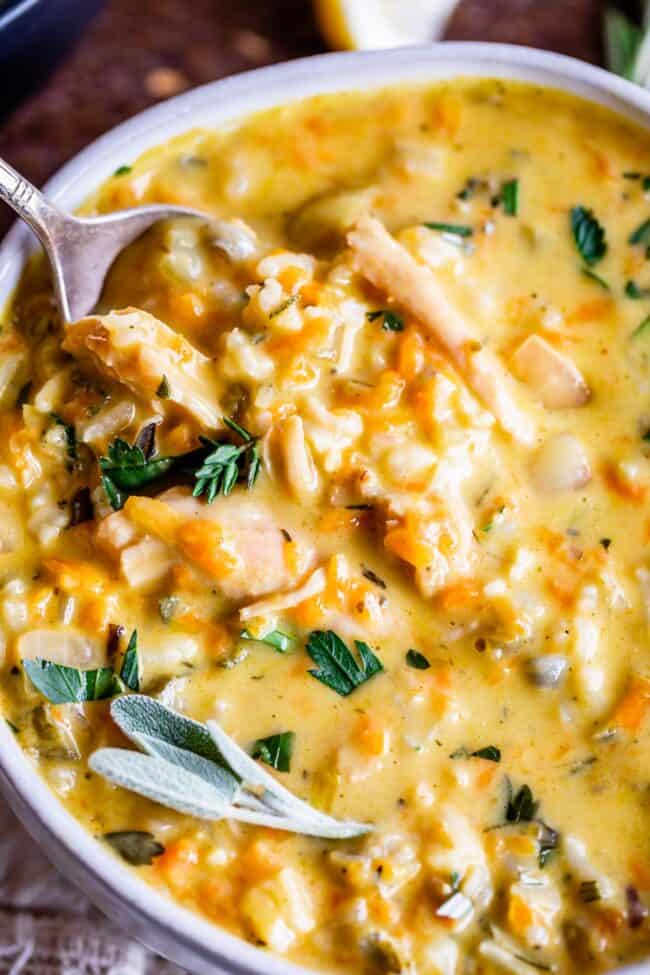 The other day I was out on my front porch taking pictures of this Turkey Wild Rice Soup, getting an overhead shot by standing on a rickety old wicker chair that has to be at least an eternity old.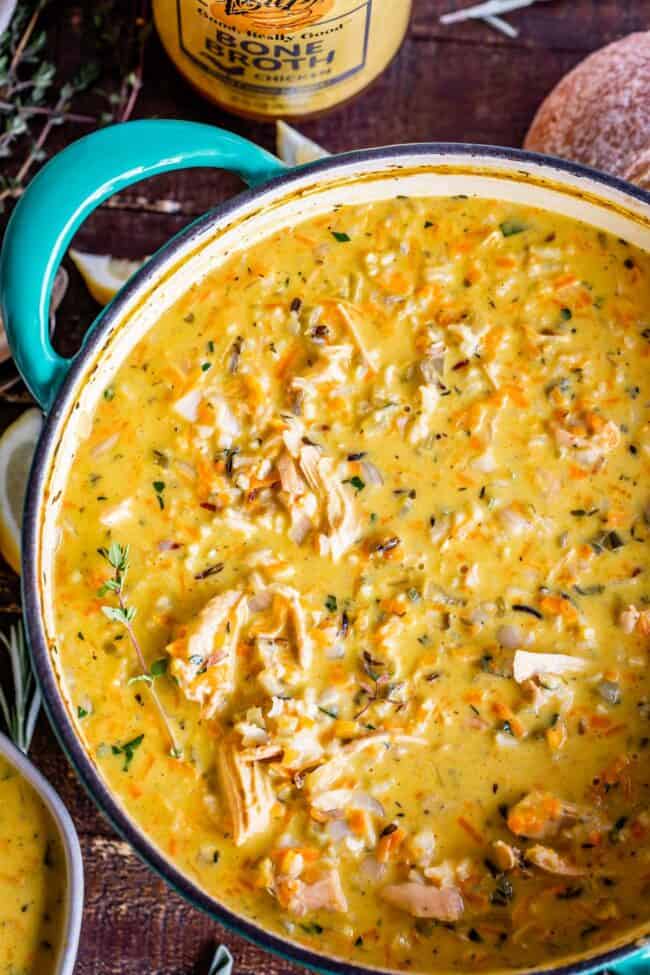 It's the kind of chair that has a metal frame, so even though the seat part is completely disintegrating, if you stand on the metal frame you are good to go. I mean, if you are careful. (Come over to my house sometime. I'm sure you will feel really welcomed when I offer you a chair that has actual holes in it. Don't worry I won't call you fat when you sit down and it breaks.)
Well apparently this made my neighbors nervous. I don't know why seeing an 8-month-pregnant woman standing on a chair that is clearly falling apart, hunched over and wielding a giant camera is cause for concern, but my friends Tyrone and Alex came rushing over. Alex even went to his garage to get me a stool.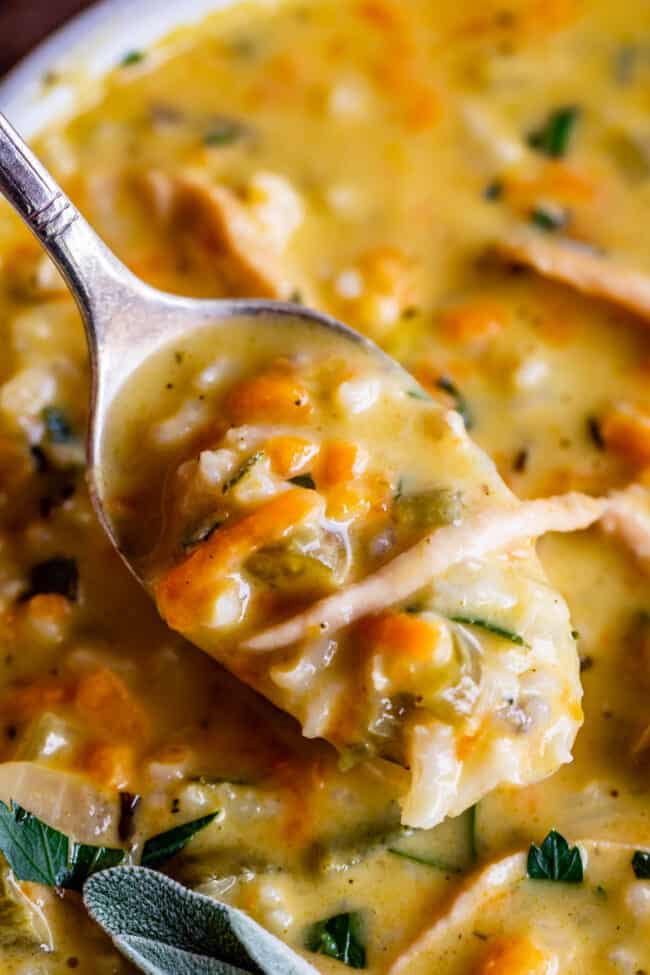 Well there's really no way to get overhead shots without standing on something, and the stool was even sketchier than the chair. So they just hovered over me while I finished up my photos, me griping at them when they got too close and blocked my light.
Chivalry is not dead my friends. Neighbors really do care about each other. Also, move into a court. I've never gotten to know my neighbors better than in this house, and I think it's because you're basically in a giant fishbowl, staring at the houses across from you. I love it. It's nice to know people still watch out for each other!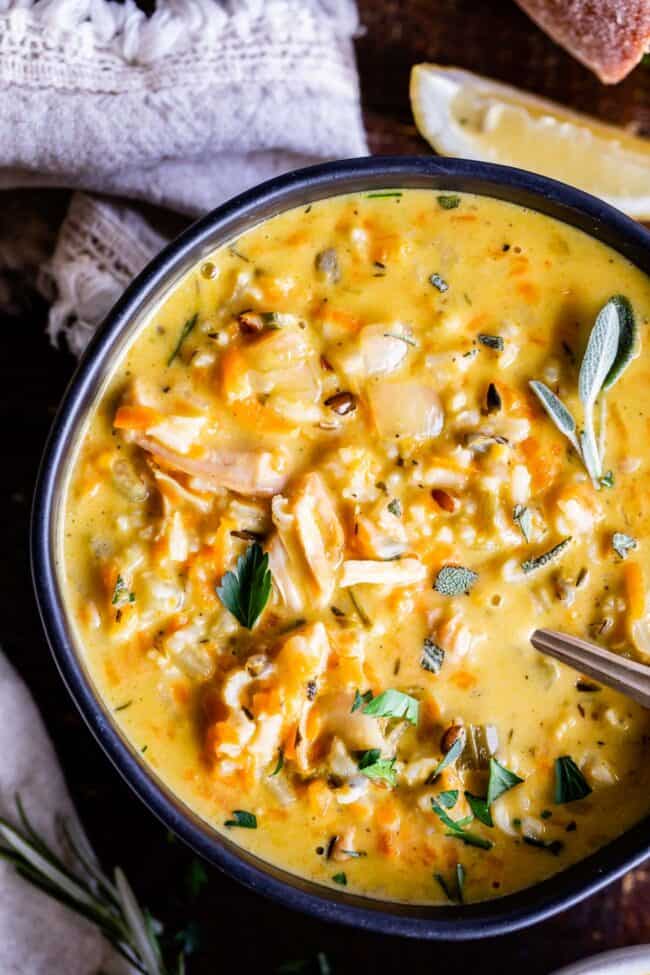 We are T minus SEVEN days to the big T my friends! Thanksgiving is just one week away, are you ready? Have you got your menu planned? We all know that leftovers are the best part of this holiday and I'm SO ready. Make this Turkey Wild Rice Soup when the potatoes and gravy are gone and you are left with a mountain of sad lonely turkey.
Zoup Soup
Today's post is sponsored by Zoup! Good, Really Good Broth, and I couldn't be more excited about it! Their broths are SO delicious, and as their tagline says, are good enough to drink.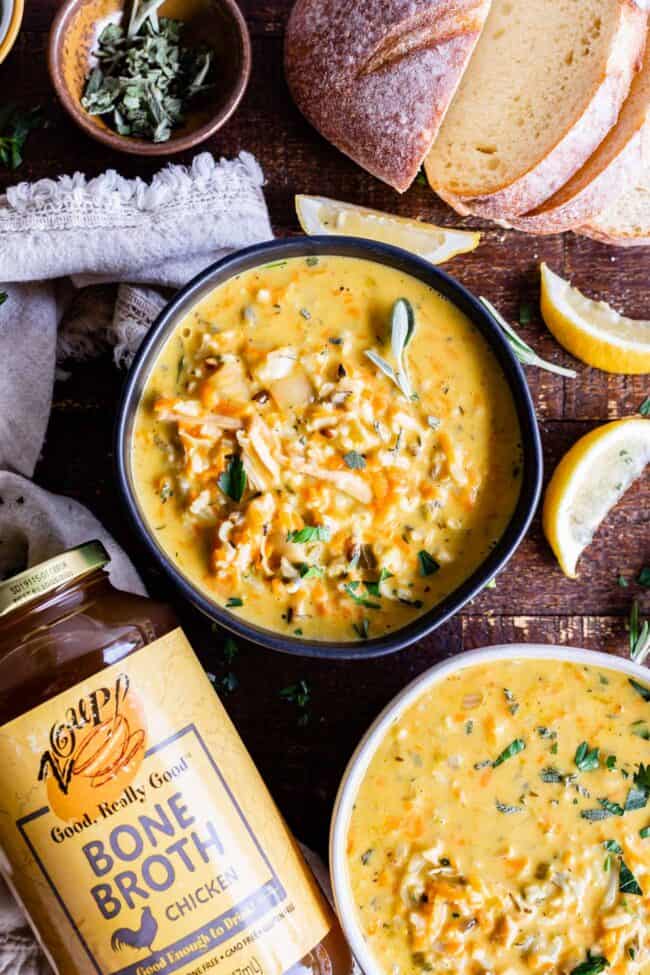 Their broths are made in small batches and are low-calorie, perfect for a post Thanksgiving detox from carbs. (My brother was over the other day and saw all the jars on the counter. He was impressed that there are only 7 calories per serving. Awesome right?)
I used Zoup's Chicken Broth for today's Turkey Wild Rice Soup, but it's also really good with Homemade Turkey Stock made from your leftover carcass. Here is everything you need!
Creamy Turkey Soup Ingredients
Carrots
Leftover cooked turkey, a mixture of dark and white meat
Butter
Celery
Onions
Kosher salt
Dried poultry seasoning
Garlic cloves
4 jars chicken broth or homemade turkey broth
Bay leaf
Fresh thyme
Quick-cooking wild rice blend.
Heavy cream
Large lemon
Fresh rosemary
Fresh sage
Fresh parsley
Salt and pepper
All purpose flour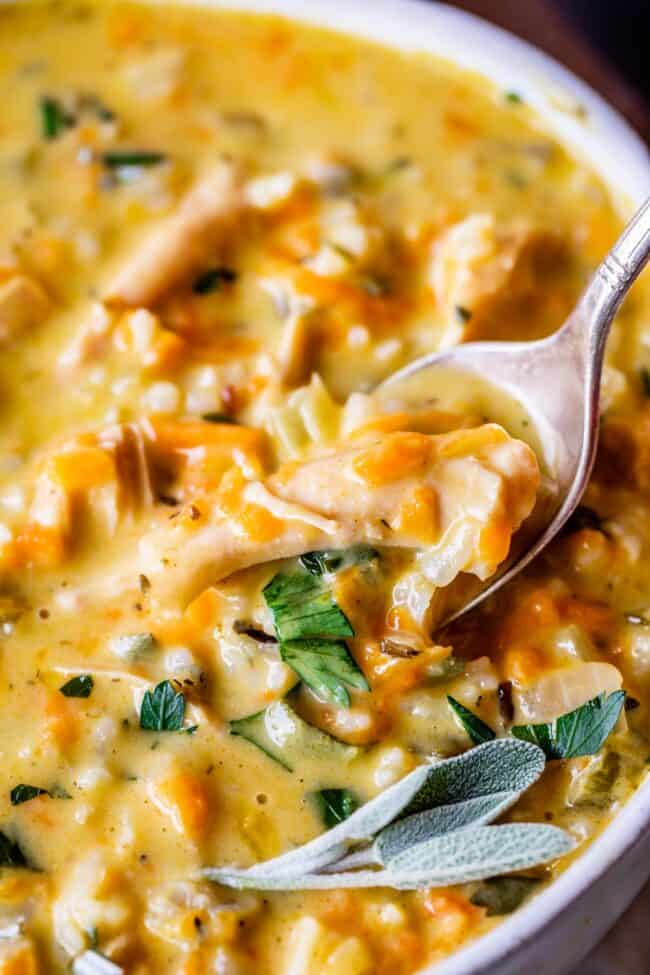 How to make Cream of Turkey Soup with Wild Rice
Here's a quick overview and then I'll go into more detail with photos below!
Saute celery and onion in butter
Add flour to thicken
Add broth or stock
Add the remaining veggies, and later the cooked turkey
Add the wild rice
Add cream, lemon juice, and fresh herbs
Easy right? I'm in LOVE with this soup. It has tons of flavor thanks to an excellent broth, fresh herbs, and a splash of lemon at the end that really brightens up the soup.

First we start out with a heck ton of celery. I don't love raw celery, but I'm obsessed with it in soup. I chop it from the leaf end to get all that flavor in there. Dice up an onion and garlic and saute it all til soft. Add some flour to thicken up the soup and make it extra thick and rich.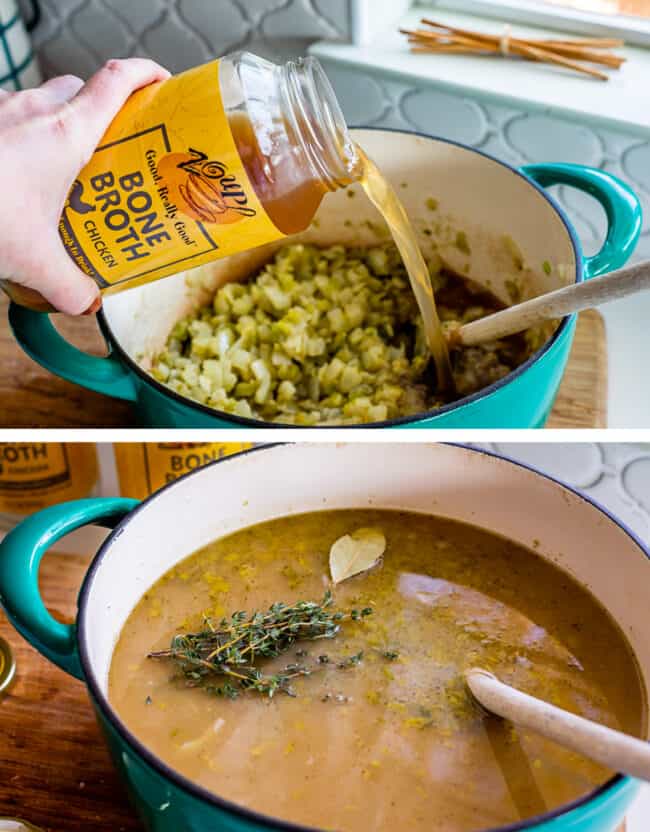 Pour in your chicken bone broth and fresh thyme. Thyme is the only fresh herb I like to add before the very end. Cooking the whole stems makes the tiny leaves fall right off, and then you just have to fish out the stems later. So much easier than chopping it beforehand!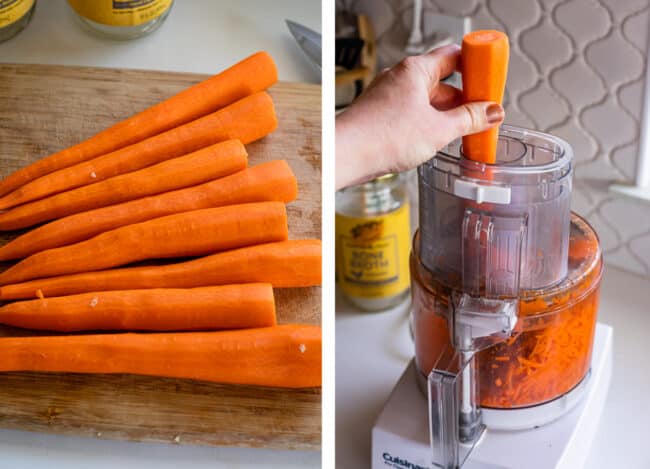 I like to shred my carrots for this soup. I love the texture that it adds, and that I can get all the flavors of the soup in every bite. It's the recipe step that sets apart Eric's Nana's recipe for Beef Barley Soup, which is one of the most popular recipes on my blog.

And here's the wild rice I chose. This is a blend of several different kinds of rice. You can use straight up wild rice if you want, or any blend that you find. You may have to adjust the cooking times. Make sure to check the cook times on the packaging of the rice you choose. See notes for more details.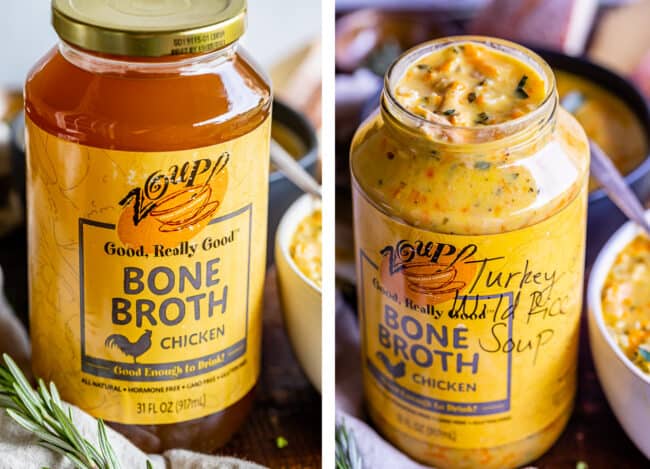 The Zoup broths come in these nice quart-size glass jars. I put some of the finished soup right back into the empty jars and gave it to a friend. This soup makes a HUGE batch, so it's perfect for gifting to a family in need or freezing half for a rainy day.
How to make Turkey and Rice Soup from leftovers
First things first, you are going to need to use your turkey carcass to make a rich and savory stock for your soup. It's as easy as shoving the carcass in a big pot and simmering for a while with some veggies you probably already have from all your Thanksgiving recipes. Here is the recipe for Homemade Turkey Broth! Once you have your broth, start with making today's recipe as usual.
The nice thing about soup is that once you know the basics, you can basically do whatever you want with the flavors. Starting out with a good, flavorful broth is essential of course. But if you are stumped with what to do with your leftover produce from Thanksgiving, soup is the answer.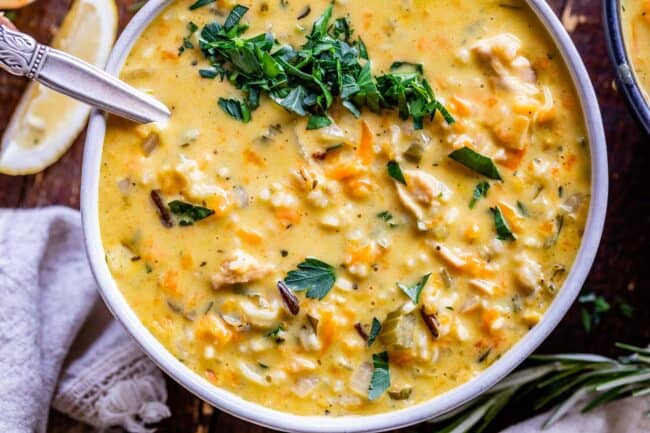 Even the herbs are adjustable. Parsley, sage, rosemary, and thyme are all called for in this recipe, but you can adjust this to what you have. (If you only have sage, for example, just add that. It's still going to be a great soup.) If you want to replace some of the carrots with mushrooms, go for it. (Saute them with the onions.)
Can the turkey be substituted for chicken in this recipe?
Yes totally! Basically any turkey soup can be turned into chicken soup, and vice versa. Mixing is okay too; add a little rotisserie chicken to your soup if you're low on leftover turkey.
Can other vegetables be added to Turkey Wild Rice Soup?
I'm feeling an asparagus, kale, or potato vibe as I type this, myself. Or, if you have cooked veggies that you served at Thanksgiving, and the flavors would be good in this soup, toss them in at the end with the lemon. The possibilities are endless!
Do you cook rice before adding it to soup?
No! You don't want to cook your rice to mush! If you happen to have some cooked rice on hand you'd like to use up, make the soup without rice. Stir in the cooked rice until it is warmed though, just before serving.
Should I soak wild rice before cooking?
Nope. Just toss in the rice and get 'er done!
Happy Thanksgiving prep everyone! If you need menu inspiration, check out all my Thanksgiving recipes here. There are several pages, be sure to click through all of them to see older recipes.
More soup and turkey recipes you are going to love!
This post is sponsored by Zoup! Good, Really Good® Broth, but all opinions are my own of course! Thanks for supporting the amazing brands that keep The Food Charlatan chugging along.
Facebook | Pinterest | Instagram

Creamy Turkey Wild Rice Soup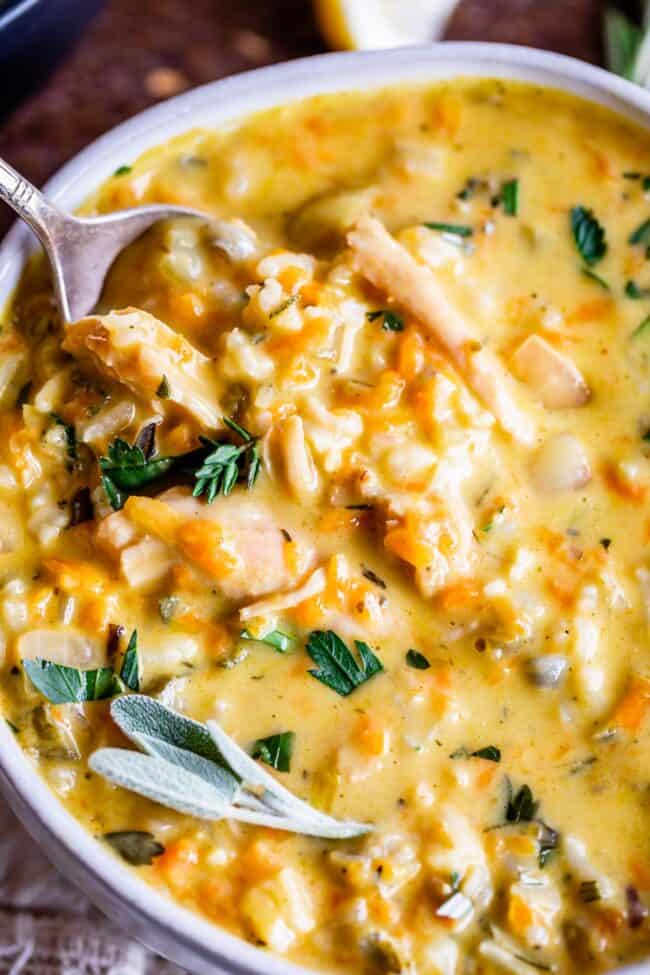 This is my favorite recipe for Creamy Turkey Wild Rice Soup! Use your leftover turkey and herbs from Thanksgiving to make a satisfying and healthy soup that is just what you need after all the carb loading you did on Thursday. (I know you.) The hint of lemon and the shredded carrots make this soup really unique and flavorful!
Ingredients
1/2

cup

butter

,

(1 stick)

3

cups

celery

,

chopped

2

large

onions

,

chopped

1

teaspoon

kosher salt

1

teaspoon

dried poultry seasoning

4

cloves

garlic

,

smashed and minced

1/2

cup

all purpose flour

4 (31-oz)

jars

Zoup! Chicken Bone Broth

,

(12 cups)

1

bay leaf

5

sprigs

fresh thyme

8

large

carrots

,

shredded

4

cups

leftover cooked turkey

,

a mixture of dark and white meat

1 & 1/2

cups

quick-cooking wild rice blend*

1 & 1/2

cups

cream

juice from 1 large lemon (1/4 cup)

,

or to taste

1

teaspoon

fresh rosemary

,

chopped

1

tablespoon

fresh sage

,

chopped

2

tablespoons

fresh parsley

,

chopped

salt and pepper

,

to taste

more fresh herbs

,

to garnish
Instructions
In a very large stock pot, melt 1/2 cup butter over medium heat.

Chop 3 cups celery. I used almost a whole medium head of celery, including the leaves at the end. (They add great flavor!) Instead of pulling off individual stalks, just start chopping the whole head from the leafed end. See photos.

Chop 2 large onions. Add celery and onions to the pot with the melted butter.

Add 1 teaspoon kosher salt and 1 teaspoon poultry seasoning.

Saute for 13-14 minutes on medium heat, stirring occasionally until the onions are translucent.

Add 4 cloves of minced garlic and stir for about 1 minute, until the garlic is fragrant.

Sprinkle the vegetables with 1/2 cup flour and stir for 1 more minute.

SLOWLY add 12 cups

Zoup! Chicken Bone Broth

, stirring the whole time. You don't want lumps of flour so make sure to stir up those vegetables.

Add 5 sprigs of thyme and 1 bay leaf.

Peel 8 medium to large carrots, and cut off the ends. Use a food processor to shred the carrots. You can do this using a cheese grater if you don't have a food processor. You can also chop the carrots into rounds if you like. But shredded carrots is what gives this soup the texture I love, so keep that in mind. (Shredded carrots are what made Nana's

Beef Barley Soup

internet famous.) It's going to taste good either way, no matter how you prepare your carrots.

Add all the shredded carrots and turn the heat to high. Cover with a lid and bring to a boil. Don't walk away and let it boil over!

When the soup is boiling, add 4 cups leftover cooked turkey meat. I like a mixture of dark and white meat, but you can use whatever you have. (You can also use cooked chicken!) Lower the heat to a simmer, somewhere between low and medium low depending on your stove. There should be slow bubbles happening but nothing too active. Simmer for about 30 minutes, until the carrots are tender.

Add 1 and 1/2 cups quick cooking wild rice blend* (see note!) and bring to a boil over high heat. Once it boils, turn the heat back down and simmer for another 15-30 minutes, until your rice is tender.

When the rice is cooked, turn the heat all the way to low and stir in 1 and 1/2 cups cream.

Stir in 1/4 cup lemon juice. This gives the soup a bright and lemony flavor, so if you are not into that, start with 2 tablespoons and add more from there.

Use a sharp knife to chop 1 teaspoon rosemary, 1 tablespoon sage, and 2 tablespoons parsley. You can adjust these amounts to taste. Stir the herbs into the soup and turn off the heat.

Add salt and pepper to taste. Don't skip this step! I added at least 1 more teaspoon salt, but this will depend on how salty your leftovers were.

Don't forget to remove the thyme stems and bay leaf.

Serve with fresh herbs sprinkled on top and another drizzle of cream, if you want.

This makes a really big batch of soup! Soup freezes beautifully, so I put half in a ziplock and am saving it for a rainy day. I also put some of the finished soup back into one of the Zoup broth jars, which are almost exactly 1 quart, and gave it to a friend.
Slow Cooker Instructions
Follow instructions through step 7 (sprinkling on the flour), except you can use a large skillet to cook the onion and celery (instead of a large stock pot.)

Slowly pour in about 3-4 cups of broth, stirring the whole time so that your flour doesn't get lumpy. Transfer the mixture to a large crock pot (at least 6 quarts).

Add all the remaining broth, the bay leaf, and 5 sprigs of thyme.

Cook on low for about 6 hours, or on high for 3 hours.

Add the shredded carrots and turkey, and cook on low for another hour.

Add the wild rice and cook for another 30-60 minutes, until the rice is tender.

Stir in the cream, lemon juice, and all the fresh herbs. Season with salt and pepper. Put the lid back on to warm it back up for a few minutes, if necessary, otherwise serve immediately.
Notes
*I used a wild rice blend that included long grain white rice, wild rice, brown rice, and Thai rice. You can buy whatever kind you want, but be sure to check the cooking instructions on the packaging to see what the cook times say. Quick-cooking wild rice blends usually take about 20 minutes to cook. If you choose to use all wild rice (which you totally can) just be aware that it will take about 45-50 minutes to get the rice softened.
You can make this soup using cooked chicken instead of turkey!
Nutrition
Serving:
1
g
|
Calories:
394
kcal
|
Carbohydrates:
22
g
|
Protein:
22
g
|
Fat:
25
g
|
Saturated Fat:
15
g
|
Polyunsaturated Fat:
2
g
|
Monounsaturated Fat:
7
g
|
Trans Fat:
1
g
|
Cholesterol:
102
mg
|
Sodium:
550
mg
|
Potassium:
480
mg
|
Fiber:
3
g
|
Sugar:
5
g
|
Vitamin A:
10694
IU
|
Vitamin C:
11
mg
|
Calcium:
82
mg
|
Iron:
1
mg