We all know the best thing about Olive Garden is their awesome soup and salad deal. For just a few dollars you can get unlimited breadsticks. Oops, I mean unlimited soup and salad. (We all know the breadsticks are where it's at though.)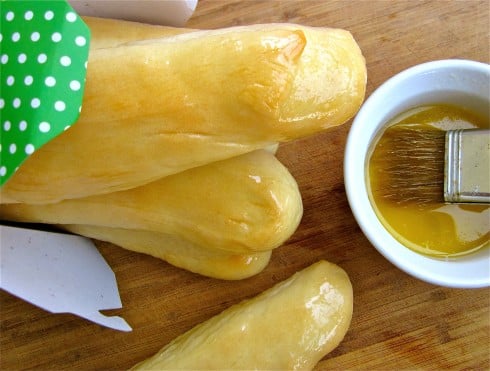 I had a friend who used to work at Olive Garden. On her first day she accidentally dumped an entire glass of soda on a customer's lap. Times like these that I'm grateful I never worked in food service. That is so me. I prefer to dump food on people in the comfort of my own home.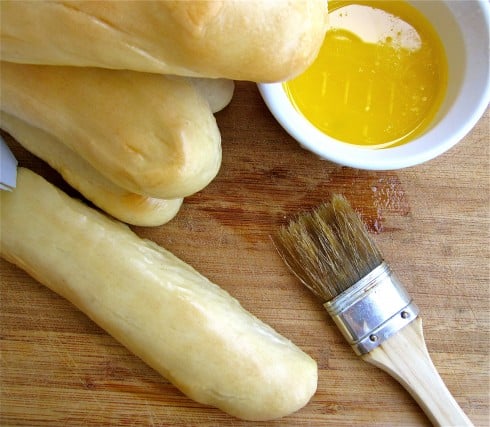 This recipe is a pretty good knockoff. Breadsticks go with pretty much anything, but I like to eat these with Sausage, Potato and Kale Soup, which is similar to Olive Garden's Zuppa Toscana.

Olive Garden Breadsticks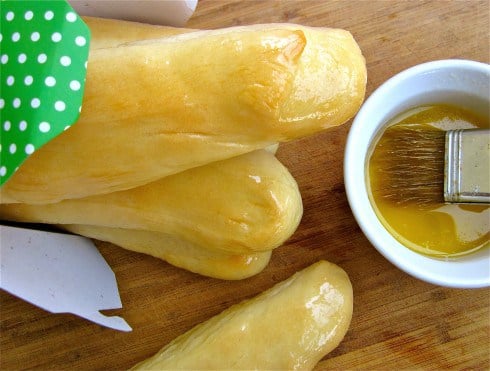 This olive garden breadstick recipe is a pretty good knockoff. I like to eat these with Sausage, Potato and Kale Soup.
Ingredients
For the dough
1 & 1/2

cups

warm water

2

tablespoons

sugar

1

tablespoon

yeast

1

tablespoon

salt

2

tablespoons

soft butter

4-5

cups

all purpose flour
For the topping
3

tablespoons

butter

,

melted

sea salt

1

teaspoon

garlic powder
Instructions
For the dough, pour the water into a stand mixer with the sugar and yeast, and let that sit and froth for about 10 minutes. Add salt, butter, and 2 cups of flour. Mix the dough on low. Using the dough hook, add the rest of the flour a half cup at a time, until dough scrapes the sides of the bowl clean. Mix the dough about 5 minutes on medium speed, until it is soft and easy to work with.

Let the dough rest in the bowl (covered) until doubled in size, about 1 hour. Preheat the oven to 170 degrees. Roll the dough out into a long log, spray a knife with cooking spray and cut the dough into 12-14 pieces. Roll those pieces into about 6 inch long snakes. Spray 2 large cookie sheets with cooking spray, and lay the breadsticks out leaving about 2 inches between each one.

Place them in the oven and let them rise for about 15 minutes, or until doubled in size. (If you are not in a hurry, you could let them sit at room temperature until they are doubled in size and then proceed with the baking step.)

Melt 3 tablespoons of butter in a bowl. Once risen, brush breadsticks with about half of the melted butter and sprinkle them liberally with salt. Preheat the oven to 400 degrees and bake them for 12-14 minutes or until golden brown.

While they are baking add 1 teaspoon garlic powder to the remaining butter (about 1 and 1/2 tablsepoons). When the breadsticks are golden brown, remove them from the oven and brush them with the butter/garlic mixture.
Notes
Source: a blog called Readable Eatables, which is no longer active
Nutrition
Serving:
1
g
|
Calories:
203
kcal
|
Carbohydrates:
34
g
|
Protein:
5
g
|
Fat:
5
g
|
Saturated Fat:
3
g
|
Polyunsaturated Fat:
1
g
|
Monounsaturated Fat:
1
g
|
Trans Fat:
1
g
|
Cholesterol:
13
mg
|
Sodium:
629
mg
|
Potassium:
52
mg
|
Fiber:
1
g
|
Sugar:
2
g
|
Vitamin A:
146
IU
|
Vitamin C:
1
mg
|
Calcium:
9
mg
|
Iron:
2
mg