Grapefruit, Kale & Hearts of Palm Salad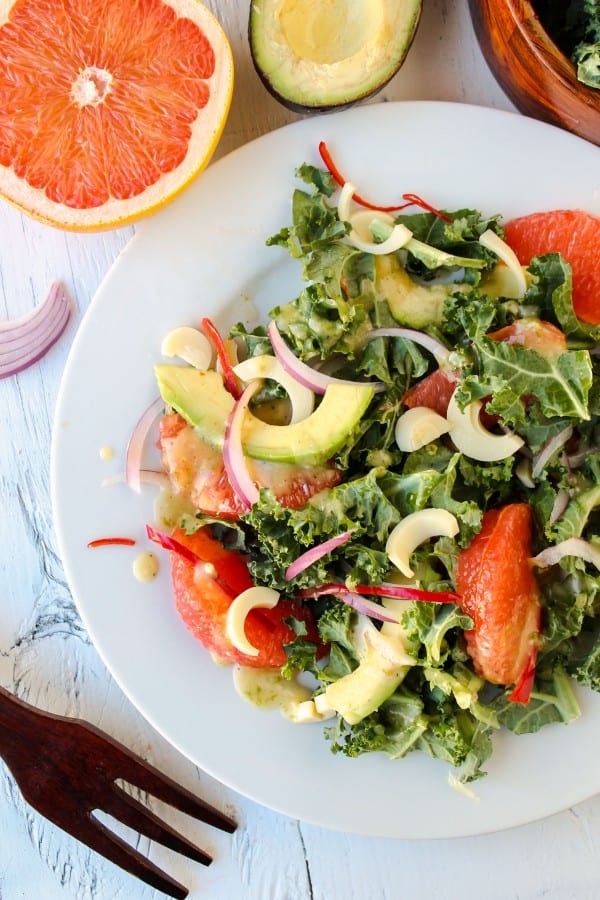 I totally have a weak stomach when it comes to hearing about other people's injuries. I love watching the Olympics–I am a HUGE sucker for ice dancing, no shame–but I seriously could do without the commentary detailing the torn ACLs and fractured spines. I just want to watch tiny doll-like women prance around in sequins. Without hearing about how they literally just snapped in half four months ago but look, here they are competing. Is that too much to ask?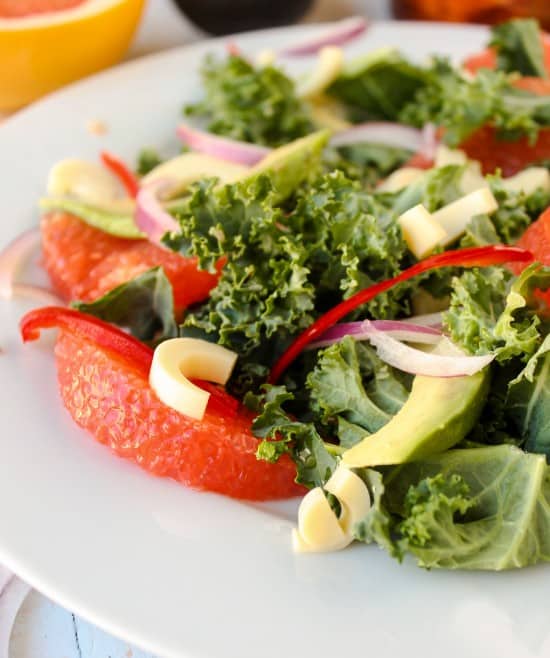 Can you tell I was the little kid who was always put on defense in soccer because I was (not-so) secretly afraid of bruising my shins? I did cross-country later in high school because I knew I wouldn't have to touch anybody. What a wuss. 
My fear of injury is real, but most of the time it's a weak-sauce cover for my complete lack of athletic ability. No, really. Eric congratulates me when he tosses me the keys or the phone across the room and I actually catch it. This is of course after he bounces it in his hand a couple times in my direction giving me that look, like, You can do this, you're a big girl, and I cringe and cower because dropped phones cost money and keys are pokey and my hands are soft, okay?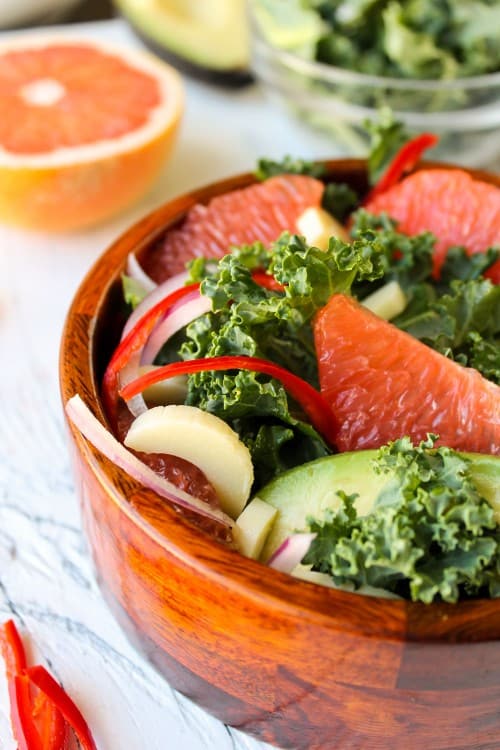 Speaking of 3-year-olds, we just had Charlotte's birthday party this weekend. It was a raging success, featuring fruit-loop necklaces, beach balls, and cheesecake parfaits. I was having a hard time coming up with a theme. As the day of the party drew nearer and nearer and I still had no clue what I was going to do, I told Eric my woes and he just gave me this you-are-insane look and said, "Theme? The theme is birthday. Quit freaking out."
Clearly he's never been on Pinterest.
Do you guys get any cooking magazines? Which ones are your favorites? I get Cooking Light, which I have a love-hate relationship with. They're always trying to health-ify desserts, and that's just not my thing. But their savory dishes can be pretty killer. (Except don't make their butternut-squash-kale lasagna. It's gross.)
This kale salad, on the other hand, was a winner. Eric saw the recipe and begged me to make it. Whenever I ask him what he wants me to make I usually get a shrug and a "spaghetti," so since he showed a lot of interest in this I wanted to make it. Plus my parents just dropped off about 5,000 grapefruits from their tree, so it worked out.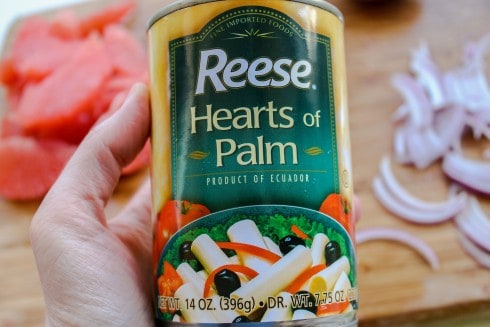 Have you tried hearts of palm?  I had never had it before. It has a briny, nutty taste, similar to artichoke hearts. The original recipe calls for 2 cans, but when I saw that each can cost $6.48 I decided that one was enough. I wouldn't have wanted 2 cans worth in the salad anyway, so it worked out. You can sub artichoke hearts no problem, although hearts of palm are much more mild.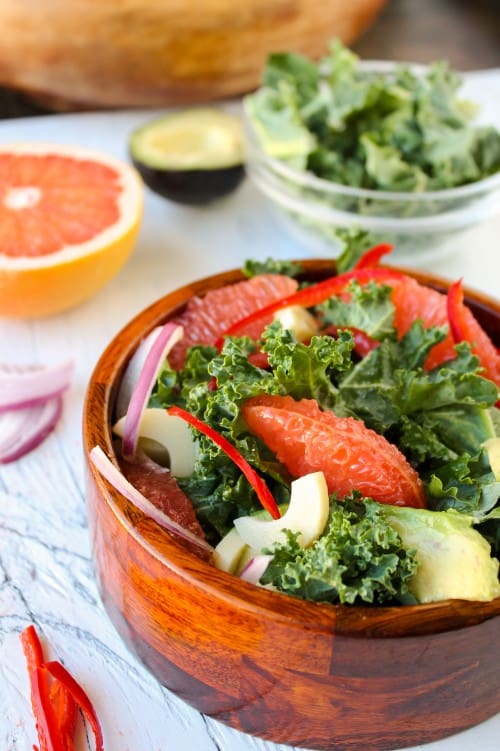 The combination of flavors in this salad makes it very interesting, a nice change from your typical garden salad. And a nice change from all the heart-shaped chocolate you no doubt ate this weekend. Happy Monday everyone!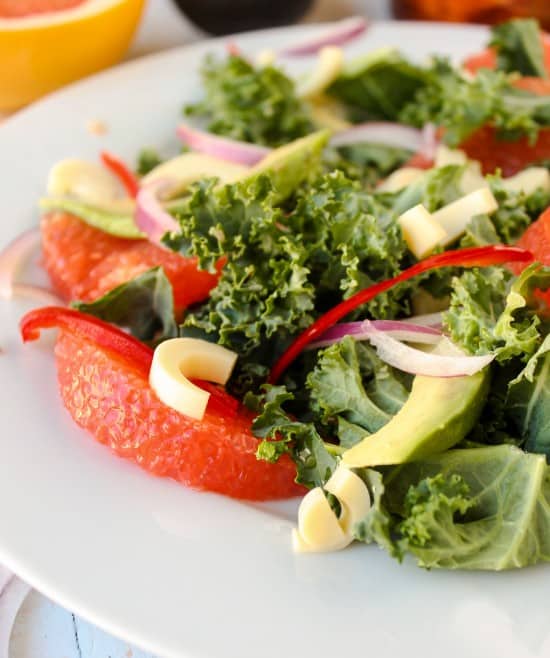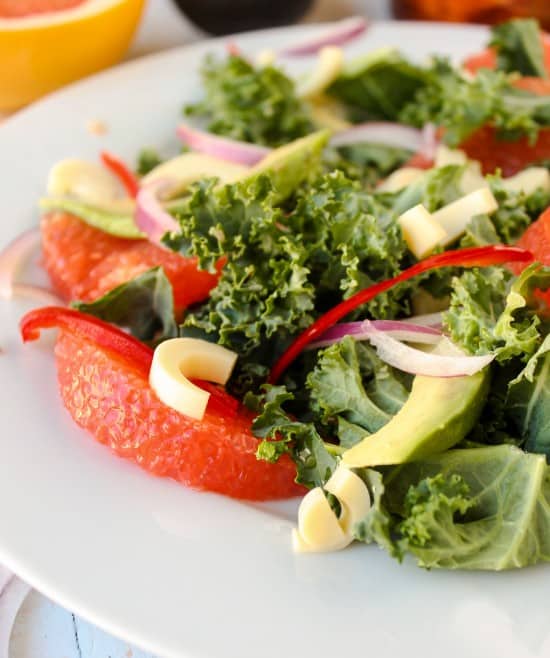 print
Did you make this recipe?
Leave a review »
Grapefruit, Kale & Hearts of Palm Salad
Serves 6
adjust servings
Ingredients
3

tablespoons canola or olive oil

3/4

teaspoons lime zest, or to taste

1 1/2

tablespoons fresh lime juice

1 1/2

tablespoons mayonnaise

1 1/2

teaspoons honey

scant 1/4 teaspoon freshly ground black pepper, or to taste

salt to taste

4

cups baby kale or regular kale, chopped

1 1/2

cups ruby red grapefruit sections (about 2 large grapefruit)

1/2

cup thinly sliced red onion

1

(14-ounce) can hearts of palm, rinsed, drained, and cut diagonally into 1/4-inch slices

1

small red chile, seeded and thinly sliced

1

ripe avocado, cut into thin wedges
Instructions
In a small bowl, whisk together the oil, lime zest, lime juice, mayonnaise, honey, and pepper, and salt to taste.
In a salad bowl, toss together kale, grapefruit, red onion, hearts of palm, and red chile. Gently top with the avocado. Serve with dressing, or toss it in the bowl. You can also arrange the salad on 6 individual plates.
by The Food Charlatan

If you make this recipe,
share it on Instagram
 using the hashtag
#TheFoodCharlatan
so I can see it!
Source: adapted from Cooking Light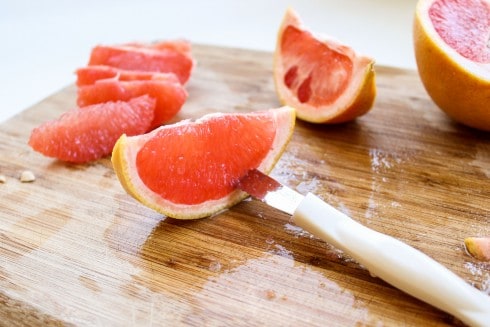 Slice your grapefruit up all pretty like.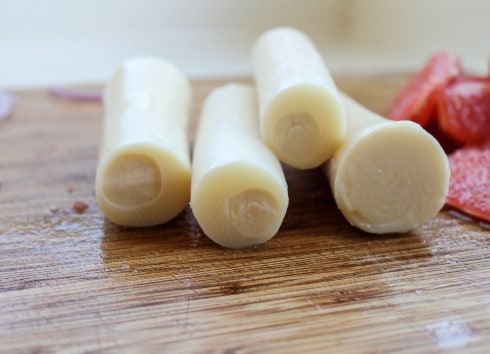 Then bust out these hearts of palm.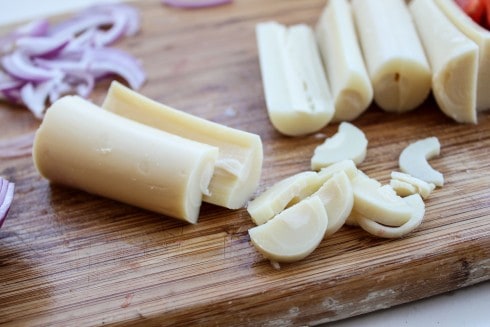 And slice em up. Yum.
We are a participant in the Amazon Services LLC Associates Program, an affiliate advertising program designed to provide a means for us to earn fees by linking to Amazon.com and affiliated sites.