30 Minute Pea Soup (From A Bag of Frozen Peas)
Raise your hand if you've got a bag of frozen peas somewhere in the back of your freezer! This recipe is for you. It's a perfect last-minute meal (30 minutes, tops!) for when you haven't got a plan for dinner. Plus it's delicious!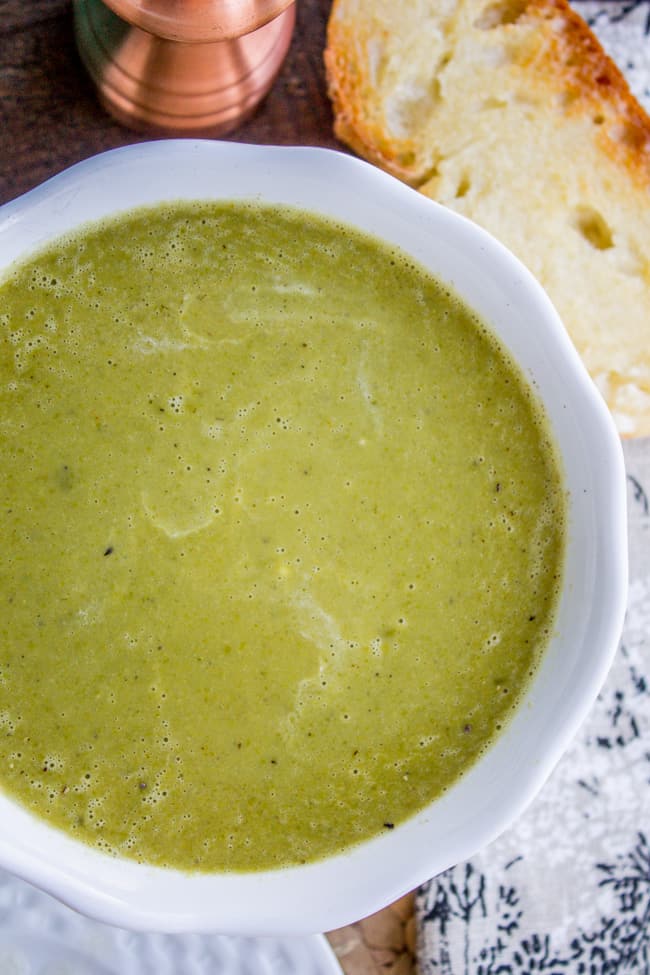 Today Truman was on the front porch having a meltdown. He can't open the screen door himself, and wouldn't ask me nicely to open it for him (the door was ajar) so I was listening and waiting in the kitchen until he decided to use his manners. Then I hear the doorbell ring. That's when I lost it a little bit and started telling him sternly (<< we all know what that's code for right) that it is NOT OKAY to ring the doorbell when you're supposed to be asking nicely for help.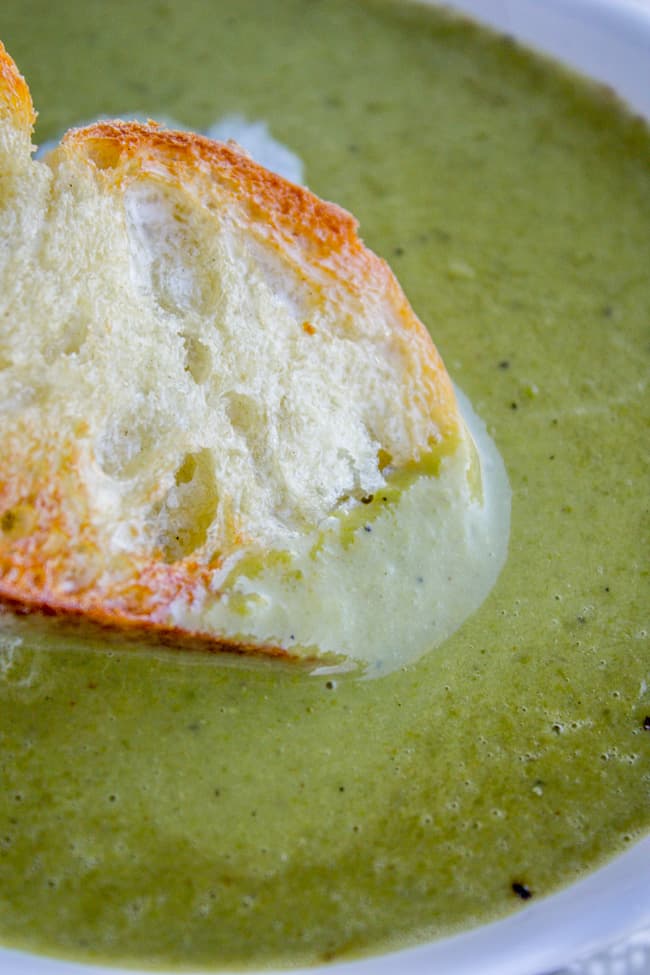 And then I hear my neighbor Tyrone call out. "Just came to check on the little guy." And then I'm all flustered explaining my disciplinary tactics and I swear I'm a good mom and I don't lock my children outside and gosh I'm sorry I yelled at you when you rang my doorbell.
I think I'm definitely the weird neighbor that everyone in the court talks about. I promise I won't yell at you if you come to my house, guys. (Unless you are being a disrespectful toddler, then you're gonna get it.)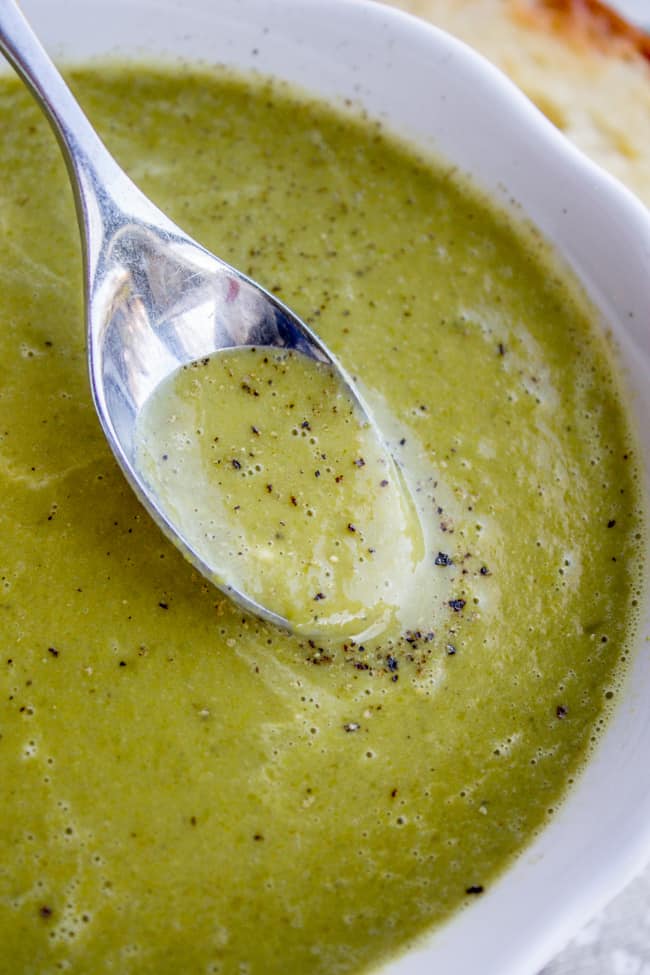 I think if you forced me to pick a favorite soup (it would require force, because I love sooo many, like this Ham Mac and Cheese Soup, 10 Minute Wonton Soup, and of course everyone's favorite, the famous Beef Barley Soup) I might choose Split Pea Soup with Smoked Gouda. It can be made in the slow cooker, so it's easy, plus I just love the smokey flavor from the ham and gouda. It is so comforting to me.
But that soup is made with dried peas, and I had never even considered the idea of making soup with fresh (or frozen) peas until I saw Soni's recipe over at Soni's Food. (You should totally follow her blog if you're not already! She's got some amazing Indian recipes to check out, like this Mixed Vegetable Curry, Thai Meatballs, and homemade Paratha! It all looks so amazing.)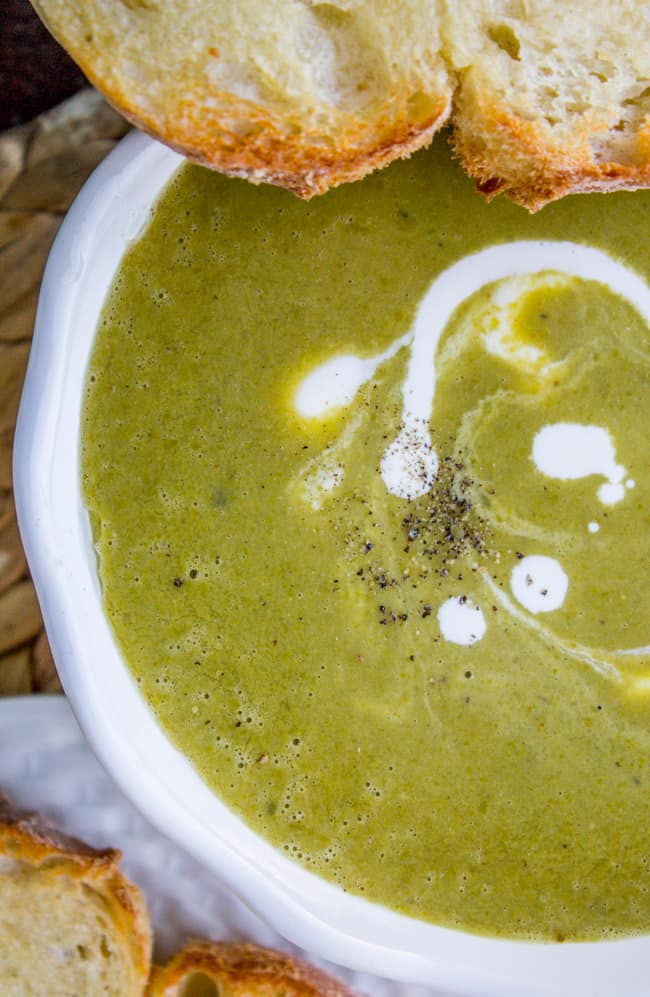 My recipe is a little different from Soni's because I just couldn't let go of that smokey flavor I love in my Split Pea Soup. I wanted to keep it meatless (read: EASY. no defrosting please.) so instead of smoked ham I sprinkled in some smoked paprika as well as some chipotle chili powder. (Did you know that chipotle chilis are just smoked jalapeños?) The result is creamy, smokey pea perfection.
Also I have a secret to tell those of you who are reading the post instead of skipping to the recipe, I didn't measure the celery for the recipe. (Suckas! They'll never know!) It says "1 cup" down there but I really have no idea. Here's the picture, how much does it look like to you?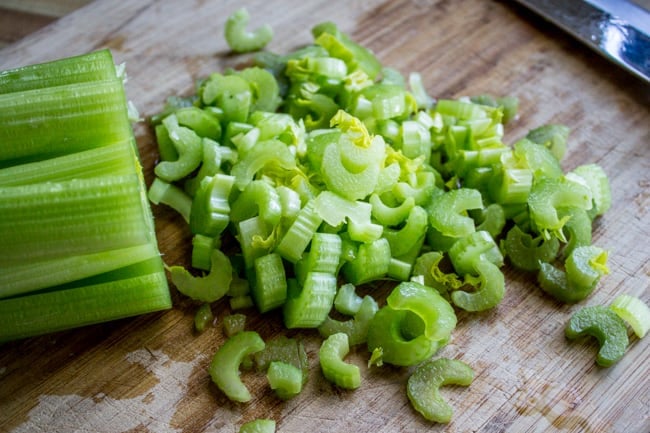 The point is that it doesn't matter too much, so don't sweat it. I rarely measure celery by the stalk (use 1 stalk, 2 stalks, etc.) because I'm obsessed with celery leaves. I start chopping the whole bunch, right from the end, so that I get all those delicious leaves in my soup. Celery makes for the BEST soup!

I love this recipe because I ALWAYS have a bag of peas in my freezer, and there's a darn good chance I have celery, onions, and garlic too. Chicken broth is a given because I always have Better Than Bouillon on hand. I love 30 minute meals that I can make from pantry/freezer items when I haven't planned anything for dinner! It's the best. Plus this soup is healthy to boot. WIN!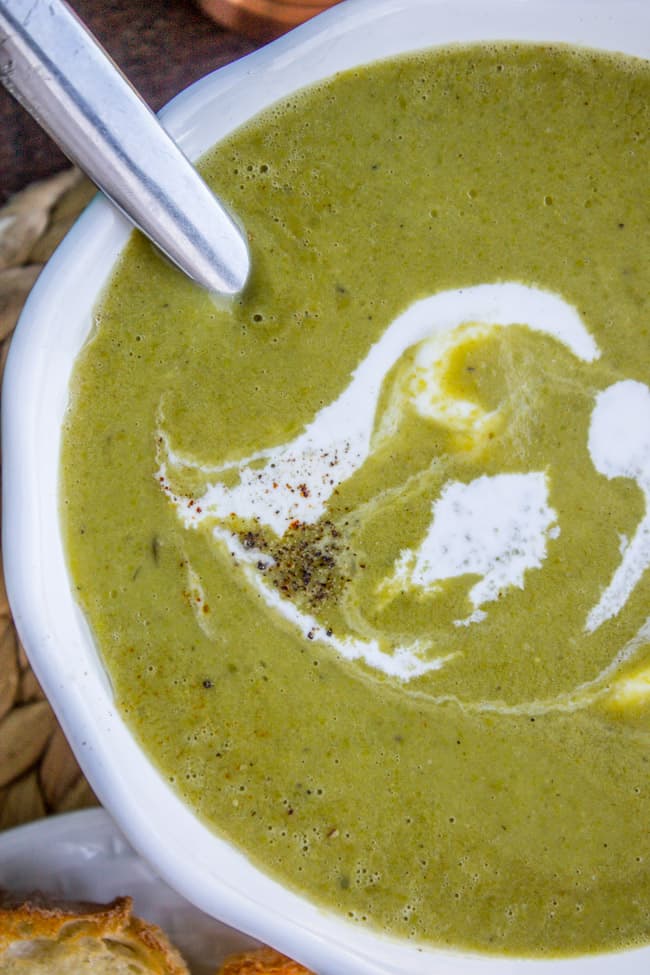 If you make any of my recipes, share it on Instagram using the hashtag #TheFoodCharlatan so I can see it! I love that.
Facebook | Pinterest | Instagram | Twitter
One year ago: The Fastest No Yeast Cinnamon Rolls Ever
Two years ago: Classic Egg Salad Sandwich
Five years ago: Chicken Kebabs with Nectarine Salsa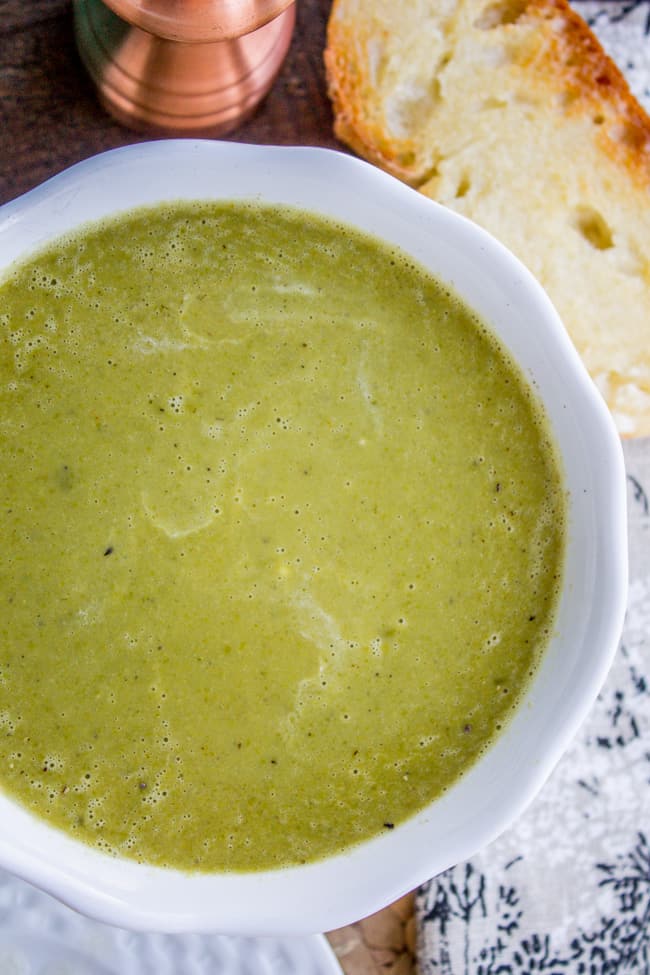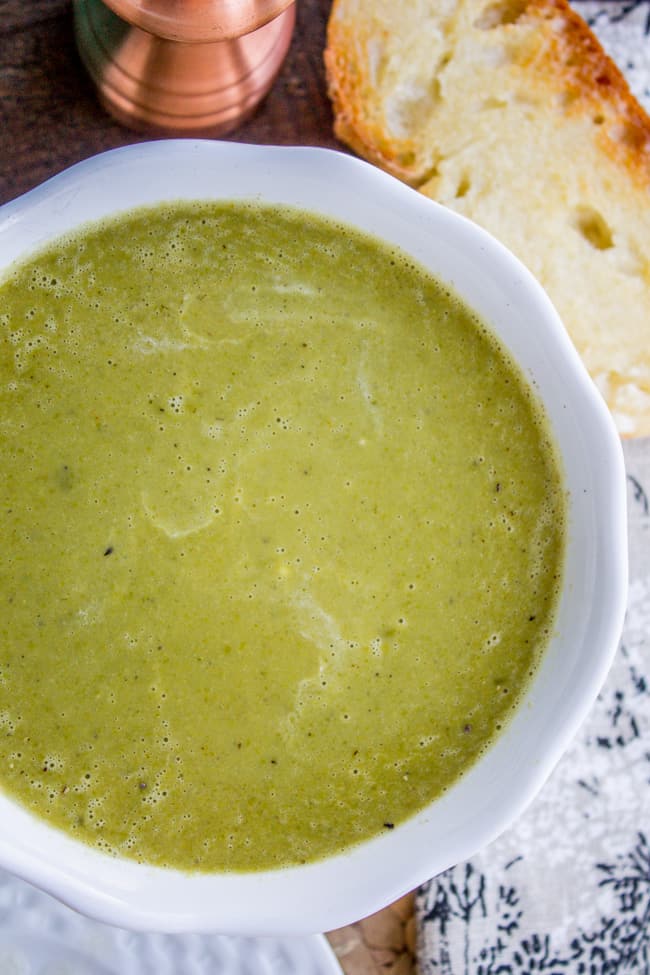 print
Did you make this recipe?
Leave a review »
30 Minute Pea Soup (From A Bag of Frozen Peas)
Serves 6
adjust servings
Ingredients
1

tablespoon butter

1

tablespoon olive oil

1

large or medium onion, chopped

1

cup celery, chopped

4

cloves garlic, crushed and chopped

2-pound

package of frozen peas (about 7 cups)

7-8

cups chicken broth* (start with 7)

1/4

teaspoon thyme

1/4

teaspoon chipotle chili powder (or to taste)

1/4

teaspoon smoked paprika* (optional but recommended)

1

and 1/2 teaspoons salt, more or less to taste

pepper to taste

3/4

cup cream (or sour cream or plain Greek yogurt to taste)
Instructions
In a large soup pot, melt butter over medium high heat. Add olive oil. When the mixture is hot, add the chopped onion and celery.
Saute for about 5 minutes, stirring often, until the onions are translucent.
Add chopped garlic and stir for 1-2 minutes, until the garlic is fragrant.
Add the peas.
Add 7 cups of chicken broth, thyme, chipotle powder, smoked paprika, salt and pepper, and bring to a boil over high heat. You can cover it to make it go faster, but keep an eye on it so it doesn't boil over.
Once it boils, lower the heat to a simmer and cook for another 5 minutes, or until the onions and celery are completely soft.
Turn the heat off. Use your immersion blender to puree the soup, or use a regular blender with a towel over the top of the spout (to let steam escape). You'll have to do a few batches.
If your soup is looking thick, feel free to add that last cup of chicken broth if you want.
Add the cream to the soup and heat it up again on the stove if necessary.
Serve with extra crunchy French bread!
by The Food Charlatan

If you make this recipe,
share it on Instagram
 using the hashtag
#TheFoodCharlatan
so I can see it!
Source: I got this recipe idea from Soni over at Soni's Food. She has a great blog full of tons of AMAZING looking Indian food, check it out!
More soup! I found a few of my favorite pureed ones for you:
Roasted Butternut Squash Soup << can you still find butternuts in the store? Snag one next time you're out; this soup slays.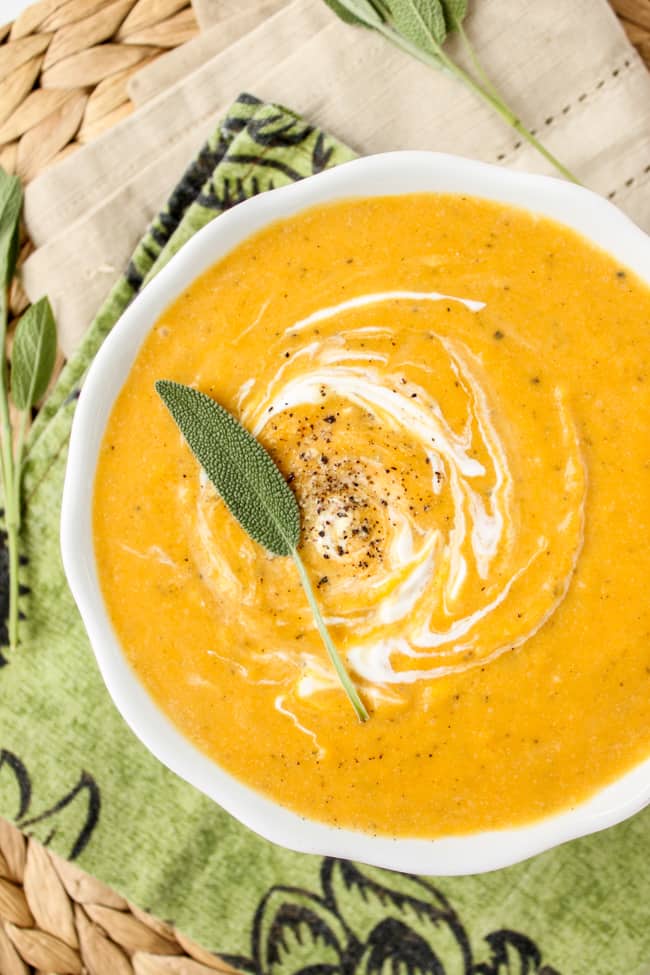 Easy Cheddar Cauliflower Soup << This recipe is quick and I've made it SO many times when I have a head of cauliflower I don't know what to do with it. Delicious.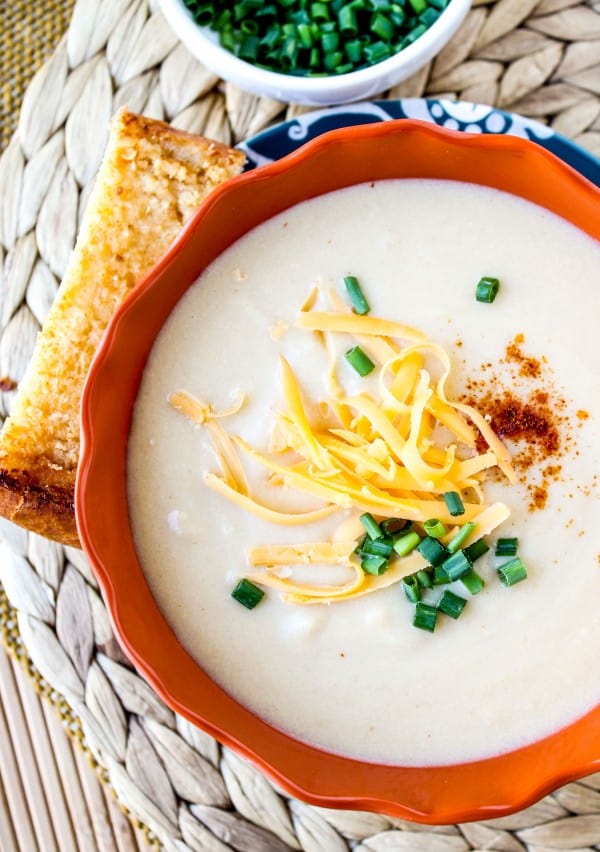 Simple Asparagus Soup << this is a recipe from my sister (kinda) and it's also super easy. Very similar to today's pea soup actually.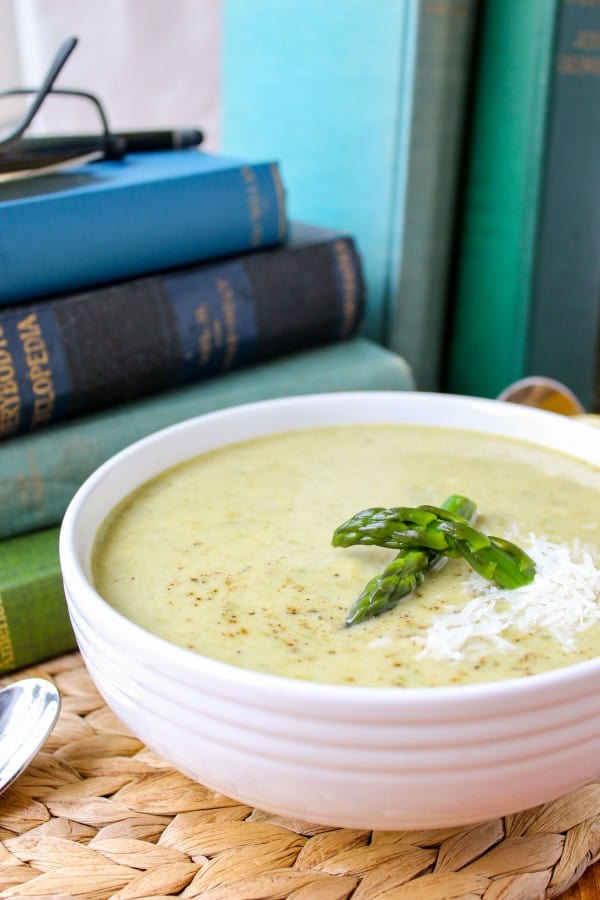 More soups to warm your soul:
Fresh English Pea Soup from The Reluctant Entertainer <this one's got cilantro! Yum!
Curried Cream of Cauliflower and Apple Soup from A Beautiful Plate
Cream of Celery Soup from CopyKat Recipes
This post contains affiliate links. Thanks for your support!
We are a participant in the Amazon Services LLC Associates Program, an affiliate advertising program designed to provide a means for us to earn fees by linking to Amazon.com and affiliated sites.