Say hello to your new favorite 30-minute-meal! This easy one-pot dish is great for nights when you forget about dinner until everyone is starving. The meatballs make it nice and hearty. Use store bought meatballs to speed things up even more!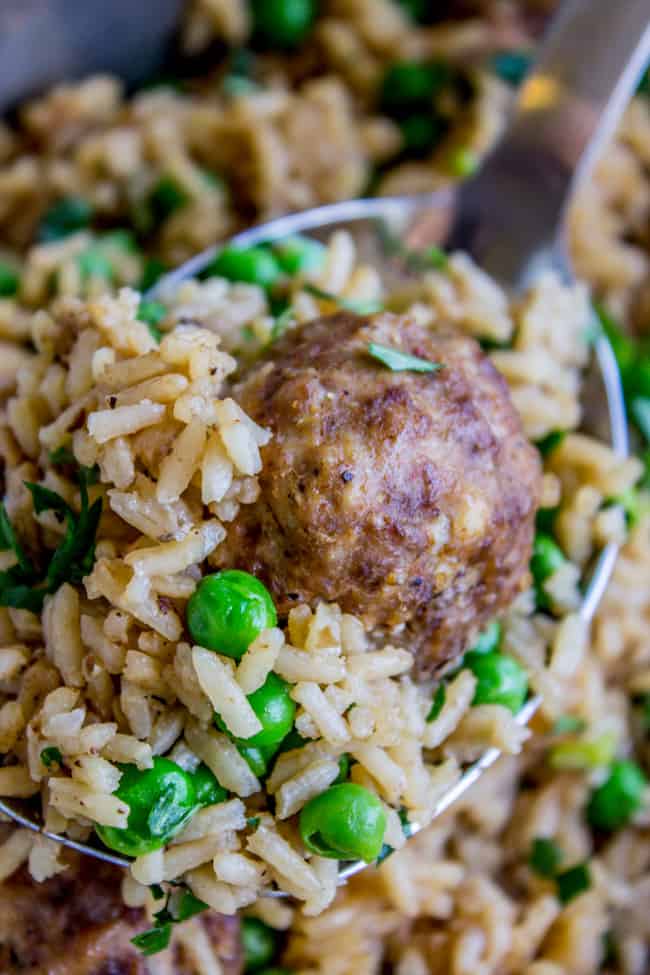 Today after Charlotte's dance class, a little girl walked up to me, her wide eyes on my 8-month-pregnant belly. She said wisely, "I see you have an EGG in there!" Ha! Well  something like that, kid.
Later I was in the grocery store getting stuff to make dinner, when it was already past dinnertime. My kids were definitely letting me know that I had made  a bad parenting choice: maniacal laughing, "fall-down hugs," running up and down the aisles, randomly grabbing merchandise. Crazy hyper children is always preferable to the alternative (crazy tantrum children), but still enough to drive any mom insane. Especially one who waddles as much as I do.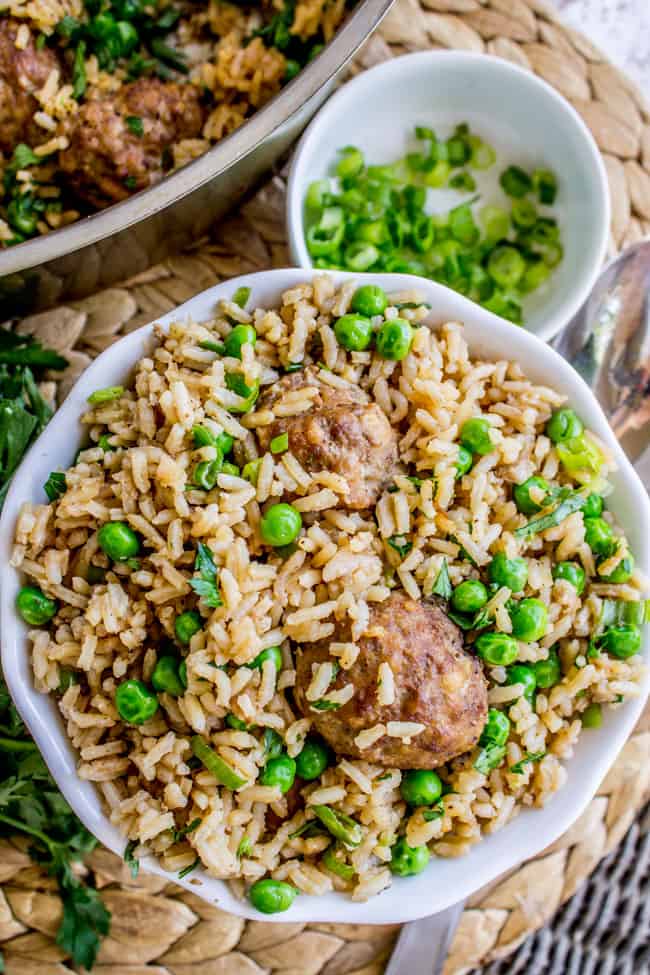 We were in the meat department and I was walking fast while they lagged, hoping that passers-by wouldn't know the screaming-laughing kids were with me. A lady with an indulgent smile said to me as I passed, "They just have the BEST laughs!" And I said, "You know what you're right, but right now I still want to strangle them. You basically just saved both of their lives, congratulations." Thank you, indulgent smile lady. My children owe you one.
You'll love this Meatball and Rice Recipe
Who's ready for some meatballs?? This recipe is adapted from a recipe in my friend Mary's cookbook. Mary has a fabulous blog over at Barefeet in the Kitchen, and she just released her first cookbook The Weeknight Dinner Cookbook. I did a review for the book here, and shared her recipe for Chinese Beef and Broccoli Soup, which was absolutely fabulous I must say.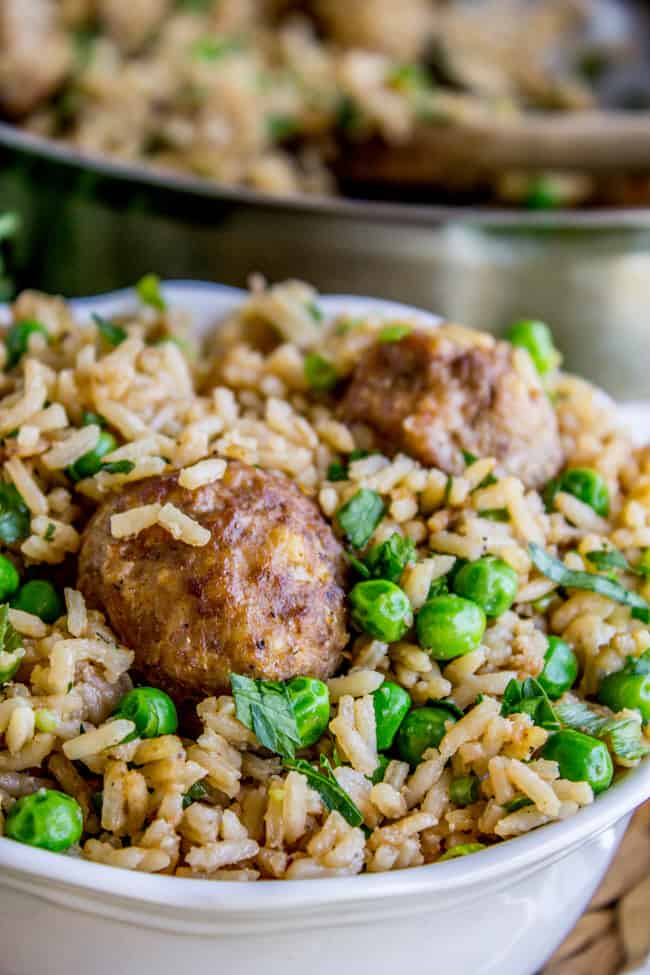 She has a recipe for Kielbasa with rice and peas. It looks really delicious, but I haven't tried it as written yet. The only prepped meat I had in the freezer on the night I needed to make a quick dinner was meatballs, so I changed up the recipe to work with meatballs. It worked out great! Someday I will try the kielbasa version. Maybe. These are good meatballs.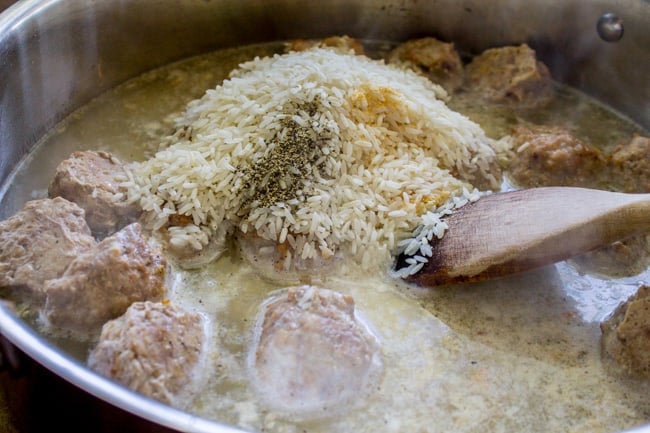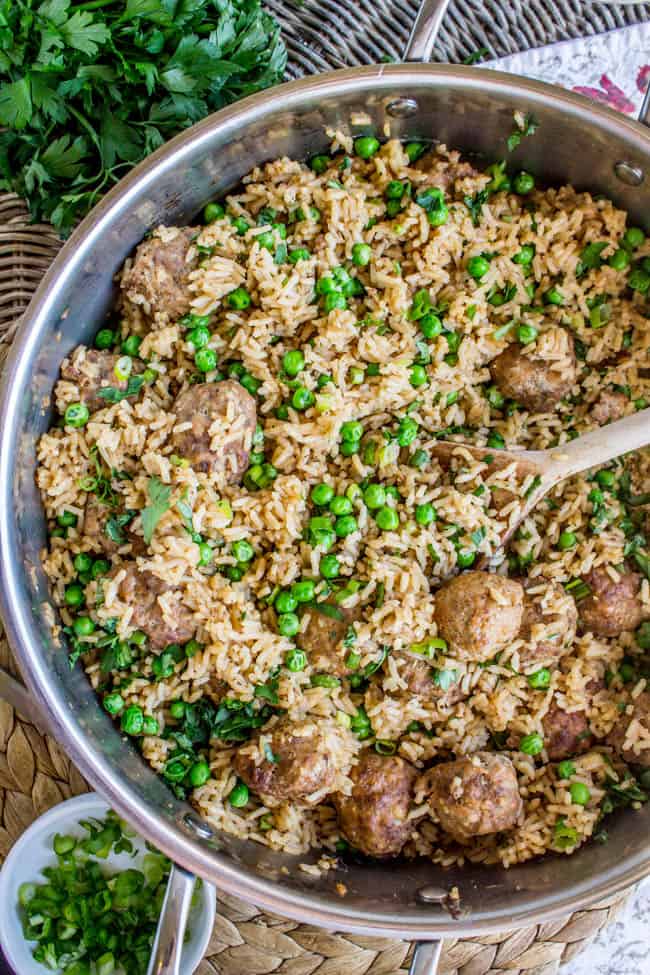 Meatball with Rice Recipe Ingredients
I made this twice, once with frozen Costco meatballs, and once with my Homemade Easy Baked Meatballs. I liked it both ways but of course fresh homemade meatballs are always going to be better than the frozen ones. But sometimes you just have to git er done, and frozen store bought meatballs totally got it done.
My kids loved this. Are your kids as obsessed with rice as mine are? This meal is basically perfect for them.

Meatballs and Rice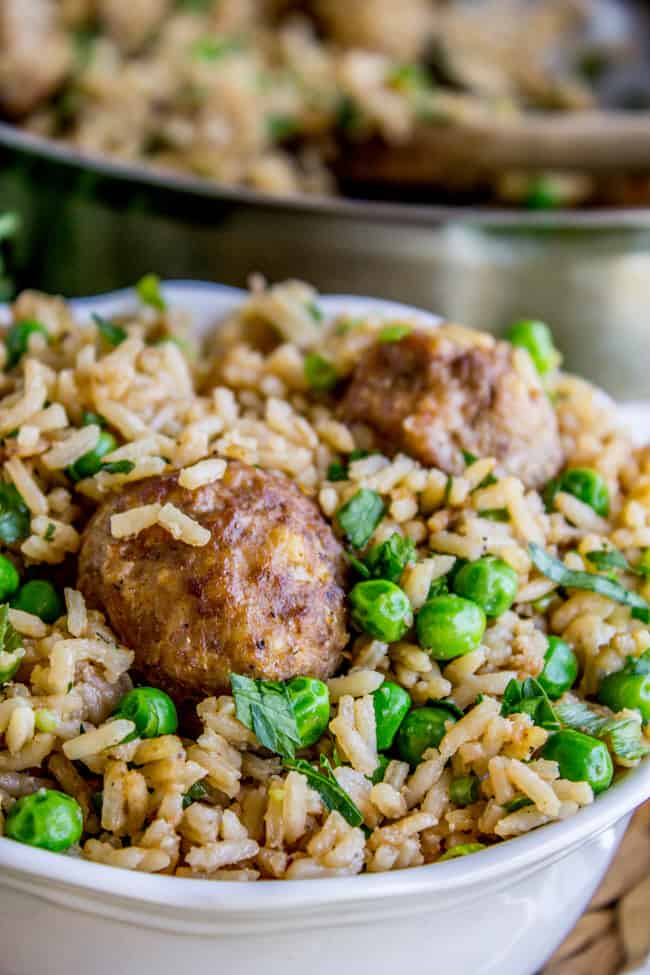 Say hello to your new favorite 30-minute-meal! This easy one-pot dish is great for nights when you forget about dinner until everyone is starving. The meatballs make it nice and hearty. Use store bought meatballs to speed things up even more! 
Ingredients
2

teaspoons

olive oil

3

cloves

garlic

,

crushed and minced

1

pound

homemade meatballs,

or store-bought meatballs

3

cups

beef broth*

1 & 1/2

cups

uncooked rice

,

rinsed

1/2

teaspoon

garlic powder

1/4

teaspoon

black pepper

,

or more to taste

1/2

teaspoon

kosher salt

,

or to taste

1 & 1/2

cups

frozen peas

,

or however much looks good to you

1/2

cup

green onions

,

chopped

1/4

cup

parsley

,

fresh, chopped (optional)
Instructions
Thaw the meatballs if they are frozen. I just stuck them in the microwave for a couple minutes. They don't have to be completely thaw, just enough that they will finish thawing and warm up while cooking the rice.

Heat a high-sided skillet over medium-high heat. Add the oil.

When the oil shimmers, add the garlic and saute 1 minute, until fragrant.

Add the meatballs and cook for 2-3 minutes.

Add the beef broth, rice, garlic powder, pepper and salt. Scrape up any browned bits.

Stir and bring the heat up to high so that it comes to a boil.

Reduce the heat to low to maintain a simmer. Cover with a lid.

Continue to simmer with the lid on for 15-20 minutes, until the rice is tender and the liquid is absorbed. Stir at 15 minutes to make sure it isn't sticking.

When the rice is cooked, remove from the heat and season to taste, adding more salt and pepper if you want.

Stir in the peas. Add as much as looks good to you.

Add the green onions and parsley, if using. Cover until the peas are warm, just a few minutes.

This is great with a big green salad. I actually ate mine right on top of a bed of spinach. If you wanted you could stir fresh spinach into the meal and let it wilt while it's still on the stove.
Nutrition
Serving:
1
cup
|
Calories:
509
kcal
|
Carbohydrates:
53
g
|
Protein:
24
g
|
Fat:
22
g
|
Saturated Fat:
8
g
|
Polyunsaturated Fat:
2
g
|
Monounsaturated Fat:
10
g
|
Cholesterol:
65
mg
|
Sodium:
828
mg
|
Potassium:
564
mg
|
Fiber:
3
g
|
Sugar:
3
g
|
Vitamin A:
692
IU
|
Vitamin C:
24
mg
|
Calcium:
63
mg
|
Iron:
3
mg
More recipes you will love! 
Here are the Homemade Easy Baked Meatballs that I used for this recipe! These are great for making ahead and freezing. Bonus, no chopping: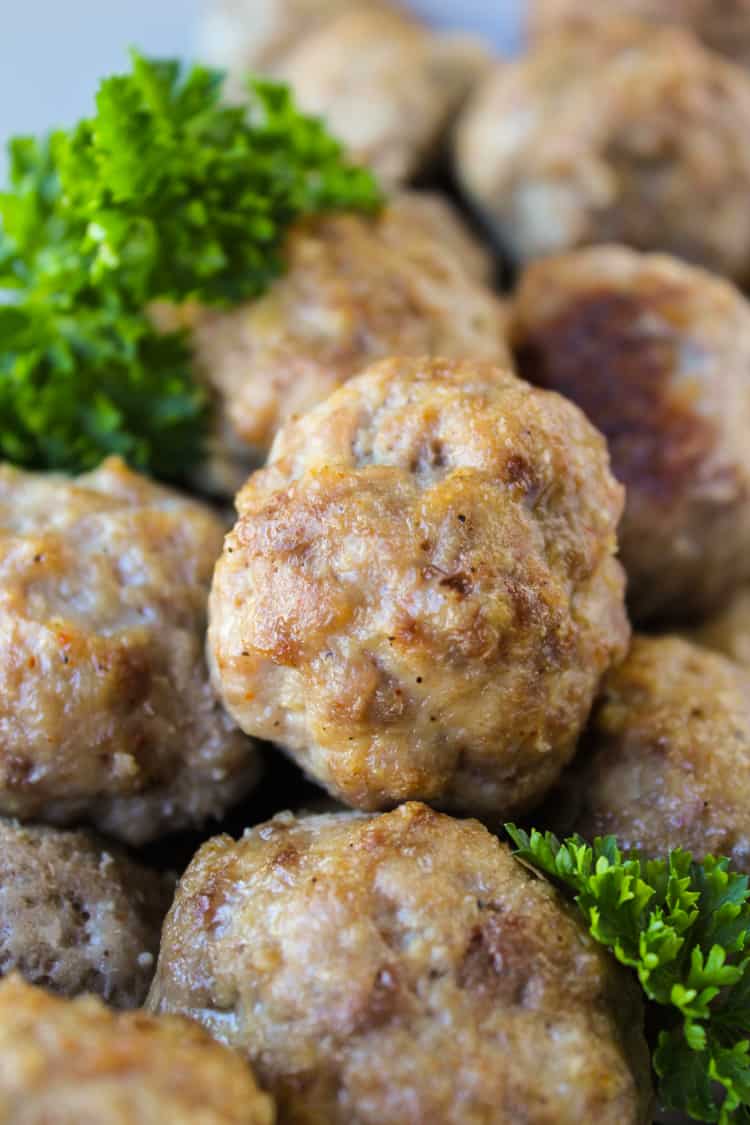 Chinese Beef and Broccoli Soup << this is the soup I mentioned above that is also from Mary's Weeknight Dinner Cookbook. It's so flavorful!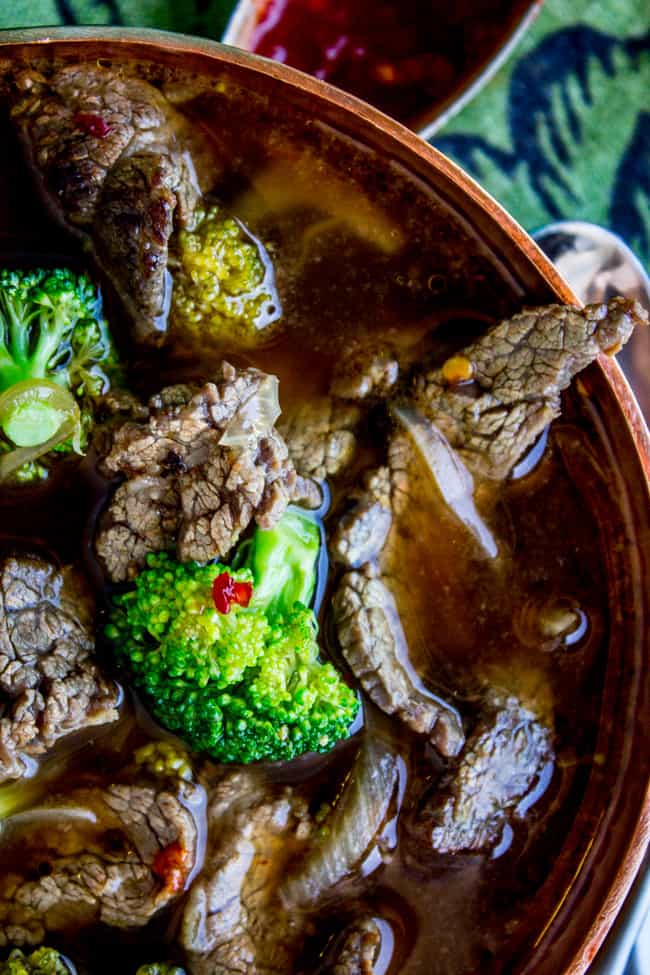 Beef Barley Soup << by far one of the most popular recipes on my site!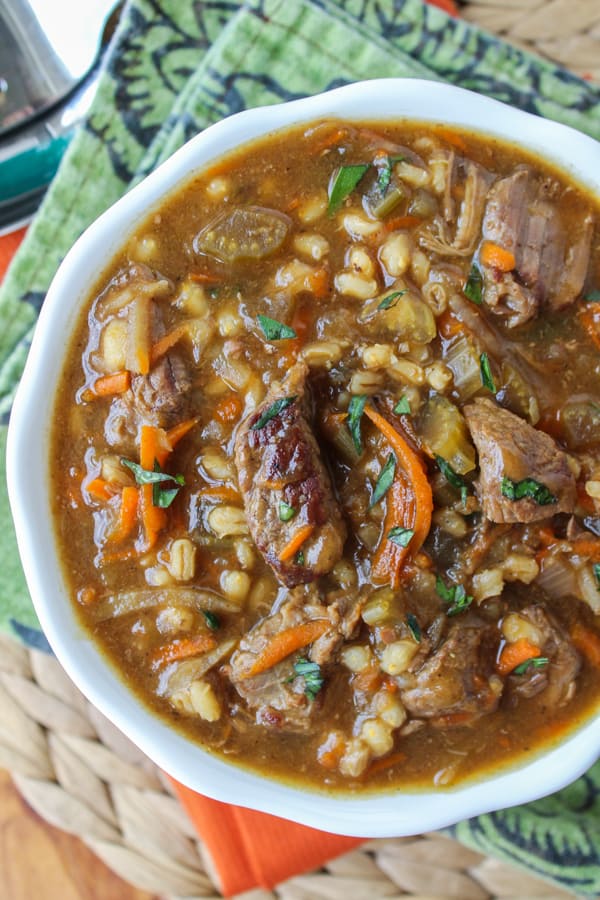 Raspberry Balsamic Meatballs << I just made these again last week! Easy SLOW COOKER meal!