Nothing says summer like this fresh Raspberry Avocado Salad with Poppyseed dressing! This is such a refreshing side dish to go along with your grilled main dish. Or you could even add some roasted chicken to the salad and call it dinner. It's simplicity at it's finest!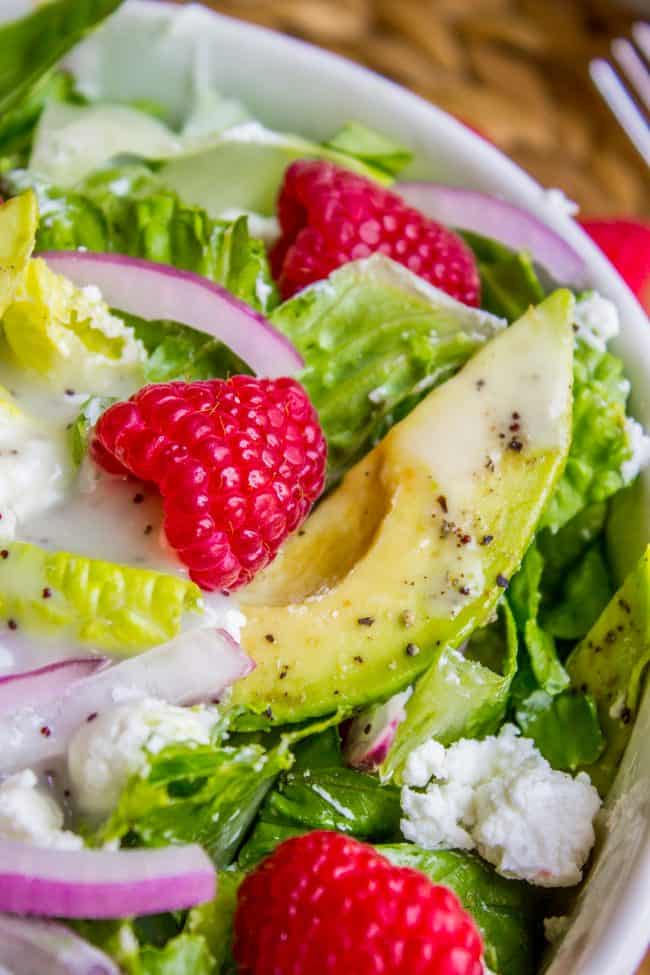 I get complete nonsense reminders on my phone all the time. It'll be 3pm (or 3am!) and my phone will pop up with random phrases like, "Call Sav," "Plan blanc," "Kitchen attach," or simply, "Foot."
These are of course things that I have commanded Siri to remind me about and she completely botched. The problem is that I'll say something into my phone, realize immediately that my phone recorded it wrong, and then think to myself, Oh, I'll totally remember what "Plan Blanc" means 2 weeks from now. (I didn't.) A couple days after that particular reminder, I remembered on my own that I needed to plan our summer block (Blanc) party. Call Sav was meant to say call Sarah. (Kitchen attach? Foot? Still no clue.)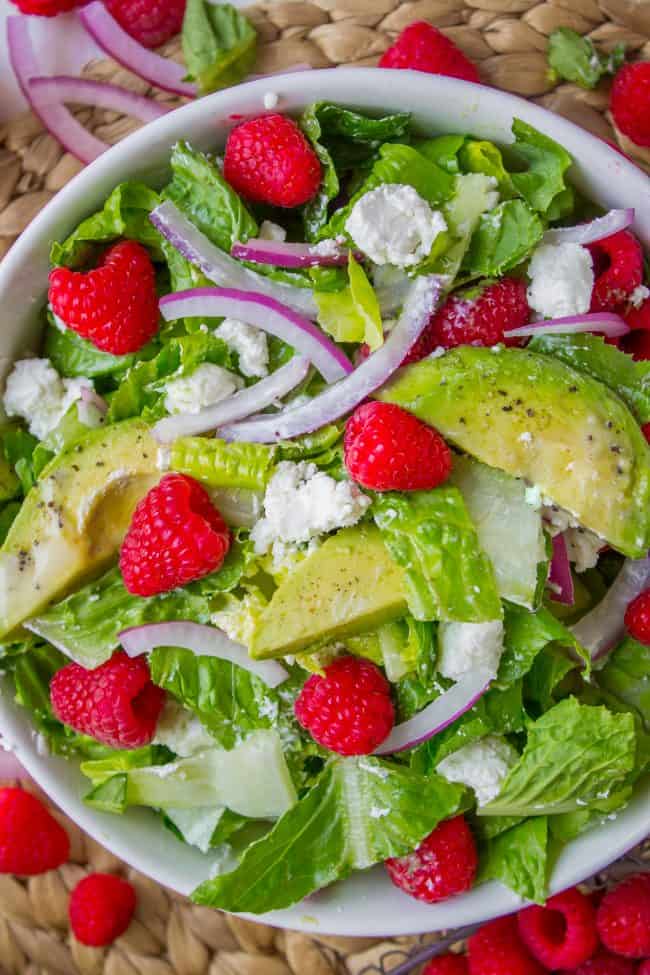 The other thing I get are threatening messages in the morning, from myself, to myself. Things like, "Don't you dare get back into bed Karen." Or a slightly more encouraging suggestion, like "Answer 5 comments in 5 minutes!" (I hate when I get backed up on answering all your comments on the blog!) but then will follow up with a stern "Do it. NOW."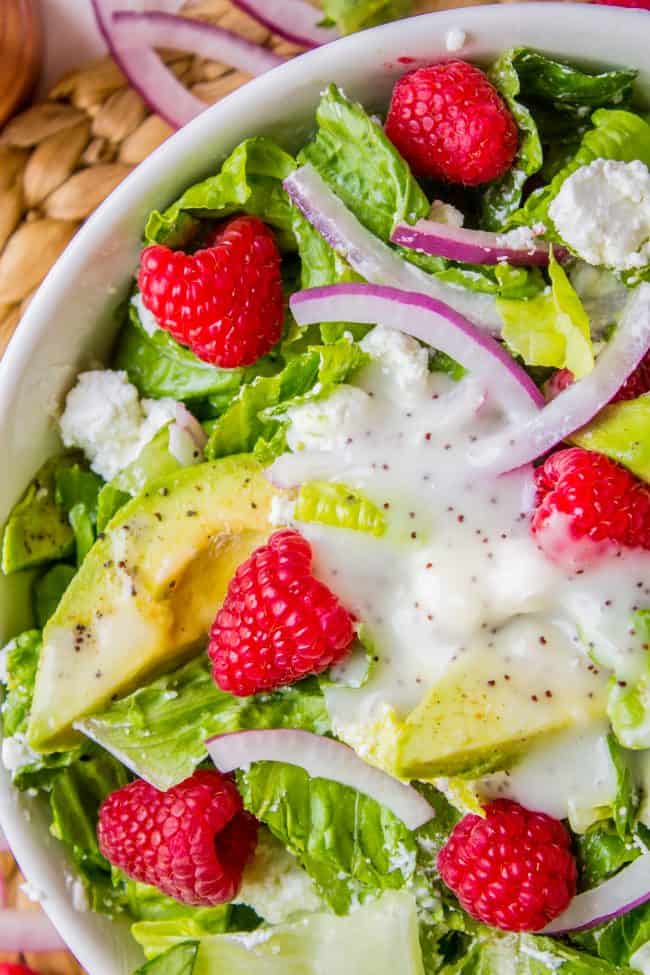 I've been trying to change my night owl tendencies into early-morning tendencies, and apparently the only way to keep myself from hitting snooze and crawling back into bed is to threaten myself. So the theory is that when the alarm on my phone goes off at 4:30am, I will see the messages to myself and be so super motivated to get to work! Or something like that.
Maybe if I had this Raspberry Avocado Salad waiting for me I would be more motivated to wake up? (Okay, let's be real, probably not at 5am. Try waffles. You guys know my rocky relationship with salad, and offering even the best salad that early in the morning is probably going to make me grumpy.)
How to make Raspberry Avocado Salad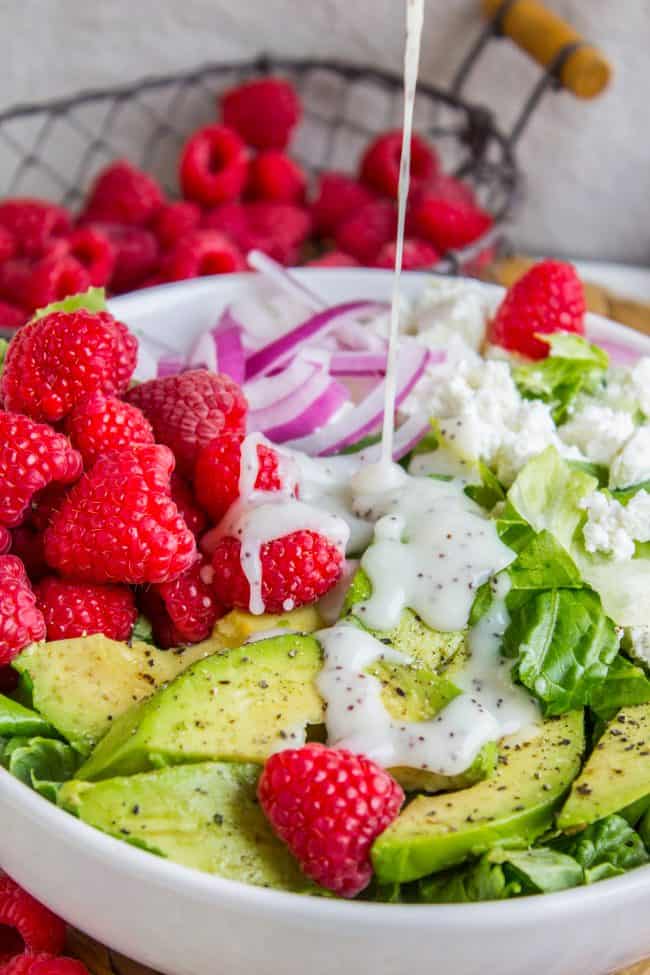 This Raspberry Avocado salad is a winner guys. (as long as it's not at the crack of dawn.) It's so simple, but all the flavors come together into this amazing party in your mouth. It's just romaine, red onion, goat cheese, avocado, and raspberries, topped off with some poppyseed dressing.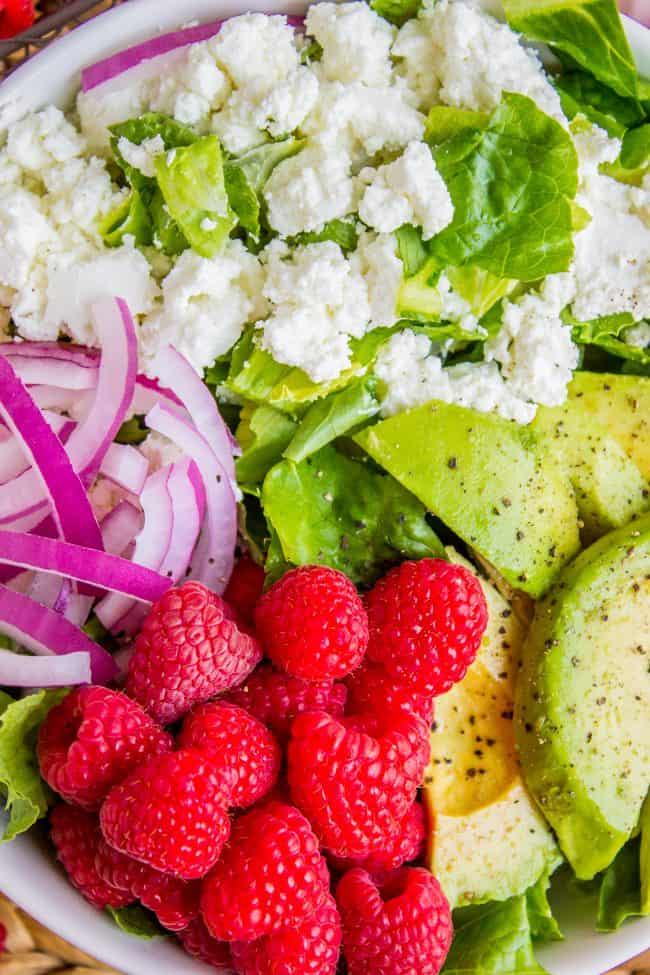 It's of course endlessly adaptable, just like any salad. Swap the raspberries for blueberries or blackberries. Use butter lettuce or spring mix (or both) instead of (or in addition to) the romaine. If you are not a goat cheese lover, try feta or gorgonzola or blue cheese. But please, don't skip the avocado. Make it a Blackberry Avocado Salad. Or a Strawberry Avocado Salad. Avocados just make the salad so creamy and add the perfect touch. Squeeze a lemon over the avocados if you have any time in between when you make it and serve it.
I love a big green salad alongside grilled food in the summer time. Try this salad with this Slow Grilled Mustard Chicken, or this Grilled Chicken with Spicy Honey Bacon Glaze. Make some of Aunt Shirley's Famous Dinner Rolls too! Oh man now I'm hungry.
Facebook | Pinterest | Instagram
One year ago: Pan-Seared Salmon with Cherry Tomatoes and Mozzarella
Three years ago: Cream Cheese Chocolate Cupcakes
Six years ago: Chipotle Black Bean Pizza with Goat Cheese and Avocados

Raspberry Avocado Salad with Poppyseed Dressing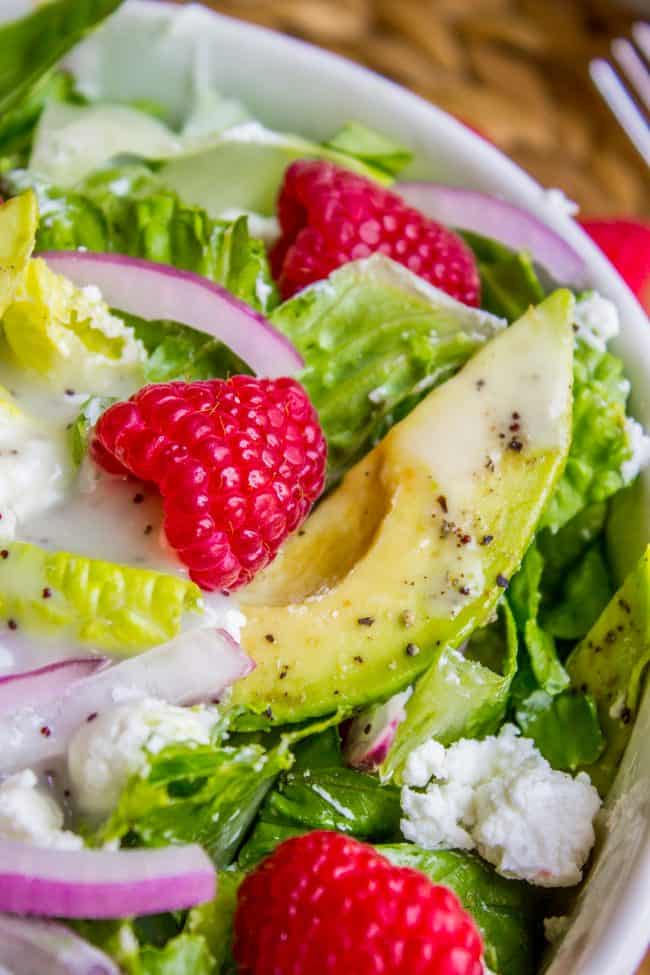 Nothing says summer like this fresh Raspberry Avocado Salad with Poppyseed dressing! This is such a refreshing side dish to go along with your grilled main dishes. Or you could even add some roasted chicken to the salad and call it dinner. It's simplicity at it's finest!
Ingredients
1

head

romaine lettuce

1/4

large

red onion

,

sliced thin

4

ounces

goat cheese

,

crumbled

6

ounces

fresh raspberries

,

more to taste

2

sliced avocados

,

more to taste

1

lemon

,

for preserving avocado, optional

freshly cracked pepper

salt

poppyseed dressing
Instructions
Wash, chop, and dry the romaine lettuce. I love to use my

salad spinner

for this step! Place in a large serving bowl.

Slice the red onion as thinly as you can. You can use as much or as little as you want.

Add the red onions, goat cheese, and raspberries to the bowl. You can use as many raspberries as you like. (I bought the huge package at Costco) Toss the salad gently.

Slice the avocados and add to the top of the salad. If you have any amount of time in between making this salad and serving it, squeeze a lemon directly over the avocados so that they don't brown.

Sprinkle freshly cracked pepper over the salad, especially the avocados. Sprinkle them with a little salt too.

You can either serve the salad with poppyseed dressing on the side, or add about 1/3 to 1/2 cup dressing (just eyeball it) to the bowl and toss.
Notes
Instead of using romaine, try using a combo of butter lettuce and a spring mix. You can swap out the raspberries for blueberries or blackberries, etc. If you don't have goat cheese, use feta.
Nutrition
Serving:
1
g
|
Calories:
274
kcal
|
Carbohydrates:
19
g
|
Protein:
8
g
|
Fat:
21
g
|
Saturated Fat:
6
g
|
Polyunsaturated Fat:
4
g
|
Monounsaturated Fat:
10
g
|
Trans Fat:
1
g
|
Cholesterol:
10
mg
|
Sodium:
264
mg
|
Potassium:
807
mg
|
Fiber:
11
g
|
Sugar:
6
g
|
Vitamin A:
11276
IU
|
Vitamin C:
29
mg
|
Calcium:
100
mg
|
Iron:
2
mg
More salads I promise you will love!
Copycat Cafe Zupas Poppyseed Dressing and Spinach Bleu Cheese Salad << if you love homemade salad dressings, make this poppyseed dressing to go with today's salad!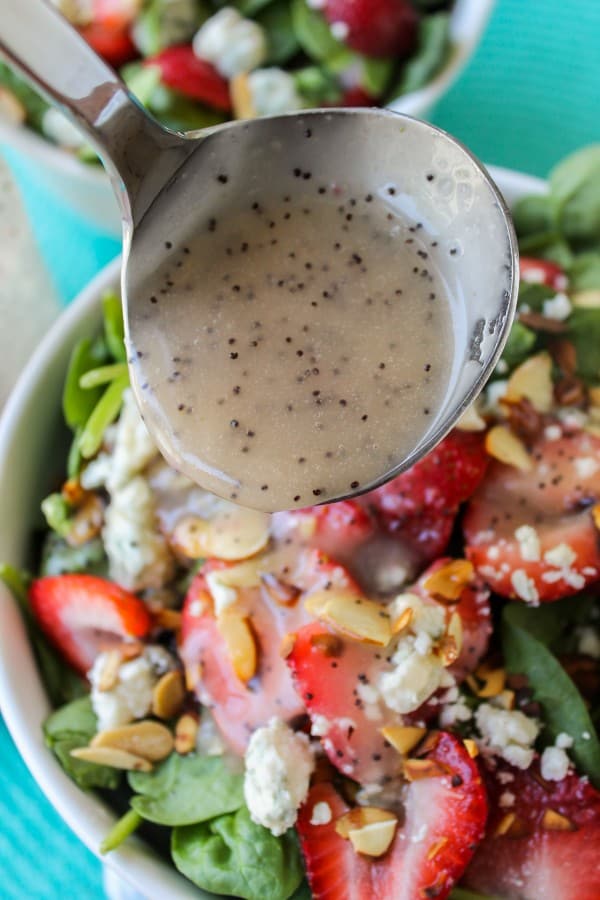 Pineapple Spinach Salad << why limit spinach salad to strawberries??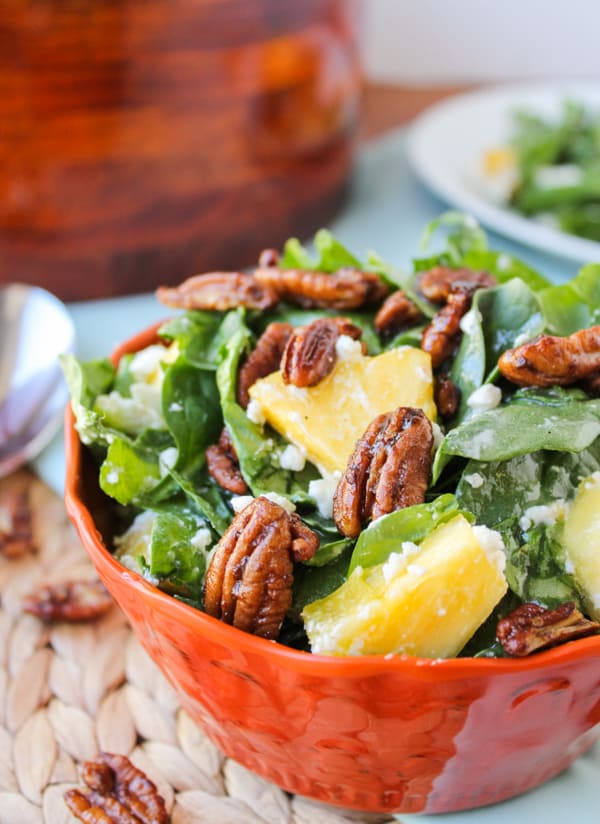 Apple Gorgonzola Salad << just like the one from Buca di Beppo! I love this salad!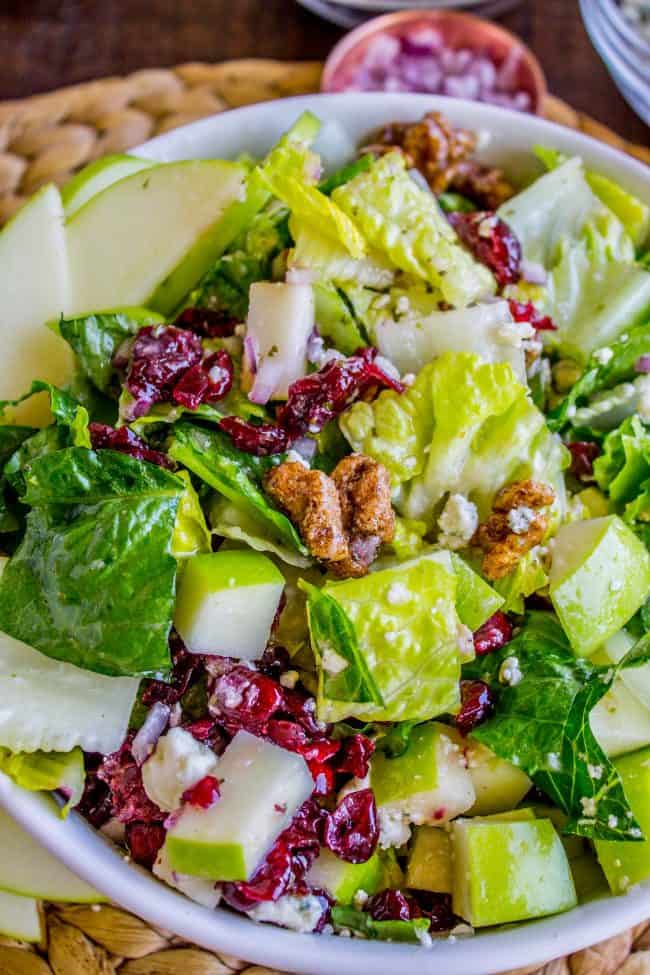 More salads from blog friends that you will love!
Red Raspberry Spinach Salad from Taste and Tell
Very Berry Salad with Honey Sweetened Raspberry Vinaigrette from Tried and Tasty
Kiwi Berry Salad with Raspberry Poppyseed Dressing from Recipe Girl