Have you had the Apple Gorgonzola Salad from Buca di Beppo? This copycat recipe is spot on! Fresh romaine lettuce tossed in a delicious homemade Italian vinaigrette, topped with dried cranberries, candied walnuts, gorgonzola, and Granny Smith Apples!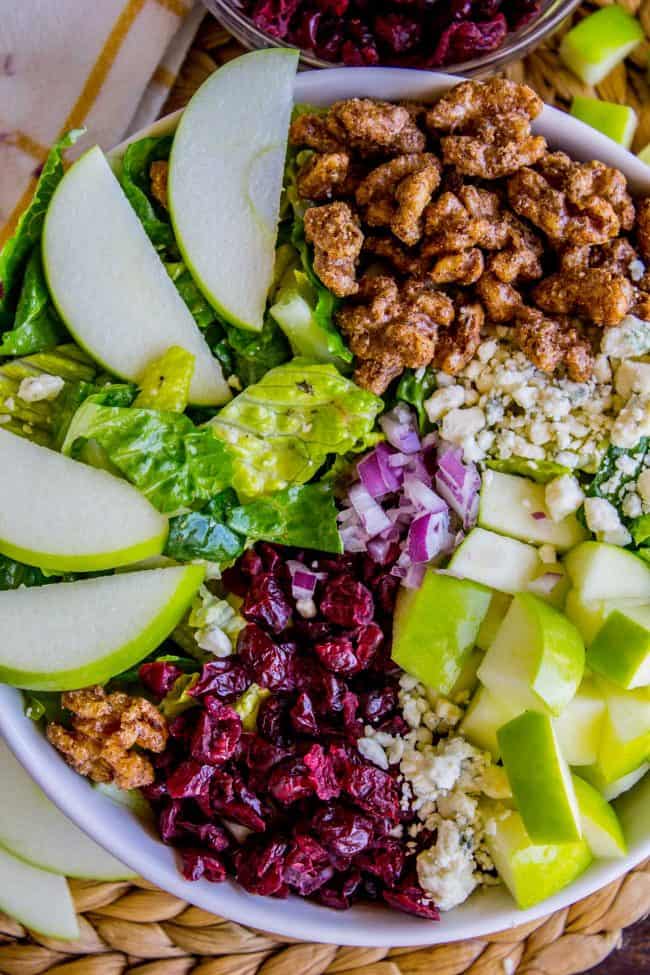 I am a huge sucker for Buca di Beppo. Have you been to that restaurant? I just love everything about it, from the kooky decorations to the casual, totally-cool-to-bring-your-kids atmosphere. I love that the meals are served family style.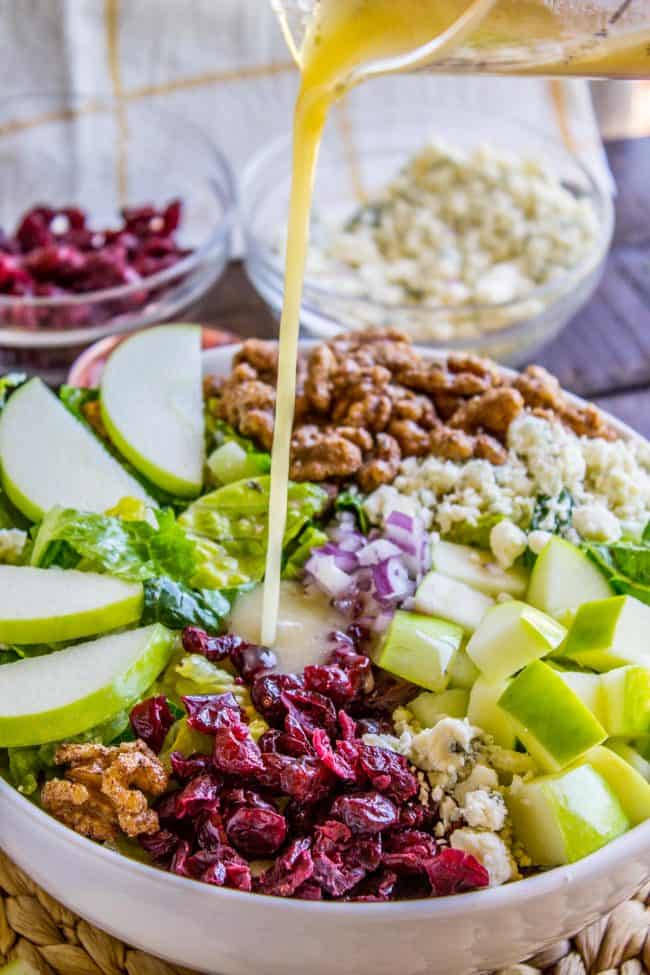 I'm always that person reaching my fork over onto Eric's plate anyway, so family serving was basically made for me. There are always way too many interesting things to try on restaurant menus! (Do you guys remember that part on Drop Dead Diva when Jane gets super irritated that Greyson's new love interest keeps eating off his plate, and it's a sign that they are hitting it off? Am I the only one who watches Drop Dead Diva?? Well whatever, the point is that clearly Eric and I were made for each other because we're pretty good at sharing food. :)
How to Make Apple Gorgonzola Salad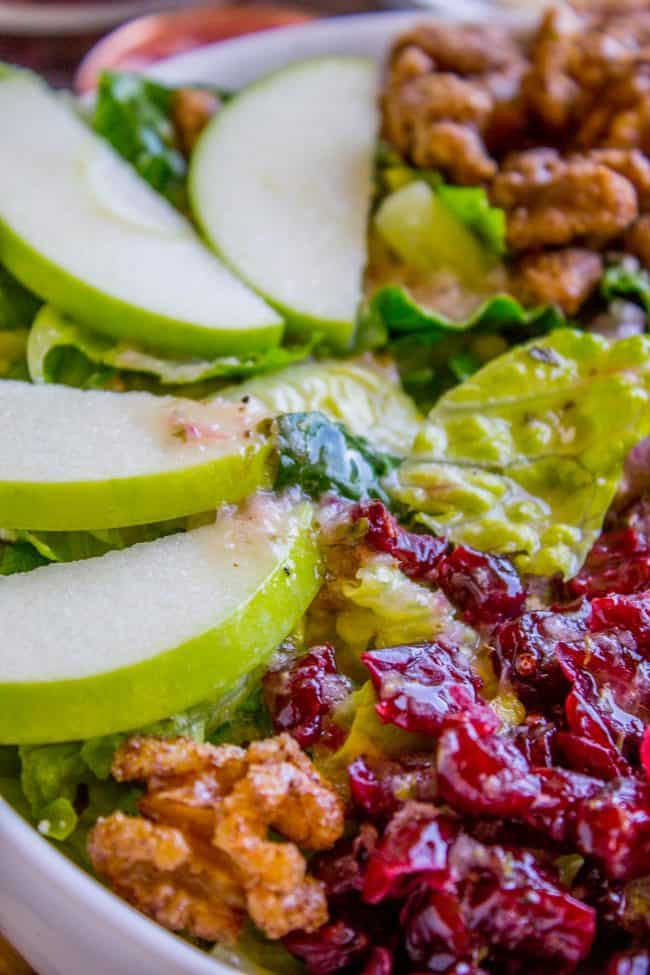 Obviously the BEST part about Buca's is the food, specifically this Apple Gorgonzola Salad. It is by far my favorite thing on the menu and I order it every time we go. I've been looking for a copycat recipe for a long time, and I think I've finally found it! Picture this: fresh green romaine lettuce. Crisp Granny Smith Apples, sliced and chopped. Tangy gorgonzola. Sweet dried cranberries.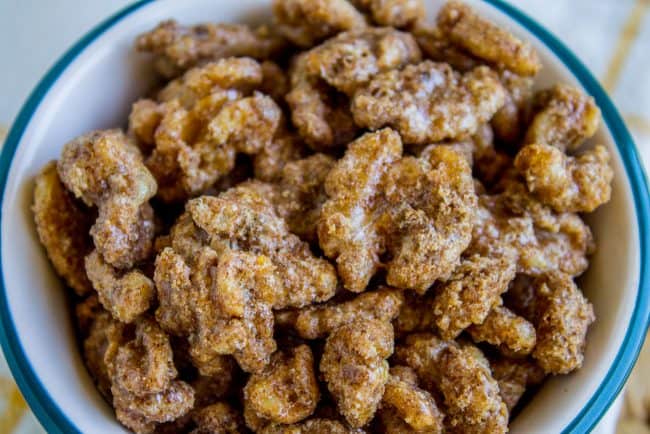 And don't forget the candied walnuts. Ooooh, the candied walnuts. I'm kicking myself that I didn't do an entire post dedicated to these beauties, because I'm absolutely obsessed with them. You will probably have leftover walnuts (you don't really need 2 whole cups in the salad) but this is not an apology. Snack on these babies all day long. That's all I've been eating the last couple days!
My brother Eric has a recipe that I've been meaning to blog at Christmas time, it's similar to this one where you douse the nuts in egg whites and then bake. Except he uses pecans. I will have to share that this fall, they are SO good.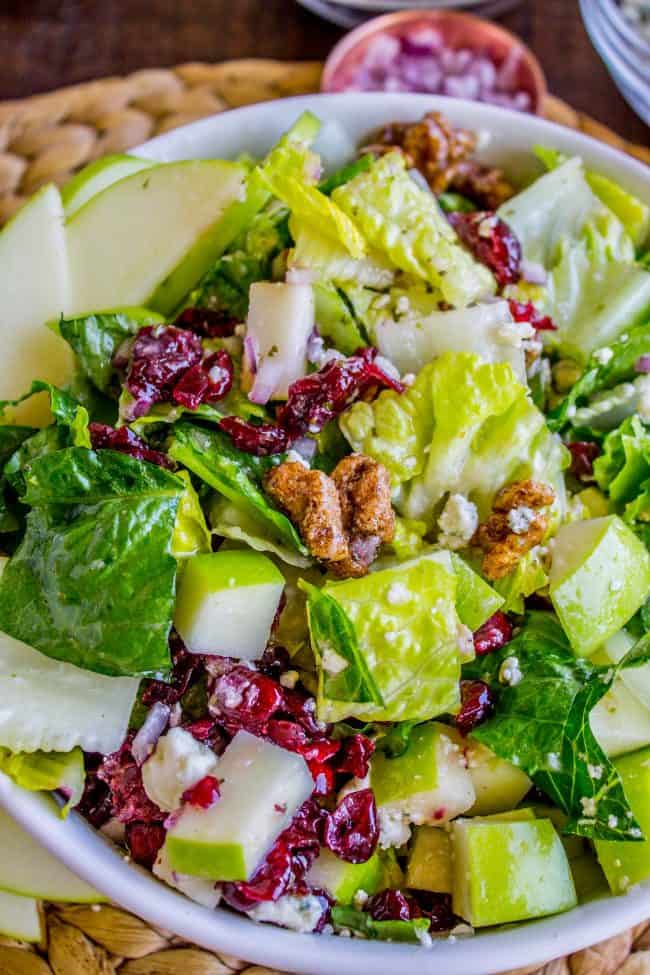 Anyway. Toss it all together, top it with a KILLER homemade vinaigrette, and you have the best homemade apple gorgonzola salad EVER! I have never been a salad person. My favorite salad up until this point was this Green Salad with Feta and Beets, mainly because there is ZERO chopping involved. (Seriously). But this Apple Gorgonzola Salad might be giving it a run for it's money.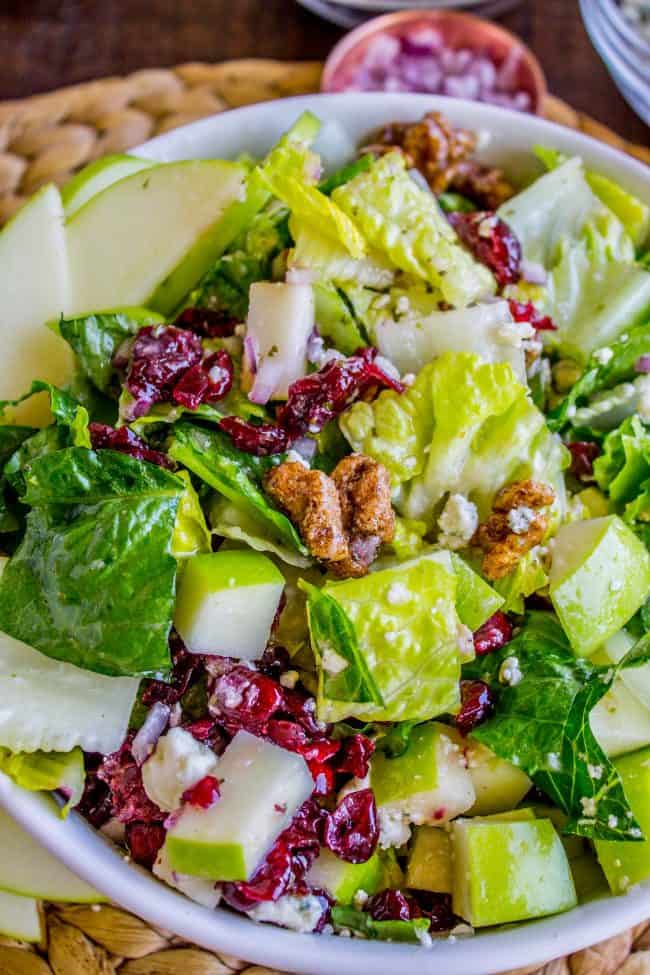 There are lots of shortcuts you can do to make this salad not so time consuming but still delicious. Buy pre chopped and pre-washed bags of romaine lettuce. Buy crumbled gorgonzola. Buy candied walnuts at the store. They will still be super delicious and you will save an hour in the oven. And lastly, although it kills me to say this, you COULD buy an Italian vinaigrette from the store. But I'm begging you to try making it at home at least once! It's such a great dressing, I'm obsessed!
Facebook | Pinterest | Instagram | Twitter
One year ago: Canadian Bacon and Havarti Cheese Sliders with Pesto Glaze
Five years ago: Roasted Tomato and Goat Cheese Sandwiches
Six years ago: Cinnamon Caramel Swirl Bars <<love these!

Apple Gorgonzola Salad (Buca di Beppo Copycat)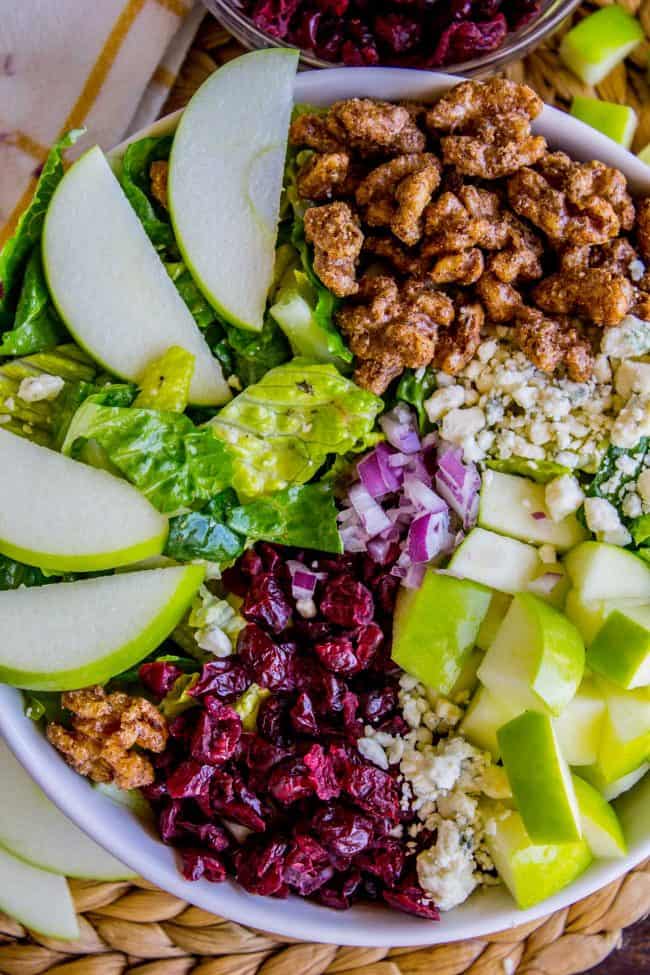 Have you had the Apple Gorgonzola Salad from Buca di Beppo? This copycat recipe is spot on! Fresh romaine lettuce tossed in a delicious homemade Italian vinaigrette, topped with dried cranberries, spiced walnuts, gorgonzola, and Granny Smith Apples!
Ingredients
For the Candied Walnuts
1

egg white

1

tablespoon

water

2

cups

walnut halves

,

or pieces

1/2

cup

sugar

1

teaspoon

cinnamon

1/2

teaspoon

allspice
For the Italian vinaigrette
1/3

cup

white wine vinegar

3/4

teaspoon

dried oregano

1/2

teaspoon

dry mustard

1

teaspoon

salt

dash

black pepper

2

cloves

garlic

2

tablespoons

red onion

,

finely minced*

3/4

cup

olive oil
For the salad
1

head

Romaine lettuce

2

Granny Smith apples

1

half

lemon

,

juiced (to preserve apples*)

3/4

cup

gorgonzola cheese

3/4

cup

dried cranberries
Instructions
For the walnuts:
Start by making the candied walnuts. Preheat your oven to 225. Line a

large baking sheet

with foil.

In a medium bowl, whisk together the egg white and water until foamy, about 30 seconds.

Add the walnuts and stir to coat.

Add the walnuts to a strainer in your sink. Try to prop it up on something so that the walnuts can drain, and leave it there for 2-3 minutes.

Meanwhile in a large ziplock, shake together sugar, cinnamon, and allspice. Add the egg white-coated walnuts, seal, and shake. Make sure they all get coated really well.

Dump the walnuts on the prepared pan and spread them out in a single layer, breaking up clumps.

Bake at 225 for 1 hour. Stir every 15 minutes.

Remove from the oven and let cool completely.
For the dressing:
In a blender, add the white wine vinegar, oregano, mustard, salt, pepper, garlic, and red onion (if you think you can eyeball it pretty well, you don't have to finely mince it first, just throw in what looks like it will be 2 tablespoons minced. Be conservative!)

Blend together. Open the spout while the blender is running and slowly pour in 3/4 cup olive oil. Set aside.
To assemble:
Wash and chop the lettuce into bite size pieces, drying it in

a salad spinner

if you have one. (I love my salad spinner. It's so fun!)

Core the apples. Chop one into bite size pieces, and thinly slice the other one. Put them immediately in a medium bowl with the lemon juice, stirring to coat. (This is to prevent browning, and is only necessary if you are interested in pretty presentation.)

Add all the romaine to a large serving bowl. Add at least 1/2 cup of the dressing, or more. Stir to coat. Add the chopped apples, 1/2 to 1 cup candied walnuts, most of the gorgonzola, and most of the cranberries. Toss together.

Top the salad with additional walnuts, gorgonzola, and cranberries. Layer the sliced apples on top however you like.
Notes
*I chopped extra finely minced red onion and I threw it on top of the salad. Totally optional. You only need 2 T for the dressing.
If you are not serving it right away, wait until the last minute to dress the salad.
I adapted this recipe is from Kelsie's Kitchen, who got it from Meemo's Kitchen (who's blog is no longer active).
Nutrition
Serving:
1
cup
|
Calories:
536
kcal
|
Carbohydrates:
36
g
|
Protein:
8
g
|
Fat:
43
g
|
Saturated Fat:
7
g
|
Polyunsaturated Fat:
16
g
|
Monounsaturated Fat:
18
g
|
Cholesterol:
8
mg
|
Sodium:
455
mg
|
Potassium:
426
mg
|
Fiber:
6
g
|
Sugar:
27
g
|
Vitamin A:
6932
IU
|
Vitamin C:
6
mg
|
Calcium:
124
mg
|
Iron:
2
mg
You will love these other salads! See, I do have a few on the blog!!
Green Salad with Feta and Beets (The Fanciest No-Chop Salad Ever) << Really. NO chopping. My favorite kind of salad!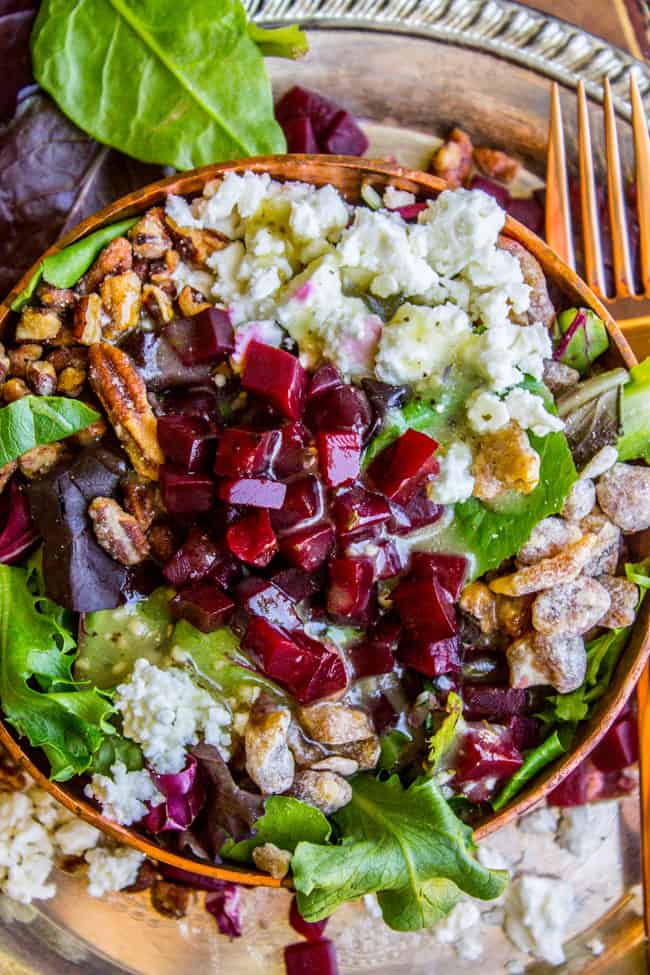 Copycat Cafe Zupa Poppyseed Dressing and Spinach Bleu Cheese Salad << classic!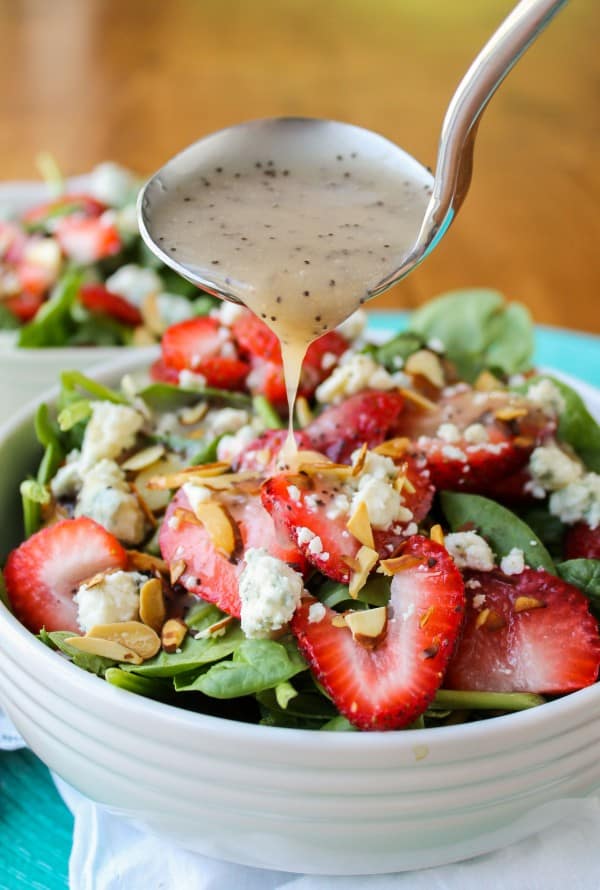 Pineapple Spinach Salad << with candied pecans! yum!
Other salads from great bloggers you will love!
Spinach Apple Salad from Your Homebased Mom
Arulgula, Apple, and Goat Cheese Salad with Cider Vinaigrette from Eats Well with Others
Salad with Apples and Cucumbers from Rachel Cooks
Blueberry Apple Walnut Salad from Barefeet in the Kitchen