Pulled Pork with Peaches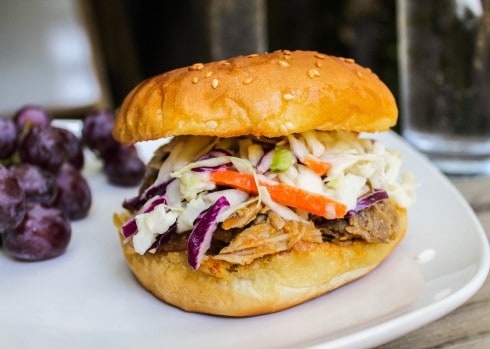 I've had peaches on the brain all summer. My mom, who lives an hour away, came up to my house a few weeks ago when her tree was ripe and we were going to spend the day canning peaches. It took us 20 minutes to unload all the bazillion peaches from her car, not to mention the jars and lids and everything else. The only thing missing was the pressure canner itself.
Oops.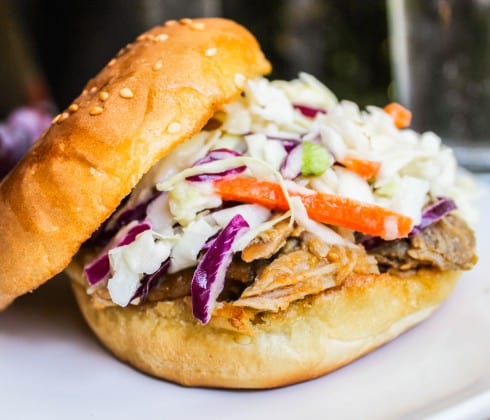 We decided to freeze them all instead. Mine are almost gone, which is kind of ridiculous. There are just so many delicious things you can do with peaches. Smoothies, hello. I've been using the leftover juice (from thawing them) in pancakes. SO good.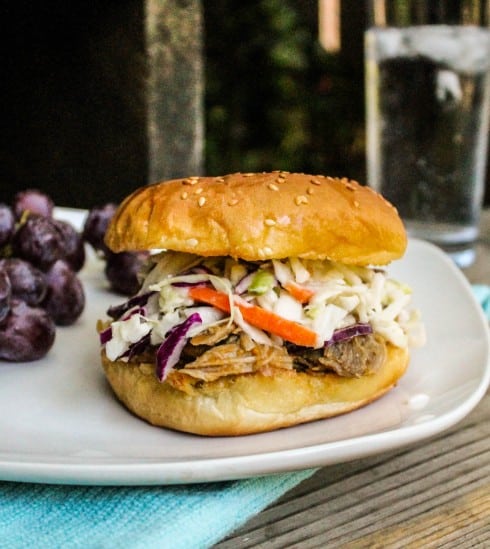 I also made this pulled pork. It's pretty awesome. We ate it on buns with coleslaw, but you could also throw it in a tortilla, squirt on some lime juice and Mexicanify it. You can't get any easier than this crock pot recipe. Throw the pork in the pot, throw everything else in the blender, and dump it on top. Easy peasy. A reader just emailed me today asking for more peach recipes…here you go Sha Lene!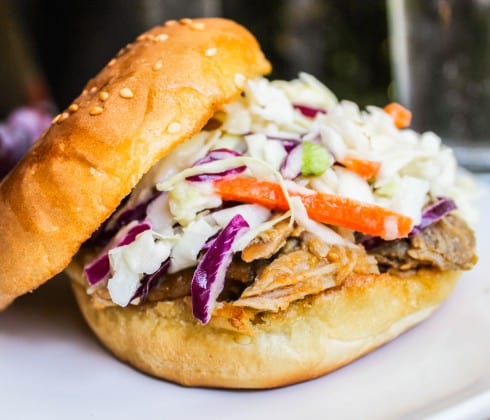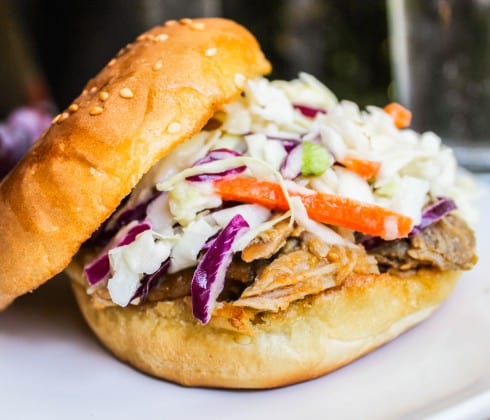 print
Did you make this recipe?
Leave a review »
Pulled Pork with Peaches
Serves 12
adjust servings
Ingredients
1

(5 pound) boneless pork roast

4

cups sliced peeled peaches

2/3

cup ketchup

2/3

cup vinegar

1/4

cup soy sauce

1

cup packed brown sugar

2

tablespoons minced garlic

2

tablespoons fresh ginger, grated or chopped

buns

coleslaw
Instructions
Place pork roast in a slow cooker. Cook on low for 5 hours.
Remove the roast, let the meat rest for 5 minutes or so, then shred with 2 forks. Discard the cooking liquids and return the shredded pork to the slow cooker.
In a blender, add the peaches, ketchup, vinegar, soy sauce, brown sugar, garlic, and ginger. Blend until smooth. Add to the slow cooker and mix with the pork. Cook for 1-2 hours longer, or until heated through.
Serve on buns with coleslaw. Or you could throw it in a tortilla with sour cream, lettuce, tomato, and avocado.
by The Food Charlatan

If you make this recipe,
share it on Instagram
 using the hashtag
#TheFoodCharlatan
so I can see it!
Source: Always in Season, a collection of recipes from the Junior League of Salt Lake City

We are a participant in the Amazon Services LLC Associates Program, an affiliate advertising program designed to provide a means for us to earn fees by linking to Amazon.com and affiliated sites.