This dreamy Creamy Cucumber Salad recipe is a famous one from Aunt Joy! Thinly sliced English cucumbers soaked in a simple 4-ingredient dressing made with mayo and cream. Top with some fresh herbs and don't forget the thinly sliced onions! It's crisp, refreshing, and the perfect side dish to complement your summer BBQ.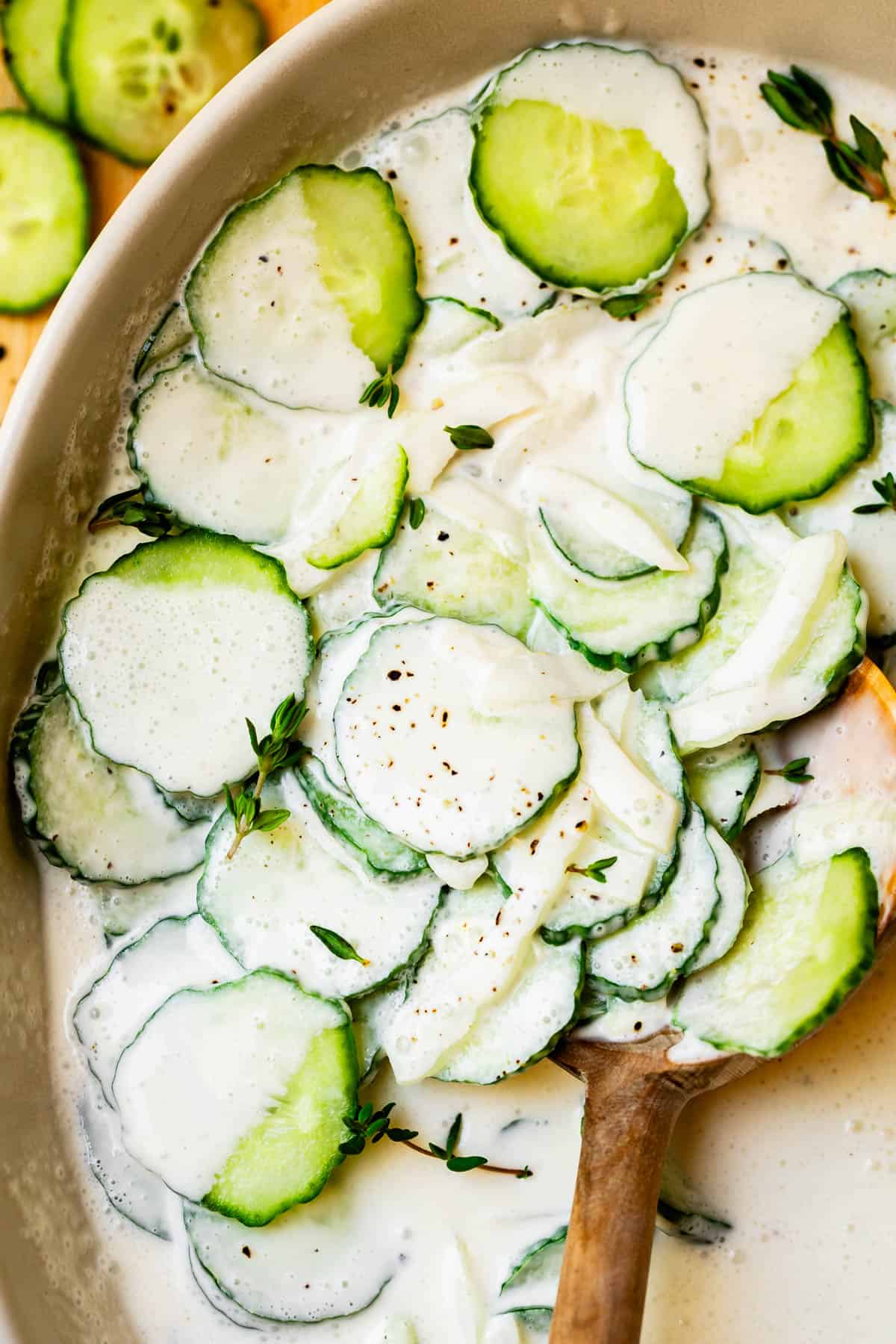 Table of Contents
What level of summer have you reached at your house? We are at the height over here. You might think that means popsicles and swimming nonstop, and it definitely does. But it also is the level where this morning my 3-year-old finished his 10am Lucky Charms when we were out of the room, and wasn't sure what to do with the leftover milk. So he dumped it right back into the milk jug. And all over the floor. Good idea, right?
Eric comes in to tell me, don't let any guests drink our milk for a while. There's a few marshmallow floaties in there. We both just laughed and shrugged. Whaddayagonnado, you know?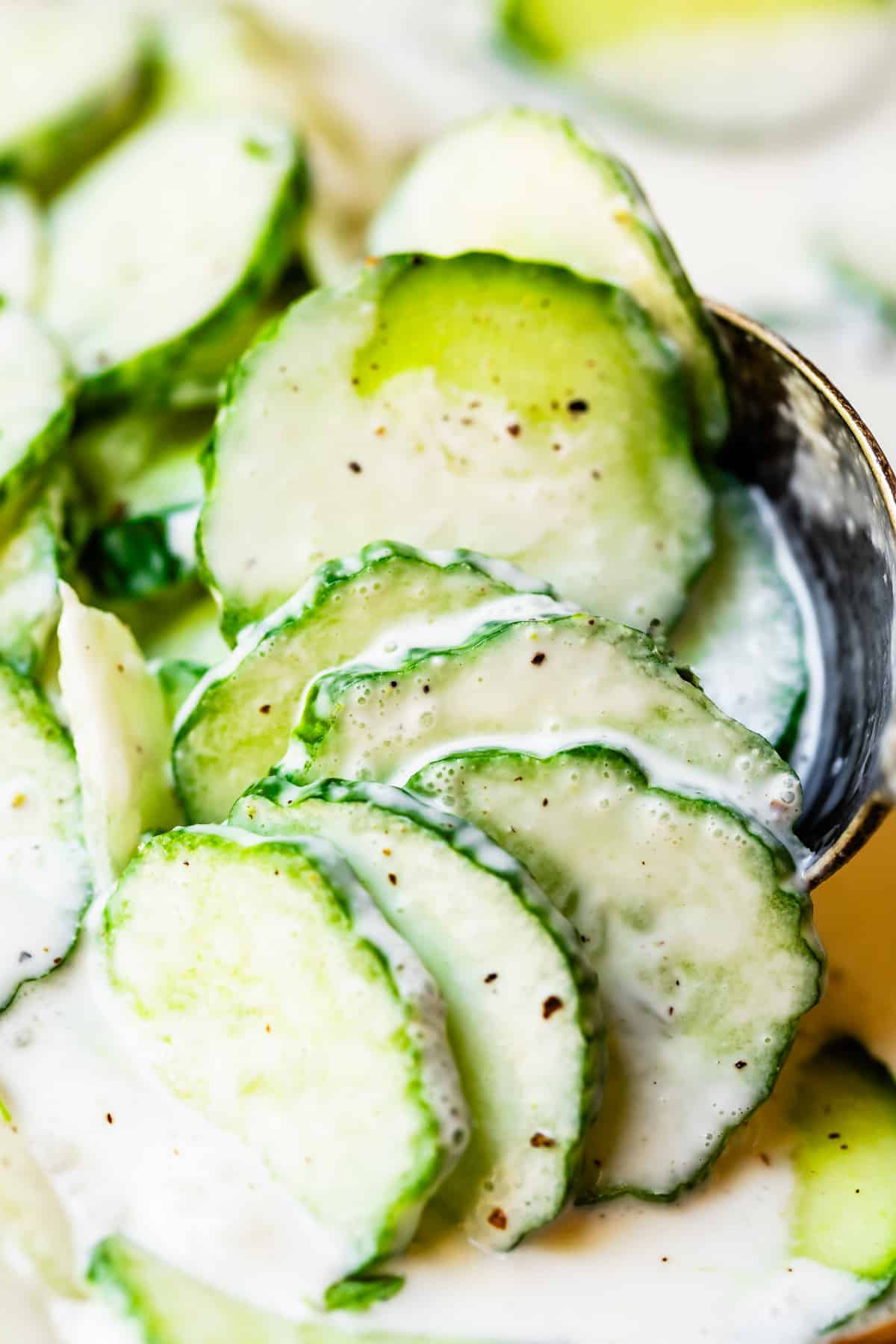 This is NOT how school-year mom would have responded. First of all, school-year mom would have been in the room for breakfast (which would have been happening at 7am, not approaching lunchtime). And if cereal-milk did somehow get poured into the milk jug, I might have tossed the whole thing.
But not Summer Mom. She's at a whole different level of I-don't-care over here. Germs? What are those? Go sit in the sun for a while, they will burn off just fine. (Aren't you dying to come to my house now??)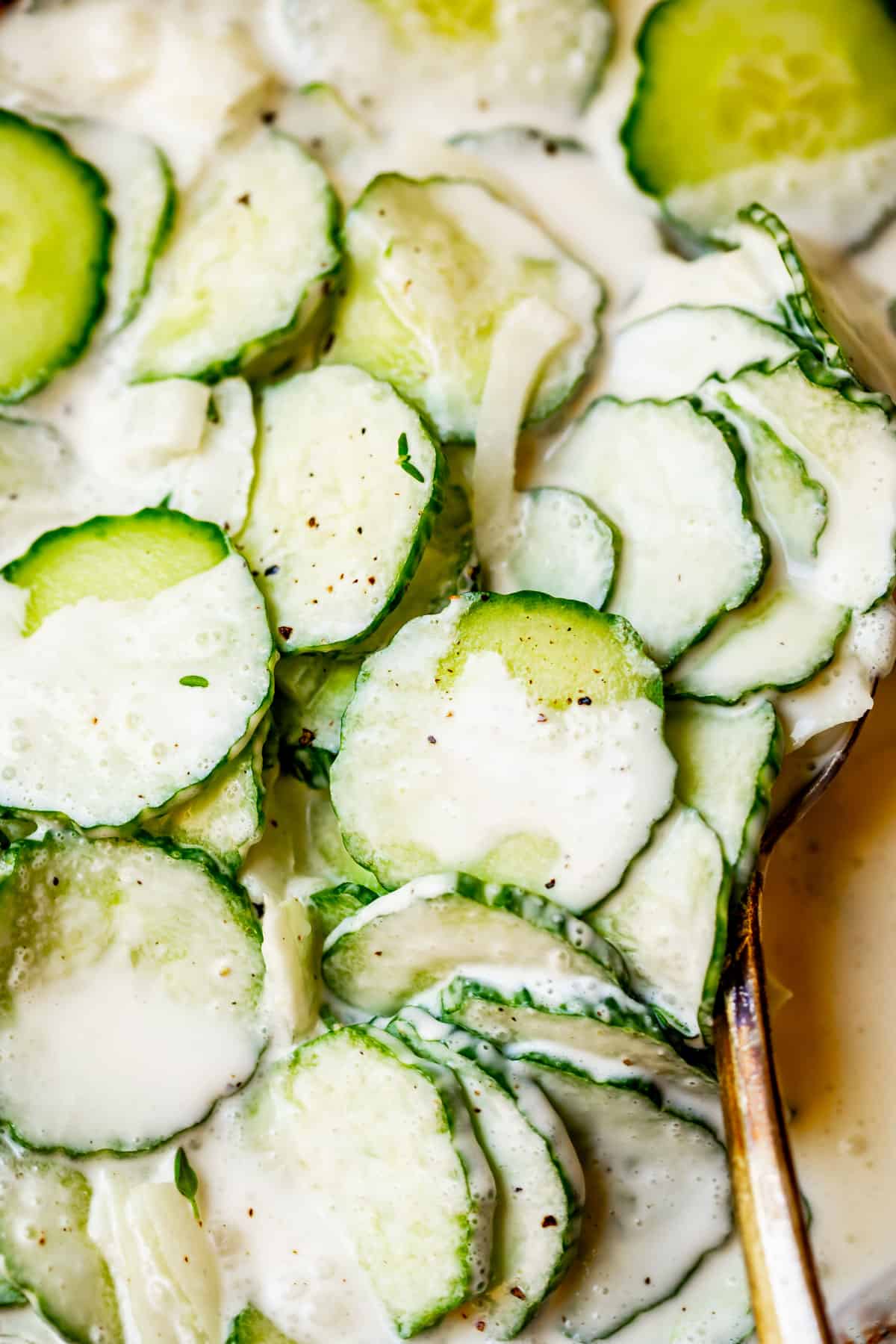 4th of July Menu
Eric and I started planning our 4th of July menu before the big day, and suddenly I saw that look pass over his face, you know the one. The one where they've gone back in time, to another world, the world of childhood nostalgia. "Oh my gosh! We have to make Joy's Creamy Cucumber Salad!!" This is the kind of stuff we get excited about over here.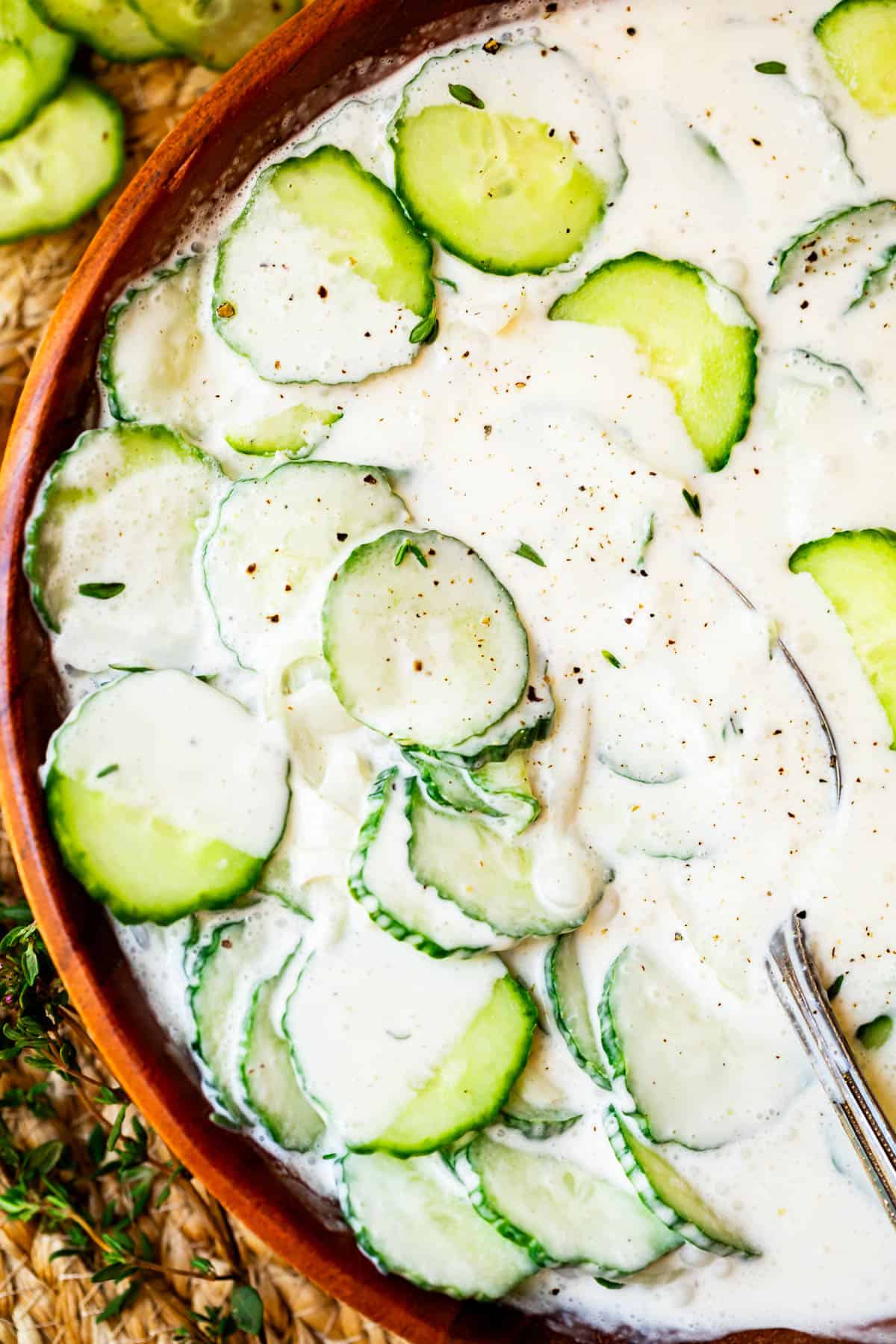 Eric's family's 4th of July menu is very set. We ALWAYS have the same thing, give or take a side or two:
Fruit salad or watermelon
Bush's original baked beans, from a can, don't judge they are so good and sometimes you need to push the easy button
And, according to Eric this year, when he was a kid Aunt Joy always brought her famous Creamy Cucumber Salad. This is news to me after 15 years in the family and I'm feeling a little put out that nobody mentioned this essential side dish to me. What gives you guys?? It's not like I do recipes for a living over here??
Joy's Creamy Cucumber Salad
You would not believe the number of text messages I sent to get my hands on this recipe guys. Eric has Joy's phone number of course, but mom always knows best, and Kris is basically our resident Blog Mom, so he texted her first: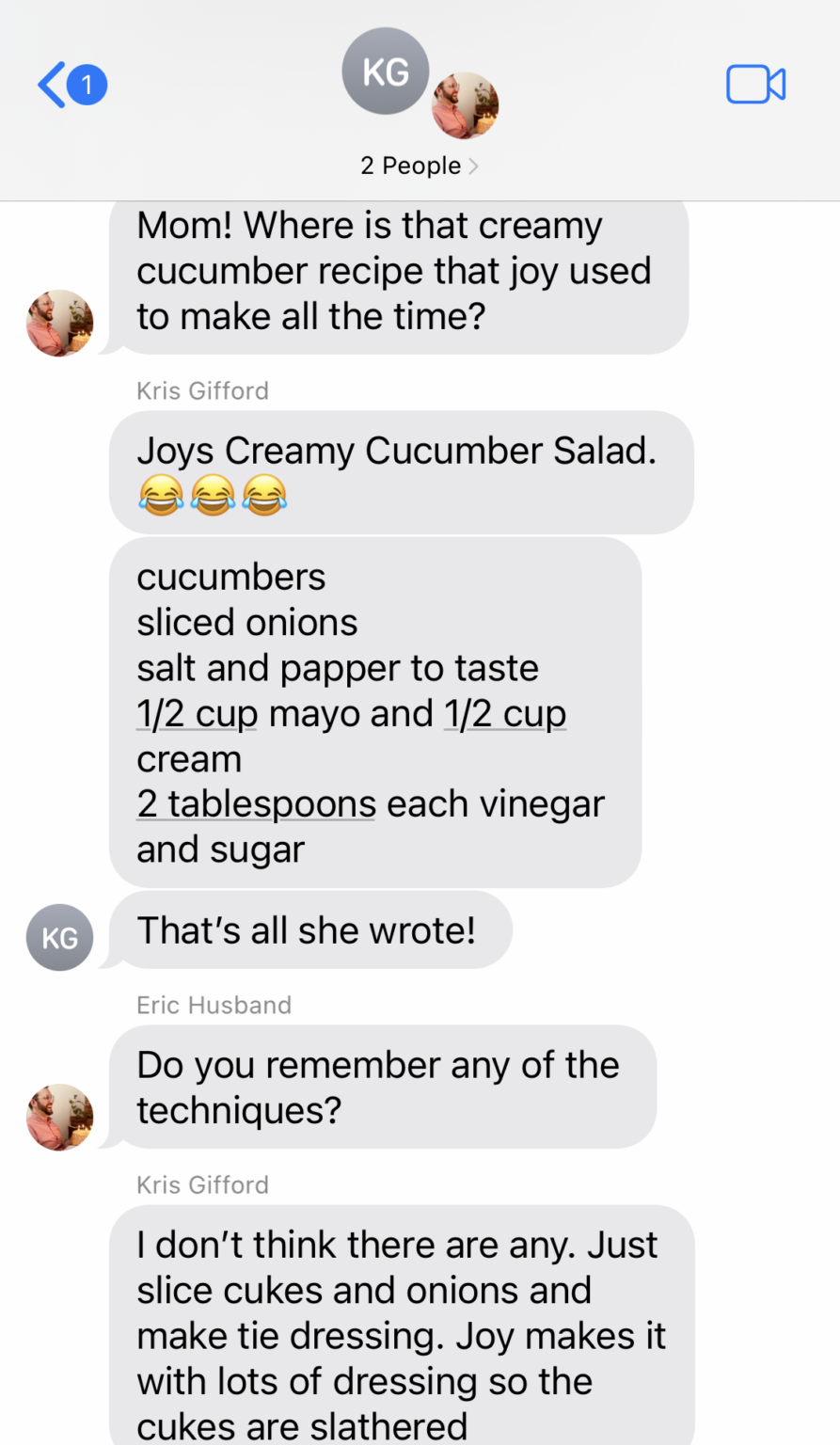 JOY!! Who writes a recipe that's just a list of ingredients?? Joy does, that's who. (You should have seen me on the day I tried to figure out Joy's Potato Salad recipe. She probably could not believe how many times I called her.) You guys might think I would be more confident after all these years of cooking, but sometimes, especially when you are dealing with your husband's Childhood Memories, you can't take chances. You have to dig for the details.
Joy was stumped by all my questions and finally just sent me the original recipe (It's the top one, and someone please let me know if you try the carrot casserole, it sounds pretty good! I'm on board with any recipe calling for Cheez Whiz):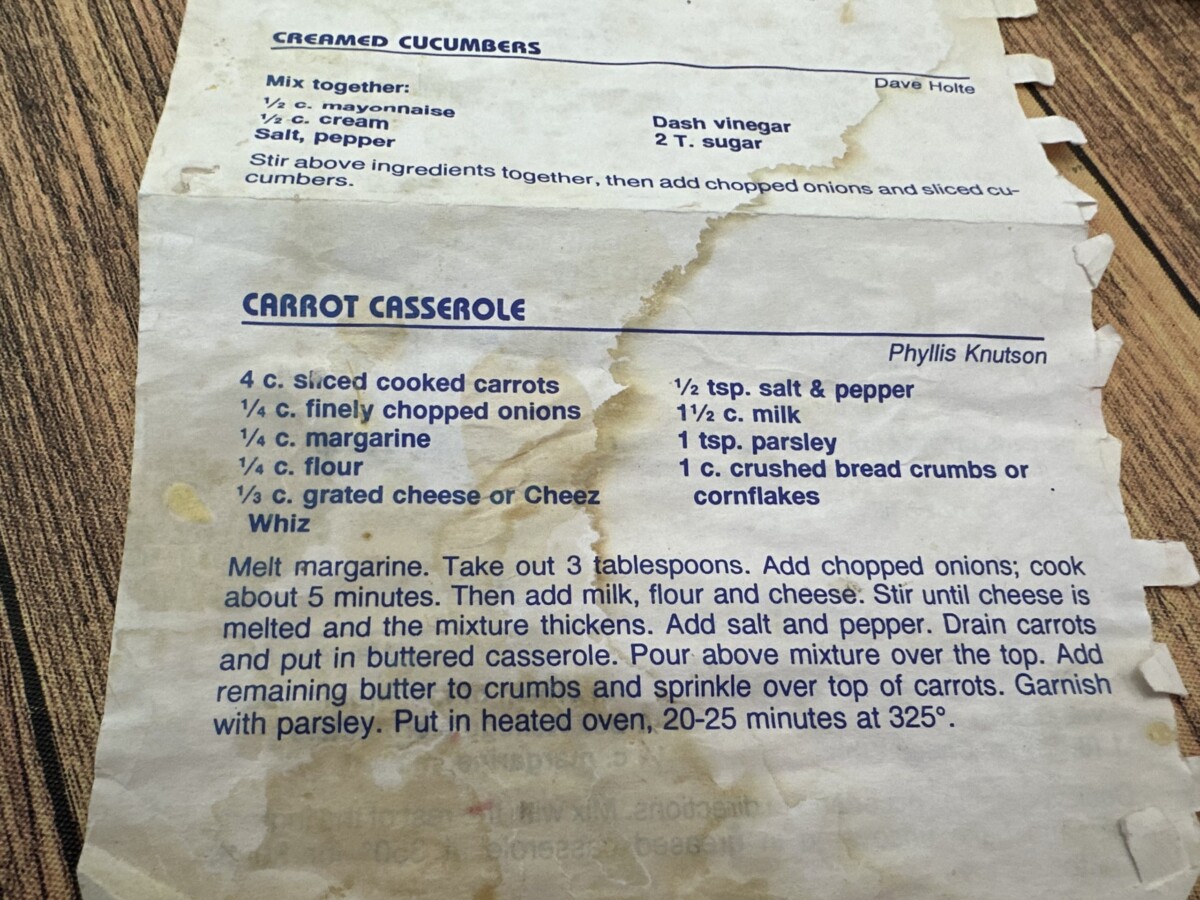 YOU GUYS! Even the printed creamed cucumber recipe is incredibly vague! (Side note: my son Truman learns most of his new vocabulary from books and he always pronounces "vague" as "vog". it's hilarious to me.)
But back to my indignation. "Add cucumbers and onions"?? What even! how many?? I'm dying over here, haha!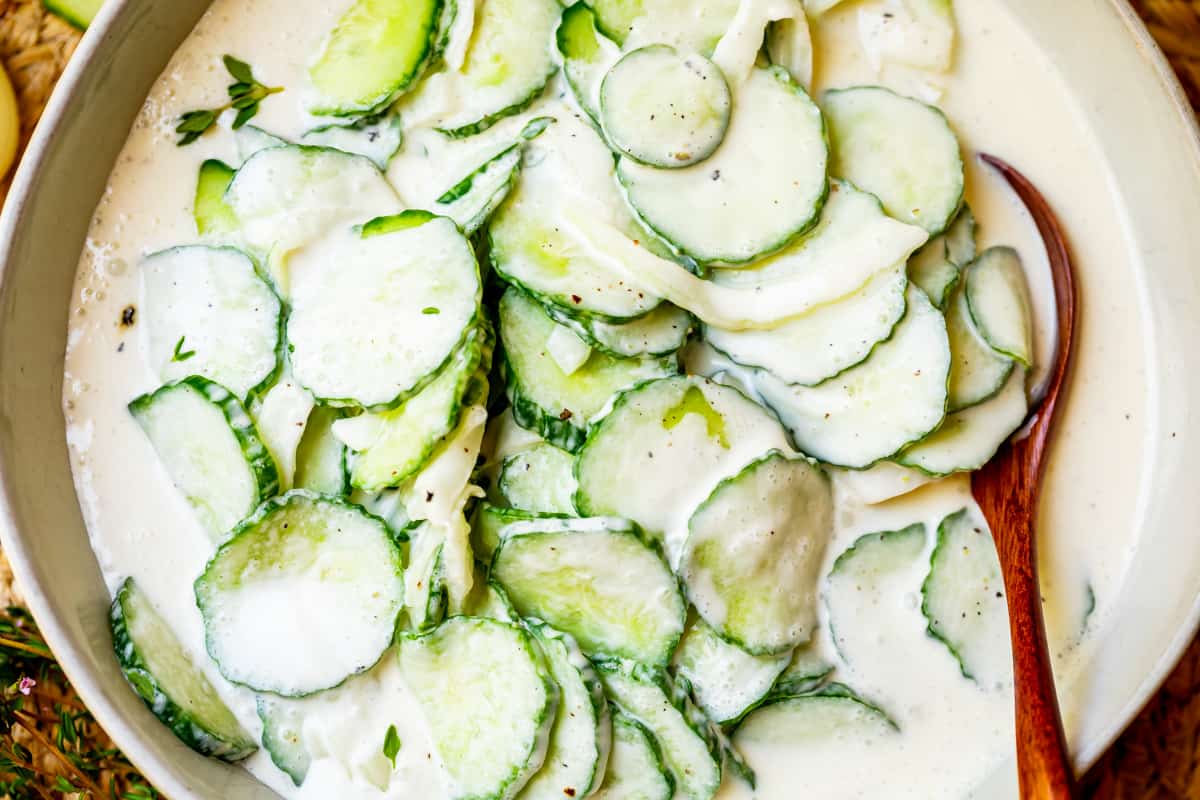 Everyone kept emphasizing to me that Joy makes her salad with "LOTS OF DRESSING" so the cukes are absolutely slathered. I'm not one to argue with tradition, especially when it comes in the form of cream and mayonnaise, so I did my best. The beauty of this recipe is that if you feel like there's too much dressing…just add more cucumbers. Easy! Even the original recipe can't tell you how many to add, so you do you!
Creamy Cucumber Salad Ingredients
Do we need to go over Joy's list again?? I made it even longer. See the recipe card below for the full ingredients and instructions, this is just for your grocery list!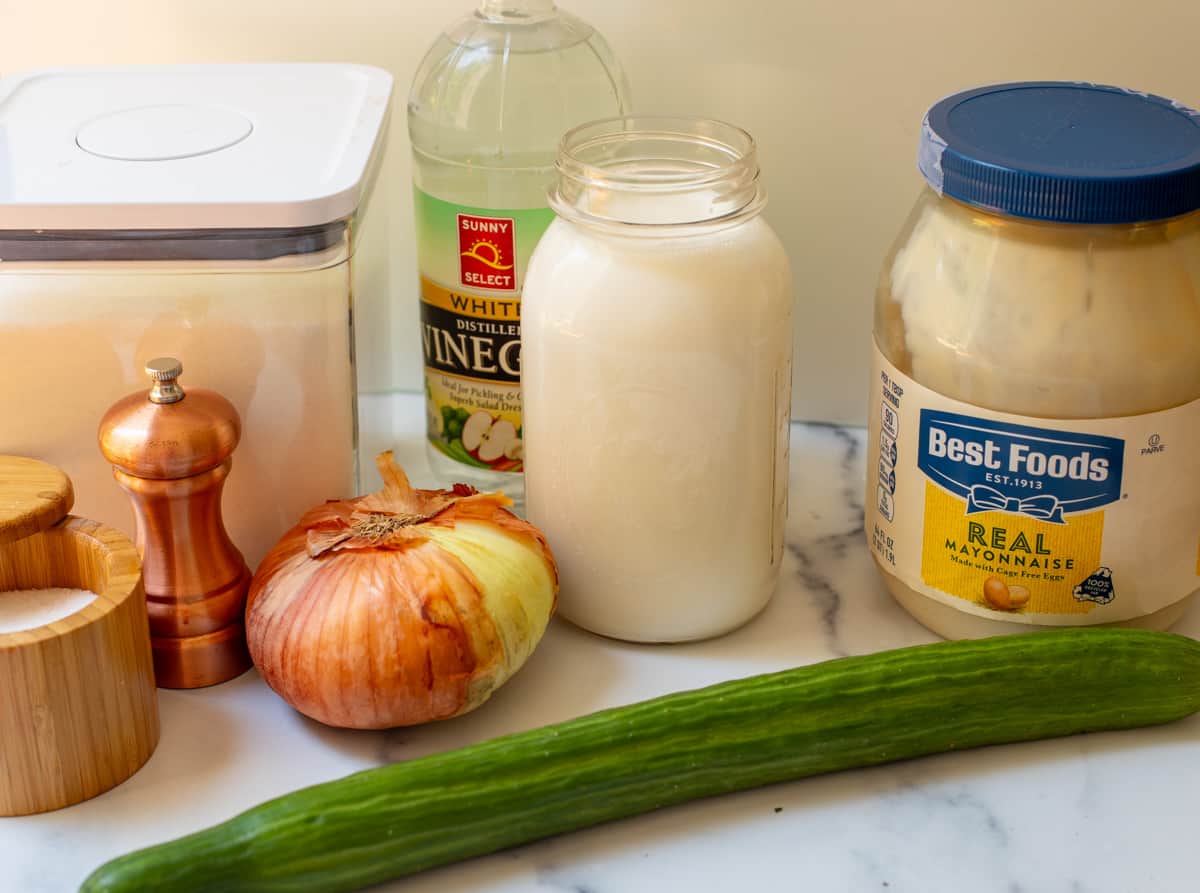 (yes, my mayo lid is taped. Some kid dropped it and tried to fix it. It was probably Edison, right after he poured his Lucky Charms milk back into the jug.)
Mayonnaise
Cream
white sugar
white vinegar
salt n pepper, a little cayenne too if you want
English cucumbers
Sweet Vidalia onion
Fresh herbs if you want, I love dill or thyme
How to make creamy cucumber salad
Y'all, this recipe is so easy. I have a few more tips to add on to Joy's list of ingredients, but honestly not many. It's pretty stupid easy. This is a quick overview, full instructions can be found in the recipe card below!
First add in your mayo.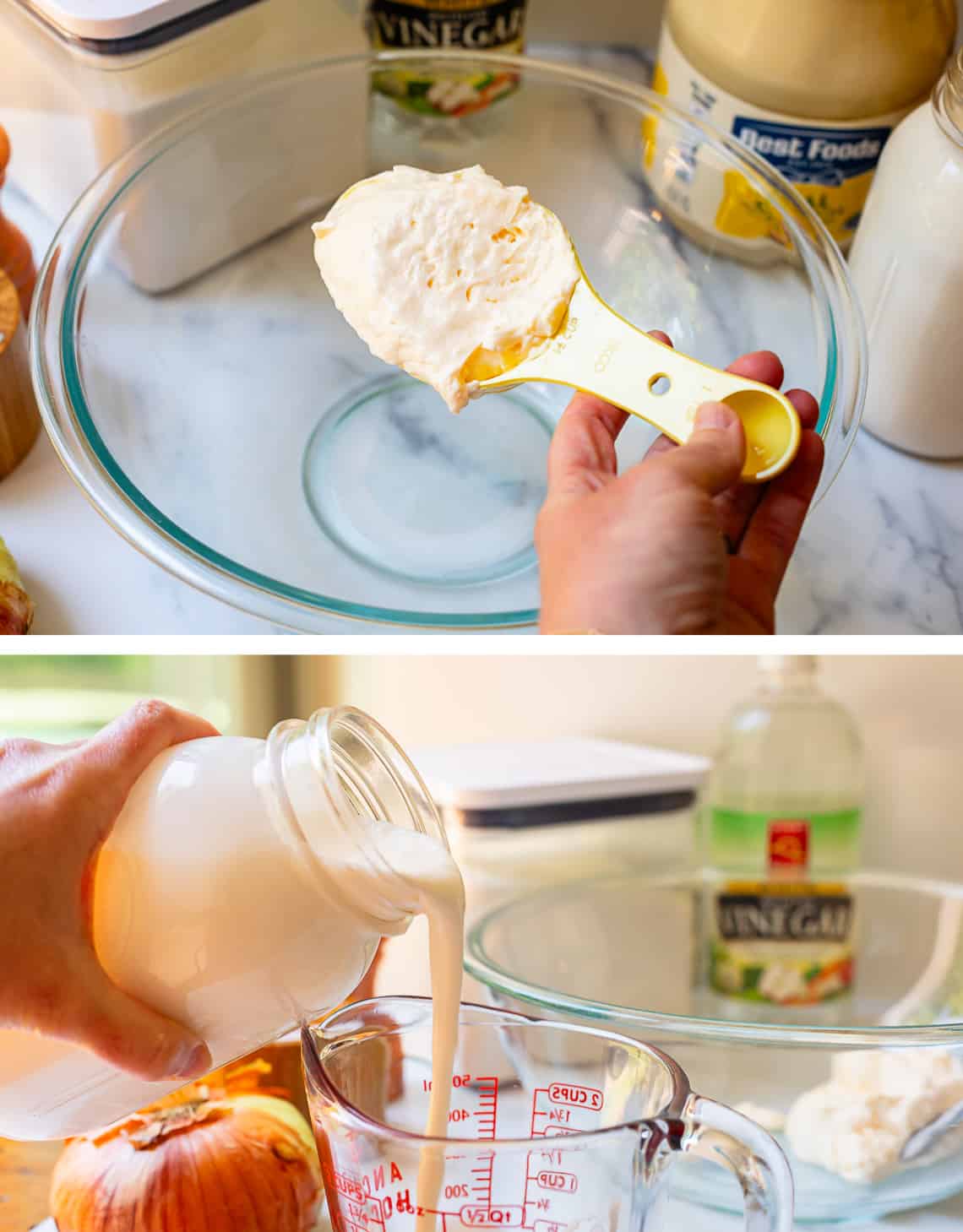 Then add in your cream. No, I am not one of those food bloggers who pours my cream into a jar and then pours it into my recipe to be cute. I have not reached that level of Pinterest yet (see above about what level summer mom I am; also remember the broken mayo lid??)
The truth is that we came home from vacation to a smell in our fridge like something had DIED and after days of cleaning everything out I was convinced that the smell was lingering on my carton of cream, but the cream itself was actually okay. So into a mason jar it went, and then into my cucumber salad. (Don't you want to come to my house for dinner?)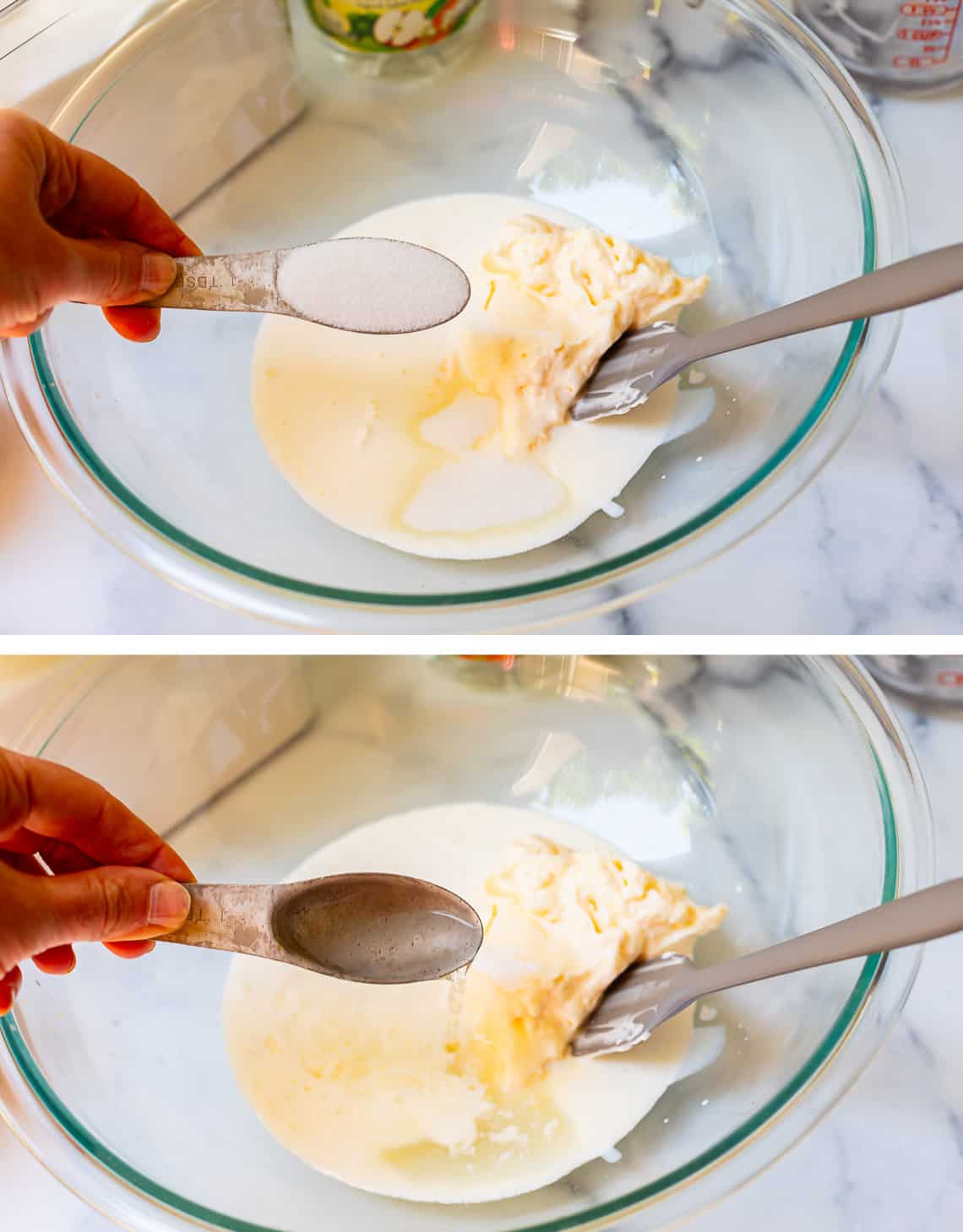 Add in some sugar and vinegar. White sugar, white vinegar, nothing fancy going on here.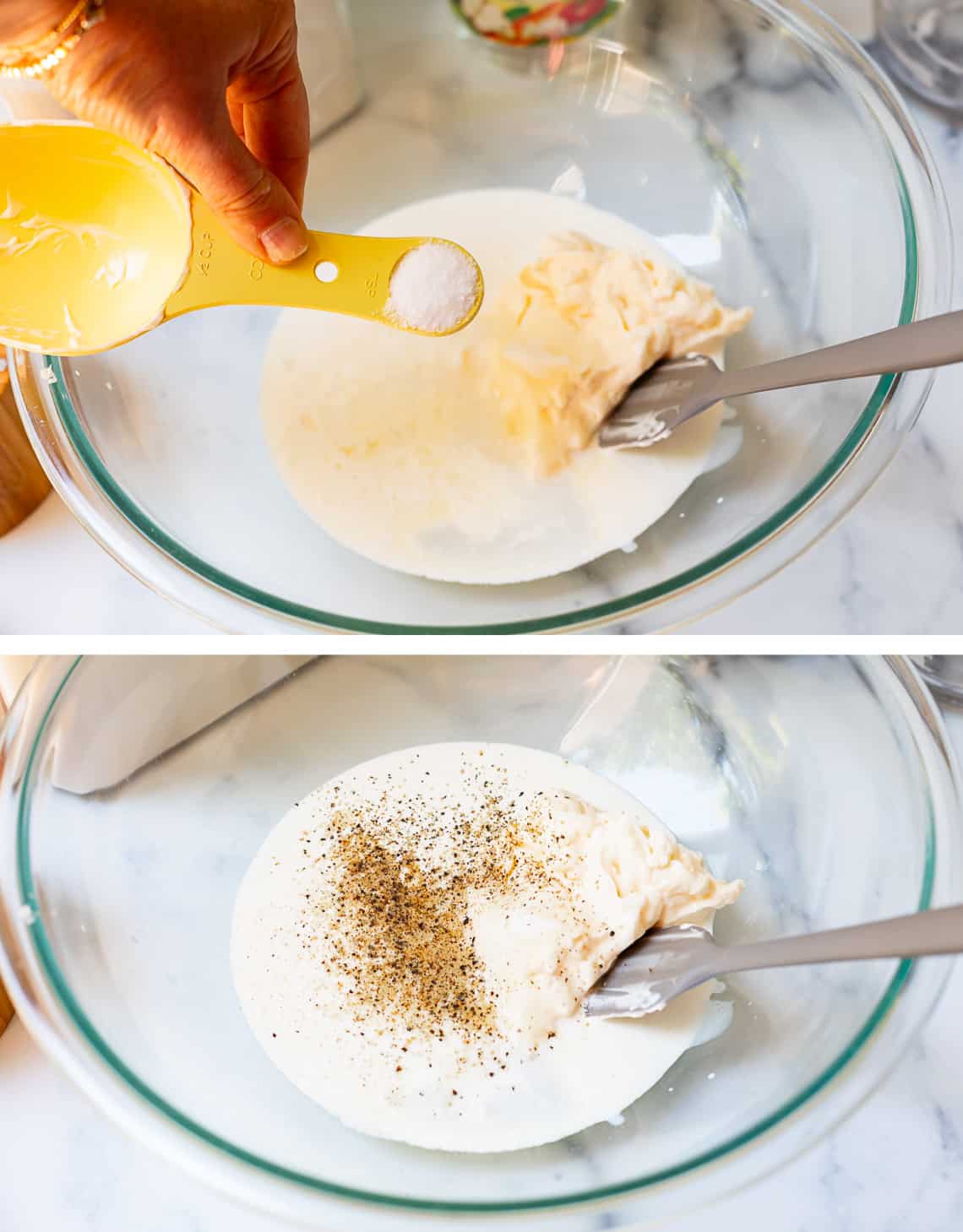 Then use the other side of your grandma's electric yellow measuring cups to add in more than a teaspoon of salt. I love to use kosher salt; it's not overly salty. this makes sense, right? Someday I need to write a whole post about how wonderful and amazing kosher salt is.
Add in some pepper, freshly cracked plz.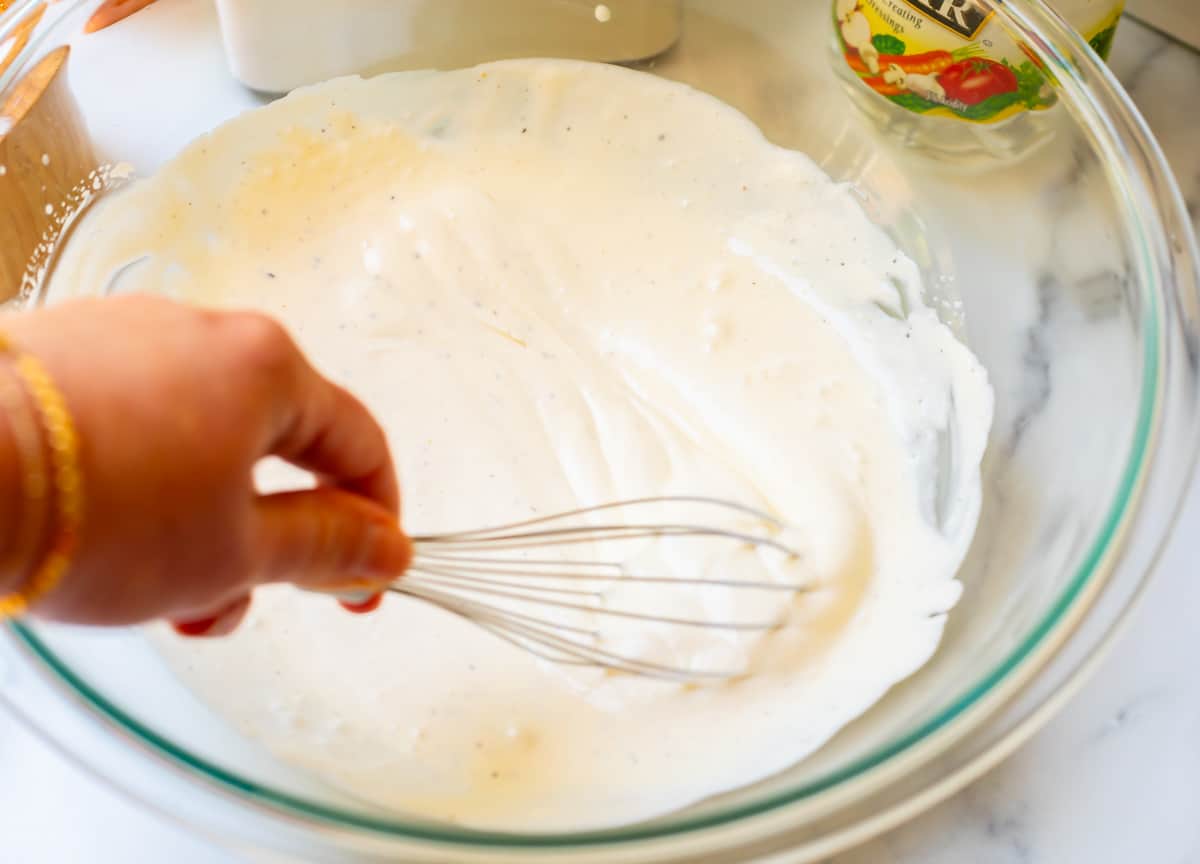 Then whisk it all together using the tiny whisk attachment for your hand mixer because it's all you could find. It's fine, it's fine.
Okay dressing is done! Give it a taste. Add in some more vinegar if you want more bite, more salt, pepper, sugar, whatever you want. The original recipe can't even tell you what to do, who am I to be picky??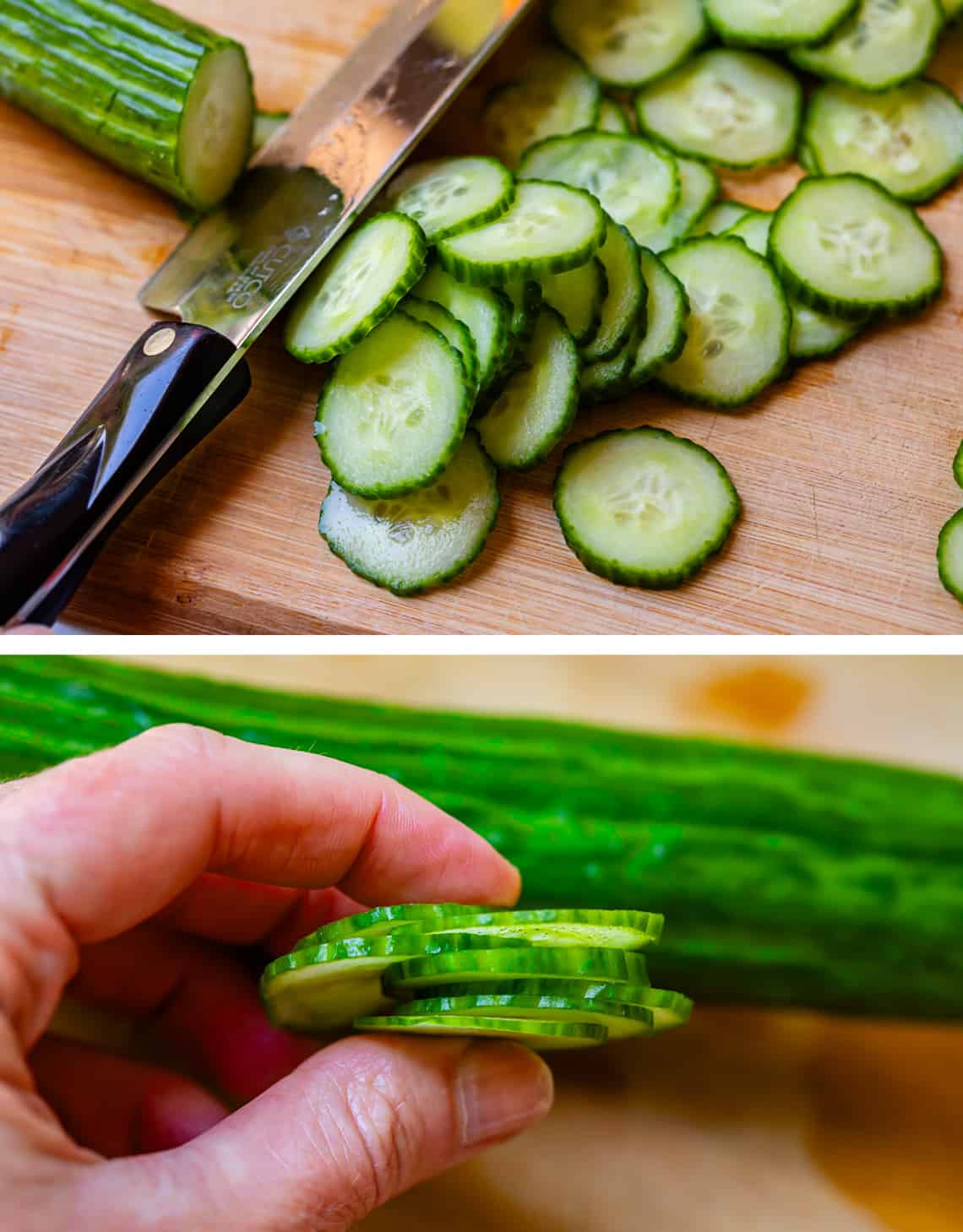 Now here's one thing I will be picky about: slicing cucumbers. These cucumbers had better not be too thick. We want thin slices (but not too thin, Goldilocks). I like to use a knife, but you can use a mandoline too, if you are very careful and promise not to be an idiot. I will NOT drive you to the ER. You want slices that are about 1/8 inch thick or smaller.
My nails are in a sad state for this photo, and I'm having flashbacks to the first viral post I ever had, back in 2014, for this Cilantro Lime Cucumber Salad, and all the internet trolls coming after me for my horrendously chipped fingernail polish. YOU'RE GOING TO BE NICER TO ME, RIGHT??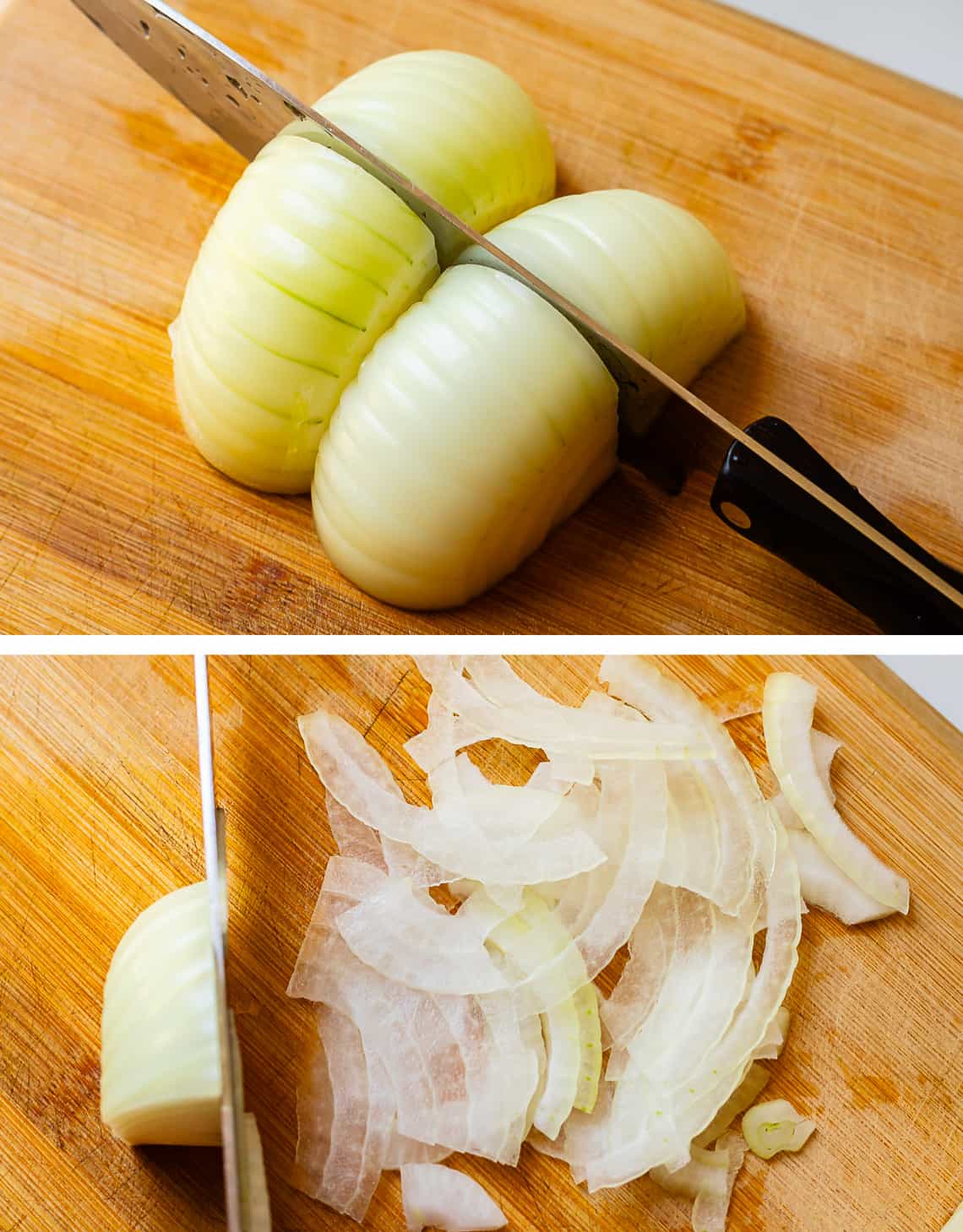 Slice your onion as thinly as possible. I like to use a Vidalia onion, they are sweeter than normal yellow onions. They were not even labeled separately at my store, they were just tossed in with the yellow onions. But you can tell them apart because they are not perfectly round. They are more flat on the ends.
Sweet onions are great because they don't have as much of a bite, which is great since we are eating them raw. I love the flavor they add to this salad! Do not skip it! Any kind of onion you like would be a good sub for this. I was tempted to use red onions because they are prettier, but again with the Untouchable Childhood Memories.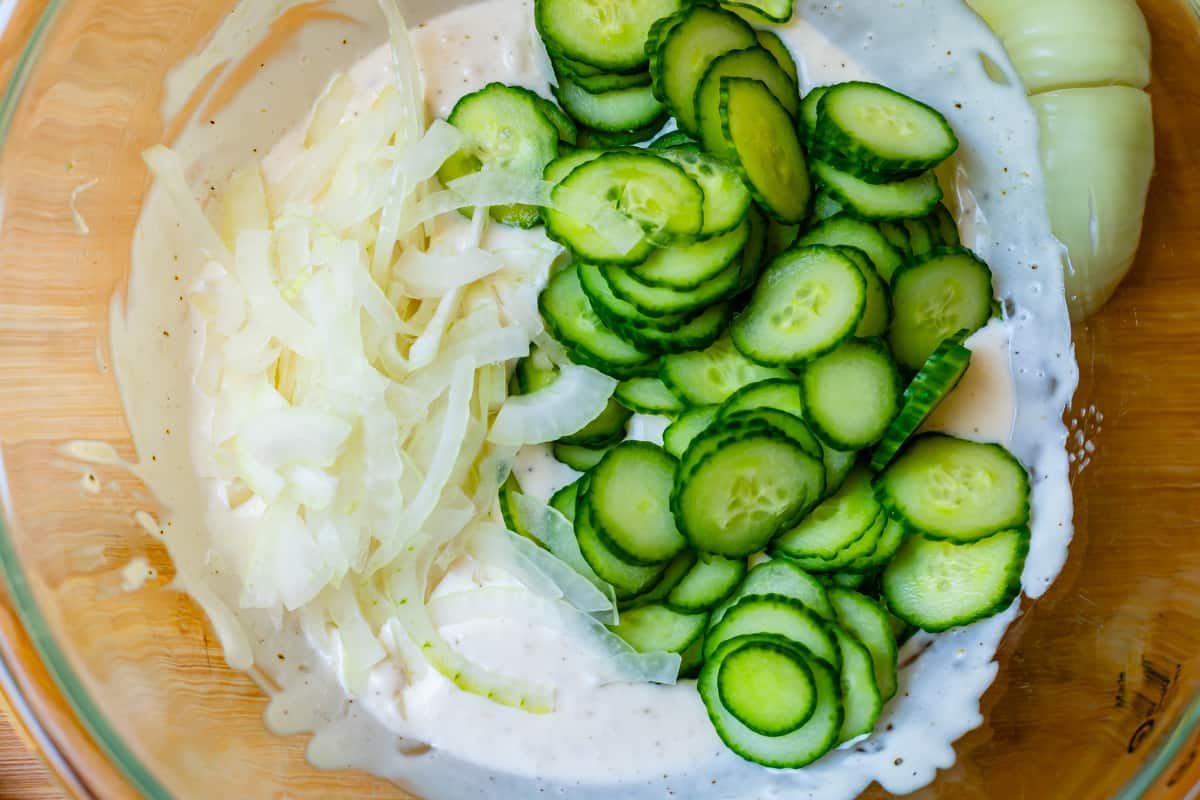 Add the veggies to the dressing…
I called Kris at this point to see if I should add more cucumbers. She said no, Joy makes it so that the cucumbers are totally slathered. So we stopped here. This is one English cucumber, chopped. But you could absolutely add more cucumbers if you want, and more onions too. Remember, the recipe didn't even specify!!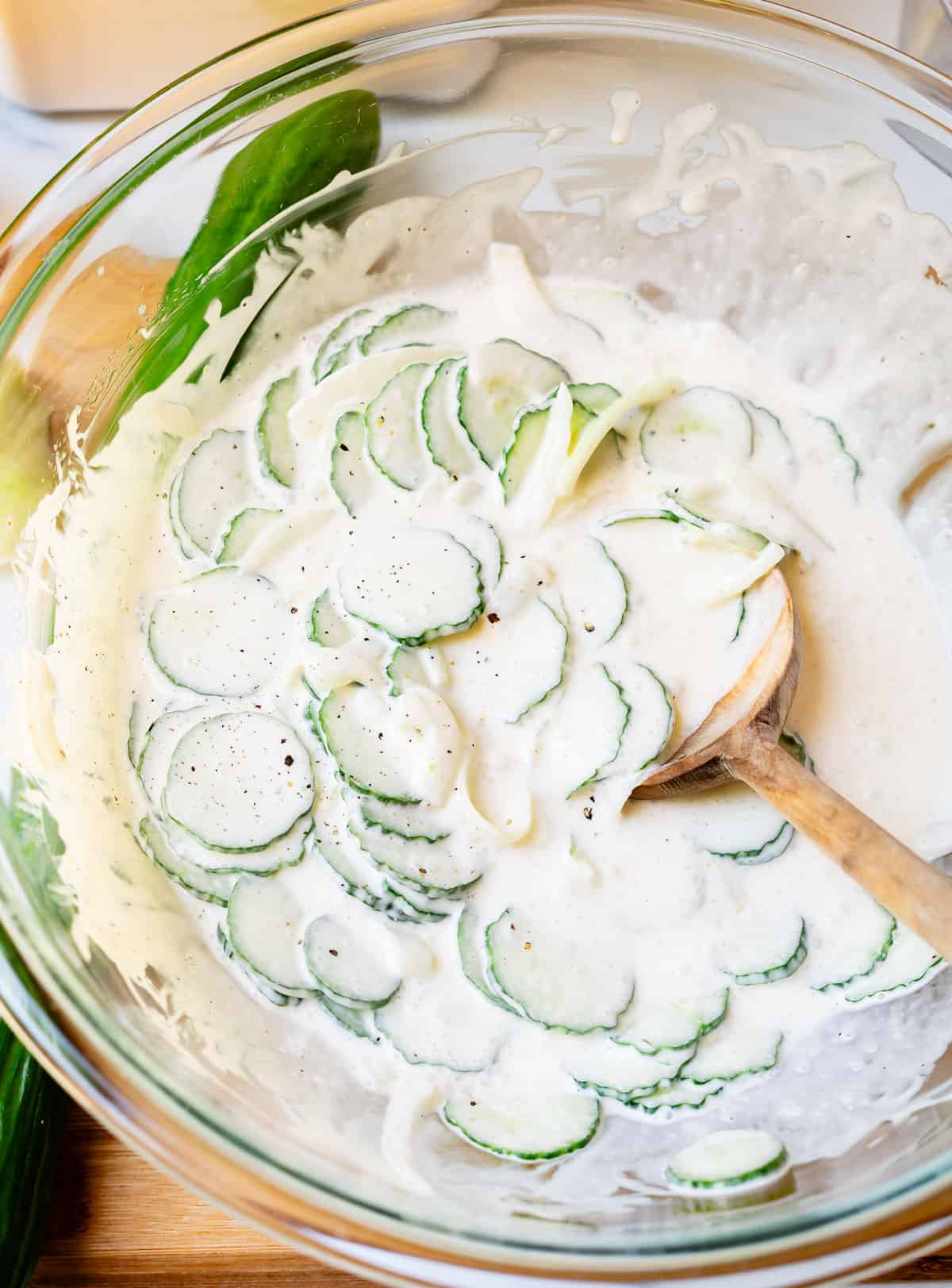 What do you think, sufficiently slathered? Don't you just want to dig in? Serve this with a slotted spoon. But even then, you're going to get this dressing all over everything else on your plate. And that's not an apology.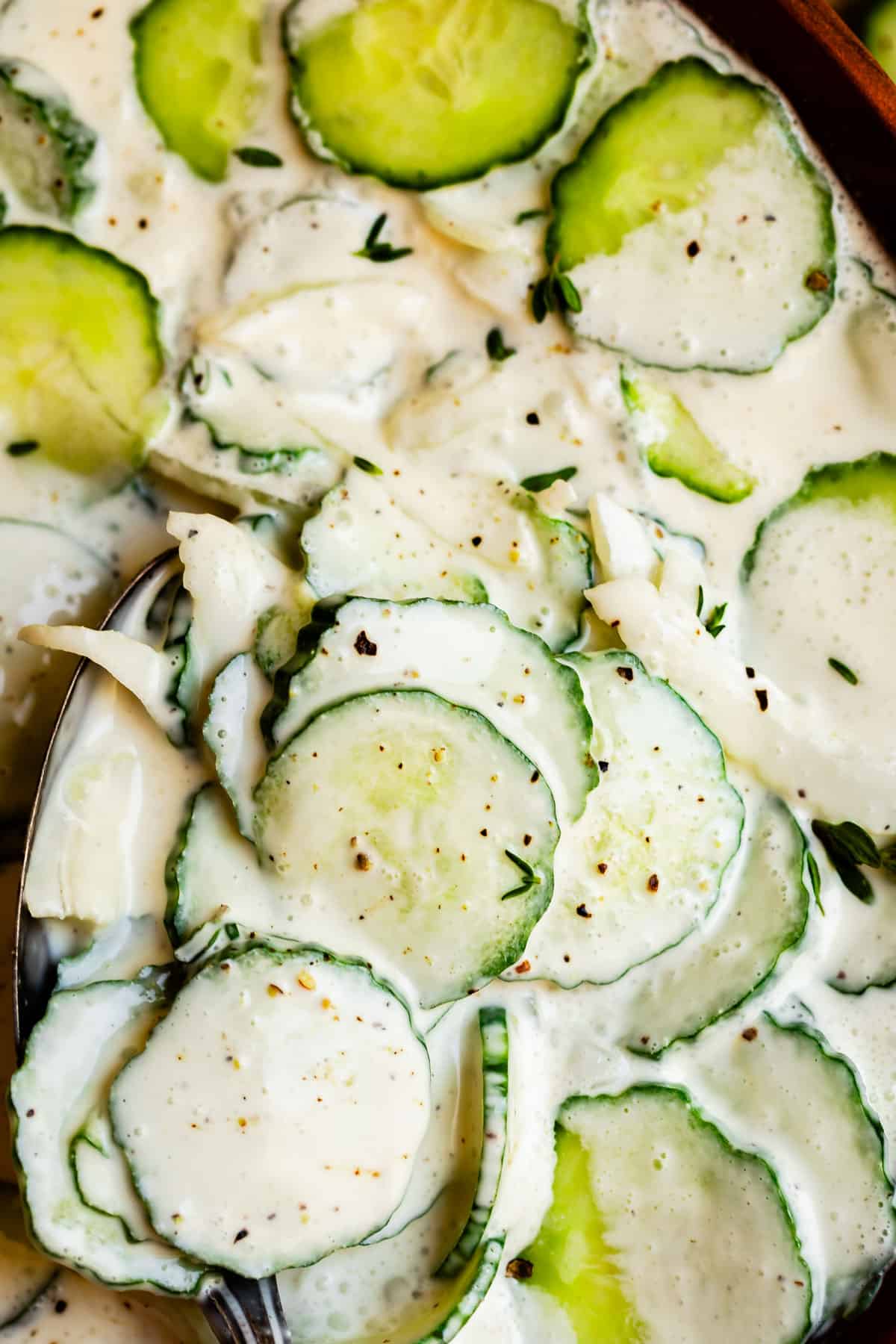 You should have seen the look on Eric's face as he finished up his 4th of July plate of ribs and sides. The sauce from his cucumber salad had soaked his paper plate and everything on it. He giddily fed me an errant strawberry from the fruit salad that had gotten doused in cucumber dressing. "Isn't it so good??" Yes Eric, yes. haha. Nothing tastes as good as nostalgia, right? Long live childhood food memories!
What to serve Creamy Cucumber Salad with
How to store Creamy Cucumber Salad leftovers
Cucumber salad is best fresh, but it will last in the fridge for 2-3 days. After that it gets pretty watery as the cucumbers release liquid. Make up just as much as you want–it's easy to throw together. You definitely cannot freeze it.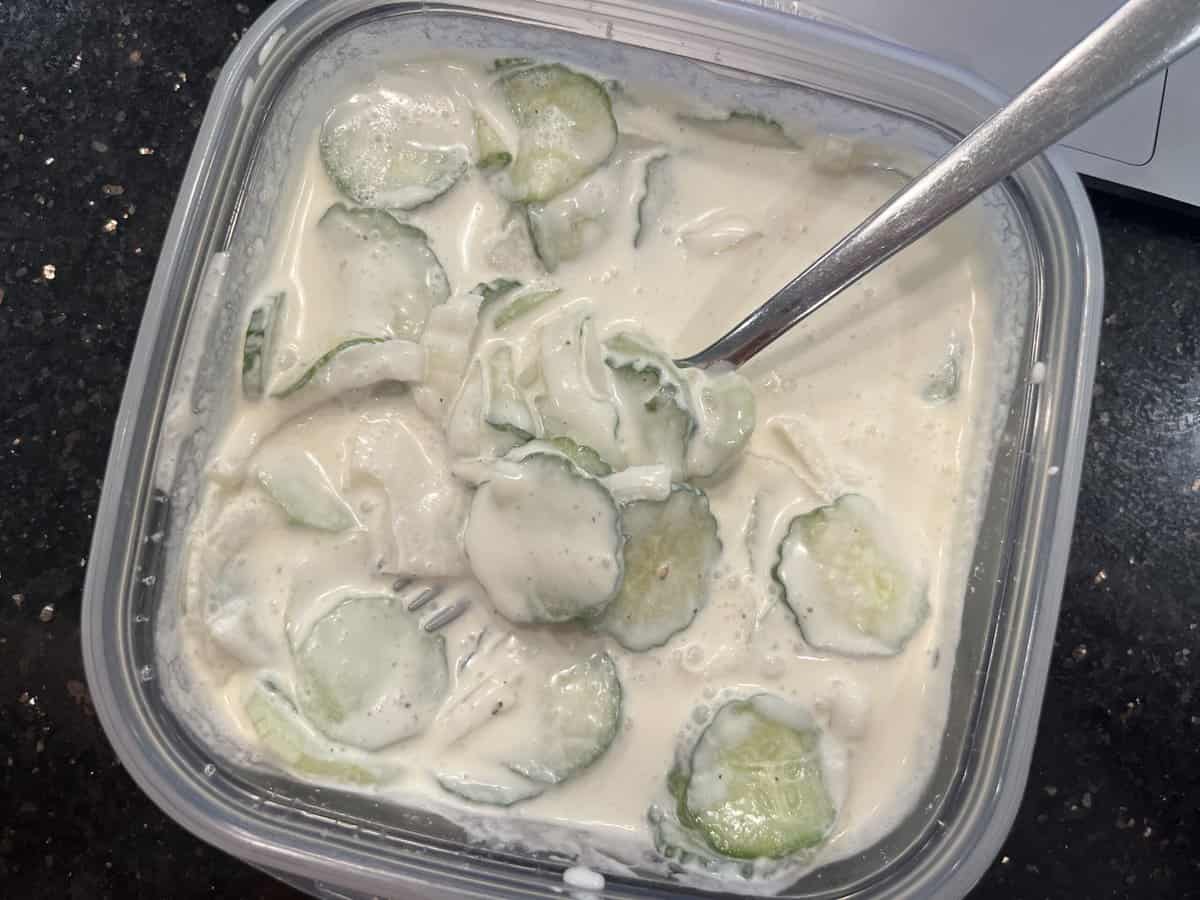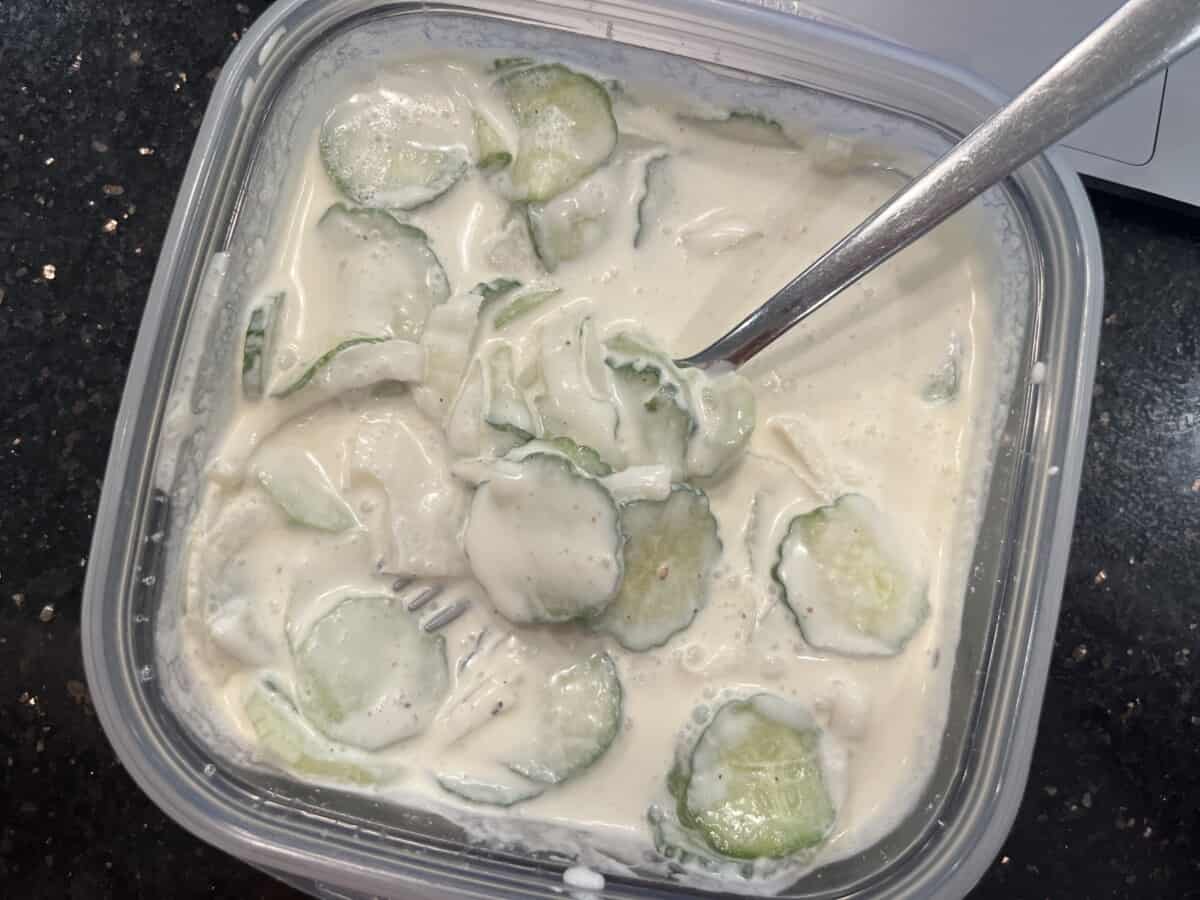 Here's my salad about 24 hours after I made it. I was prepared for it to taste watery and for the cucumbers to be squishy. But I was pleasantly surprised and ate at least half of this tupperware absentmindedly while writing this post 😂 So don't be afraid of the leftovers! They are tasty!
Creamy Cucumber Salad FAQs
how long will creamy cucumber salad last in the fridge?
Like I said, Cucumber salad is good in the fridge for about 2-3 days. After that it's going to get soggy and funky weird. Since it's pretty fast, there's no reason to make up more than you need for a couple days at a time.
What kind of onions should I use?
I like to use sweet Vidalia onions, but red onions or just regular yellow onions are a good sub! Slice them nice and thin.
Can you make it ahead?
You can make the dressing ahead, and slice the cucumbers and onions ahead of time (seal tightly.) Store separately in the fridge and mix together right before serving!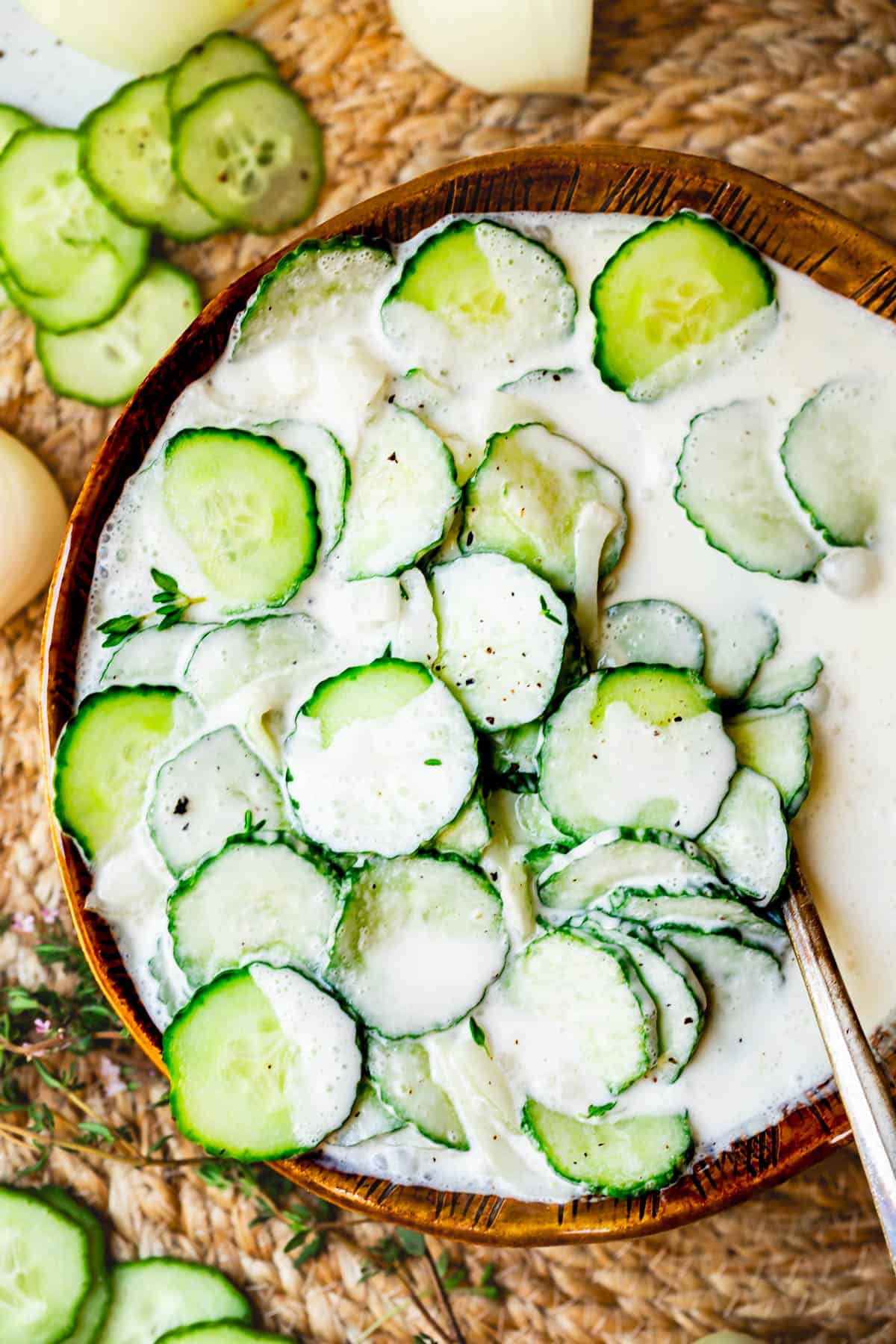 Facebook | Pinterest | Instagram

Aunt Joy's Creamy Cucumber Salad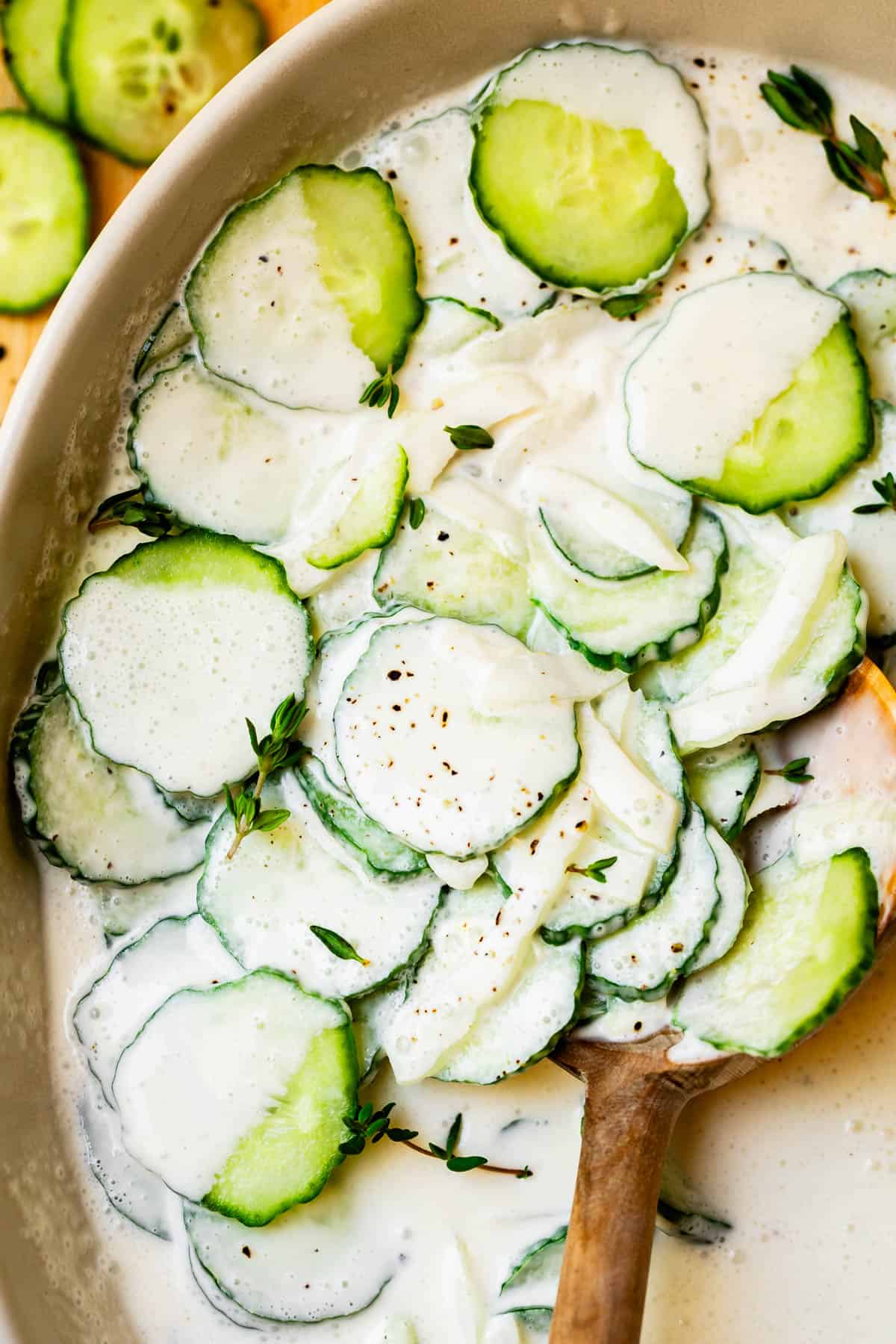 This dreamy Creamy Cucumber Salad recipe is a famous one from Aunt Joy! Thinly sliced English cucumbers soaked in a simple 4-ingredient dressing made with mayo and cream. Top with some fresh herbs and don't forget the thinly sliced onions! It's crisp, refreshing, and the perfect side dish to complement your summer BBQ.
Ingredients
1/2

cup

mayonnaise

1/2

cup

heavy cream*

2

tablespoons

white sugar

2

tablespoons

white vinegar

,

or more to taste

1 and 1/2

teaspoons

kosher salt

1/2

teaspoon

black pepper

,

or to taste

dash

cayenne pepper

,

optional, for flavor not heat

1

large

English cucumber**

,

about 2-3 cups sliced

1/4

large

sweet Vidalia onion

,

or any type of onion you like, and you can add up to 1/2 onion if you want

fresh herb to garnish (thyme or dill are my fav)

,

to garnish
Instructions
Start by making the dressing. In a large glass measuring cup, or a medium size bowl, add 1/2 cup mayo, 1/2 cup cream, 2 tablespoons white sugar, 2 tablespoons white vinegar, 1 and 1/2 teaspoons kosher salt, and 1/2 teaspoon freshly cracked black pepper (more or less to taste). Add a small dash of cayenne pepper too, don't go crazy we don't want it spicy we just want the flavor. Refrigerate the dressing unless you're eating right this second.

Use a sharp chef's knife to slice the cucumber. (or use a mandoline if you are brave, or have a metal glove. Be careful!!) Slice into coins that are a little less than 1/8 inch thick. You want them pretty thin. See photos for reference.

Slice 1/4 or 1/2 and onion into very thin slices. Like, paaaaper thin slices. I just used a knife and did my best, but a mandolin will work too.

In a medium-small serving bowl, toss together the sliced cucumbers and sliced onions. Within a few minutes of serving, top with the dressing. It looks like too much dressing but it's not ;) (you can add more sliced cucumbers if you want) Serve with a slotted spoon.

Kris says this dish is best served right away because the cucumbers will start to release their liquid as they sit in the dressing, making them less-crunchy. Eric disagrees entirely and thinks the salad is even better on day two because the flavors have had time to marry. I just pulled it out of the fridge to try it on day two and ate half the tupperware, so I guess you know which camp I'm in. Store the cukes and dressing separately if you're worried about it!
Notes
*Cream is the part of milk that is thicker and rises to the top. It's sold in cartons or bottles near the milk. It's not coffee creamer. Sometimes it's labeled as whipping cream, heavy cream, or ultra heavy whipping cream. They are all the same product but with different fat content levels. Any type of cream is fine for this recipe!
**Or you can use regular cucumbers but be sure to peel them first. The skins are annoyingly thick. I like English cucumbers because the skins are so soft that you don't need to peel them.
Nutrition
Calories:
223
kcal
|
Carbohydrates:
8
g
|
Protein:
1
g
|
Fat:
21
g
|
Saturated Fat:
7
g
|
Polyunsaturated Fat:
9
g
|
Monounsaturated Fat:
5
g
|
Trans Fat:
0.03
g
|
Cholesterol:
30
mg
|
Sodium:
708
mg
|
Potassium:
115
mg
|
Fiber:
0.4
g
|
Sugar:
6
g
|
Vitamin A:
357
IU
|
Vitamin C:
2
mg
|
Calcium:
27
mg
|
Iron:
0.3
mg