Thai Chicken Satay Skewers with Peanut Sauce
The best way to bring Southeast Asian flavors to your kitchen is to make these Thai Chicken Satay Skewers with Peanut Sauce! Marinated chicken thighs seasoned with lemongrass, shallot, and chili are threaded onto skewers and grilled to juicy perfection. It makes a perfect appetizer or main dish when paired with this Thai Cucumber Salad!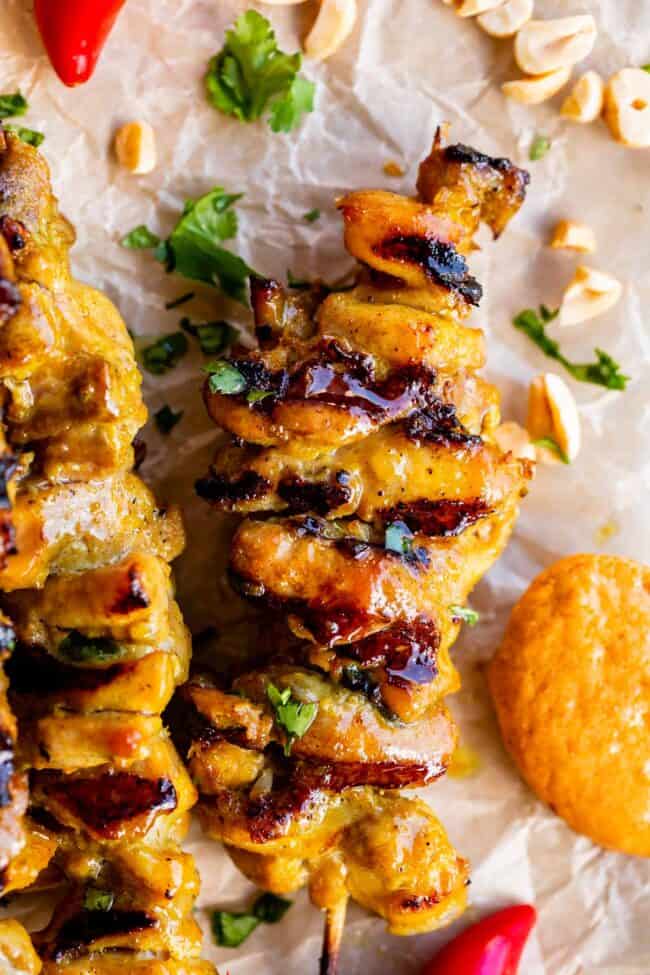 The other day I was at the zoo with some friends and mentioned that I was stopping at Ikea on the way home to pick up a bookcase we needed. My friend Kim looked at my two kids that I had with me (a baby and a 4 year old) and said, "How are you going to carry it all?"
It's incredible to me that I've been a mom for 10 years now and I still don't think this stuff through. How WAS I going to load the heavy bookcase by myself and manage the kids?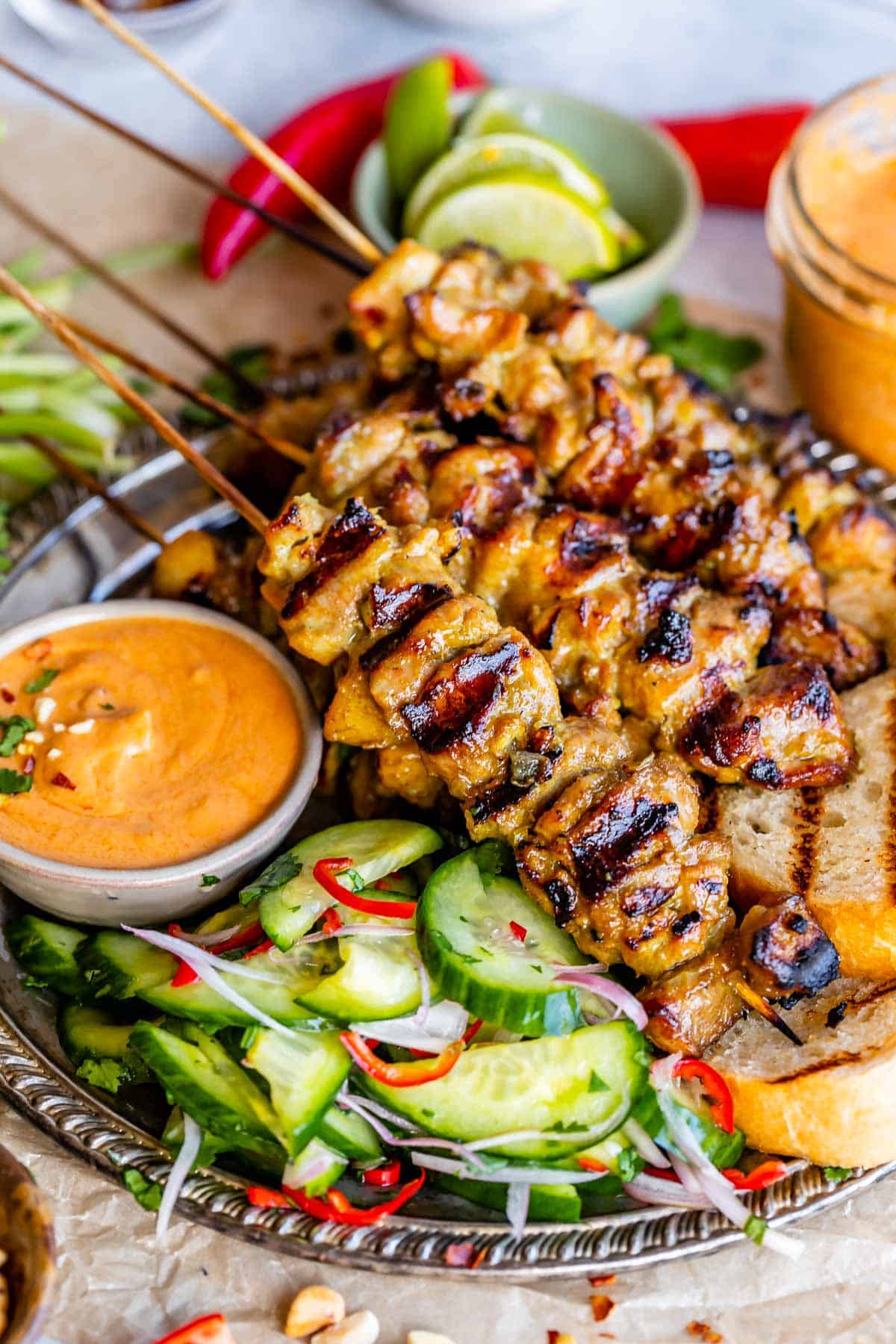 But I decided to try it anyway, because I'm the kind of person who often thinks to myself, "I'm gonna let future Karen deal with that problem." So off we went.
We found the bookshelf. I loaded it onto the trolly. I made the 4 year old push the baby in his stroller, all the way through the store and checkout, all the way out to the car. These are good life experiences for preschoolers, right? Gotta teach these kids some responsibility!
It turns out getting from the store to the car was the least of my worries. Now I had to figure out how to put all the seats down in the back of the van, develop some super human strength to lift the giant boxes all by myself, and make sure that the kids didn't get run over in the process. 
Just as I was staring into the back of my car trying to envision how I was going to get this done, a man and his son walked by. They saw me and said, Hey, do you want some help loading this in?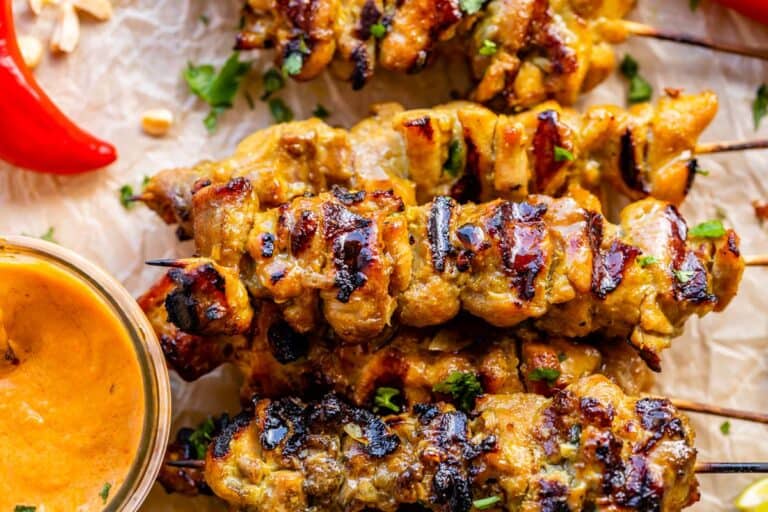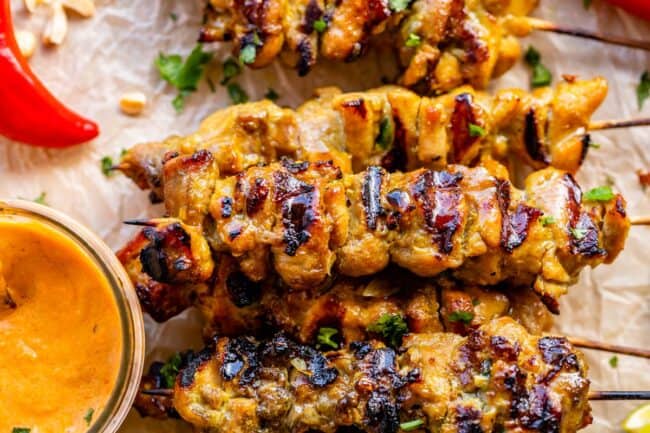 It was amazing you guys. I almost cried. They took care of the whole thing, shushing me while I thanked them profusely, the dad telling me about how he would have wanted someone to do this for his wife when the kids were little. People are the best. Next time a human does something stupid and you want to punch them in the face, think of this story. Faith in humanity! We can totally have it!
Thai Chicken Satay Skewers
If I knew where those guys lived I would reward them with a porch drop-off of these Chicken Satay Skewers. Sure, Chocolate chip cookies might be more traditional for doorbell ditching, but I'm telling you, no one is going to be able to resist this. (You are welcome to drop Thai food off on my porch ANY DAY.)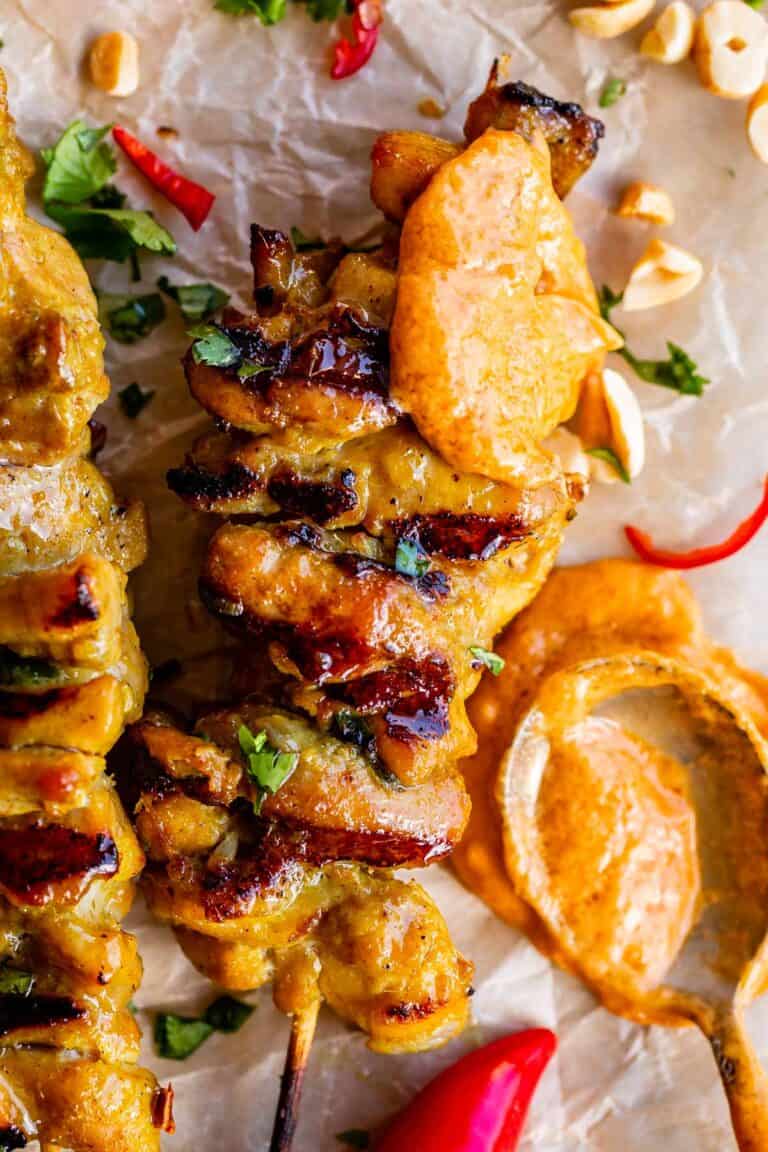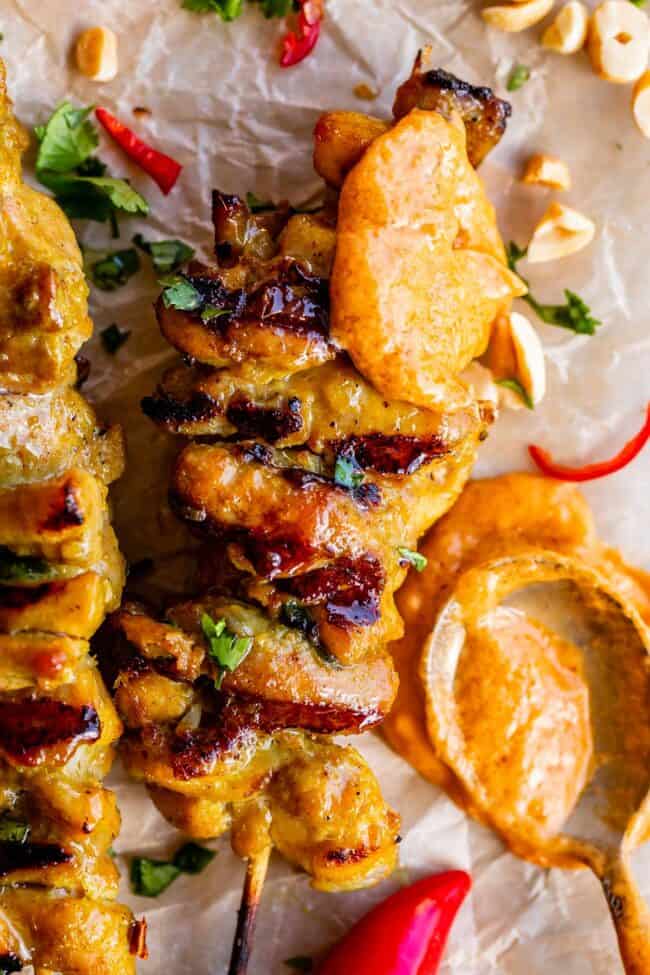 Over the holidays, my extended family and I spent all day on Christmas Eve making an epic Thai meal for dinner. (We pick a different country ever year, it's the best tradition ever!) The Chicken Satay with Peanut Sauce was my favorite of all the dishes we made. Here is our Christmas Eve spread:
The platter in the middle is our Satay (that we did not skewer because there were 30 people and we were lazy), and the giant pot in the back is full of peanut sauce. We put that stuff on everything for days afterward.
What is Chicken Satay
Authentic chicken satay is basically just chicken – the fattier the better, I like chicken thighs – chopped into chunks, marinated in traditional Thai flavors, threaded onto skewers, and grilled to perfection. It is a traditional street food in Thailand. The fatty, greasy, flavorful chicken is conveniently chopped and easy to eat right off the stick, no utensils required. Dip it in the (required) Peanut Sauce, and cleanse your palate with vinegary bites of this Thai Cucumber Salad. Top it off with some toasty white bread, and you are on your way to food vendor heaven.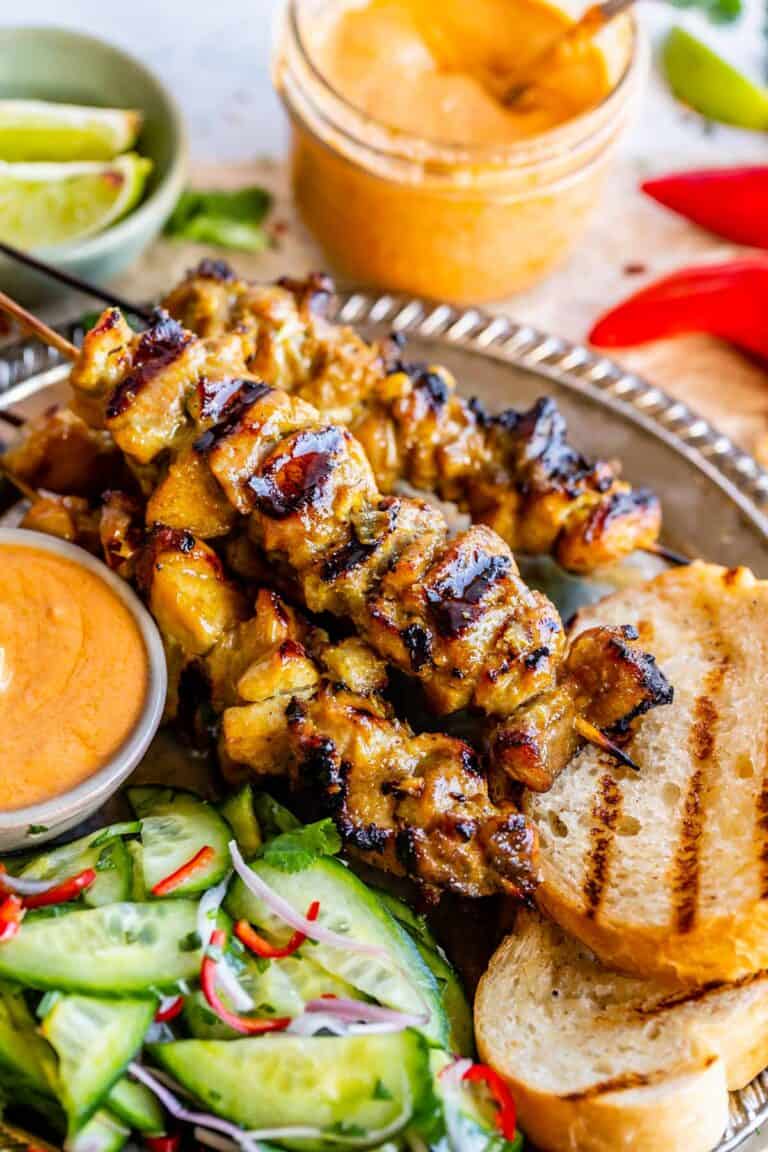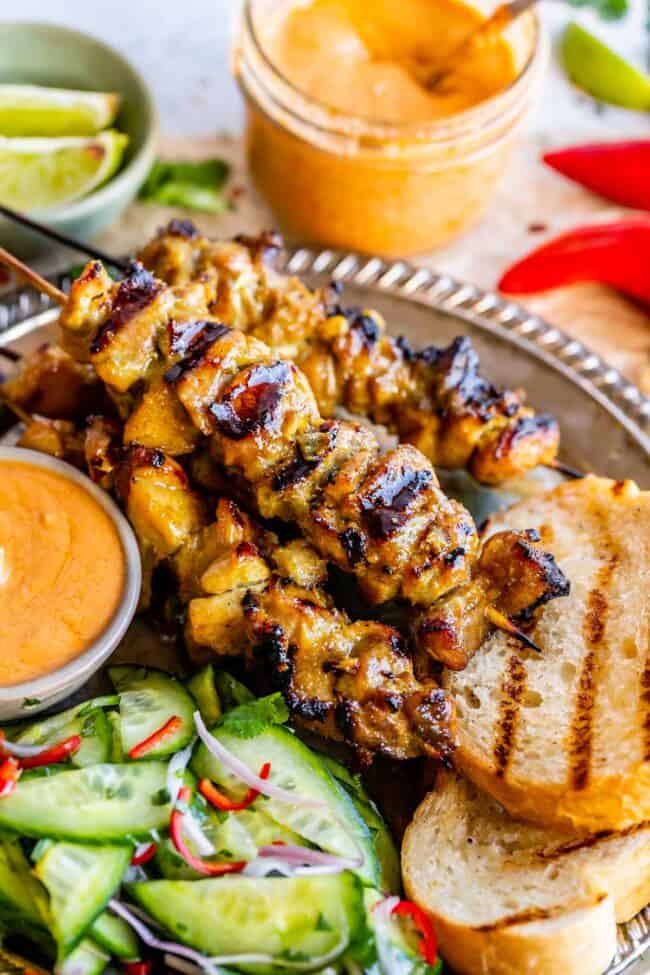 Of course, I've never seen authentic Thai Chicken Satay sold on the streets in US. Have you? We need to make this a thing, guys. Bangkok knows where it's at.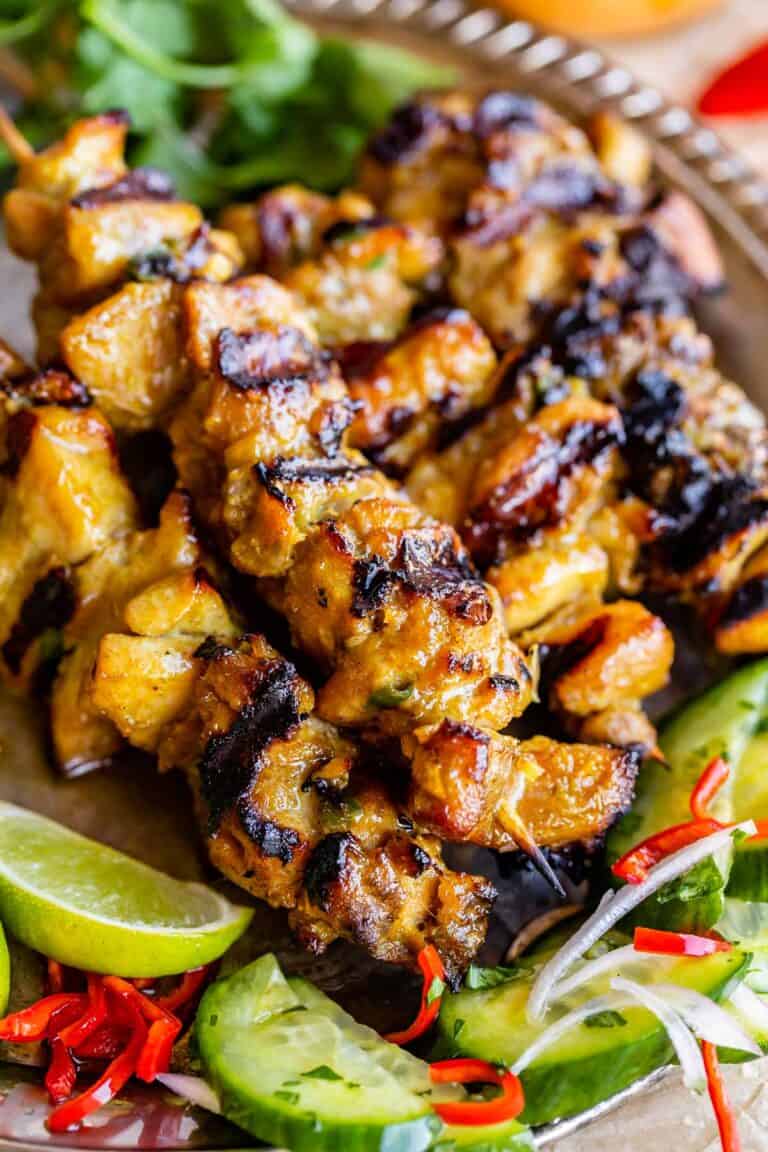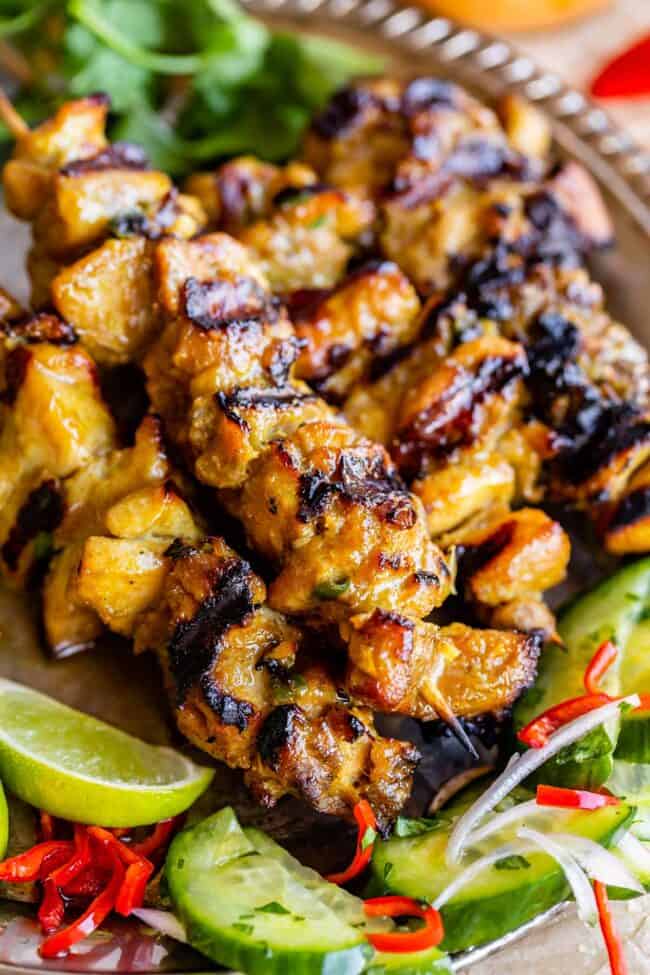 It turns out that eating chicken satay (authentically) is kind of like eating a deconstructed sandwich. You've got your delicious grilled chicken satay, crunchy Thai cucumber salad as a relish, all of it slathered with peanut sauce, un-sandwiched together with grilled buttered bread. It's honestly one of the best meals I've ever had.
How to make Thai Chicken Satay
First we start out by chopping up the chicken. You don't want the pieces to be too big. They should be pleasantly bite sized, so that you don't have to do any gnawing. (Satay is meant to be eaten directly from the stick.)


I like to start with partially frozen chicken thighs; it's so much easier to slice when it's firm. Chicken breasts will of course work, but your result will be much less flavorful. Chicken thighs are full of fat, and fat = flavor.
Place all the chicken pieces in a ziplock bag with all the other marinade ingredients: lemongrass, shallot, garlic, red chili, ginger, turmeric, coriander, cumin, soy sauce, fish sauce, brown sugar, and oil.
A few notes on ingredients:
Lemongrass can be tough to find. I actually use Gourmet Gardens Lemongrass that comes in a tube. Fresh is always best, of course, but use what you can find. If you use real lemongrass, you will need to crush it with a meat mallet or hammer before chopping. This releases all the flavor!
Shallot is very classic for Thai cooking. It has the perfect mild flavor you want. Red onion can be substituted in a pinch.
Red chili. In Thailand they use Birds Eye chiles, which are tiny, red, and flaming hot. I couldn't find any; I used a red Fresno pepper in it's place. A jalapeno will do.
Ginger: don't use too much. If we were in Thailand, we would be using galangal, which is similar to ginger but more mild. So just use a little bit.
Fish Sauce is basically blended up fermented anchovies. Yum, right? Don't be deterred. Fish sauce is an AMAZING powerhouse of flavor. It's essential in Thai cooking. I mean, I wouldn't drink the stuff, but it does amazing umami-things to your satay marinade. Don't skip it. You should be able to find it on the Asian aisle of your grocery store.
Brown sugar: in Thailand, they use palm sugar a lot of the time. Brown sugar is a decent substitute. White sugar will work fine too.
Once you have all the ingredients in the ziplock, seal it and place in a bowl. Marinate for several hours, turning occasionally. I like to marinate for 24 hours, but even 4 hours is going to taste amazing.
How to skewer chicken satay
Now, about this skewering situation. This is SATAY, not a chicken kebab. Chicken satay features small bites of chicken that are all bunched together on one end of the stick, not spaced out. The stick is meant to act as an eating utensil (it is a street food after all; who has an extra hand for forks?)
Leela Punyaratabandhu is a blogger, cookbook author, and all-around authority on Thai cooking. She blogs at She Simmers. I learned what I know about satay and how to thread it from this post about Mu Ping (Thai Grilled Pork on Skewers) (which I am definitely making soon!) She even has pictures of how NOT to skewer the meat, and explains that a lot of vendors even in Thailand do it wrong, resulting in tough, dry meat. I've applied her skewering technique to this Chicken Satay and I love how it turned out.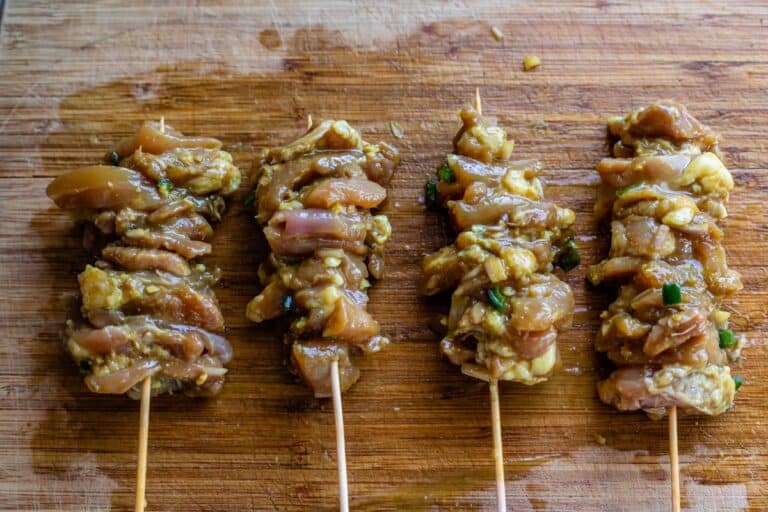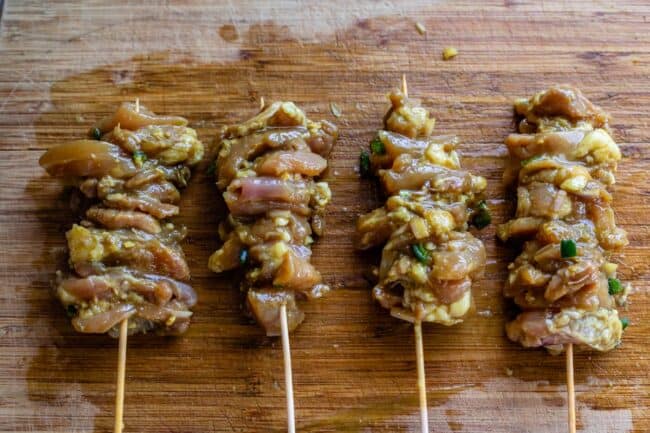 When the chicken is compacted together on one end of the stick, it cooks a bit more like a whole piece of chicken, giving you that juicy, tender center, while still being easy to bite off the stick easily. If you separate tiny chicken pieces all across the skewer, it's easy to end up with dry, overcooked chicken.  Also, when the meat is pressed together, it's harder to burn the wooden skewer itself.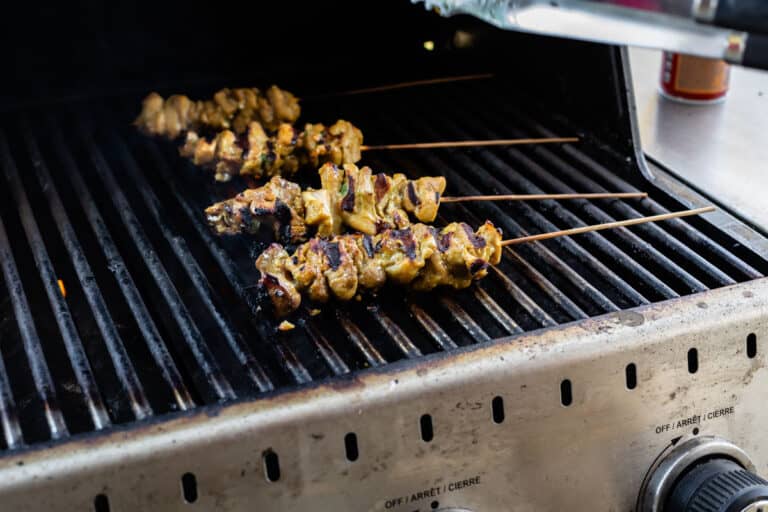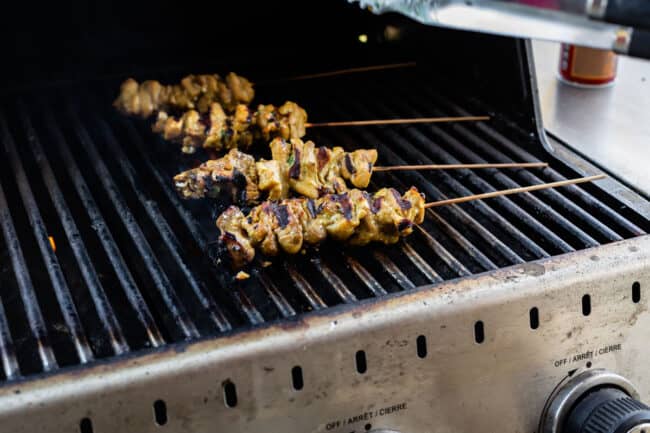 When you are grilling the skewers, it's important to have the chicken portion of the skewer over direct heat, and the bare end of the skewer over indirect heat. That burner on the far right of my grill is turned off. I turned it on when preheating the grill, but then turned it off right before putting the chicken on. If you leave the heat on, those sticks are going to burn right off. It's also really important to soak your wooden skewers before threading the chicken on.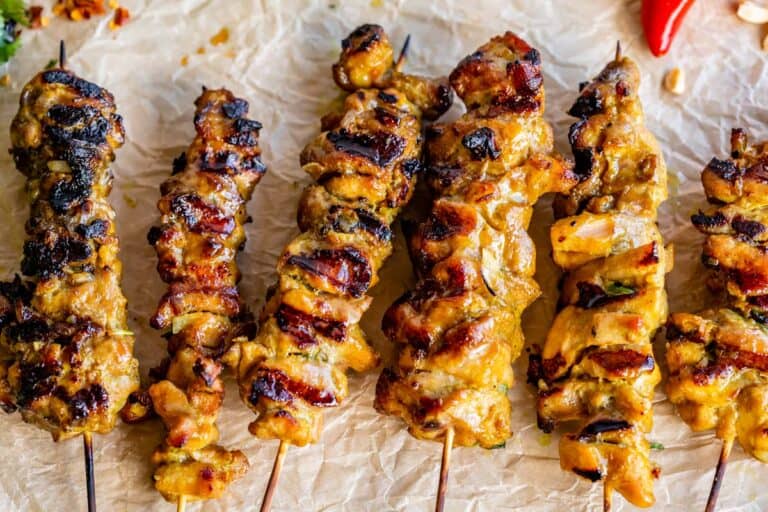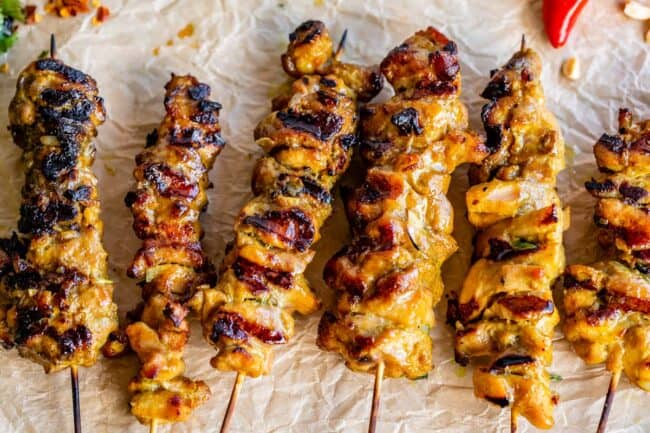 More Thai recipes you are going to love!
To complete this meal, you need to make this Thai Peanut Sauce to dip the Chicken Satay in. It is rich and creamy, sweet and salty, and absolutely essential for satay!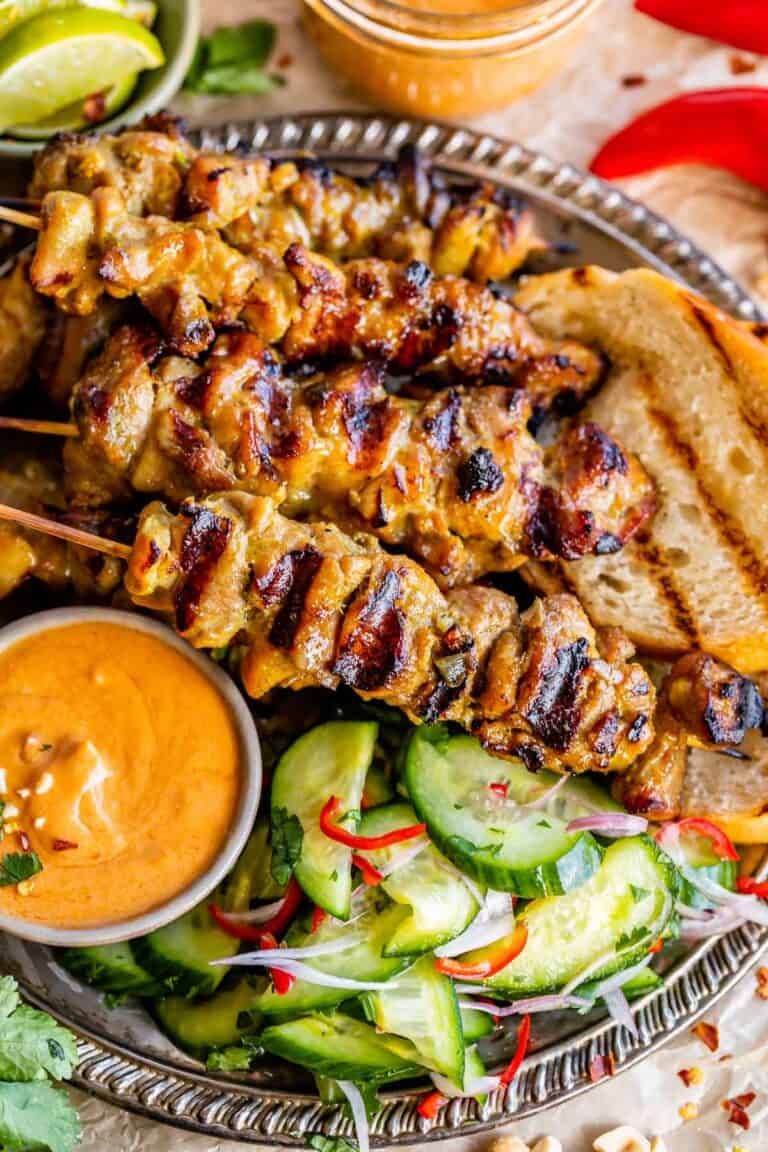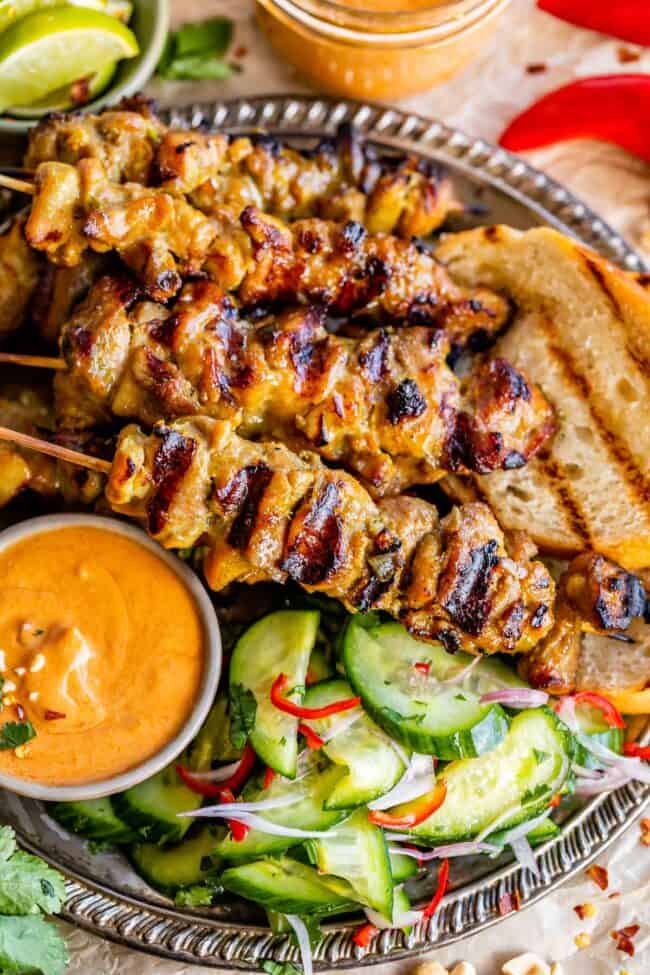 Thai Cucumber Salad is the other side dish you are going to want to make. It provides the perfect vinegary bite to break up all that fatty chicken-peanut goodness.
Grilled or toasted white bread completes the meal. Dip it in the peanut sauce! Absolute perfection!
More international flavors you will like:
More grilled chicken recipes to try:
Thai Chicken Satay Skewers
The best way to bring Southeast Asian flavors to your kitchen is to make these Thai Chicken Satay Skewers with Peanut Sauce! Marinated chicken thighs seasoned with lemongrass, shallot, and chili are threaded onto skewers and grilled to juicy perfection. It makes a perfect appetizer or main dish when paired with this Thai Cucumber Salad!
Ingredients
6

boneless skinless chicken thighs

2

tablespoons

lemongrass*

,

smashed and minced

1

large shallot

,

chopped

2

cloves

garlic

,

smashed and minced

1

red chili pepper

,

** chopped

2

teaspoons

ginger

,

grated or minced

1/4

teaspoon

ground turmeric

1

tablespoon

ground coriander

1

teaspoon

cumin

1 & 1/2

tablespoons

soy sauce

2

tablespoons

fish sauce***

3

tablespoons

brown sugar

2

tablespoons

vegetable oil

wooden or metal skewers

salt

,

for seasoning chicken before grilling

more oil

,

for grilling
Instructions
Place the 6 chicken thighs in the freezer for about 20 minutes so that they are easier to chop. Use a sharp knife to cut the chicken thighs into bite size pieces, about 1-2 inches (see photos). Place all the chicken pieces into a large ziplock bag.

Add all the other ingredients to the ziplock bag: 2 tablespoons lemongrass*, 1 chopped shallot, 2 cloves garlic, 1 red chili pepper**, 2 teaspoons ginger, 1/4 teaspoon

turmeric powder

, 1 tablespoon

coriander

, 1 teaspoon cumin, 1 and 1/2 tablespoons soy sauce, 2 tablespoons

fish sauce

, 3 tablespoons brown sugar, and 2 tablespoons vegetable oil.

Seal the bag and place in a bowl. Refrigerate for at least 2 hours. I usually prepare this the day beforehand for a full 24 hour marinade. The longer the better, to bring in all that flavor! Marinate for a maximum as 48 hours. Turn the bag over once or twice, to make sure all the pieces of chicken get nice and flavorful.

If you are using wooden skewers, be sure to soak them in water for a couple hours (or at least 20 minutes) so they don't get burned and charred on the grill.

Preheat your grill to high heat. Mine was at about 550 degrees F.

Place the chicken pieces onto the skewers. See photos. Instead of spacing out the chicken on the whole skewer as you would for normal kebabs, we are packing them together tightly on one end, as is traditional for satay.

Brush each satay lightly with oil so that it doesn't stick to the grill. Sprinkle liberally with salt.

Carefully grease the grill grates. When the grill is very hot, scrub the grates with a grill brush to make sure they are clean. Pour a small amount of vegetable oil into a small bowl. Wad up a paper towel and dip it into the oil with tongs. Use the tongs to brush the grill grates with the oiled paper towel, making sure the paper towel is not so saturated that oil drips into the fire. Close the lid and let it heat up again for another couple minutes.

Turn the heat down to medium, about 375 degrees. Turn off one of your grill burners, or arrange coals off to one side. Arrange the "stick end" of your satay over indirect heat. If the thin wood is placed directly over the flame, it will burn up.

Grill the satay skewers over medium heat for about 7-8 minutes.

Use tongs to flip each satay skewer over. Continue grilling for another 5-8 minutes. If the outside of the chicken is getting overdone but the center is raw, move the chicken to indirect heat.****

Check the meat with a meat thermometer. Take it off the grill when the center of the chicken is at about 160 degrees F.

Remove to a plate, cover with foil and let rest for about 4-5 minutes.

Serve with

Thai Peanut Sauce

, (not optional!) and also this

Thai Cucumber Salad

, for a true Thai experience. Toasted or grilled bread is the other side dish you are going to want! See note.
Notes
*I used 2 tablespoons Gourmet Gardens Lemongrass that comes in a tube, sold in the refrigerated section of the produce department. (That's all I could find.) Try an Asian market for fresh lemongrass. If you use fresh lemongrass, make sure you smash it with a meat mallet or a hammer before mincing. This breaks down the cell walls and releases flavor.
**In Thai cooking, Bird's Eye chili peppers are most common. They are very spicy! A red Fresno chili pepper is a decent substitute (it's what I used), or a jalapeno. If you can't find a suitable pepper, add 1/4 to 1/2 teaspoon cayenne pepper.
*** Fish sauce is made from fermented anchovies. Don't let this turn you off! It is the secret ingredient in so many Asian dishes. It brings in tons of unique umami flavor. Don't skip it! You can usually find this in the Asian section at the grocery store.
**** Another tip for grilling: if the ends of your satay skewers are burning, turn off one side of your grill so that the chicken is over direct heat but the ends of the sticks are not.
Grilled Bread: Butter both sides of thick slices of Italian bread or white bread. When the satay is done cooking, place the bread on the grill over indirect heat for about 10-20 seconds, until grill marks appear and they get a little crispy. Flip and toast the other side. Serve with chicken satay and peanut sauce.
Cooking for a crowd: If you want to skip the skewers, here's how to grill the whole chicken pieces:
Preheat your grill to high heat. If you are using wood or coals, make sure you leave an area of the grill with fewer coals. After the initial sear you will be cooking the chicken over indirect heat.
When it's hot, place the chicken pieces over direct heat. Close the lid and grill for 3 minutes, or until the outside is as crisp as you want it.
Use tongs to flip the chicken and place over the low-heat part of the grill. I have a gas grill, so I just turn off one of the burners. (The chicken should be over the half of the grill that is turned off). Reduce the heat on the other half of the grill to medium-low heat, between 250-275 degrees F.
Cover and cook for about 20-30 minutes, depending on the thickness of your chicken, until a meat thermometer reads 160 degrees F.
This recipe is from my brother Eric, who introduced me to Leela's blog, She Simmers. Eric has been making this Chicken Satay for years and doesn't remember where he adapted the original recipe from, but it's possible it was heavily influenced by Leela! But I can't find a Chicken Satay recipe on her blog. My Thai Peanut Sauce recipe is also adapted from Leela. Thank you for sharing your Thai recipes with us!
Nutrition
Calories:
216
kcal
,
Carbohydrates:
9
g
,
Protein:
23
g
,
Fat:
10
g
,
Saturated Fat:
5
g
,
Polyunsaturated Fat:
1
g
,
Monounsaturated Fat:
2
g
,
Trans Fat:
1
g
,
Cholesterol:
107
mg
,
Sodium:
827
mg
,
Potassium:
387
mg
,
Fiber:
1
g
,
Sugar:
7
g
,
Vitamin A:
104
IU
,
Vitamin C:
12
mg
,
Calcium:
33
mg
,
Iron:
2
mg
We are a participant in the Amazon Services LLC Associates Program, an affiliate advertising program designed to provide a means for us to earn fees by linking to Amazon.com and affiliated sites.