This Greek Salad Recipe with Feta is a winner! Fresh cucumbers and tomatoes tossed in a simple vinaigrette, sprinkled with lots of feta. It's so easy and is the perfect last minute side dish for dinner or summer barbecues. Originally published August 21, 2018.
Table of Contents
Yesterday we went back to school shopping. It was a long drawn out torture for everyone involved. After spending 2 hours trying to figure it all out, we were finally in line. It was the end of the day and everyone was DONE, including me. The baby was screaming because I wouldn't let her finish eating the pretzel she randomly found on the ground, when the other kids started begging for the candy that is conveniently situated at their eye level.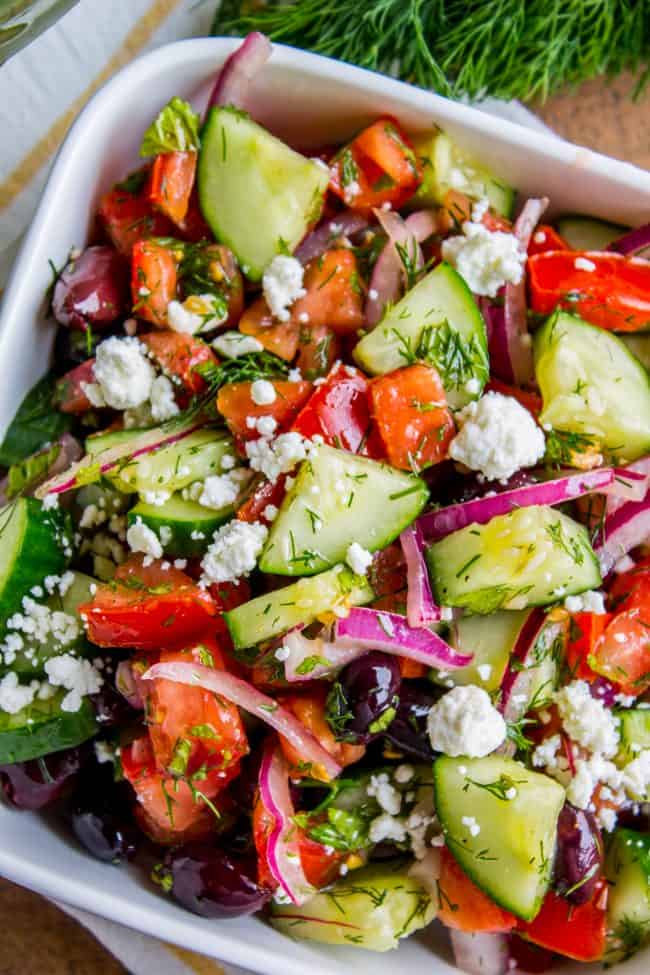 Charlotte: Mom, can I have Swedish Fish? No.
Truman: Mom, can we buy Sour Patch Kids? No.
Charlotte: Mom, can I have some gum? NO, and now you've lost a privilege because I already answered you.
Other kid: Mom, can I have some candy? NO, OH MY GOSH, YOU ARE ALSO LOSING A PRIVILEGE.
Aaaand that's when I realized I was yelling at someone else's kid. I reacted before even turning around. The poor unsuspecting little girl in line behind us was innocently asking her mom for some candy (no doubt for the FIRST time) and the crazy lady in line starts losing it.
I think I will be shopping online from here on out, to spare innocent children everywhere.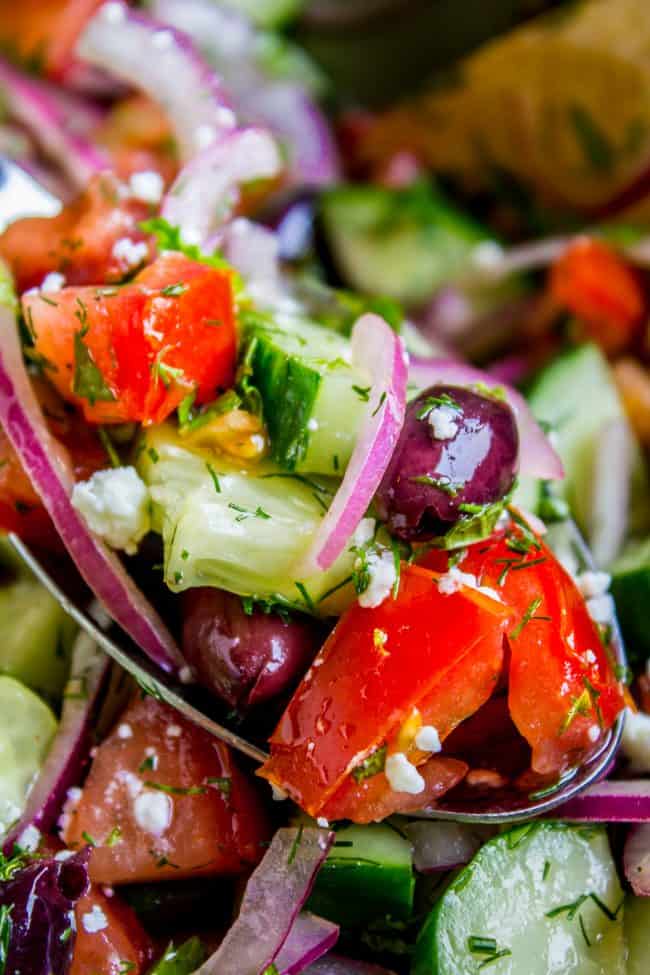 The Best Greek Salad
I love Greek food. Meaty gyros in soft fluffy pita bread. Creamy, garlicky Tzatziki sauce! Flaky, nutty, honey-drenched baklava!! And crunchy, fresh Greek salad. Yes please.
The best thing about this super flavorful salad is that it's stupid easy and done in 20 minutes, start to finish. A few simple ingredients get together in a simple, homemade vinaigrette, and suddenly, BAM! You're lounging on the sunny coast of Mykonos, your hair fluttering in the breeze from the Aegean sea, your gaze resting gently on the sparkling blue water. You know, LIVING THE DREAM.
If you're like me, you're not going to Greece any time soon, but you can enjoy amazing Greek flavors. Eat this salad for an escapist lunch alone or take it to a BBQ and salad in style.
Best Greek Salad Ingredients
Here's a quick shopping list to help you gather your ingredients. See the recipe card below for the full ingredients and instructions!
Red onion
Tomatoes
Cucumber
Kalamata olives
Fresh mint
Fresh dill
Feta cheese
Red wine vinegar
Garlic
Sugar
Olive oil
Salt and pepper
How to make Greek Salad
Fortunately I had this Greek Salad waiting for me at home. Nothing like savory Greek flavors to drown all your sorrows, right? Or something like that. Whatever, I swear it helped. Anything with this much feta is going to solve problems.
Here's a quick overview of how to make this Greek salad (see the recipe card below for all the steps to making it).
Whisk the vinaigrette ingredients together until well combined.
Slice the onions thinly and soak them in cold water for 10 minutes.
Slice and drain the tomatoes.
Add the cucumbers, mint, dill, and olives to the salad.
Pat the onions dry; add to the salad.
Add the tomatoes to the salad, then season everything to taste.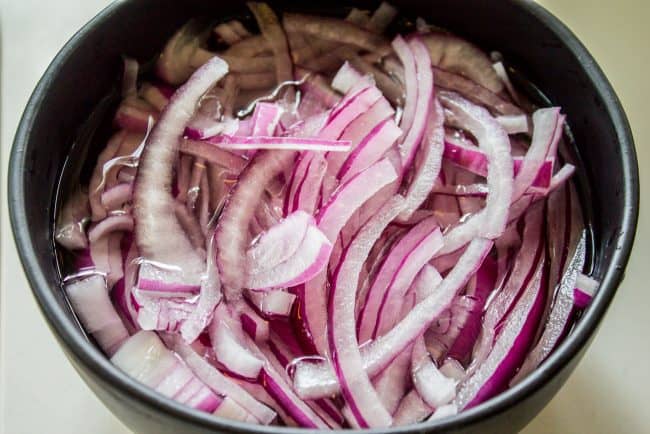 Soak your onions in water for a bit to reduce dragon breath.

Here's how I chop my tomatoes. Don't slice all the way down.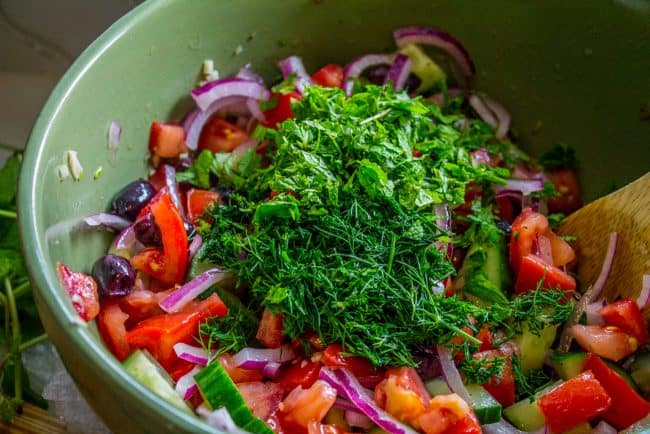 I love fresh herbs. You could do any type that you like. I chose dill and mint.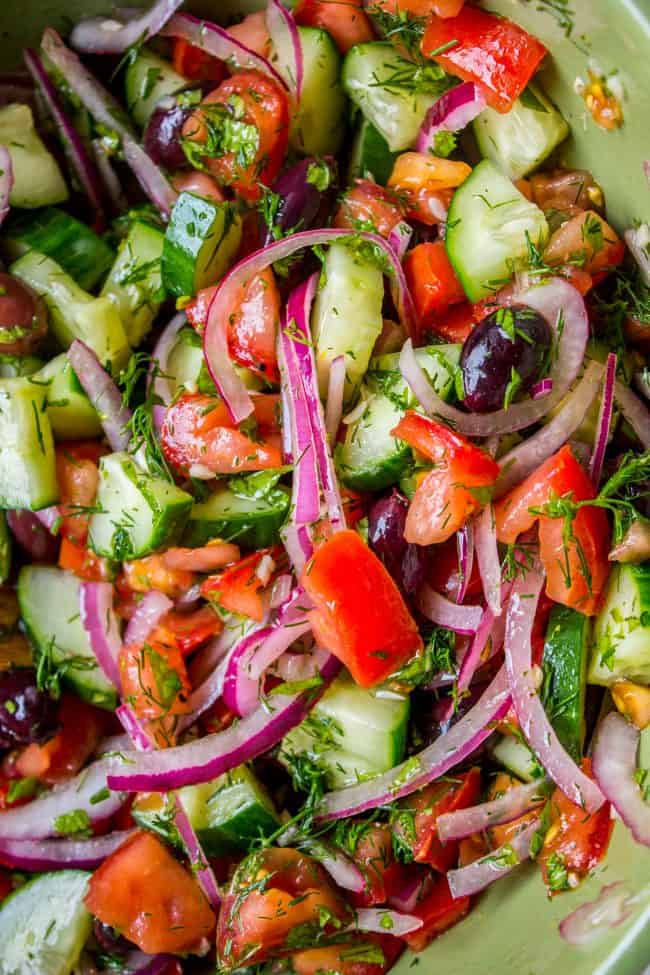 I love how simple this salad is to throw together. It took me about 20 minutes start to finish. You don't even need a blender or anything to mix the vinaigrette, just stir it up in a bowl. Make sure you emulsify the oil and vinegar properly by drizzling the oil in slowly while whisking constantly. If you dump it in all at once, it will never come together.
I used crumbled feta to make this salad, but next time I think I'm going to buy a block of feta and chop it into bigger chunks. Doesn't that sound so good? Never enough feta!!!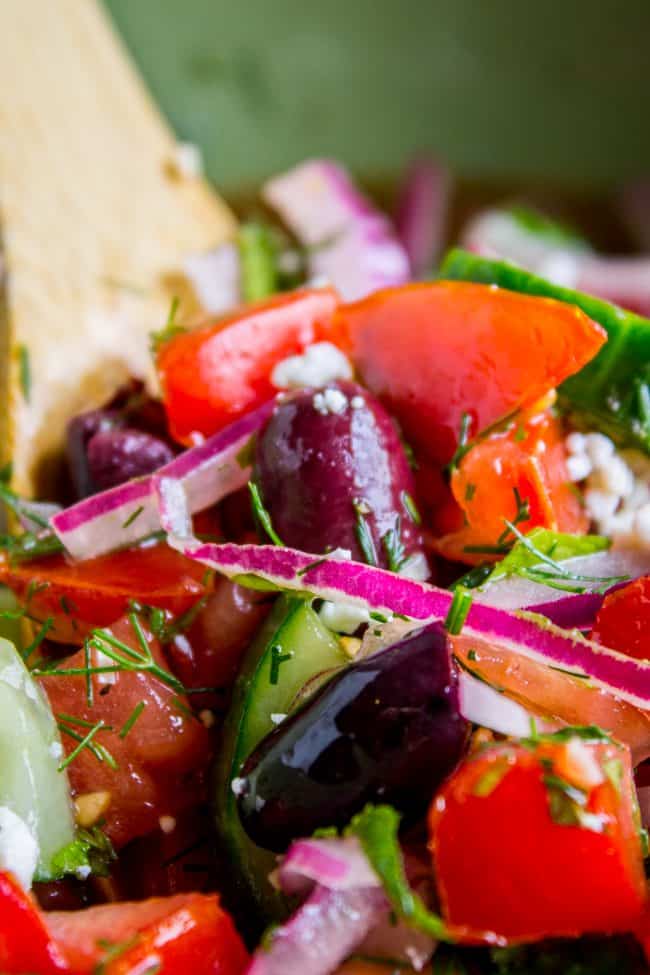 Greek Salad Recipe Substitutions and Additions
Here are a few ideas to change up this Greek salad recipe to your liking.
Add some chopped bell peppers for even more crunch.
Swap out the dill for fresh parsley.
Use cherry tomatoes instead of regular tomatoes.
Add a couple teaspoons of Dijon mustard to the dressing.
Try black or green olives if you prefer them to Kalamata.
Swap out the feta cheese for marinated fresh mozzarella balls.
Add tender, crispy pepperoncini peppers for briny flavor.
Best Greek Salad Recipe FAQ
Is a Greek salad healthy?
Greek salad is super healthy. Cucumbers, tomatoes, red onions, and fresh herbs like mint and dill are all full of nutrients and low in calories, and the olive oil in this Greek salad dressing is a healthy source of fat. Easy, fast way to get your veggies!
What is the difference between a Greek and Mediterranean salad?
A Greek salad and a Mediterranean salad are the same thing by two different names. A Greek or Mediterranean salad starts with cucumbers, tomatoes, and feta cheese, with other ingredients being optional (such as olives, peppers, dressing, red onions, and so on). No matter what you call it, it's an easy and healthy side or main (and ideal for when you don't want to heat up your kitchen).
Why is my Greek salad watery?
Cucumbers naturally release liquid once cut. This isn't a problem, but if you don't like the cucumber water, you can simply salt and drain the cut cucumbers before mixing them with the other ingredients. The tomatoes will release some liquid as well, and there's not much you can do about this. If you prefer a less watery salad, I recommend serving it fresh, since the longer it spends in the fridge the more liquid the vegetables will release.
How to serve Greek Cucumber Salad
I love Greek Salads served alongside grilled food, so this Grilled Chicken Marinade is an obvious choice. I actually had some leftover meat from when I made these Slow Cooker Pork Tacos, so I ate it with that. Honey Balsamic Slow Cooker Pork Ribs would be good too. You really can't go wrong. Throw it on a plate with some of The Best Potato Salad and you're golden! It would be a great side to bring to any Labor Day barbecues you might be headed to.
Storing Greek Tomato Cucumber Salad
This salad is best served fresh, or a few hours after it's made. You can store it in the fridge for 3-5 days, but it will release liquid from the tomatoes and cucumbers as the days go by.
More delicious salads to make
Facebook | Pinterest | Instagram

Best Greek Salad
This Greek Salad Recipe with Feta is a winner! Fresh cucumbers and tomatoes tossed in a simple vinaigrette, sprinkled with crumbled feta. It's so easy and is the perfect last minute side dish for dinner or summer barbecues.

Ingredients
1/4

large

red onion

,

sliced thin

4

large

tomatoes

,

chopped

1

medium

English Cucumber

,

chopped

1

cup

kalamata olives

1/4

cup

fresh mint

,

chopped

1/4

cup

fresh dill

,

chopped

1-2

cups

feta cheese

,

crumbled or chopped
For the vinaigrette
3 & 1/2

tablespoons

red wine vinegar

2

small

cloves garlic

,

minced

1

teaspoon

salt

1/4

teaspoon

pepper

1

teaspoon

sugar

1

teaspoon

dried oregano

1/3

cup

olive oil
Instructions
Make the vinaigrette: In a large bowl, combine red wine vinegar, garlic, salt, pepper, sugar, and oregano. Whisking constantly, slowly drizzle the olive oil over the mixture so that it emulsifies. Set aside.

Slice the onions very thin, and place in a small bowl. Cover with cold water and set aside for 10 minutes or so. This will take some of the bite out of the onion. (If you are a hard core raw onion lover, skip this step!)

Chop the tomatoes into bite size pieces. Place in a colander over the sink to drain.

Chop the cucumbers and add to the bowl with the vinaigrette. Add the kalamata olives, fresh mint, and fresh dill.

Pat the onions dry with a paper towel and add to the bowl. Add the tomatoes. Toss it all together gently.

Top with crumbled or chopped feta (next time I'm chopping a block into chunks!) Add as much as you like. Taste it to see if it needs more salt, pepper, or oregano. Toss gently and serve immediately.
Notes
Unfortunately this is not a great make-ahead salad. The cucumbers and tomatoes release tons of liquid, watering down your vinaigrette and making your veggies soggy. You can prepare the vinaigrette in advance and store in the fridge, and also the onions. Everything else should pretty much be chopped just before serving.
Nutrition
Calories:
262
kcal
|
Carbohydrates:
15
g
|
Protein:
6
g
|
Fat:
21
g
|
Saturated Fat:
6
g
|
Polyunsaturated Fat:
2
g
|
Monounsaturated Fat:
13
g
|
Cholesterol:
22
mg
|
Sodium:
1029
mg
|
Potassium:
493
mg
|
Fiber:
4
g
|
Sugar:
8
g
|
Vitamin A:
1495
IU
|
Vitamin C:
24
mg
|
Calcium:
183
mg
|
Iron:
1
mg