If you want the BEST and easiest Homemade Peppermint Ice Cream recipe, you've come to the right place! My husband's grandma (Nana) is famous for this recipe! We serve it with Christmas cookies every year during the holidays, and with Nana's Fudge Brownies every 4th of July.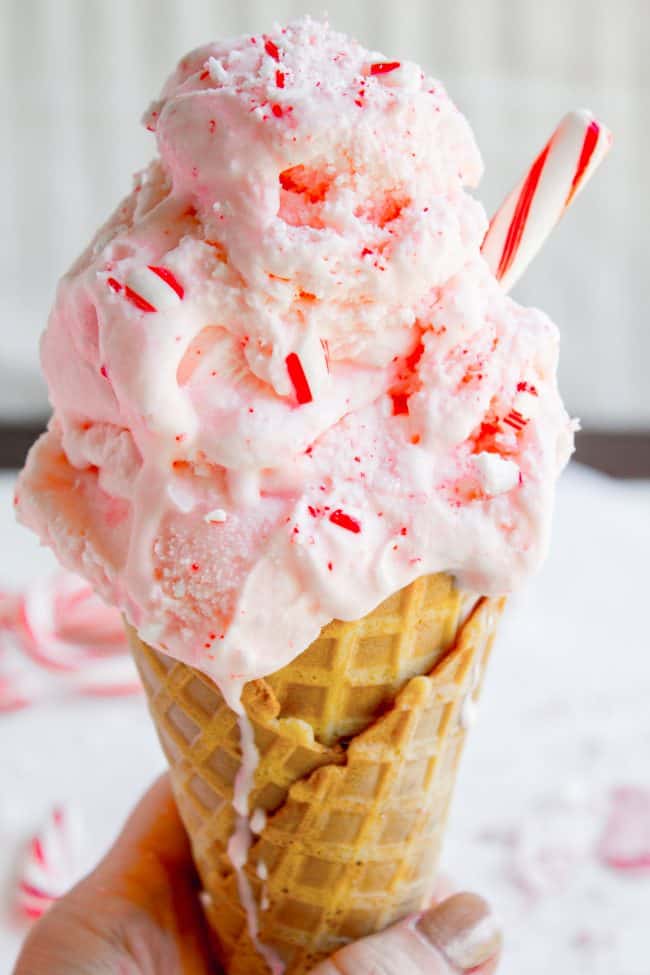 Peppermint Stick Ice Cream
Happy Monday everyone! Back to real life! Does anyone else feel like Thanksgiving break lasted for years? Long, happy years. I feel like I'm in a haze of pie, kind of like those few days in between Christmas and New Years, where you don't know what day it is for an entire week and you're living on Christmas cookies and fudge. Holidays are just the best, right?
I think our break felt longer than usual because of all the cancelled school days . Normal places have snow days, California on fire has smoke days. But hallelujah, it rained last week and the fires are 100% contained.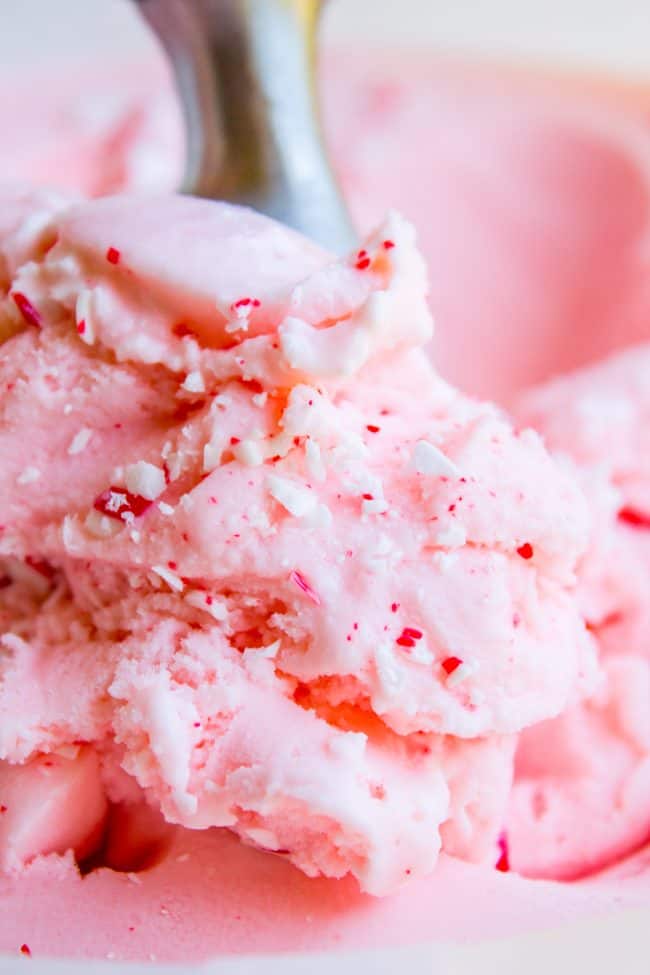 How was your Thanksgiving?? It is always so fun checking my analytics on holidays so that I can see what you all are making for the big day. Literally the Best Mac and Cheese I've Ever Had was the top hit of the day!
We had a bit of a turkey fiasco around here. We bought a 25 pound FRESH turkey because it was the biggest one we could find and we had 30 people coming to our house to eat. Eric put it in the way back of our second fridge and turned the temperature down to make sure it would stay nice and fresh…and we woke up the day before Thanksgiving to a completely frozen turkey. It was 27 degrees at the center. How ironic is it that we bought a fresh turkey and ended up accidentally freezing it ourselves??
But we managed to get it thawed and even brined in time for Thanksgiving dinner, thank goodness. Just don't tell the food safety police how we did it.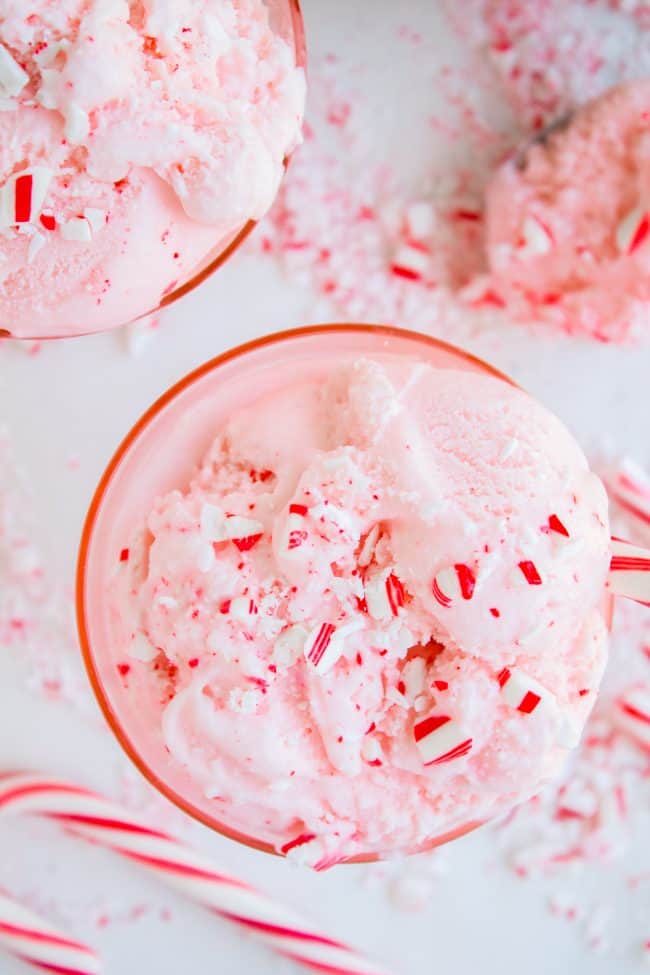 But now that Thanksgiving is out of the way (sorry Thanksgiving) it's time for CHRISTMAS RECIPES!!! Homemade peppermint ice cream is one of my all time favorite Christmas dessert recipes.
How to make peppermint ice cream
Eric's grandmother (Kris's mom, for you regular readers who know my fabulous mother-in-law) is called Nana in our family. She is a very talented cook and has a LOT of great recipes, like Nana's Famous Fudge Brownies and Nana's Fall-Off-the-Bone Ribs and "Barb"-ecue Sauce. (Her name is Barbara, get it?)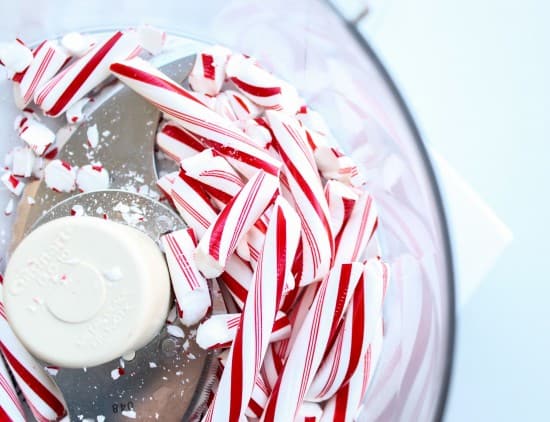 But Nana's peppermint ice cream might top the list. Eric's family is downright obsessed with homemade peppermint ice cream, and it is a staple for dessert every Christmas and 4th of July. It might seem odd to eat peppermint ice cream in the middle of summer, but that's where you're wrong. Would YOU say no to a tall drippy cone of refreshingly bright minty ice cream on a swelteringly hot July day? I think not.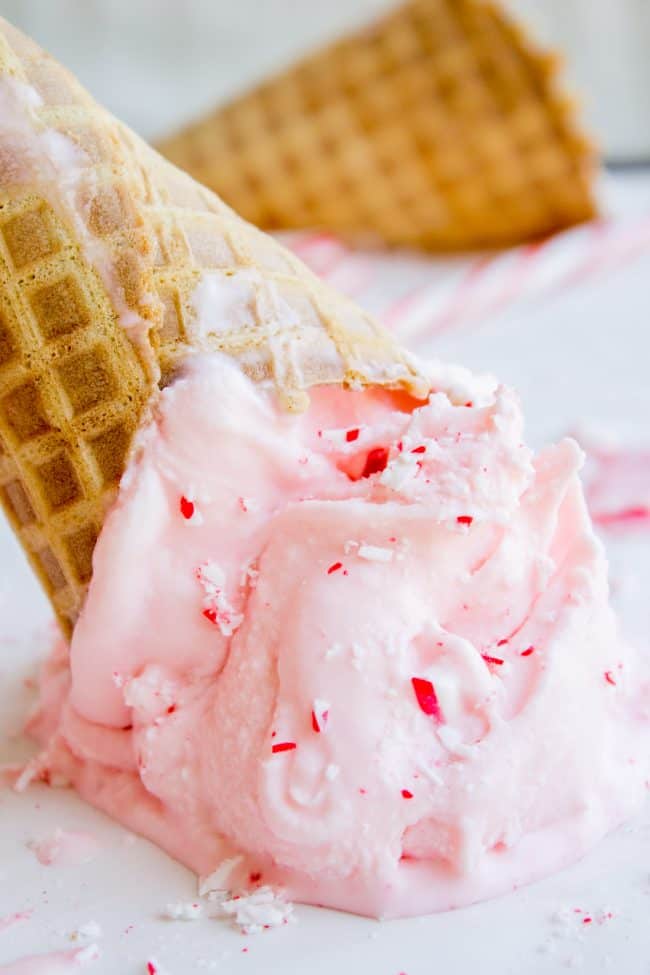 The recipe could not be easier. Unlike many ice cream recipes, we are not cooking anything on the stove, so you don't have to wait for anything to cool down. Instead you just stir together a few ingredients, toss it in the ice cream maker, freeze, and devour. The ice cream is made with some half-and-half but mostly cream, which makes it luxuriously thick and rich.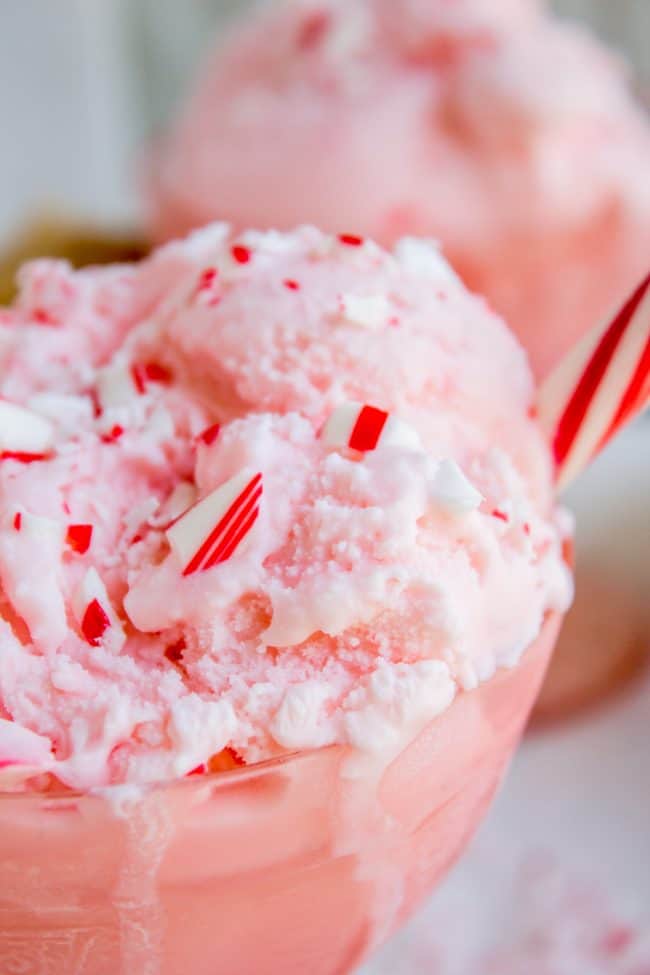 I was just texting with Kris about how many servings I should say this recipe makes. She said technically 1/2 cup ice cream is one serving, and I said 1/2 cup ice cream is a pitiful excuse for a serving. I stand by my claim, but for continuity's sake I left it at about 1/2 cup per serving. But I dare you to try to eat only 1/2 cup of this stuff.
I've been sitting on this recipe for years because I didn't have an ice cream maker, but finally decided to borrow my mom's to make this recipe. You don't need a fancy one, any ice cream maker that churns will do. If I were going to buy one I would get this one.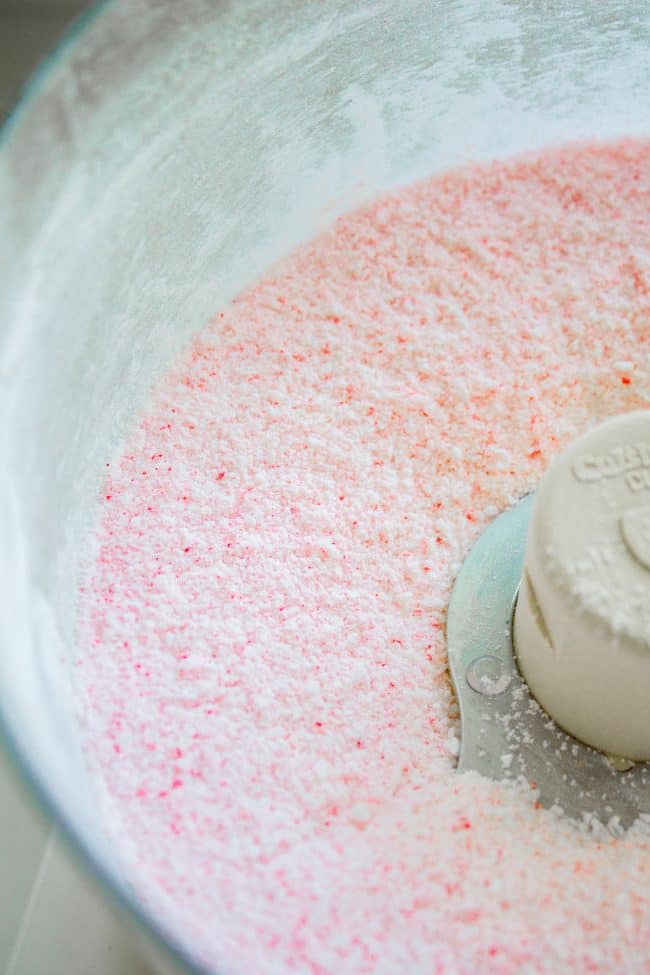 Nana always used star mints (round peppermint candies) to make her ice cream, but my sister-in-law Britta discovered a few years back that candy canes are way better (sorry Nana). Candy canes break up into thinner pieces than star mints, and are easier to crunch up in your mouth. This photo above is how finely you want to crush the peppermint that is folded into the cream before churning.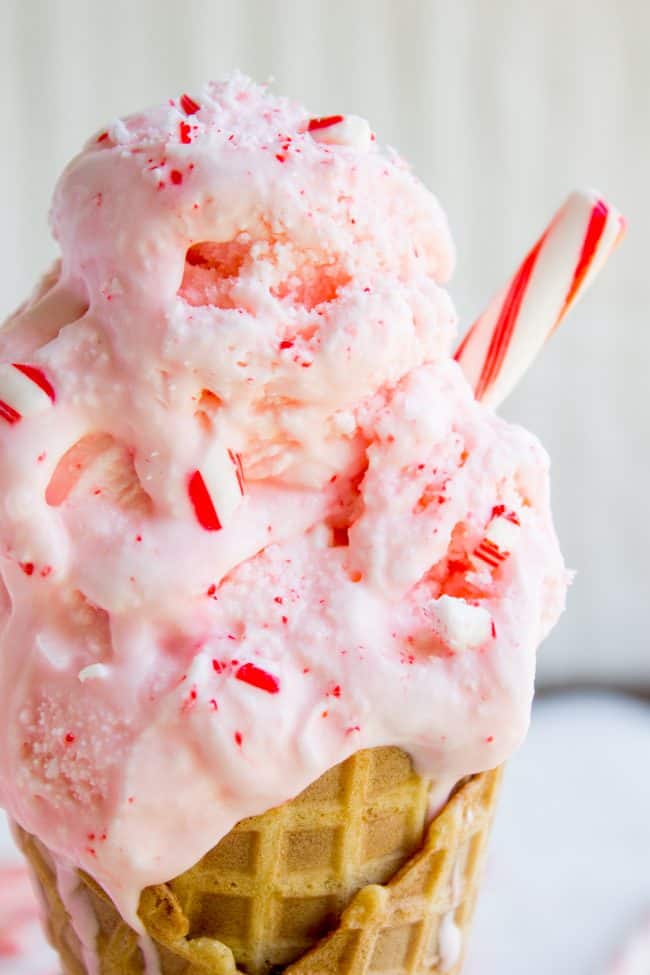 It's not Christmas without Nana's Famous Peppermint Ice Cream! (Christmas ice cream is way better than regular ice cream, right?) On Wednesday I'm sharing my brother-in-law Spencer's recipe for Molasses Crinkles, and when you combine these two….OH MAN. Just you wait.
More desserts you are going to love!
Facebook | Pinterest | Instagram

Nana's Famous Peppermint Ice Cream Recipe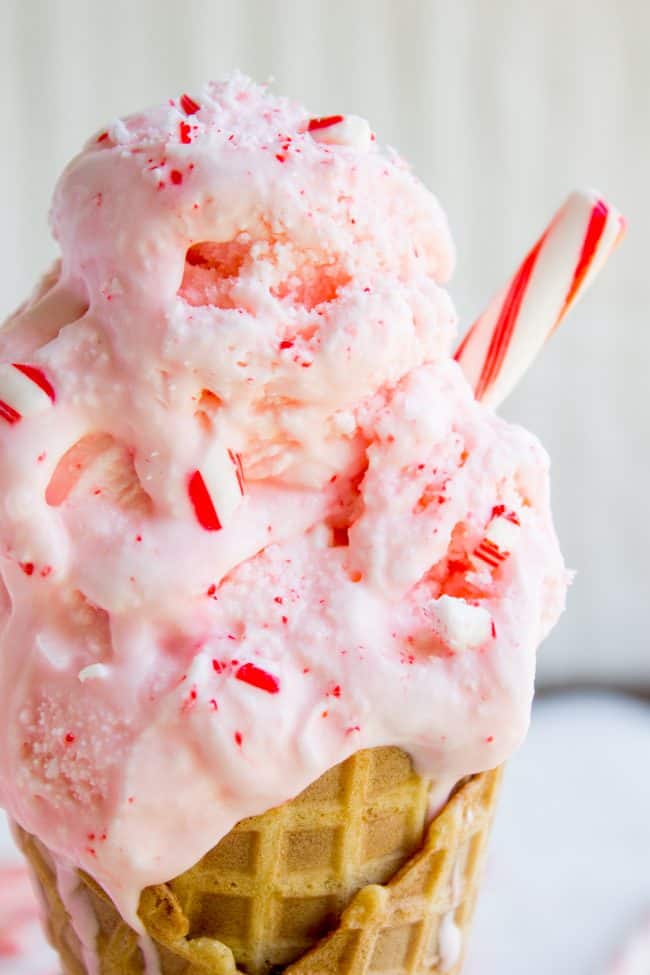 If you want the BEST and easiest Homemade Peppermint Ice Cream recipe, you've come to the right place! My husband's grandma (Nana) is famous for this recipe! We serve it with Christmas cookies every year during the holidays, and with Nana's Fudge Brownies every 4th of July.
Ingredients
6

cups

heavy whipping cream*

4

cups

half-and-half

2

cups

granulated sugar

1/4

teaspoon

salt

1

tablespoon

vanilla

,

good quality

1/4

teaspoon

peppermint extract

8

ounces

finely crushed peppermint

,

about 12-14 candy canes**

1/3 to 1/2

cup

additional coarsely crushed peppermint

,

about 3-5 candy canes**

ice

,

for churning (if your ice cream maker requires it)

rock salt

,

for churning (if your ice cream maker requires it)
Instructions
In a large bowl or the bowl of your ice cream maker, add heavy whipping cream, half-and-half, 2 cups sugar, 1/4 teaspoon salt, 1 tablespoon vanilla, and 1/4 teaspoon peppermint extract. Stir it together well until sugar is well incorporated.

In a food processor or blender, finely crush about 12-14 full size candy canes. You want about 8 ounces of candy ground up pretty well. How many candy canes you use depends on what size they are.

Add 8 ounces of finely crushed candy to the bowl with the cream. Stir well.

While you have the food processor out, use it to coarsely crush another 3-5 candy canes. You want to get between 1/3 and 1/2 cup, how much you use is your preference. Crush them into small to medium chunks, the size that you might like to bite into when you're eating your ice cream later. Set aside. You won't need these coarsely crushed ones until after your ice cream is churned, I just didn't want you to clean out your food processor and then curse my name later when I told you to get it out again.

Add the cream mixture to the bowl of your ice cream maker if you didn't mix it there in the first place. Churn ice cream according to your ice cream maker's instructions. Mine takes about 40 minutes. The ice cream should be thick and about the consistency of soft serve.

Use a long spoon to stir in 1/3 or 1/2 cup coarsely crushed candy canes.

Transfer the mixture to a large tupperware or baking dish with a lid. A 9×5 inch bread pan would work.

Cover well and freeze for several hours, at least 3-5, but 8 hours is best, or overnight.
Notes
*I always get questions about what heavy whipping cream is. It's sold in the dairy section near the milk. Sometimes it's just called heavy cream. It has a fat content of about 35-38%.
**If you are making this when it's not Christmas, use Starlight mints. You can always find them in the candy aisle at the grocery store.
Nutrition
Serving:
1
g
|
Calories:
898
kcal
|
Carbohydrates:
77
g
|
Protein:
6
g
|
Fat:
64
g
|
Saturated Fat:
40
g
|
Polyunsaturated Fat:
2
g
|
Monounsaturated Fat:
18
g
|
Cholesterol:
231
mg
|
Sodium:
153
mg
|
Potassium:
236
mg
|
Sugar:
61
g
|
Vitamin A:
2442
IU
|
Vitamin C:
2
mg
|
Calcium:
195
mg
|
Iron:
1
mg