This easy Thai Cucumber Salad recipe is light and refreshing! It is the perfect relish to go alongside Chicken Satay and Peanut Sauce. Quickly pickled cucumbers, shallots, peppers, and cilantro come together to make the perfect summer side dish for anything coming off the grill, whether it be Thai food or your regular grill menu! Originally posted February 22, 2021.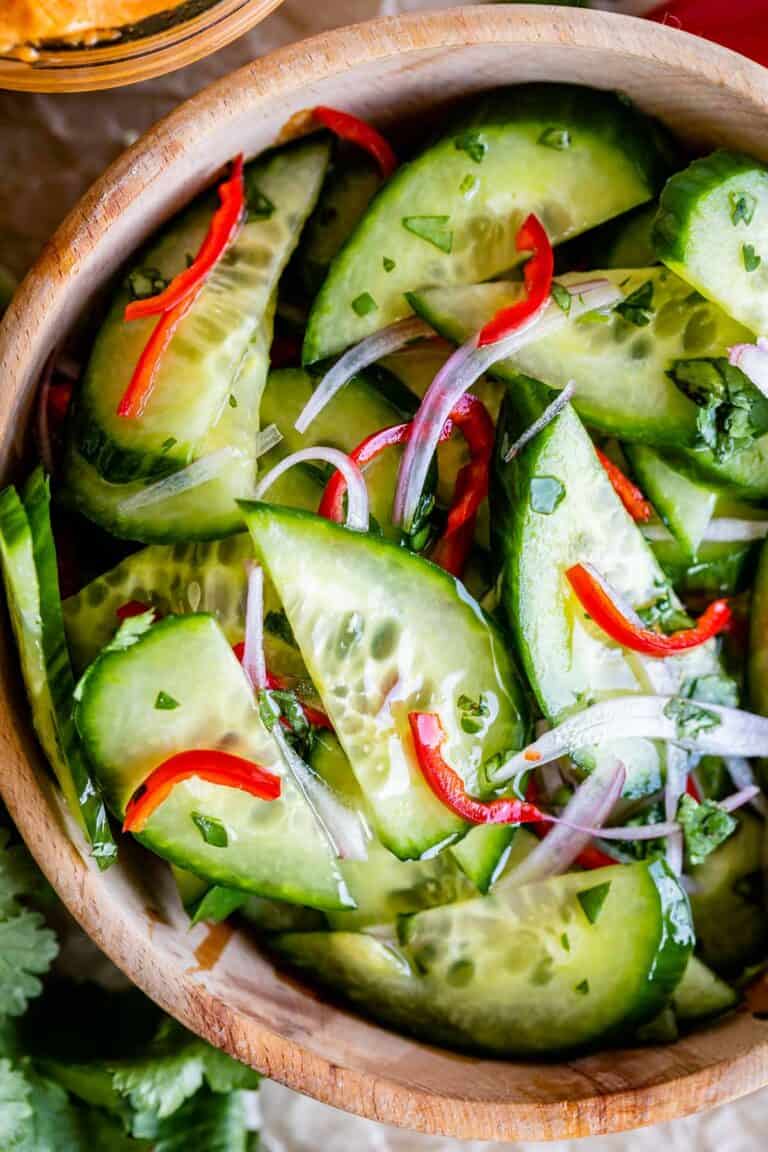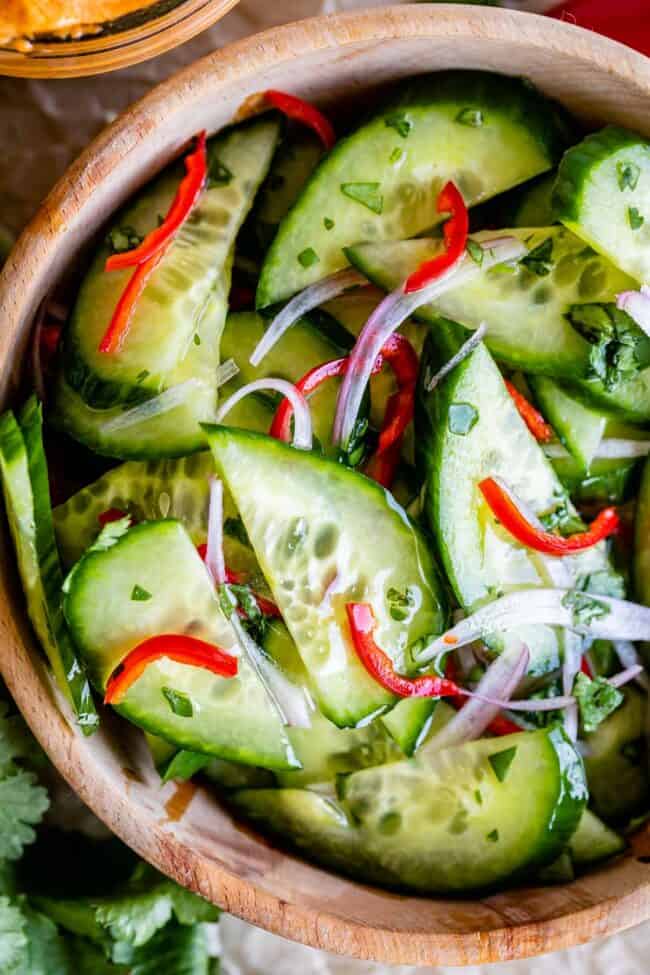 Valentine just came into my bedroom, twirled a few times, and then whispered, "Edison has a very sharp knife!"
I raced to the kitchen to find our 14-month-old on top of the table. I guess I'll add climbing to his list of accomplishments?? As well as knife-wielding. And they say kids these days are useless. Look at all these skills! He didn't even bleed! I'm so proud. Gah.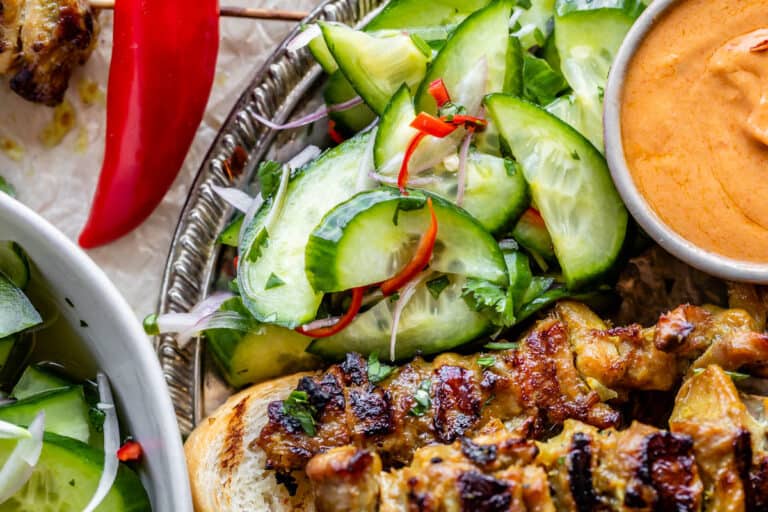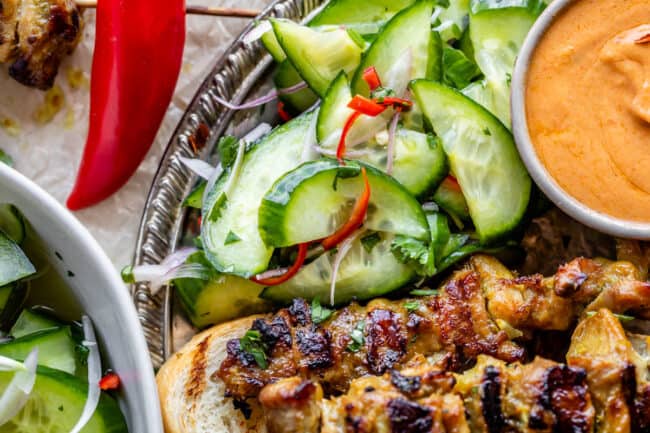 I just don't understand why Valentine had to whisper the news to me. Did she think she was going to get into trouble? It's got to be so hard being a kid sometimes, getting shushed all the time.
I remember one time years ago, I was on the phone, and my young nephew Eli started yelling at me. I told him to pipe down, and then he whispered, "Truman is in the fireplace." And I turned to see Truman, 16 months, completely blackened with soot. "Well why didn't you tell me sooner?!" These poor children. Adults don't make sense. (Truman made it out alive.)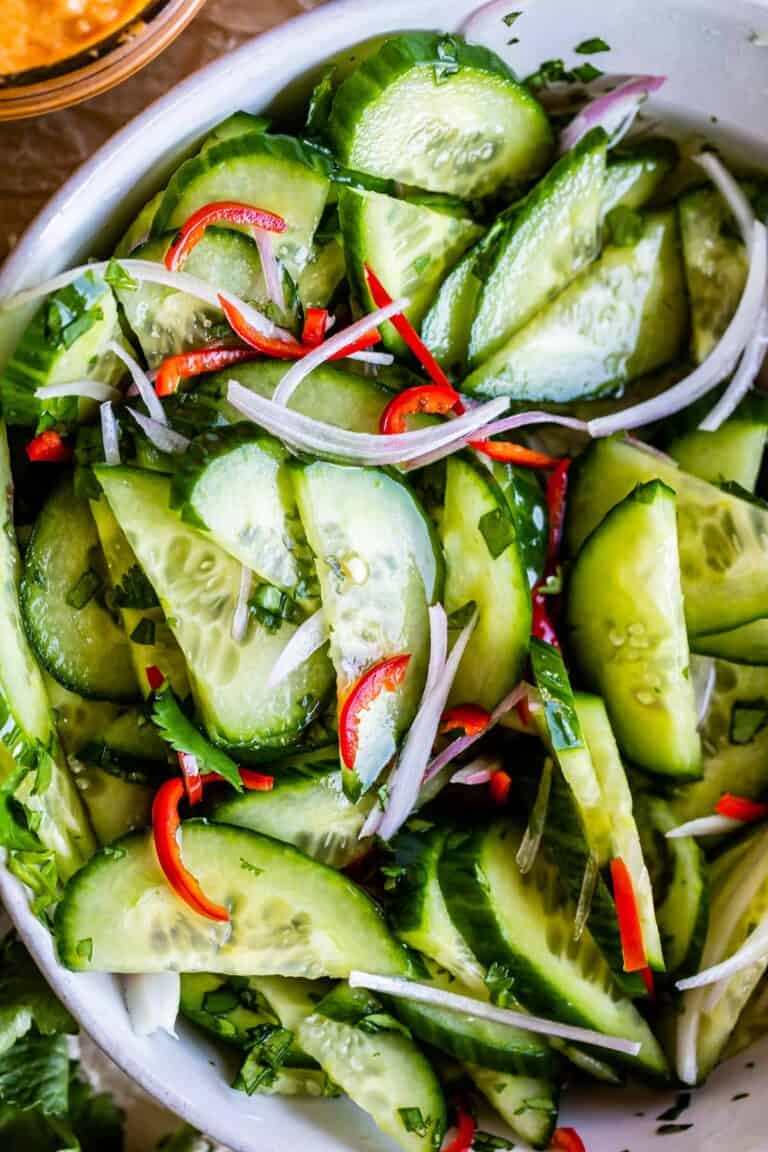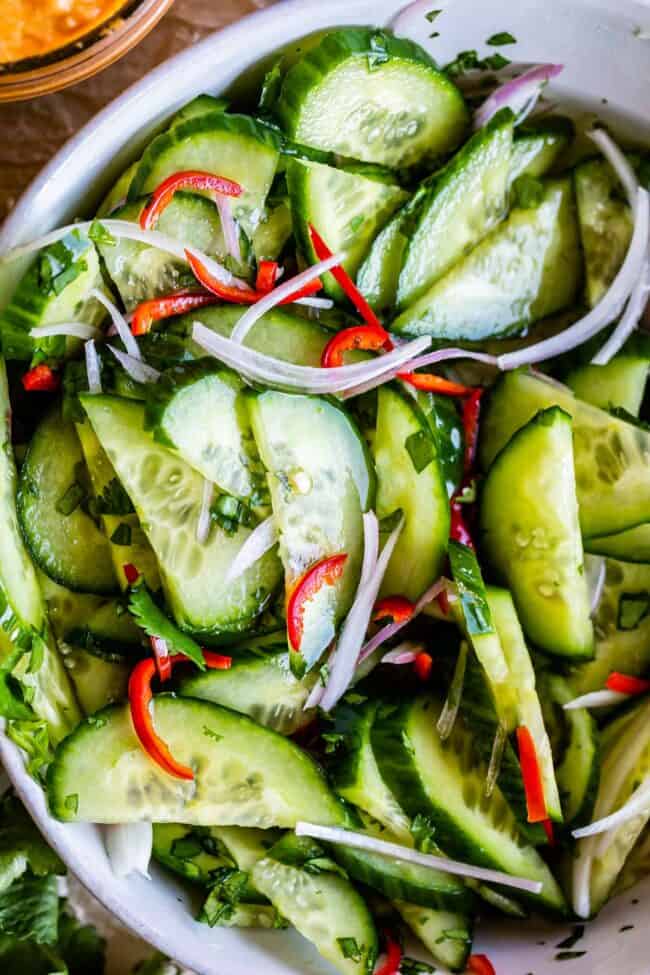 Well kids with knives aside, today I'm sharing your new favorite relish: a simple Thai cucumber salad recipe!
What is Thai Cucumber Salad?
Sometimes called Ajat, Ajad, or Achat, this simple Thai Cucumber Salad is a quick and easy relish, often served with Chicken Satay and Peanut Sauce. (click for the recipes!) Put it all together and you have the the most epic Thai meal!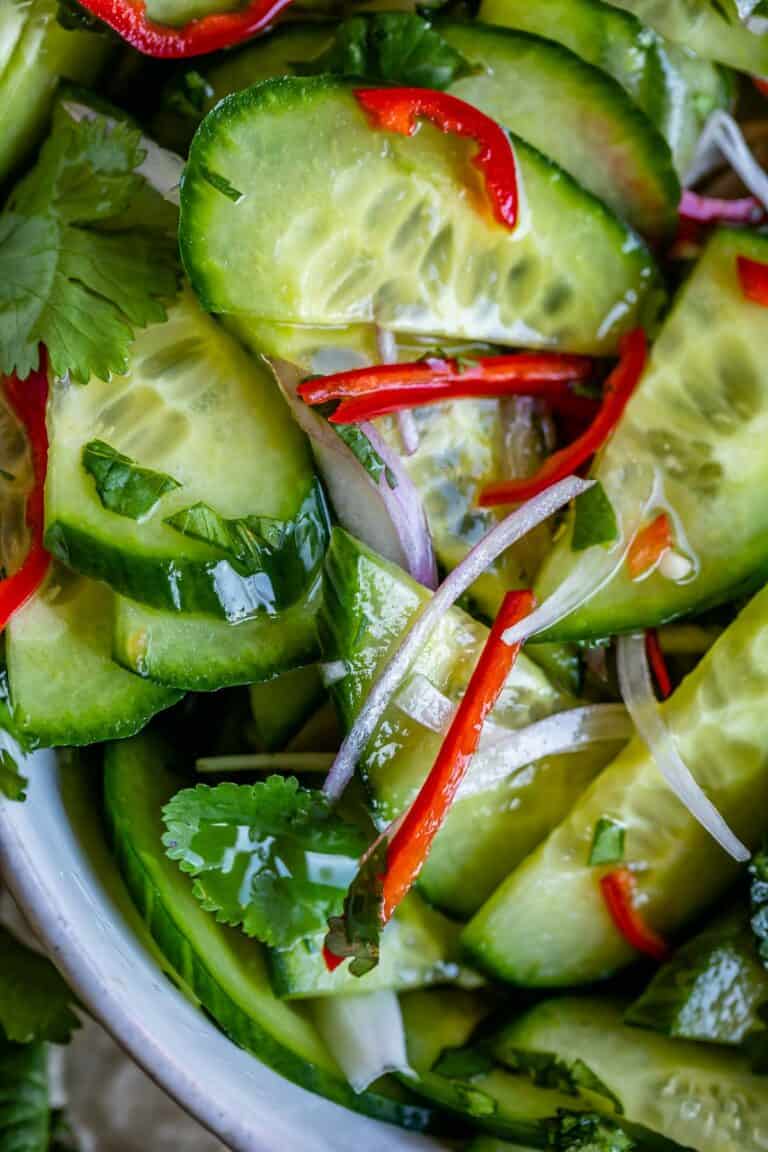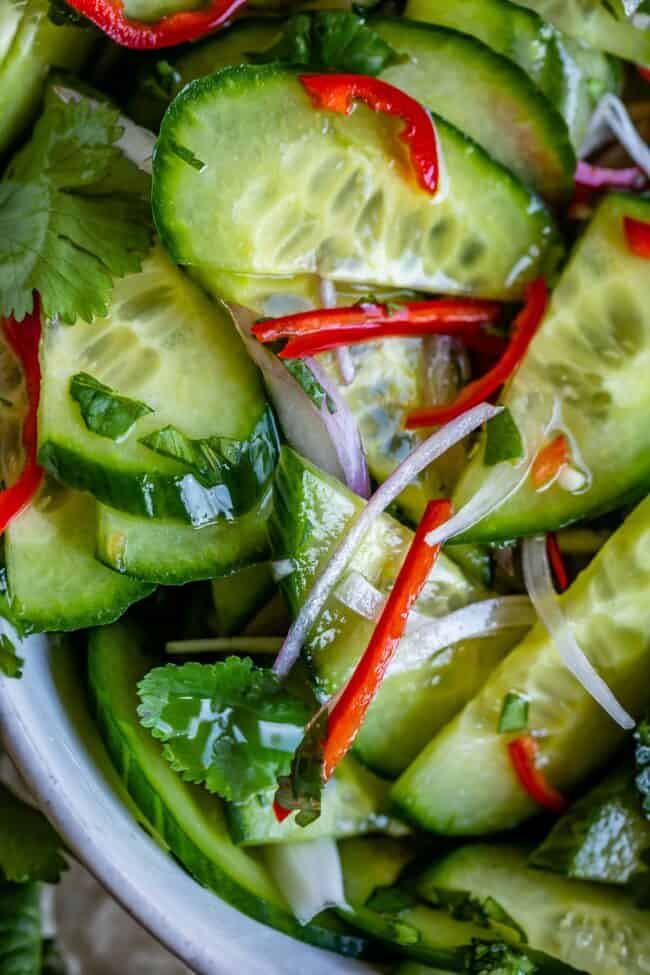 The salad is so easy: chop up cucumbers, shallots, chili peppers, and cilantro and put them in a serving bowl. Drizzle with a simple vinegar syrup and serve immediately. That's IT. Takes 10 minutes, minus the time it takes your syrup to cool.
It's absolutely addictive, not just with chicken satay, but with all kind of things! The sweet, vinegary bite of the syrup, the coolness of the cucumbers, and the spicy peppers come together for the perfect palate cleanser for anything coming off your grill. It also pairs really well with any kind of curry!
Cucumber Salad (Thai) Ingredients
All amounts and details given in the recipe below!
Granulated Sugar
White Vinegar
Water
Kosher Salt
English Cucumber (sliced thinly)
Shallots
Chili Peppers
Cilantro
How to make Thai Cucumber Salad for Satay
I will show you how to make it!


Start by making the simple syrup. Add white vinegar, sugar, salt, and a smidge of water to a small pot. Stir it up and bring to a boil over high heat. Once it boils, let it bubble for about a minute to make sure all that sugar is dissolved and to thicken it up just a bit. That's it! Let it cool. It doesn't even take long to cool because it's not a huge amount. Stick it in the fridge or freezer for a half hour and you are good to go.
Meanwhile, chop your veggies. You will need cucumbers, shallots, peppers, and cilantro.

Here's how I like to chop my cucumbers. Don't make the slices too thin (as I often recommend for cucumber salad). You want a nice decent crunch in this salad!
Next you will need shallots. Shallots are pretty mild for eating raw, so I highly recommend them. They have great flavor. But red onions will do in a pinch if you don't have a shallot.


Spicy 🌶 Cucumber Thai Salad
The spicy kick in this salad comes from red hot chili peppers. (90s alt rock fans, that one was for you.)The most traditional pepper used in most Thai cooking is Bird's Eye Pepper. It is a long and thin red pepper that is extremely spicy! I couldn't find any, even at my local Asian market. I used red Fresno peppers instead. Jalapenos will do just fine (although it is a shame to miss out on the pretty pop of red), or you could try serrano peppers if you want to bring in that heat!
The last ingredient is cilantro. You can leave it out if you are a cilantro hater. But it adds so much! Ahh I feel so sorry for all you cilantro-is-soap people. I know it's a genetic thing but you are seriously missing out.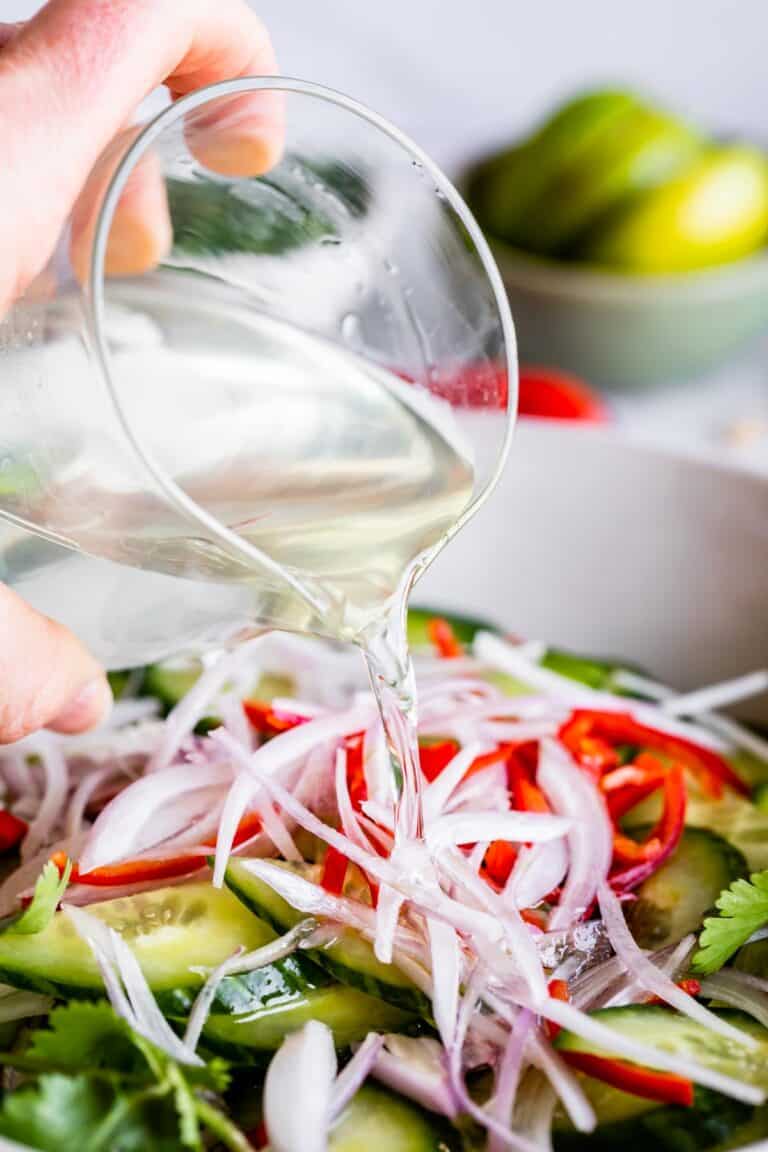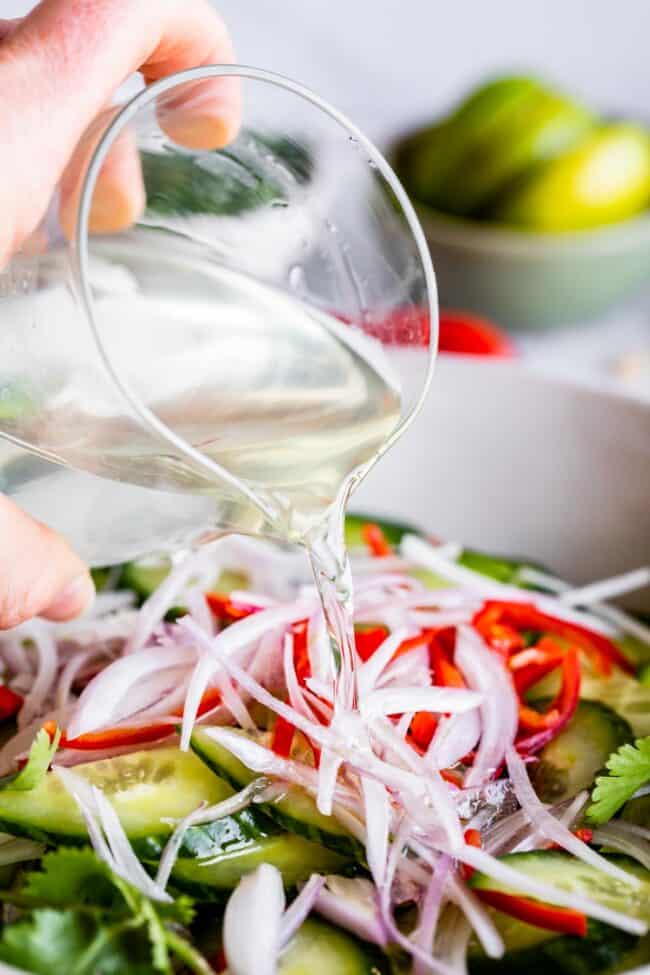 Pour the cooled syrup over the top of the chopped veggies, and that's it! This salad is best served right away. Only use as much syrup as you think you will need, and only add syrup to the veggies you know you will eat right away. You can always add more.
Storing Thai Cucumber Relish
You can store the syrup by itself in the fridge for several weeks. I don't recommend storing the dressed salad in the fridge; the cucumbers get soft, and the syrup gets watered down and eventually takes on a slightly bitter taste. It's best to store the veggies and syrup separately if there are leftovers.
How long will cucumbers in vinegar last?
If you do need to store the fully assembled Thai cucumber salad, it will last in the fridge for up to 3 days. Again, keep in mind that the fresh, crunchy texture of the cucumber will be affected the longer it sits in the vinegar syrup!
What goes with Thai food?
Thai Cucumber Salad is the perfect side dish for that any curry recipe you are into! Sometimes it's hard to know what side dishes to make when you're trying out new cuisines. Other ideas are rice of course (sticky rice would be great!), toasted bread, pineapple fried rice, simple stir fried vegetables, green mango salad, etc.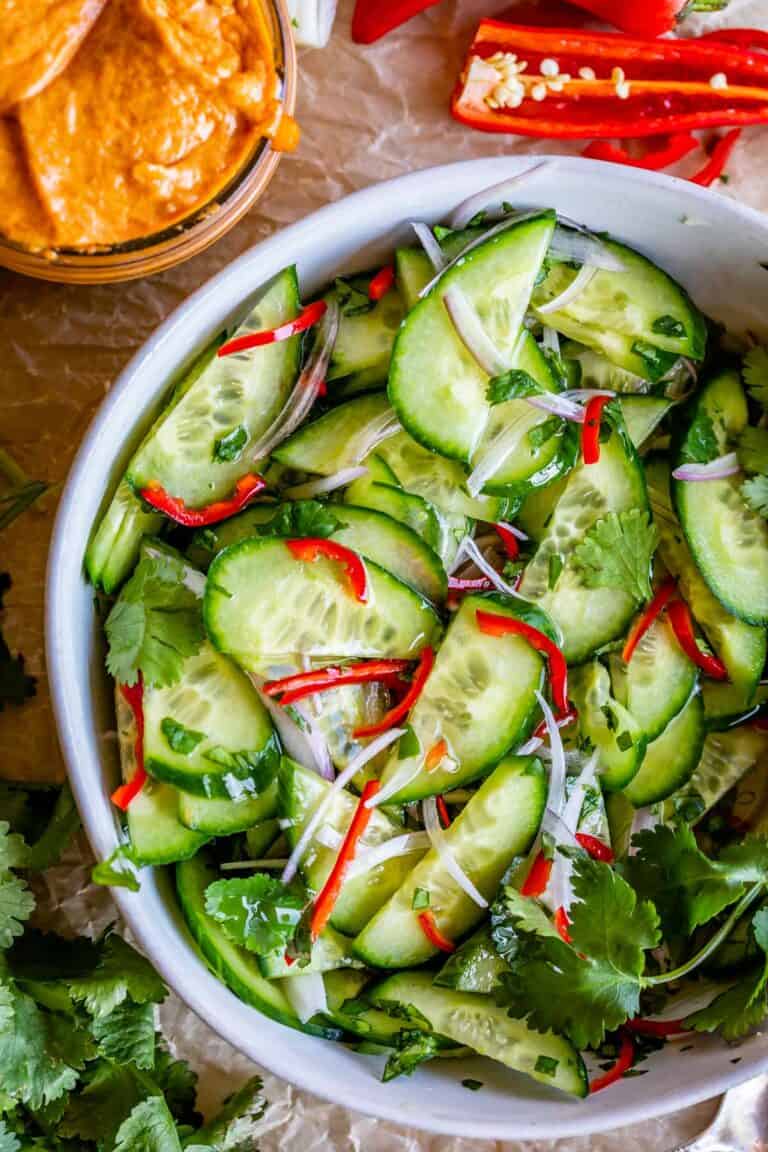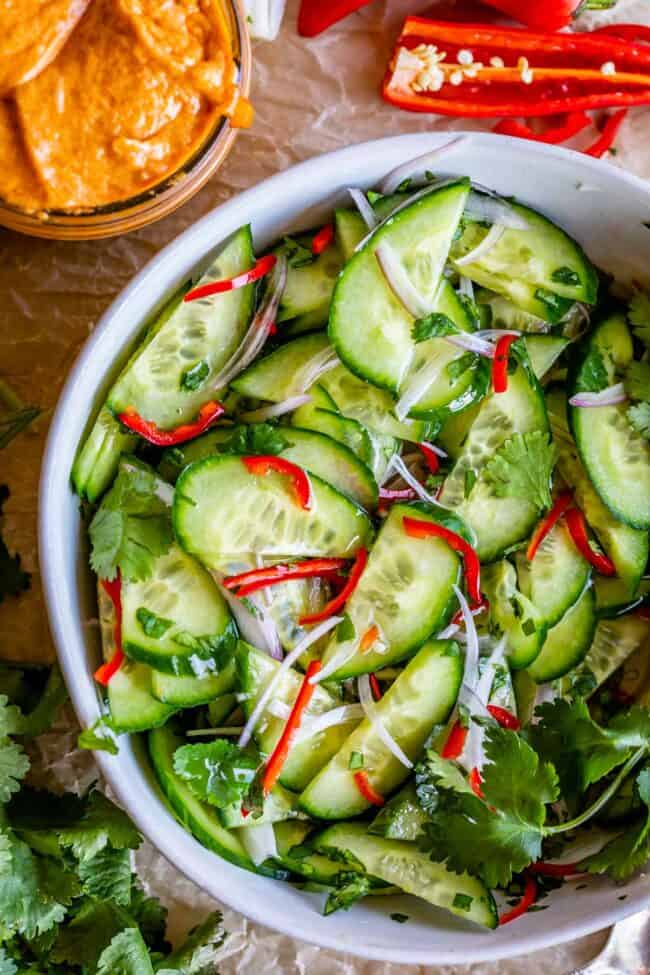 This Thai Cucumber Salad is what is authentically served in Thailand when you order Chicken Satay: you get the chicken skewers with the cucumber relish, a side of peanut sauce, and grilled or toasted white bread to bring it all together. Everything gets dipped in the sauce, and it's kind of like a deconstructed sandwich. Here's what it looks like: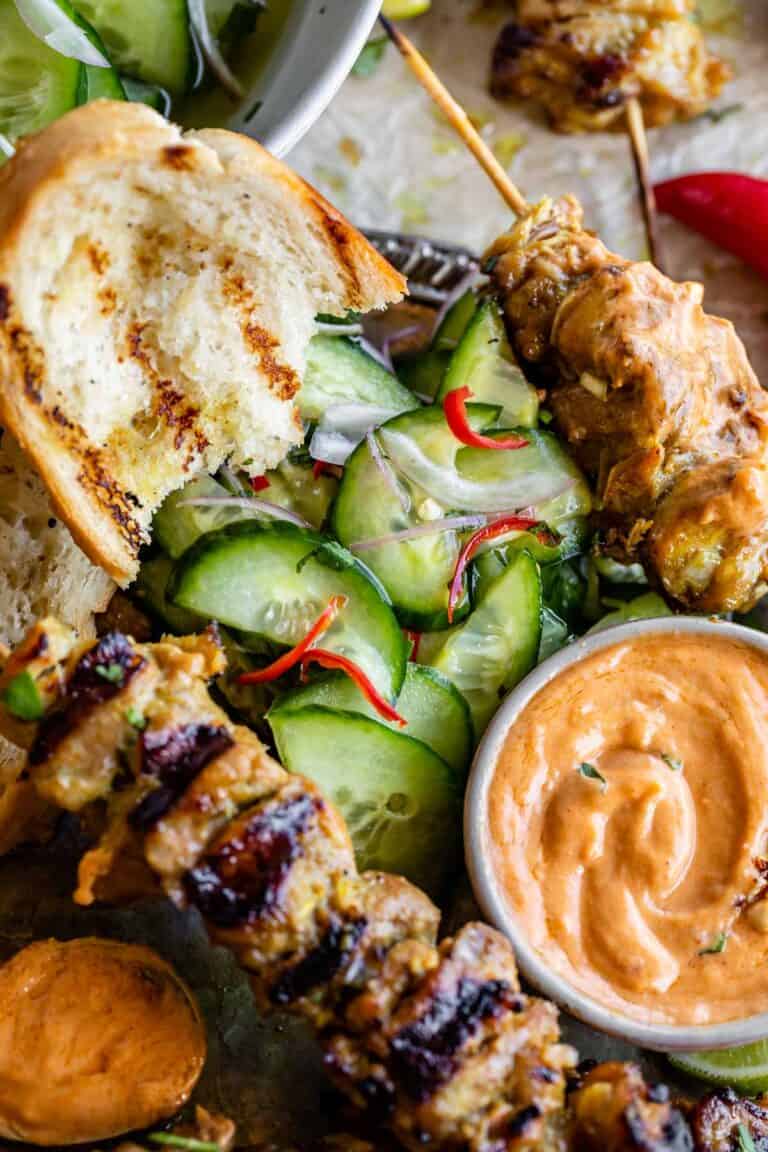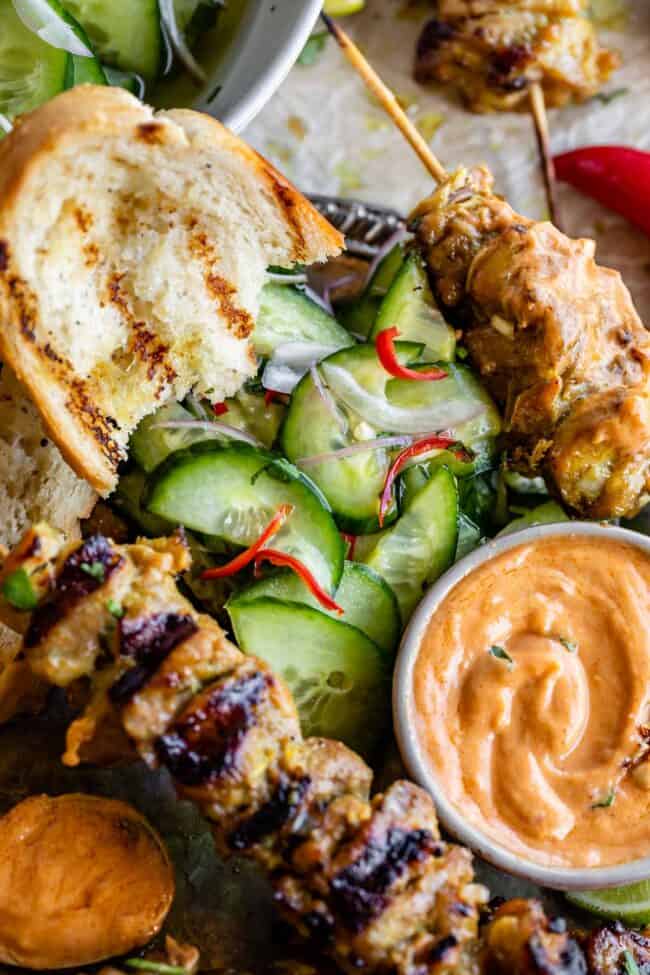 This is my new favorite meal of all time! Fatty chicken thighs slathered in rich peanut sauce, toasty bread also dipped in the sauce, broken up with bites of sweet and vinegary cucumber and hot pepper. It is such an amazing combination!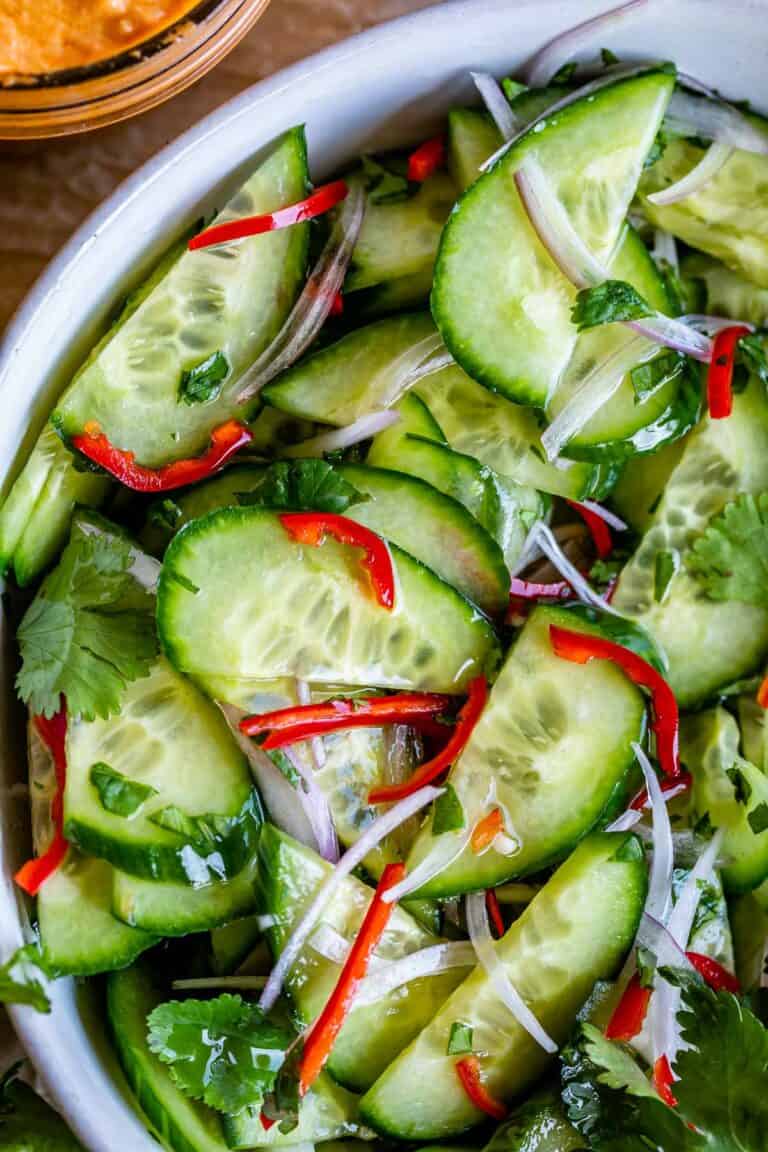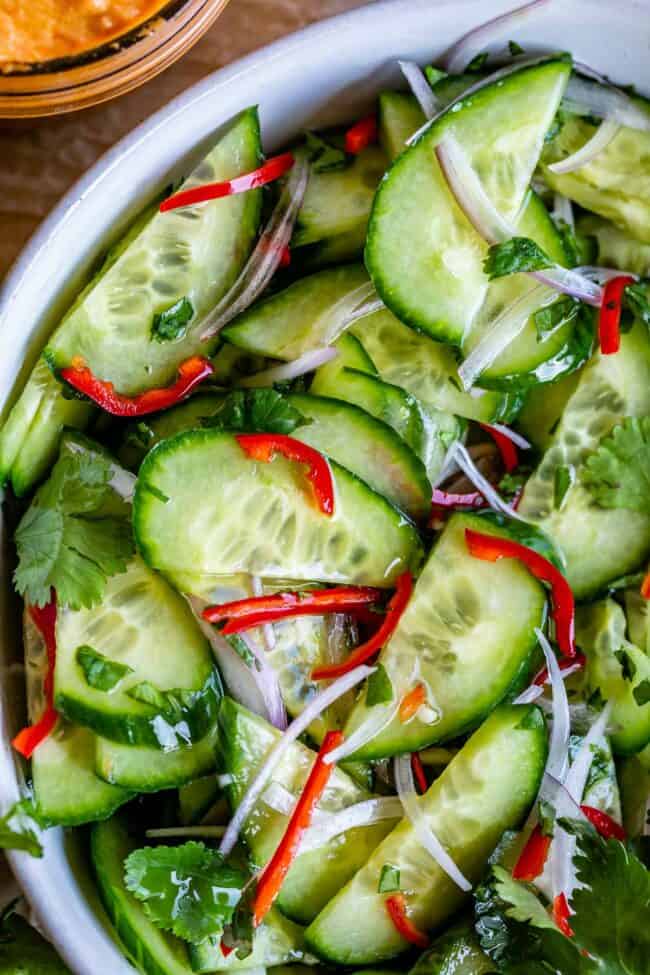 But I see no reason to limit ourselves here. Bring on the globalization! This salad would be delicious served in so many different ways:
Main dishes to eat with this Thai Cucumber Salad Recipe
More fresh vegetable summer side dishes for your grilled dinner!
Facebook | Pinterest | Instagram

Thai Cucumber Salad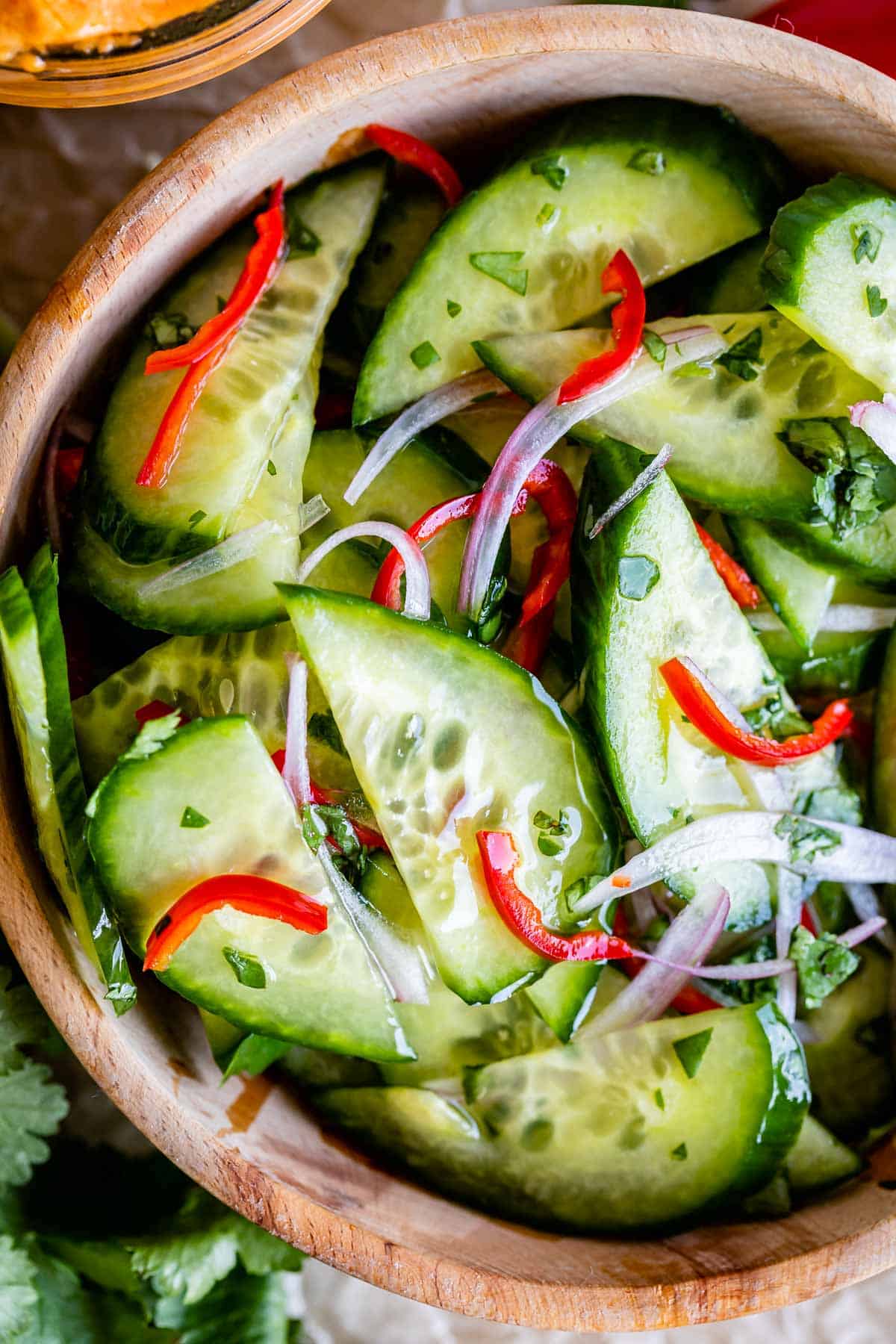 This easy Thai Cucumber Salad recipe is light and refreshing! It is the perfect relish to go alongside Chicken Satay and Peanut Sauce. Quickly pickled cucumbers, shallots, peppers, and cilantro come together to make the perfect summer side dish for anything coming off the grill, whether it be Thai food or your regular grill menu!
Ingredients
For the vinegar syrup
1/3

cup

granulated sugar

1/3

cup

white vinegar

1 & 1/2

tablespoons

water

1/2

teaspoon

kosher salt
For the salad
1

English cucumber

,

sliced

1 to 2

shallots

,

sliced thin

1 to 2

chili peppers*

,

sliced thin

3

tablespoons

cilantro

,

chopped (or to taste)
Instructions
Make the vinegar syrup first so it has time to cool. In a small pot, add 1/3 cup sugar, 1/3 cup white vinegar, 1 and 1/2 tablespoons water, and 1/2 teaspoon kosher salt.

Turn the heat to high and bring to a boil. Once it is bubbling and the sugar is totally dissolved, continue boiling for 1 minute. It will thicken some but not much. It will become a little more syrupy as it cools. Set aside to come to room temperature (or if you are in a hurry, stick it in the fridge.)

When your syrup is about room temperature and right before you are ready to serve, slice your vegetables. Cut your cucumber on a sharp bias, then cut each coin in half. Add to a medium serving bowl.

Slice your shallots into thin strips. Add to the bowl.

Slice your chili pepper. Slice your pepper in half lengthwise and use a knife to remove all the seeds and membrane (unless you want it really spicy! Then leave it in!) Slice into thin strips. Add to the bowl.

Chop 3 tablespoons cilantro, or more to taste. I love cilantro so I always add a ton! Add to the bowl.

Pour some or all of the room temperature syrup over the vegetables. The syrup should just barely cover the vegetables. Try a bite and see if you want to add a pinch more salt.

This salad is not meant to sit a long time in the syrup. You should only chop up the amount of veggies that you want to eat immediately. The veggies release water as they sit, making them soft, as well as watering down the syrup and making it slightly bitter over time. Pour syrup over the veggies, using as much or as little as you like, and save the rest of the syrup in the fridge for the next time you want to make this. It will keep in the fridge for weeks. Then anytime you get a hankering for this you can chop up some veggies and pour it on top.

Serve with Chicken Satay and Peanut Sauce!
Notes
*Bird's Eye Pepper is the traditional pepper used in this dish in Thailand. Check an Asian food mart if you can't find it at the grocery store. It's very spicy! You can substitute jalapenos, red Fresno peppers, or serrano peppers.
Nutrition
Serving:
1
g
|
Calories:
169
kcal
|
Carbohydrates:
41
g
|
Protein:
1
g
|
Fat:
1
g
|
Saturated Fat:
1
g
|
Polyunsaturated Fat:
1
g
|
Monounsaturated Fat:
1
g
|
Sodium:
588
mg
|
Potassium:
272
mg
|
Fiber:
1
g
|
Sugar:
37
g
|
Vitamin A:
265
IU
|
Vitamin C:
5
mg
|
Calcium:
33
mg
|
Iron:
1
mg