Cilantro-Lime Cucumber Salad
This easy cucumber salad recipe is a fast and fresh summer side dish with a bit of a kick. The cilantro adds the perfect twist! A perfect compliment to a Mexican-style meal.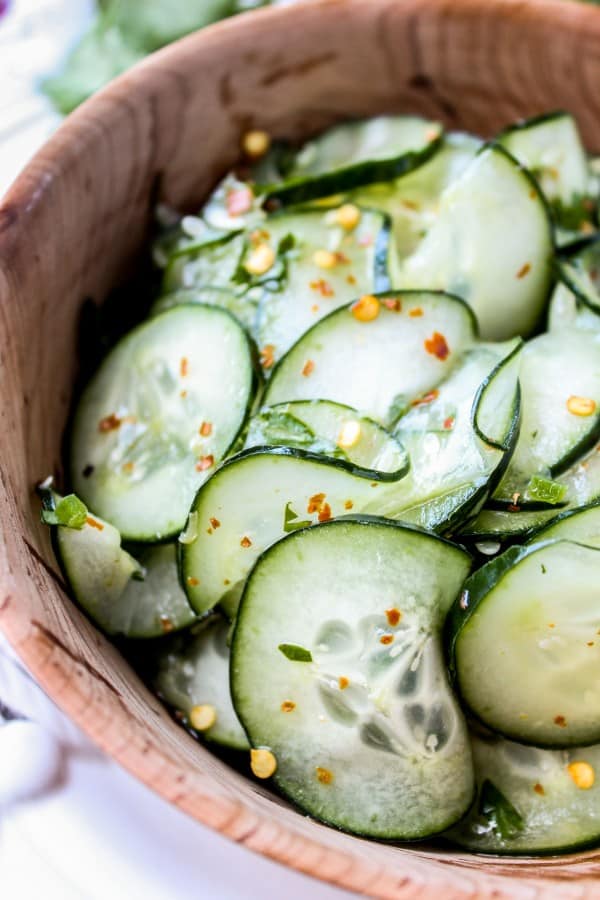 Originally posted January 6, 2014
Today I dusted off my piano and started playing a song. Eric immediately said, "Oh, man, that's bad. We need to get that piano tuned." It's adorable that when he hears terribly wrong notes coming out of the piano, he assumes we need a tune up rather than guessing the truth, which is that I really ought to practice the piano more often.
This is nothing new. As a kid I took lessons, but I was so bad at practicing that I didn't really improve much. I used to go the entire week in between lessons and not so much as look at the piano, and then I would be frantic on the car ride over to my teacher's house, practicing air-piano in the car with my books propped open on my lap. Yes, air-piano exists, much like air-guitar, only way less cool.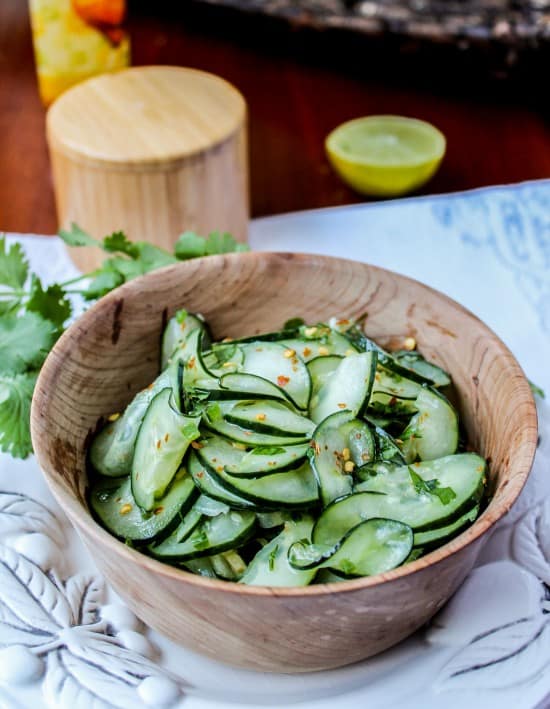 Eric bought me a second-hand piano when we lived in Indianapolis. He somehow managed to get some guys from church to help him lift it up into our second floor apartment. When we moved to Utah, we lived on the second floor yet again. And then our piano made it all the way out here to California this summer, officially becoming the heaviest and most cumbersome guilt-trip known to cross the country. It's a giant piece of unused furniture sitting in our front room, taunting me.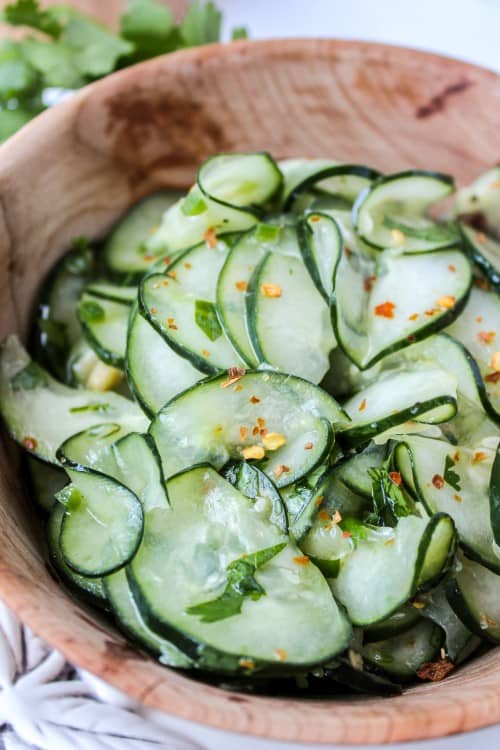 I love playing the piano, I really do. But there's always an excuse. The kids are asleep, don't want to wake them. Have to get dinner on the table, I'll do it after. I'm going, really, just let me pin this one last caramel-stuffed cookie recipe.
I think I feel a New Year's Resolution coming on. Have you guys got any on your list?
 This easy cucumber salad recipe is versatile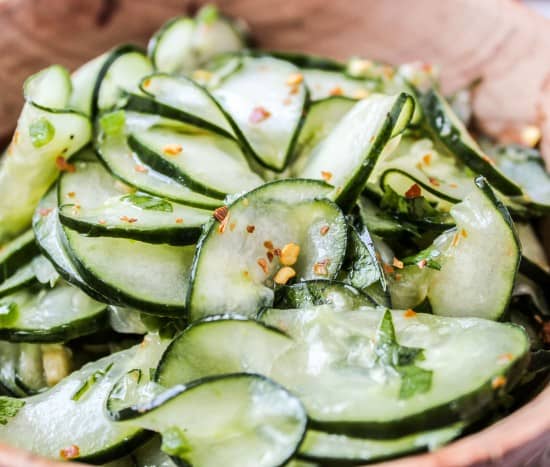 Now let's talk cucumbers. There are about a million ways to eat this Mexican-style cucumber salad: It would be an awesome replacement for lettuce on tacos, you could put it in burrito bowls, top off your tortilla soup, top off this Barbacoa Beef, or Carne Guisada, or eat it alongside these Baked Black Bean Taquitos. Or just serves it as a simple side dish when you are making enchiladas or tamales or carnitas or whatever.
You guys love this Asian Marinated Cucumber Salad so much (it came close to making my Top Recipes of 2013) that I thought I would try out a Southwestern version. I'm glad I did, because  it is awesome. It's not traditional, but since when has that ever stopped us from Mexican-ifying our food? I'm pretty sure they don't really eat cream cheese enchiladas in Mexico, but that doesn't mean they're not dang good.
The easy way to get thin slices for cucumber salad
For me what makes a cucumber salad great is having the cucumbers sliced suuuuper thin. That means either a lot of patience and a very sharp knife, or a good quality mandolin slicer. I use my mandolin all the time, it's a good kitchen tool to have around!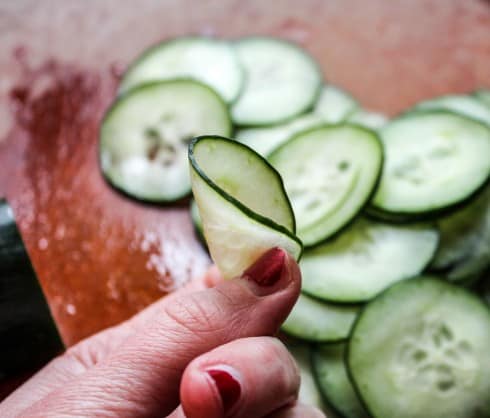 You want to slice the cucumbers pretty thin. They should be quite flexible, like this. Do yourself a favor and buy the mandolin. I love mine!
This is too thick. If I bent this any more, it would have snapped. You want them thin enough that they are bendy. (Try to shield your eyes from my horrific red nail polish.)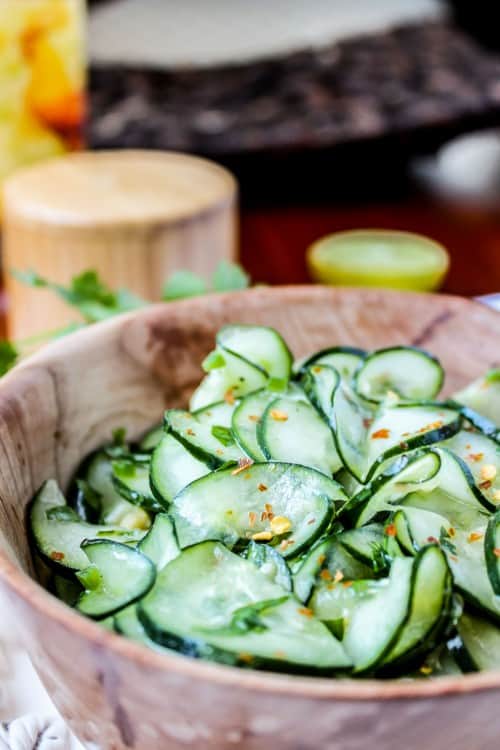 This cucumber salad is light, just as you would expect anything with cucumbers to be. I added some crushed red pepper to give it a little kick, but it's not overwhelming. You can serve it immediately after you make it, or let it marinate in the fridge for a few hours. The flavors will be a little stronger if you let it sit. I like it both ways.
If you make any of my recipes, share it on Instagram using the hashtag #TheFoodCharlatan so I can see it! I love that.
What to serve with this Mexican Cucumber Salad:
Spanish Cauliflower Rice (To Eat With Mexican Food) << another great HEALTHY Mexican side dish!
Traditional Tejano Carne Guisada (Braised Beef for Tacos) << this recipe is from my brother-in-law's grandma. Today's salad would pair well with it! Throw it on your tacos!
…and then eat these beans on the side >> Traditional Tejano Pinto Beans (Slow Cooker)
More great salads to try out:
Asian Marinated Cucumber Salad: This one is soooo good guys
Pistachio-Pear Cucumber Salad:
Greek Salad Recipe with Tons of Feta Cheese
Raspberry Avocado Salad with Poppyseed Dressing
Cucumber Ribbon Salad with Peppers, Radishes, and Thai Dressing from Kalyn's Kitchen
Cucumber Basil and Watermelon Salad from FoodieCrush
(There are affiliate links above. Thanks for funding my kid's college/expensive goat cheese addiction) 
Facebook | Pinterest | Instagram | Twitter
Cilantro-Lime Cucumber Salad
This easy cucumber salad recipe is a fast and fresh summer side dish with a bit of a kick. The cilantro adds the perfect twist! A perfect compliment to a Mexican-style meal.
Ingredients
1

jalapeno

,

seeded and finely diced

2

cloves

garlic

,

finely minced

3

tablespoons

lime juice

,

fresh

1/4

teaspoon

red pepper

,

crushed

½

teaspoon

salt

,

or to taste

black pepper

,

to taste

3

tablespoons

olive oil

2

cucumbers

,

very finely sliced (see photos)

4

tablespoons

cilantro

,

minced, to taste
Instructions
Dice the jalapeno and garlic and add to a medium-sized bowl.

Add 3 tablespoons of fresh lime juice, crushed red pepper, salt, and pepper. Use a whisk to incorporate the 3 tablespoons olive oil. Set aside.

Finely slice the cucumbers.

Use a mandolin

if you have it, but a very sharp knife will do the trick. (See photos below.) Add the cucumbers to the dressing and stir together.

Finely mince the cilantro and add it to the bowl. Stir to combine. You can either let it sit in the fridge to marinate for a couple hours, or serve immediately.
Notes
Make sure that you let the salad sit on the counter for a little while before serving if it's been in the fridge; the olive oil solidifies slightly when it's cold.
Nutrition
Serving:
1
cup
,
Calories:
94
kcal
,
Carbohydrates:
4
g
,
Protein:
1
g
,
Fat:
9
g
,
Saturated Fat:
1
g
,
Polyunsaturated Fat:
1
g
,
Monounsaturated Fat:
6
g
,
Sodium:
236
mg
,
Potassium:
188
mg
,
Fiber:
1
g
,
Sugar:
2
g
,
Vitamin A:
151
IU
,
Vitamin C:
11
mg
,
Calcium:
21
mg
,
Iron:
1
mg
We are a participant in the Amazon Services LLC Associates Program, an affiliate advertising program designed to provide a means for us to earn fees by linking to Amazon.com and affiliated sites.