The most decadent fudge brownies with chocolate fudge frosting you will ever eat! These brownies are thick and chewy and not cakey in any way shape or form. They really do taste like fudge. Eric's grandma (Nana) is famous for this recipe! We always eat these brownies with Nana's Peppermint Ice Cream. 
So Eric lost the remote. I'm pretty sure it was him who lost it because a few years ago the same thing happened, and after searching for hours do you know where he found it? On top of the bookshelf. (Not on the top shelf. On top of. Completely out of sight.) Eric does this thing where he picks things up and puts them in random places when he's talking to someone, and has ZERO memory of it.
This time around it was a real doozie because we lost the Apple TV remote and it is roughly the size of a postage stamp.
A few days go by and we're watching Friday Night Lights. (we've been obsessed lately, have you seen it?) Suddenly the show starts fast forwarding out of nowhere. Eric looks at me with wide eyes. "The remote!! You moved!" He shoos me off the couch and flips the entire thing over. I'm starting to think he's actually gone mad, when suddenly I hear the remote drop within the couch.
It finally dawns on me that I had shifted on the couch and somehow pushed the fast forward button.
He could not get it out. It was stuck somewhere in the frame. He almost cut into the fabric on the bottom of the couch (I freaked out) but then decided that wouldn't even help him, he had to cut into the SIDE of the couch to get it. And I'm over here like, Hello Eric, this is your voice of reason. YOU ARE NOT BUTCHERING OUR COUCH JUST TO GET THE REMOTE.
Did I mention that our back-up remote does all of the things that the tiny postage stamp remote does? All of them. I asked him why he wanted the tiny one so bad and he said, quote, "I like the way it feels."
(Okay, so he mentioned some other reasons too, but my eyes glazed over for that part.) He did end up finding the remote after many couch rolling episodes and much hand squishing.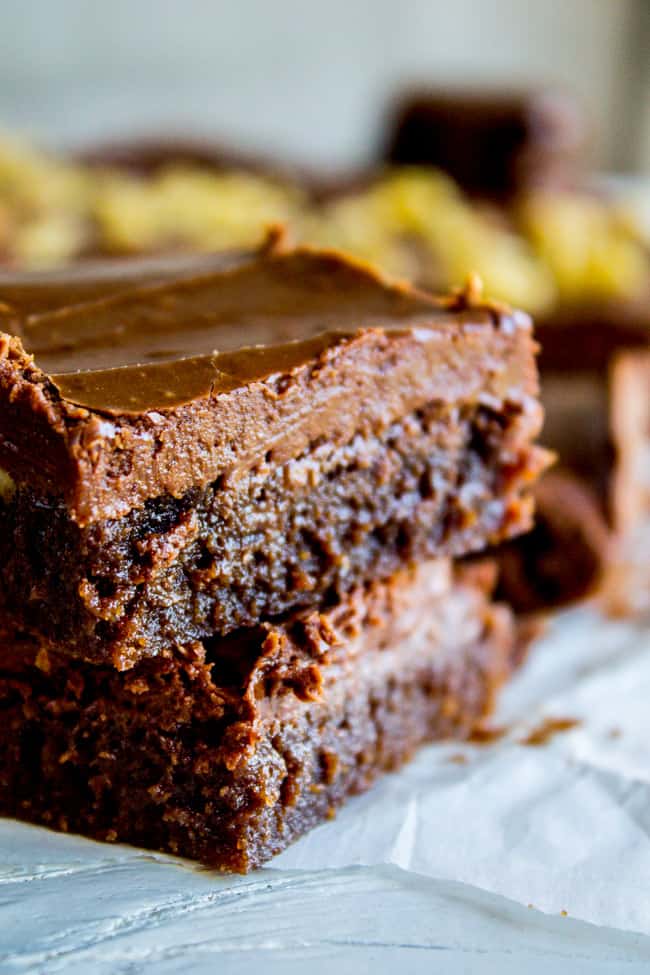 Who wants a fudge brownie right now? These brownies really do taste like fudge. In fact my mom (who is a true fudge fanatic. Her fudge recipe is one of my top 10 recipes of all time) came over the day after we made these, opened up the tupperware on the counter, and gasped. "You made fudge??" I think she thought we'd been holding out on her. I explained, no, it's even better, it's fudge BROWNIES, and her eyes got all big and cartoony. (Honestly, where do you think I get my sweet tooth? Woman raised me right.)
The frosting on these brownies is NOT buttercream. It's a little fussier than that, but totally worth every second. First you cook it on the stove, then you cool it in an ice bath, and then you beat it until it loses it's gloss. I promise it doesn't take too long.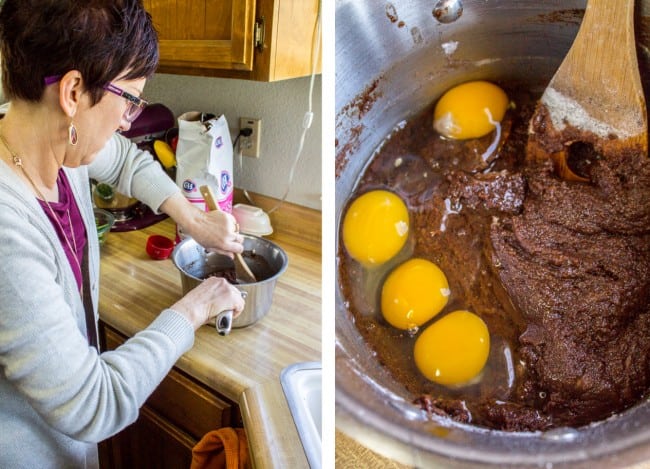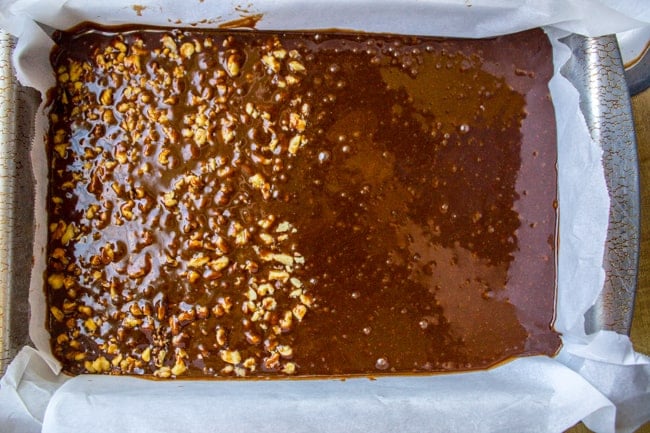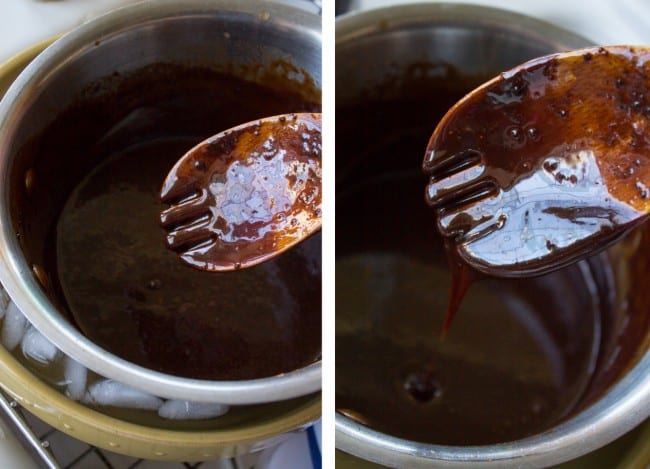 Frosting on the right is how thick it is after 10 minutes in an ice bath.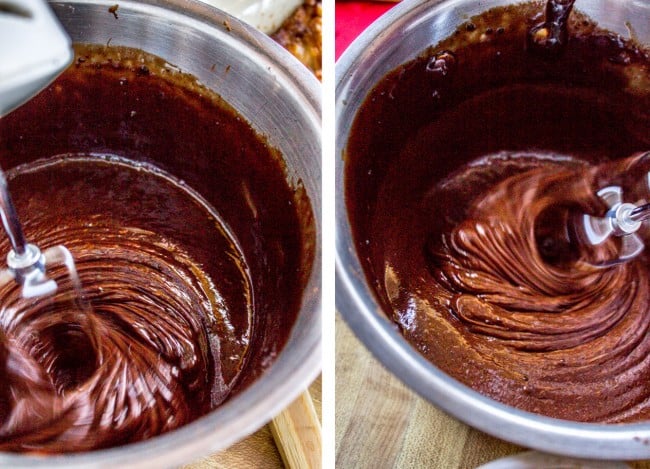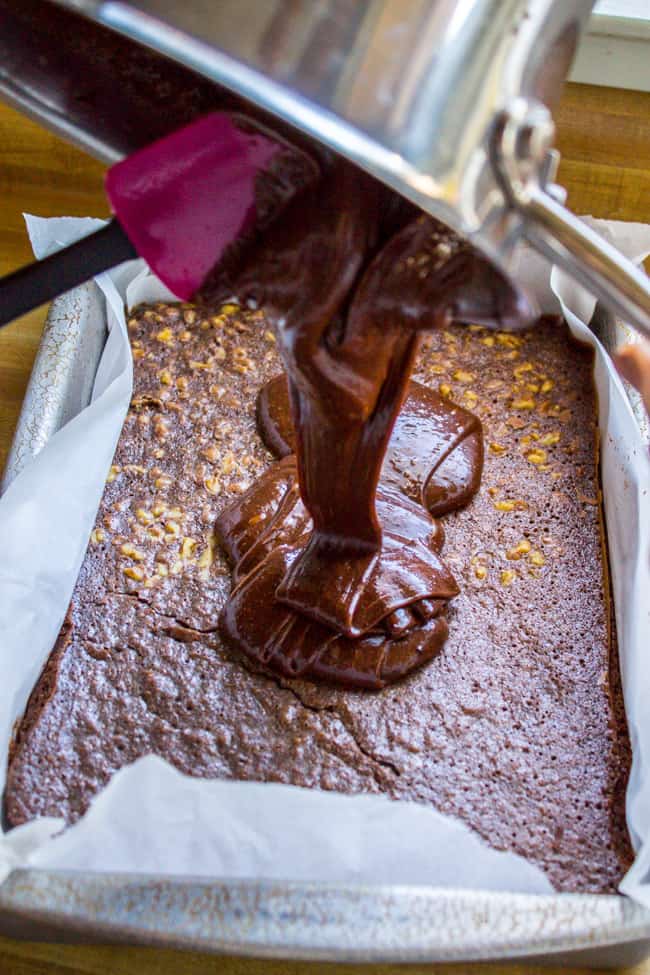 I used to think that I didn't like frosted brownies, but that was before I tried Nana's brownies. And it's true that I think a regular THICK, crackly-topped brownie (like my favorite Browned Butter Brownie) doesn't need frosting, but these ones absolutely need the frosting. The frosting layer is almost as thick as the brownie layer and is essential to the fudge factor. Observe: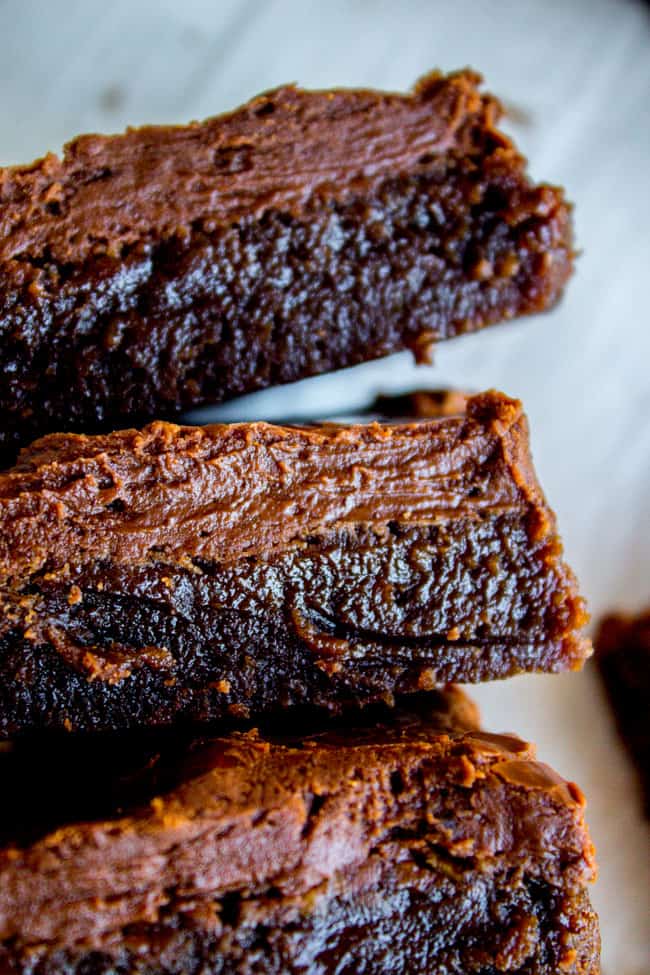 Kris, my dear mother-in-law (Nana is her mom), told me that sometimes she doesn't make the frosting and just sprinkles powdered sugar on top. I'm here to tell you that she's WRONG. You HAVE to make this frosting guys.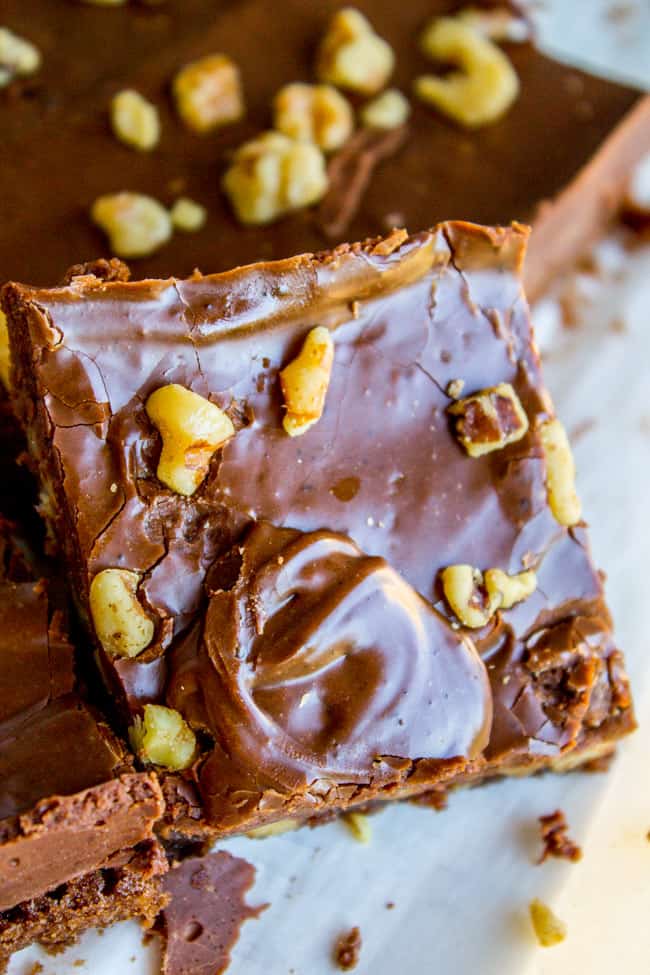 Are you a walnuts-in-brownies person? I'm not, so we did half and half. Everybody's happy.
We eat these fudge brownies every 4th of July and every Christmas with Nana's Famous Homemade Peppermint Ice Cream. The combination is quite other-worldly. There is only one thing better than these fudge brownies, and that is: these fudge brownies with a side of peppermint ice cream. (I've been meaning to blog the ice cream for years but can you believe I don't have an ice cream maker?? How lame am I? I'll post it one of these days!) UPDATE! Here's the recipe for Peppermint Ice Cream.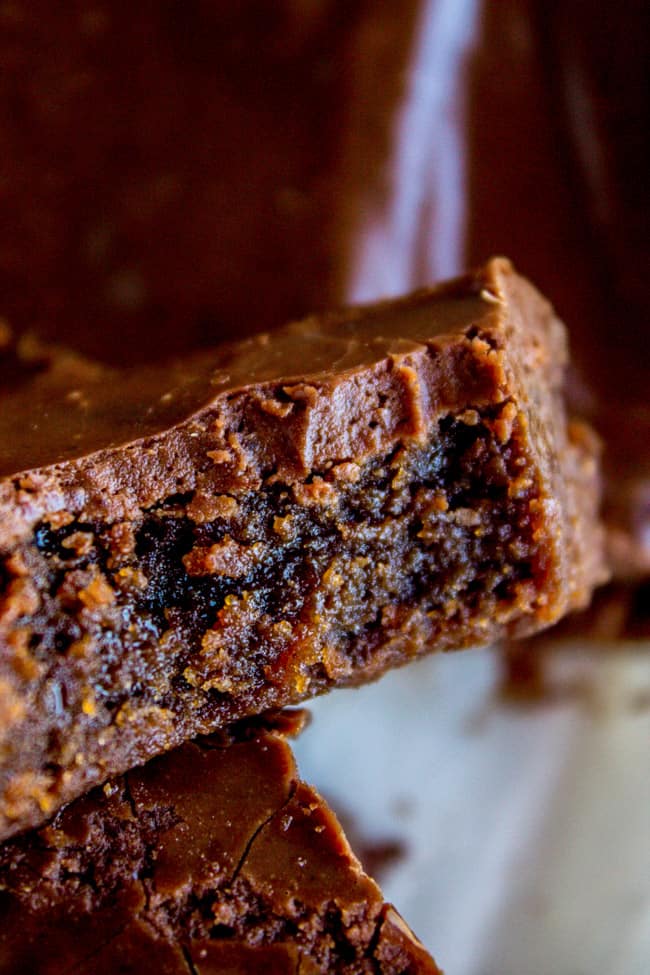 If you make any of my recipes, be sure to share them on Instagram using the hashtag #TheFoodCharlatan so I can see it! I love that.
Facebook | Pinterest | Instagram | Twitter
One year ago: Carrot Cake with Cream Cheese Maple Pecan Frosting
Two years ago: Traditional Tejano Pinto Beans (Slow Cooker)
Three years ago: 1770 House Meatloaf with Garlic Sauce

Nana's Famous Fudge Brownies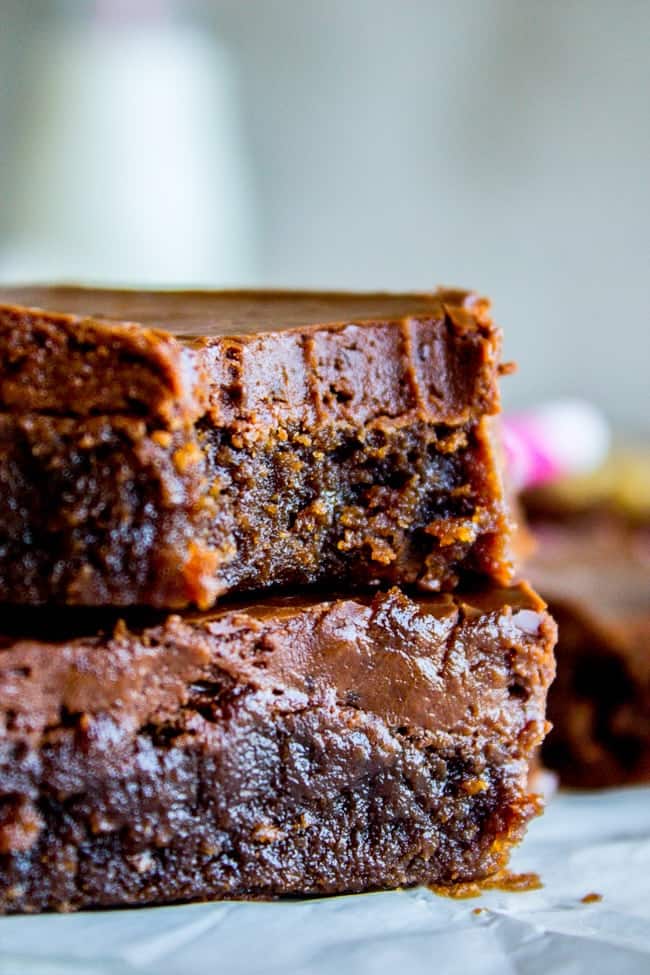 The most decadent fudge brownies with chocolate fudge frosting you will ever eat! These brownies are thick and chewy and not cakey in any way shape or form. They really do taste like fudge. Eric's grandma (Nana) is famous for this recipe! We always eat these brownies with Nana's Peppermint Ice Cream. 
Ingredients
For the brownies:
1

cup

salted butter

,

(2 sticks)

2

ounces

unsweetened chocolate

,

OR you can sub 3/4 cup cocoa

2

cups

granulated sugar

1/4

teaspoon

salt

2

teaspoons

vanilla

1 & 1/2

cups

flour

,

spooned and leveled

4

large

eggs

1

cup

chopped walnuts

,

optional
For the Fudge Frosting:
1/2

cup

salted butter

,

(1 stick)

2

cups

granulated sugar

1/2

cup

milk

1/2

cup

cocoa

1

teaspoon

vanilla

ice water

,

for an ice bath, not to go in the recipe

1/2 to 1

cup

chopped walnuts

,

to sprinkle on top
Instructions
In a heavy bottom

2 or 3 quart pot,

melt 1 cup butter with 2 ounces unsweetened chocolate over medium heat. (You can sub 3/4 cup cocoa.) Use a wooden spoon to stir together and then remove from the heat.

Add 2 cups sugar and 1/4 teaspoon salt.

Add 2 teaspoons vanilla.

Stir in 1 and 1/2 cups flour until barely combined.

Add 4 eggs. Stir until combined but don't overdo it.

At this point you can stir in 1 cup chopped walnuts. I mean, if you want to ruin your brownies. :)

Spread the batter into the prepared pan. (Press the walnuts into half the pan at this point, if you are going halfsies.)

Bake at 350 for about 20-22 minutes. Start checking early, you don't want them to over bake. When a toothpick comes out of the center with no wet batter on it, they are done.

Let the brownies cool completely (otherwise it will melt the frosting.)

Make the frosting while the brownies cool. Clean the pot that you used for the brownies (or use a similar sized pot.)

Melt the 1/2 cup butter with 2 cups sugar, milk, and 1/2 cup cocoa over medium high heat. When it reaches a rolling boil, set a timer for 1 minute.

Remove from heat and add 1 teaspoon vanilla.

Prepare an ice bath. Add ice and water to a bowl that the pot you are using can rest inside. Place the pot of frosting in the ice bath. Do NOT get any water in the fudge.

Let the frosting cool for about 10 minutes until it is cool. Scrape the edges of the pot and stir occasionally. When the frosting has cooled down and thickened just a little (see photos) remove from the ice bath.

Use an electric mixer to beat the frosting for 3-5 minutes. The frosting will start off really shiny and glossy, but by the time you are done it should be less glossy, but still easy to pour.

Pour the frosting immediately over the brownies and spread.

If you are using walnuts, sprinkle 1/2 to 1 cup over the top of the frosting.

Wait for the frosting to set, then cut into squares and serve with lots of milk!
Nutrition
Serving:
1
g
|
Calories:
339
kcal
|
Carbohydrates:
42
g
|
Protein:
4
g
|
Fat:
19
g
|
Saturated Fat:
9
g
|
Polyunsaturated Fat:
4
g
|
Monounsaturated Fat:
4
g
|
Trans Fat:
1
g
|
Cholesterol:
62
mg
|
Sodium:
141
mg
|
Potassium:
111
mg
|
Fiber:
2
g
|
Sugar:
34
g
|
Vitamin A:
409
IU
|
Vitamin C:
1
mg
|
Calcium:
27
mg
|
Iron:
1
mg
Other delicious recipes you will love!
Nana's Famous Homemade Peppermint Ice Cream << You have to make this ice cream with Nana's Brownies. It's the best combination in the world!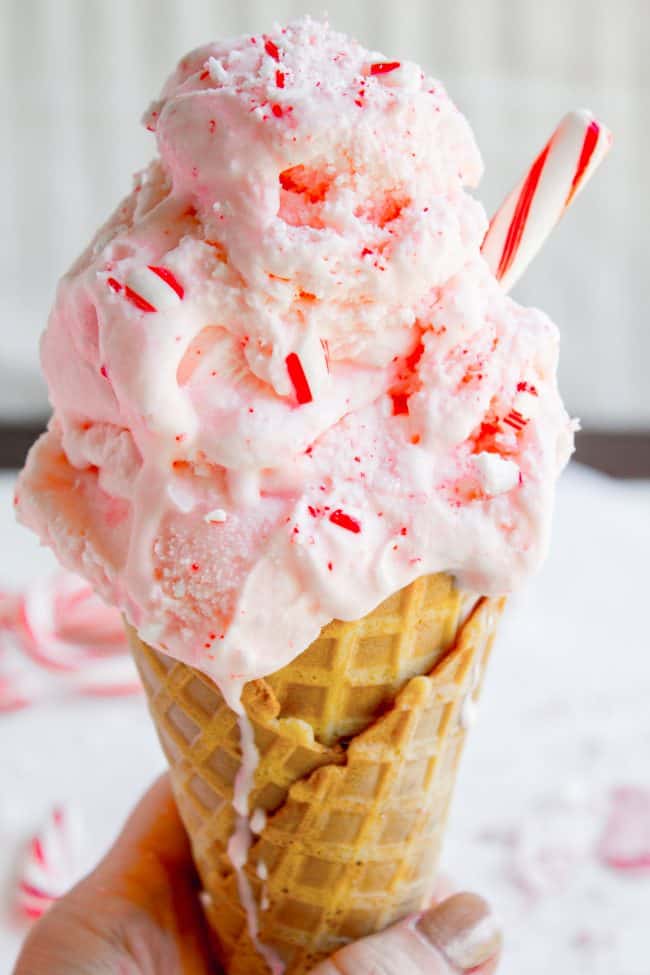 My Mom's Fudge: << No fuss classic.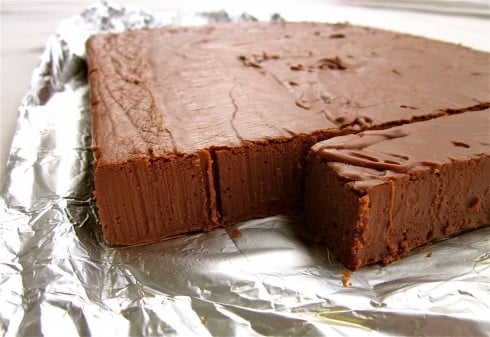 Browned Butter Brownies: < my go-to non-frosted brownies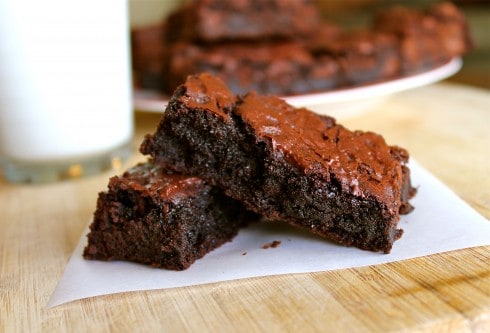 Chocolate Cherry Sheet Cake with Fudge Frosting << the frosting on this recipe is very similar!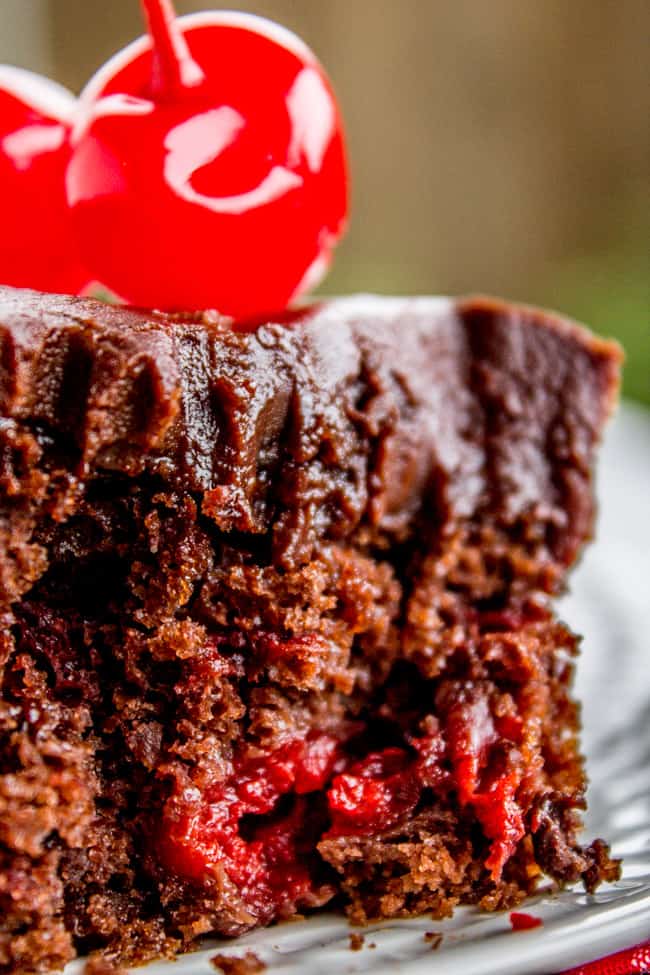 Other brownie recipes from friends that you will love!
Chocolate Zucchini Brownies from Texanerin <<these look amazing!
Best Ever Brownie Frosting from A Dash of Sanity
Chewy Brownies with Chocolate Fudge Frosting from Sprinkle Some Sugar
Chocolate Frosted Brownies from Brown Eyed Baker
Frosted Rainbow Chip Brownies from Inside BruCrew Life
This post contains affiliate links. Thanks for your support!