These bacon-y, beefy baked beans are all that and a bag of chips. It is a super easy recipe, but this side dish will put you down in history at your summer barbecues this year!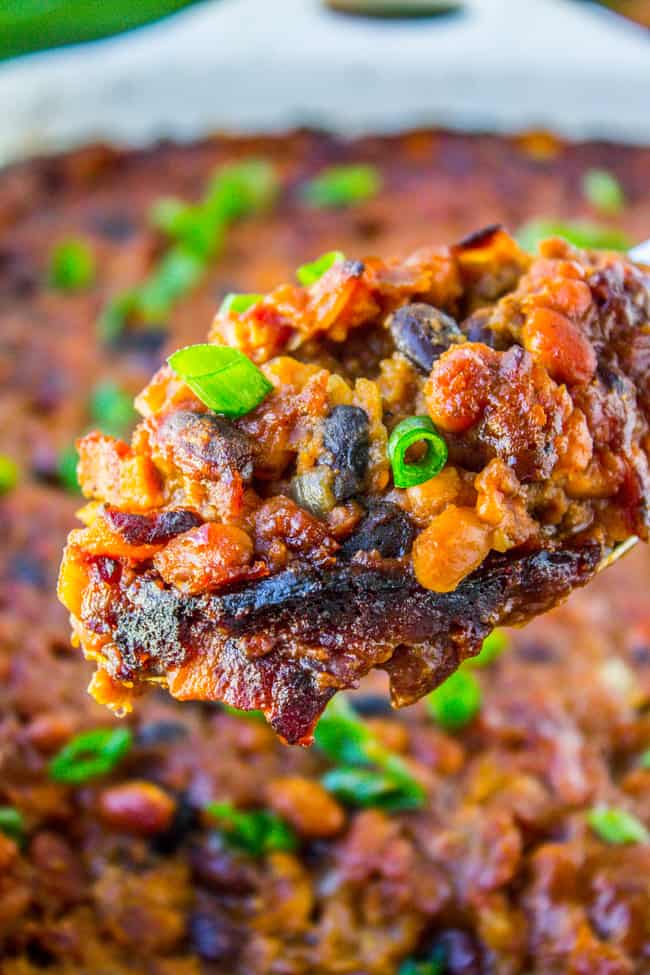 My husband's sister Jessie is getting married next month, and I have one job: buy gold shoes to match the dress I am wearing as a bridesmaid. This may sound like a fun thing to you. That's because you're a real girl.
I was wearing my $20 gold Target flats when I got the group text that I would be responsible for picking out my own shoes. "12-month old Target shoes will work right? They are gold," I type hopefully. "Nope, sorry Karen, heels only." At least I gave it a shot.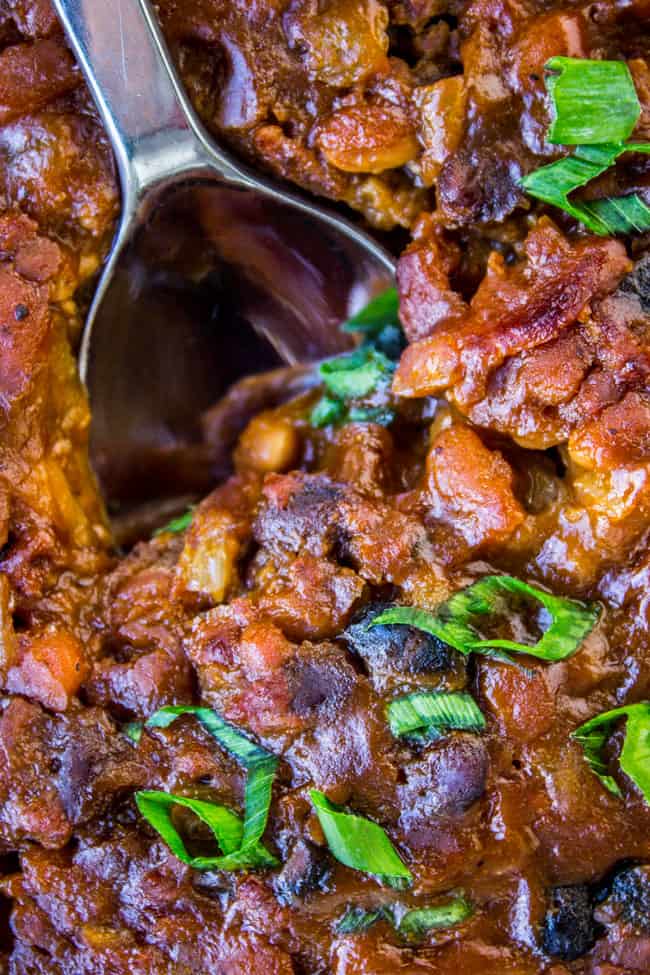 I just didn't get the clothes gene. I mean, don't get me wrong, I don't look like a street urchin or anything, but that's only because Eric's sisters let me go through their clothes before they hand them off to Salvation army. Some of my best pieces are from those pickings.
Like the lacy green shirt that I found years ago in one of Reesy's discarded piles. I was very pleased to have saved it from the throes of the second-hand store. It was a perfectly good shirt.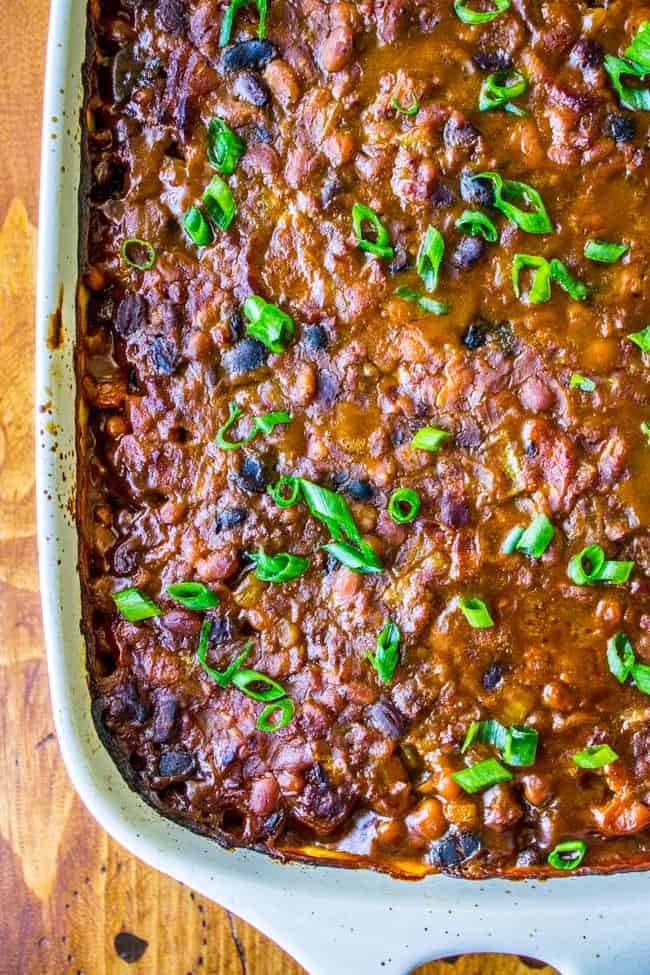 A week or so later, I was wearing my new favorite shirt when Jessie (Reesy's sister) came by. "Hey!" she said, "I have that same shirt! Except I lost it a long time ago."
I almost took it off right then and there.
No, you didn't lose your shirt, Jessie. Your sister borrowed your shirt, kept it so long that she forgot where it came from, decided she didn't want it anymore, and threw it on the give-away pile. And the I picked it up like the scavenger that I am.
Feel the love, guys. That's family right there. In other news, does anyone have a pair of gold heels they love that are cheap and comfortable enough to wear all day at a wedding?? Yeah. I didn't think so.
I spent a long time hunting down this recipe for you guys. These are the BEST baked beans I've ever had. I had them at a church potluck last summer, and annoyingly asked everyone who made them, until I was led to my friend Marcia. I begged for the recipe for almost a year. (Sometimes it's just hard to remember about baked beans, I get it.) But she finally handed it over and now we all get to enjoy this fabulous bean-ness.
You just can't go wrong with a full pound of beef AND a full pound of bacon. I've never been a fan of the soup-y crockpot baked beans. I like them to be a little thicker and have a nice crisp on the edges, like any decent casserole should. These beans deliver, and they make a TON. Bring this to your next barbecue and it will be a hit! Make The Best Hot Dogs to go along with it!
Do you guys give up? Or are you thirsty for more?
Facebook | Pinterest | Instagram | Twitter

Bacon Baked Beans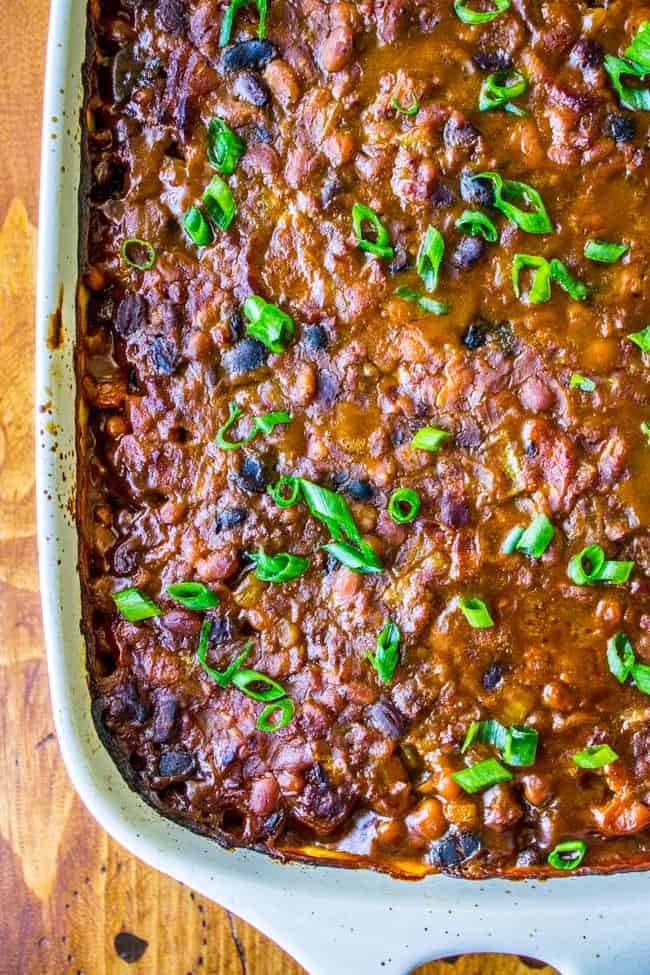 These bacon-y, beefy baked beans are all that and a bag of chips. It is a super easy recipe, but this side dish will put you down in history at your summer barbecues this year! 
Ingredients
1

pound

ground beef

,

90% lean *

1

pound

bacon

1

medium

yellow onion

,

chopped

1

28-oz can

baked beans

,

(I used Bush's Original)

1

15-oz can

pork and beans

2

30-oz cans

black beans

,

drained and rinsed

1

cup

barbecue sauce,

I used Sweet Baby Rays

1/4

cup

yellow mustard

2

tablespoons

Worcestershire sauce
Instructions
Brown the ground beef in a large skillet. Remove to a large bowl and discard the fat.

In the same skillet, cook the bacon. You can either chop it beforehand or crumble it afterward. Remove to a paper-towel lined plate. Discard all but 1 tablespoon of bacon grease from the pan.

Preheat the oven to 400 degrees F.

Saute the onions until they are translucent, about 5-8 minutes.

in a large bowl, combine ground beef, bacon, onions, baked beans, pork and beans, black beans, barbecue sauce, mustard, and Worcestershire sauce. Taste it. Add more BBQ sauce if you want.

Spread the beans into a 9x13 inch pan. Bake at 400 for 30 minutes.

Turn the oven down to 350 and cover the beans with foil. Bake for another 20-30 minutes.

I like mine extra crispy on top, so I broil them for a couple minutes, but that's not necessary unless you like slightly burned beans. (I mean who doesn't.) Serve hot!
Notes
*Use 90%, otherwise your beans will end up greasy.
Source: my friend Marcia
Nutrition
Serving:
1
cup
|
Calories:
390
kcal
|
Carbohydrates:
15
g
|
Protein:
24
g
|
Fat:
26
g
|
Saturated Fat:
9
g
|
Polyunsaturated Fat:
3
g
|
Monounsaturated Fat:
11
g
|
Trans Fat:
1
g
|
Cholesterol:
77
mg
|
Sodium:
1208
mg
|
Potassium:
471
mg
|
Fiber:
1
g
|
Sugar:
10
g
|
Vitamin A:
88
IU
|
Vitamin C:
2
mg
|
Calcium:
33
mg
|
Iron:
2
mg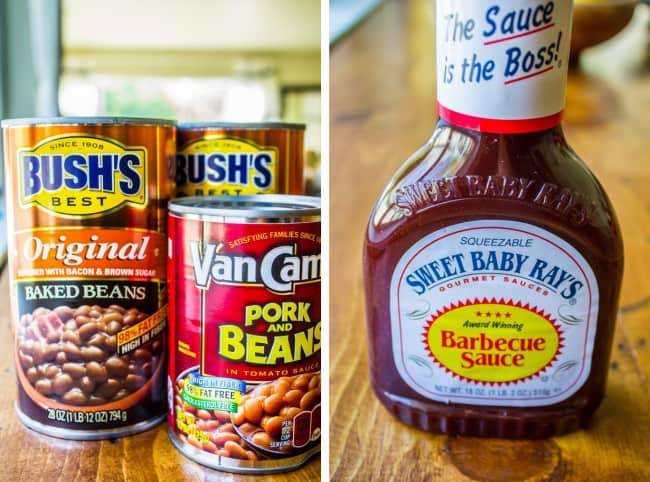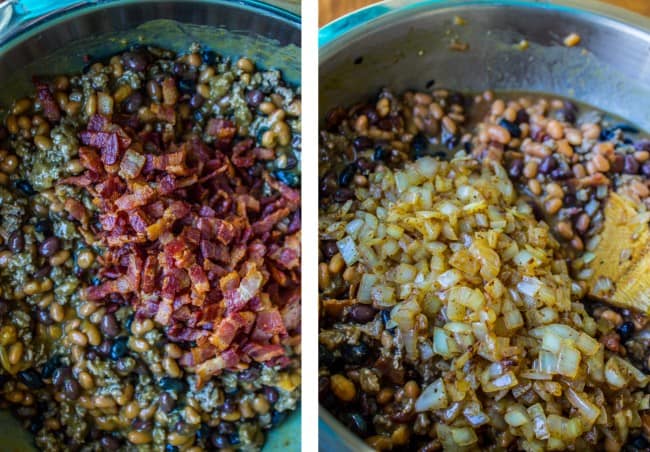 Bacon and onions. Two of God's greatest gifts.
Other BBQ potluck ideas:
Eat these beans with a JDawgs Hot Dog!! Best choice you will ever make: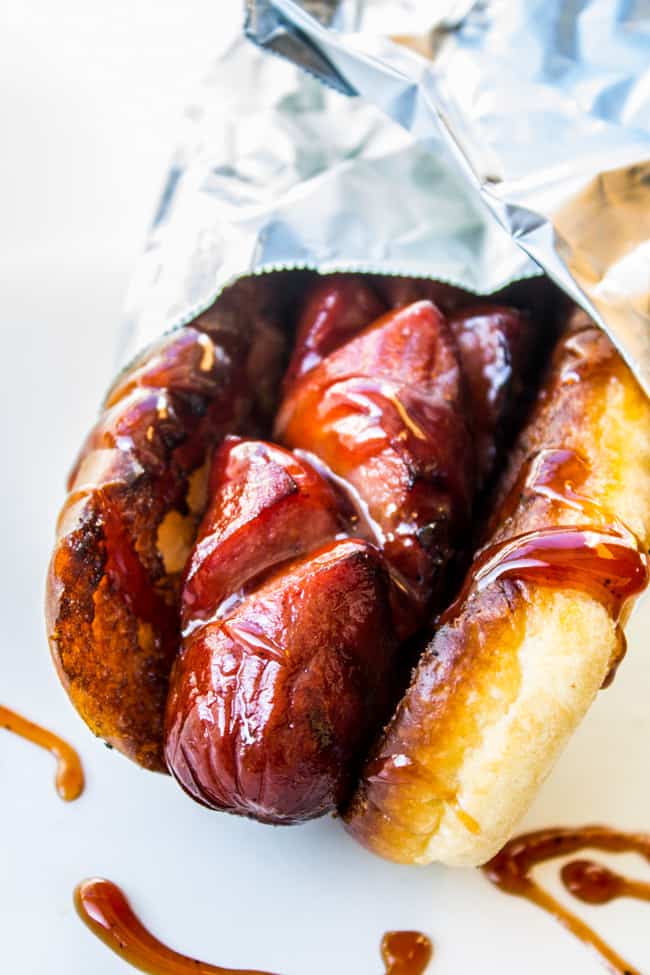 Traditional Tejano Pinto Beans (Slow Cooker):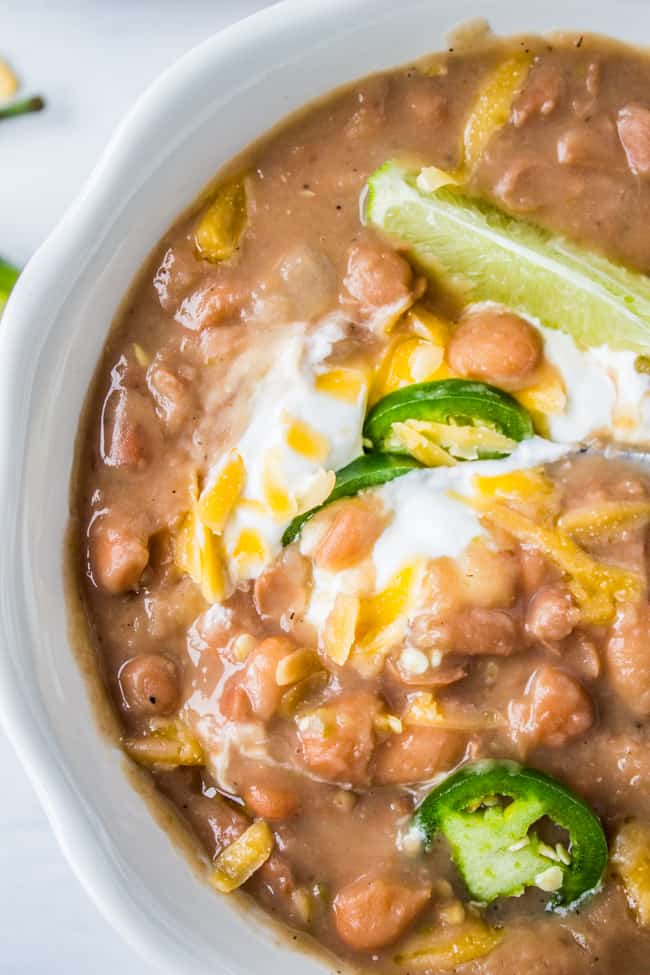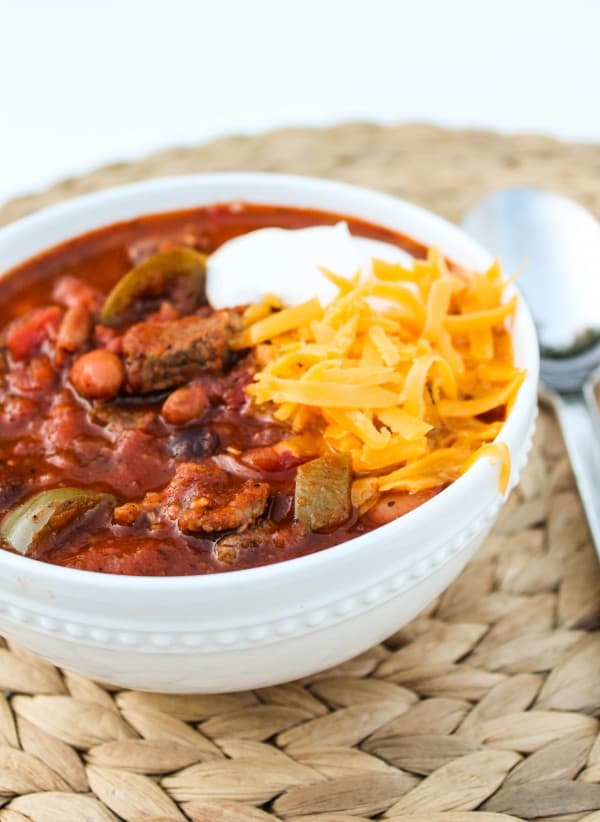 More baked beans!
The Best Slow Cooker Baked Beans from Barefeet in the Kitchen
The Best Baked Beans from The Girl Who Ate Everything
Homemade Baked Beans from Real Housemoms