This is my favorite grilled chicken marinade of all time! It's so simple and only has 6 ingredients (one of them is balsamic vinegar so you know it's going to be good). Cook up the leftover marinade to make a delicious glaze to drizzle over the chicken after it's slow grilled to perfection!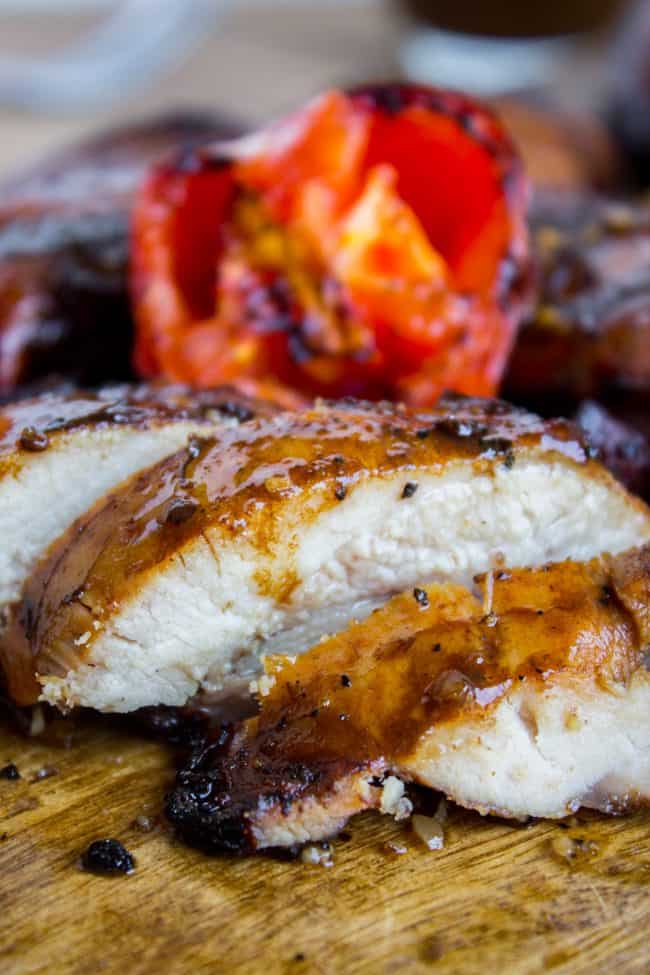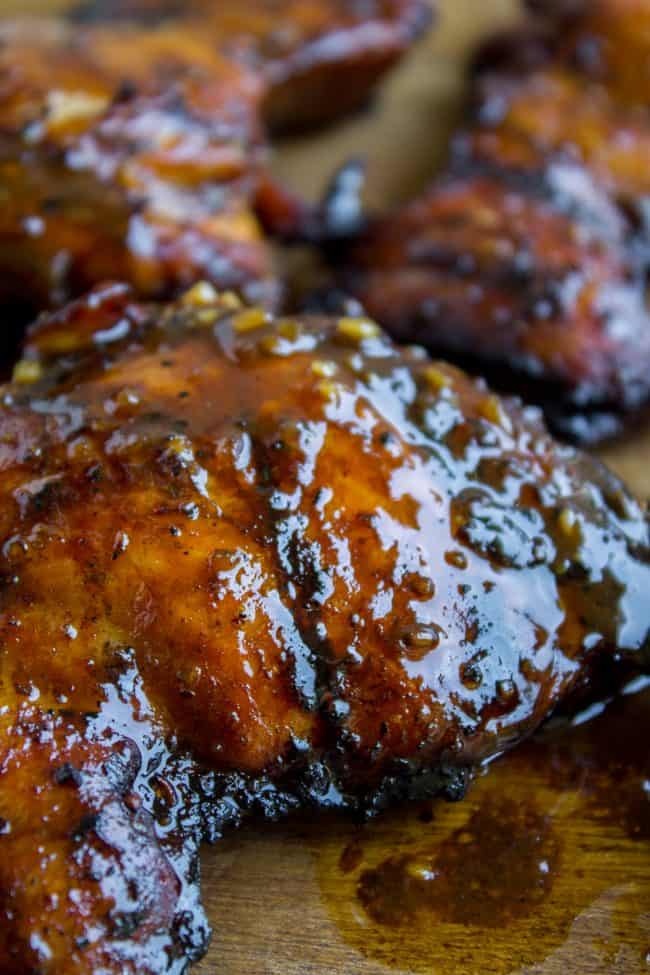 YOU. GUYS.
I have something shocking to tell you about myself. Something so shocking that I didn't even know about it.
Apparently I'm a lizard person: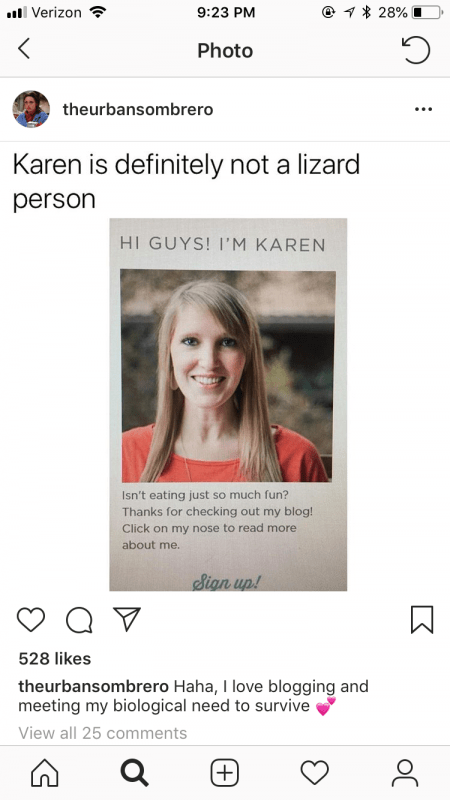 My friend Natasha over at Salt and Lavender (follow her, she's awesome!) messaged me on Instagram yesterday with this screenshot. It's from some random account that has funny memes. That's definitely my face, on a meme. I was sooooo confused. Lizard people?? What in the actual heck?? Reading through the comments, it sounds like the meme is being sarcastic, and that it is CLEARLY EVIDENT that I am a lizard person: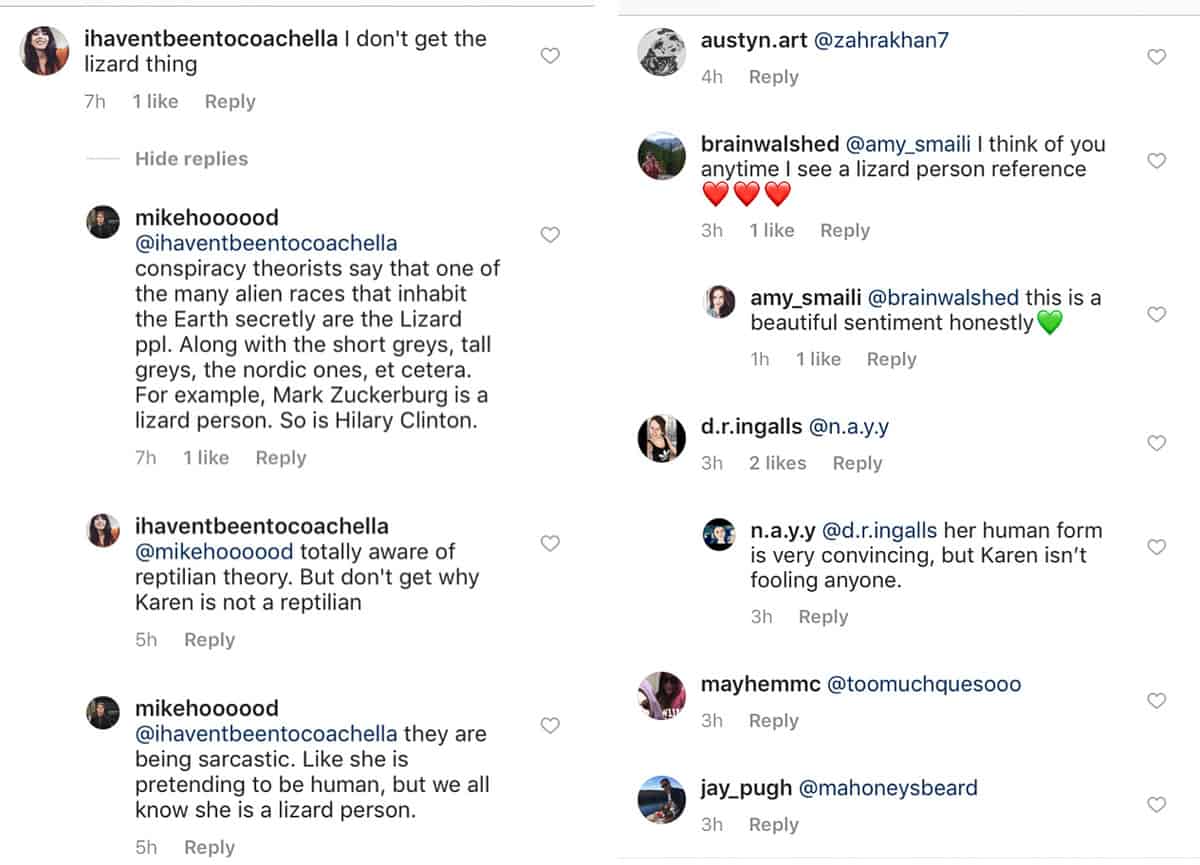 "She is pretending to be human, but we all know she is a lizard person."
You can read all about the conspiracy theory that "reptilians" are taking over planet earth on the internet. I read this on a highly reputable article on Vox.com: "What is a lizard person? It's just what it sounds like. Lizard people are cold-blooded humanoid reptilians who have the power to shape-shift into human form. What do lizard people want? World domination."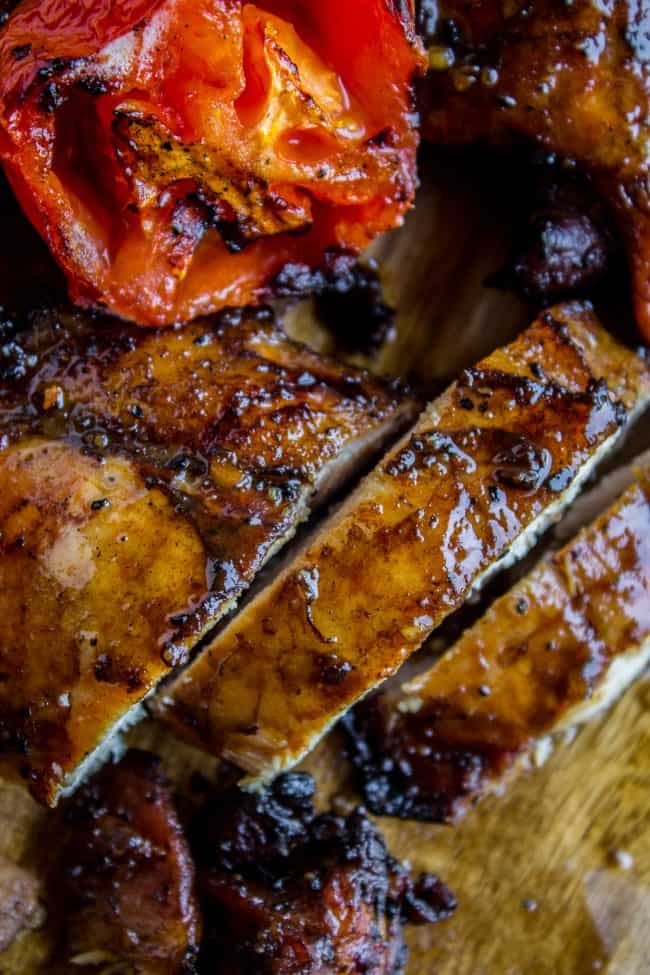 So guys. Now you know the truth. I'm a food blogger lizard person intent on world domination. From the comments above: "Her human form is very convincing, but Karen isn't fooling anyone."
YOU. GUYS. I'm dying over here!!! Who comes  up with this stuff?? Do people really believe this?
How to make this grilled chicken marinade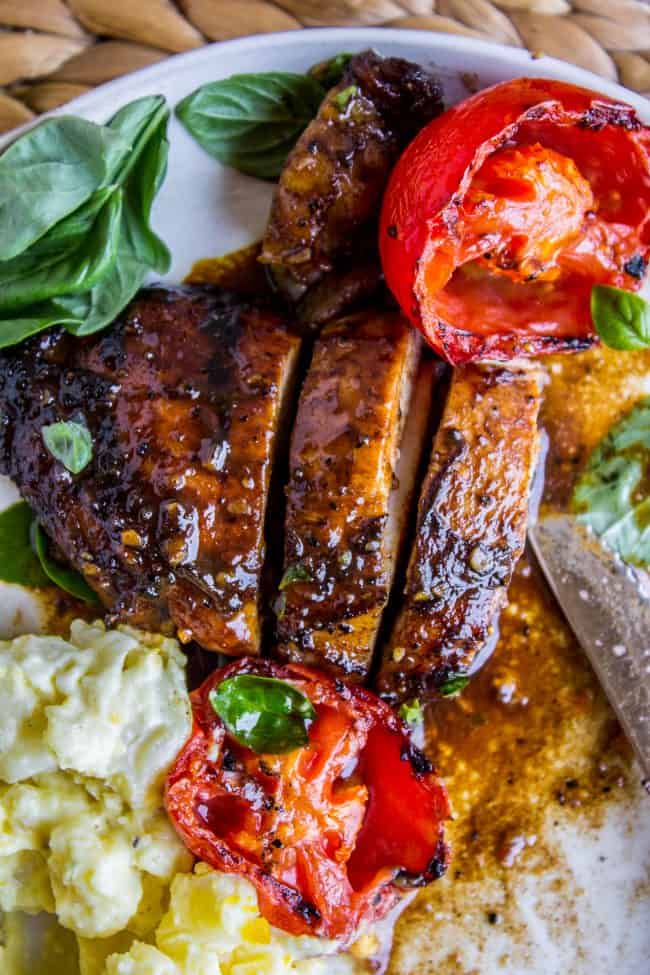 Hold up, before you go off googling lizard conspiracy theories, I need to tell you about one of my favorite recipes. I don't know why it takes me so long to get around to posting my favorite stuff sometimes, I'm a weirdo. I've been making this grilled chicken marinade for years, and it hasn't failed me yet. It consistently gives me the most flavorful and moist chicken that will bring tears to your eyes.
I used to be kind of terrible at grilling. Anything, chicken, steak, whatever, I would always either burn it or it would be so tough and flavorless that everyone would wish they were chewing an old tire instead of dinner. At least that's what I was thinking.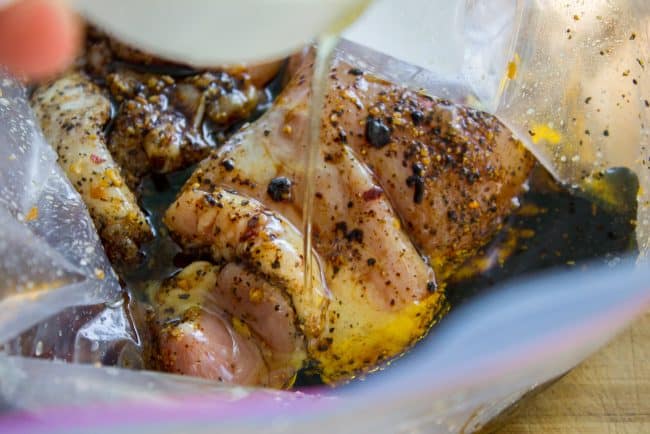 This grilled chicken marinade is beautifully simple and only has 6 ingredients. Instead of gathering a dozen spices from your cabinet, we take a shortcut and use a generous amount of steak seasoning. I got this tip from the Pioneer Woman. It's full of pepper, coarse salt, garlic, paprika, etc., and it comes together to season your chicken beautifully. A half cup of oil per 2 pounds of chicken makes it super moist and tender. Balsamic vinegar adds that perfect flavor and tanginess.
How long do I grill the chicken?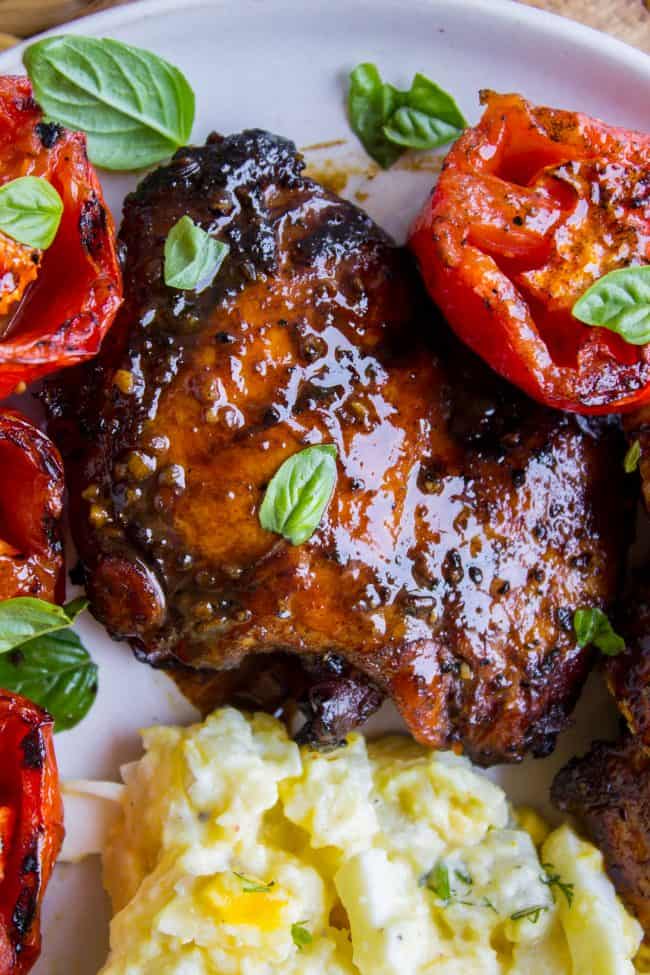 Aside from the amazing marinade, the other secret to the best grilled chicken is to cook it on the grill low and slow, instead of hot and fast. It takes a little longer, but it truly is the best. You don't get dry chicken when you take the time to grill it like this.
You start by searing the chicken –any cut, any amount—over direct high heat for about 2 minutes. Once the outer edge of the chicken is nice and browned with sear marks, you flip the chicken and cook it over INDIRECT heat for 30-50 minutes, depending on how thick your cut is. I do this by turning off one side of the grill.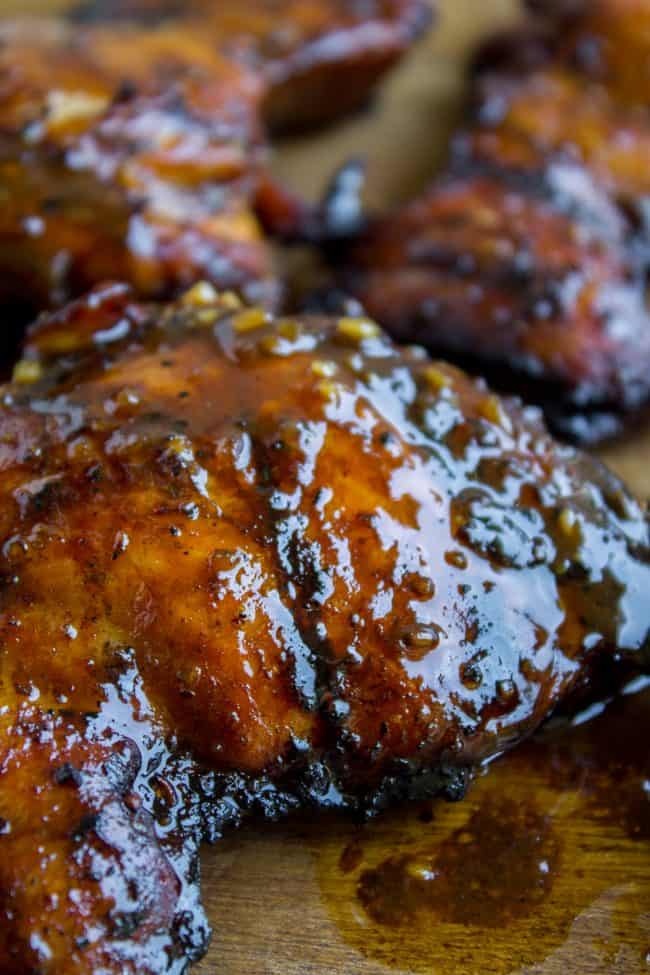 When you are done grilling, take the marinade and boil it on the stove for a couple minutes with some extra brown sugar. Then drizzle this beautiful sauce over your perfectly grilled chicken and die and go to heaven. Cooking the leftover marinade with extra sugar is an idea from this Slow Grilled Mustard Chicken recipe, which is also where I learned the method for slow grilling. Summer food forever guys!!
The photos show this grilled chicken served with the best potato salad EVER that I am so excited about, and sharing with you later this week. I also served it with grilled tomatoes: cut a roma in half, scrape out the seeds, brush with oil, and grill for 4-6 minutes. Should I do a whole post on this method? They were so good and now I can't wait for my tomatoes to get ripe!
I have an amazing glaze recipe that goes with this grilled chicken. One word: bacon. Get the recipe here: Grilled Chicken with Spicy Honey Bacon Glaze.
Other side dish ideas to go with this grill chicken marinade:
The Only Macaroni Salad Recipe You Need
Bacon Baked Beans, or these Tejano Pinto Beans would be amazing too!
Facebook | Pinterest | Instagram
One year ago: No Bake Frozen Peanut Butter Pie with Hot Fudge 
Three years ago: Blackberry Lemon Cheesecake Bars
Six years ago: Olive Garden Breadsticks

Grilled Chicken Marinade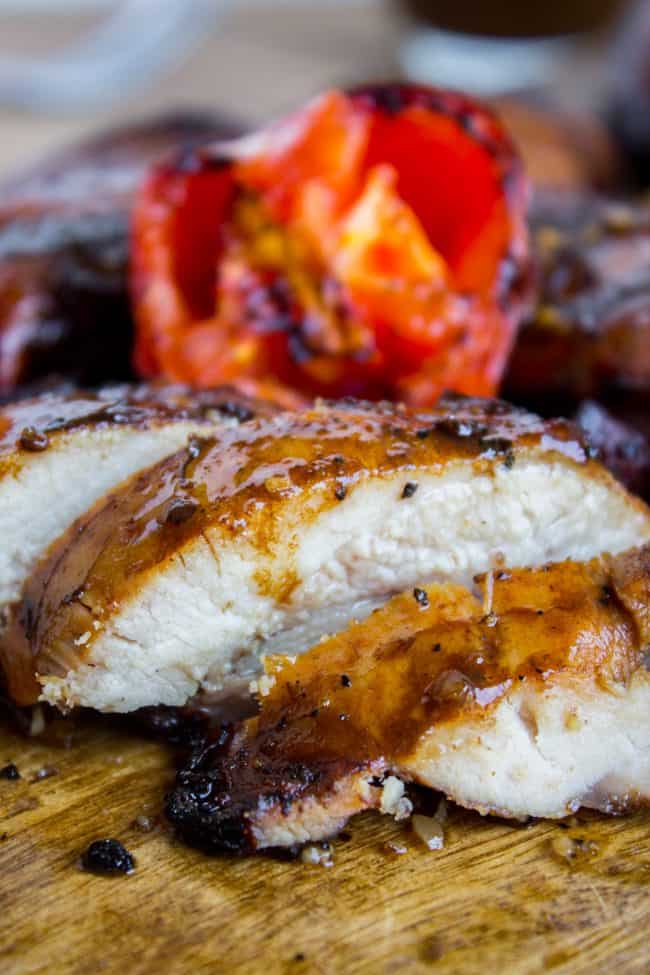 This is my favorite grilled chicken marinade of all time! It's so simple and only has 6 ingredients (one of them is balsamic vinegar so you know it's going to be good). Cook up the leftover marinade to make a delicious glaze to drizzle over the chicken after it's slow grilled to perfection!

Ingredients
2

pounds

chicken

,

any cut (I love thighs)

2

tablespoons

steak seasoning

1/2

cup

balsamic vinegar

1/2

cup

olive oil

1/4

cup

brown sugar

2

tablespoons

lemon juice

,

*

2

tablespoons

brown sugar

,

for boiling with marinade
Instructions
In a large gallon size ziplock bag, add the chicken. Sprinkle with

steak seasoning

and use your hands to work it into the chicken a little bit.

Add the balsamic vinegar, olive oil, 1/4 cup of brown sugar, and lemon juice.

Zip it up and shake it a little to make sure everything is coated.

Marinate in the fridge for 4 hours, or up to 48 hours. (You can even do as little as 30 minutes, but the longer you marinate the tastier it will be!

Strain the chicken through a colander with a small saucepan underneath to catch the marinade. Set the marinade aside and place the chicken on a plate or cutting board.

Preheat your grill to high heat. If you are using wood or coals, make sure you leave an area of the grill with fewer coals. After the initial sear you will be cooking the chicken over indirect heat.

When it's very hot (wait several minutes), place the chicken pieces over direct heat. Be sure to oil the grill so that it doesn't stick. Close the lid and grill for 2-3 minutes, or until the outside is as crisp and brown as you want it.

Use tongs to flip the chicken and place over the low-heat part of the grill. I have a gas grill, so I just turn off one of the burners. (The chicken should cover the half of the grill that is turned off). Reduce the heat on the other half of the grill to medium-low heat, between 250-275 degrees F.

Cover and cook for 30-50 minutes, depending on the thickness of your chicken. Brush with marinade once or twice while cooking.

The chicken is done when it reaches an internal temperature of 165 degrees F on a meat thermometer. Or you can cut it to see if the juices run clear (not pink).

If you want, you can quickly sear the other side of the chicken over direct high heat before serving.

Meanwhile, place the saucepan of remaining marinade on the stove over medium high heat. Add 2 tablespoons brown sugar. Bring to a boil, then reduce heat to a simmer. Simmer for 5-10 minutes until the sauce has reduced and thickened somewhat. Serve the sauce over the grilled chicken.
Notes
* I like the tang that a little lemon juice adds, but if you don't have a lemon don't sweat it. Just leave it out. It's still going to taste amazing!
Nutrition
Serving:
0.25
cup
|
Calories:
584
kcal
|
Carbohydrates:
27
g
|
Protein:
21
g
|
Fat:
44
g
|
Saturated Fat:
8
g
|
Polyunsaturated Fat:
6
g
|
Monounsaturated Fat:
27
g
|
Trans Fat:
1
g
|
Cholesterol:
82
mg
|
Sodium:
90
mg
|
Potassium:
289
mg
|
Fiber:
1
g
|
Sugar:
24
g
|
Vitamin A:
205
IU
|
Vitamin C:
5
mg
|
Calcium:
58
mg
|
Iron:
2
mg
More grilled chicken recipes you will love!
Slow Grilled Mustard Chicken << huge favorite of mine!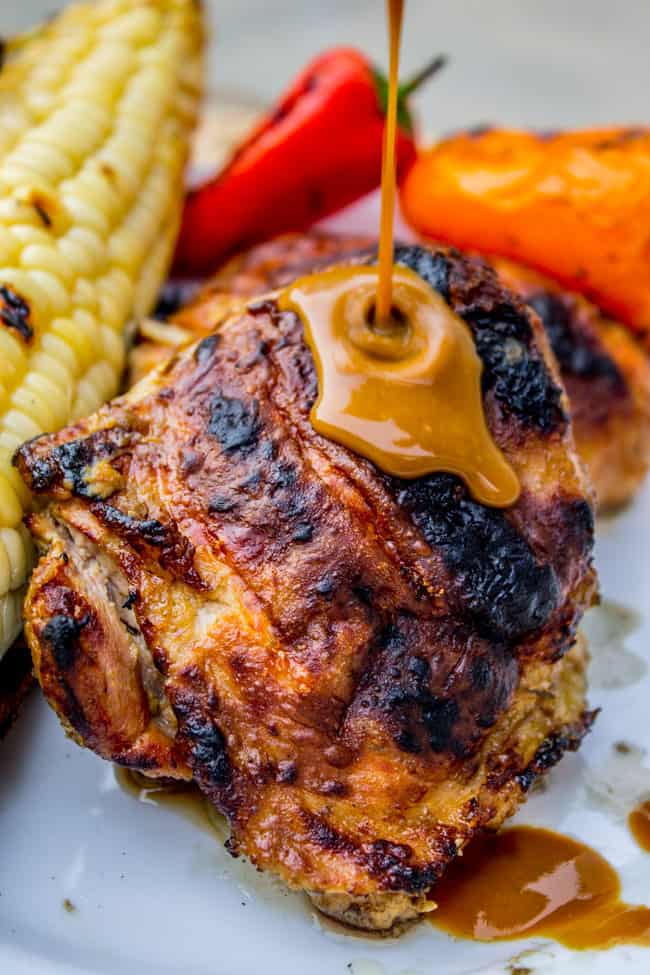 Lemon Tarragon Grilled Chicken << are you a tarragon fan? You have to try this!!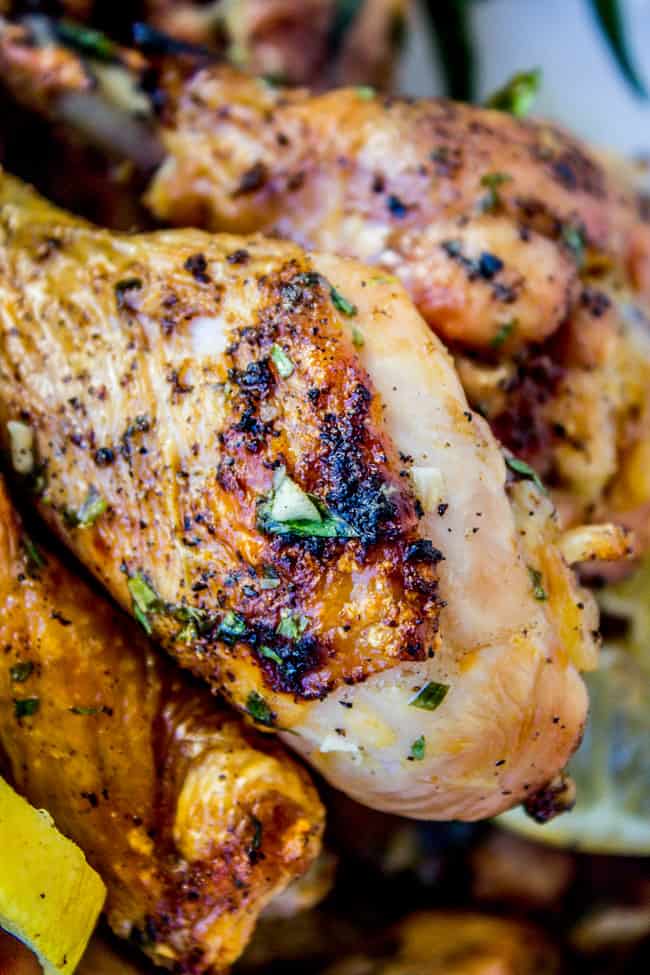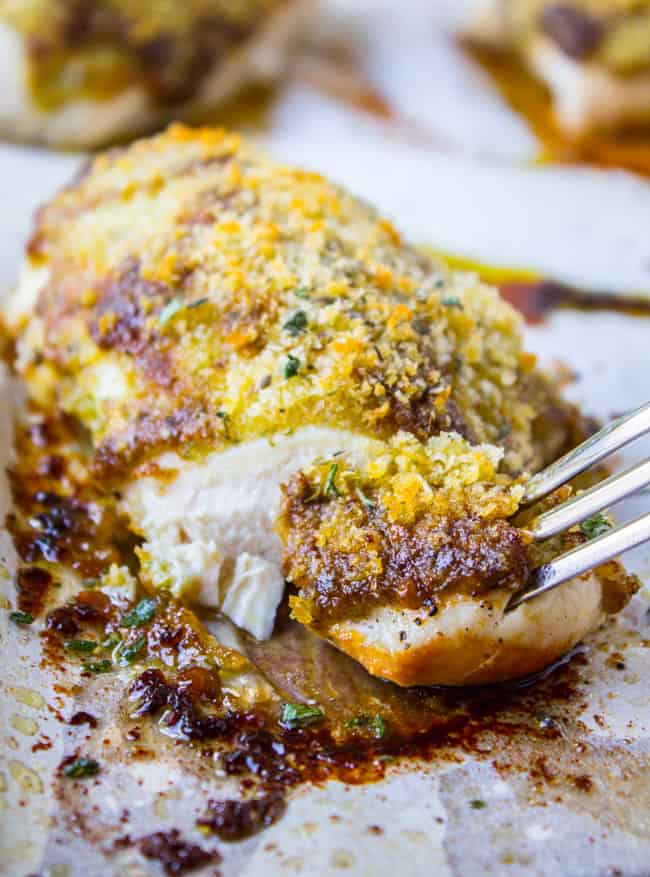 Other grilled chicken marinade recipes from blogger friends!
Chipotle Maple Grilled Chicken from Valerie's Kitchen
Grilled Chicken Thighs with Lemon and Za'atar from Kalyn's Kitchen
Grilled Chicken Skewers with Green Curry Yogurt Sauce from A Farmgirl's Dabbles