This sweet shredded pork tastes even BETTER than Cafe Rio, I promise! Use this pork to make giant burritos smothered with Cilantro-Tomatillo Dressing, or an amazing pork salad. Or throw it in some enchiladas. You can't go wrong! It's so easy to make in the slow cooker or Instant Pot.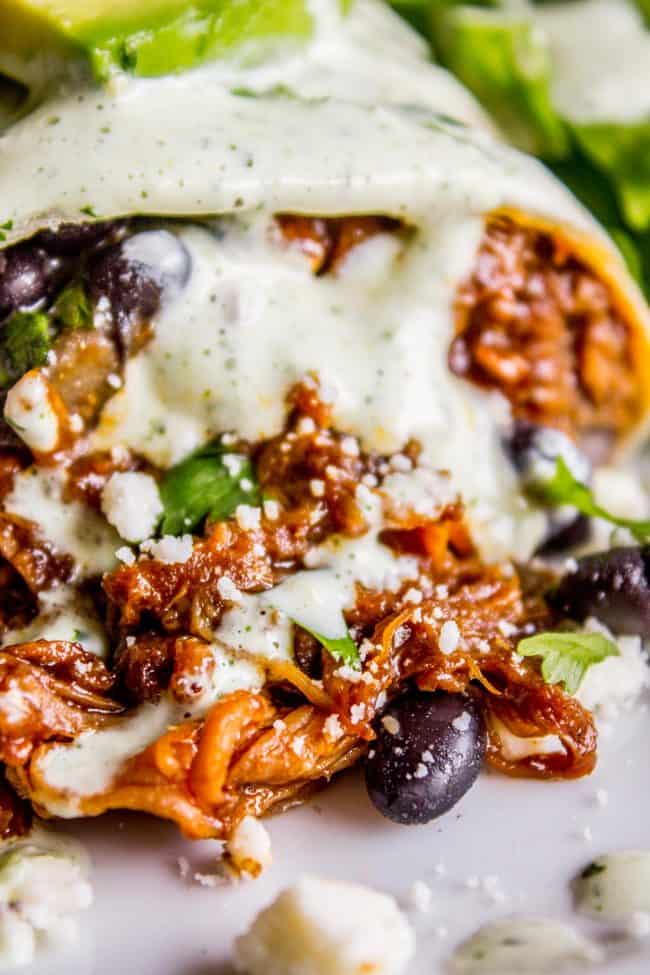 How was the weekend? Are you sick of turkey leftovers yet? I made this Turkey Barley Soup yesterday and plan to eat it for every meal until it's gone. It's so good.
We spent the whole weekend decorating the house for Christmas! It was so fun. We made Gingersnaps and turned on Christmas music. I decorated the tree while Eric untangled lights, Truman only broke 3 ornaments, and Valentine only ate one Christmas ornament hook. (Just kidding, I got it out of her mouth in time. She is a sneaky one. A few weeks ago she got into the craft bin and ate a bunch of googly eyes without me knowing. I found out the next day when I changed her diaper and it was STARING BACK AT ME. I'm pretty sure this is TMI especially for a food blog, but I was so shocked for a minute and then dying laughing. Everyone that I've told this story to has asked me if I took a picture. ARE YOU KIDDING ME? NO GROSS!!)
Anyway. Sorry about that. Back to the food.
So do you guys have an Instant Pot yet?? I have an electric pressure cooker from another brand that works basically the same, but I'm thinking of getting an Instant Pot because of all the other features it has (yogurt maker, rice cooker, etc.)
Basically with an electric pressure cooker you can get slow cooked foods in a fraction of the time. For example, this Cafe Rio pork recipe takes 3-5 hours on high in a slow cooker, and 8-10 hours on low. In a pressure cooker it's done in about an hour.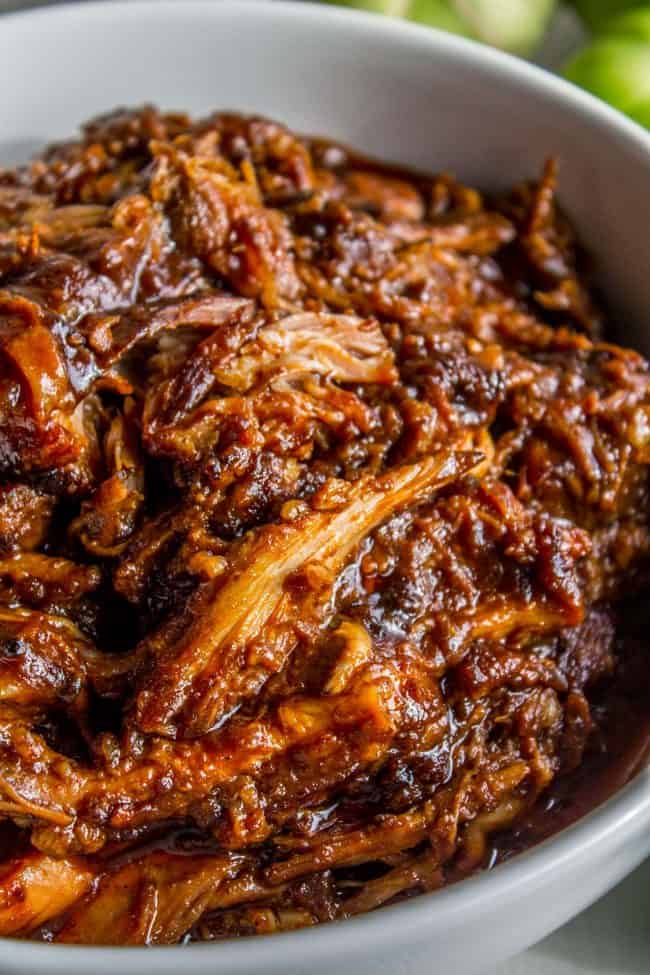 One time at Christmas I was making this Barbacoa Beef for my whole extended family (25+ people) and I set up 2 crock pots with the beef inside. We went out shopping all day, and then came home to one crock pot full of delicious beef, and one with raw meat because I had turned it on but forgotten to plug it in. So my mom busted out her pressure cooker (not an electric one, we did it on the stove) and the beef was done in under an hour. Pressure cookers are really nice to have on hand for last minute things, and electric ones are SO easy to use.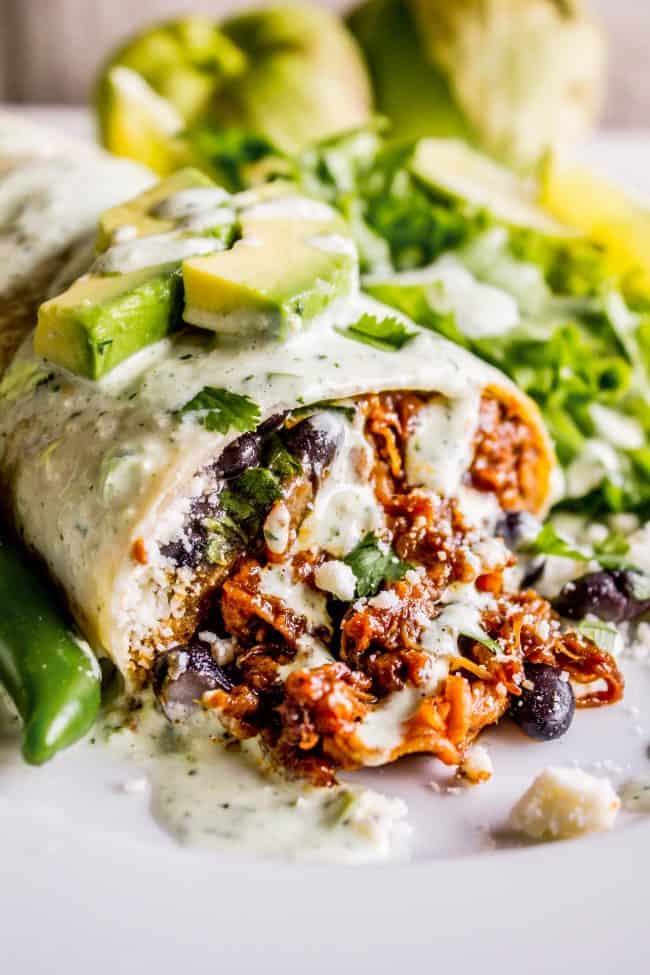 I've had my pressure cooker for a while now but I am just starting to get into using it. My sister Laura has been talking about her Instant Pot for YEARS. She uses it all the time and loves it. It's all the rage right now and there are tons of new recipes and cookbooks coming out that teach you how to use it. TODAY is actually a good time to buy one, there is a crazy awesome Cyber Monday deal on Amazon. Here's an affiliate link to buy one. (Affiliate means that you don't pay more, but I get a commission.) It would also make a great mom gift for Christmas. (Mom? Do you want one??)
I'm definitely going to be posting more Instant Pot recipes on The Food Charlatan! Don't worry, I'll probably always include the slow cooker instructions too.
So if you don't live in Utah you may have never heard of Cafe Rio. It's a Mexican restaurant that is kind of like Costa Vida or Chipotle, except they are famous for their INCREDIBLE sweet pork. You can put it on anything: a salad, in a burrito, enchiladas, whatever. (That's the beauty of Mexican food.)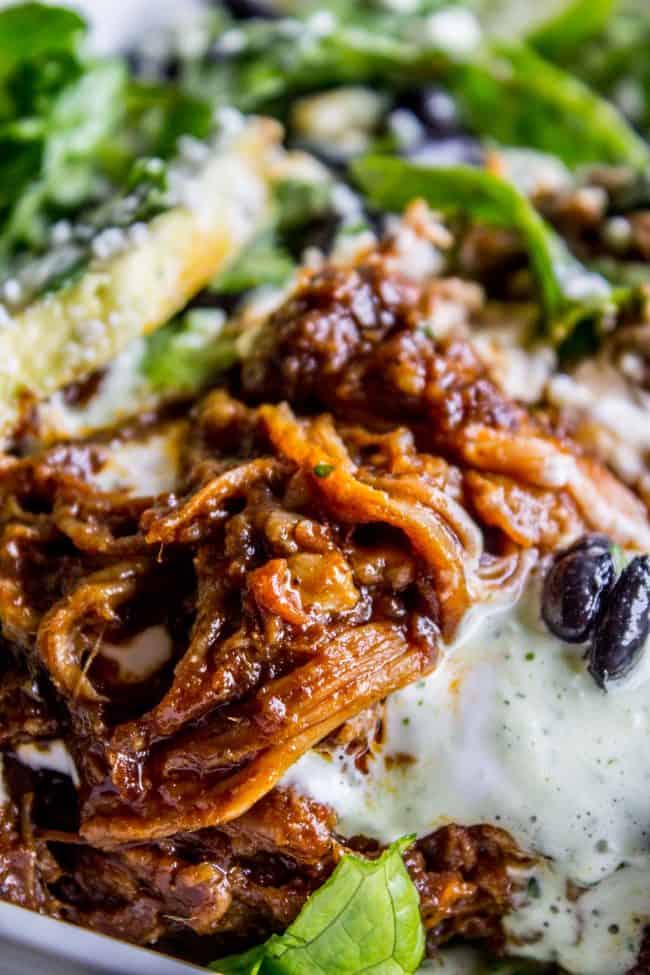 The pork has chili flavor but also a lot of sugar. It is made with Coke of all things. It has a very unique flavor, it's definitely not your typical pulled pork recipe. The other unexpected ingredient is Adobo Sauce. Have you heard of it? It's used to make some types of Mexican mole sauce. It has a very deep, almost bitter flavor that is balanced out perfectly by the sugar in this recipe. Unfortunately you can't find it everywhere, but it is available on Amazon here. We live in California so it is easy to find at the grocery store on the Hispanic foods aisle. If you have a Latin market near you, they will definitely have it.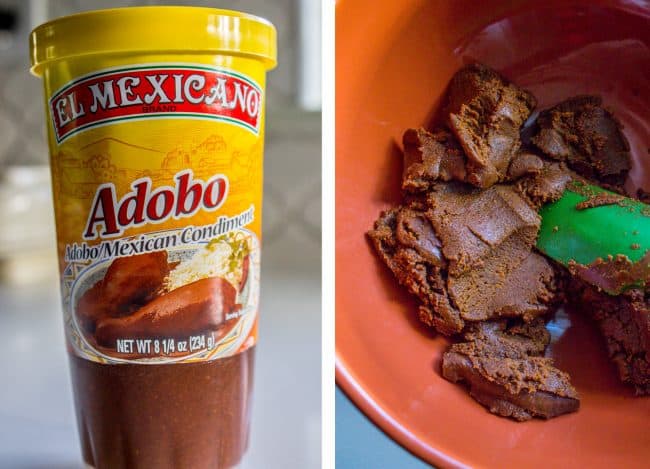 It is very concentrated. More of a paste than a sauce. The packaging says you are supposed to mix it with chicken broth to make a sauce from it, which makes sense. But for this recipe we are just dumping the whole thing in the pot and mixing it up with some Coke. So weird. So, so good.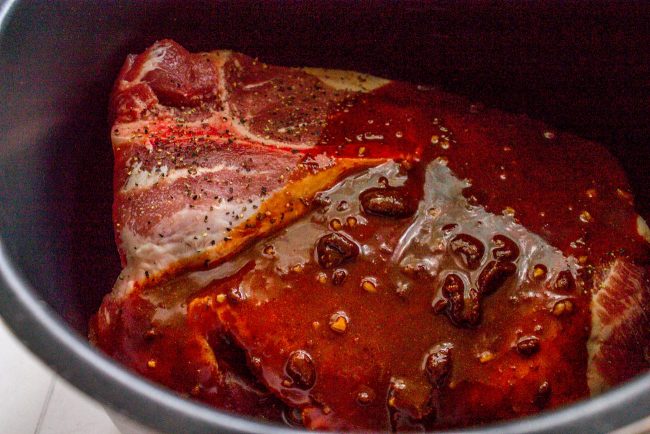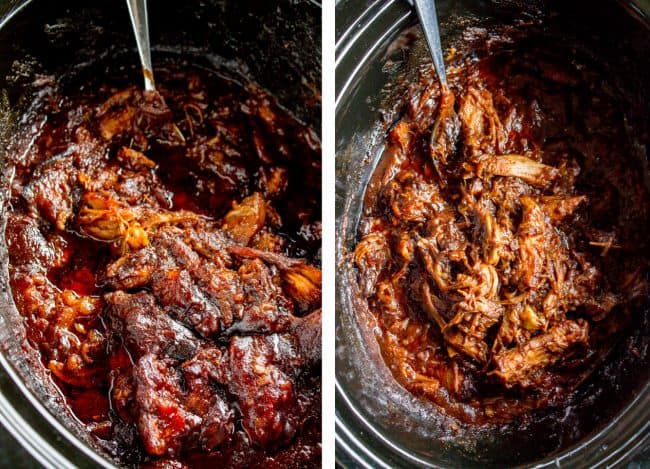 The other special part about today's recipe is the Cilantro-Tomatillo Ranch. It is NOT optional. If you make this recipe without the ranch, you are not experiencing Cafe Rio pork. It's a mixture or buttermilk ranch, tomatillos, and cilantro and it is SOOO amazing. I eat the stuff with a spoon. Even if you are making burritos or something that's not a salad, top the pork with the ranch. It's an AMAZING combo.
This recipe is so nice to have on hand for busy December days. There's always so much going on during Christmas that sometimes I just forget to make dinner. You can make this last minute (in the Instant Pot) or plan ahead with the slow cooker, and come home to hot food ready to go. It's also good for dinner parties or large events, like a family reunion. Everyone loves a good burrito bar (there are so many possible toppings!) I hope you get to try this one out! Don't forget to plug it in!
**UPDATE** I've gotten several comments from people saying that this recipe didn't work in the Instant Pot; it never came to pressure and they got a burn message. I'm so sorry! It worked for me when I tried it. After several comments, I decided to see what was going on. I bought an Instant Pot (I had been using a different brand pressure cooker) and tested this several times. You guys were right! The sauce was too thick for the pot to come to pressure. I'm so sorry to any of you who tried this and had problems. I don't know why it worked for me when I tested this the first time. But I have a solution and I have updated the recipe! Instead of mixing the Adobo sauce in with the Coke, you're going to layer it on top of the meat. Then just stir it in after the pork is cooked. All the details are below in the recipe. Please reach out if you have any problems with the recipe!
Facebook | Pinterest | Instagram | Twitter
One year ago:  Two Ingredient Creamy Cranberry Sauce
Four years ago:  Chipotle Sweet Potatoes with Bacon
Six years ago: Cherry Tomato and Goat Cheese Pizza 

Cafe Rio Sweet Shredded Pork for Burritos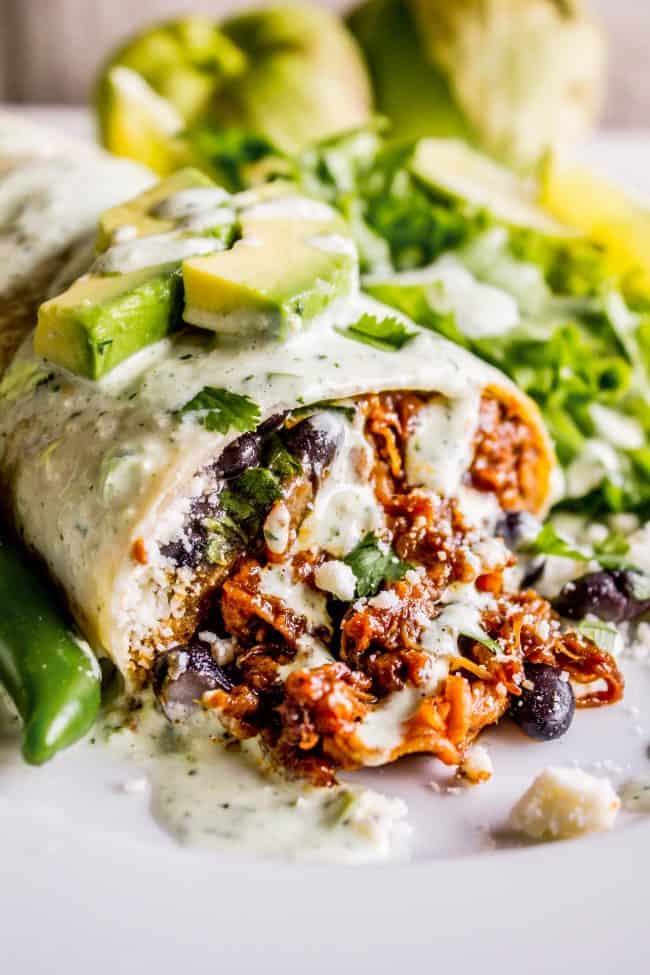 This sweet shredded pork tastes even BETTER than Cafe Rio, I promise! Use this pork to make giant burritos smothered with Cilantro-Tomatillo Dressing, or an amazing pork salad. Or throw it in some enchiladas. You can't go wrong! It's so easy to make in the slow cooker or Instant Pot. 
Ingredients
For the pork
3-4

pound

pork butt

salt and pepper

1 (8.25-oz)

jar

Adobo Sauce

1 (12-oz)

can

Coke

,

(1 and 1/2 cups) (NOT diet! No coke zero!)

1

cup

sugar*

1

tablespoon

minced garlic

2

teaspoons

cumin

1

teaspoon

dry mustard powder

1/2

teaspoon

chili powder
For the Cilantro-Tomatillo Ranch
1

cup

mayonnaise

1 (.4-oz)

package

buttermilk ranch dressing

,

(put it in dry)

1

serrano pepper

,

seeded and roughly chopped

3

tomatillos

,

chopped

juice from 1 lime

1/2

bunch

cilantro

1-5

tablespoons

milk

,

if needed
Serve with
shredded lettuce

hot rice

black beans

,

warmed

sour cream

avocados or guacamole

Cotija cheese
Instructions
Slow Cooker instructions:
Place the pork roast in the slow cooker and sprinkle generously with salt and pepper.

In a medium bowl, combine

Adobo sauce

, the can of coke, sugar, garlic, cumin, mustard powder, and chili powder. Use a whisk or a wooden spoon to try to break up the Adobo sauce. It's stubborn but you don't need to stress about it. Some lumps are okay.

Pour the sauce over the top of the pork.

Cover with the lid and cook on high for 3-5 hours. OR cook on low for 8-10 hours.

Remove to a platter and shred the pork.
Instant Pot instructions:
In the Instant Pot, whisk together the can of coke, sugar, garlic, cumin, mustard powder, and chili powder. Whisk until the sugar is mostly dissolved.

Use a sharp serrated knife to cut your pork roast into 4 large chunks. Season each one with salt and pepper.

Place the pork roast chunks in the Instant Pot. Turn them over to coat both sides in the sauce.

Scrape the entire jar of

Adobo sauce

on top of the pork. Do NOT add it to the liquid at the bottom of the pot. The Adobo sauce needs to sit on top of the pork, otherwise the mixture will be too thick, and your instant pot won't come to pressure.

Seal the lid on top.

Pressure cook on manual setting for 1 hour.**

At this point you can either release the lid naturally or follow manual instructions to do a quick release. Be careful! You don't want to get a steam burn.

Scrape the cooked Adobo sauce into the liquid. Remove meat to a platter and shred the pork. Whisk the adobo sauce into the liquid until smooth. If it seems oily or thin, turn the Instant pot onto the sauté setting and sauté on low for 5 minutes so that it comes together. You can add the meat back in while it is sautéing. (Or just add the meat back in if it doesn't need the sauté.)
For the ranch:
Add all the ingredients except the milk to a blender and process until smooth. Add milk a tablespoon at a time if it needs to be thinned out.

Serve the pork with shredded lettuce, hot rice, black beans***, sour cream, avocados or guacamole, and cotija cheese or

queso fresco

. If you can't find that kind of cheese, shredded cheddar or jack cheese will taste good too!

Serve with tortillas to make burritos, or serve with lots of lettuce to make salads.
Notes
*Eric's original recipe actually calls for 1 and 1/2 cups sugar to go in the pork, but I like the sweetness level a little lower, so I used 1 cup. Feel free to add that extra 1/2 cup if you want it very sweet.
**If you take your pork out and it is not shredding easily, put it back in for another 10 minutes. Pork roast should be cooked in the pressure cooker about 15 minutes per pound, so adjust time accordingly.
***The black beans don't need to be super fancy. I opened the can and heated them with a little garlic (from a jar) and tossed in some of the extra chopped cilantro.
Source: my brother Eric. Thanks Eric!!
Nutrition
Serving:
1
g
|
Calories:
503
kcal
|
Carbohydrates:
31
g
|
Protein:
27
g
|
Fat:
30
g
|
Saturated Fat:
6
g
|
Polyunsaturated Fat:
11
g
|
Monounsaturated Fat:
11
g
|
Trans Fat:
1
g
|
Cholesterol:
91
mg
|
Sodium:
4461
mg
|
Potassium:
563
mg
|
Fiber:
1
g
|
Sugar:
25
g
|
Vitamin A:
150
IU
|
Vitamin C:
5
mg
|
Calcium:
60
mg
|
Iron:
3
mg
More delicious Mexican recipes to love!
Traditional Carne Guisada (Stewed Beef for Tacos) << everyone loves this, and no hard-to-find-ingredients.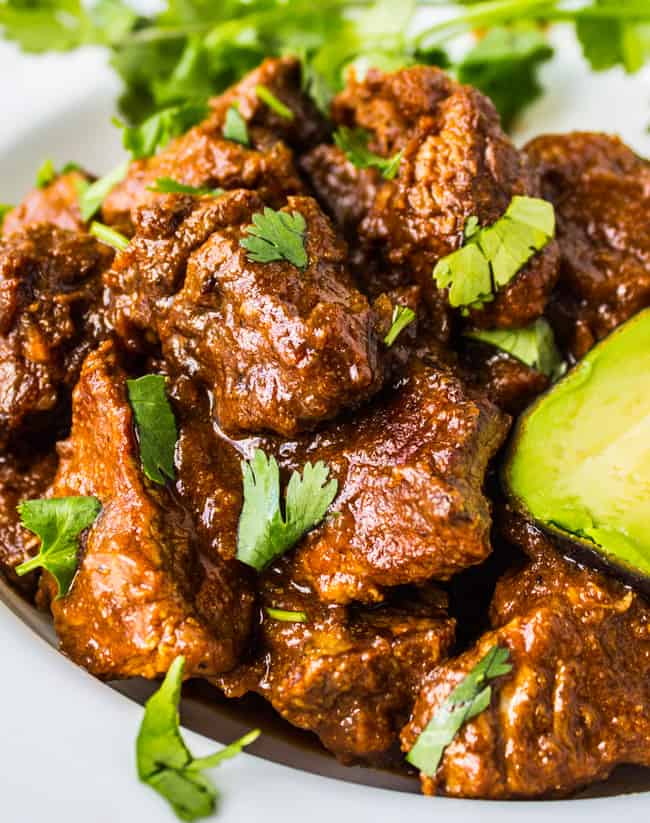 Barbacoa Beef << this is one of my all time fav's! Don't let the bad photo fool you!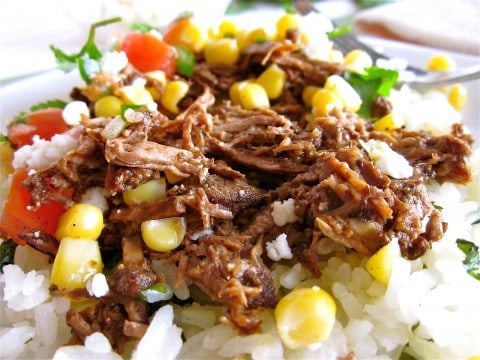 Traditional Tejano Pinto Beans (Slow Cooker) << this would be so good to make alongside the Cafe Rio Pork!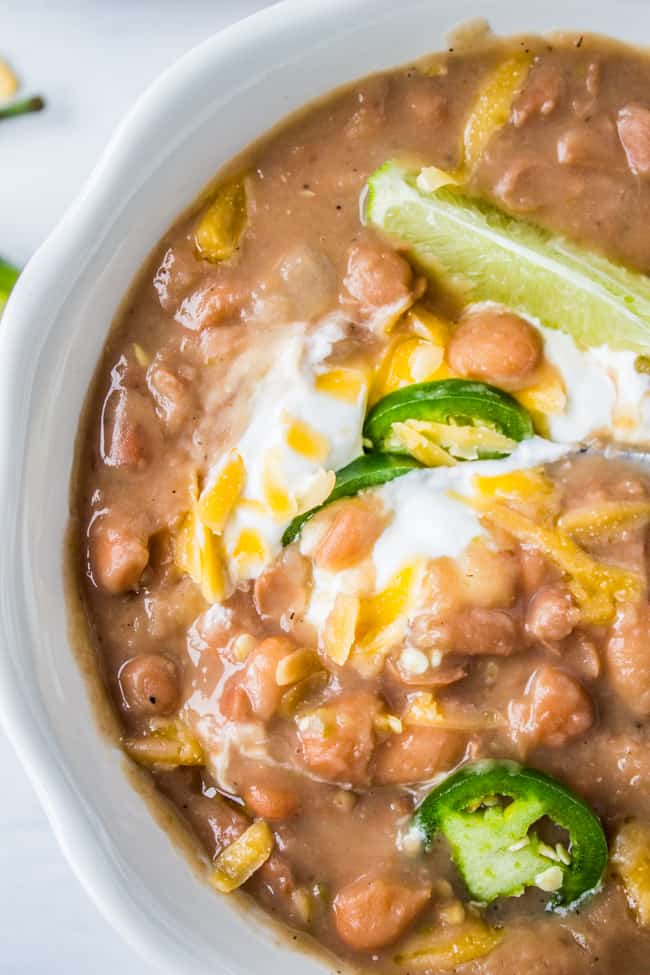 Check out all these other Cafe Rio Pork recipes I found. They are everywhere! But I couldn't find one that used Adobo sauce like my brother's does. I really think that's key to getting authentic flavor. BUT. If you can't find the Adobo sauce anywhere, try out one of these other recipes. They look pretty delicious!
Cafe Rio Sweet Pork recipes from other awesome bloggers!
Cafe Rio Sweet Pork from Favorite Family Recipes
Cafe Rio Sweet Pork Copycat from Creme de la Crumb
Instant Pot Cafe Rio Sweet Pork from 5 Boys Baker
Cafe Rio Sweet Pork from Life in the Lofthouse