Everyone needs their own easy BBQ sauce recipe! I love this one because it is super fast to throw together (10 minutes!) and it's got the perfect level of vinegary-acidic kick to it. Black pepper and chili powder bring in a little heat, and molasses brings balance without making it overly sweet. Homemade barbecue sauce is definitely worth it!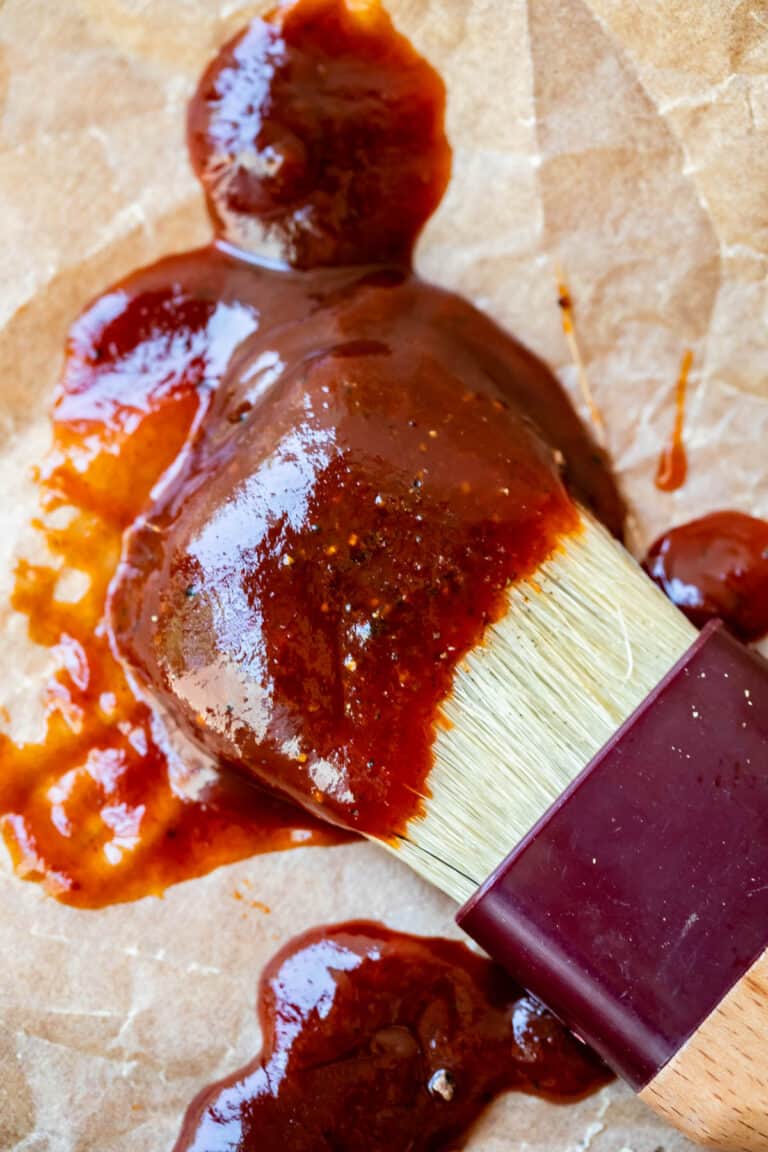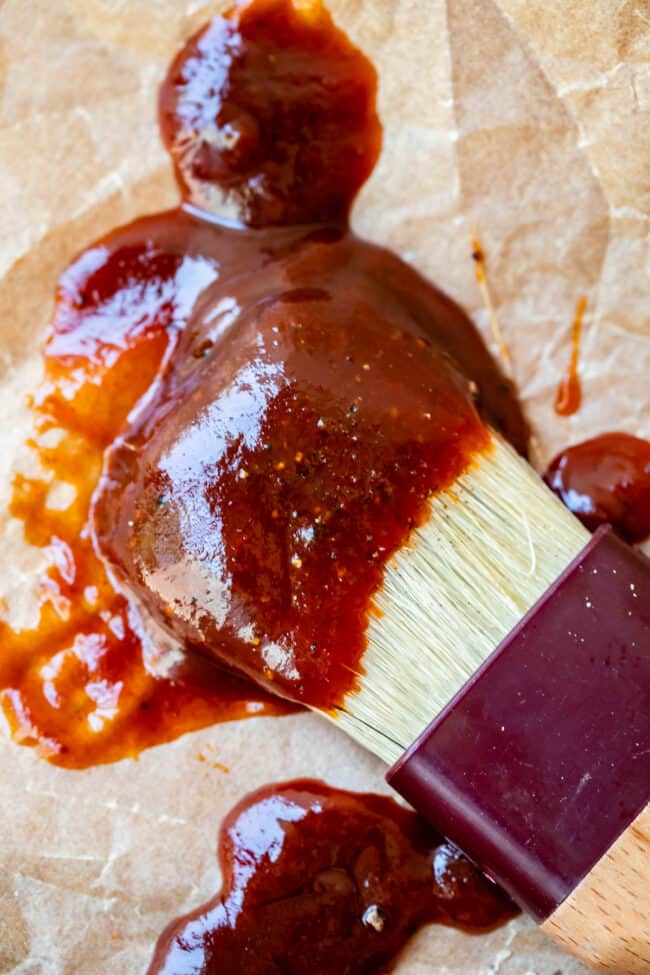 Every morning I have a 50/50 chance of either waking up relatively peacefully, from the alarm blaring loudly on the bedside table (night table? bed stand? Why can I never remember this word??) Or there's the other option, which is being woken up by my 2-year-old, Edison. I would pick the loud alarm ANY DAY.
One morning last week I was in full REM mode: totally out, not a ray of sun yet, probably drooling. Suddenly in my subconscious I hear a baby-toddler voice whisper directly in my ear, "Cann-aye have popsicle?"
My eyes fly open and land on the SCISSORS that are inches from my eyeball. How else would I open the Otter Pop he was holding in the other hand? It was 5:45am. (Who knows how high he climbed and what deathly moments ensued in his quest for the scissors. I've blocked the imaginings from my mind.)
Why do people even drink coffee? I don't get it. All you need is a scissor-wielding 2-year-old, he will perk you up in no time.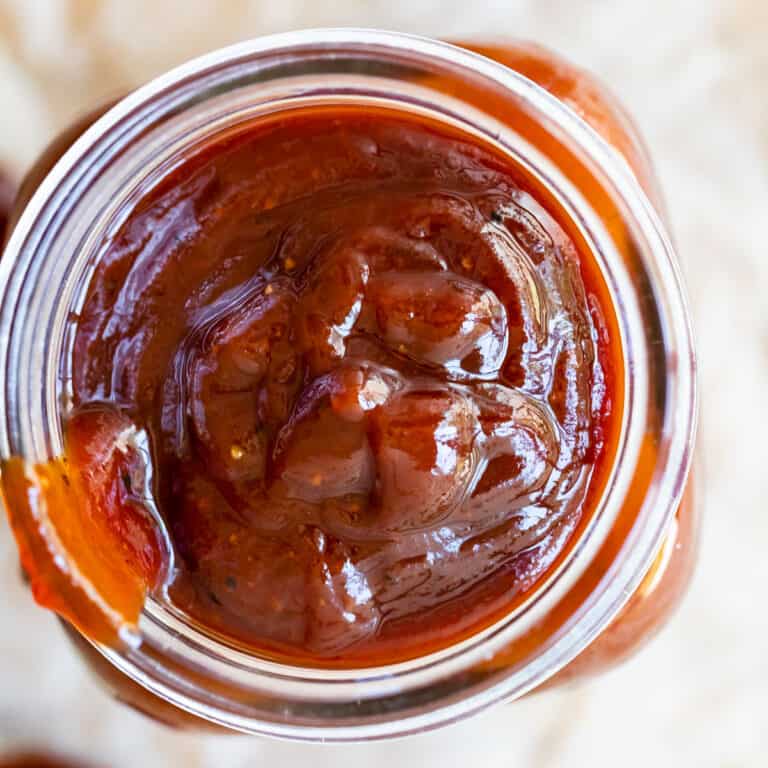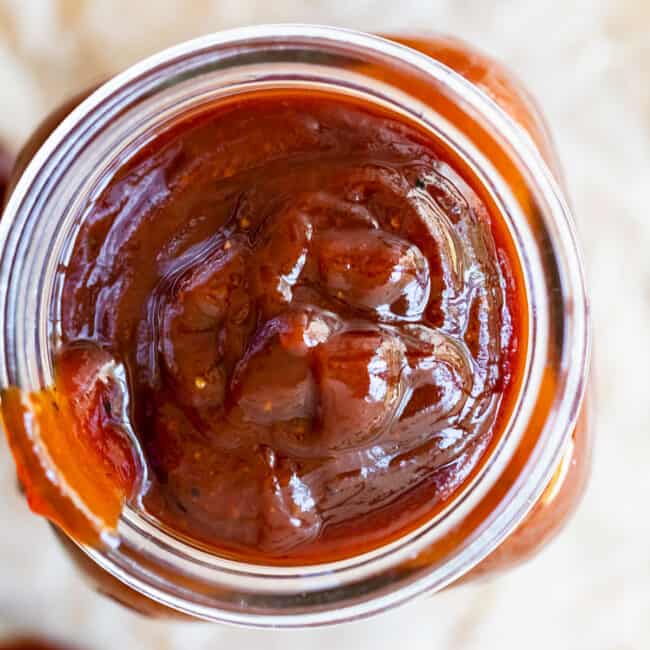 No one prepares you for this. No one, when you are pregnant the first time, mentions, "Oh yeah, I get woken up via popsicle-scissor-face all the time. Get ready for that."
I was talking to my sister about this a few weeks ago. She read a study that said moms with newborns have the same nighttime sleep quality as PTSD patients, because they know they could be called from sleep into wake-time action at literally any moment. There is no real peace.
You could be woken by a board book slammed into your jugular. Or via toddler full-body-roll. Or my favorite, a few weeks ago when he lovingly snuggled next to me in bed, and I looked over, bleary eyed, to register that he had something pink on his lips. Lipstick, from my daughter's lip-gloss-making-kit. I looked down to find my bedsheets covered in pink dye, and little dots of pink on the carpet in a trail from the bathroom, because the dye had soaked into his footie pajamas.
Like I said. No. Peace.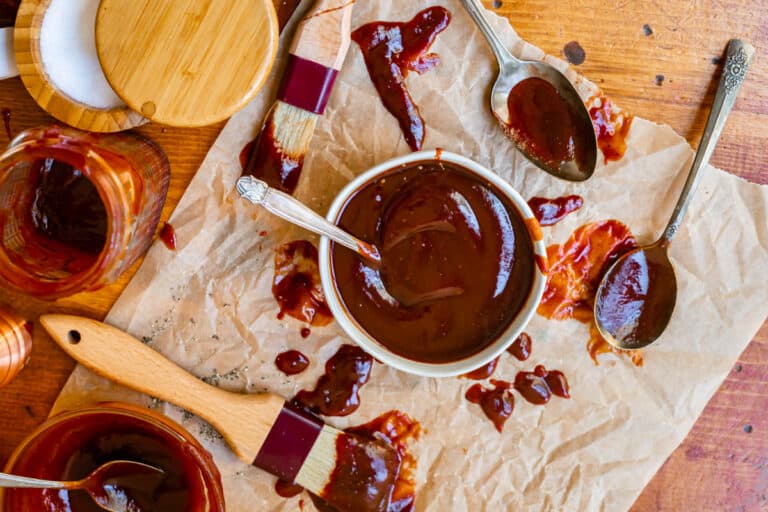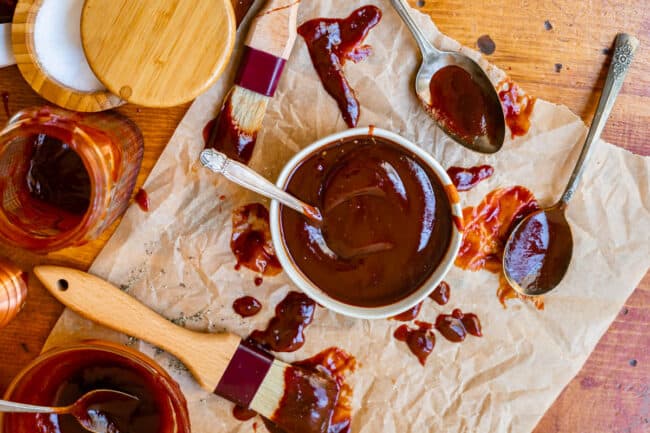 Well, at least we can find peace in sauces. Peace in sauces?? What does that even mean? Well my friends, it means that the search is over for an easy, no-brainer, 10-minute BBQ sauce recipe for when you forgot to grab some at the store, or for when you want to add a little "umph" to that pulled pork you worked on all day long. Wouldn't it be nice if you could have the perfect sauce for your meal in 10 minutes, every time? It's the little things, guys.
Barbecue Sauce (BBQ Sauce, Bar-B-Q Sauce, Barbeque Sauce??)
This is the sauce with 100 name spellings! Eric's grandma was named Barbara and called her own special sauce "Barb-ecue Sauce." Get it? Get it?? However you spell it, this sauce is perfect for SO many recipes!
I made this barbecue sauce originally to go along with my favorite Pulled Pork Recipe (and also this Slow Cooker Pulled Pork). Long and slow cooked protein is going to be good no matter what, but slap this sauce on too? Irresistible.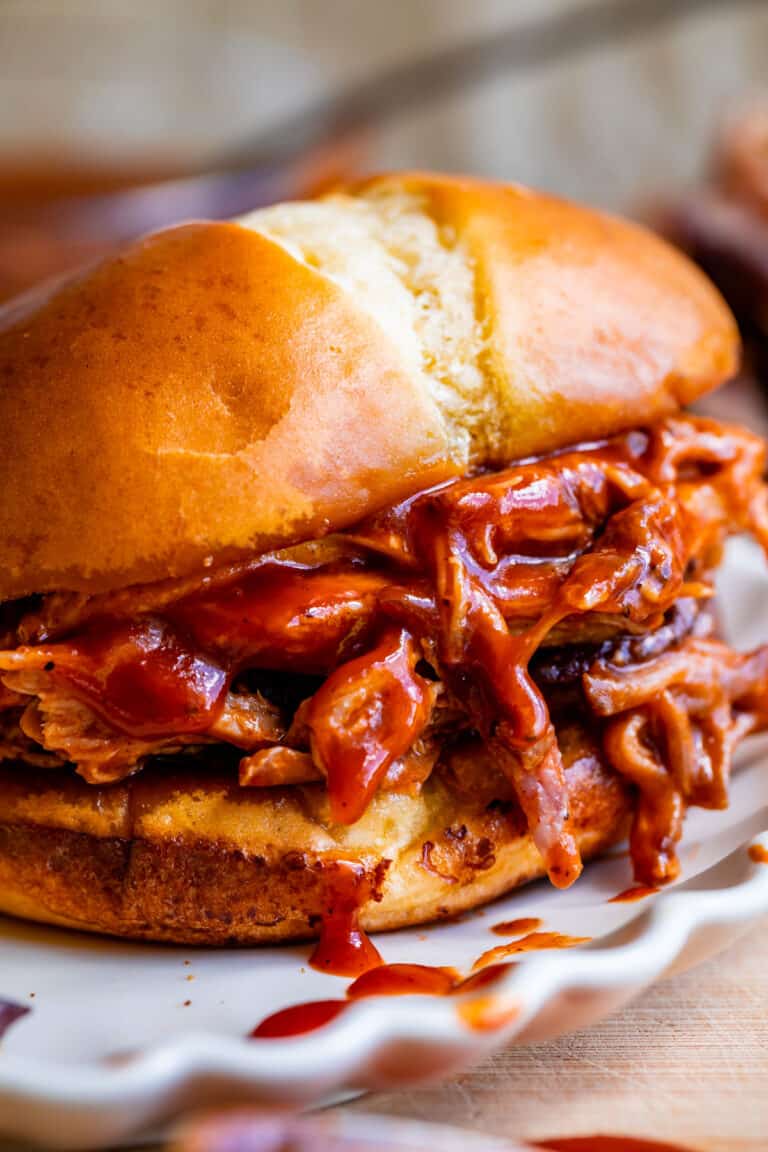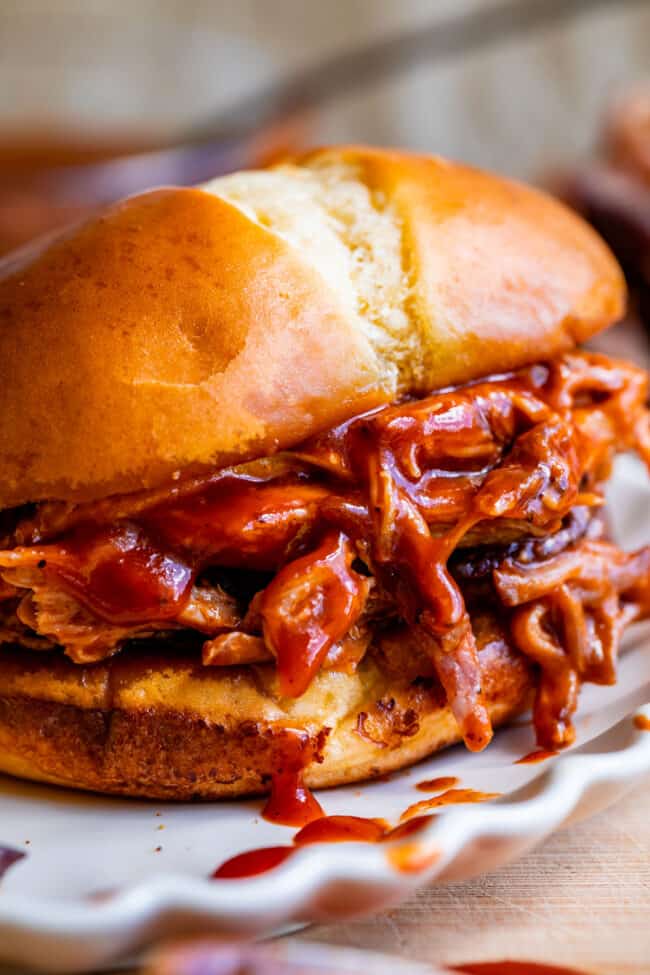 This homemade bbq sauce has a good balance, with no single flavor taking over. It's peppery and sharp, but the molasses does its job of evening out the flavors perfectly. It is on the tangy side, I'm not a fan of overly-sweet sauces. (If you are, just add in a bit more molasses or brown sugar!)
The tangy kick and the hot-but-not-too-hot spices are perfect for cutting the richness of fatty smoked pork, brisket, or tri tip. It's also perfect for chicken, pork tenderloin, spare ribs, etc! I love how adaptable it is.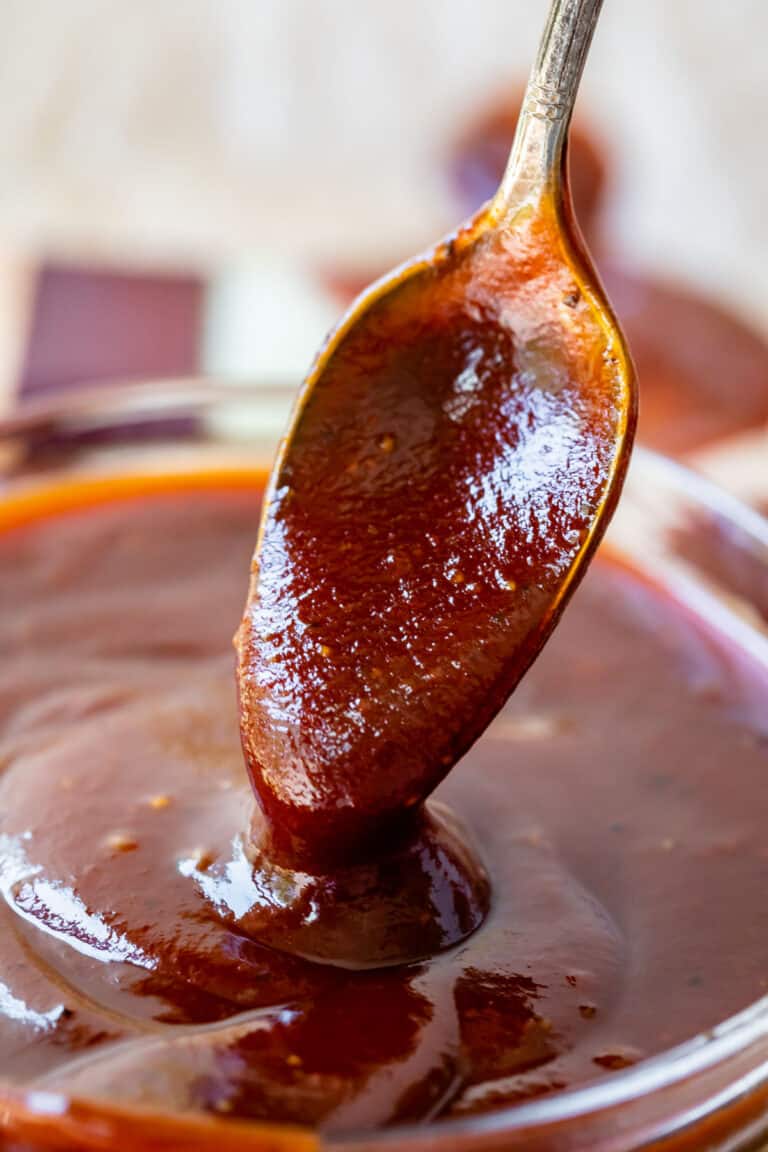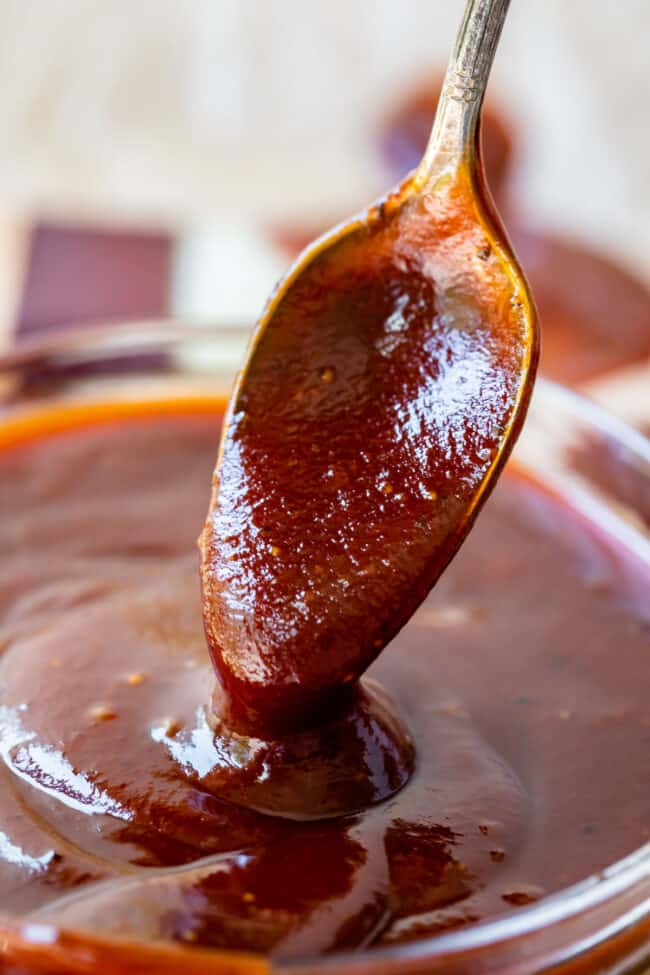 What makes BBQ sauce taste like BBQ sauce?
What even is this stuff, right??
This classic BBQ flavor that we all adore is a combination of acidic tomato and vinegar combined with some sweetness, usually sugar or molasses, and a variety of spices that bring flavor and smokiness. You can use onion, smoked paprika, mustard, liquid smoke, sky is pretty much the limit here.
My recipe isn't overly sweet and is spiced with lots of black pepper. Do not underestimate America's second favorite seasoning! (It's second, right? People never say, "Pepper and salt.")
But I'm telling you, black pepper is legit, especially when it's freshly cracked. I love how this bbq sauce recipe highlights it. Because black pepper is usually an afterthought, right? IT'S TIME TO SHINE BABY. Bust out that grinder.
Is BBQ sauce ketchup + brown sauce?
BBQ Sauce is not a combination of ketchup and brown sauce. For those who don't know, brown sauce is a condiment common in the UK. It has a taste similar to Worcestershire sauce but is thicker. So, while I can see why people may think that, especially given the similar appearance of the two sauces, they are not related.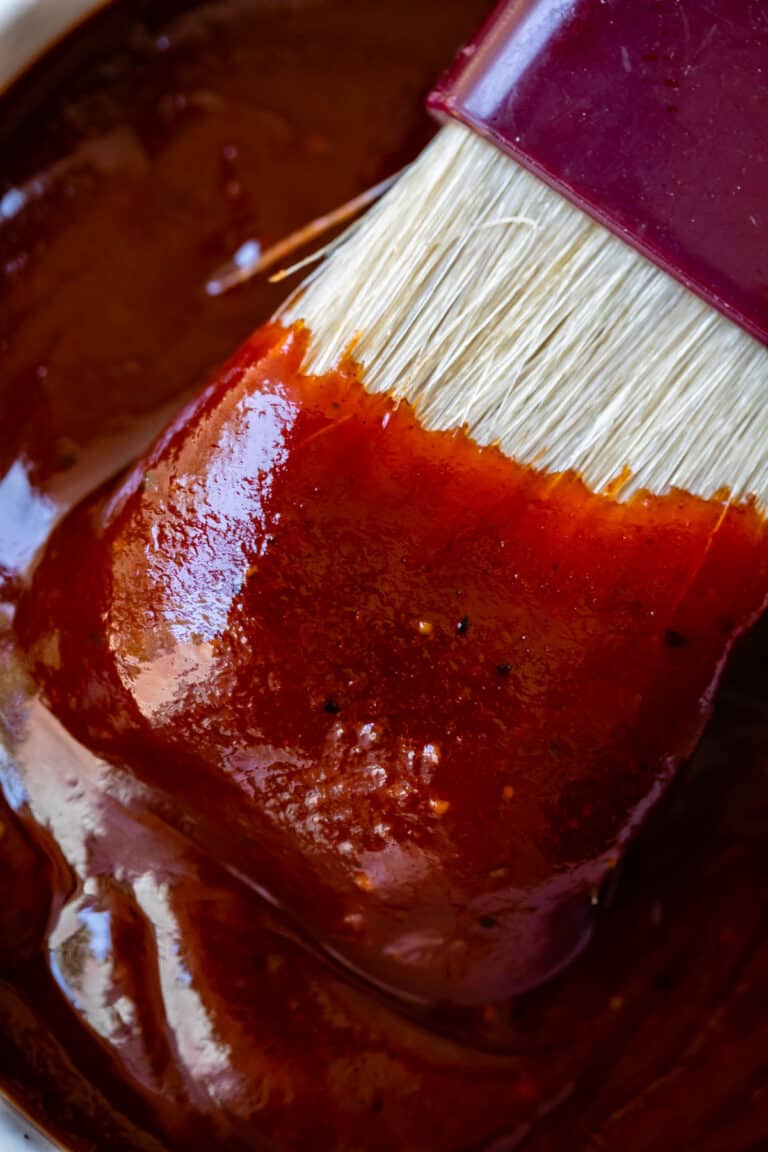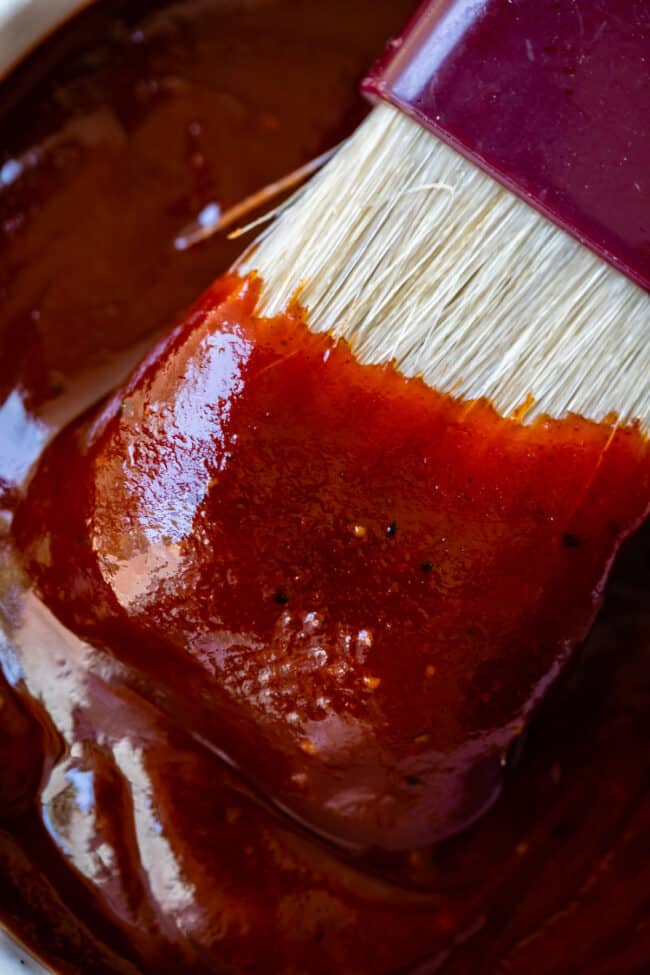 How do you make your own BBQ Sauce?
Let's dig into the details! It could not be easier my friends. Today's recipe is focused on keeping it simple and quick, but doesn't sacrifice flavor.
Ingredients to make BBQ sauce
Here are the ingredients you are going to need, the full recipe card is below!
ketchup
Worcestershire sauce
white vinegar
molasses
kosher salt and black pepper
paprika and smoked paprika
chili powder
liquid smoke, optional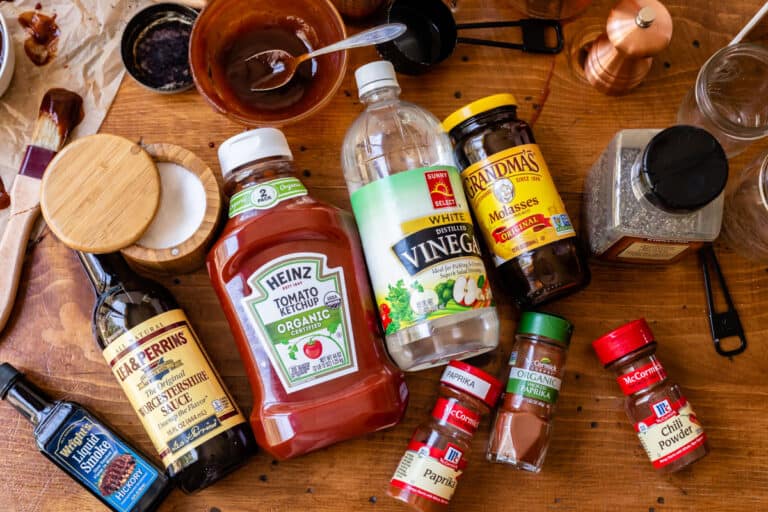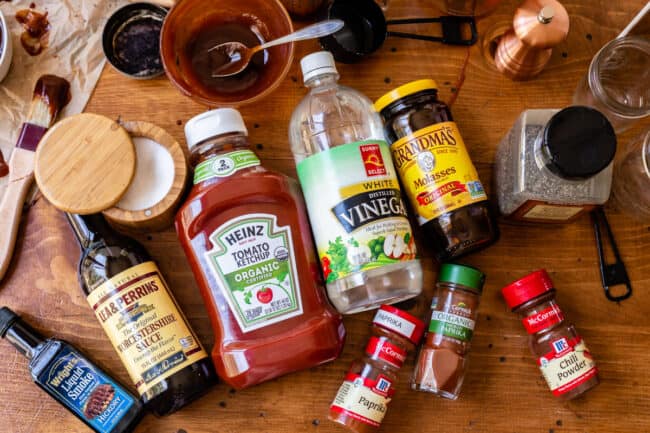 We are starting out with some ketchup for instant flavor. I tested this recipe a few times with straight up tomato sauce and some extra sugar/vinegar, because that's all ketchup is, right? Wrong. It was just not as flavorful.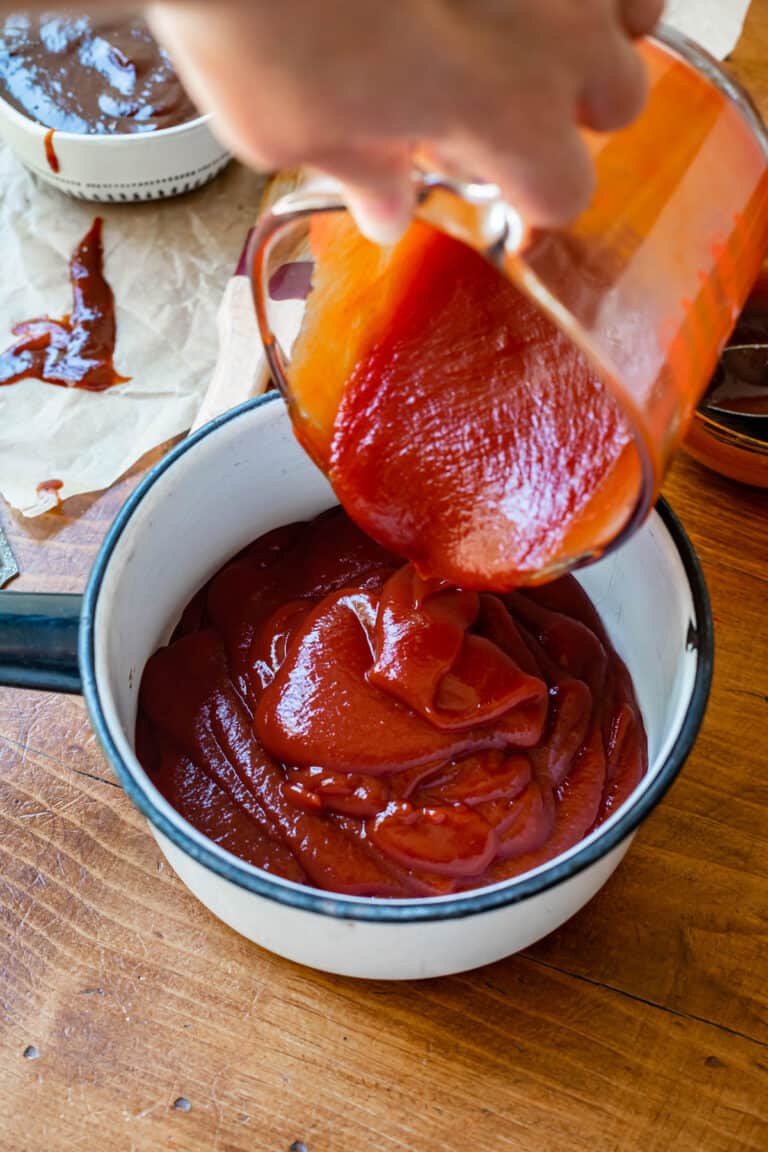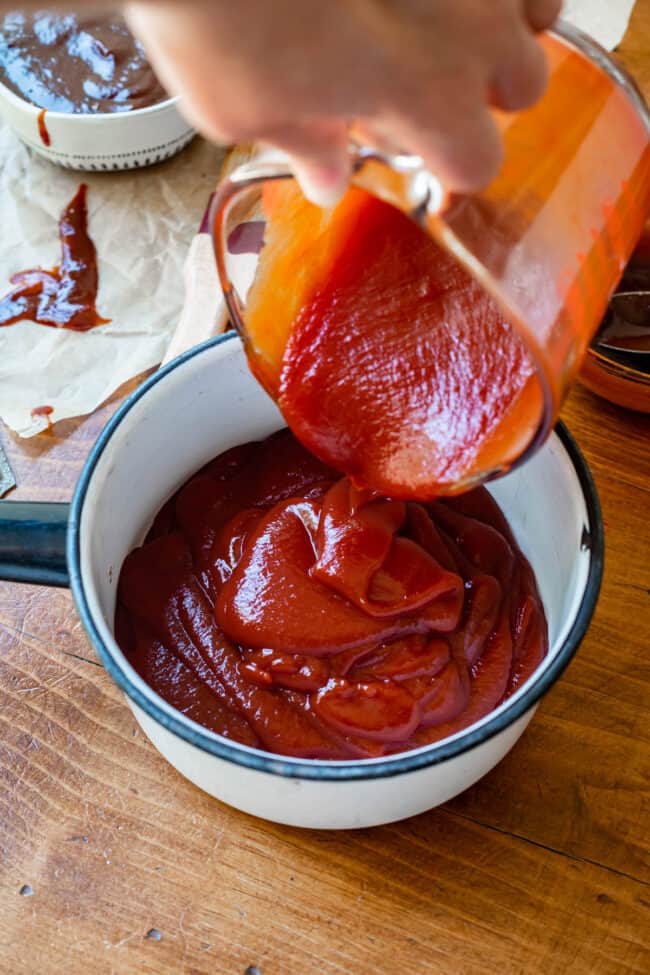 There is something magical about ketchup. Don't you turn your nose up at me. You will appreciate what you have if you just go to Australia. They still haven't figured out how to do ketchup right, and every French fry I ate in that country was a disappointment. (Sorry Australia, I do love you. Even though you wrap your hot dogs in sandwich bread and top it with tomato sauce…you have lots of other redeeming qualities 😉)
Anyway. Get yourself some Heinz and then add in all the other stuff. It couldn't be more easy.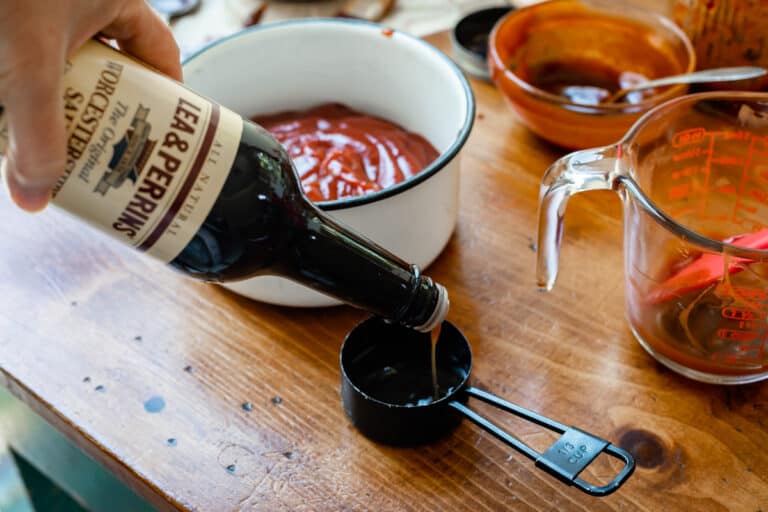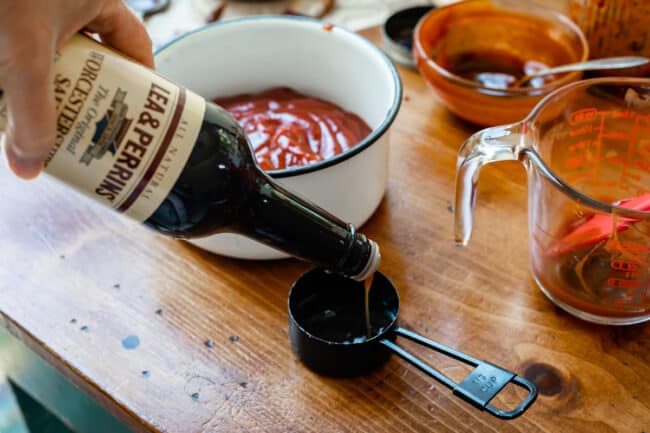 Worcestershire sauce is the secret ingredient in so many recipes. It brings that umami flavor we all love, even if we don't recognize it. I saw on a New Orleans blog recently (which is a super fun read, by the way!) the author referred to "Lea and Perrins" the way you would call it Coke instead of soda, or Kleenex instead of tissue, or the way I call it Lawry's instead of seasoning salt. I love this brand so much that I think I'm going to adopt the Lea and Perrins moniker. They deserve it.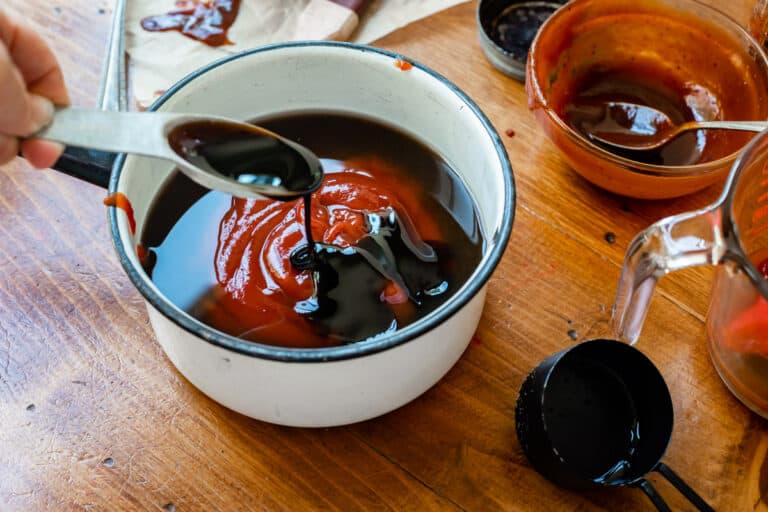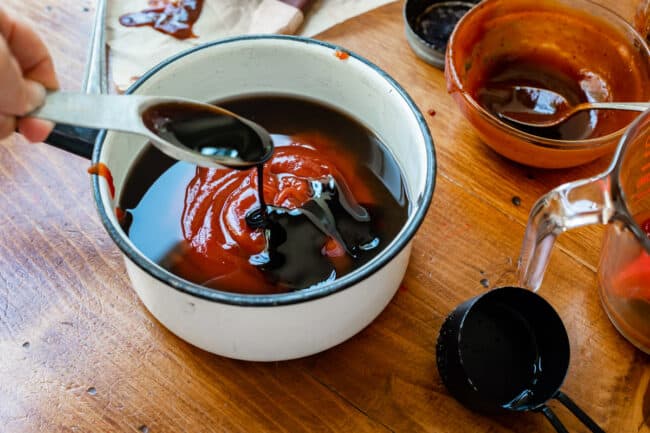 Molasses is the only sweetener I use in this recipe. I love it because of the complex, nutty flavor it adds, even more interesting than plain brown sugar. (Which is made from granulated sugar with some molasses mixed in, did you know that?) Don't add too much, just a few tablespoons. This is not a sticky-sweet sauce. Bring the TANG.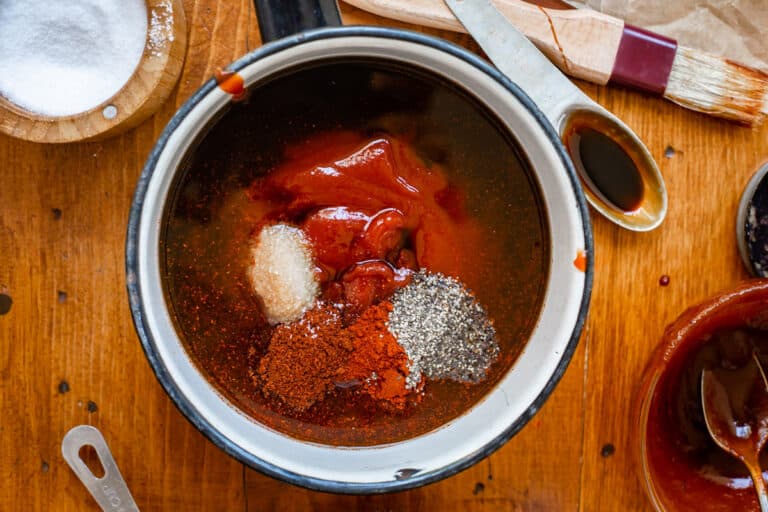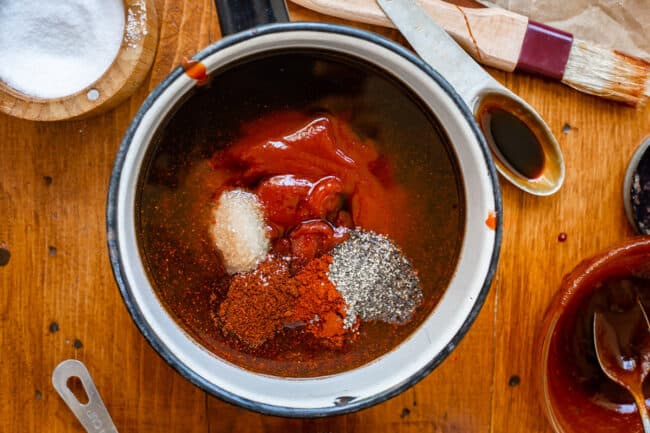 Add in all the rest of the ingredients, including a dash of liquid smoke.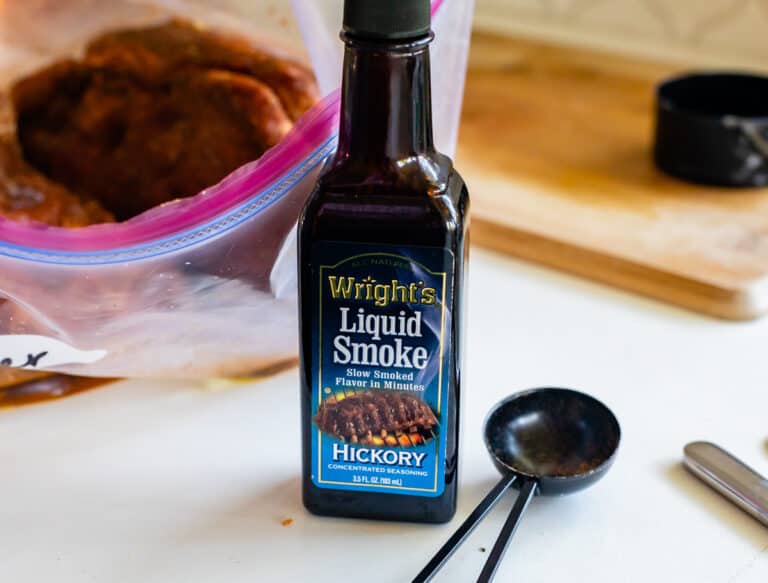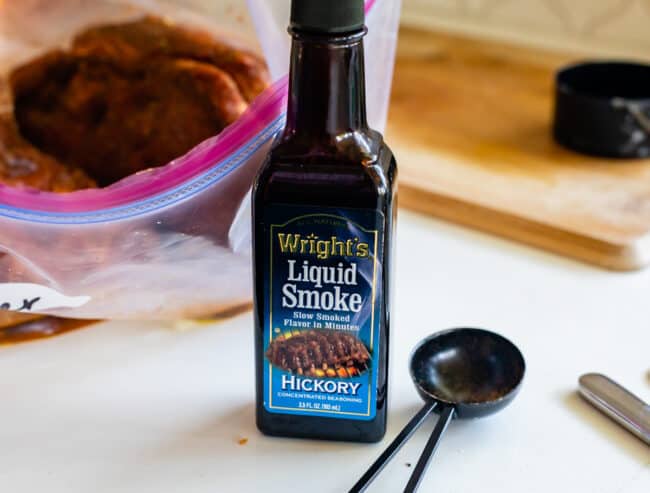 This ingredient is technically optional, but I love the depth that it adds to the sauce! I think it's especially important to add in if you are not pairing it with grilled or smoked meat (like anything slow cooked would benefit from liquid smoke for sure). It's not as good as the real thing (actually cooking with smoke), but I do love the aroma and big flavor it adds.
The other optional ingredient you can add to this recipe is water. If you have the time, add some water, bring the sauce to a simmer, and let bubble for 30-60 minutes. The water will cook off over that time, leaving you with a perfectly saucy sauce. I love this method because it gives the ingredients all a chance to get cozy together, enhancing flavor.
BUT…if you don't have time for that (I get it! I get it!) just leave out the water, simmer for 5 minutes, and bam, you're done. Perfect bbq sauce in 10 minutes.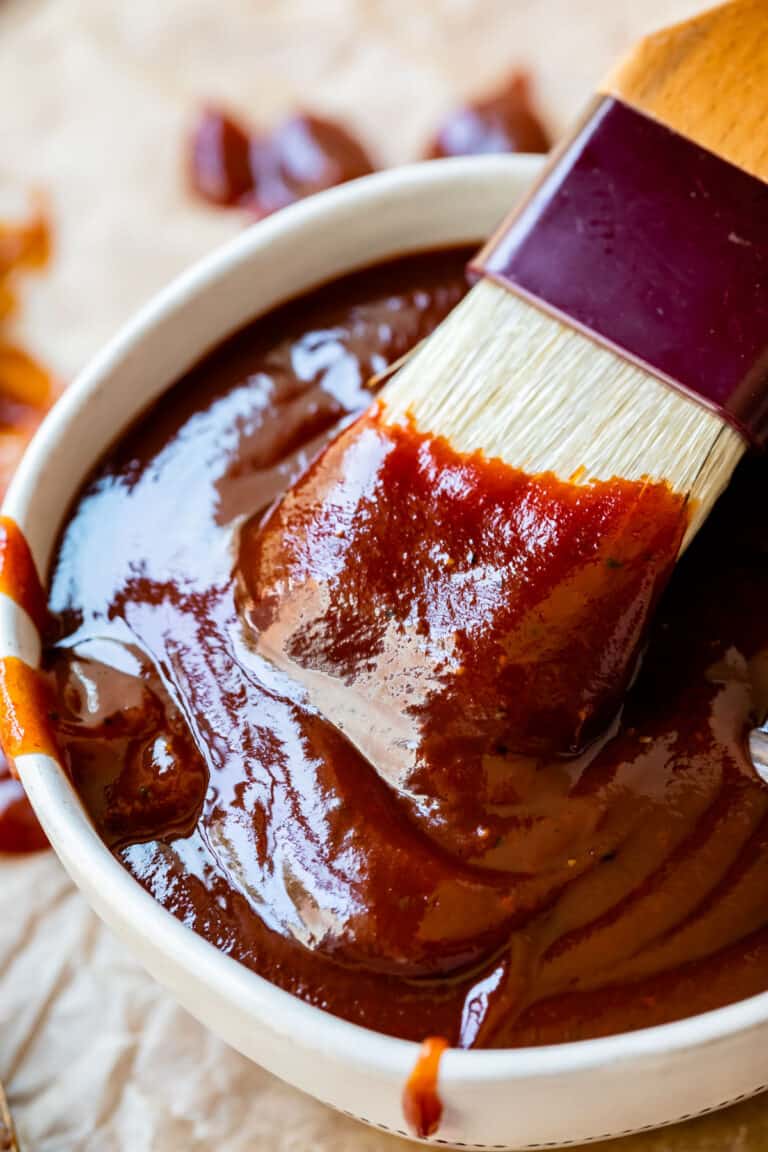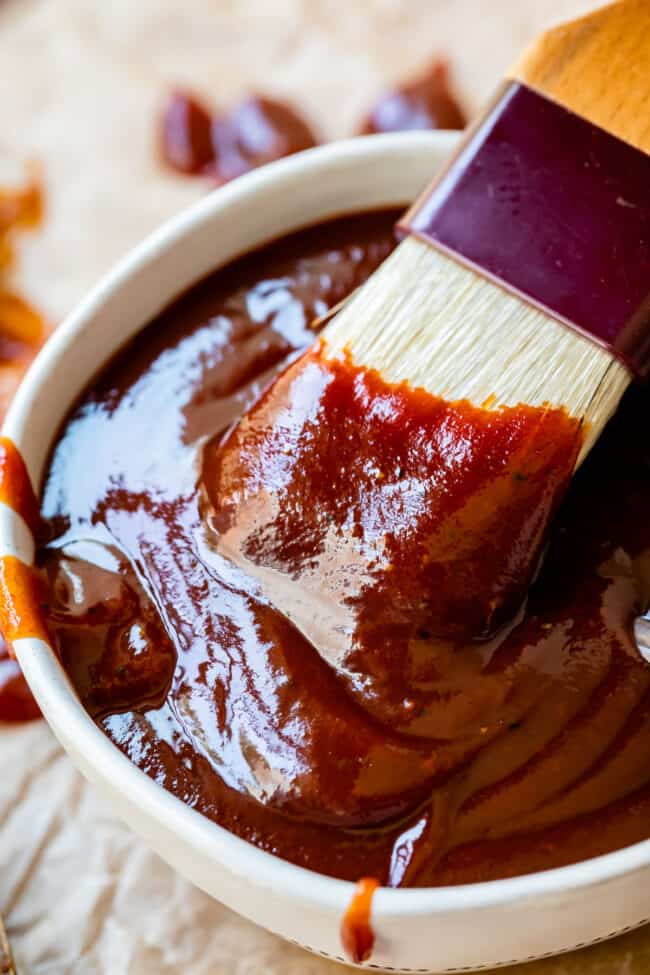 What to serve with BBQ Sauce
The question is, what CAN'T you serve BBQ sauce with?
Pulled Pork
Grilled Chicken
Brisket
Ribs
Hamburgers
Hot Dogs
Meatloaf
Kebabs
BBQ pizza, nachos, or quesadillas
Mix with Ranch for an epic salad dressing. I learned this from my fav BBQ Pork Tenderloin recipe!
How to store Barbecue Sauce
BBQ Sauce is so easy to save if you have extra. Simply pour it into an airtight container, make sure it's cooled to room temperature, and then place in the refrigerator. I like to use a mason jar or glass containers instead of plastic, as tomato-based sauces tend to stain. Once in the refrigerator, it will last for up to two weeks (or more). Lean in to the "more" here. Ask yourself, how long have I had my current open bottle of ketchup? That's how long you can let this BBQ sauce hang out in the back of your fridge.
Can you freeze it?
Most definitely, and it's about the easiest thing ever. Pour the BBQ sauce into a freezer ziplock bag, making sure it's at room temperature, and place in the freezer. Store for 4-6 months. To reheat, you can let it thaw in the fridge overnight and heat the next day. If you're in a time crunch, place the whole frozen chunk of sauce in a saucepan with a few tablespoons of water, cover with a lid, and turn the heat on low. Be sure to stir occasionally until it is heated through.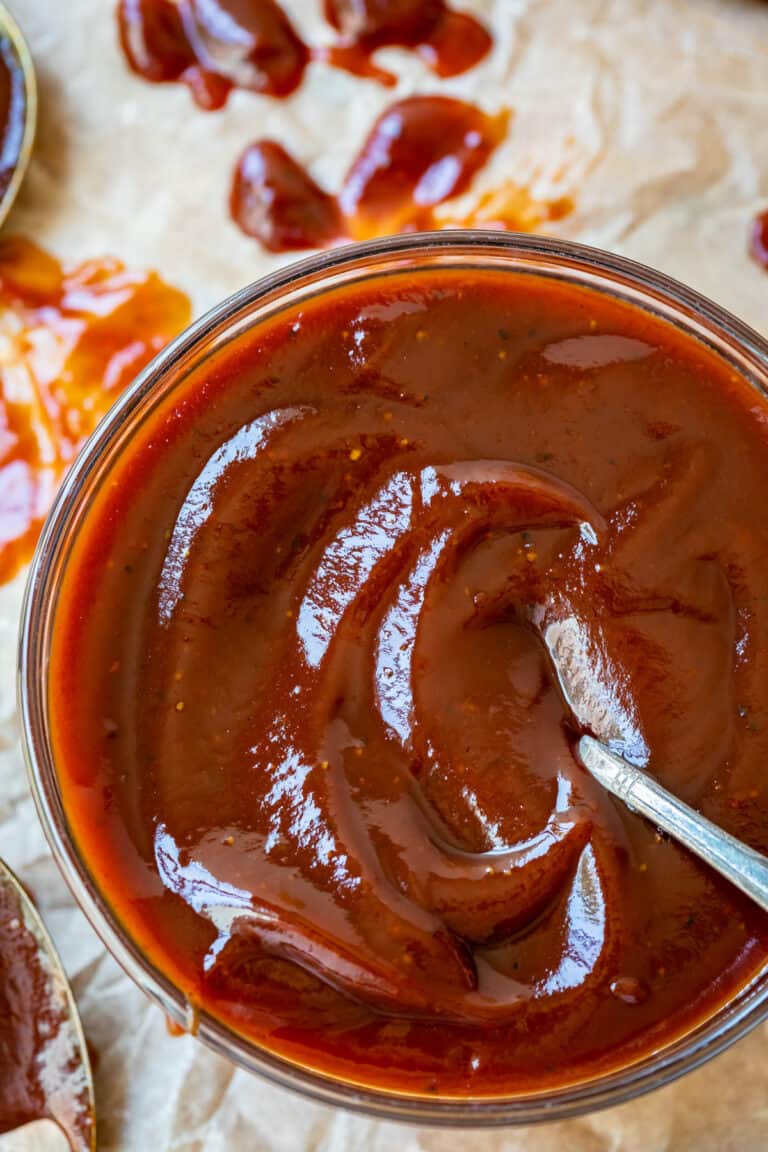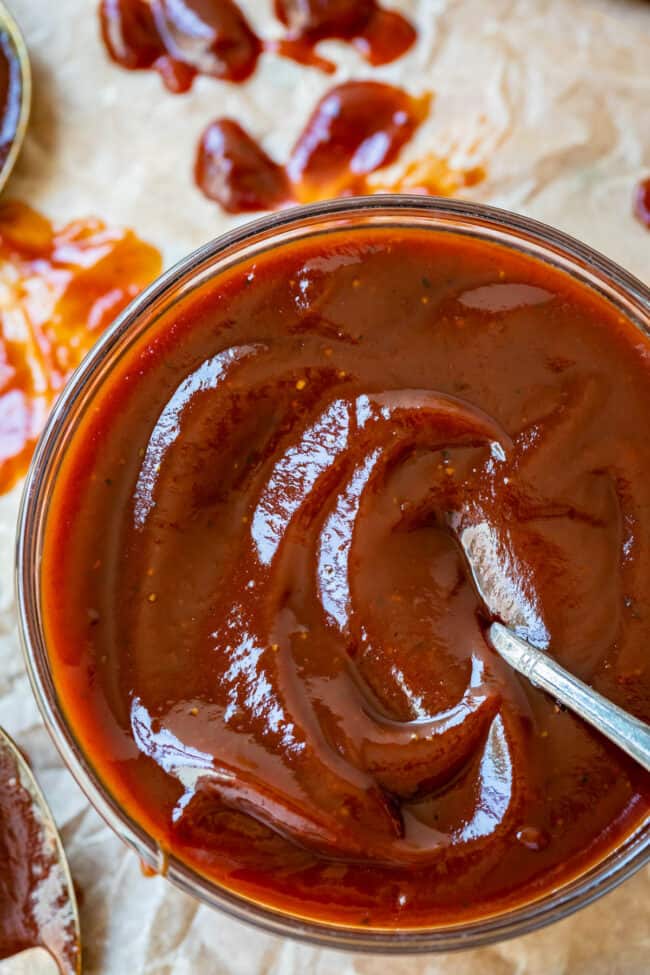 More BBQ to love!
What is summer without some epic grilling and BBQing sessions?! I've got you covered with all the BBQ meats you love:
Facebook | Pinterest | Instagram

Barbecue Sauce Recipe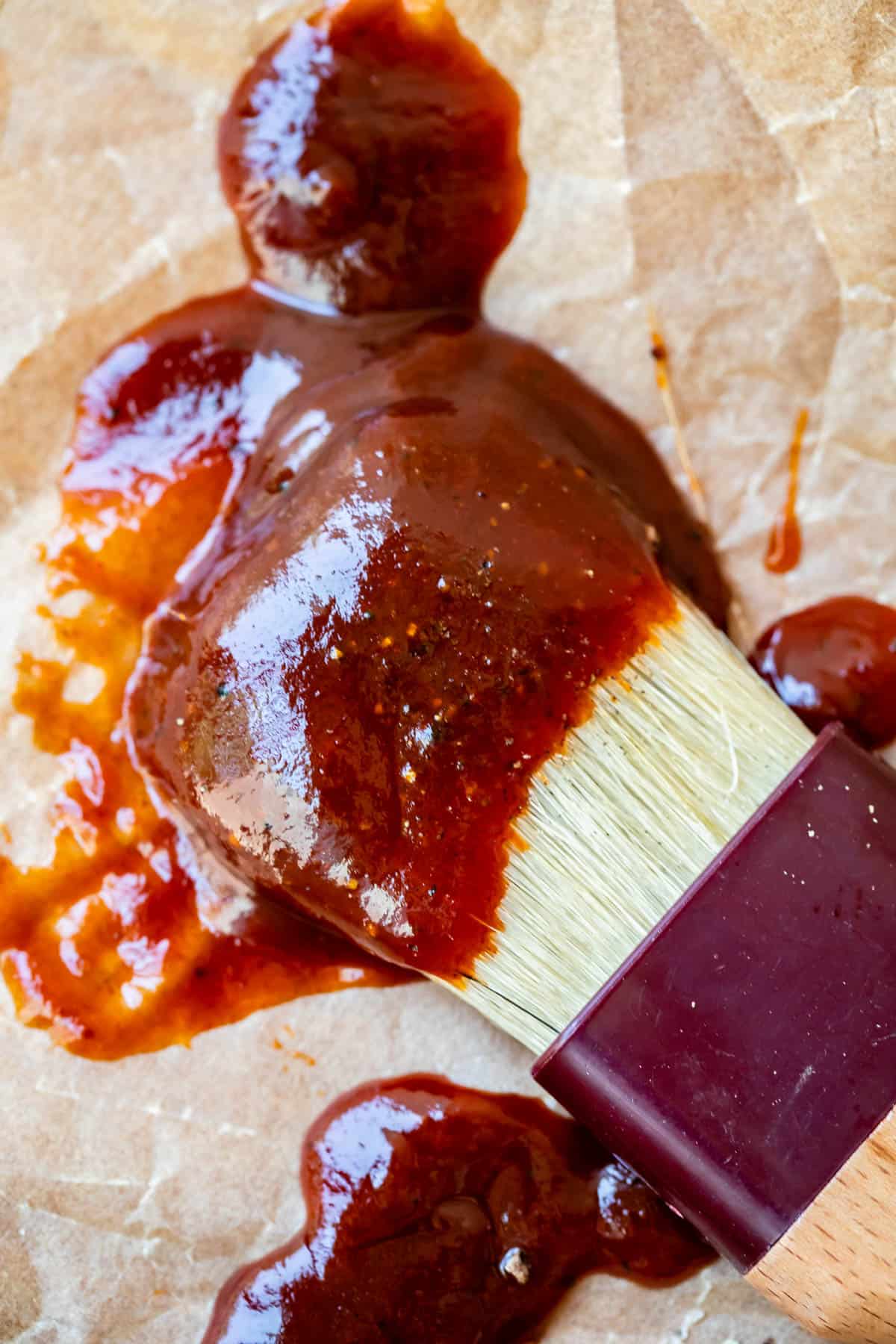 Everyone needs their own easy BBQ sauce recipe! I love this one because it is super fast to throw together (10 minutes!) and it's got the perfect level of vinegary-acidic kick to it. Black pepper and chili powder bring in a little heat, and molasses brings balances without making it overly sweet. Homemade barbecue sauce is definitely worth it!
Ingredients
2

cups

ketchup

1/3

cup

Worcestershire sauce

1/4

cup

white vinegar

3

tablespoons

molasses

1 & 1/2

teaspoons

kosher salt

1

teaspoon

black pepper

,

freshly cracked, if possible

1/2

teaspoon

paprika

1/2

teaspoon

smoked paprika

1

teaspoon

chili powder

1/4

teaspoon

liquid smoke

,

optional

1/4

cup

water

,

optional, for simmering
Instructions
Add all the ingredients to a medium pot on the stove: 2 cups ketchup, 1/3 cup Worcestershire, 1/4 cup white vinegar, 3 tablespoons molasses, 1 and 1/2 teaspoons kosher salt (use less if all you have is table salt), 1 teaspoon black pepper (use a pepper grinder if you have one!), 1/2 teaspoon paprika, 1/2 teaspoon smoked paprika, 1 teaspoon chili powder, and 1/4 teaspoon liquid smoke.*

Add 1/4 cup water if you have a half hour to simmer. If you're short on time, leave the water out.

Bring the mixture to a boil over medium high heat. Simmer 5 minutes if you didn't add the water.

Simmer at a low bubble for about 25 minutes if you did add the water, or up to an hour. (add more water in increments if it starts to get too thick.)

The longer you cook, the more time your ingredients will have to marry and meld together, enhancing flavor. (The extra water we added should all bubble off by the time it has simmered a half hour. We want nice and thick BBQ sauce. The water is added so that it doesn't get too thick as you simmer to achieve more flavor.)

Once you have simmered as long as you like, turn off the heat and let come to room temperature. The sauce will continue to thicken as it cools.

Store leftovers tightly sealed in the fridge for several weeks, as long as you would keep ketchup.
Notes
*Buy a decent brand of liquid smoke, I like Wright's. The ingredients should be water and smoke, nothing else. 
This sauce freezes well, seal in a ziplock bag for 3-4 months! Let thaw in the fridge, or heat from frozen on low with a few tablespoons of water. 
Nutrition
Calories:
76
kcal
|
Carbohydrates:
20
g
|
Protein:
1
g
|
Fat:
0.1
g
|
Saturated Fat:
0.02
g
|
Polyunsaturated Fat:
0.1
g
|
Monounsaturated Fat:
0.02
g
|
Sodium:
910
mg
|
Potassium:
307
mg
|
Fiber:
0.3
g
|
Sugar:
16
g
|
Vitamin A:
412
IU
|
Vitamin C:
3
mg
|
Calcium:
32
mg
|
Iron:
1
mg