Mandarin Orange Ambrosia Salad
Ambrosia Salad is an Easter classic! I doubled up the mandarin oranges because there are never enough, right? This dreamy creamy fruit salad is kind of hard to stop eating.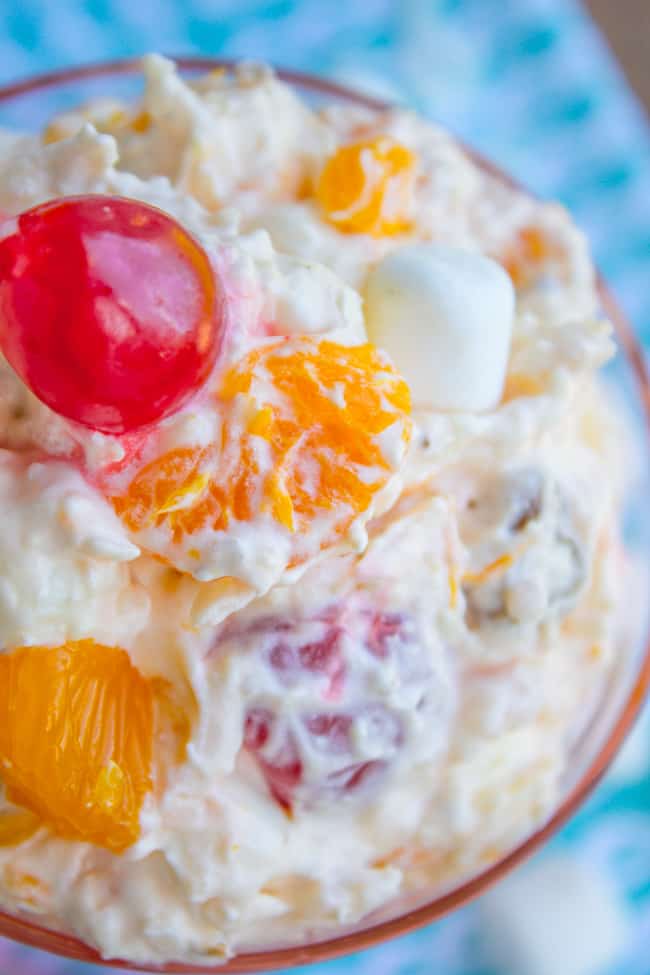 Today Charlotte was taking a survey of everyone in the house. Not to brag or anything, but Charlotte just turned 6 and can read and write with ridiculous proficiency. (Okay so that's totally bragging, sorrynotsorry.)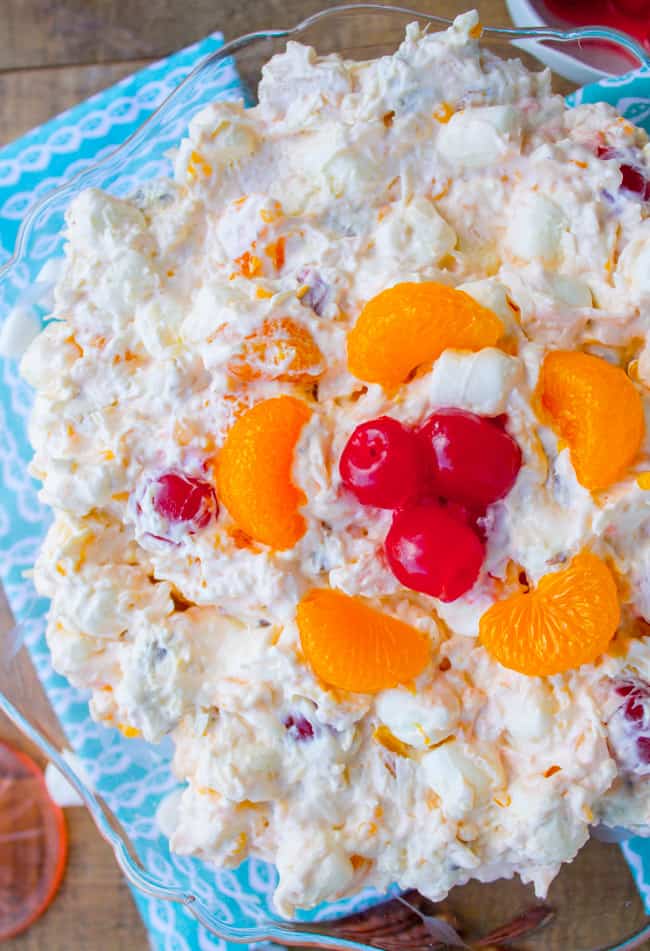 She asked Dieter, a friend who was over playing, (he's 4) whether he would like to A) Visit 100 years in the past or B) Visit 100 years in the future?
Dieter: Past
Charlotte: But Dieter. The future hasn't happened yet!
Dieter: I want past.
Charlotte: But the past already happened. The future is what WILL happen. In the future!
Dieter: So wait, what happened in the future?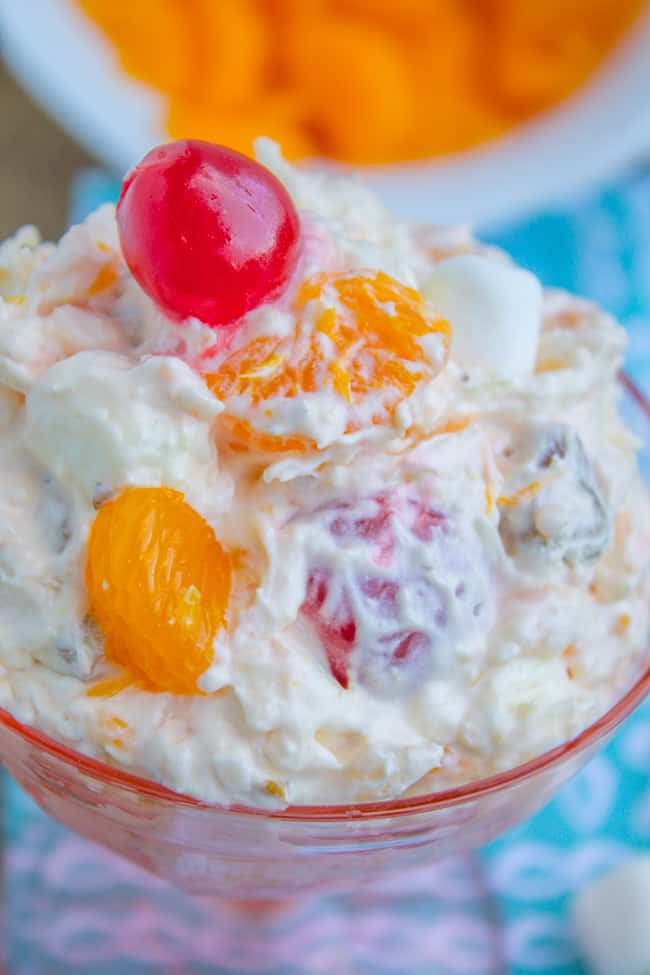 I've never seen Charlotte be so adorably exasperated. So what would you pick?? Past or future? Eric pointed out that if you went back 100 years ago to 1917 you might catch the Spanish Influenza. No thanks. What if technology moves forward as fast as it did in the last 100 years? FLYING CARS?? I feel like my imagination is being pretty dull here. A CLOTHES-FOLDING MACHINE? Now we're talkin.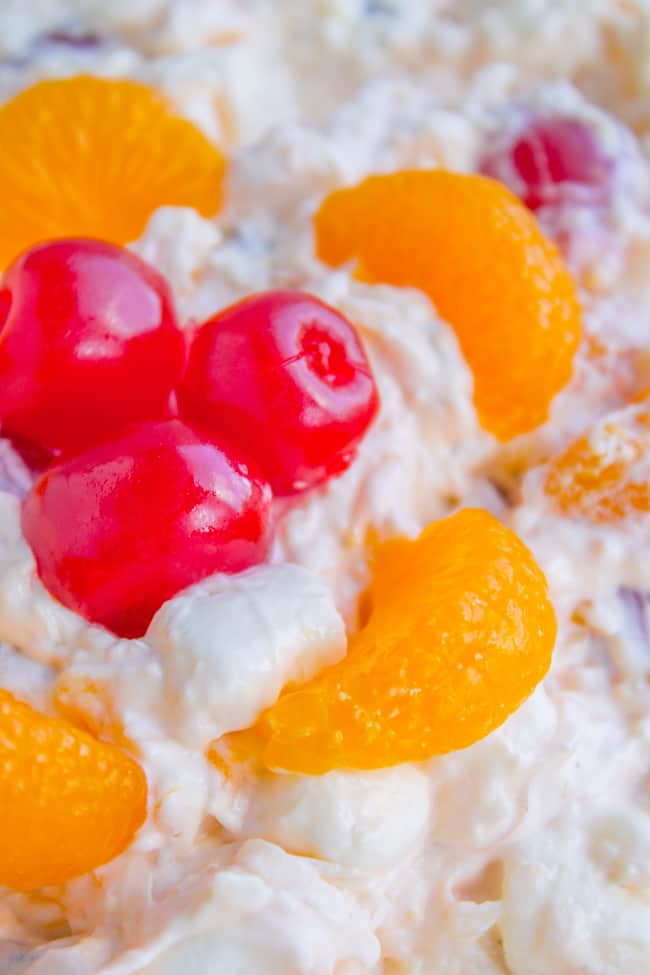 In the future I bet they will still have Ambrosia. This recipe will last through the ages if you ask me. Did you grow up eating this salad at Easter? I didn't, we always had Sea Foam Salad, another grandmother-era classic. But I'm a solid convert. I asked a few of my friends a while back what sides they have at Easter and they mentioned Ambrosia. I decided I needed to see what all the fuss was about. Then I ate half the bowl and skipped dinner that night.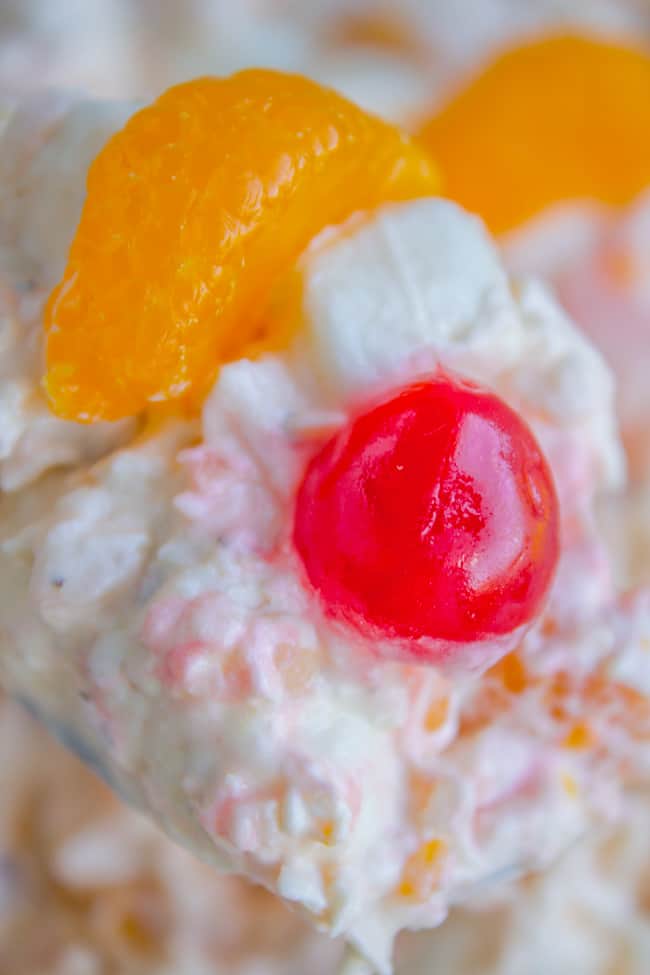 I really never would have thought that mixing together some creamy stuff with fruit, coconut, nuts, and marshmallows (of all things) would get this kind of result, but I'm telling you, this stuff is delicious. It is the perfect quick side dish for Easter!
If you would like some more Easter ideas, check out all my Easter-ish recipes here on the blog. I also have an Easter Pinterest board you could take a look at!
Facebook | Pinterest | Instagram | Twitter
One year ago: Tropical Mango Coconut Granola
Three years ago: Nutella Stuffed Brown Butter Blondies 
Five years ago: Mashed Potatoes (from heaven)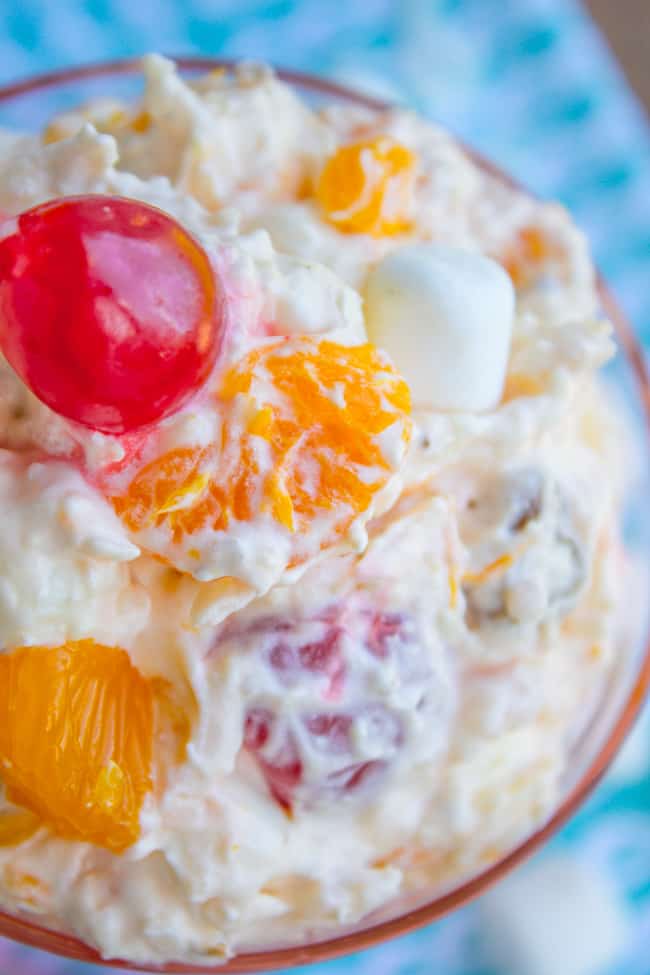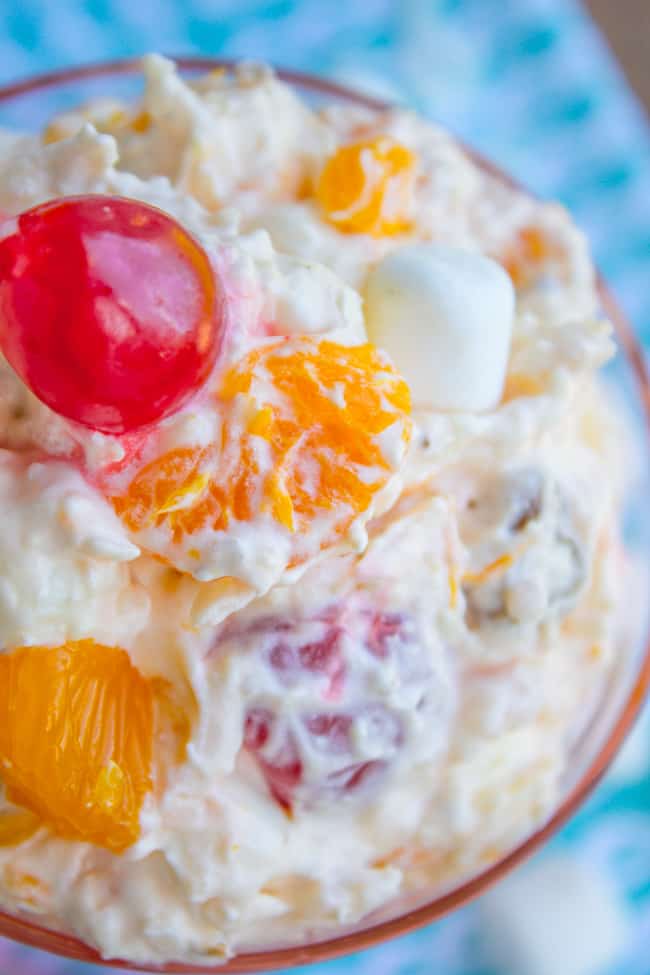 print
Did you make this recipe?
Leave a review »
Mandarin Orange Ambrosia Salad
Serves 8-10
adjust servings
Ingredients
1 8-ounce

tub cool whip, regular or lite (thawed)

1/4

cup milk

1/2

cup sour cream

1

(3.4 ounce) instant vanilla pudding mix* (goes in the salad as dry powder)

1

cup sweetened shredded coconut

1

cup chopped nuts (I used walnuts. Pecans are good too.)

2

cups mini marshmallows

2

(15-ounce) cans mandarin oranges, drained well

8

ounce can crushed pineapple, slightly drained (reserve juice)

14

ounce jar maraschino cherries, drained well
Instructions
In a large bowl, add cool whip, milk, sour cream, and pudding mix.
Add the coconut, nuts, and marshmallows. Stir well.
Add the mandarin oranges, crushed pineapple, and cherries. Gently fold in the fruit.
Add some of the reserved pineapple juice if it seems thick. (This is just personal preference)
Serve immediately. Or cover and chill until you are ready to serve. You can make it up to 24 hours in advance.
by The Food Charlatan

If you make this recipe,
share it on Instagram
 using the hashtag
#TheFoodCharlatan
so I can see it!
More Easter sides you can make this year!
Sea Foam Salad (Creamy Pear Jello) << classic!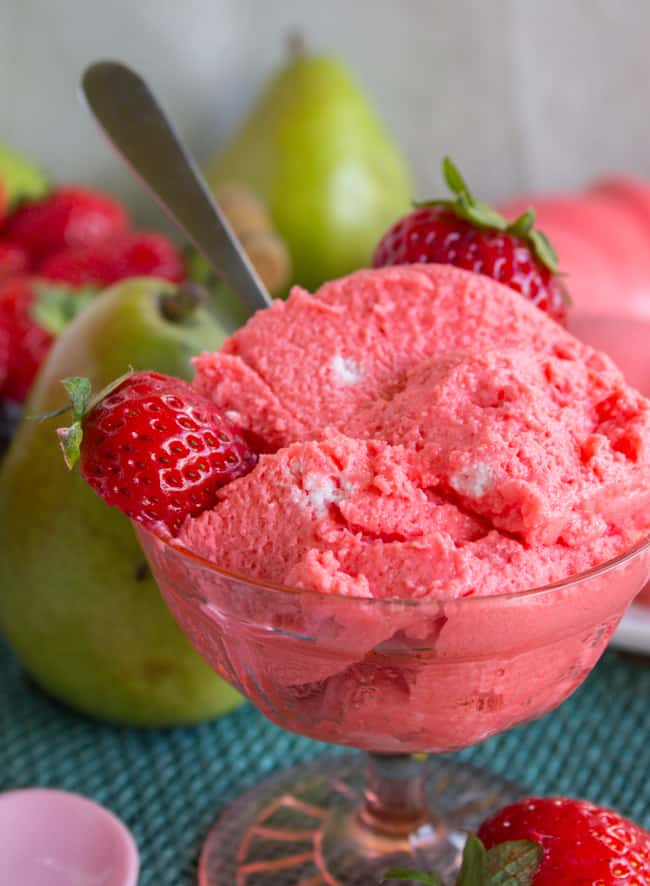 Creamy Strawberry Banana Jello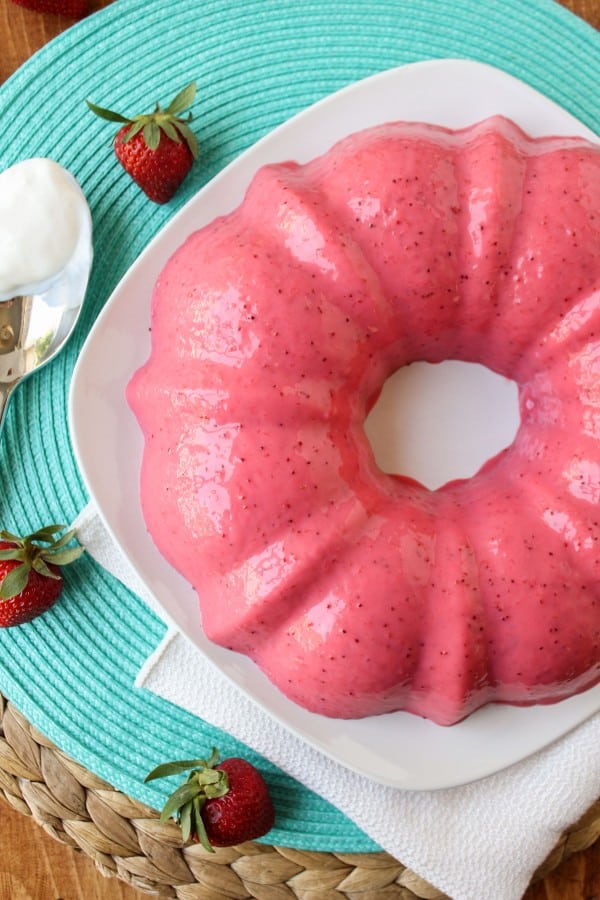 Coca-Cola Jello Salad with Cherries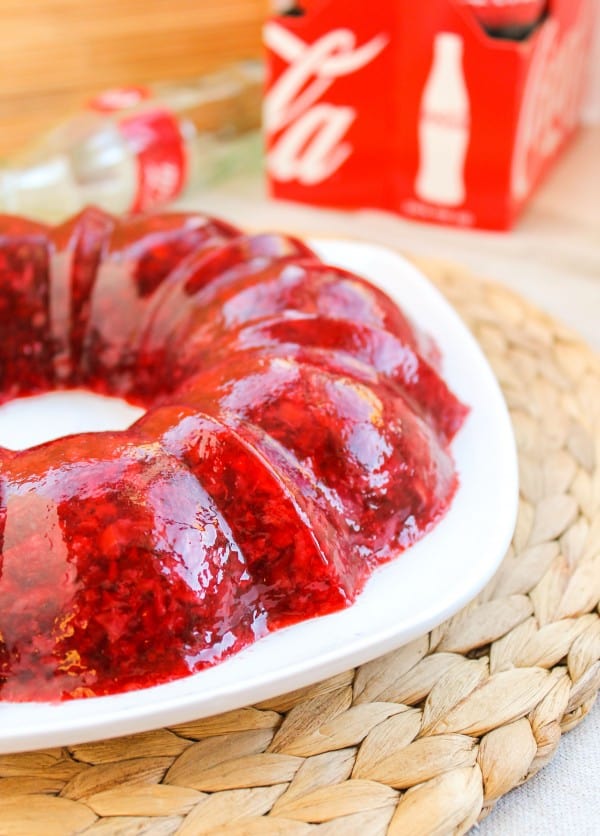 More Ambrosia recipes:
Ambrosia Salad from Mom on Timeout << Trish is the QUEEN of fluff recipes like this.
My Favorite Ambrosia from FoodieCrush
Ambrosia Cupcakes << whaaaat!!!
We are a participant in the Amazon Services LLC Associates Program, an affiliate advertising program designed to provide a means for us to earn fees by linking to Amazon.com and affiliated sites.