These chocolate cheesecake cupcakes are decadently moist. They are the perfect Valentine's Day cupcake! Everyone will love you. No dry center for sure, because you have a CHEESECAKE center. And THEN, you cut a heart out of the top and spoon in cherry pie filling. Dry cupcakes, be gone!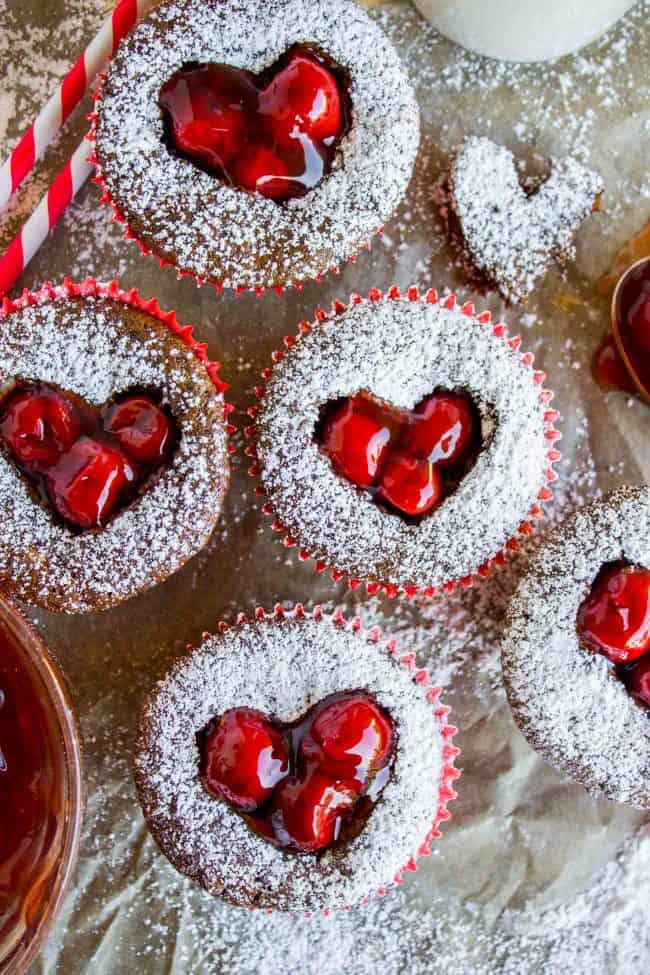 Originally Published February 13, 2018
How are you guys?? How's February? Ready for the most important holiday of the year, the one that you saw on the shelf at Target literally the day after Christmas?? *eye rollll*
I think that my level of enthusiasm about Valentine's Day is like a solid 5 out of 10. I don't hate it! But I also don't have a billion heart and sprinkles recipes like some other bloggers. My gift expectations are pretty low. I would definitely rather eat a regular pan of Browned Butter Brownies than bake cookies with red and pink Valentine's M&Ms in them. (I mean, right?)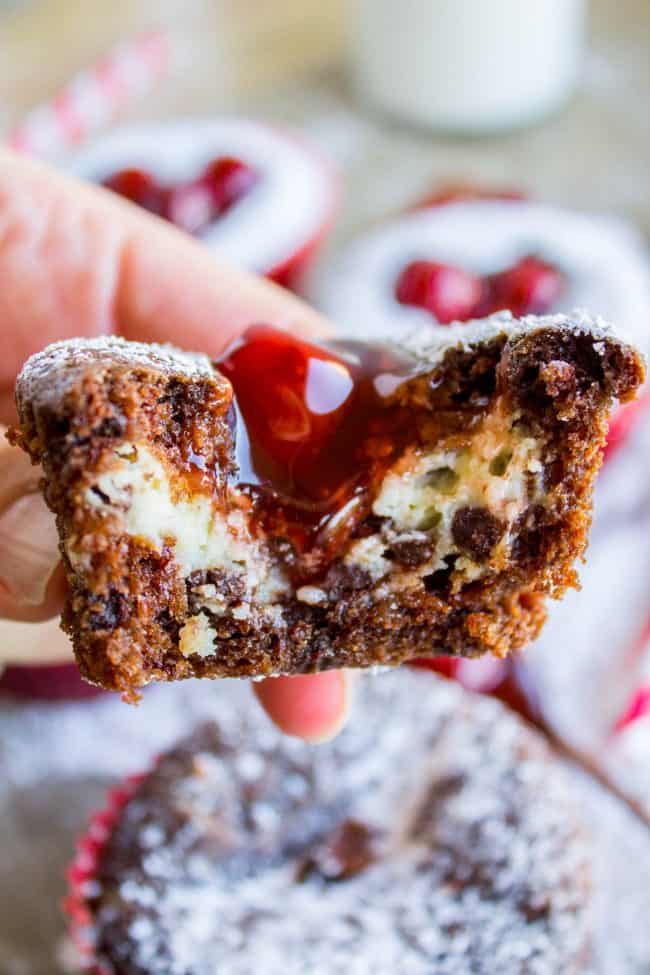 Then again. I do have a daughter named Valentine. So take all this with a grain of salt! In my defense, we didn't name her after the holiday, it's a family name. In the book Ender's Game by Orson Scott Card, the main character's sister is named Valentine. She is the one who helps Ender remember his humanity. That was actually the original inspiration for the name. (Don't tell Nana. She thinks it's because it was her mom's middle name. shhh) If you haven't read Ender's Game by the way, you should! It's a huge favorite around here obviously.
Stay-at-home Valentine's Day dinner ideas
Do you guys go out for Valentine's Day? We rarely do, especially now with the kids. We prefer to eat at home and then have a date night either the weekend before or after. Here are some simple and classy dinners you can make at home if you're dining in this year:
Prosciutto Wrapped Chicken with Asparagus
Asian Seared Chicken with Stir-Fried Green Beans
Green Salad with Feta and Beets (The Fanciest No-Chop Salad EVER) <seriously my favorite salad. I hate chopping.
Pan-Seared Chicken and Broccolini in Creamy Mustard Sauce
Brown Butter Gnocchi with Asparagus and Prosciutto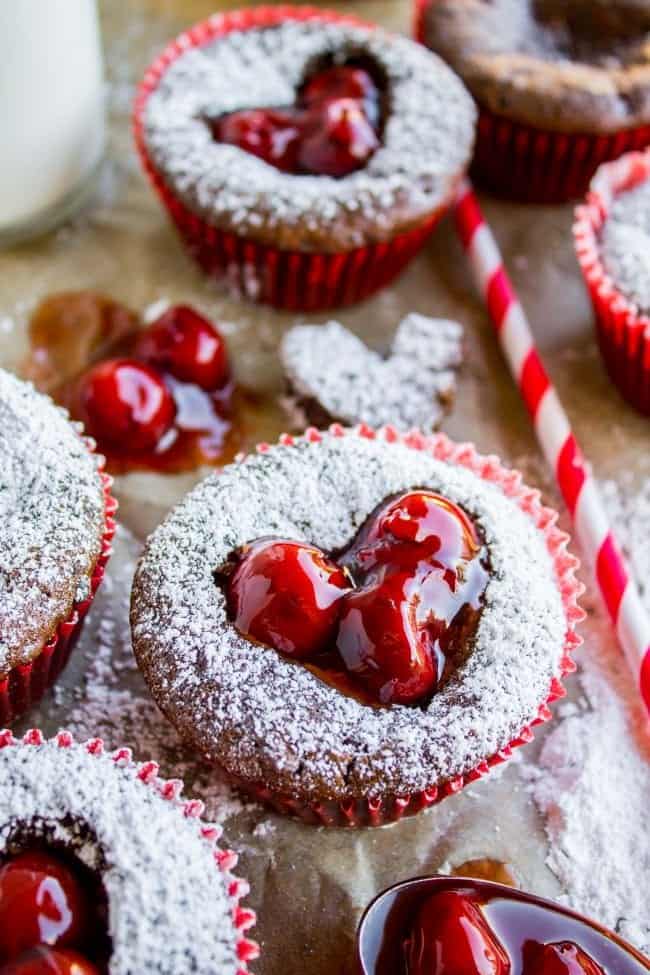 Valentine's Day Cupcakes!
Today's recipe is DEFINITELY what you should make for dessert!! The cherry heart filling kind of melts my scrooge heart a little bit. They are incredibly moist and the cherry filling puts them over the top! They are probably my new favorite thing, and I am not a cupcake person really. (Proof is in the pudding: there are very few cupcakes on my blog considering the fact that I have over 650 recipes on this site.)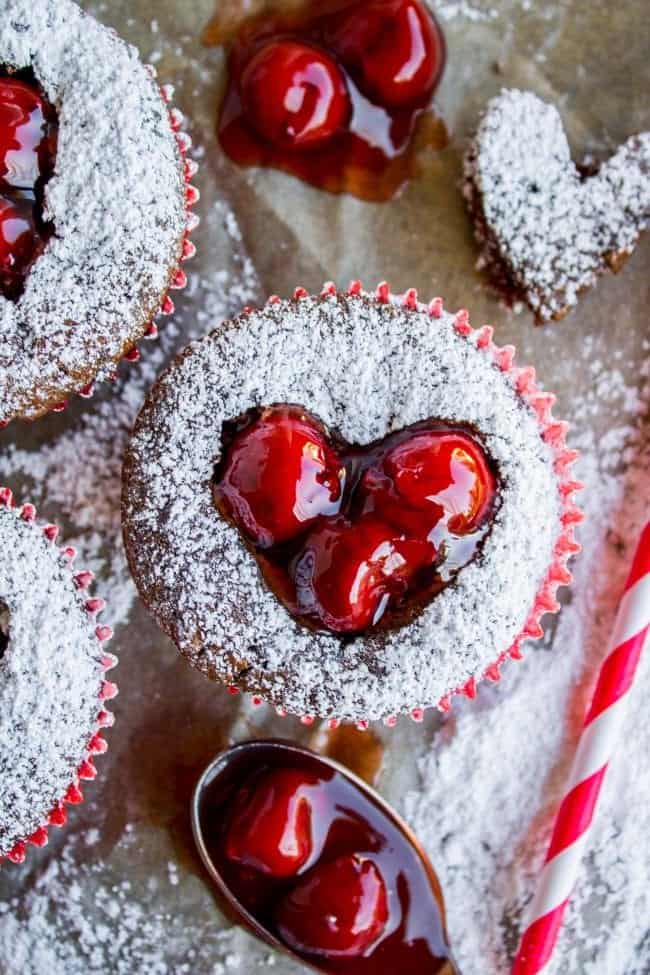 The fact that the cherry heart makes them adorable and festive for Valentine's Day is just icing on the cake…although there is no icing on this cake. Ha. I promise you don't miss it. Did I mention the CHEESECAKE centers??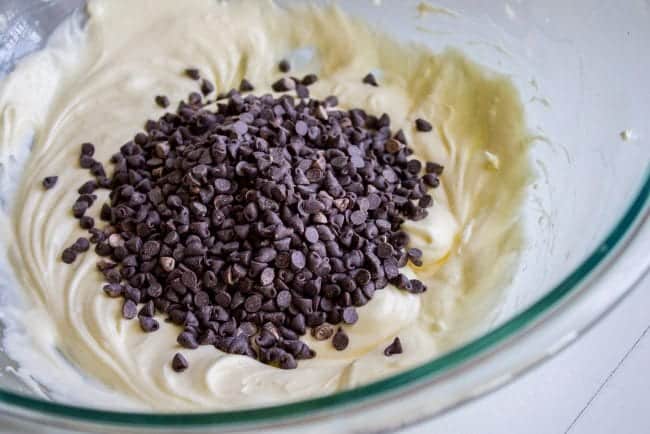 My main beef with cupcakes is that they are so dryyyyyy. Biting into a dry cupcake is just the worst, ugh. But these ones by definition CAN'T be dry (Even if you accidentally over bake!) because the center is cheesecake. Then there's the cherry pie filling on top of that. YUM!
How to make super moist Chocolate Cheesecake Cupcakes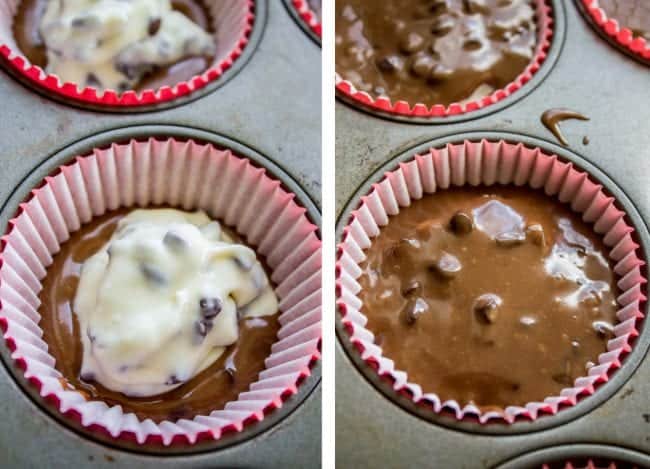 So, here's how you do it. Make the cupcake batter (which uses vinegar instead of eggs, so weird, but I swear it works fabulously. My girl Courtney over at Neighborfood has a Chocolate Crazy Cake with Caramel Frosting using the same method. (<<that caramel frosting is bomb, btw.) Then you make a really simple cream cheese filling with mini chocolate chips. Add some batter to a cupcake liner, then the cheesecake filling, then more batter, bake, and voila! Gorgeous cheesecake filled cupcakes.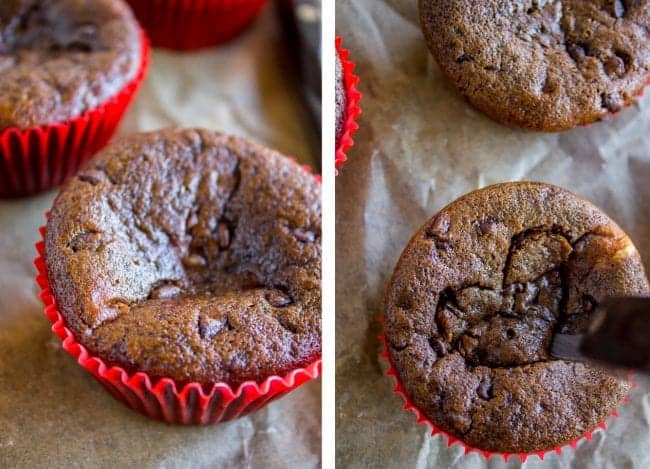 (These cheesecake cupcakes sink every time. I don't care because I always either frost them or cut out the center for a filling. The batter is missing eggs, after all. They are so fudgy you won't care.)
Things get even better when we cut a heart out of the center and fill it with cherry pie filling. I promise you won't miss the frosting. What is it about chocolate and cherry together? They were just meant to be.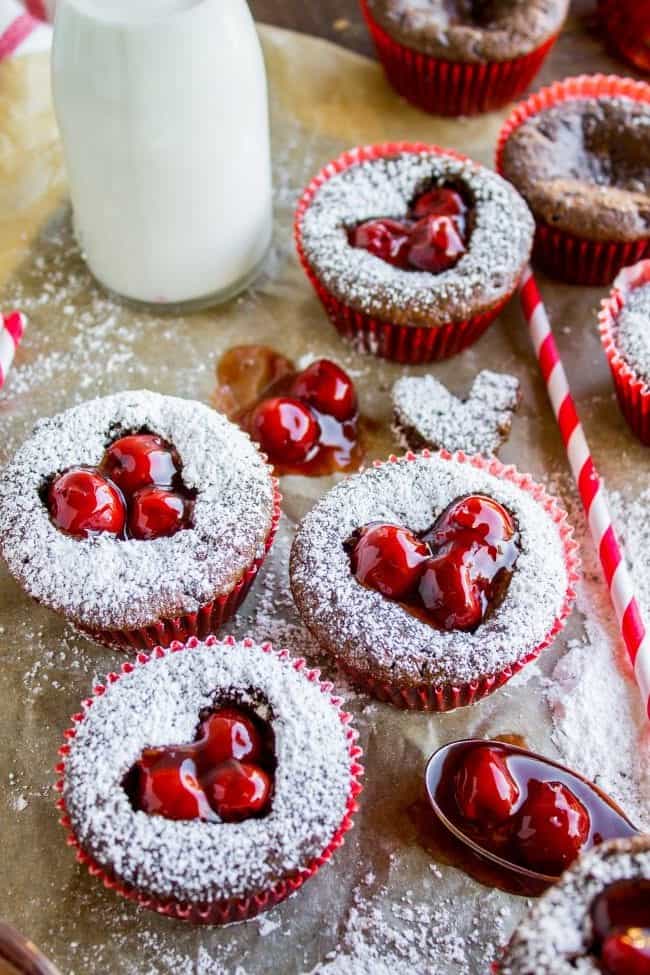 I got the idea for the heart cut out with cherries from Erin at the Lemon Sugar blog. Hers is a different recipe called Cherry Cordial Cupcakes that has a ganache and cherry cordial filling! They sound amazing. (Erin is the queen of cherry apparently, check out these Easy Cherry Turnovers!) My friend Glory at Glorious Treats also has a recipe kind of like this with the cut out hearts except she uses frosting. Super cute!
It's really not hard to cut out the hearts. I just used a paring knife. I'm the girl whose hearts always look like mini butts when I draw them on paper. Somehow the cupcakes turned out looking like hearts and not butts, so if I can do it you can too!
I hope you all have a Happy Valentine's Day filled with lots of love and cheesecake centers!
Facebook | Pinterest | Instagram | Twitter
One year ago: Nana's Famous Fudge Brownies
Two years ago: Nutella and Banana Stuffed Crescent Rolls
Six years ago: Chocolate Cake with Peanut Butter Frosting

Cheesecake Filled Chocolate Cupcakes with Cherry Hearts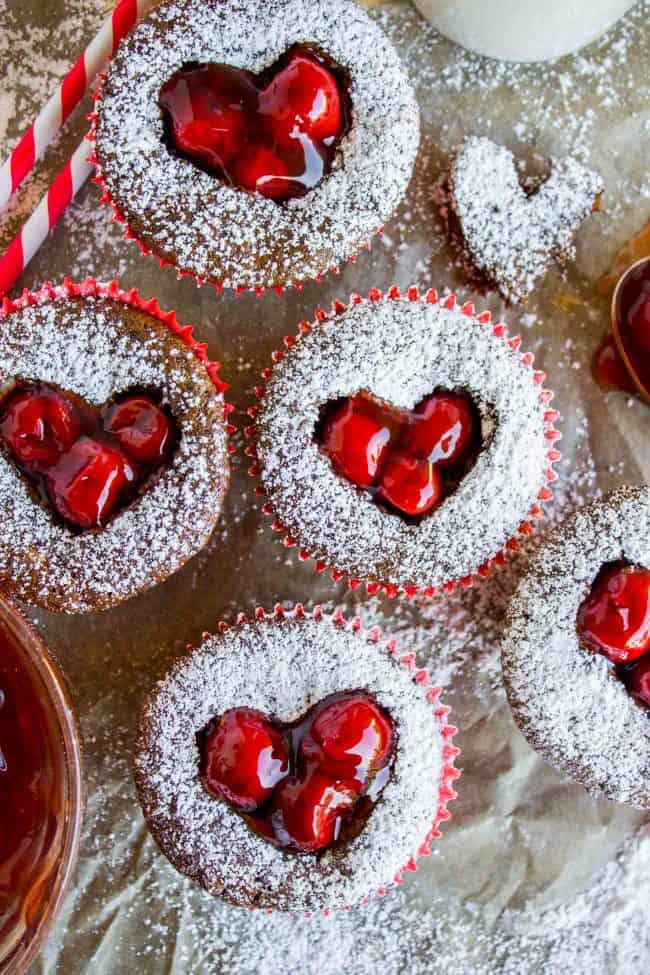 Picture this: a decadently moist chocolate cupcake. No dry center for sure, because you have a CHEESECAKE center. And THEN, you cut a heart out of the top and spoon in cherry pie filling. Dry cupcakes, be gone! These are just perfect for Valentine's Day! Everyone will love you. 
Ingredients
For the cheesecake filling
1 (8-oz)

package

cream cheese

,

softened

1

egg

1/3

cup

granulated sugar

pinch

salt

6

ounces

mini chocolate chips

,

from a 10 ounce package
For the cupcakes
1

cup

granulated sugar

1 & 1/2

cups

all purpose flour

1/4

cup

cocoa powder

1

teaspoon

baking soda

1/2

teaspoon

salt

1/2

cup

water

1/2

cup

vegetable oil

1/2

cup

sour cream

1

tablespoon

white vinegar

1

teaspoon

vanilla extract

4

ounces

mini chocolate chips

,

from a 10 ounce bag
powdered sugar

,

to dust with

1

can

cherry pie filling
Instructions
Preheat your oven to 350 degrees F.

Start by making the filling. In a stand mixer or large bowl, beat the cream cheese until it is smooth and there are no lumps. Add 1 egg, 1/3 cup sugar, and a pinch of salt. Fold in 6 ounces of the mini chocolate chips. (A little more than half the bag, no need to measure). Scrape the mixture into another bowl.

Add 1 cup sugar, flour, cocoa, baking soda, and salt to the empty bowl (no need to wash). Whisk to combine. Then add the water, oil, sour cream, vinegar, and vanilla.

Beat until combined, then fold in the remaining 4 ounces of mini chocolate chips.

Line about 20 cupcake tins with paper liners (try these heart themed liners!). Add 1 tablespoon of the cupcake batter to each one.

Add one tablespoon of cheesecake filling on top of the cupcake batter.

Divide the remaining batter between the cupcakes. Try to make sure the cheesecake is covered, but it's not the end of the world if some is peeking out.

Bake at 350 for about 19-23 minutes, or until a toothpick inserted into the cake part comes out clean. Be sure to check in multiple cupcakes, as the chocolate chips can make the toothpick look wet even when the cupcake is done baking.

Let cool completely on a wire rack. I stuck mine in the freezer for about 20 minutes.

Open the can of cherry pie filling.

Use a paring knife to cut hearts about 1/2 to 1 inch deep in the cupcakes. Scoop out the heart, try not to eat all 20 at once.

Use a sifter to dust the cupcakes with powdered sugar.

Use a small spoon to fill the heart centers with cherry pie filling. I like to add 3 cherries per cupcake.

Eat right away! Store leftovers tightly sealed in the fridge.
Nutrition
Serving:
1
cupcake
|
Calories:
295
kcal
|
Carbohydrates:
40
g
|
Protein:
3
g
|
Fat:
14
g
|
Saturated Fat:
6
g
|
Polyunsaturated Fat:
3
g
|
Monounsaturated Fat:
3
g
|
Trans Fat:
1
g
|
Cholesterol:
26
mg
|
Sodium:
175
mg
|
Potassium:
85
mg
|
Fiber:
1
g
|
Sugar:
23
g
|
Vitamin A:
292
IU
|
Vitamin C:
1
mg
|
Calcium:
42
mg
|
Iron:
1
mg
Other recipes you will LOVE!
These are the original Cream Cheese Chocolate Cupcakes that I barely adapted for today's recipe (aka Black Bottom Cupcakes). Minus the cherries and plus cream cheese frosting. Over the top? YES. No apologies.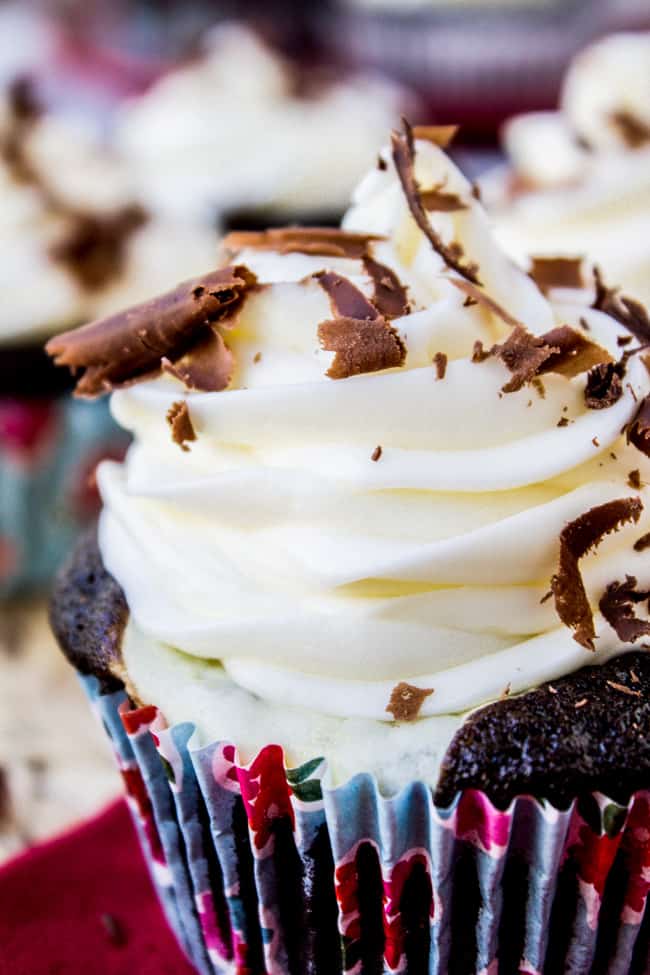 Strawberry Truffle Cake << this cake involves making a box mix and then SMASHING it together with some frosting. It's super fun. And decadent.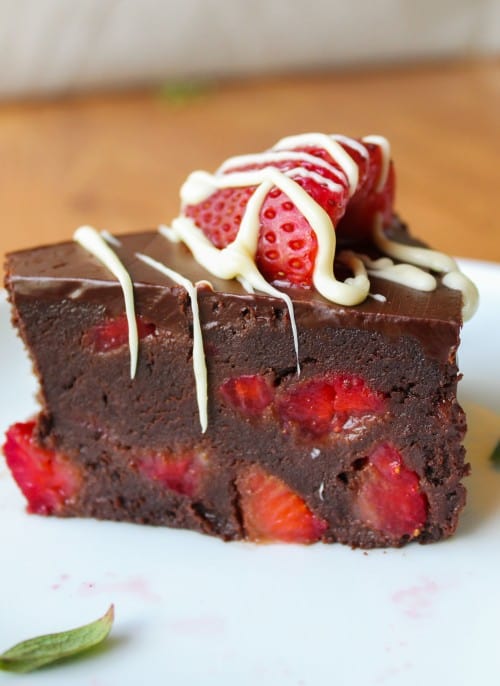 Coconut Frosted Sugar Cookies with Strawberry Hearts << these are SO SO good. Try them!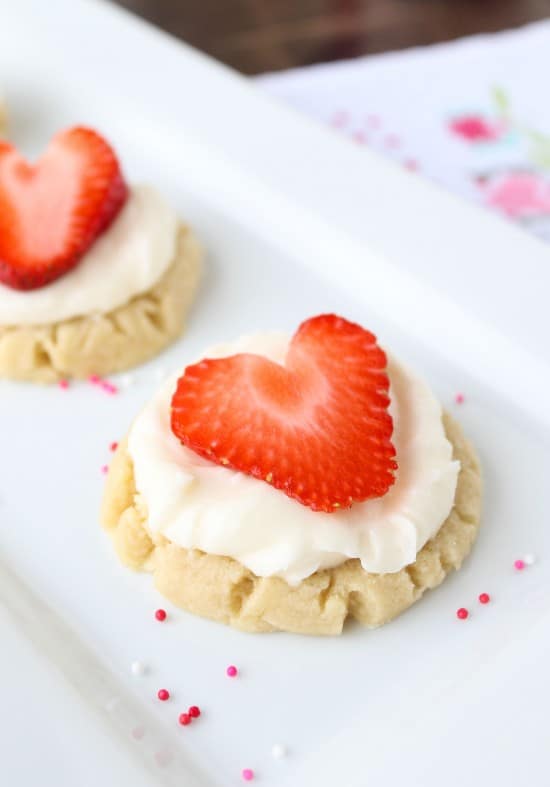 Chocolate Cherry Sheet Cake with Fudge Frosting << this cake is super duper easy.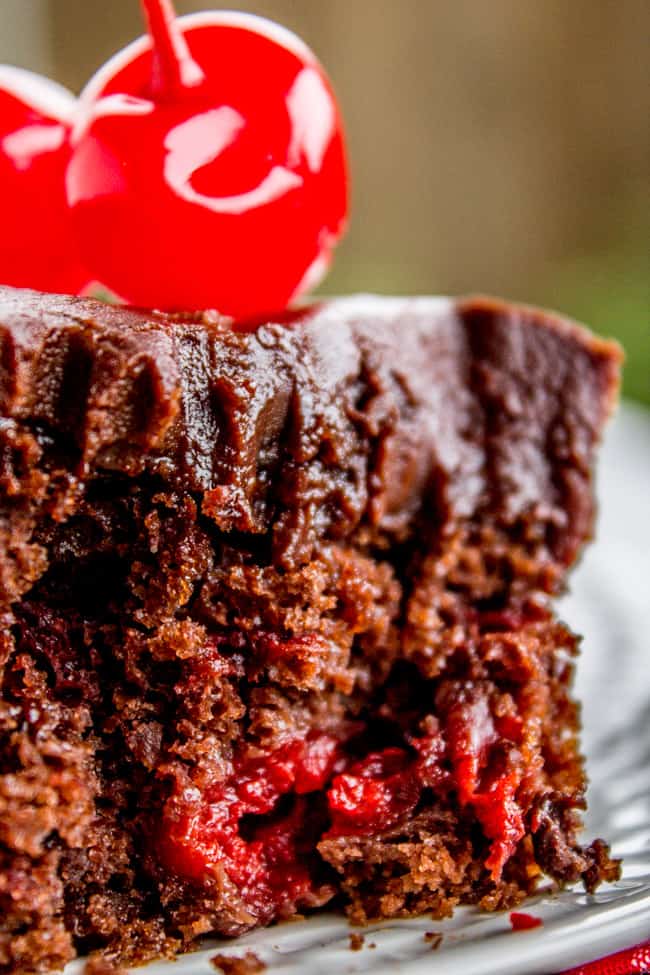 Other chocolate cherry desserts that would be perfect for Valentine's Day!
Chewy Chocolate Cherry Cookies from Mom on Timeout
Cherry Chocolate Chip Cake from Eats Well with Others
Sweetheart Cupcakes from Glorious Treats
Cherry Coke Float Cupcakes from Coco Bean