This Asian seared Chicken and Green Beans recipe has the marinade and method to get you the most tender chicken of your life! And also the crispiest skin. Stir fry the green beans in a quick sauce and you are on your way to an amazing low-carb meal!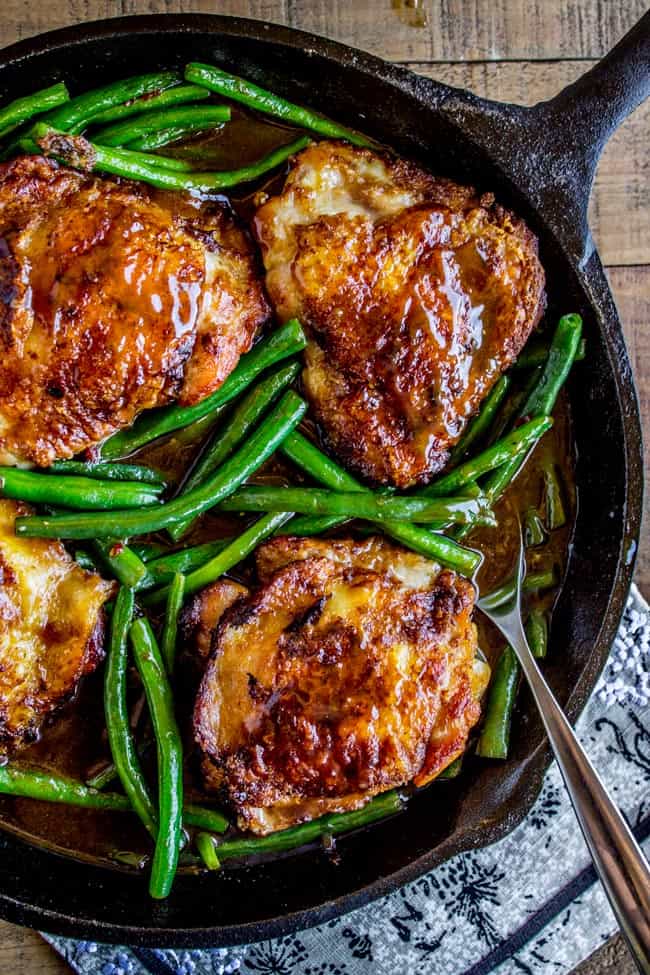 Originally Posted February 14, 2017
Truman just learned to potty train (hallelujah) and is now wearing underwear, but he keeps putting it on backwards because the cool pictures of stormtroopers are always on the back and he wants to see them. I explained to him this morning that he can tell where the front of his underwear is because there's this cool pocket for…well I won't go into detail, you know what the pocket is for.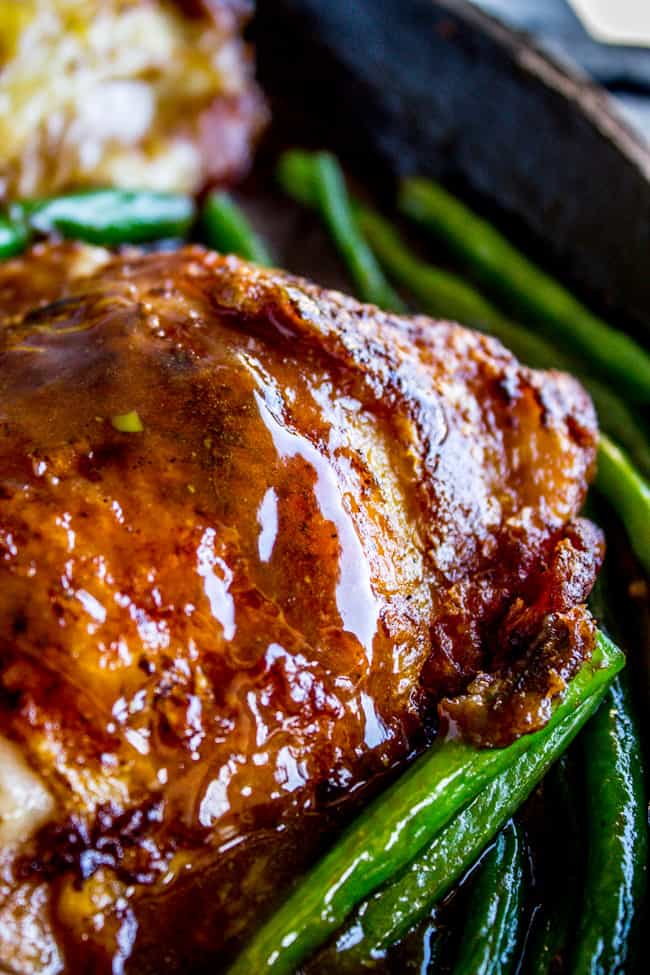 But I forgot that Truman is obsessed with pockets. I already have to check every single shirt and pants pocket when doing laundry to make sure there are no broken crayons hidden away.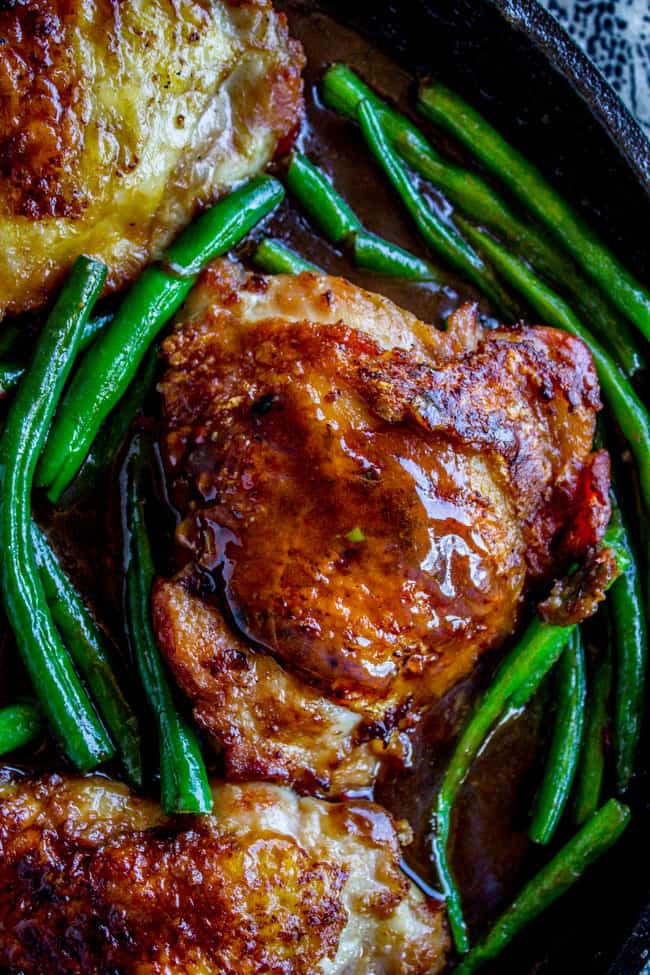 He just came up to me and said "MOM I FOUND A QUARTER! I put it in my pocket lemme show you." and reaches his hand down…down…down…
And now I'm just thinking, who even cares if his underwear is backward?? What have I done??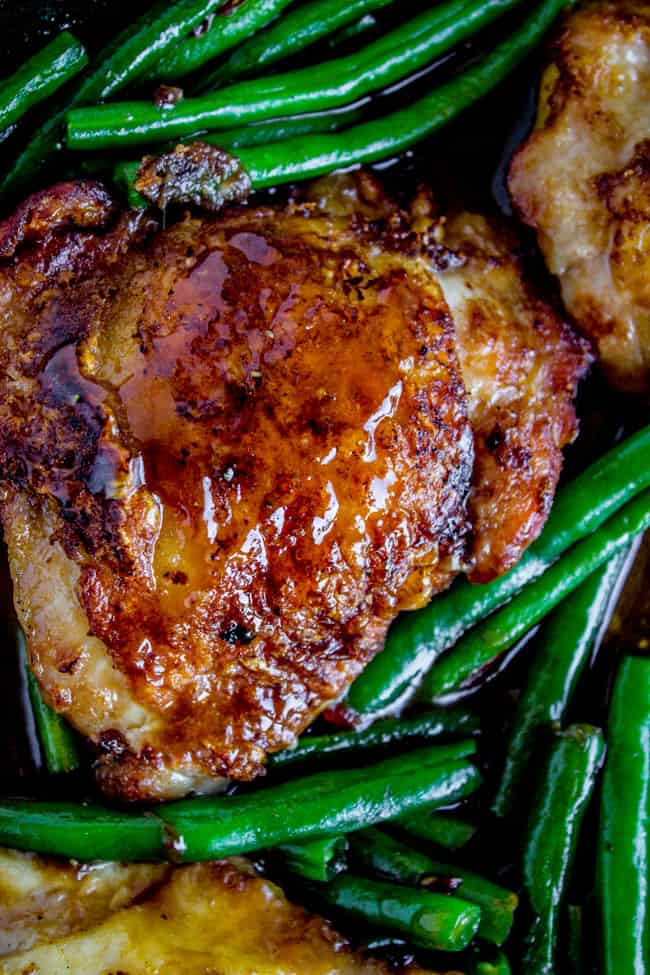 Happy Valentine's Day, by the way! But is anyone else feeling like lately just LOOKING at all those red frosted sugar cookies at the grocery store puts an extra pound on your hips? Maybe it's just the baby pounds talking. But these days I'm in the mood for some low carb protein and veggies.
How to make Asian Seared Chicken and Green Beans
Have you ever made orange chicken? Or any Asian marinated-then-fried meat? Recipes often call for baking soda, and at first I thought that was so weird. But it acts as a meat tenderizer and makes the chicken taste SO GOOD. When you are searing it it gets all foamy and reactive-looking. And it makes the chicken skin SUPER crispy. If you thought you didn't like skin-on chicken…you were wrong. This stuff is amazing.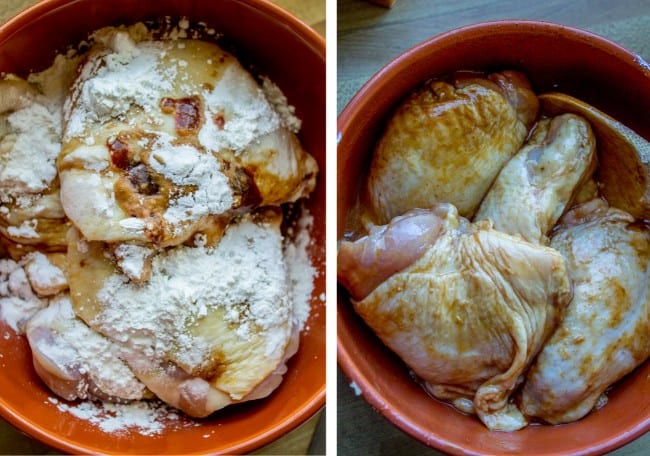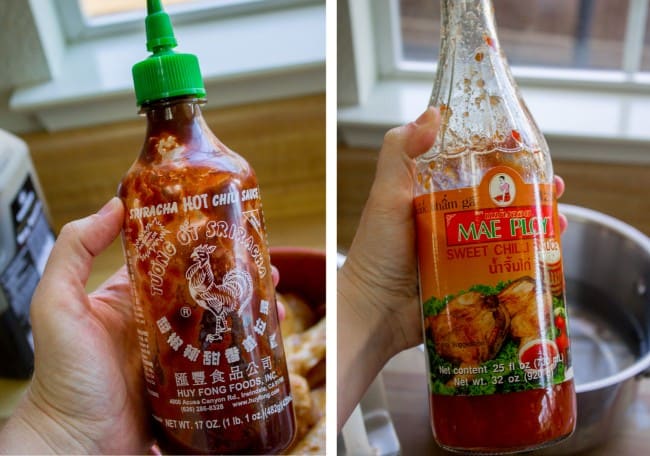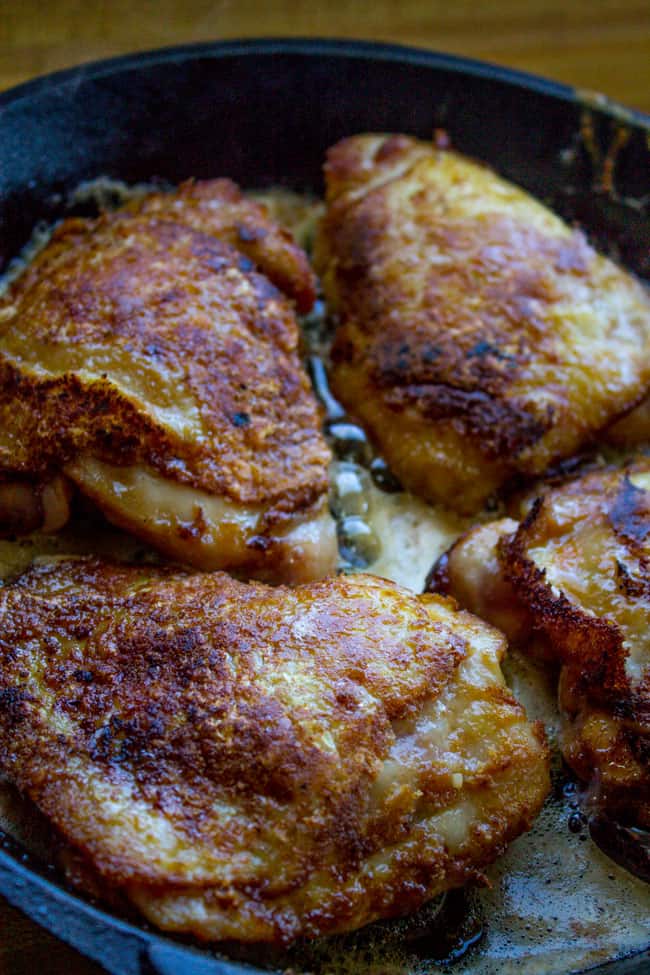 The green beans and sauce are killer too. Do a quick blanch to get them nice and tender, a 1 minute saute, and then finish in the sauce. This recipe is super easy and soooo delicious. The sauce is boss. It is full of flavor and has a little heat but nothing crazy. All ingredients are easy to find in the Asian section of the grocery store.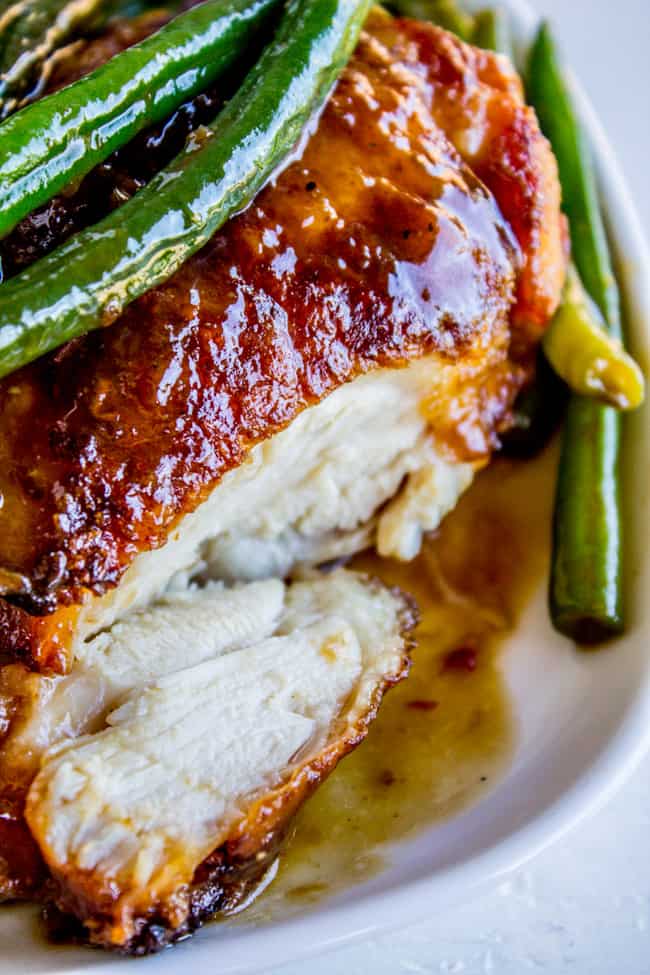 We ate this with brown rice (recipe coming soon hopefully! I made it in my pressure cooker!! (UPDATE: here's the link for How to Make Instant Pot Brown Rice) but I think it would also be amazing with Asian Cauliflower "Rice" or Coconut Jasmine Rice with Cilantro.
If you make any of my recipes, be sure to share them on Instagram using the hashtag #TheFoodCharlatan so I can see it! I love that.
What to serve with Asian Chicken and Green Beans
More recipes you will love!
Facebook | Pinterest | Instagram

Asian Seared Chicken with Stir Fried Green Beans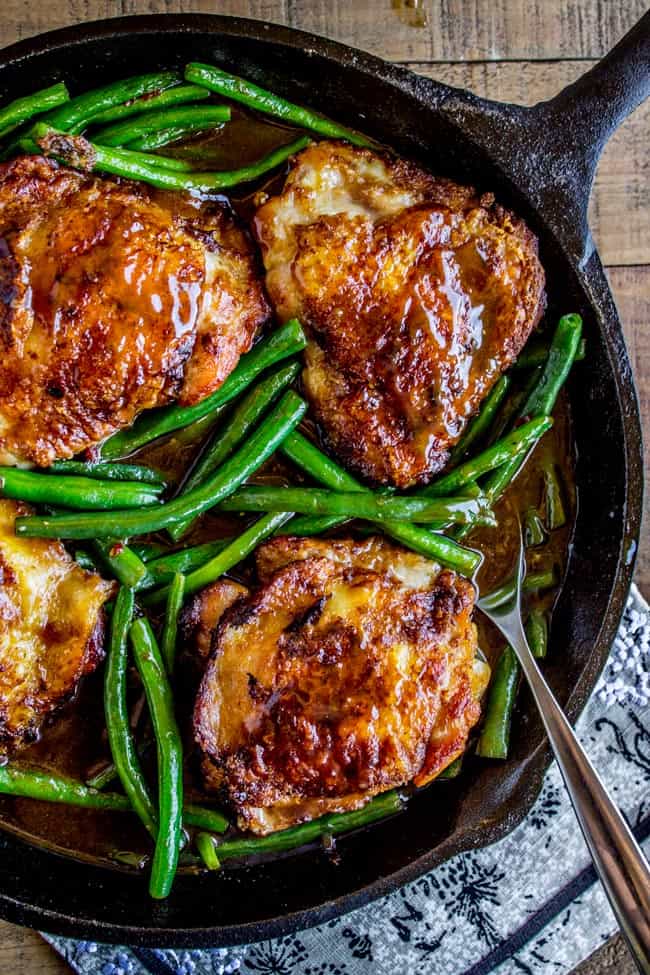 This Asian seared Chicken and Green Beans recipe has the marinade and method to get you the most tender chicken of your life! And also the crispiest skin. Stir fry the green beans in a quick sauce and you are on your way to an amazing low-carb meal!
Ingredients
4

chicken thighs

,

skin-on bone-in, about 1 to 1 and 1/4 lbs

2

tablespoons

sesame oil

1 & 1/2

teaspoons

baking soda

2 & 1/2

teaspoons

cornstarch

2

teaspoons

soy sauce

1

teaspoon

sriracha hot sauce

salt

,

to sprinkle on chicken

1

tablespoon

sesame oil

1

pound

green beans

,

washed and trimmed

1

cup

chicken

,

or vegetable broth

3

tablespoons

soy sauce

2

tablespoon

Thai sweet chili

1

tablespoon

sesame oil

4

teaspoons

cornstarch
Instructions
Trim the fat and excess skin from each chicken thigh.

In a medium bowl, combine raw chicken, 2 tablespoons sesame oil, baking soda, cornstarch, soy sauce, and sriracha. You will feel weird dumping dry cornstarch on your chicken. Just do it. Mix it up and it will come together I promise.

Let the chicken marinate in the fridge for about an hour. 15 minutes will do it too. Longer is better but don't stress about it.

Preheat your oven to 400 degrees F. Spray a small casserole dish (big enough to lay each piece of chicken flat) with nonstick spray.

Heat a dry

12-inch skillet

on medium high heat. Salt the tops (skin side) of each chicken thigh.

Add 1 tablespoon sesame oil to the hot skillet. When it shimmers (if your pan is hot, this will happen right away. Don't let it smoke.) swirl the oil around and then add the chicken, skin side down. Leave as much space in between each thigh as you can.

Sear for 2-3 minutes. Keep an eye on it. Salt the side of the chicken that's facing up. When the bottom is brown and nice and crispy looking, use tongs to flip the chicken. (Discard excess marinade)

Sear for another 1-3 minutes until browned.

Turn off the heat and remove the chicken to the prepared casserole dish. Set aside the dirty skillet, don't clean it.

Bake the chicken in the oven at 400 for about 20 minutes, or until a meat thermometer reads 165 degrees. (If your chicken is done before you're done with the green beans, turn off the oven for a few minutes, then turn the oven to 170 degrees ("keep warm" setting) and put the chicken back in the oven to keep it from getting cold.

Meanwhile, wash and trim the green beans.

Prepare the sauce: in a measuring cup, combine 1 cup COLD* chicken broth, 3 tablespoons soy sauce, Thai sweet chili sauce, 1 tablespoon sesame oil. Whisk in the 4 teaspoons cornstarch. Set aside.

When the chicken is done or almost done, blanch the green beans: boil a medium pot of water on high heat (like 8 ish cups of water) with 1 tablespoon of salt. When the water is at a rolling boil, add the green beans all at once and cover immediately with a lid. Leave the heat on high. Set a timer for 2 minutes.

Heat the skillet (that you seared the chicken in) on medium high heat. If there is plenty of oil leftover, great, if not, add 1 teaspoon olive or sesame oil.

Drain the beans after 2 minutes, and immediately dump them into the hot skillet. Be careful, oil may splatter.

Saute for 1 minute.

Add the sauce you prepared.

Bring the sauce to a boil over medium high heat. When it is bubbling and thickened and the green beans are crisp-tender, add the chicken and turn off the heat.
Notes
*Whenever you mix cornstarch into liquid, the liquid MUST be cold, otherwise the cornstarch will clump up and be gross (and not thicken your sauce.)
Sesame oil, Sriracha, and Thai sweet chili sauce can all be found in the Asian section of the grocery store. All of the items are linked up above so you can see what they look like.
I came up with this recipe by combining elements of this stir fry recipe from Williams Sonoma with this stir fry recipe from Mel's Kitchen Cafe.
Nutrition
Serving:
1
chicken thigh
|
Calories:
475
kcal
|
Carbohydrates:
16
g
|
Protein:
25
g
|
Fat:
35
g
|
Saturated Fat:
8
g
|
Polyunsaturated Fat:
10
g
|
Monounsaturated Fat:
14
g
|
Trans Fat:
1
g
|
Cholesterol:
121
mg
|
Sodium:
1547
mg
|
Potassium:
533
mg
|
Fiber:
3
g
|
Sugar:
8
g
|
Vitamin A:
891
IU
|
Vitamin C:
15
mg
|
Calcium:
56
mg
|
Iron:
2
mg