These classic pumpkin bars are made in a sheet pan and covered in delicious cream cheese frosting. Don't forget the cinnamon Red Hots to go on top!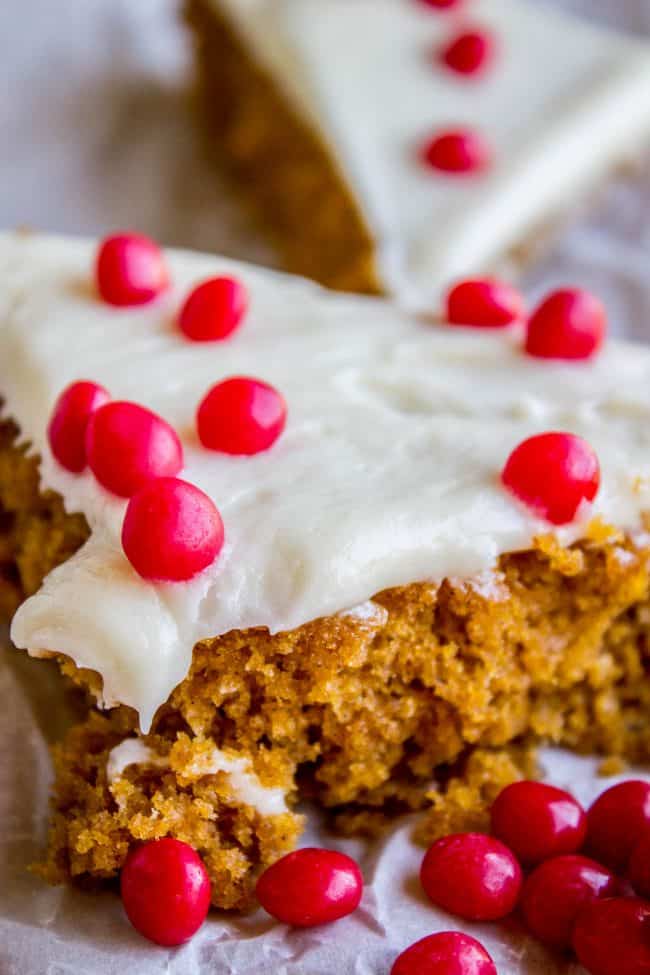 Me, during dinner tonight, to my unruly children: "Charlotte! Truman! Stop looking at each other! Stop having fun!"
It's moments like these that make you just so sentimental about being a mom, right? In my defense, there was not nearly enough green-bean-eating going on, and way too much fork stabbing. (Are my kids the only ones who use forks as weapons??)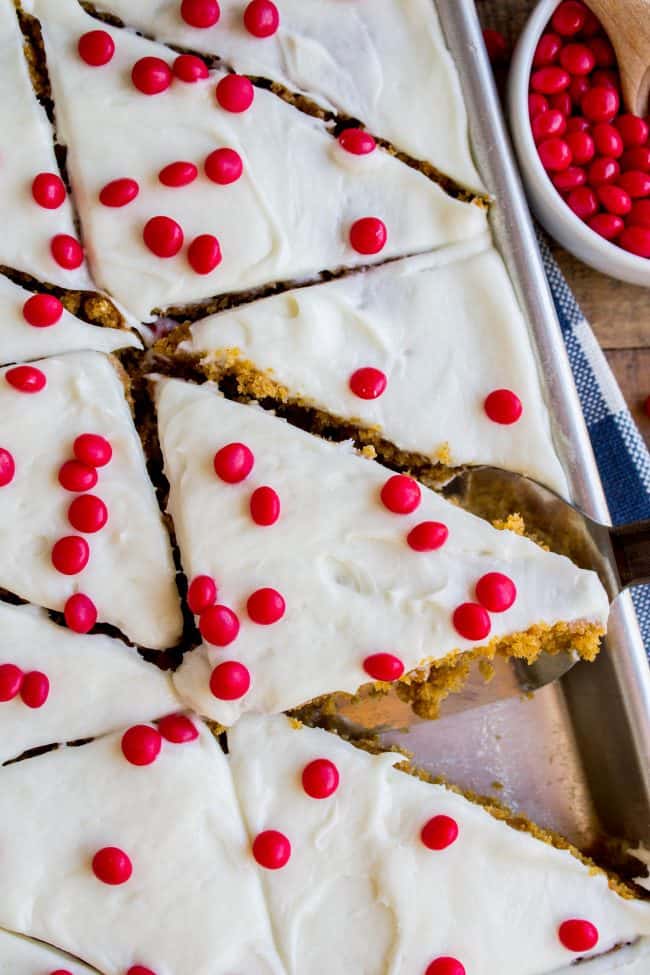 This Pumpkin Bar recipe makes an entire 11×17 inch sheet pan worth of cake. It's a lot for a family of 5, especially when 3 of the 5 don't have access to the cake. (Eric and I are usually going it alone with dessert around here. Why waste cake on children when they are just as happy, if not happier, with a Tootsie Pop? I'm all about teaching my children to expand their palates when it comes to actual healthy food, but dessert? They will have plenty of chances in life to learn about all the many delights of sugar.)
They never need to know about the cake that happens after bedtime.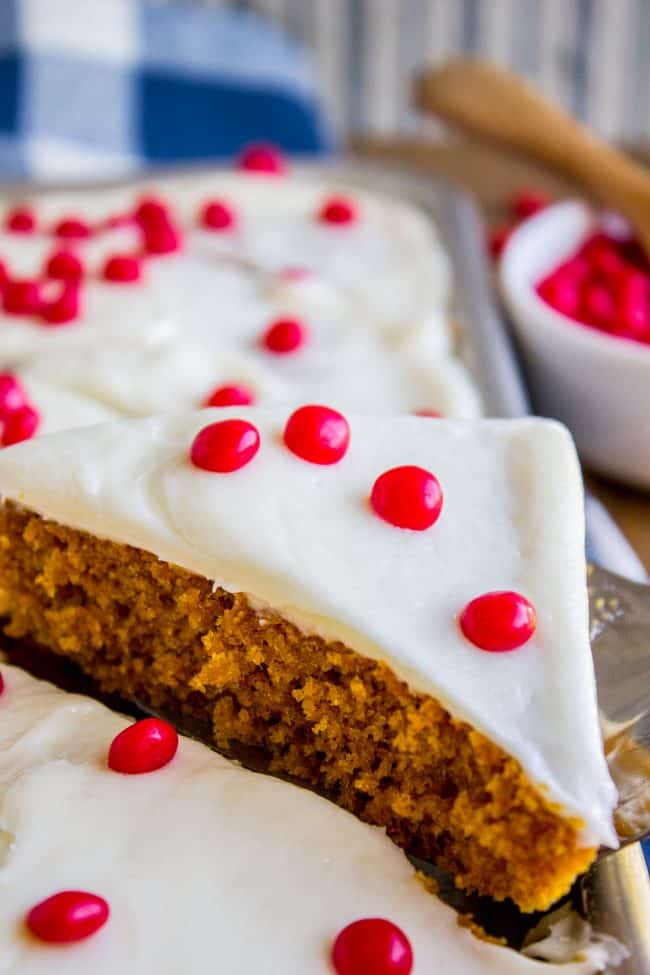 Eric was snacking on our copious amount of leftover cake one evening while we were Netflixing (that's a verb now, right?), and I reached over to have a bite. Only to find that he had eaten all of the frosting and red hots off the top, leaving behind most of the cake. I said "What the heck!" And he said, "My mom puts on more frosting than that, okay! It doesn't have enough!"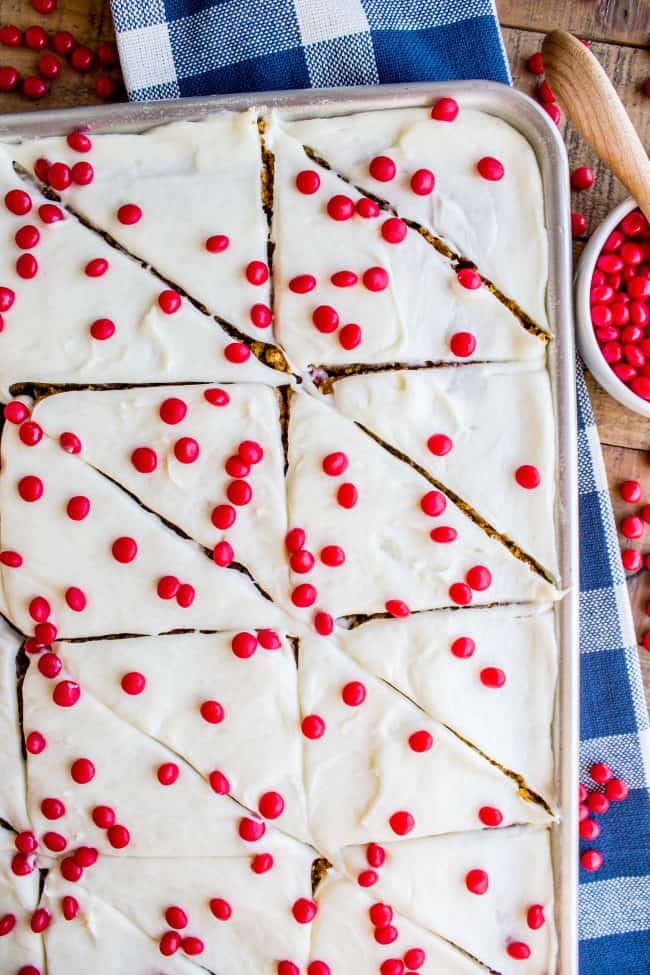 But guys, I know FOR A FACT that's not true. When my mother-in-law gives me a recipe, I fact check her. We're always trying to get old family recipes out of her, but she will just find a similar one online and send it over. See evidence of my intense fact checking on this Cowboy Soup, Mississippi Mud Cake, and Beef Barley Soup.
She was just looking the other day at this Crunchy Asian Cabbage Salad with Crispy Fish, which I adapted from an old recipe she gave me. She said, this is way different than the salad I make. And I said, but that's the original one you gave me! And she was like, oh, I must have sent you the wrong one! WHAT GIVES, KRIS. You've been deceiving me for YEARS.
So yeah, when she gives me a recipe these days I hound her for all the details.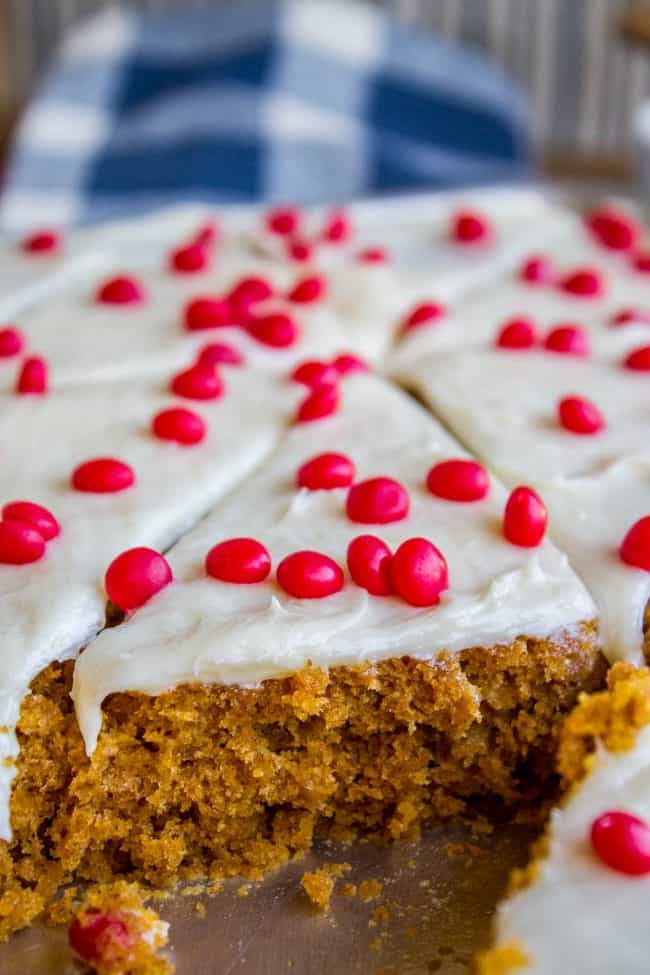 Amongst the family these are called Paul's Pumpkin Bars, because Kris's dad's name is Paul and they are a favorite of his. He eats them with a bowl of red hots on the side, dipping the cake upside down into the bowl so that each bite is covered in Red Hots.
When I asked her for the recipe, she sent me one on Allrecipes.com, which are called Paul's Pumpkin Bars. I was confused at first, did she submit the recipe?? She said no, it's just a funny coincidence. (I'm guessing the original recipe is from Better Homes and Garden's. It's also called Paul's Pumpkin Bars.)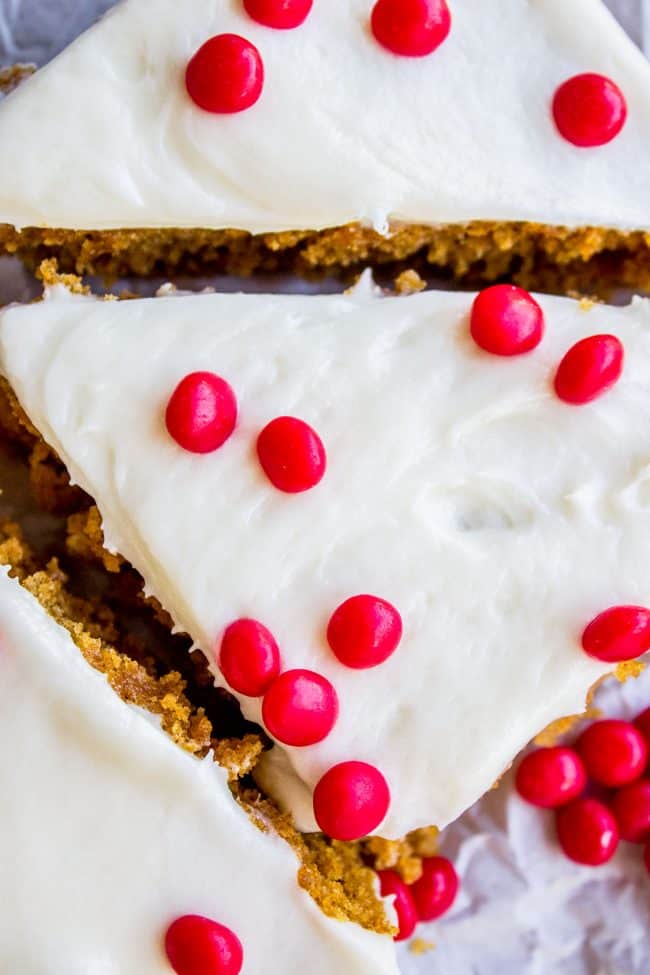 So then I pounded her for the details and got her to tell me all the changes she makes. And she did, in great detail, which is why I know, Eric, that this is the EXACT amount of frosting that your mother has ALWAYS put on Paul's Pumpkin Bars.
Not gonna lie, when she told me I needed to add the Red Hots, I was thinking no, Just no. She made these Pumpkin Bars for the kids while Eric and I were in D.C., and I know she sent Chip (my father-in-law) to the store specifically to buy the Red Hots, because these Pumpkin Bars are not authentic without them. I scoffed. That sounded weird.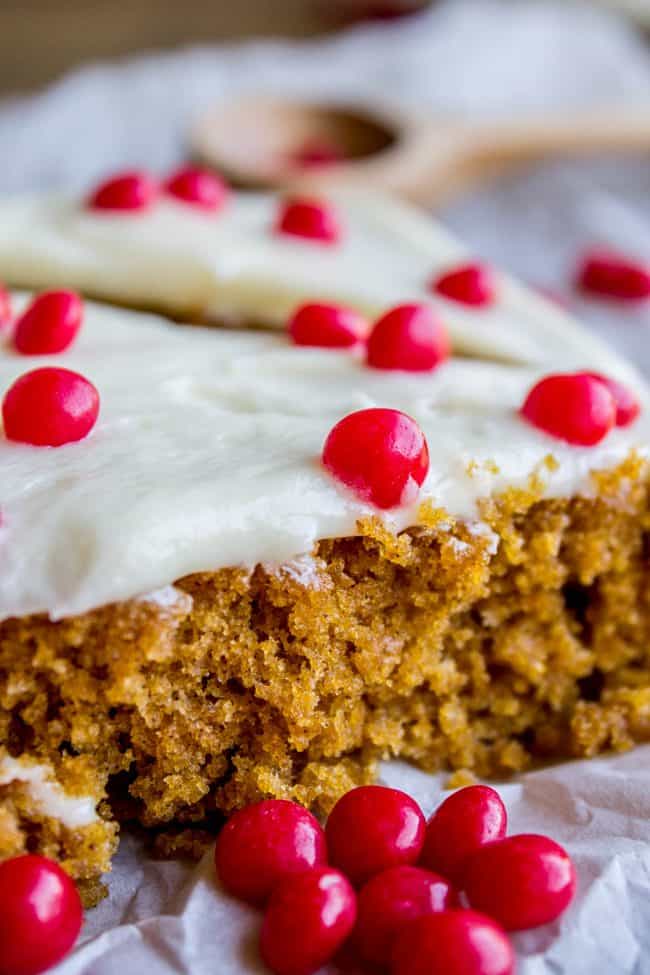 But now, I'm a huge convert. Red hots all the way, ESPECIALLY after waiting 24 hours for the candies to get softer. They melt in your mouth. Of course if you're not into that, the bars are really delicious on their own. They are so moist and have tons of pumpkin flavor. Just don't tell Paul.
Facebook | Pinterest | Instagram | Twitter
One Year Ago: One Skillet Beef Meatballs with Rice and Peas
Two years ago: Pumpkin Cream Cheese Swirl Brownies
Six years ago: Chicken and Dumplings

Paul's Pumpkin Bars with Cream Cheese Frosting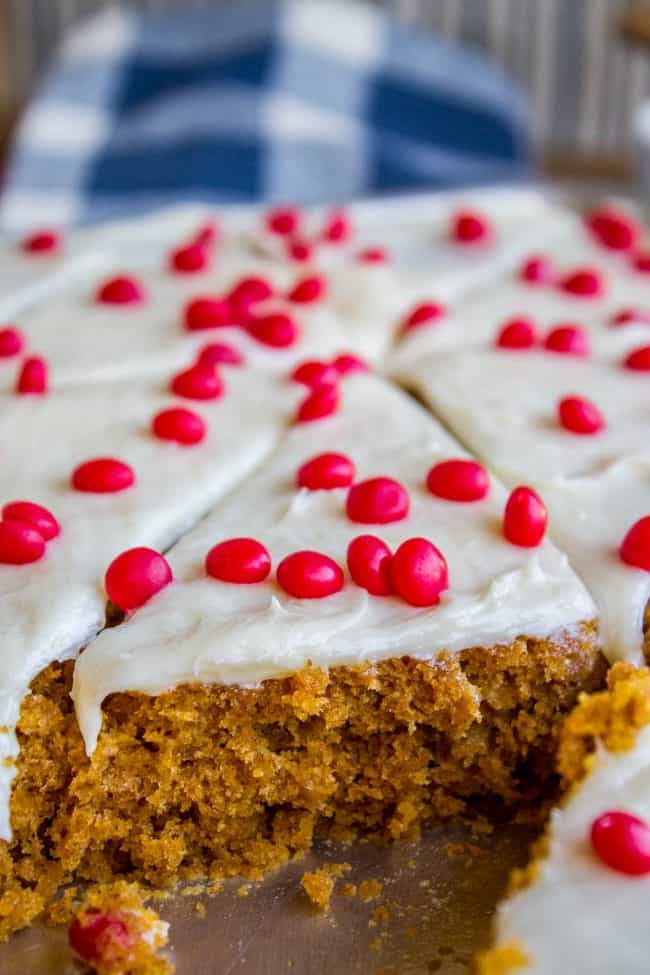 These classic pumpkin bars are made in a sheet pan and covered in delicious cream cheese frosting. Don't forget the cinnamon Red Hots to go on top!
Ingredients
For the cake
4

large

eggs

1 & 2/3

cup

white sugar

1/2

cup

oil

,

I used light olive oil

1/2

cup

salted butter

,

melted (1 stick)

1 (15-oz)

can

pumpkin

,

(not pumpkin pie filling)

2

cups

flour

,

spooned and leveled

1

teaspoon

baking soda

2

teaspoons

baking powder

1

teaspoon

kosher salt

2

teaspoons

pumpkin pie spice

1

teaspoon

cinnamon
Instructions
Preheat your oven to 350 degrees F. Spray an 11x17 inch pan generously with nonstick spray. Sprinkle a couple teaspoons of flour over the pan, then shake it around the edges and tap the excess into the sink. This keeps your cake from sticking to the pan.

In a large bowl or stand mixer, beat together eggs.

Add sugar, oil, melted butter, and pumpkin. Beat well for about 2 minutes until fluffy, scraping down the sides and bottom.

Add the flour but don't stir.

Make a small well in the flour and add the baking soda, baking powder, salt, pumpkin pie spice, and cinnamon. Use a small spoon to blend these in with the flour.

Use the beater to mix in the flour.

Beat well, scraping sides and bottom.

Pour into the prepared pan and smooth top.

Bake at 350 for about 20-25 minutes. A toothpick inserted in the center should come out dry, meaning there is no batter on it.

Cool cake completely.

When the cake is completely cool, spread the frosting all over the top, smoothing to the edge.

Sprinkle the top with Red Hots. (which are sometimes called Imperials, fyi)
Notes
This recipe is from my mother-in-law Kris, who got it from her mother (Nana), who I'm guessing adapted it from Better Homes and Garden's.
Nutrition
Serving:
1
g
|
Calories:
356
kcal
|
Carbohydrates:
51
g
|
Protein:
2
g
|
Fat:
17
g
|
Saturated Fat:
5
g
|
Polyunsaturated Fat:
4
g
|
Monounsaturated Fat:
6
g
|
Trans Fat:
1
g
|
Cholesterol:
41
mg
|
Sodium:
305
mg
|
Potassium:
43
mg
|
Fiber:
1
g
|
Sugar:
41
g
|
Vitamin A:
221
IU
|
Vitamin C:
1
mg
|
Calcium:
31
mg
|
Iron:
1
mg
Never enough pumpkin!!
Pumpkin Butterscotch Molten Lava Cakes << these are ridiculously easy!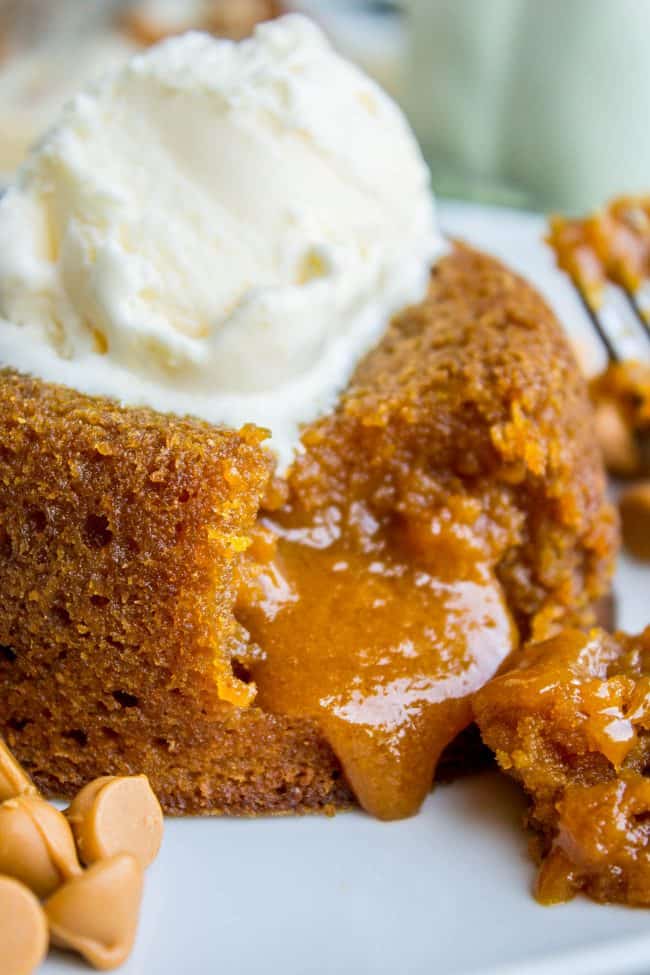 Fudgy Pumpkin Caramel Swirl Bars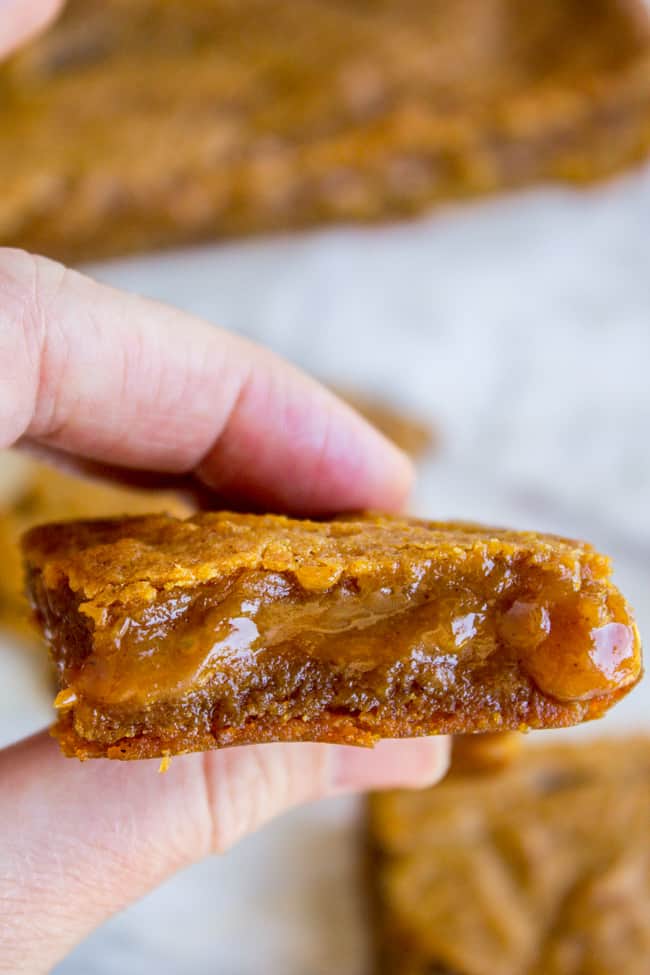 Butterscotch Pumpkin Cake << these are really more like brownies in texture.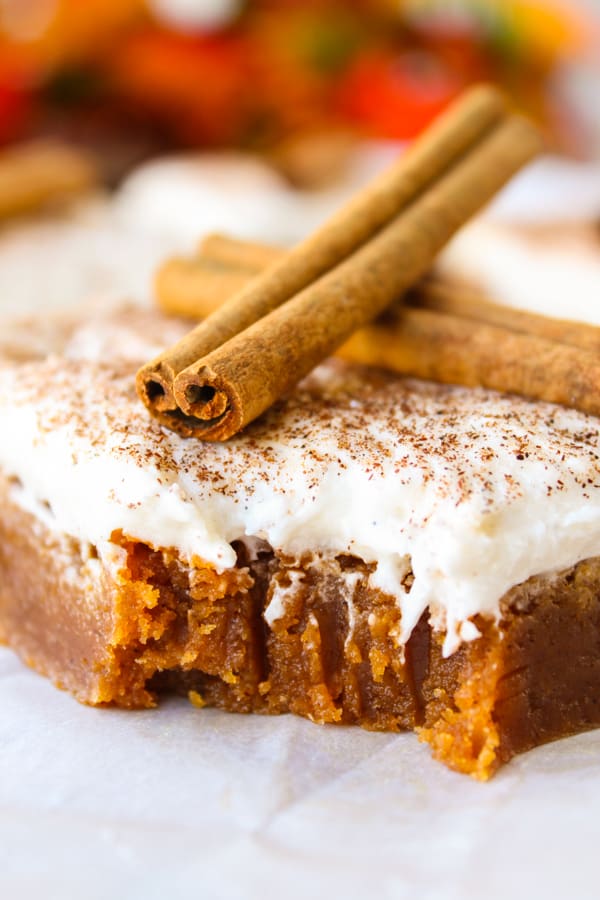 More pumpkin recipes from friends!
Chocolate Chip Pumpkin Bars from Spicy Perspective
Butter Pecan Frosted Pumpkin Bars from Shugary Sweets
Pumpkin Amaretto Cheesecake Bars from Spend with Pennies