A rich, fudgy chocolate sheet cake studded with cherries! It's super easy, just throw together a cake mix and some cherry pie filling. This fudge frosting is where it's at, yo. Perfect for Valentine's Day this weekend!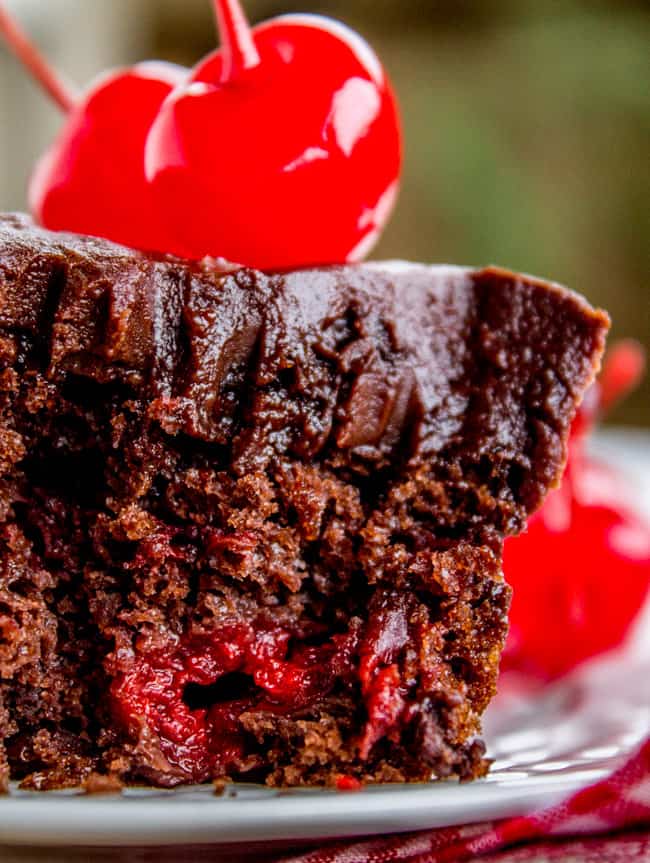 My cousin Lani was over the other day with her baby girl. Rowan was being a little fussy, so Lani asked if I had any straws, because that's how Rowan usually drinks her milk.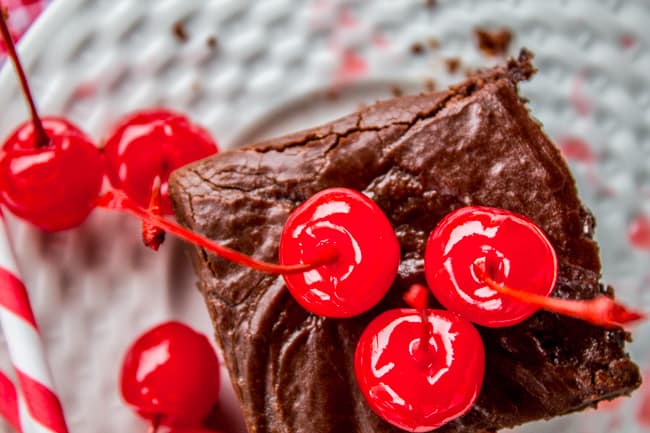 "Oh shoot, I think we're all out!" I started opening random drawers to jog my memory of where I might have put them if I did have any. I shut them all and headed across the kitchen to continue my search.
Lani stopped me, and with a strange look on her face, opened the drawer that I had just shut to show me this: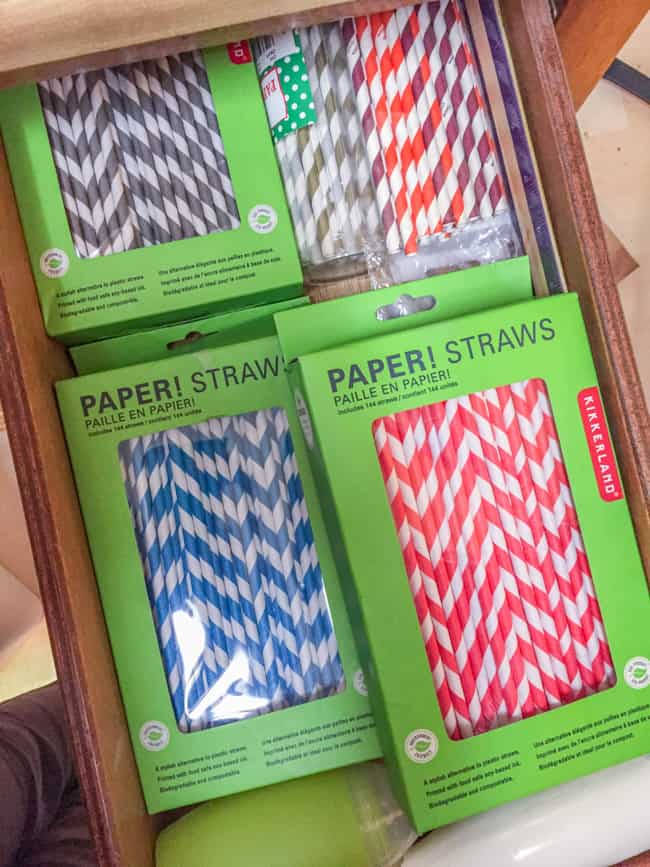 An entire drawer. FULL OF STRAWS.
I swear guys, this is how you know your life is weird. When you no longer think of items in terms of usefulness but in terms of prop value.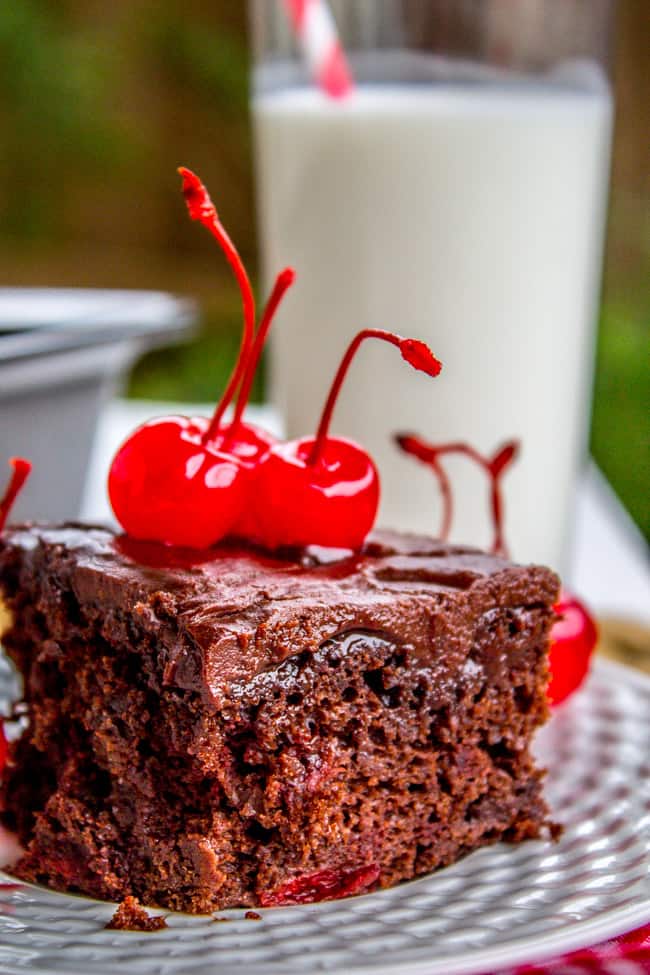 Do you see the straw in this photo? THAT POP OF COLOR WILL BRING ME TO THE TOP, GUYS. It's totally making you want to eat this cake, right? RIGHT??
Eric thinks it's ridiculous that I have a humungous straw collection but no one is allowed to use them for their drinks. But hello, have you seen how much they cost? Plus, they are freaking made of paper. Soggy much?
Plastic straws for drinking. Paper straws for random pops of color. I kind of hate myself right now. (P.S. I let the baby have a paper straw. I'm not completely heartless, okay?)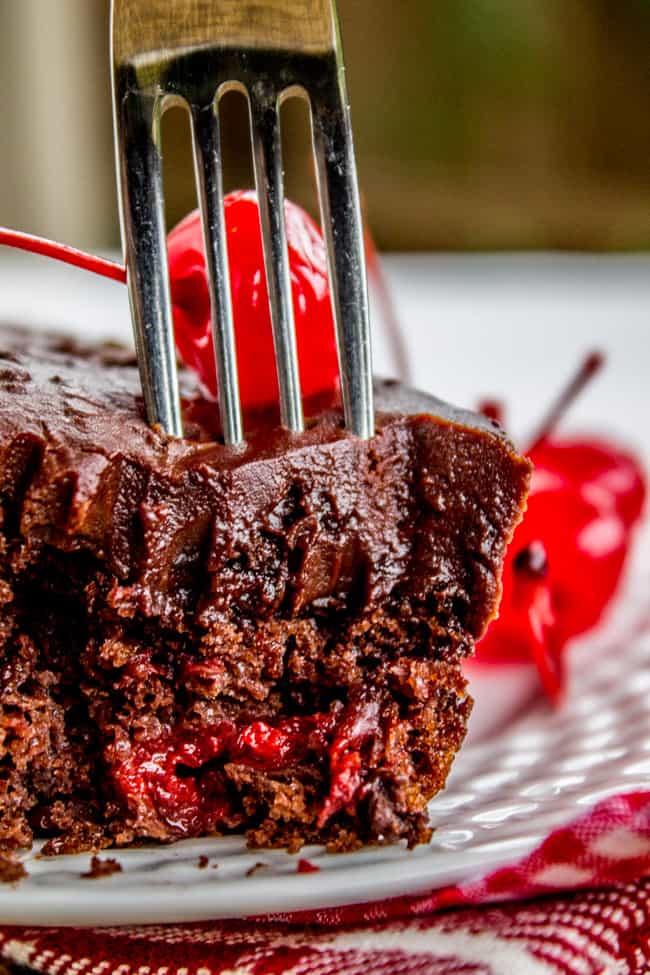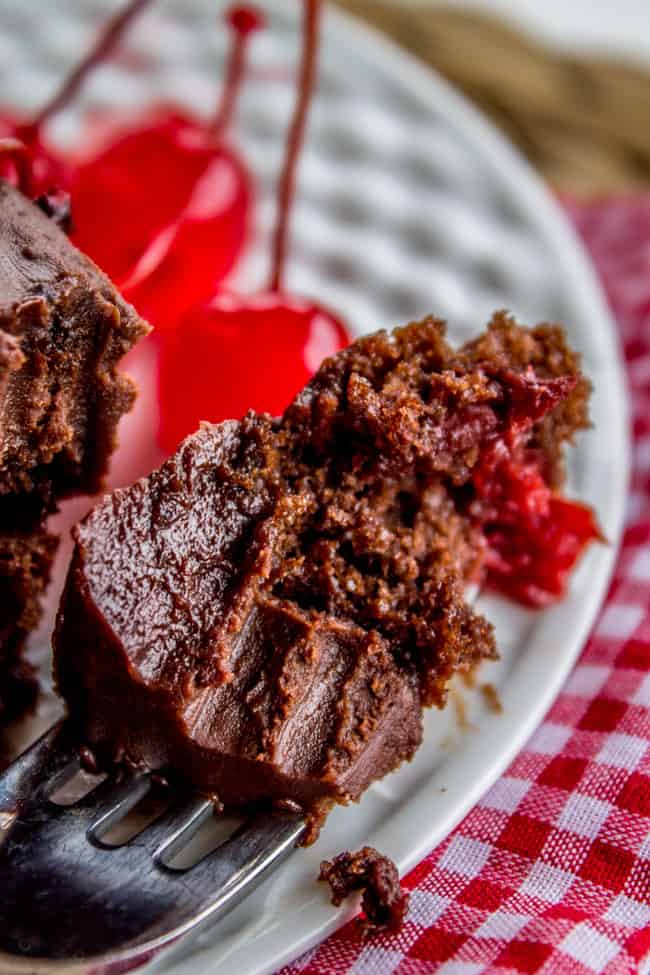 Do you guys love the chocolate cherry combo? I didn't used to be a fan but I am all over it these days. It was these Buried Cherry Cookies that changed my mind. They are the best.
This cake is great for when you need to come up with something delicious but you don't want to have to think too hard. I'll be perfectly honest and say that I didn't measure everything out exactly. I wrote 1/2 cup sour cream for the official recipe, but really I just slopped some in. It looked like about a 1/2 cup. Same with the mini chocolate chips. It was probably about 3/4 cup. But if you add 1/2 cup or 1 cup, no big deal.
I found this recipe in an old collection that my mother-in-law gave me. I doctored it up a bit. The original just called for "1 pkg. cake mix" and I'm sure this recipe is old enough that back then it was an 18.75 ounce cake mix. (Have you noticed cake mixes have been decreasing in weight? That and everything else…) But it worked just fine. My mom hates this trend and will measure out the extra 3 ounces from a new box when she makes a cake. But I haven't really noticed a difference, especially for recipes like this.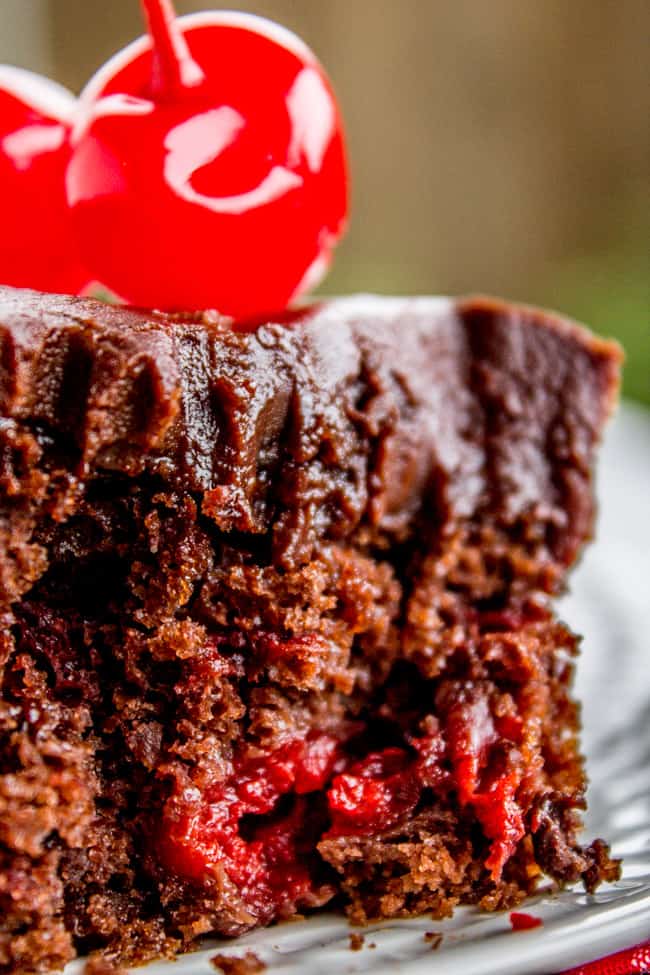 Are you guys eating at home for Valentine's Day? We definitely are, and not just because it's a Sunday this year. Valentine's Day has got to be one of the worst nights of the year to eat out! Here are some ideas if you want to make a fancy but easy dinner at home:
Prosciutto Wrapped Chicken with Asparagus
Pan-Seared Salmon with Maple Glaze and Pistachios
Asian Pork Tenderloin with Ginger Glaze (Slow Cooker)
Brown Butter Gnocchi with Prosciutto and Asparagus
Restaurant-Style Olive Oil and Balsamic Vinegar Bread Dip <<< serve this as an appetizer and you will get 100 fancy points.
But dessert is kind of essential for Valentine's Day. If you make this Chocolate Cherry Sheet Cake, snap a photo and share on Instagram using #TheFoodCharlatan. I'd love to see it!
Facebook | Pinterest | Instagram | Twitter

Chocolate Cherry Sheet Cake with Fudge Frosting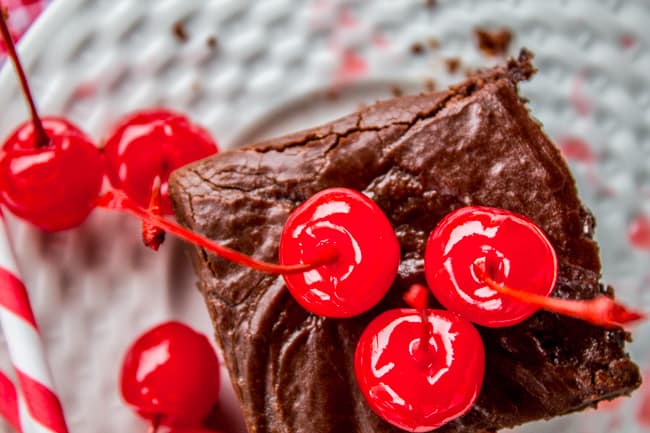 A rich, fudgy chocolate sheet cake studded with cherries! It's super easy, just throw together a cake mix and some cherry pie filling.
Ingredients
For the cake:
1

15.75-oz. box

Devil's Food cake mix

3

large

eggs

1/2

cup

sour cream

2

teaspoons

vanilla

1/4

teaspoon

salt

3/4

cup

mini chocolate chips

1

can

cherry pie filling
For the frosting:
5

tablespoons

salted butter

1

cup

white sugar

1/3

cup

milk

7

ounces

dark chocolate chips*

maraschino cherries

,

to garnish
Instructions
For the cake:
Preheat your oven to 350 degrees F. Prepare a 9x13 inch cake pan with nonstick spray.

In a large bowl or stand mixer, beat together cake mix, 3 eggs, 1/2 cup sour cream, vanilla, and salt. Scrape the bottom and sides well.

Add the mini chocolate chips and the cherry pie filling. You can either fold this in with a spatula if you want your cherries to remain whole, or you can beat it with the mixer. Either way make sure the pie filling is incorporated.

Pour the batter into the prepared pan. Bake the cake at 350 for about 33-35 minutes, or until a toothpick comes out of the center with no batter on it.

Let cool 10-15 minutes, then make the frosting. If you want, use a fork to poke some holes all over the top of your cake. This is so that some of the frosting seeps down, but it's totally optional.
For the frosting:
Melt butter over medium-high heat in a saucepan. Add sugar and milk.

Bring to a boil, stirring very frequently. Once it has reached a rolling boil, remove from heat and let cool 1 minute.

Add the dark chocolate and let sit for another minute.

Stir until smooth.

Immediately pour the frosting over the warm cake.

Serve warm or room temperature. With a tall glass of cold milk please! And don't forget to garnish each slice with some maraschino cherries.
Notes
*6 ounces is 1 cup. Don't stress about this measurement too much. Just dump a little extra on top of your cup.
Nutrition
Serving:
1
slice
|
Calories:
422
kcal
|
Carbohydrates:
58
g
|
Protein:
5
g
|
Fat:
19
g
|
Saturated Fat:
13
g
|
Polyunsaturated Fat:
1
g
|
Monounsaturated Fat:
3
g
|
Trans Fat:
1
g
|
Cholesterol:
80
mg
|
Sodium:
184
mg
|
Potassium:
239
mg
|
Fiber:
1
g
|
Sugar:
36
g
|
Vitamin A:
494
IU
|
Vitamin C:
2
mg
|
Calcium:
115
mg
|
Iron:
1
mg
Other cakes you will totally love:
The Best Chocolate Cake I've Ever Had << no lie.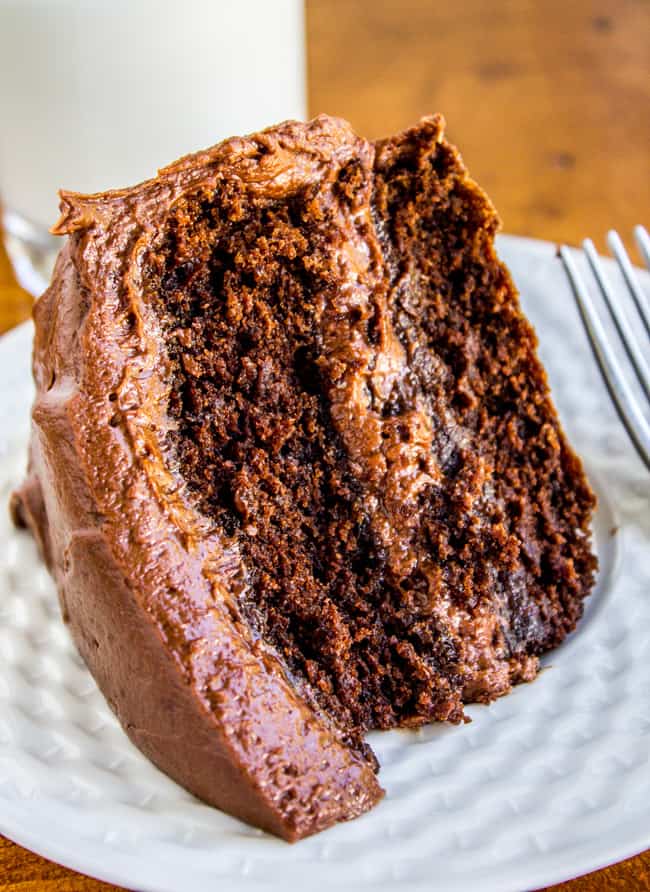 Cream Cheese Chocolate Cupcakes << these are my favorite cupcakes! Can't beat cream cheese filling!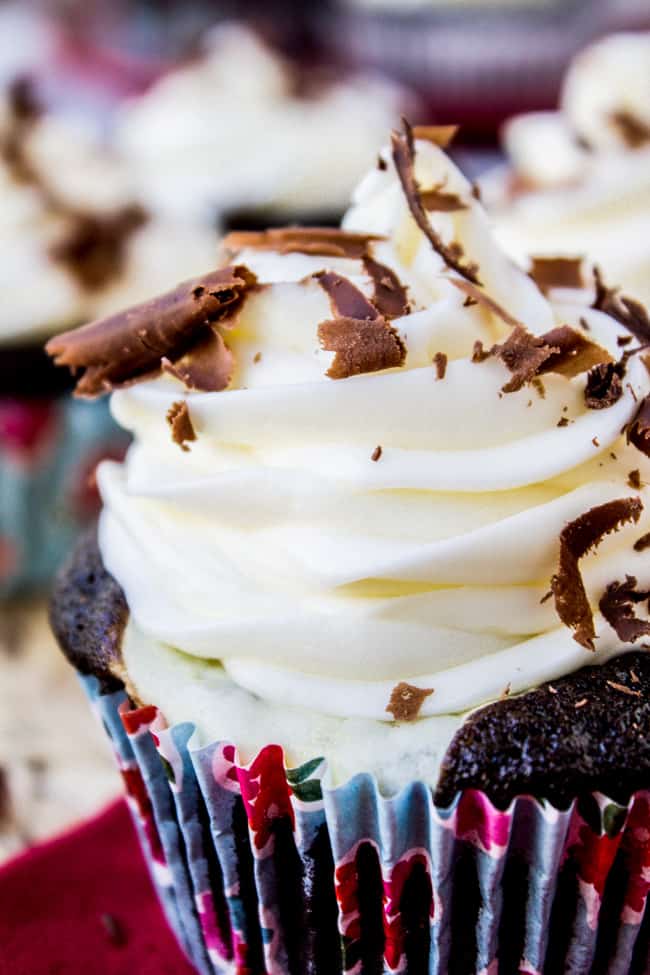 Strawberry Truffle Cake << this is another one that's perfect for Valentine's Day!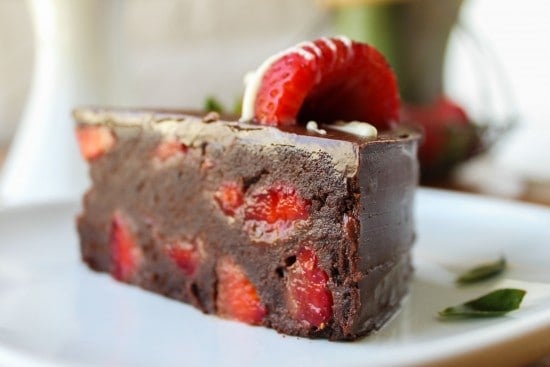 Other amazing cakes from friends!
Cherry Chocolate Chip Cake from Life Love and Sugar
Cherry Coke Poke Cake from Crazy for Crust
Chocolate Cherry Cake from Yellow Bliss Road