The most perfect Swig-style sugar cookie, with coconut flavored frosting and a strawberry heart on top! These are the perfect sugar cookie for Valentine's Day, or really any day. Who can resist a soft sugar cookie?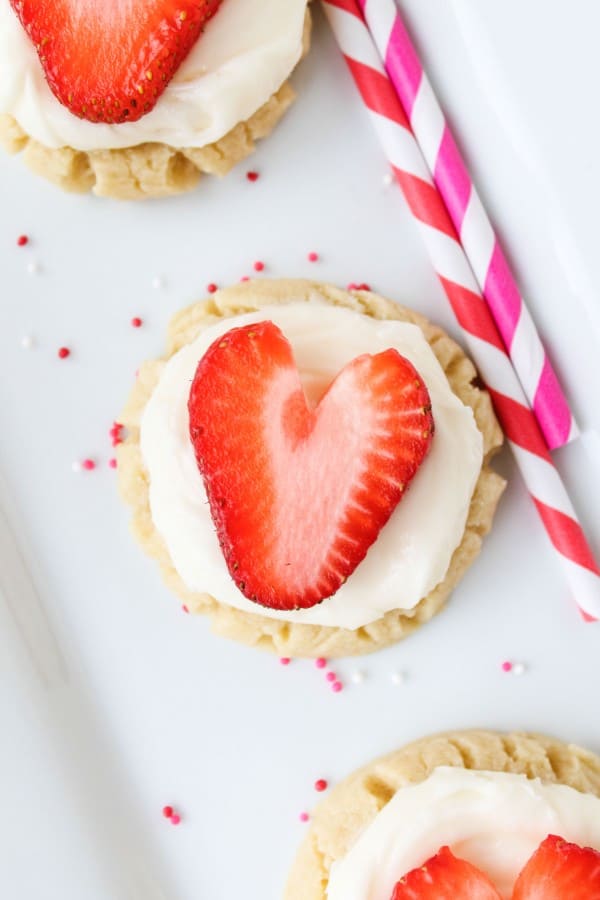 This YouTube video has 1.2 million hits.
I think I'm responsible for at least half of them.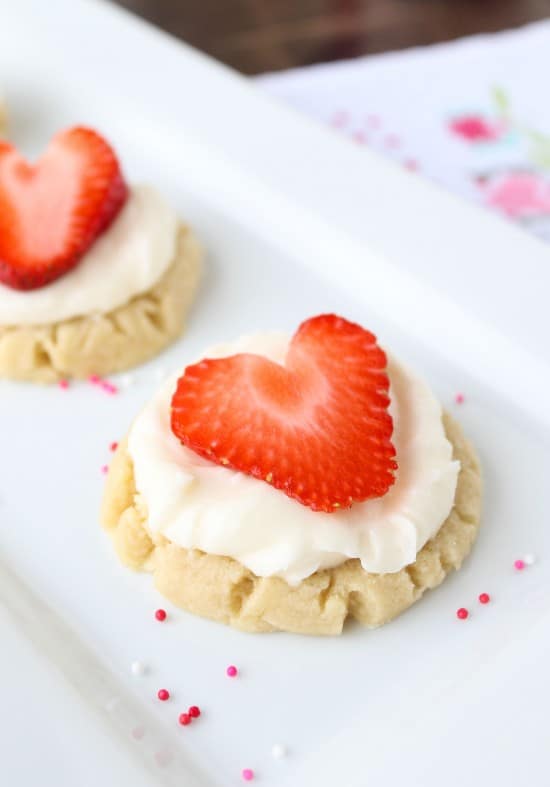 Lately I've been obsessed with this band Lake Street Dive. It's a group of students who met at music school and then started a mowtown-meets-jazzy-soul-pop band. (YOU try to find a better description for their sound). (Also, I told you I'm obsessed with Motown lately.)

I think Eric noticed that I've got this song on repeat, because he came home the other day telling me to clear my calendar on March 14, he had a surprise for me. But he didn't even make it an hour before I guessed that it was a concert, and I was pretty much bouncing off the walls when I figured out we would be seeing Lake Street Dive. I think…I think he loves me.
Pretty much the best Valentine's Day ever. A month late but way better than eating food in a crowded room with a bunch of people I don't know on the worst night of the year to go out to dinner. (I've got a show-stopper 30 minute meal coming up soon so that you too can avoid the restaurant bustle, be on the lookout.)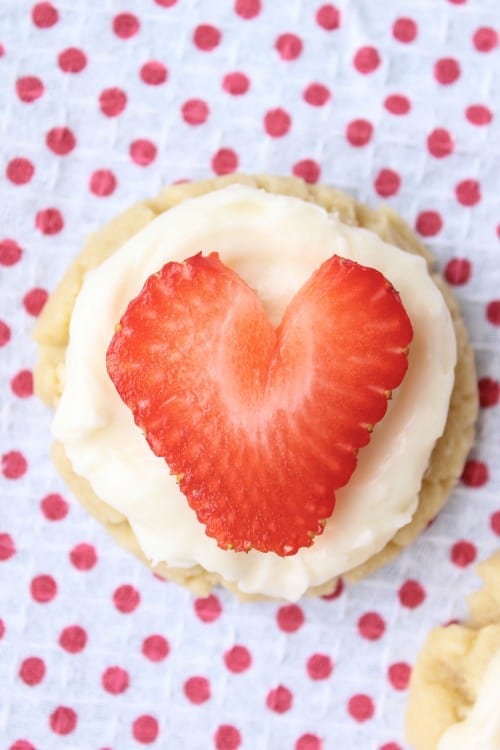 The concert is already sold out, which is no surprise. Check their tour dates if you love awesome music. If you don't, go back to being sad. You can also catch them on The Colbert Report tomorrow night, and their new album comes out in a couple weeks.
Okay, that's my shameless plug to try to make you a cooler person. On to the cookies.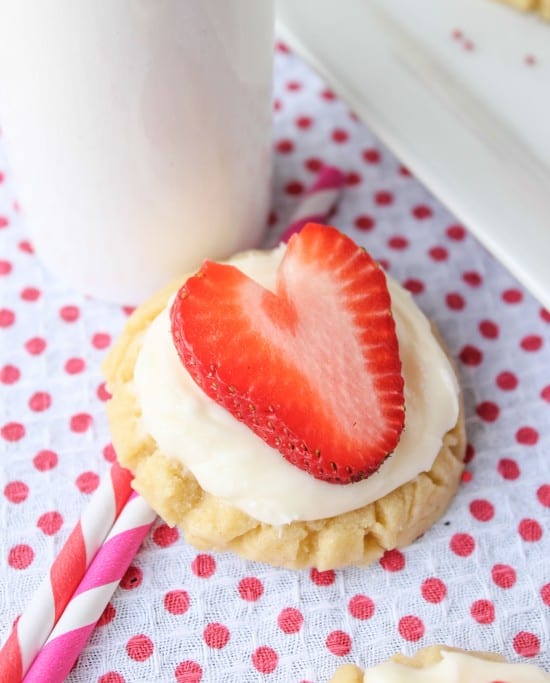 My sister-in-law Clairice has been trying to get me to make these cookies for like 3 years. I'm not even kidding. She has gushed about this cream cheese coconut frosting so many times I felt like I didn't even need to look at the recipe, it was already there in my head.
She was right. These cookies are freaking amazing. I could NOT stop eating them. I made like 3 or 4 batches to get the dough just right, so I literally had these cookies coming out my ears. They are gone now, because I ate them ALL.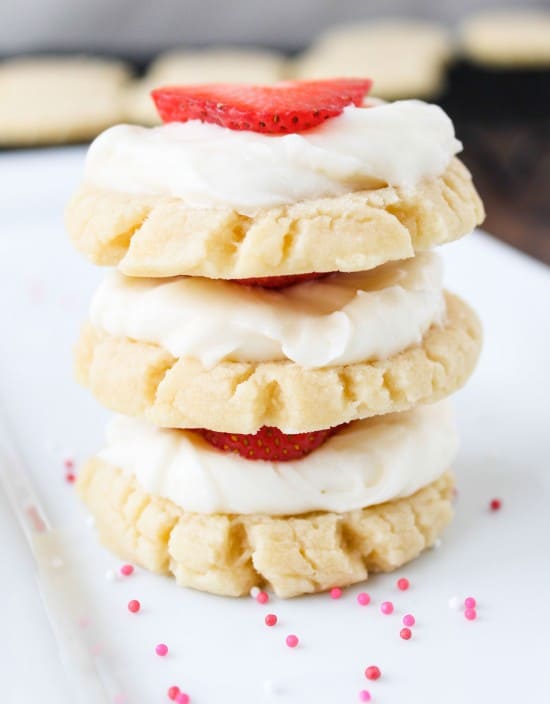 You might be thinking that the strawberry is on there to be cute. And it's true, I mean it is Valentine's Day after all. But seriously. Even if you make this some other time. Don't skip the strawberry. It totally makes it. It's kind of like eating a mini-fruit-pizza. Ain't nothin' wrong with that.
The cookie is soft. When you break off a piece it does not snap (unless you have over baked it). Even if you do over bake it, there is a solution. Frost it and let it sit for an hour or two. It will be soft in no time.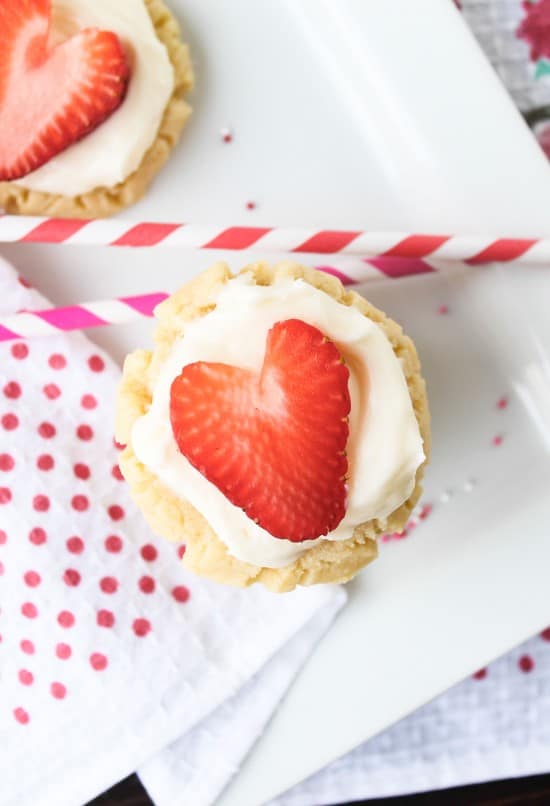 Did I mention that there is no refrigeration required? You can have this sweet deliciousness in your mouth in about 30 minutes. Oh, and none of this fussy rolling-out business. All you have to do is smash balls of dough with a glass. Yes please. (There are some how-to shots below.)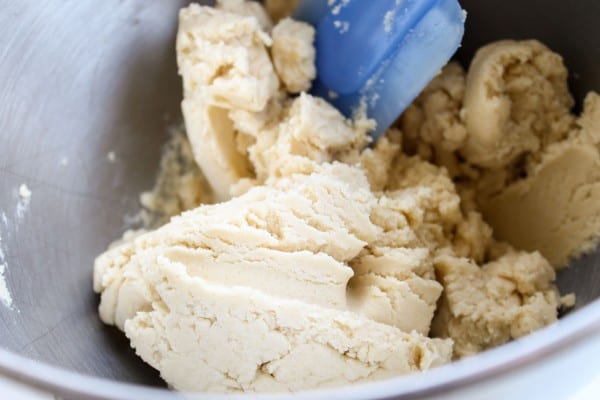 How to make coconut frosted swig sugar cookies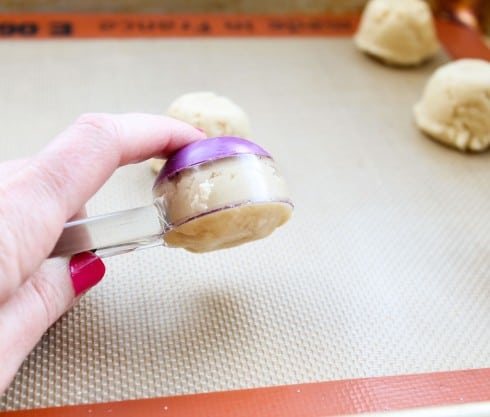 Use about 1 1/2 tablespoons of dough per cookie. Or more, just as long as they are uniform. Adjust baking times, of course.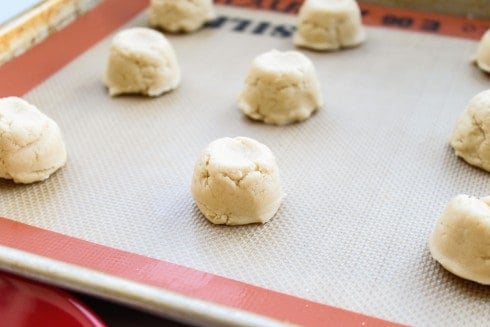 Line them up a couple inches apart.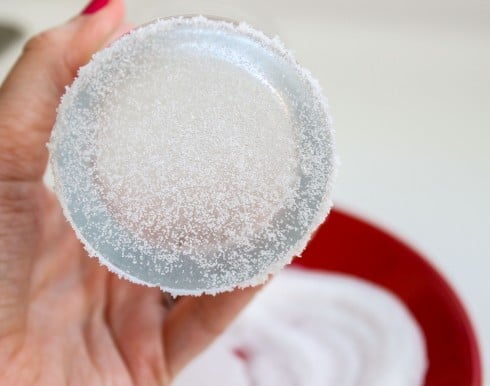 Dip your glass in some sugar…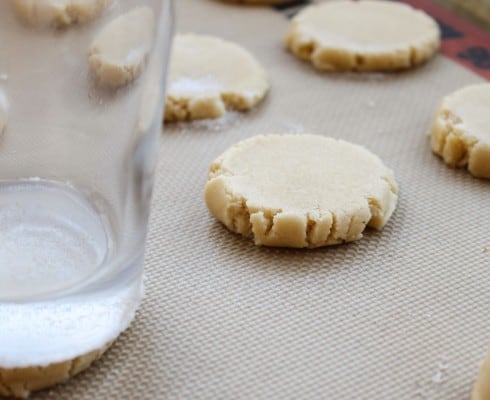 …and smooooosh. I like the dough to be a tiny bit less than half an inch thick.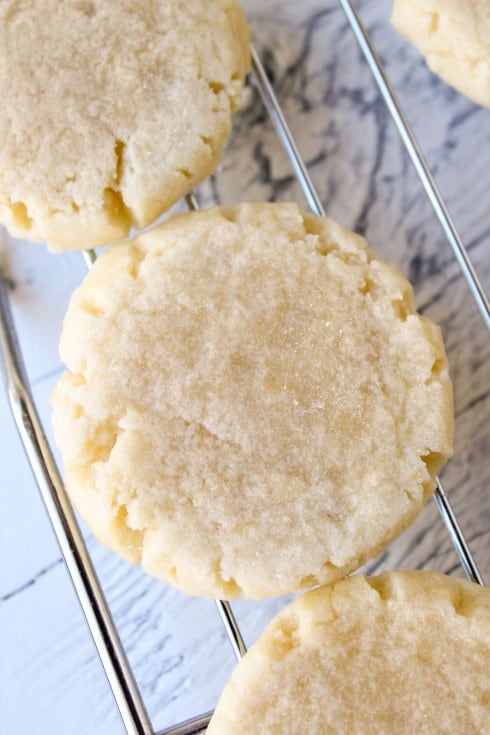 Take them out when they are still shiny on top but set on the edges. This will help them stay soft for days.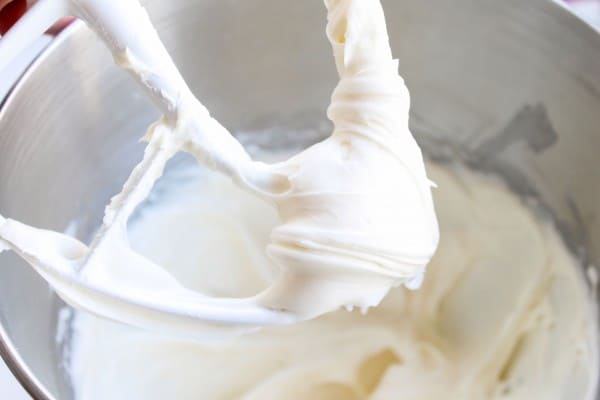 Whip up your frosting and try not to eat it all with  a spoon. Seriously, coconut extract does something magical when it's added to cream cheese.
P.S. My friend Courtney over at Neighbor Food is hosting a Galentine's Day Party on the 13th. That's right, Valentine's Day for all your gals!! Me and a bunch of other awesome bloggers are all making something just for the gals that day. I've got something truly awesome to share with you, so stay tuned! In the meantime, check out the Galentine's Day Pinterest board.
P.P.S. Thanks to all who entered my OvenArt giveaway last week! Lacey K. was the winner. Congrats Lacey!
Facebook | Pinterest | Instagram | Twitter

Coconut-Frosted Sugar Cookies with Strawberry Hearts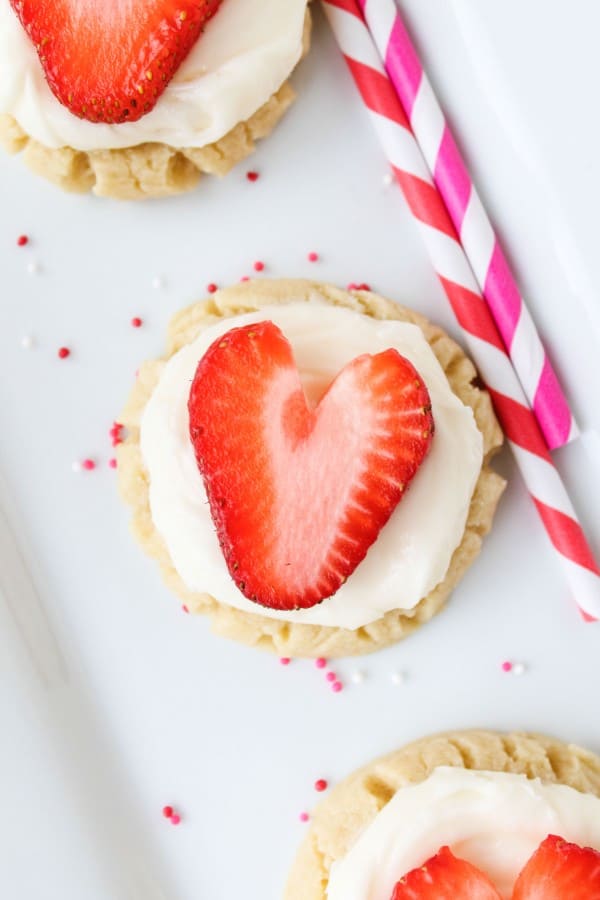 The most perfect Swig-style sugar cookie, with coconut flavored frosting and a strawberry heart on top! These are the perfect sugar cookie for Valentine's Day, or really any day. Who can resist a soft sugar cookie?
Ingredients
For the cookies:
1/2

cup

salted butter

,

softened

6

tablespoons

vegetable oil

1/2

cup

+ 2 tablespoons white sugar

6

tablespoons

powdered sugar

1

tablespoon

vanilla

,

good quality

1

egg

2 & 3/4

cups

all-purpose flour

,

spooned and leveled

1/4

teaspoon

baking soda

1/4

teaspoon

cream of tarter

1/2

teaspoon

salt

1/4

cup

white sugar

pinch

salt
For the frosting:
4

tablespoons

butter

,

softened

1

8-oz package

cold cream cheese

,

cut into chunks

1

teaspoon

coconut extract

1/4

teaspoon

salt

2

cups

powdered sugar

Strawberries

,

to top with
Instructions
Preheat you oven to 350 F.

In a stand mixer or with an electric mixer, beat the butter until smooth and creamy.

Add the vegetable oil, white sugar, powdered sugar, vanilla, and egg, and beat until fluffy, at least 2 minutes.

Add the flour to the bowl, but don't mix it in. Make a well in the center of the flour and add the baking soda, cream of tarter, and salt. Stir it in with a small spoon, then beat the flour mixture in until just combined. The dough is on the drier side.

Using your hands or a cookie scoop, form the dough into balls about 1 1/2 tablespoons each. (Or any size, as long as they are uniform.) Line them up on a cookie sheet (you don't need to grease it).

In a shallow bowl, combine the 1/4 cup sugar with a pinch of salt. Get your fingers wet and rub them on the bottom of a glass. Dip the glass into the sugar, then smash each cookie. You want them to be flat, but not so flat that they bake crispy. See photos.

Bake in the preheated oven for 6-7 minutes. Take them out when they are not quite brown on the edges, and still a little shiny on top (just a little bit).

Let cool for a few minutes, then transfer to a wire rack and cool completely.

Meanwhile, make the frosting. Using your stand mixer or electric beaters, beat the softened butter and cream cheese until smooth, at least 1 minute.

Add the coconut extract and salt.

Add the 2 cups powdered sugar and beat until smooth.

Frost each cookie. Top each cookie with a strawberry heart (see photos).
Notes
I used 1/3 less fat cream cheese in the frosting, still tastes awesome!
Nutrition
Serving:
1
cookie
|
Calories:
170
kcal
|
Carbohydrates:
24
g
|
Protein:
1
g
|
Fat:
8
g
|
Saturated Fat:
3
g
|
Polyunsaturated Fat:
2
g
|
Monounsaturated Fat:
2
g
|
Trans Fat:
1
g
|
Cholesterol:
18
mg
|
Sodium:
110
mg
|
Potassium:
21
mg
|
Fiber:
1
g
|
Sugar:
15
g
|
Vitamin A:
150
IU
|
Calcium:
4
mg
|
Iron:
1
mg