This is my go-to chocolate chip cookie recipe! I've been perfecting this recipe for years and finally have it exactly how I want it. Tender, soft, chewy cookies, with a huge flavor boost from browning the butter. Oh, and tons of chocolate chips. Duh.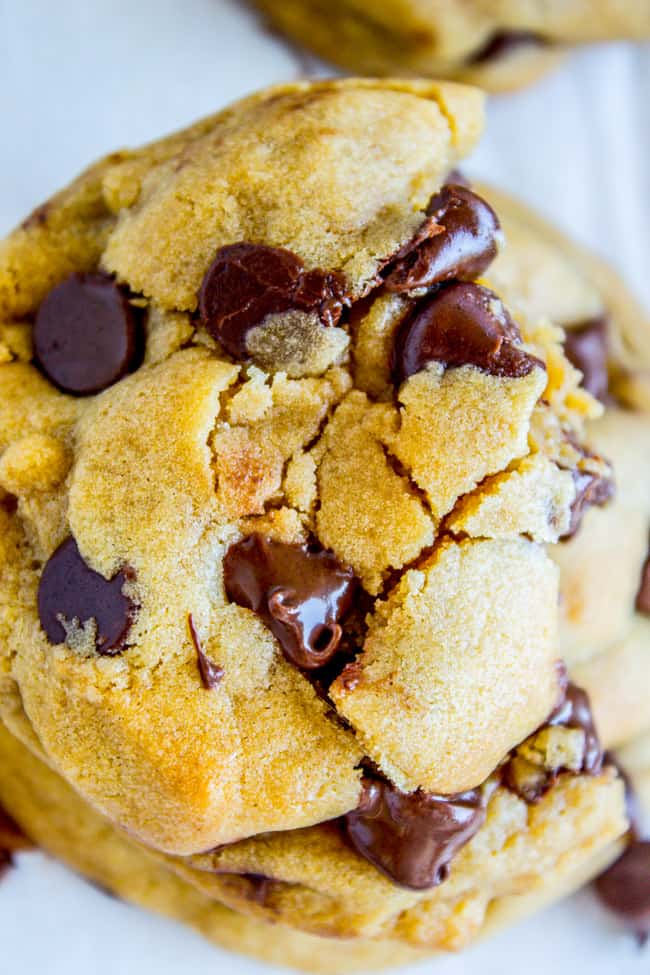 We had a baby! Her name is Valentine!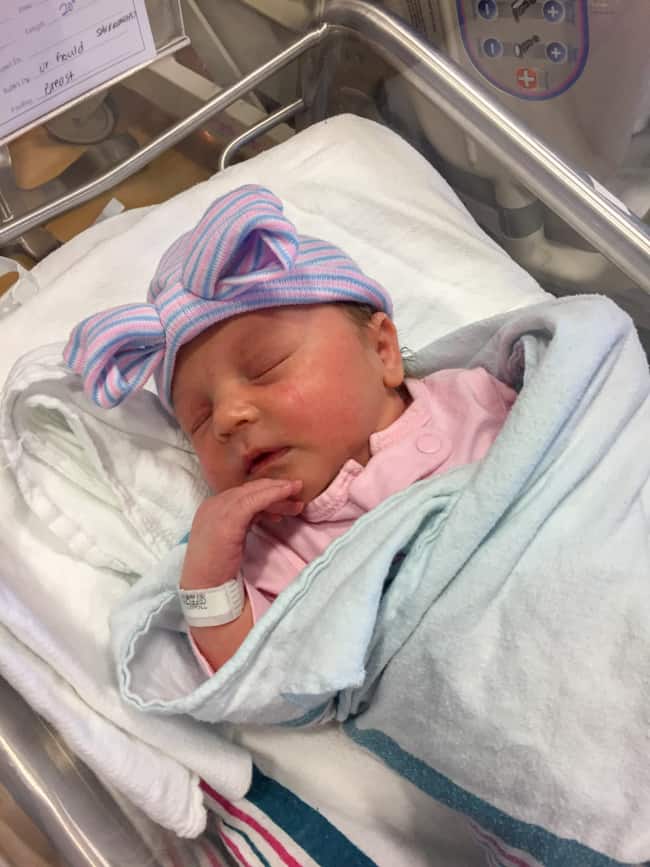 Isn't she so cute?? If you don't think so, don't tell me. Also, you're wrong. She's perfect!!
Charlotte thinks so too. I've never seen a kid more obsessed about anything. This is what she looks like pretty much all the time: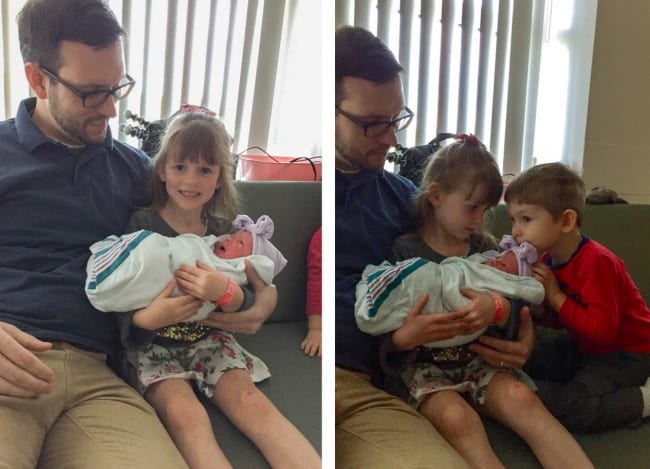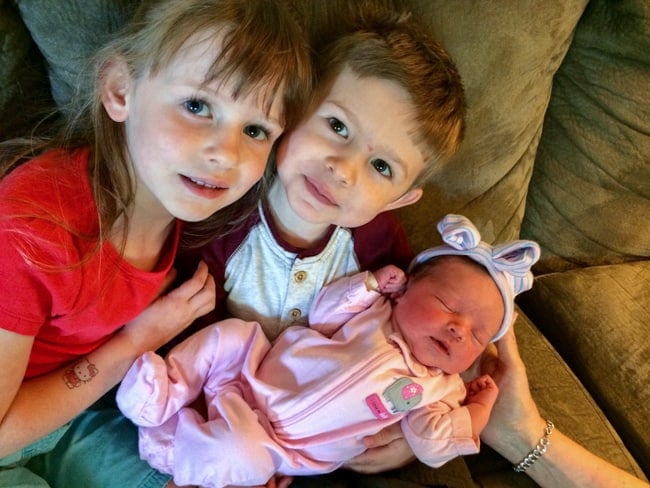 Poor Truman developed croup a few days after she was born, so his introduction to being a big brother has consisted of, "Don't cough on the baby!" "No, it's NOT okay to put your fingers in her mouth!" Poor kid. He's being a good sport about it.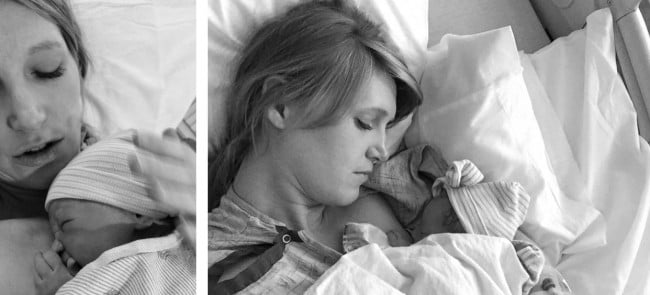 All the ups and downs of having a newborn are quickly coming back to us. The baby smell. The crying. The tiny hands and toes. The lack of sleep. The impossible expansion of your heart. There's really nothing quite like it. We are so lucky!
Also, can I just tell you my favorite part about having a baby: it's not being pregnant anymore. Can I get an amen.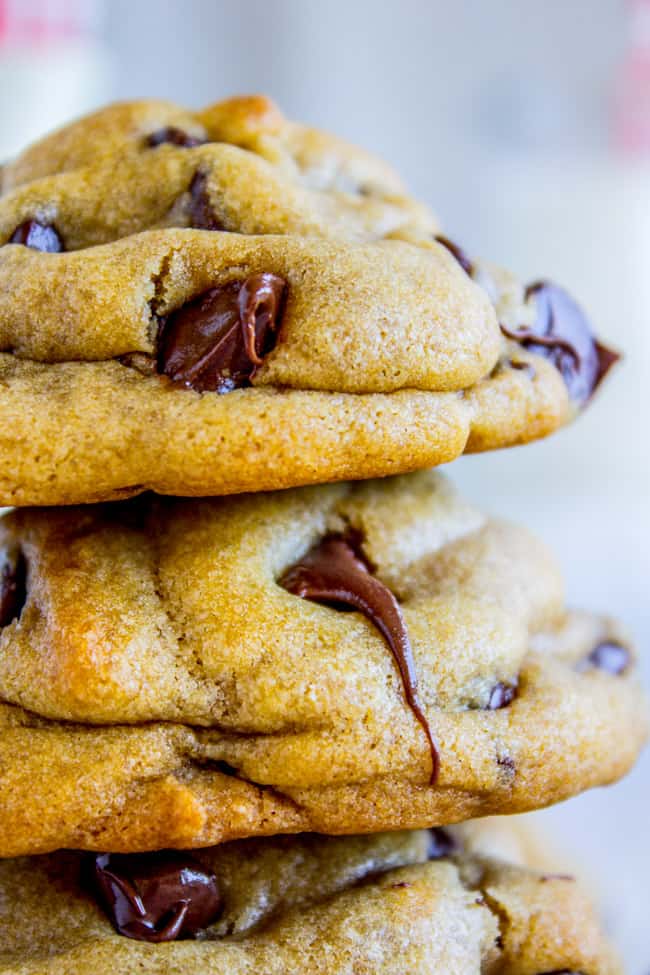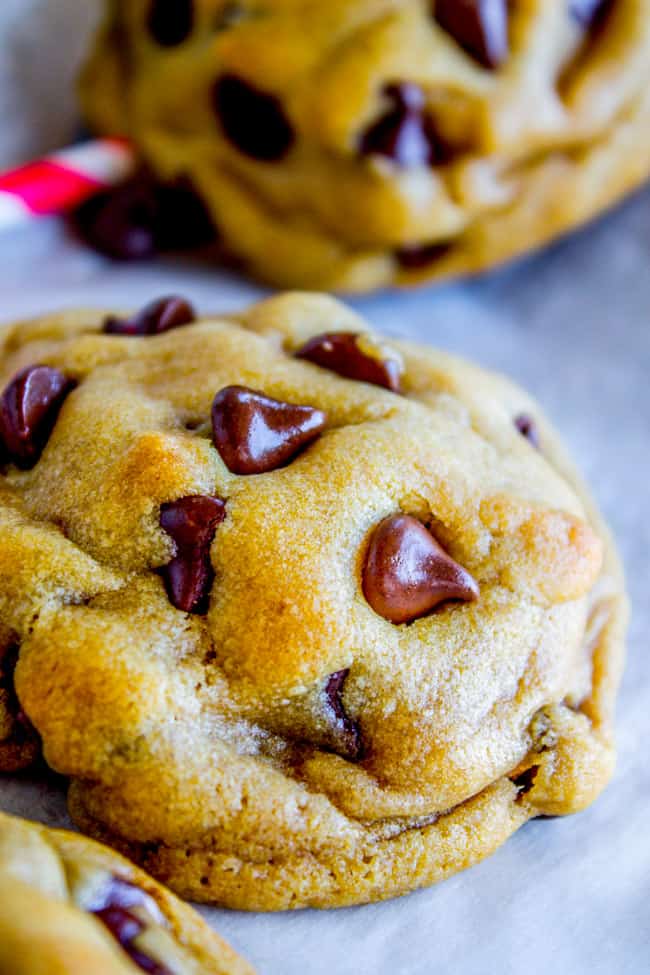 These Browned Butter Chocolate Chip Cookies are my favorite!
I could go on forever, but I promise I have a recipe for you today! It's a classic. I'm embarrassed that it's not on the blog, because I make these ALL the time. It's slightly adapted from a recipe which years ago I called My Favorite Chocolate Chip Cookies. But now that's a lie. This one is my new favorite. I mean how can you argue with browned butter?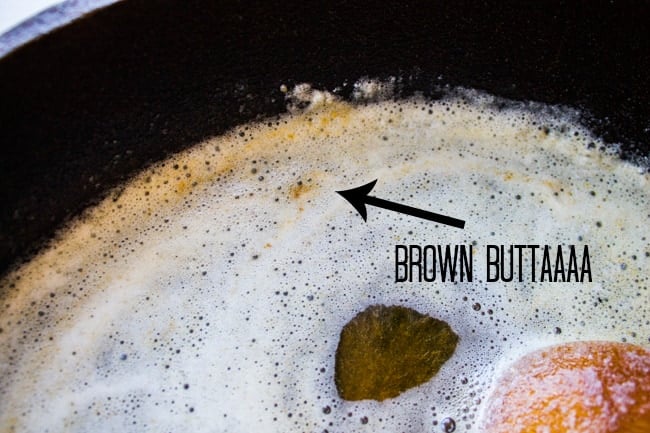 This stuff is where the magic happens, guys. It just adds this incredible layer of flavor that you don't get in normal chocolate chip cookies. It's not a different flavor; they still taste like buttery chocolate chip cookies. They just taste like the best chocolate chip cookies you've ever had. So soft! So tender! So chocolate-y! So, so flavorful.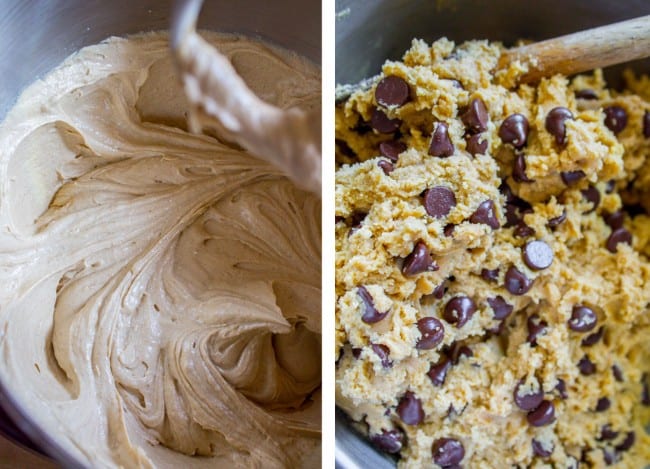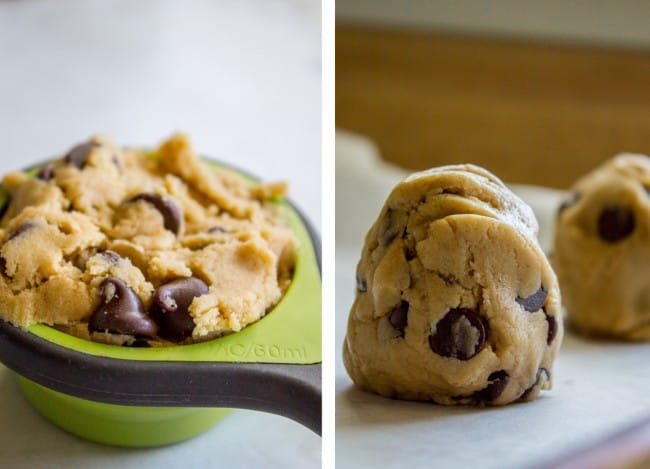 These are BIG cookies. I use a 1/4 cup measuring cup to shape the dough. I shape the dough as shown above. It's an oval, not a sphere, meaning they don't spread quite as much, and you get a perfectly thick and chewy cookie. Chilling the dough also helps them keep their shape in the oven. Since we start the recipe with hot butter, you will have a warm cookie dough. (It's delicious and I eat the stuff with a spoon. No apologies.) But warm cookie dough can't go straight into the oven; you have to chill it. You can either throw it in the fridge for a couple hours, or shape the dough and freeze for half an hour. Either way works great.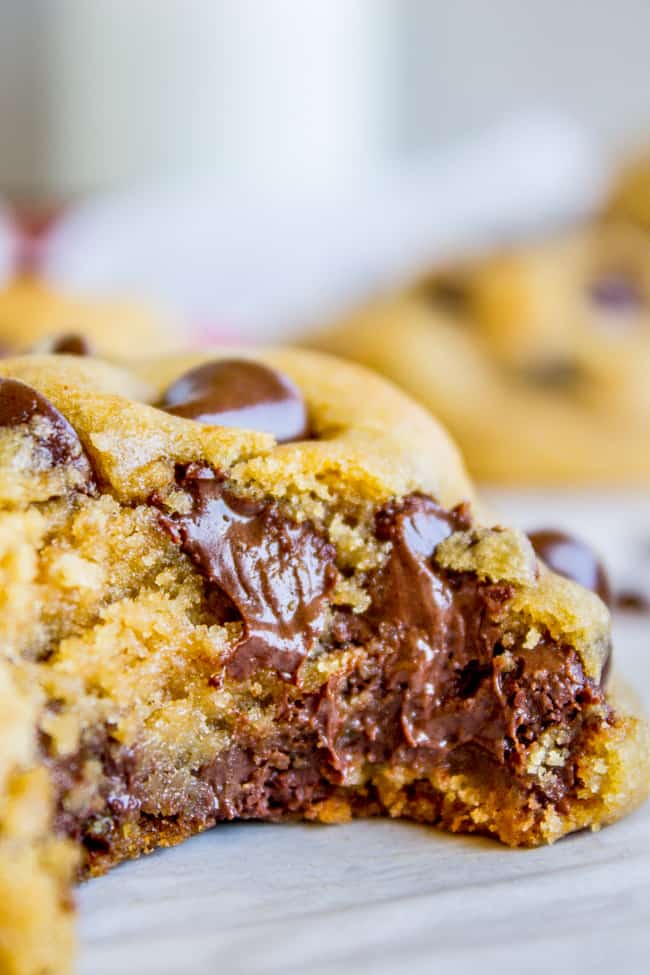 Brown Butter Chocolate Chip Cookie Recipe tips
I almost never bake an entire batch of cookies. I make the dough, bake up a pan to eat right away, then shape the rest of the dough and freeze it in a ziplock. We almost always have frozen cookie dough in the freezer, shaped and ready to go. I don't even thaw them before I bake, just throw them on the pan completely frozen and add 2-5 minutes to the normal bake time. It's a dangerous habit, let me tell you. I'm always a 350 degree wait time away from warm chocolate chip cookies.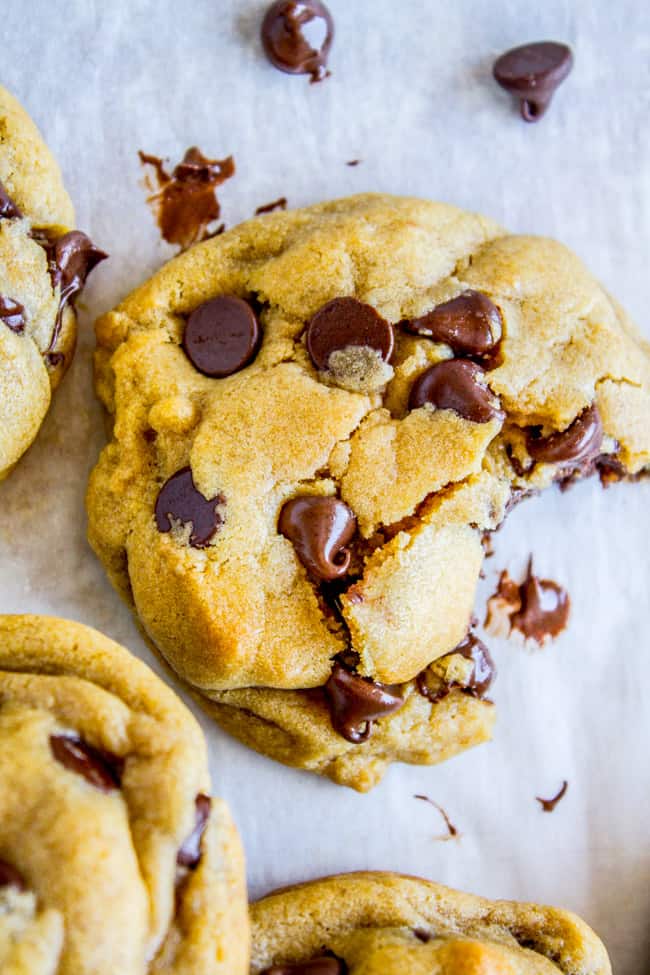 Let me know if you try these out! I hope you love them as much as I do. I'll be back later this week with more Thanksgiving recipes! Have a great Monday everyone!
Facebook | Pinterest | Instagram | Twitter

Best Brown Butter Chocolate Chip Cookies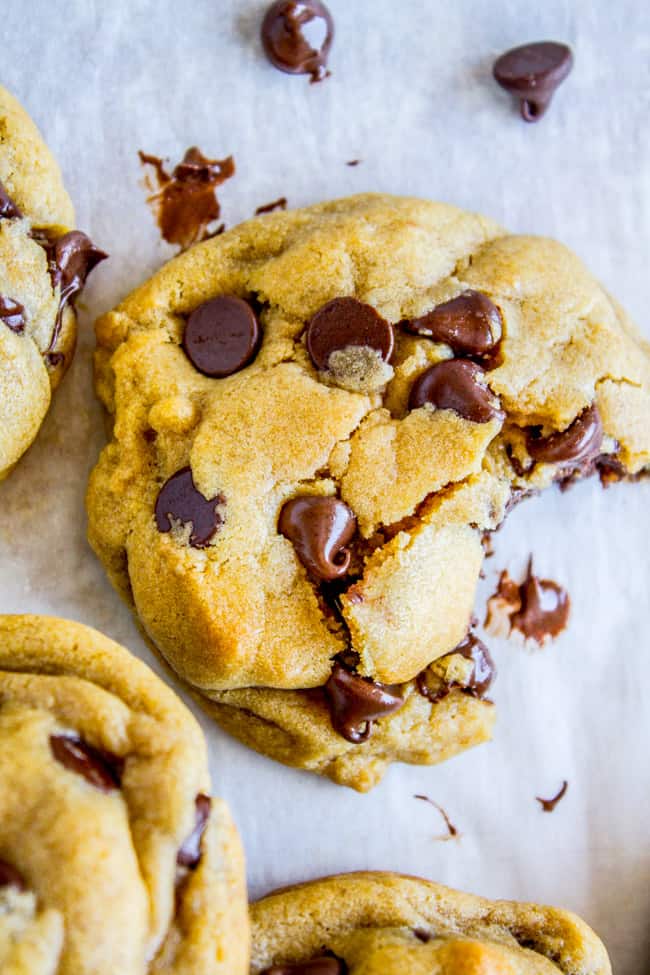 This is my go-to chocolate chip cookie recipe! I've been perfecting this recipe for years and finally have it exactly how I want it. Tender, soft, chewy cookies, with a huge flavor boost from browning the butter. Oh, and tons of chocolate chips. Duh. 
Ingredients
1 & 1/2

cups

salted butter

,

3 sticks

1

cup

white sugar

1 & 1/2

cups

dark brown sugar

3

eggs

1

tablespoon

vanilla extract

4 & 1/2

cups

all purpose flour

,

spooned and leveled*

2

teaspoons

baking soda

1 & 1/2

teaspoons

kosher salt,

**

2 & 1/2

cups

semi-sweet chocolate chips

,

plus more to top cookies
Instructions
Add the butter to a medium pot or skillet, preferably one that is light in color (so you can see the color of the butter). Turn the heat to medium.

Cook, stirring every 1-2 minutes with a wooden spoon. After a couple minutes, the butter will start to foam. Keep watching it. Eventually the butter will turn brown and you will see tiny brown specks. The smell will turn nutty. You might not be able to see the color under the foam very well, which is part of the reason you need to stir. Once it is brown and it looks silty at the bottom, it is done.

Immediately pour the browned butter into a large bowl or stand mixer. Add the white sugar and brown sugar and beat well.

With the beaters on, add the eggs. (If you don't have enough hands for this, then wait a few minutes to let the butter mixture cool so you don't curdle your eggs. Or you could beat the eggs in a separate bowl and then add them all at once.)

Add the vanilla and stir.

Add half the flour, but don't stir. Use a small spoon to stir the baking soda and salt into the flour, then beat the flour into the dough.

Add the remaining flour and stir, but stop when the dough is still dry and you can still see flour.

Add all the chocolate chips. Stir together just until the flour is incorporated. Do not over beat.

At this point you need to chill the dough. You can cover the bowl and throw it in the fridge for 1-2 hours. (or up to 24 hours!) Or you can shape the dough as described below and freeze for 30 minutes (or refrigerate for 30-45 minutes.) Shape the dough and place it right on the pan if you have room in your freezer, otherwise put them in ziplocks to freeze them.***

Preheat your oven to 350 degrees F. Line baking sheets with silpats or parchment paper.

To shape the dough, use a 1/4 measuring cup. Form the dough into an egg shape (as opposed to a sphere). Place the dough on the prepared cookie sheets, with at least 2 inches between each cookie.

Bake at 350 for about 11-14 minutes. Your bake time will depend on your method and length of chilling, so keep an eye on them so they don't get overdone.

Take the cookies out when they are just barely starting to turn golden on top, and the centers are not shiny (or, if you like really soft cookies, a little shine is okay.)

Immediately after taking them out of the oven, use your fingers to push several chocolate chips into the tops of each cookie.

Let them set up on the pan for 5 minutes, then remove to a cooling rack.

Eat these cookies with milk!!
Notes
*You MUST spoon and level, or your cookies will be dry. Use a spoon to place the flour into the measuring cup, then run a knife across the top of the measuring cup to level it off. This is how to make sure you don't get too much flour by packing it.
**If you only have table salt, add just a little bit less.
***I often shape the dough and store it in a ziplock bag. Then I take a few cookies out whenever I get a craving, and put it in a preheated oven completely frozen. Follow instructions as usual, but add 2-5 minutes to the bake time.
Nutrition
Serving:
1
cookie
|
Calories:
390
kcal
|
Carbohydrates:
50
g
|
Protein:
4
g
|
Fat:
19
g
|
Saturated Fat:
12
g
|
Polyunsaturated Fat:
1
g
|
Monounsaturated Fat:
5
g
|
Trans Fat:
1
g
|
Cholesterol:
52
mg
|
Sodium:
352
mg
|
Potassium:
162
mg
|
Fiber:
2
g
|
Sugar:
29
g
|
Vitamin A:
394
IU
|
Calcium:
33
mg
|
Iron:
2
mg
Mint Chocolate Chip Cookies: << these are so perfect for Christmas!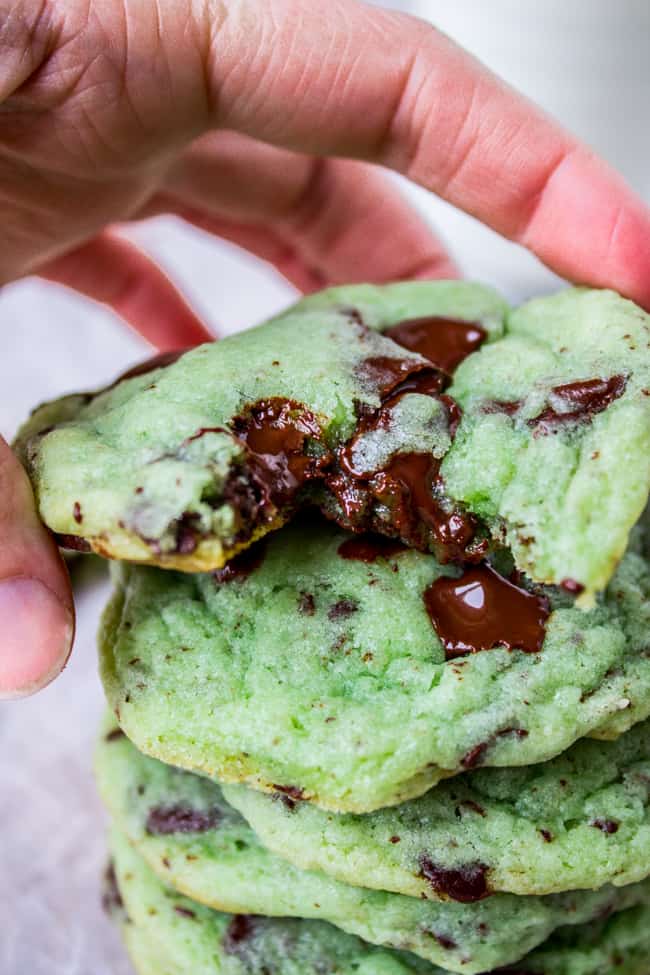 Skinny Oatmeal Chocolate Chip Cookies: << These are perfect for when you need to cut calories but need a chocolate fix!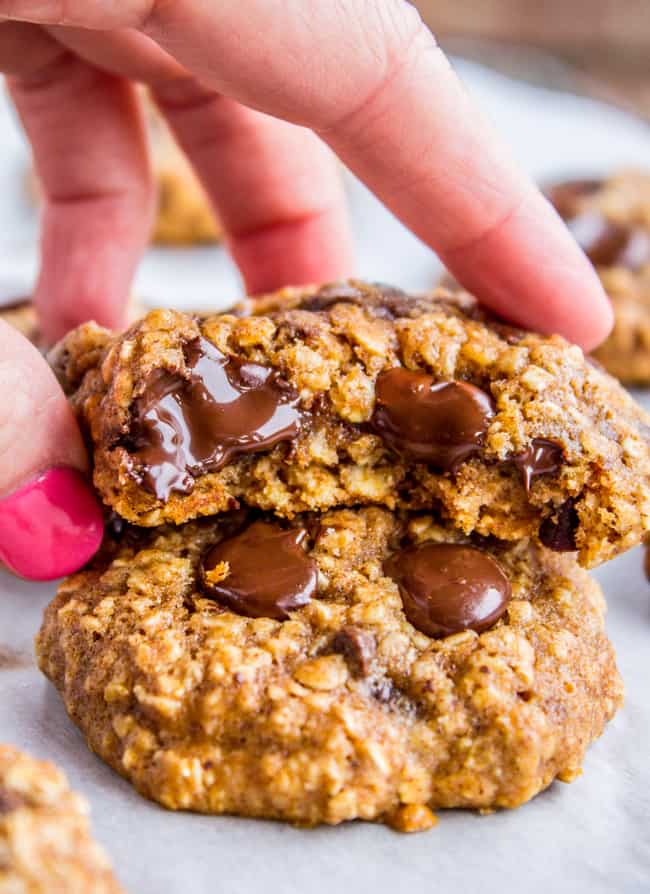 Texas Cowboy Cookies: << These cookies have been so popular this fall! You will love them!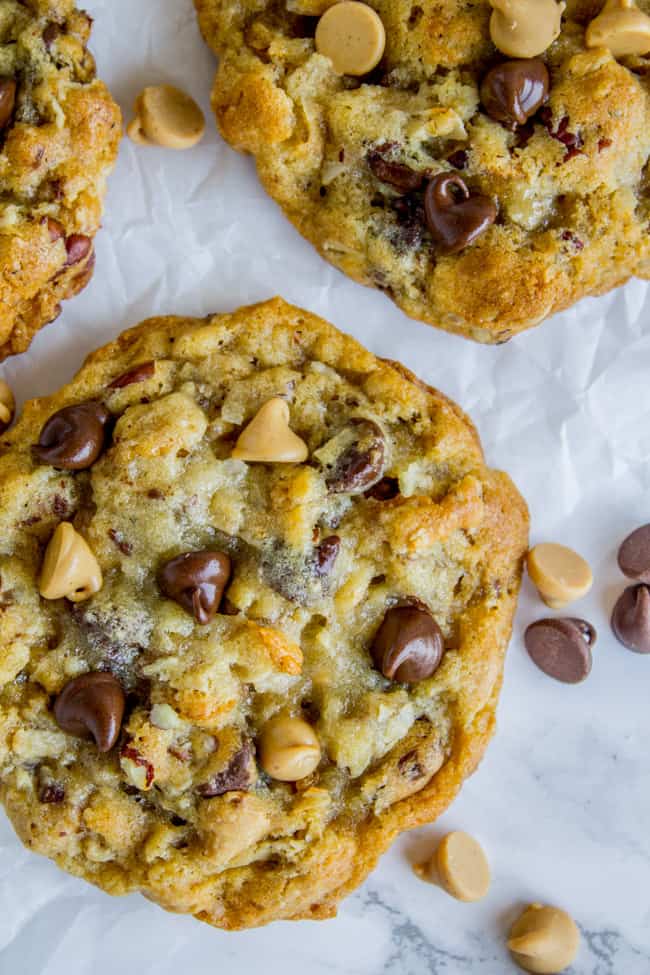 My Favorite Chocolate Chip Cookies << It's a lie. Today's recipe is my new favorite. The two are quite similar, but those few changes make a big difference!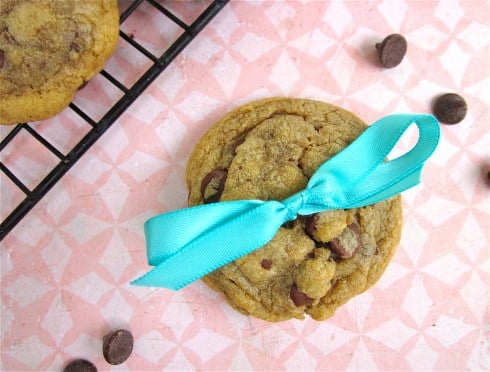 Other chocolate chip cookies recipes to check out!
Mom's Chocolate Chip Cookies from The Recipe Rebel
Vanilla Pudding Chocolate Chip Cookies from Yummy Healthy Easy
Thick and Chewy Chocolate Chip Cookies from Life Love and Sugar