This easy 30 minute dinner features rich gnocchi with roasted asparagus and crispy prosciutto, all in a brown butter lemon sauce. Perfect for making dinner together at home for Valentine's Day! Or for yourself, any day. Because brown butter.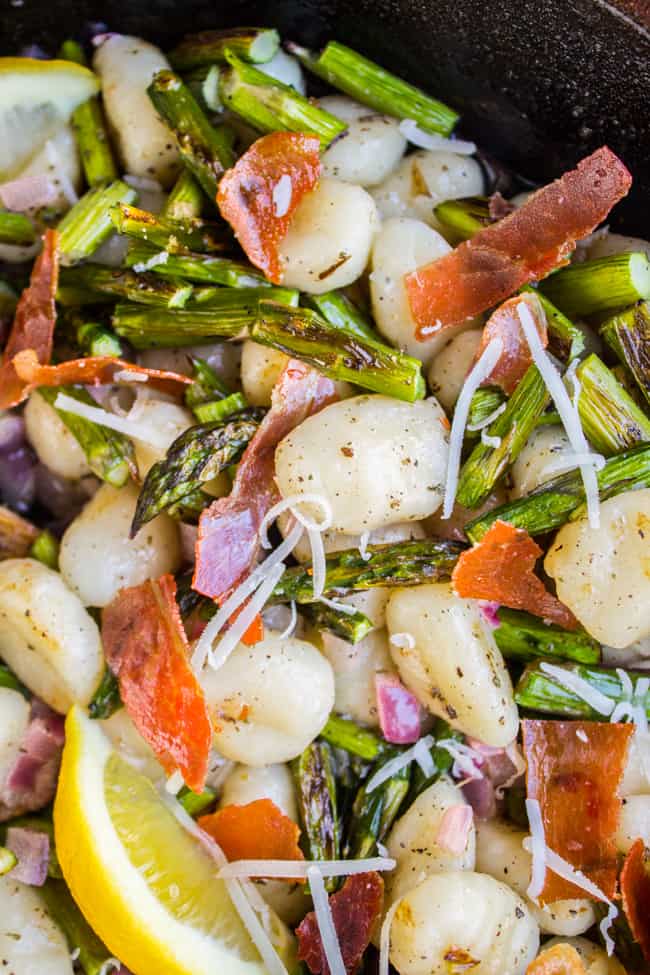 I totally locked my kids out of the house today. Yeah, on purpose. Partly because I needed some peace and quiet but MOSTLY because I wanted to see them Lord-of-the-Flies it in the backyard. Survival of the fittest means I have one less kid scribbling permanent marker on my wall. Oh my gosh, I'm kidding guys.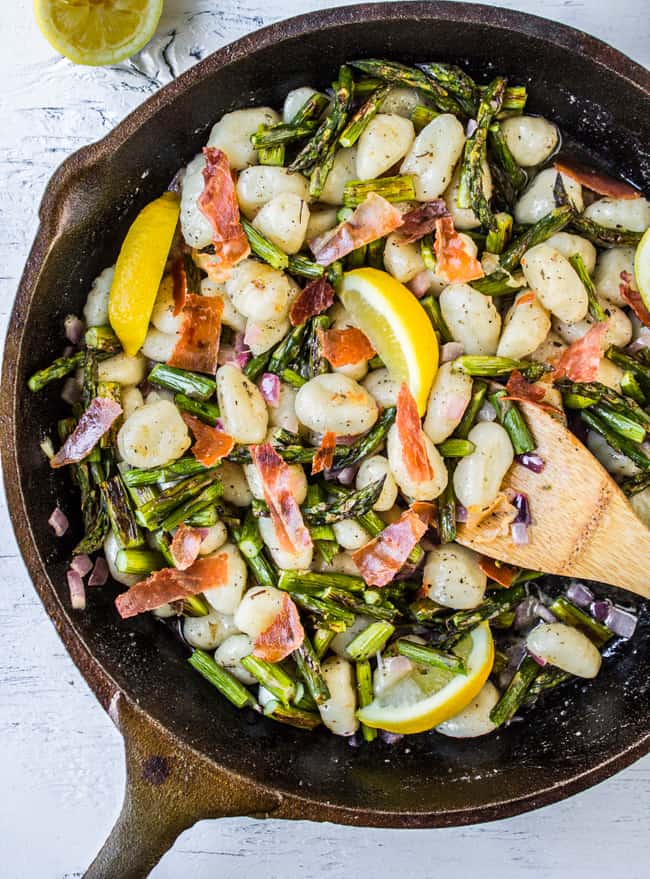 I swear I don't run a daycare but today I had kids all over the place. Coming out of the woodwork. You turn a corner, gah! There's another one. It's like they multiply when you throw water on them.
After all the kids left (or duked it out to the last kid standing in the backyard, I'll let you decide), I was kind of pretending to clean up, when this happened:
I'm not sure what to exclaim about first, the fact that I ate an unknown food item found on the counter of my bathroom, or the fact that SOUR RAISINS EXIST. Like Sour Patch Kids. Except they're raisins. MIND BLOWN.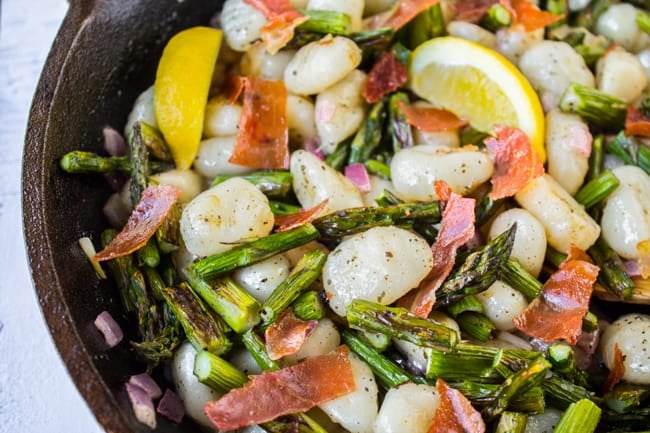 This Gnocchi in Brown Butter Sauce is heavenly!
Speaking of mind-blowing, I've got your Valentine's dinner right here, folks. Skip the long wait and make dinner at home together. This is the perfect recipe to make as a couple, because there are no long bake times, you just make it on the stove (30 minutes, TOPS) and then eat.
It's pretty fancy-feeling too, I mean come on, doesn't it sound like a hoity-toity restaurant meal? Brown-butter, blah, blah, this recipe title is too long for me to even make it through without rolling my eyes. At least that's basically what my brother Nate told me when I asked him to help me name it. "Karen, no one except you even knows what brown butter IS."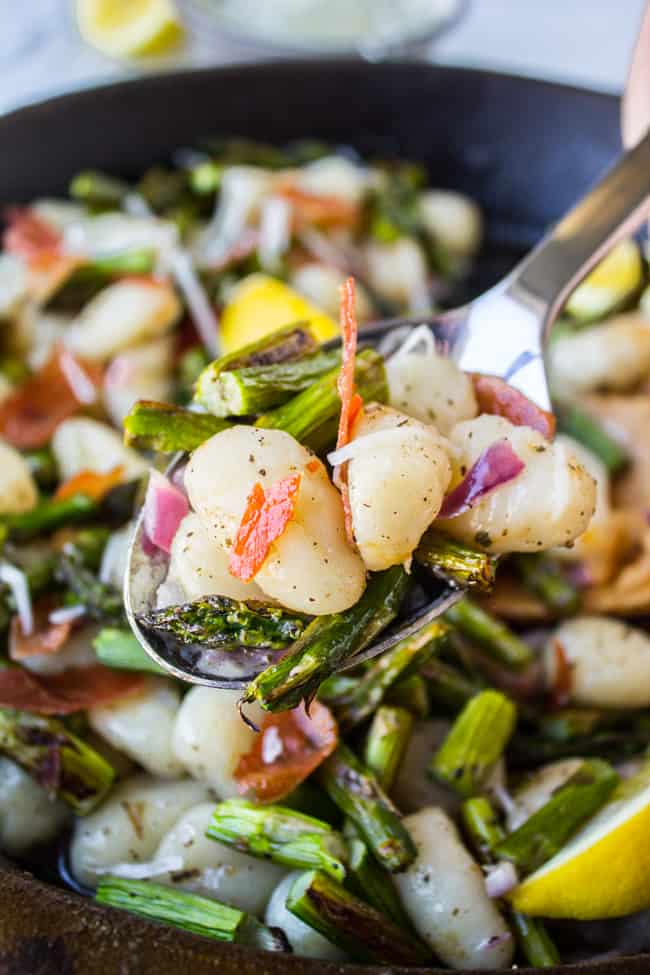 Well guys, I think you know by now that I am basically a brown butter missionary. I'M NOT SORRY.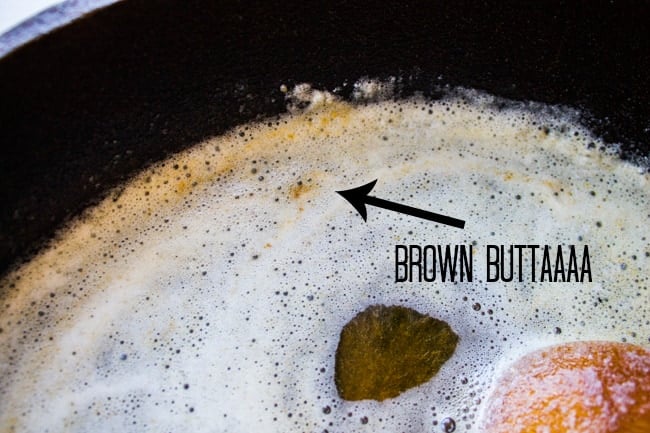 What to eat with Brown Butter Gnocchi?
This is a pretty rich main dish. I suggest serving it with a citrusy-salad like Pineapple Spinach Salad or this Orange Olive Salad. Any green salad would do of course. Or a side of fresh fruit. Crusty bread would definitely be a good choice, too, dipped in oil and vinegar. For drinks serve this Blood Orange and Sage Sparkling Soda from my girl Sarah. Holy smokes Eric you are reading all this right?? Take notes maybe?

Asparagus and Gnocchi in Brown Butter Sauce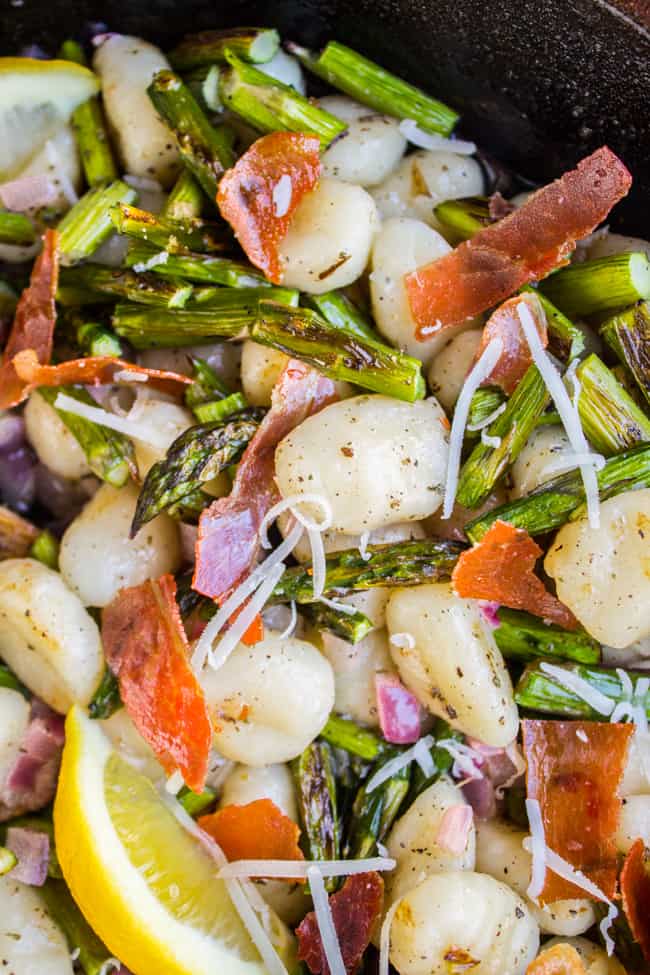 This easy 30 minute dinner features rich gnocchi with roasted asparagus and crispy prosciutto, all in a brown butter lemon sauce. Perfect for making dinner together at home for Valentine's Day! Or for yourself, any day. Because brown butter. 
Ingredients
2

ounces

prosciutto

1

pound

asparagus

2

teaspoons

olive oil

salt and pepper

1

pound

gnocchi

6

tablespoons

salted butter

1

medium

shallot

,

chopped

1

teaspoon

rubbed sage

,

or 2 teaspoons fresh

1/4

teaspoon

salt

2-3

teaspoons

fresh lemon juice

Parmesan cheese

,

to garnish
Instructions
Preheat your oven to 400 degrees F.

Grease a baking sheet with oil or nonstick spray. Lay each slice of prosciutto individually on the baking sheet. Bake for 5-7 minutes, or until it reaches your optimal crispiness level. This is something only you can determine, so pay attention. Slice, crumble, or tear the prosciutto into bite size pieces.

Meanwhile, wash the asparagus and snap off the woody ends. Chop the asparagus into bite size (1-2 inch) pieces. Add the asparagus to a baking sheet (you can use the same one if your prosciutto is done--remove the prosciutto to a plate first.)

Drizzle 2 teaspoons of oil over the asparagus, and rub it around with your hand to make sure it's all coated. Sprinkle with salt and pepper.

Bake at 400 for 9-10 minutes. The asparagus is done when it can easily be speared with a fork. It is slightly over done but still delicious if it looks like the asparagus in these photos. (oops.)

Bring about a quart of water to a pot and heat to a boil. Open the package of gnocchi and use your fingers to separate them from each other; I put them in a bowl (this is so they don't stick together).

When the water is boiling, dump the separated gnocchi in all at once and stir. Leave the burner on high. When the gnocchi float to the top, they are done. Remove with a slotted spoon. Hopefully you can add them straight to the sauce:

Meanwhile, in a 12-inch skillet, melt the butter over medium heat. You can cut the butter into smaller pieces if you would like this to go faster. Stir the butter occasionally until it starts to foam and you see brown swirls in the white foam, see photo. It should take about 2-4 minutes.

When the butter is brown, turn off the heat and immediately add the chopped shallot. Stir, then add the sage, salt, and fresh lemon juice.

Add the cooked gnocchi and asparagus. Stir to coat. Reheat on the stove for a minute or two if necessary. Season to taste with salt and pepper.

Top with the the prosciutto and shredded Parmesan cheese.
Notes
Gnocchi can be found in the pasta aisle. It is not refrigerated, at least not that I've seen.
You can sub 1/2 a small red onion for the shallot.
Nutrition
Serving:
1
cup
|
Calories:
439
kcal
|
Carbohydrates:
46
g
|
Protein:
9
g
|
Fat:
26
g
|
Saturated Fat:
13
g
|
Polyunsaturated Fat:
2
g
|
Monounsaturated Fat:
8
g
|
Trans Fat:
1
g
|
Cholesterol:
55
mg
|
Sodium:
777
mg
|
Potassium:
286
mg
|
Fiber:
5
g
|
Sugar:
3
g
|
Vitamin A:
1389
IU
|
Vitamin C:
8
mg
|
Calcium:
59
mg
|
Iron:
7
mg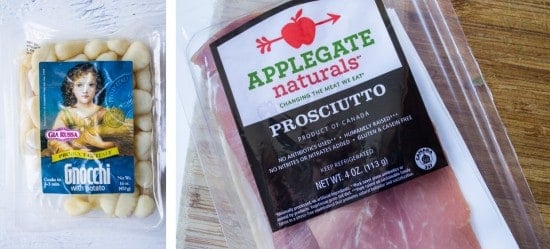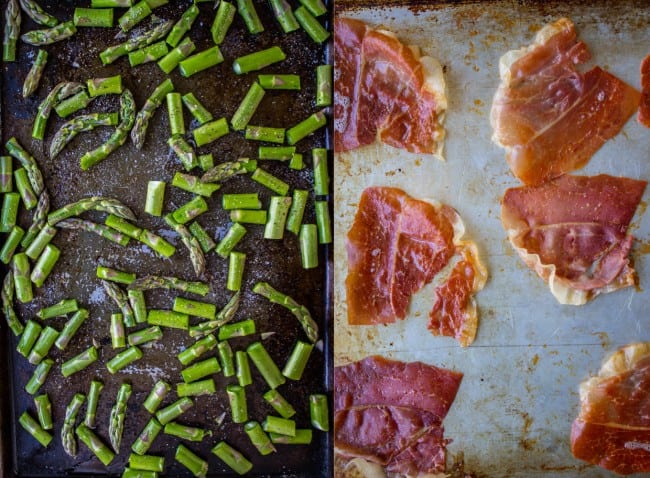 Crisp up that prosciutto just the way you like it.
Other Valentine-at-home meals:
Prosciuttio-Wrapped Chicken with Asparagus: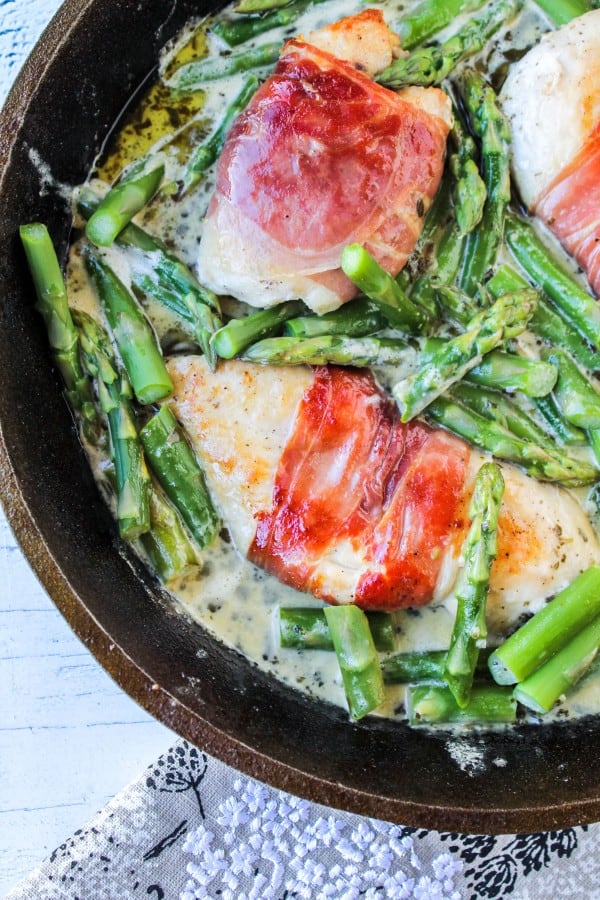 Easy Caramelized Gnocchi with Cherry Tomatoes and Mozzarella: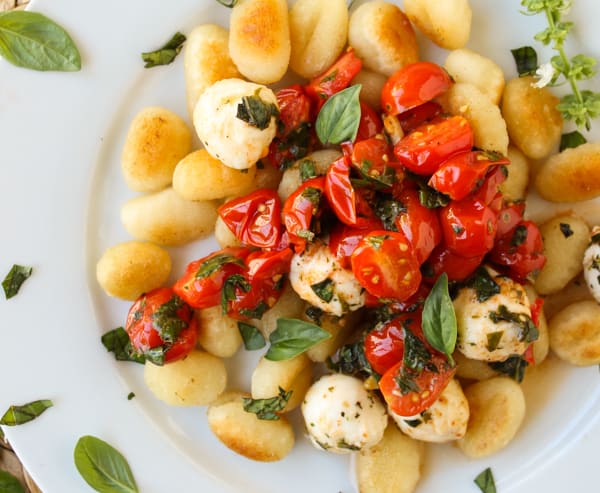 Honey Salmon with Brown Butter Lime Sauce: << my favorite way to eat salmon!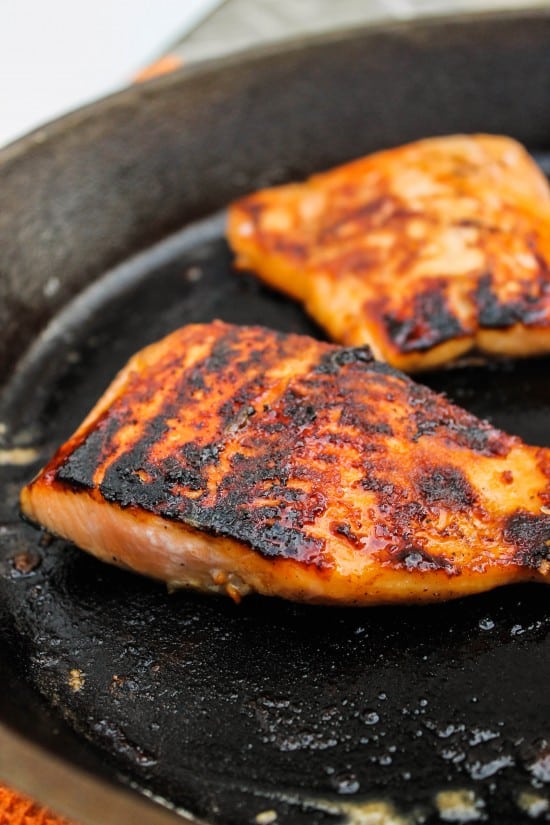 More dinner ideas from other bloggers!
Crispy Gnocchi with Basil Pesto from Two Peas and Their Pod
Ham and Cheese Gnocchi from Kevin and Amanda
Loaded Chicken Alfredo Gnocchi Bake from Inside BruCrew Life