This easy pan-seared chicken is a great weeknight dinner! It seriously tastes restaurant quality. The creamy mustard sauce compliments the broccolini perfectly!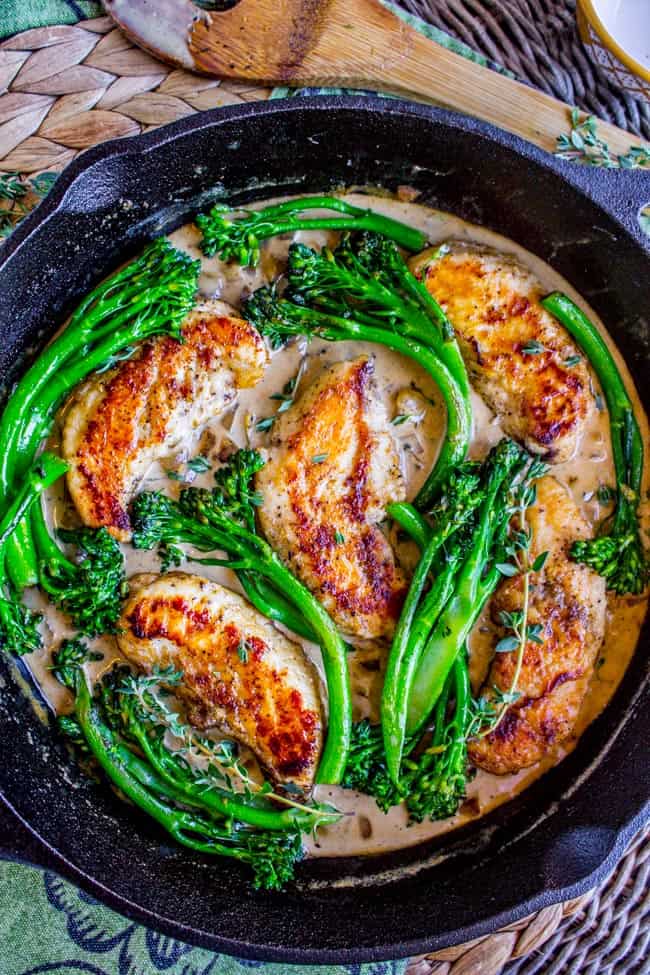 One of my friends, who is just a couple weeks more pregnant than I am, told me that she's like regular size pregnant, and I'm like "fun size" pregnant.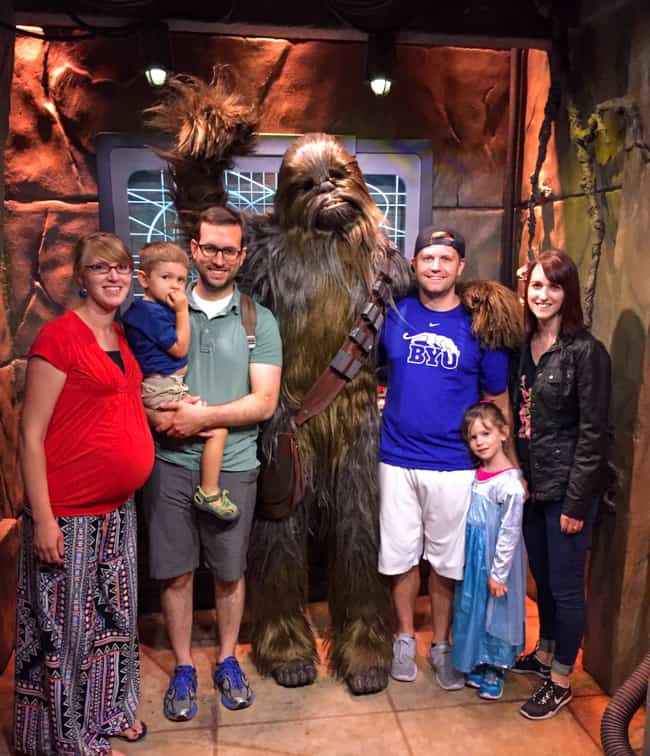 Here's the most recent picture I could find of myself. Does this look FUN SIZE to you? Or anything involving the word fun??
Okay, so it was kinda fun to meet Chewy I guess. Kinda. (Does anyone else think it's weird meeting characters at Disneyland as an adult? I'm like, hi stranger wearing a costume, let's take a picture. Or maybe let's not?) Someone was telling me about a comedian's stint they heard (I can't find it?) about how the characters at Disney are really just regular employees who are on probation. Walt's like, "Until you start showing up to work on time, you're gonna have to wear the fur suit and wave all day."  "No, please!"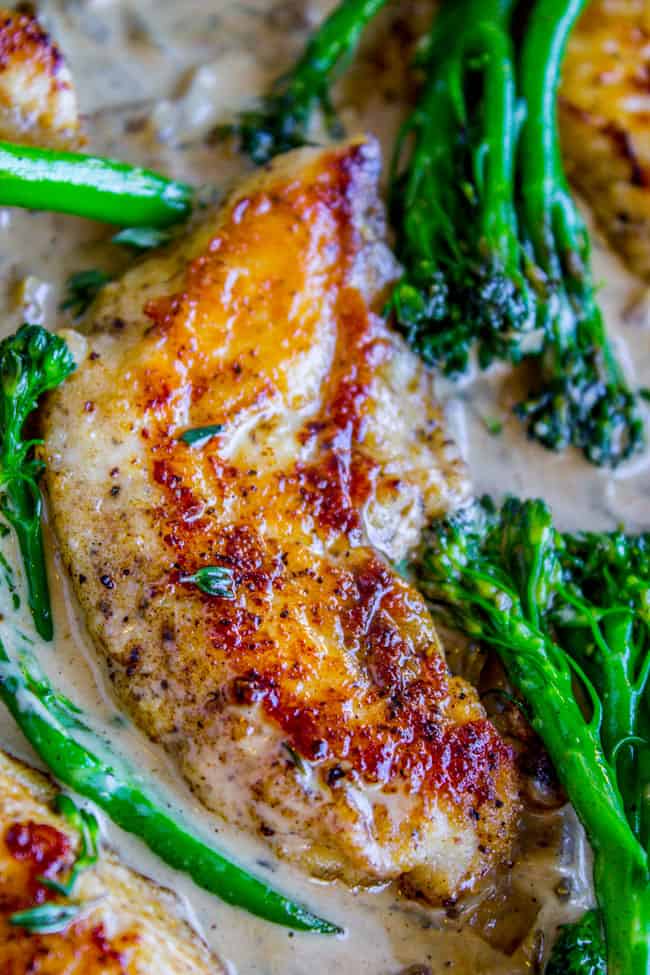 Today's recipe is adapted from my dear friend Amy's new cookbook, Good Fast Eats. (See I TOLD you I had a ton of friends writing cookbooks!) Amy has been blogging over at BellyFull for years and years, and is an amazing cook. She lives right here in Sacramento, so unlike most of my blog friends, we get to hang out in real life (like last week when she threw me a baby shower!)
If anyone should be writing a cookbook, it's Amy. She's mastered the art of delicious dinners on the go. She's got two busy kids who won't take drive-through for an answer (well. Maybe they would, but she won't!) and she's compiled her favorite go-to meals in a truly awesome collection. I'm so proud of her!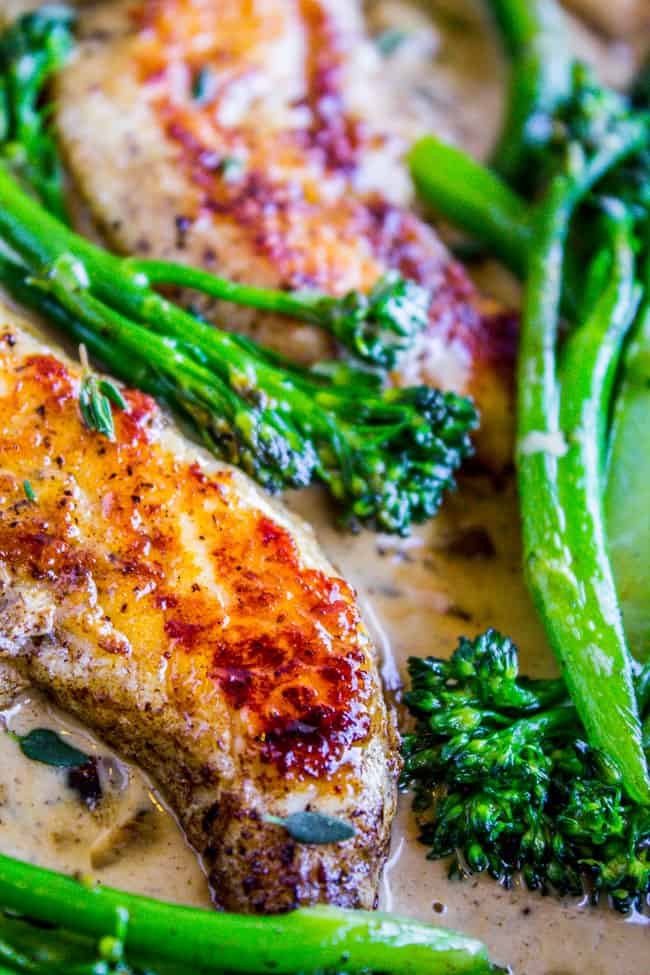 Last week we made the 7 hour drive home from Disneyland and pulled up to the house a little before dinnertime. Of course there was hardly any food in the fridge, but Amy's new cookbook was sitting in my mailbox and I started flipping through it. I saw her recipe for Easy Ground Beef Stroganoff and happened to have all the ingredients, so I threw it together in less than half an hour. It was delicious. So I really do mean it when I say the recipes Amy brings to the table are easy and fast, and often use staples so you don't even have to run to the store.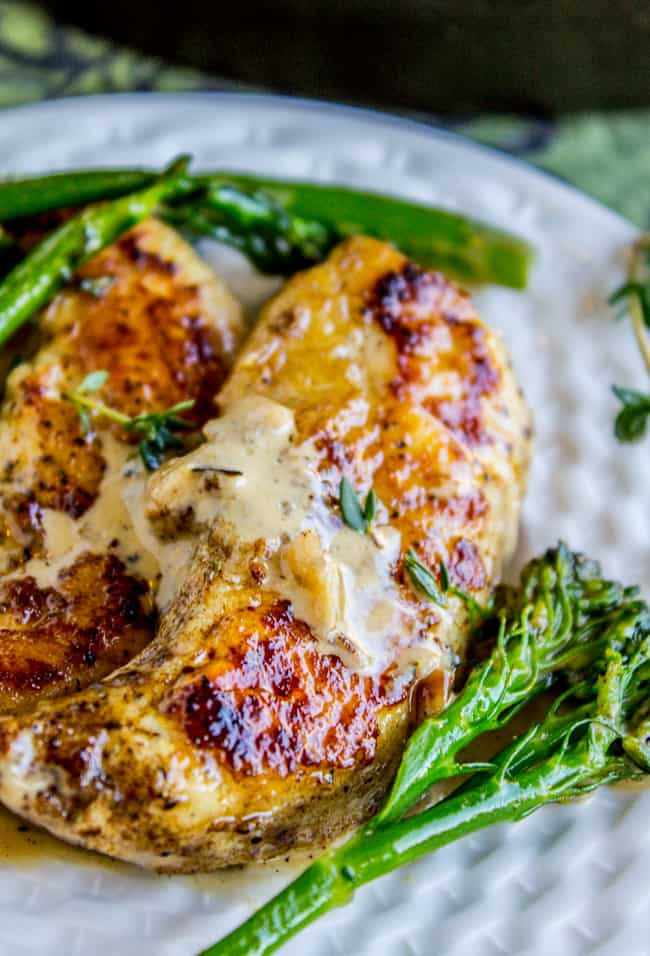 Another example, I mentioned above that she threw me a baby shower for us Sacramento bloggers (thanks again Amy!!), and made this Chile Relleno Casserole for brunch. I had like 3 servings it was so good. Then I went home and made it for dinner that night. For real: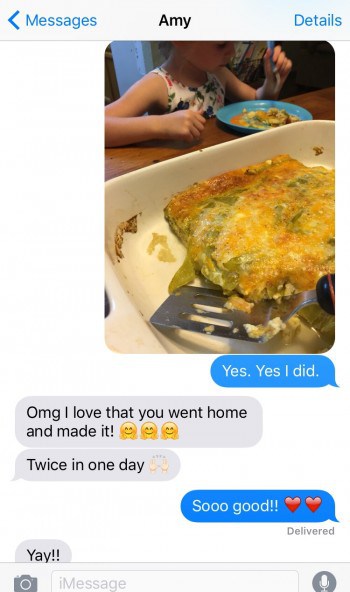 Lucky for you this one's on her blog, not in the book, so you can get the recipe here. I know that photo above is just making your mouth water…ha. I swear it's delicious.
I decided to make her Chicken with Creamy Mustard and Thyme Sauce from the book, but decided last minute to add broccolini and double the sauce. (Any excuse to double the sauce, amiright?) It turned out AH-MAY-ZING. So much flavor!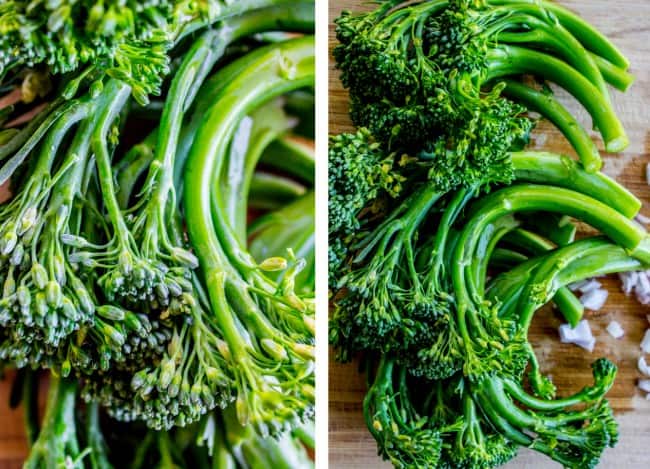 Have you ever made broccolini? I don't know why it's not more popular. This was my first time cooking it at home and now I'm wondering why. It's delicious and super easy to throw together. Just like broccoli, it tastes best when blanched, which is a fancy way for saying "boil for a couple minutes." I guess the difference is that you have to be really careful that it really is only a couple minutes–2 to be exact. Overdo it and you will get mush instead of crisp-tender awesomeness.  Have your timer handy!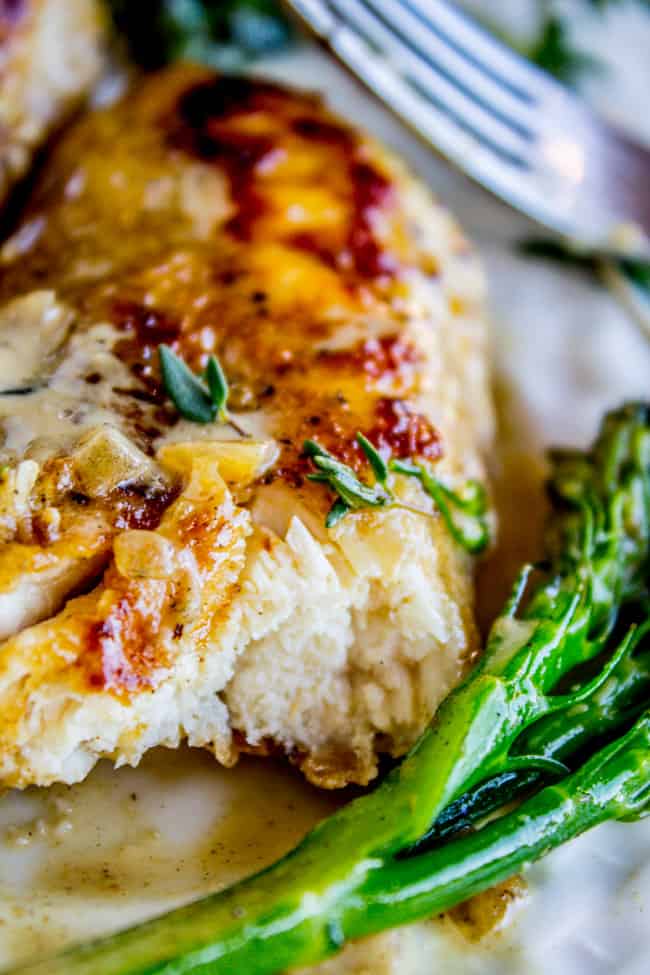 I can't recommend Amy's book enough. If you want to read more about what it's like, visit her page about the book here. If you want to buy the book you can get it here. Congrats Amy! You're published!
If you make this recipe, share it on Instagram using the hashtag #TheFoodCharlatan so I can see it! I love that.
Facebook | Pinterest | Instagram | Twitter

Pan-Seared Chicken and Broccolini in Creamy Mustard Sauce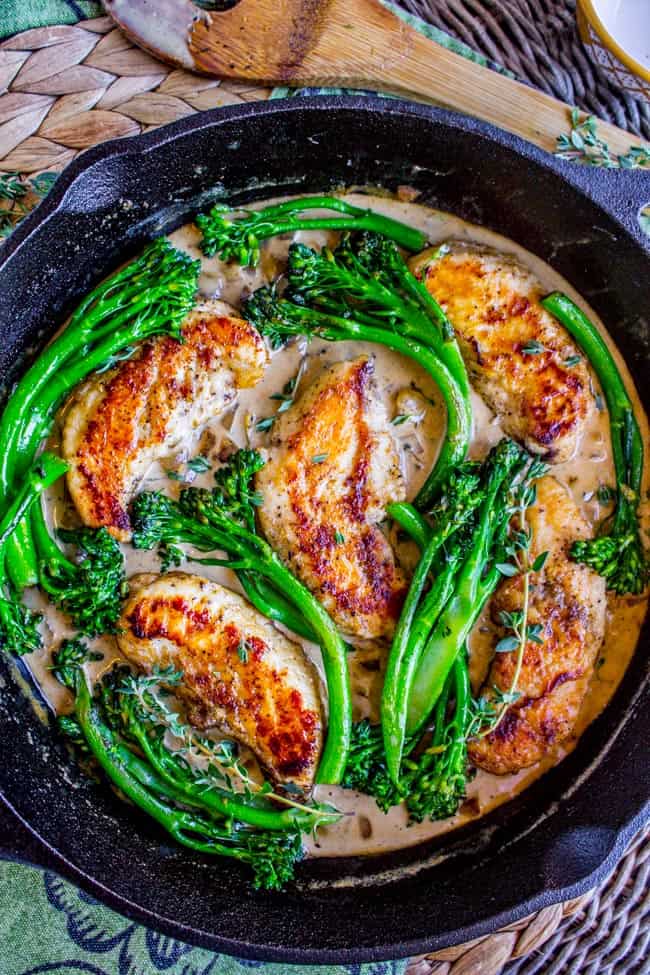 This easy pan-seared chicken is a great weeknight dinner! It seriously tastes restaurant quality. The creamy mustard sauce compliments the broccolini perfectly! 
Ingredients
1 & 1/2

pounds

chicken tenderloins

,

* thawed

salt and pepper

1/4

cup

flour

2-3

tablespoons

olive oil

1

pound

broccolini

,

trimmed and sliced in half lengthwise

water and salt

,

to blanch broccolini

1

tablespoons

olive oil

,

pluse more if needed

1

large

shallot

,

or 2 regular, diced

2

cups

chicken broth

,

**

4

sprigs

thyme

,

fresh, plus more to garnish

1/2

cup

heavy whipping cream

2

tablespoons

dijon mustard

,

or spicy brown mustard
Instructions
Preheat your oven to 170 degrees F, or the "keep warm" setting.

Pat the chicken dry and sprinkle both sides with salt and pepper (don't be shy!)

Sprinkle the flour over the chicken (or dredge it on a plate) to get them coated in flour.

In a large saucepan, heat 2 tablespoons olive oil over medium-high heat. Add the chicken, but don't crowd the pan; you want it to sear not steam. Do it in batches if your pan isn't big enough.

Sear the chicken for 4 minutes; flip and cook another 2-4 minutes, until cooked through. Add more oil to the pan before flipping if it is dry.

Transfer the chicken to a sheet pan or other oven safe dish and put it in the warm oven.

While the chicken is cooking, bring a medium pot of salted water to a rolling boil over high heat. (Add at least 2 teaspoons salt. It should taste like seawater.)

Prep the broccolini: trim about 1 and 1/2 inches from the bottom stems, and remove any leaves. Slice any larger pieces lengthwise so they are all a similar size.

When the water is boiling, add the broccolini all at once, cover with a lid, and set a timer for 2 minutes.

If the chicken is done and removed, add a tablespoon of oil to the hot pan over medium high heat. Transfer the broccolini from the water to the pan (careful! It will splatter). Saute for 1 minute, then remove to the pan of chicken in the oven. (If the broccolini is done before the chicken, don't leave it in the pot of water! It will get mushy. Transfer it to a bowl of cold water to stop the cooking process. Then saute as described.)

Add the shallots to the hot pan over medium high heat. (add a bit more oil if necessary) Saute for 2-3 minutes until soft.

Stir in the chicken broth and thyme sprigs. Bring to a boil and then simmer for 3 minutes. Stir in the cream and mustard. Simmer for 5-6 minutes, until the sauce has reduced and thickened some. Remove from heat and discard the thyme stems.

You can either add the warm chicken and broccolini to the pan or serve on a platter with the sauce over the top.

This would be great served with salad, bread, roasted potatoes, etc.
Notes
*If you can't find chicken tenderloins (they are in the frozen section) buy fresh thin-cut chicken breasts. If you can't find that, then be sure to pound your regular chicken breast so that it sears easier.
** I always use water and Better Than Bouillon. So easy to keep on hand in the fridge!
Source: this recipe is adapted from my friend Amy's amazing new cookbook, Good Fast Eats!
Nutrition
Serving:
1
chicken breast
|
Calories:
491
kcal
|
Carbohydrates:
20
g
|
Protein:
42
g
|
Fat:
26
g
|
Saturated Fat:
9
g
|
Polyunsaturated Fat:
2
g
|
Monounsaturated Fat:
12
g
|
Trans Fat:
1
g
|
Cholesterol:
150
mg
|
Sodium:
711
mg
|
Potassium:
781
mg
|
Fiber:
2
g
|
Sugar:
5
g
|
Vitamin A:
2540
IU
|
Vitamin C:
117
mg
|
Calcium:
123
mg
|
Iron:
3
mg
This Garlic and Rosemary Skillet Bread that I just posted would be a great side dish for this meal!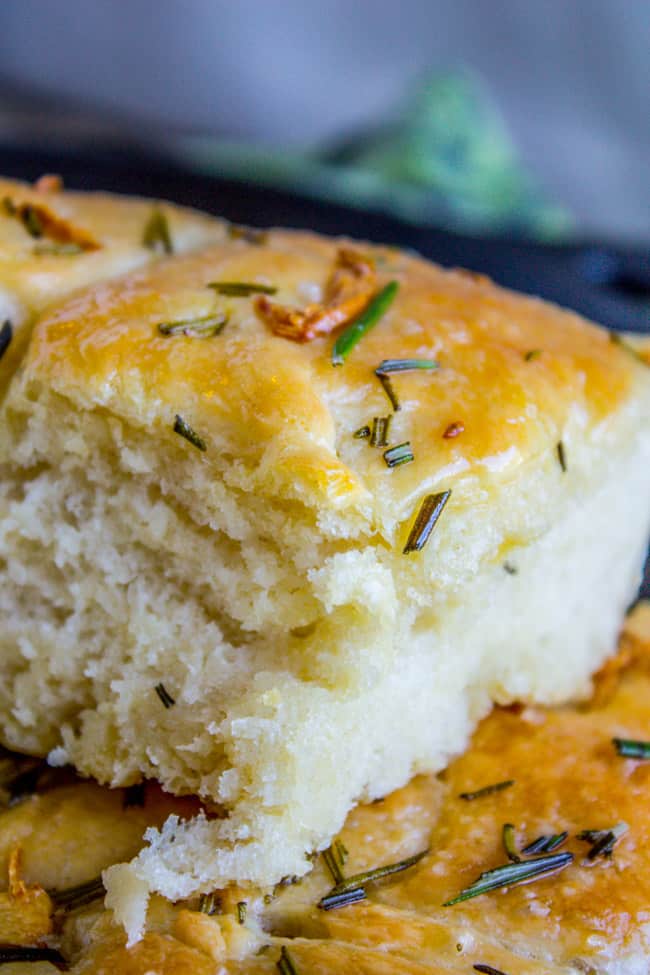 Other quick chicken recipes from The Food Charlatan!
Prosciutto-Wrapped Chicken with Asparagus << this is a huge reader favorite!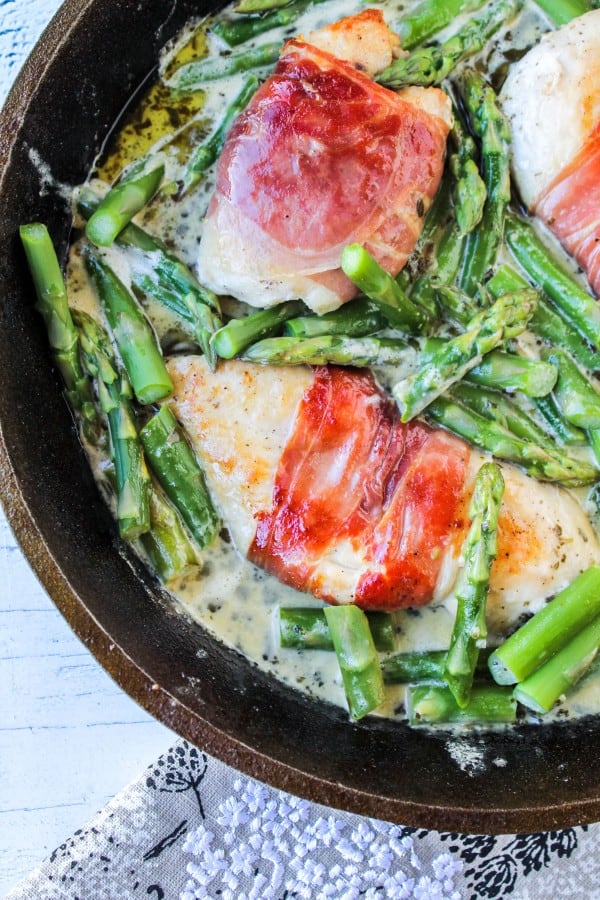 Easy Baked Pesto Chicken << this is a super quick weeknight meal.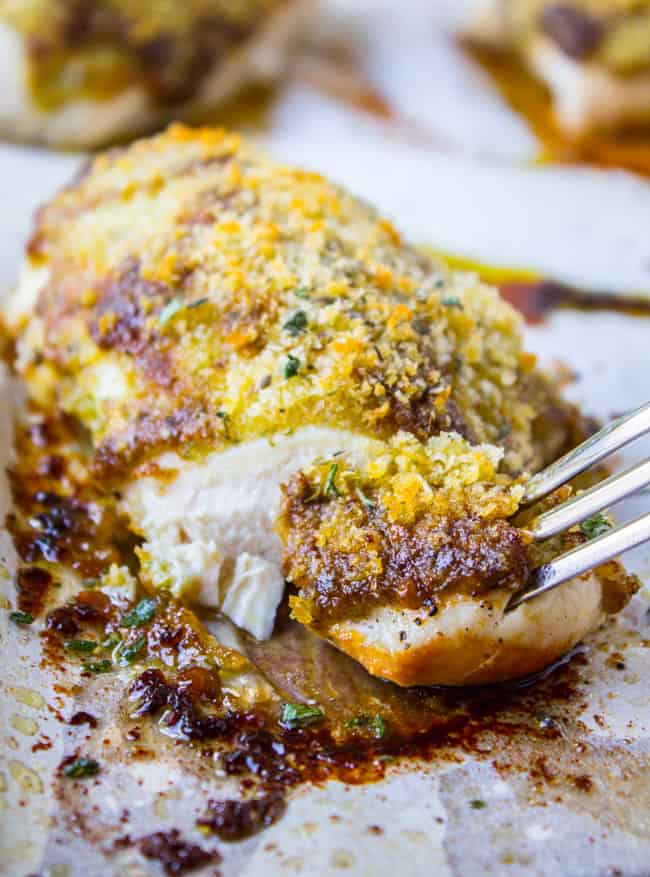 Garlic Lime Chicken << another super easy recipe from the archives.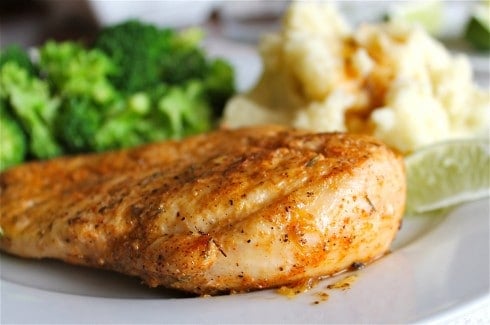 More chicken recipes from friends! 
Honey Mustard Baked Chicken Fries from Will Cook fro Smiles
Pan Seared Chicken Drumsticks with Vegetables from The Cookie Writer
Pan Seared Chicken with Wild Mushroom Thyme Sauce from Joyful Healthy Eats
COMMENTS! There are a few comments below the recipe here, but if you are actually making this, check out THIS PIN for more reviews. You can see comments on Pinterest from people who actually tried this recipe. I wish people would come to the blog to make these comments (it would be so much easier to find!) but I don't want you guys to miss out on more info and reviews.