This easy, show-stopper dinner is healthy to boot. Well I mean besides the cream. But the asparagus totally makes up for that.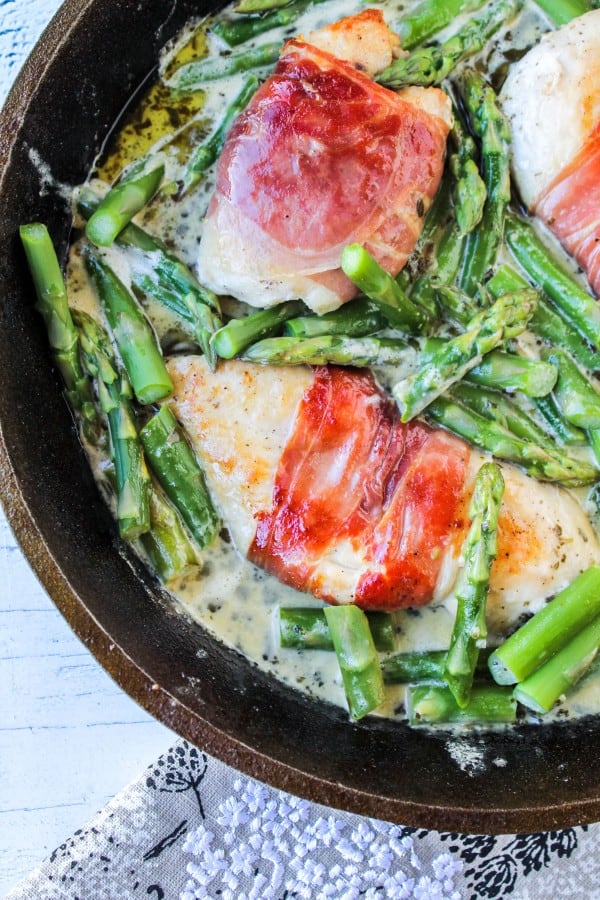 Guys, I don't want to brag or anything, but I'm pretty much single-handedly saving the whales over here. I haven't had a longer-than-5-minute shower in months. I know the rest of you are getting pounded with snow right now, but we Californians are in drought-land.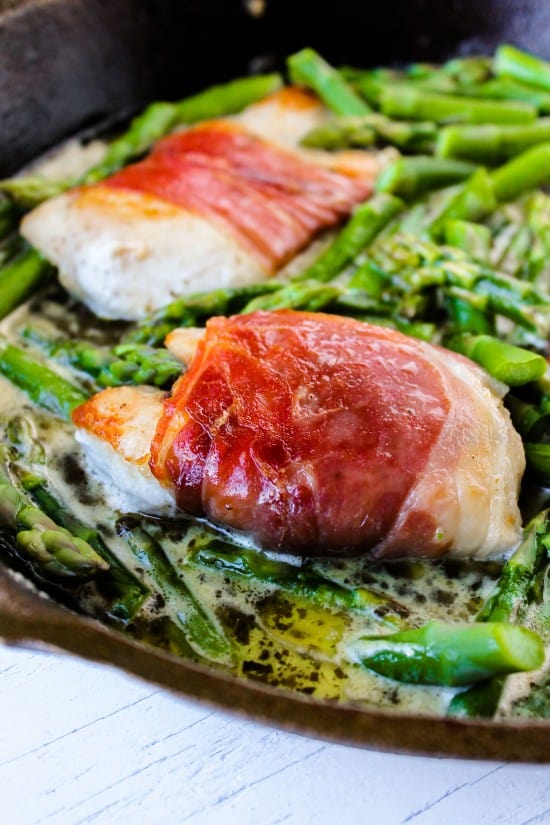 Okay…that's not actually why I'm taking 5-minutes showers. I'm not that good of a person. No, we just have a crappy from-the-past water heater. 5 minutes. That's it. 5 minutes, and then I'm left with barely warm water. And I like my showers HOT.
I was talking to my friend Lara about this today and she said, "If my skin is not red when I get out, then it wasn't a hot enough shower." Yes. Yes.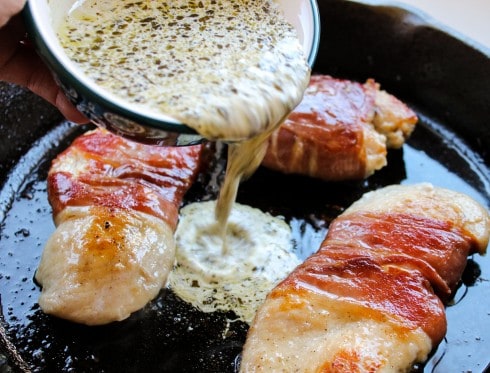 A sad residual of this fact is that I now only have 1 square foot of shower space that is not filthy. My usual strategy for cleaning the shower is to wipe it down with a magic eraser every day. Because if I have to clean something, doing it with hot water streaming on my skin is how I want it done. (I would clean everything in the shower if I could.)
But who has time for shower-scrubbing when you only have 3 minutes to shampoo AND condition your hair? 2 minutes to shave your legs??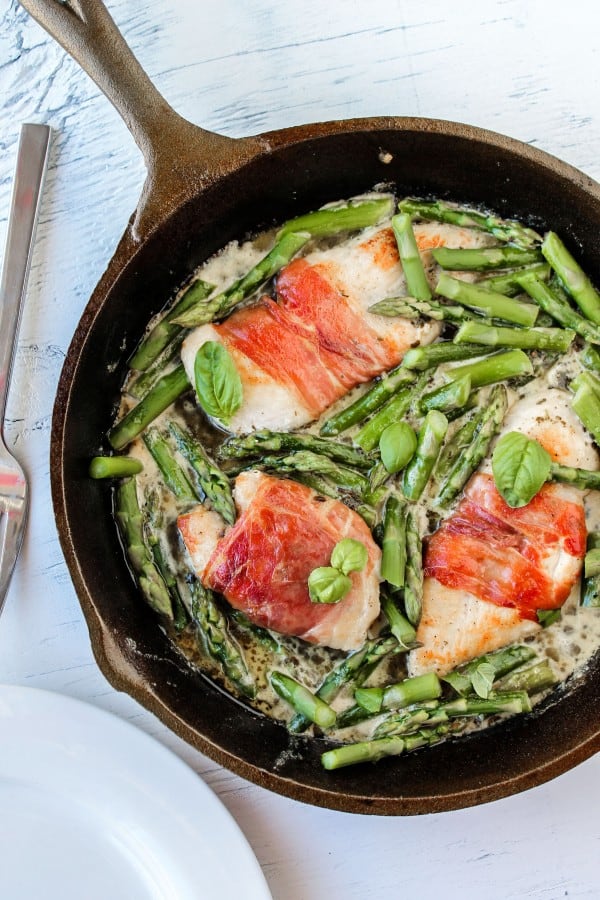 Good thing my mother-in-law is coming to town next week, otherwise my one-square-foot of clean shower would slowly diminish until eventually I'd be showering on tip toe. Nothing beats a mother-in-law when it comes to cleaning motivation. (Love you Kris! :)
I seriously need to get Eric to turn up the temperature on the water heater. He's going to notice soon that I never shave my legs anymore.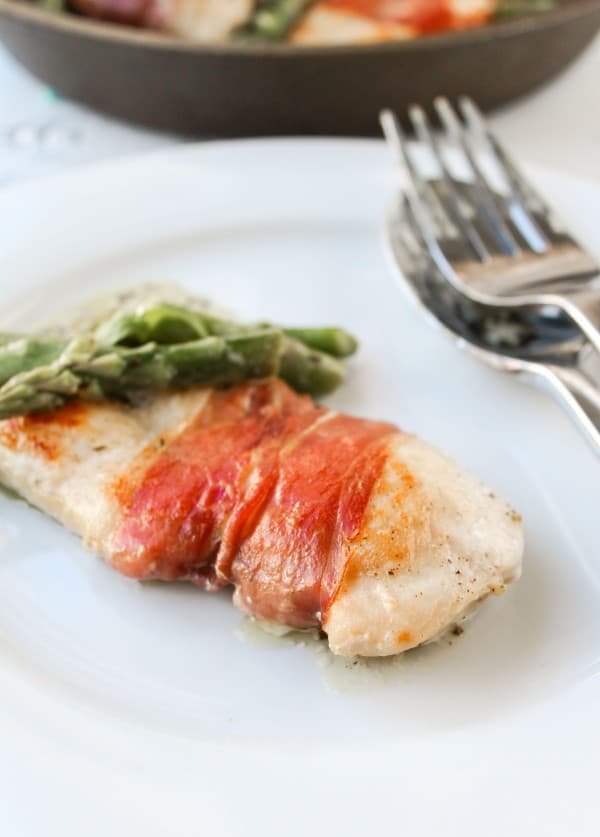 I'm trying to think of a segue from shaved legs to Valentine's Day, and boy have I got some, but let's keep this blog G-rated.
If you are braving the crowded restaurants on V-day, more power to you, but I for one will be making dinner at home. A fast one, that doesn't require any thought, so that I can get back to making good use of my shaved legs. (Don't worry, I'll take a shower in the guest bathroom. TMI?)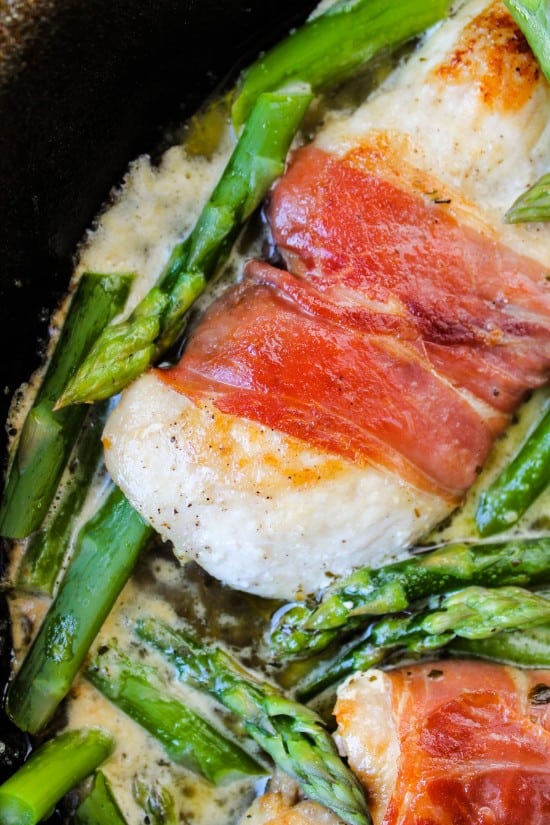 This Prosciutto-Wrapped Chicken with Asparagus is a good option. Classy, pretty, and suuuper easy.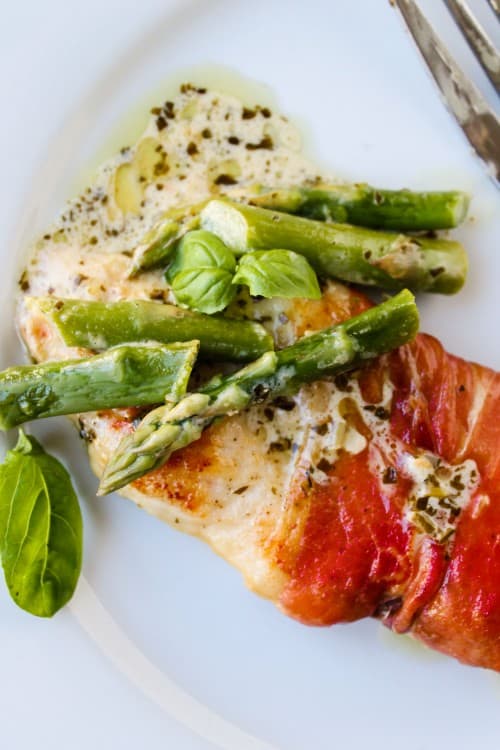 One last thing: in case you haven't heard, this Thursday the 13th is officially Galentine's Day, a day to celebrate us gals and how awesome we are :) Check back for the dessert I will be making, and for links to all the other recipes that some other awesome bloggers will be bringing to the party! #GalentinesDayParty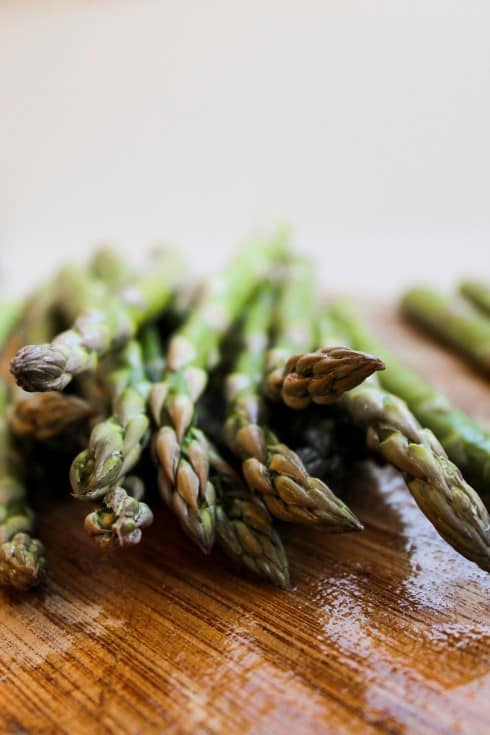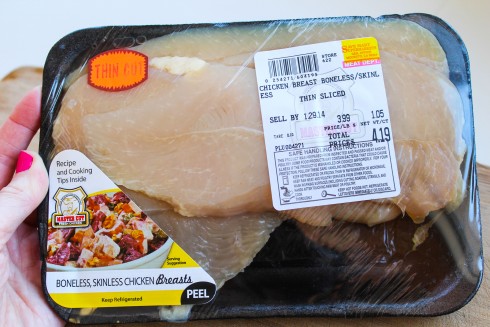 Try to find these "thin cut" chicken breasts. It will save you some time.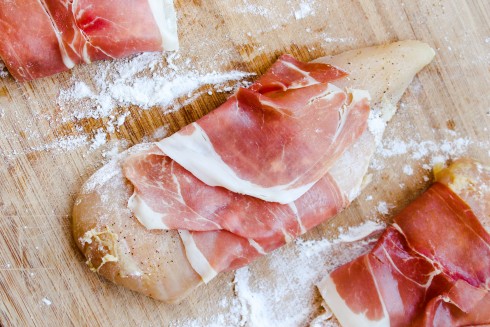 Wrap up those bad boys.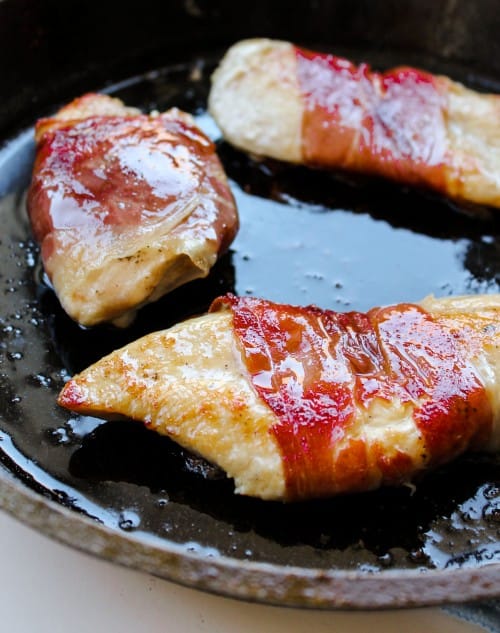 Fry it up on the stove. Don't crowd your meat, use 2 pans if you have to.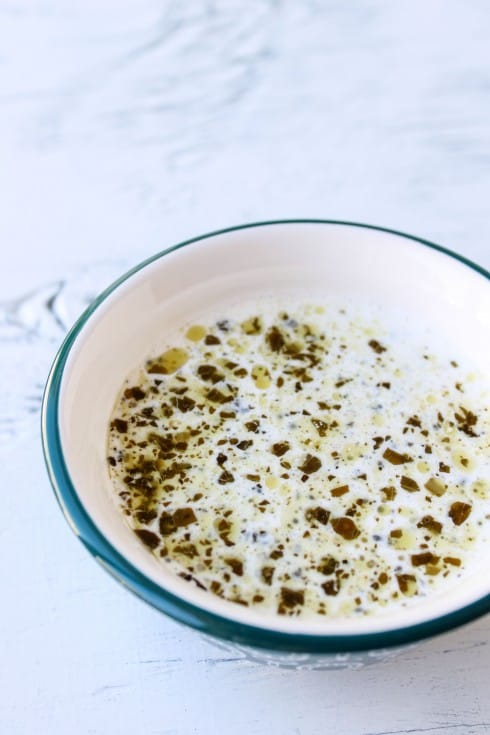 Whisk up some creamy pesto…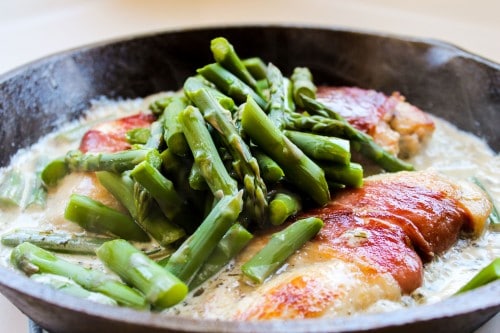 Add some asparagus…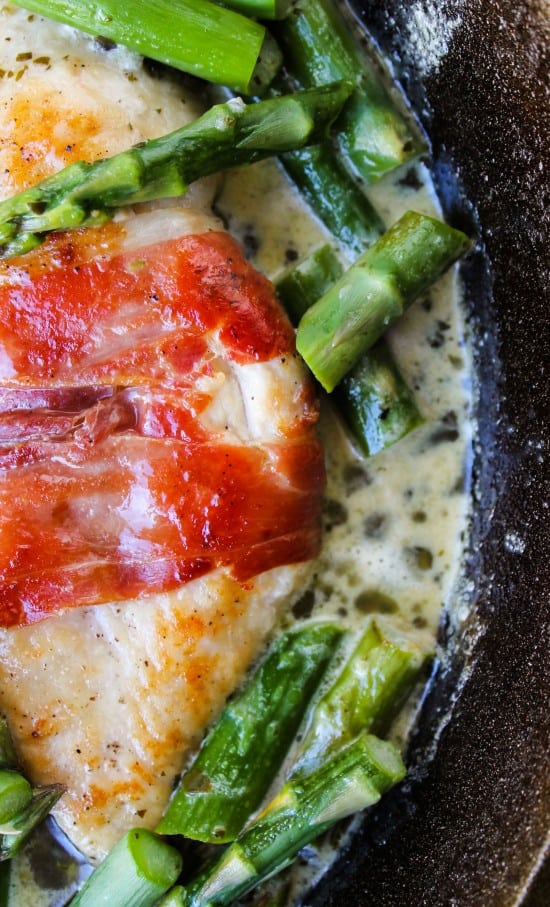 And voila!
Facebook | Pinterest | Instagram

Prosciutto-Wrapped Chicken with Asparagus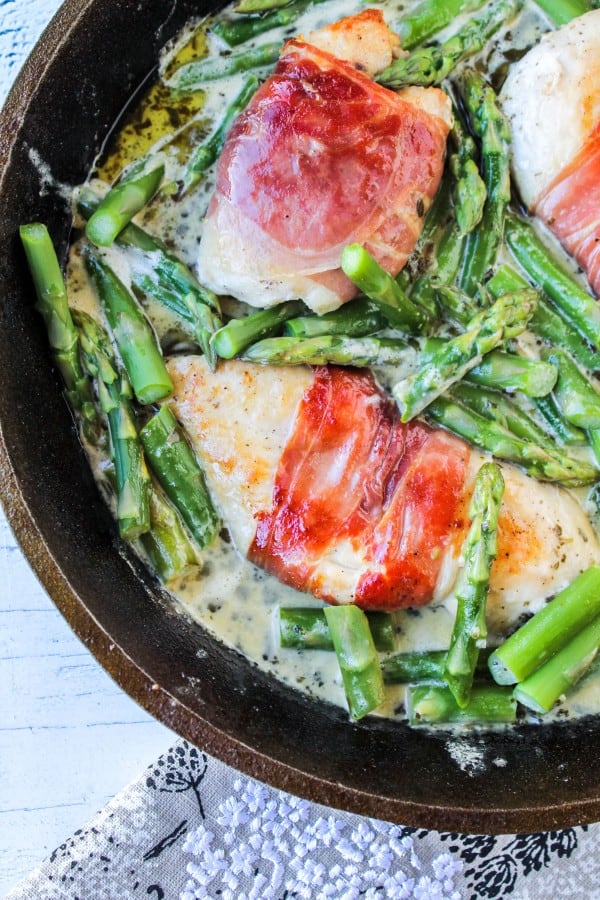 This easy, show-stopper dinner is healthy to boot. Well I mean besides the cream. But the asparagus totally makes up for that.
Ingredients
1

pound

chicken breast

,

sliced thin (2-3 breasts)

salt & black pepper

,

freshly ground

2

tablespoons

flour

,

or more

4

slices

prosciutto

2

tablespoons

olive oil

1

bunch

asparagus

1/4

cup

basil pesto

1/3

cup

cream
Instructions
Prepare the chicken. Use a sharp knife to slice each chicken breast in half horizontally, to create a thin cutlet. Start at the thick edge of the chicken breast. You should end up with pieces of chicken that are the same shape as a chicken breast, just thinner. Pat them dry with a paper towel, then sprinkle with salt and pepper; go easy on the salt, the prosciutto is salty.

Rub the chicken with the flour. Wrap each piece of chicken with a piece of prosciutto.

In a large skillet, heat the olive oil on medium. When it is hot, add the wrapped chicken. Cook for 5-6 minutes, then flip and cook for another 4-5 minutes or so, until browned and it reaches 165 degrees.

Meanwhile, add about 3 inches of water to a small pot, cover, and put it on to boil. Wash the asparagus and snap off the woody ends. Cut the asparagus into 2 inch pieces. Add to a steamer basket, and when the water in the pot is at a rolling boil, put the basket on top and cover. Cook for about 5 minutes, or until tender. Immediately rinse with cold water to stop the cooking and set it aside. (If you don't have a steamer, you can roast the asparagus, or saute it with some oil).

In a small bowl whisk together the pesto and cream. When the chicken is fully cooked, pour the mixture over the chicken, and add the asparagus. Bring the mixture to a boil, then turn off the heat. Serve with potatoes or crusty bread.
Nutrition
Serving:
1
chicken breast
|
Calories:
389
kcal
|
Carbohydrates:
9
g
|
Protein:
29
g
|
Fat:
26
g
|
Saturated Fat:
8
g
|
Polyunsaturated Fat:
2
g
|
Monounsaturated Fat:
9
g
|
Trans Fat:
1
g
|
Cholesterol:
106
mg
|
Sodium:
339
mg
|
Potassium:
682
mg
|
Fiber:
3
g
|
Sugar:
3
g
|
Vitamin A:
1492
IU
|
Vitamin C:
8
mg
|
Calcium:
72
mg
|
Iron:
3
mg