I have a new conversion story my friends: I thought I hated red "meat sauce". But this rich, luxurious Bolognese sauce recipe is the stuff of DREAMS, I tell you. My homemade sauce has freshly chopped carrots, onions, and celery, plus a long slow simmer with tomatoes and cream. The result is an explosion of creamy authentic Italian flavor, and has changed everything I thought I knew about red sauce.
Table of Contents
A while back, during the quiet part of church, when everyone's heads were bowed in solemn contemplation of the sacrament, my 3-year-old son Edison yelled at the top of his lungs, "IS CHURCH DONE YET?"
And more quietly, but still in a stage whisper audible for several rows I'm sure, is Edison's weekly insistence that HE'S STILL THIRSTY after the sacrament water comes and goes. (This isn't quite as bad as when my other son (around the same age) managed to flip off the overhead lights for the entire congregation, but pretty close.)
I think the kid is turning a corner on his religious journey though. Just last night we were reading the scriptures and out of nowhere Edison pipes up, "Heavenly Father has candy!" With the most delighted look on his face. I don't know where he got that idea but I'm stickin with it.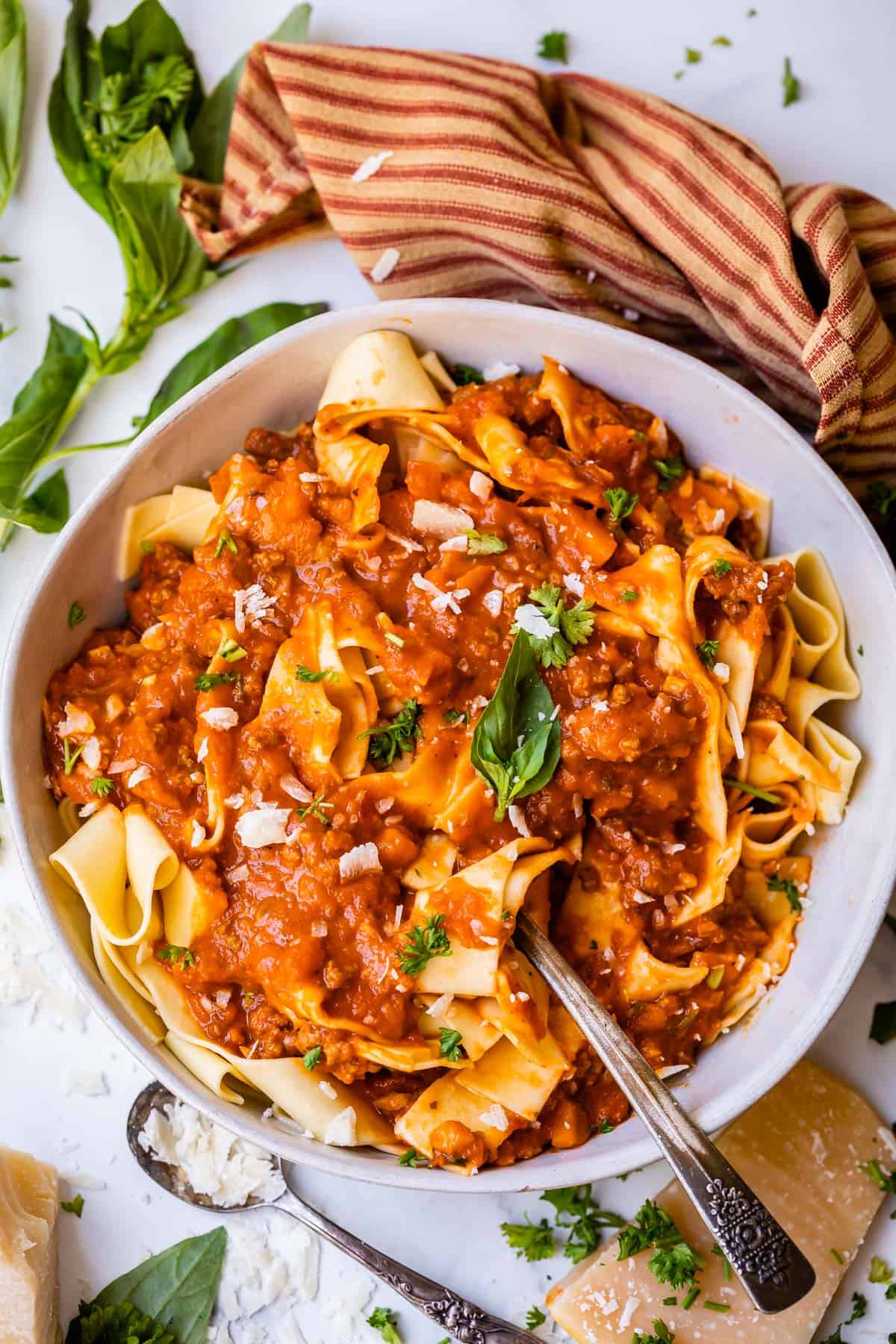 Has spring sprung where you are this week? Hopefully you are seeing an end to the endless January we all had this year! We are surrounded by blossoms here in California, finally. I know some of you up north are still getting snow, good grief. My friend in North Dakota saw the freakin Northern Lights just last night.
I have another friend in Utah who walks around in socks in her basement every day, to see if they get wet. There are houses in her neighborhood flooding, not from the run off…water is coming up through their foundations. Can you imagine?? What even! Gah!!
So today's recipe is for you guys who are still stuck in winter weather. (I never rely on the weather to tell me what to cook, I'm a soup-all-summer kind of girl. Don't hate me.) Also, once you have this Bolognese you will understand why I'm okay making it in April. It kind of transcends the seasons.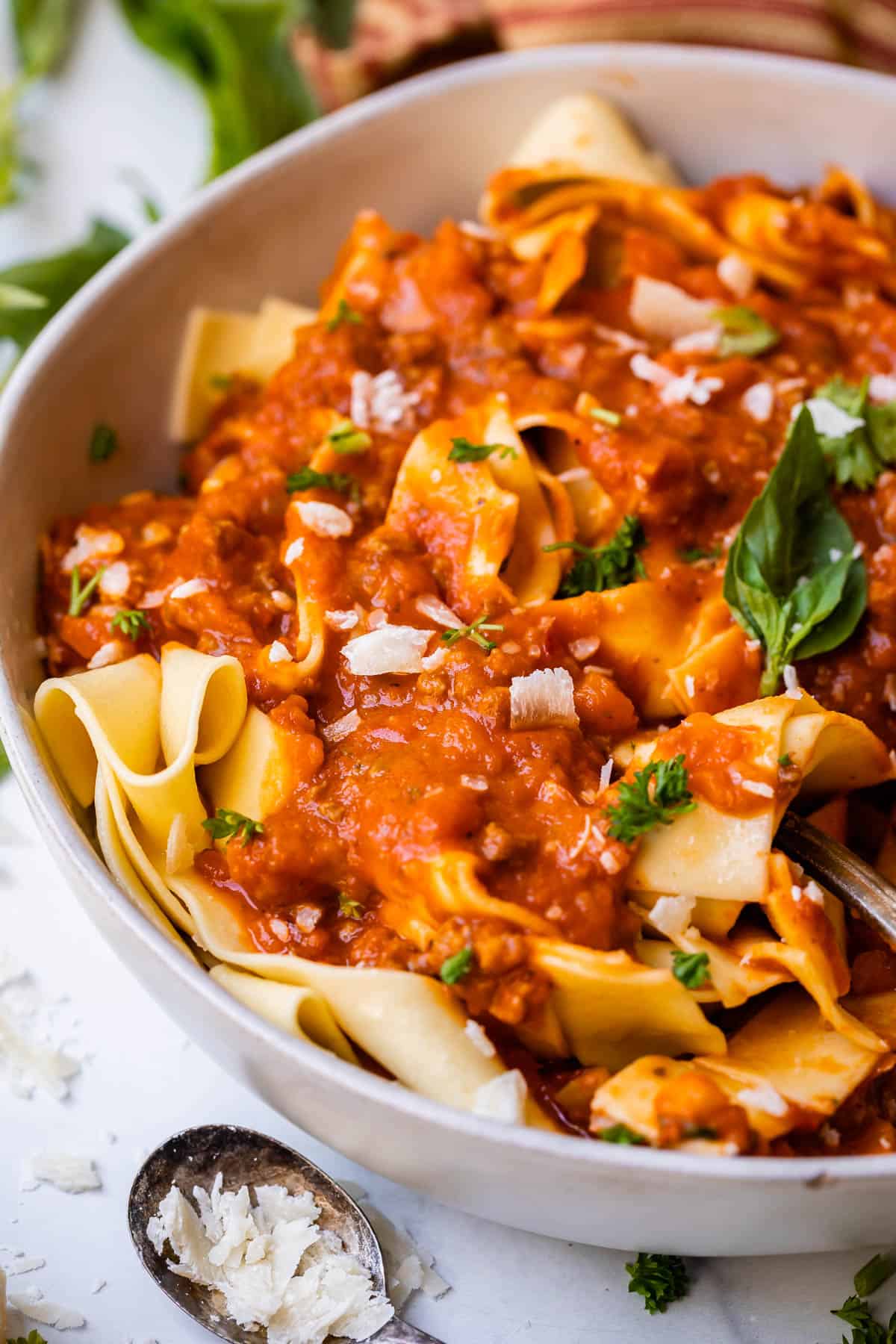 (Side note, every time I hear the word (bow-luh-nayz) I think of this moment from Harry Potter 4:
Ron: "What's that?" Hermione: "Bouillabaisse." Ron: "Bless you." Hermione: "It's French. I had it on holiday, it's very nice." Ron: "I'll take your word for it."
Ah, Ron and Hermione, one of the greatest love stories of all time. (Or maybe my love affair with bolognese is the greatest love story of all time?? I mean maybe.) And I know, Bouillabaisse is not Bolognese, it's a French seafood soup, but it kind of sounds like Bolognese and I can never get it out of my head. Also, I will never be posting Bouillabaisse on this blog because: mussels. Gross. I know, I'm like, 12.
Bolognese sauce: Spaghetti's misunderstood older brother
True story: I've never been super interested in mastering Bolognese Sauce. When someone says "Bolognese" (I say, bless you! Just kidding) I'm like, oh, a fancy name for spaghetti sauce that you have to chop a bunch of vegetables for, and that takes hours to cook? Why bother?
The only reason I started down this path is because I actually wanted Lasagna. Killer homemade Lasagna (coming soon) must start with a killer homemade sauce, and that means Bolognese.
So I got testing. And testing. And testing. And I had so much fun trying out different meat sauces that could make an amazing lasagna that I got sidetracked into making two different stand alone recipes: a 30 minute Easy Spaghetti Sauce, and it's older, cooler, more complicated brother: Bolognese.
I love it SO much more than I thought I would. I cannot stop eating it on top of any kind of pasta available. I'll even put it on top of a bed of steamed broccoli or Zucchini Noodles. It's. So. Good. And it definitely needed it's own post. It's no longer in my mind just a by-product on the way to lasagna, and definitely not the same as spaghetti sauce.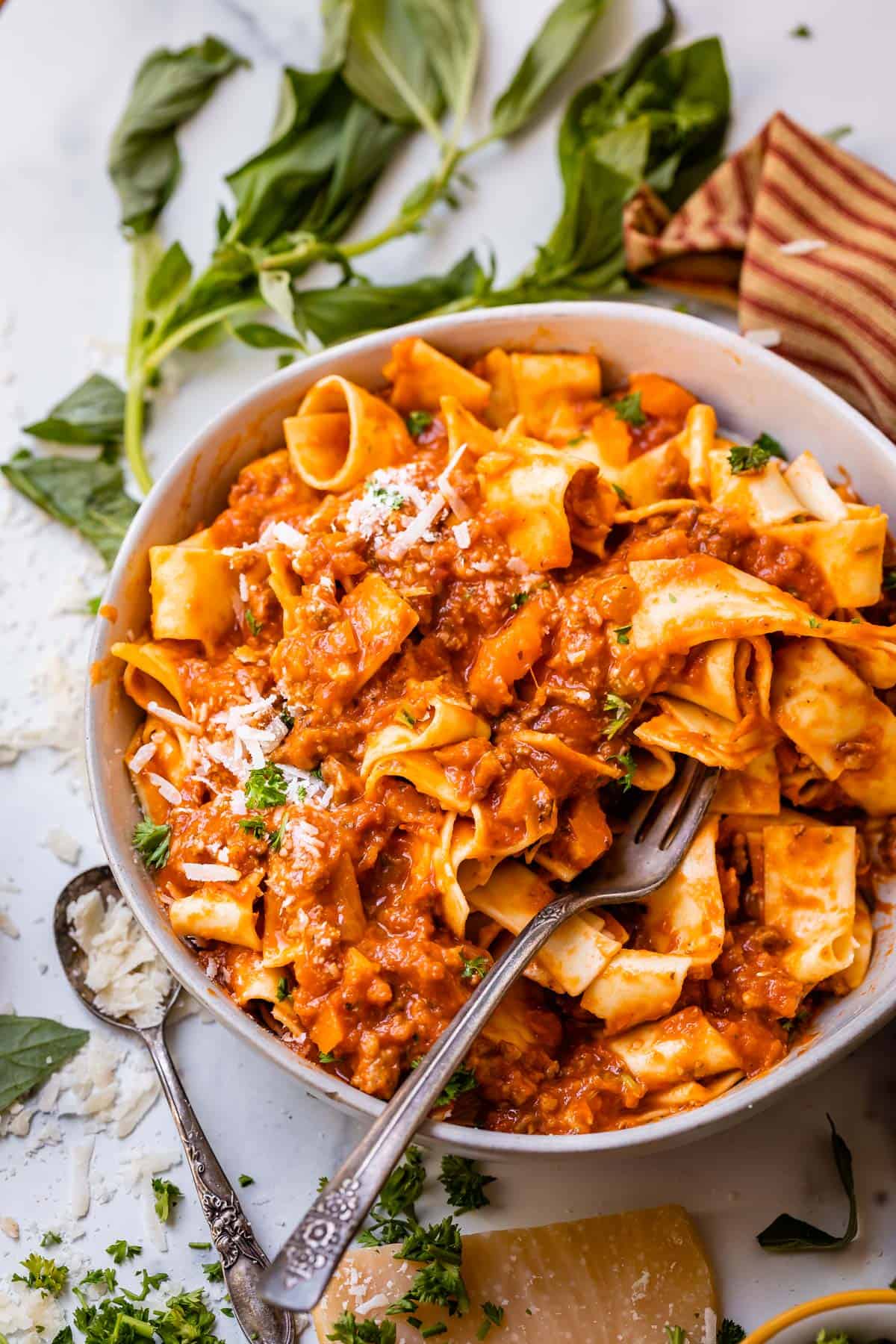 What is the difference between Spaghetti and Bolognese sauce?
Bolognese does NOT taste the same as spaghetti sauce. It even looks different: spaghetti sauce is bright red from the tomatoes flying solo, but you will notice the Bolognese has a lovely russet-orange color.
It starts out with vegetables: onions, celery, and carrots. These veggies are an integral part of the sauce; you can taste them and that's not an apology, there are lovely carrot and celery notes. Then we go and add cream, then white wine, and simmer forever: this is why Bolognese has a depth of flavor that goes way beyond the simple tomatoes + meat flavor of spaghetti sauce.
We're not cutting corners with this Bolognese. It's going to take a couple hours to put together. The long simmer is the last step that takes the flavor of this sauce to the next level.
What is Bolognese sauce anyway?
True, authentic Ragu alla Bologna from Bologna, Italy, is different than what is served here in the United States. There is a certified process (made official through the Accademia Italiana della Cucina) that tells you which ingredients are allowed in "authentic" Italian Bolognese. And guess what? There is no tomato at all except a bit of tomato paste! It is a true meat sauce, cooked in butter and milk to break down tough cuts of meat (usually veal) and make them tender over time.
But Italian immigrants gave Bolognese a life of its own here in America. While the base recipe is similar (with the holy trinity of onion, carrot, and garlic, as well as wine, milk/cream, and meat) the addition of tomatoes as a main ingredient is what turned it into the red (russet :) sauce we know and love today. All those ingredients simmer long and low, giving the flavors a chance to marry and develop into a cohesive and very rich sauce.
If you want to know all about why and how Italian cooking changed in America, check out Red Sauce: How Italian Food Became American by Ian Macallen. I have been on a HUGE kick making Italian (Italian-American) food lately (first with Easy Spaghetti, next up is Lasagna, then meatballs coming soon!) My sister Laura helps me do deep-dive research on my recipes, and she read this book while learning all about Italian Wedding Soup. We are such nerds about food, ha! It's so much fun! Let's get started making it!
Bolognese ingredients
Here's snapshot of the ingredients you'll need. Scroll to the recipe card for the full recipe!
Italian sausage
ground beef
oil
onion
carrots
celery
garlic
spices like Italian seasoning and red pepper
white wine
cream
crushed tomatoes
beef broth
balsamic vinegar
fresh parsley, basil, rosemary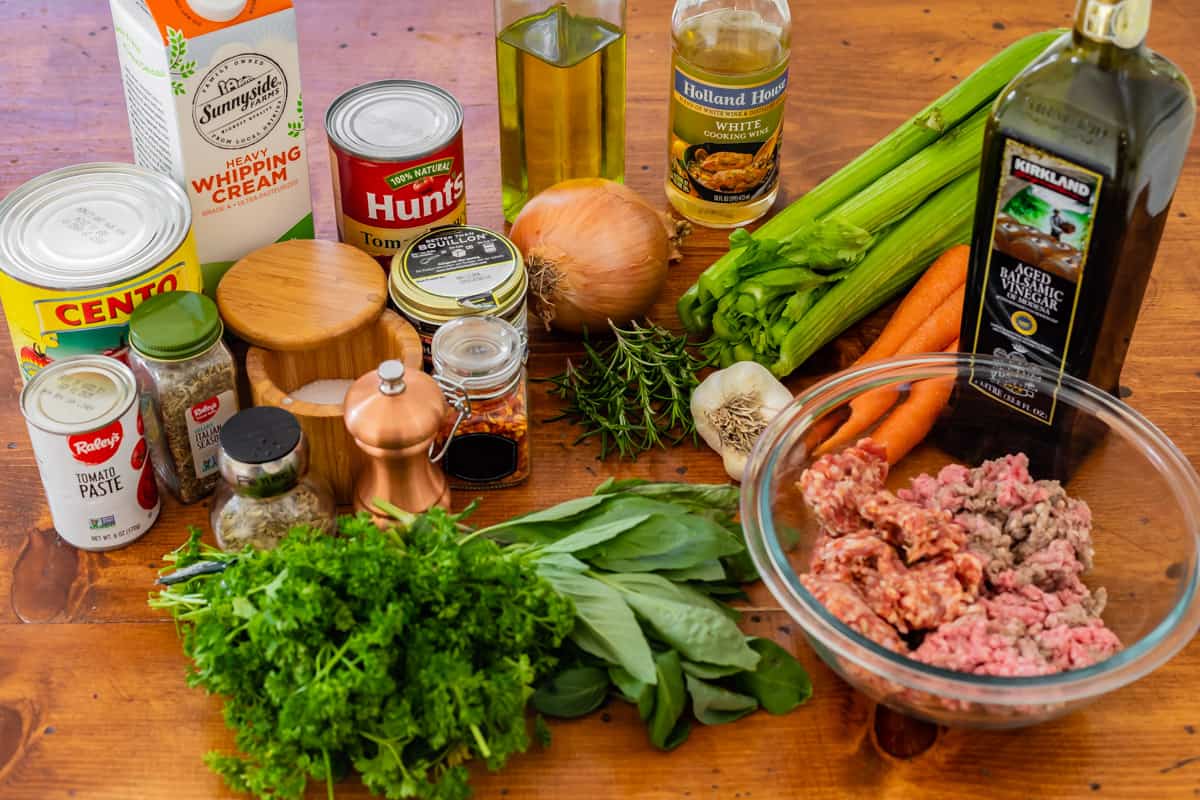 How to make Bolognese sauce
Let's go deep, y'all. First we're going to start out with the holy trinity. You know what that is, right?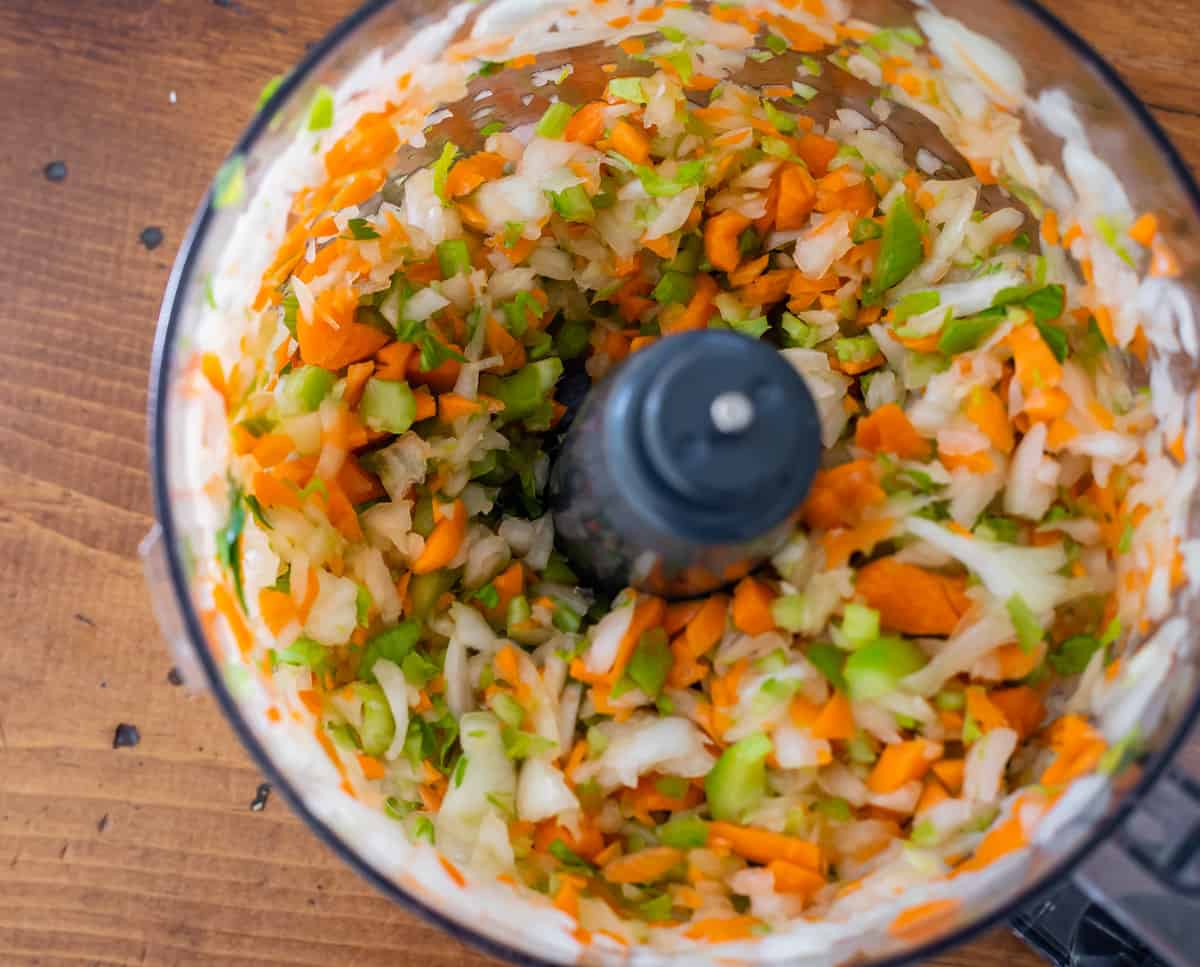 Onion, celery, carrot. This combination of veggies sauted in olive oil is an umami powerhouse. The beginning of every soup your grandma ever made. Comfort in a pot.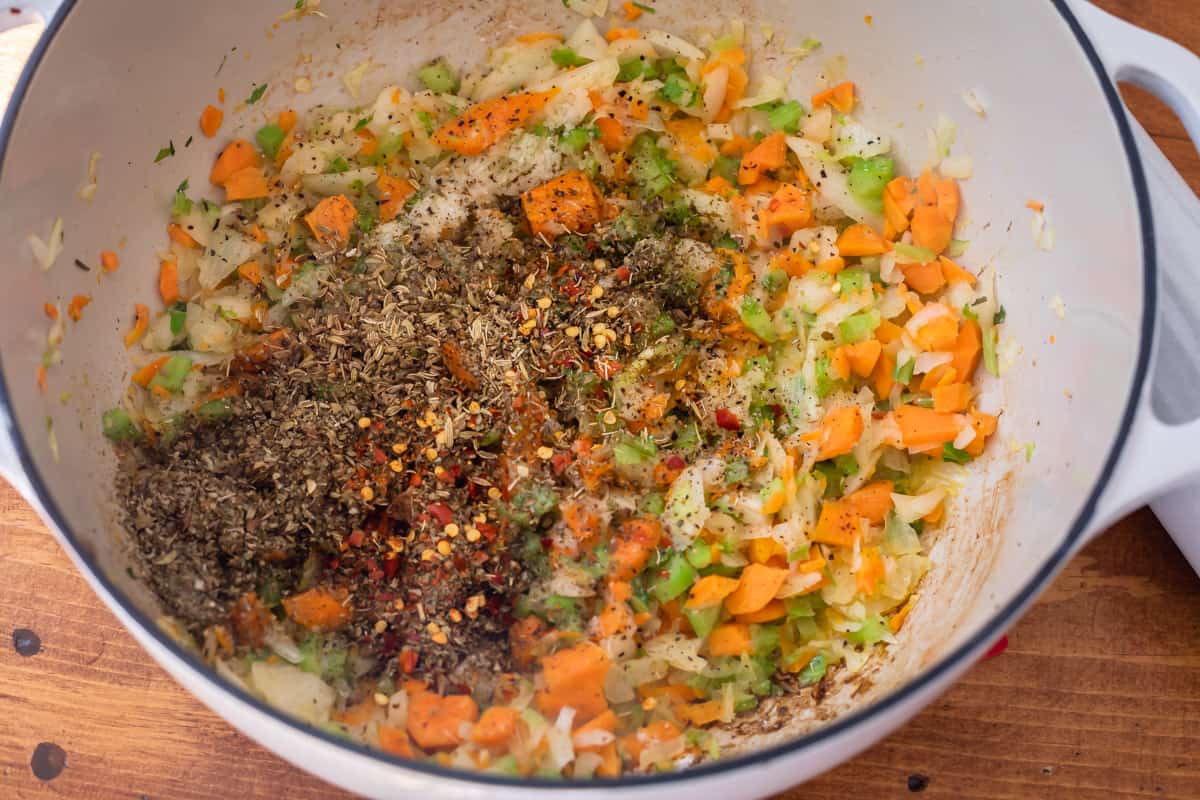 Add Italian seasoning and some crushed red pepper for a little flavor and heat. We also need fennel seeds. And because we are not taking any shortcuts today, we are are going to crush them to bring out the flavor. If you have a fancy mortar and pestle, use that. If not, go the scrappy route: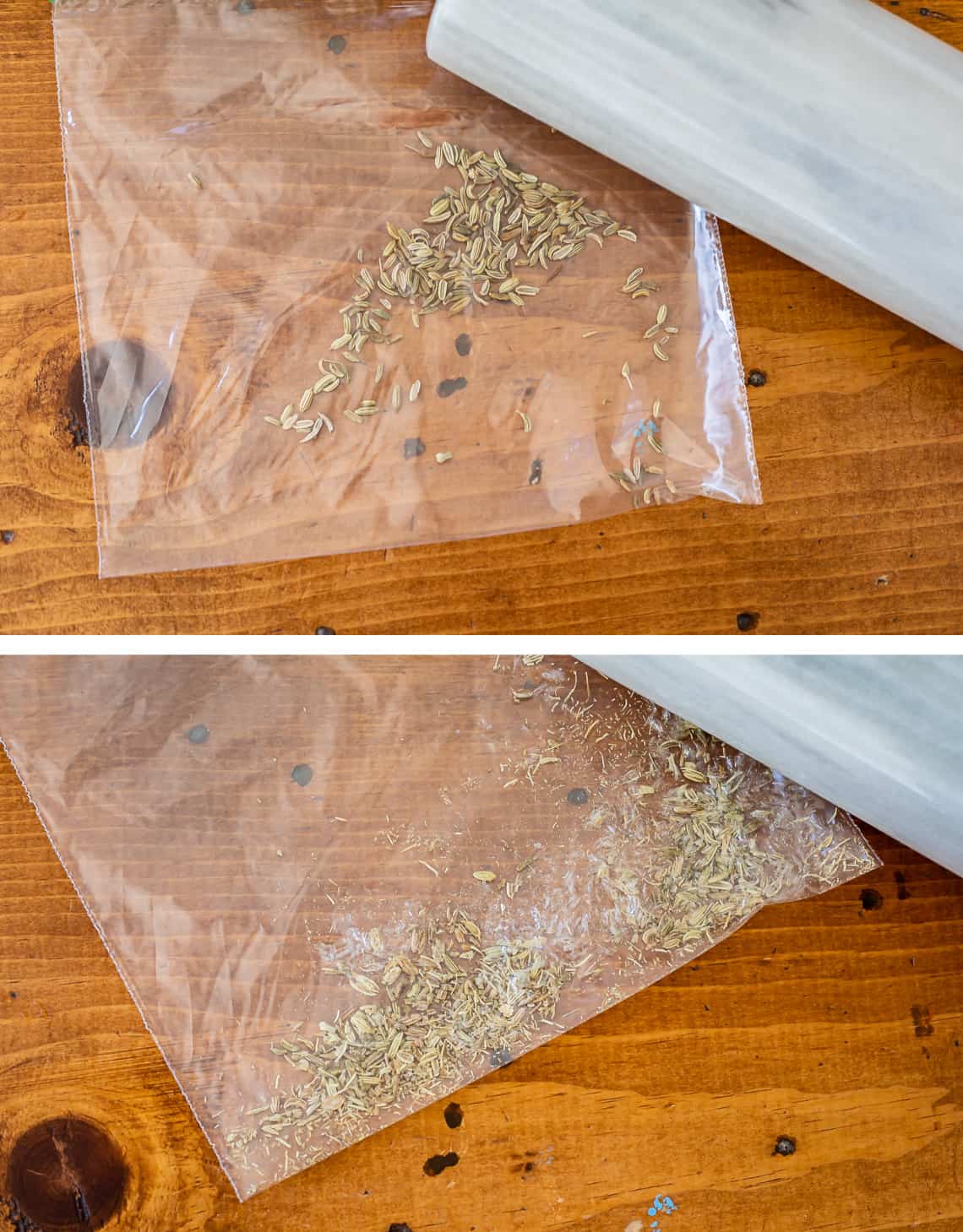 Toss in a ziplock baggie and pound it out with a rolling pin. Or hammer. Or whatever tool you have lying around for anger management purposes. You will not believe the flavor of this fennel after it's been put in its place. Smell it! Divine!
Once you've got all your spices in there, saute for a little while until the veggies are soft. Then add in your garlic and fresh rosemary, adding a little more oil if there is not enough.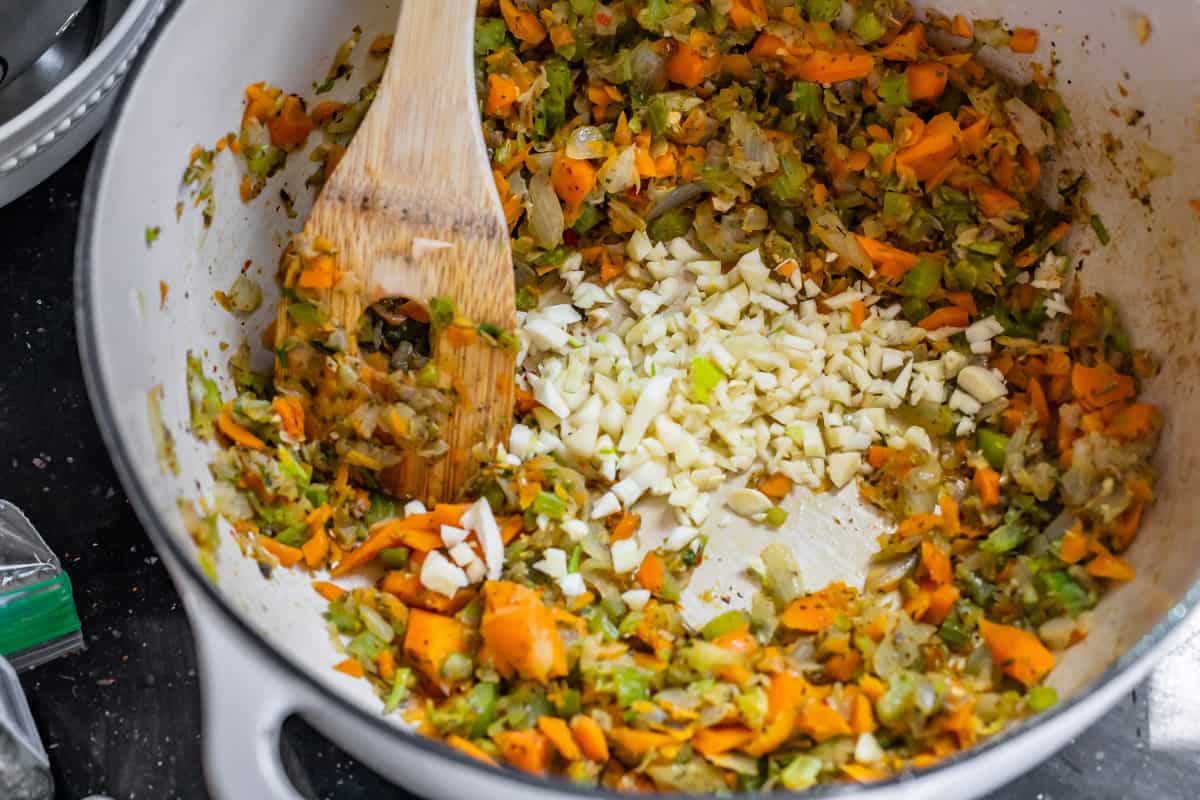 Next add in your ground beef and Italian sausage. Beef brings that big bold beefy flavor we love, and Italian sausage brings in extra fat and porkiness (a technical term) plus extra spices because sausage it pre-seasoned (with all the right stuff).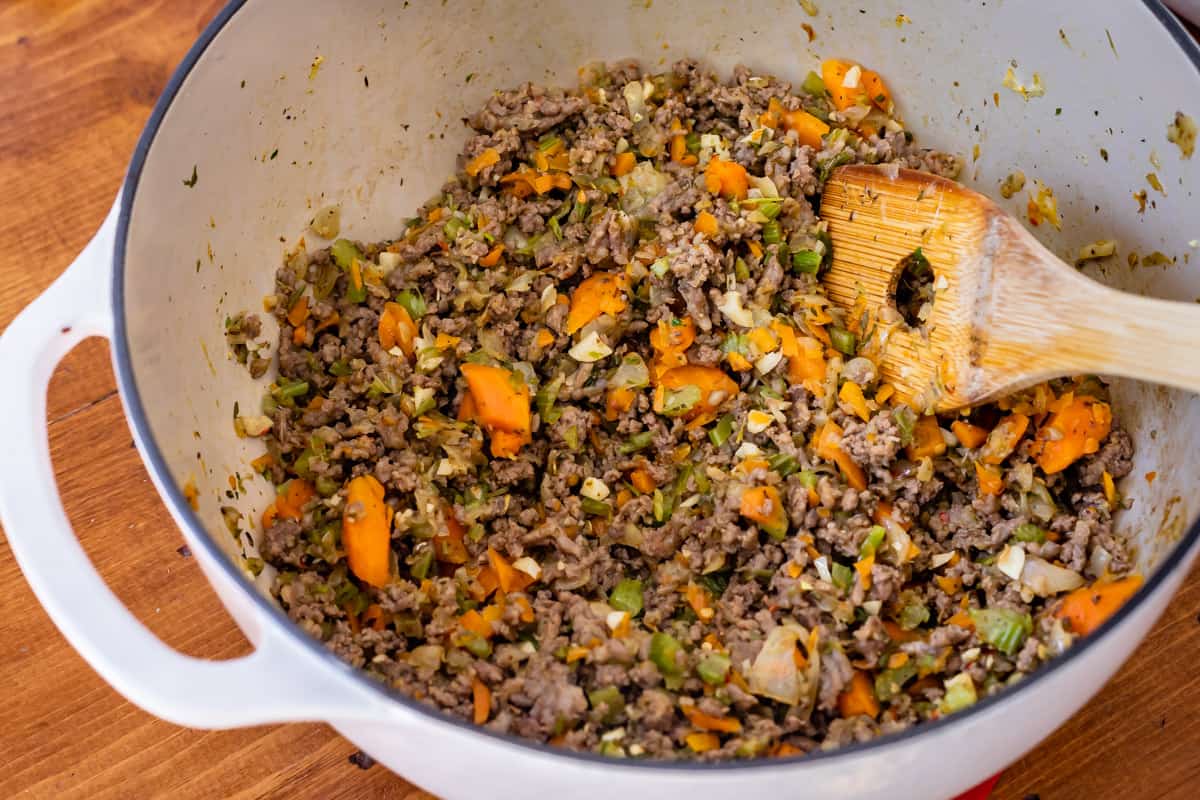 Next we are adding in the two ingredients that sets Bolognese apart from your average American spaghetti sauce: white wine and cream.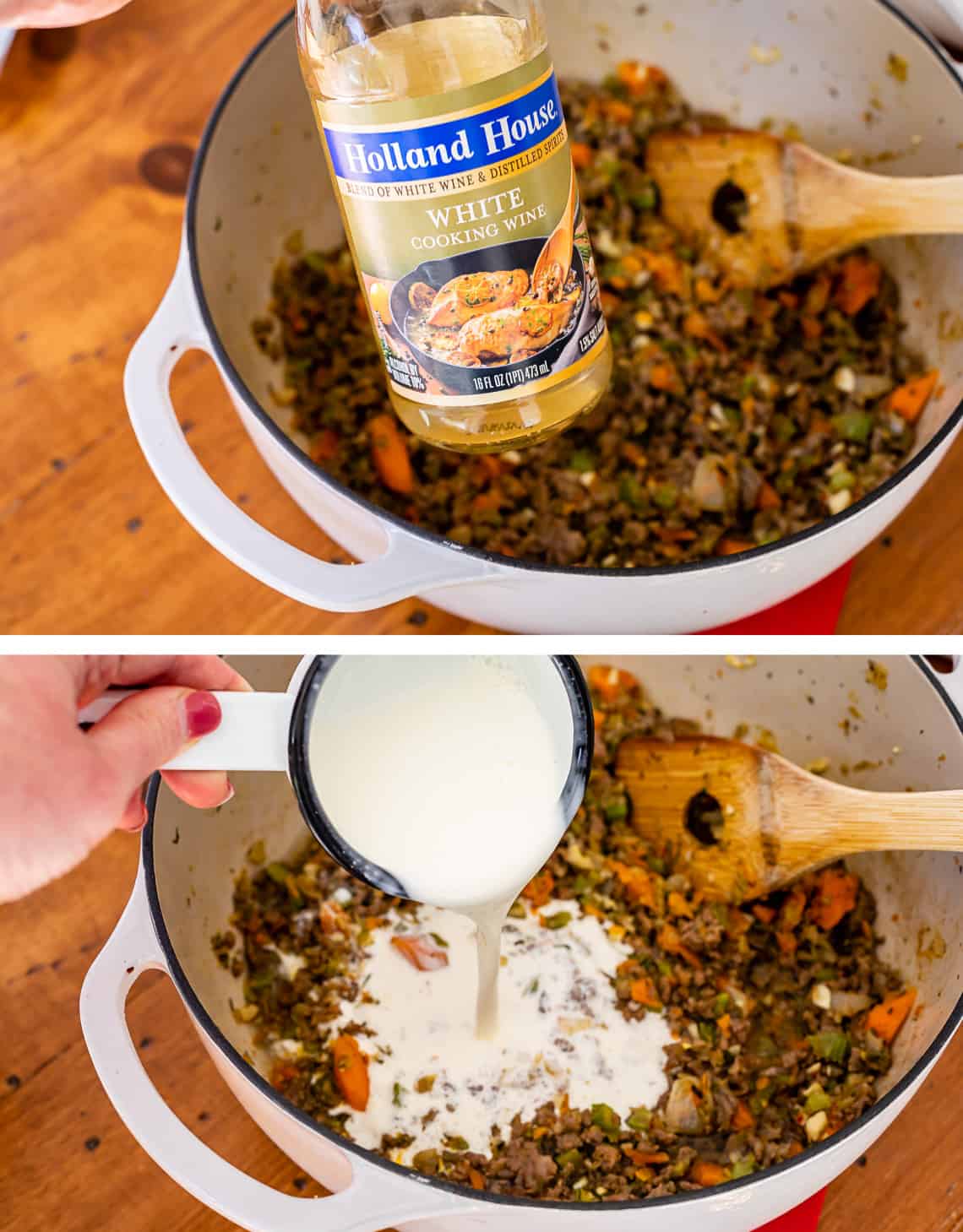 The addition of dairy is what turns bolognese into that beautiful russet orange color instead of the bright red of regular marinara or Spaghetti Sauce. Like this: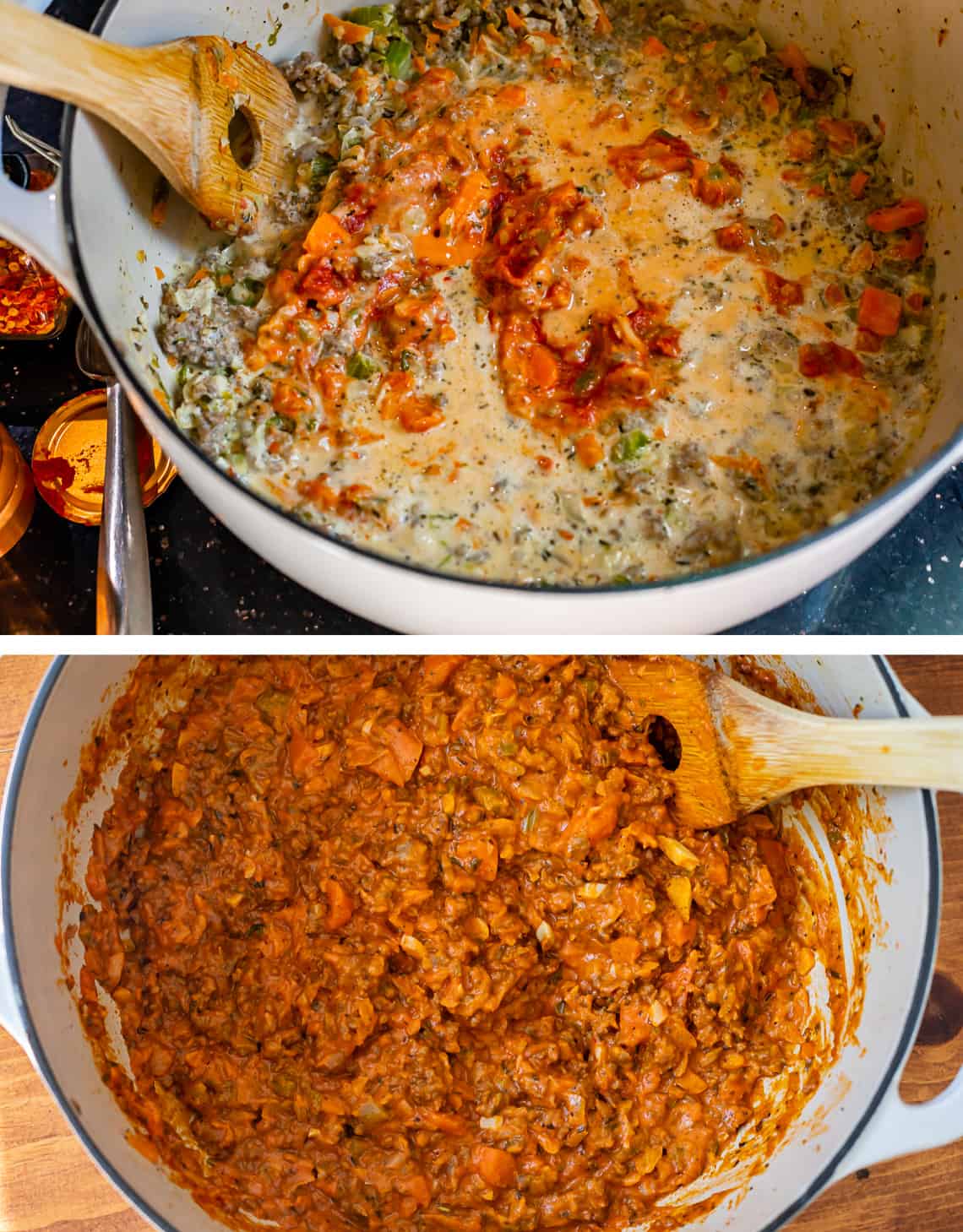 Once you've reached this point of deliciousness (seriously, give it a taste!) we are ready for the actual tomatoes. And now I'm going to interrupt my own recipe tutorial to have a talk about this.
To-may-to, to-mah-to
There might be some Italian grandmas out there telling you that Bolognese ought to be made with fresh tomatoes. Fresh is best, right? We want that flavor! But no. Canned is better.
The fresh tomatoes we buy at the grocery store are raised with transportation in mind. They need to have thick skins to ship in one piece. Plus they are picked green and then ripened en route to the store. They end up mealy and blah. That's why any gardener knows that if you can only grow one thing in your garden, tomatoes should be your first choice.
(I met my friend Amy's parents a few months ago (Amy blogs at House of Nash Eats, she's amazing, follow her!) Amy's parents are Master Gardeners, and they told me that when they get fast food in the summer, they bring their own tomatoes. They peel off the pink watery excuse that came with their Big Mac or Whopper, and replace it with a fresh slice of their own homegrown tomato. How awesome is this?? I mean, goals, right? They get it)
But I digress. No need to wait for home grown tomatoes. Canned tomatoes are great, since canned tomatoes are preserved immediately after being picked (when they are bursting with flavor), and we're cooking them down anyway. Save your fresh tomatoes for your next drive through 😂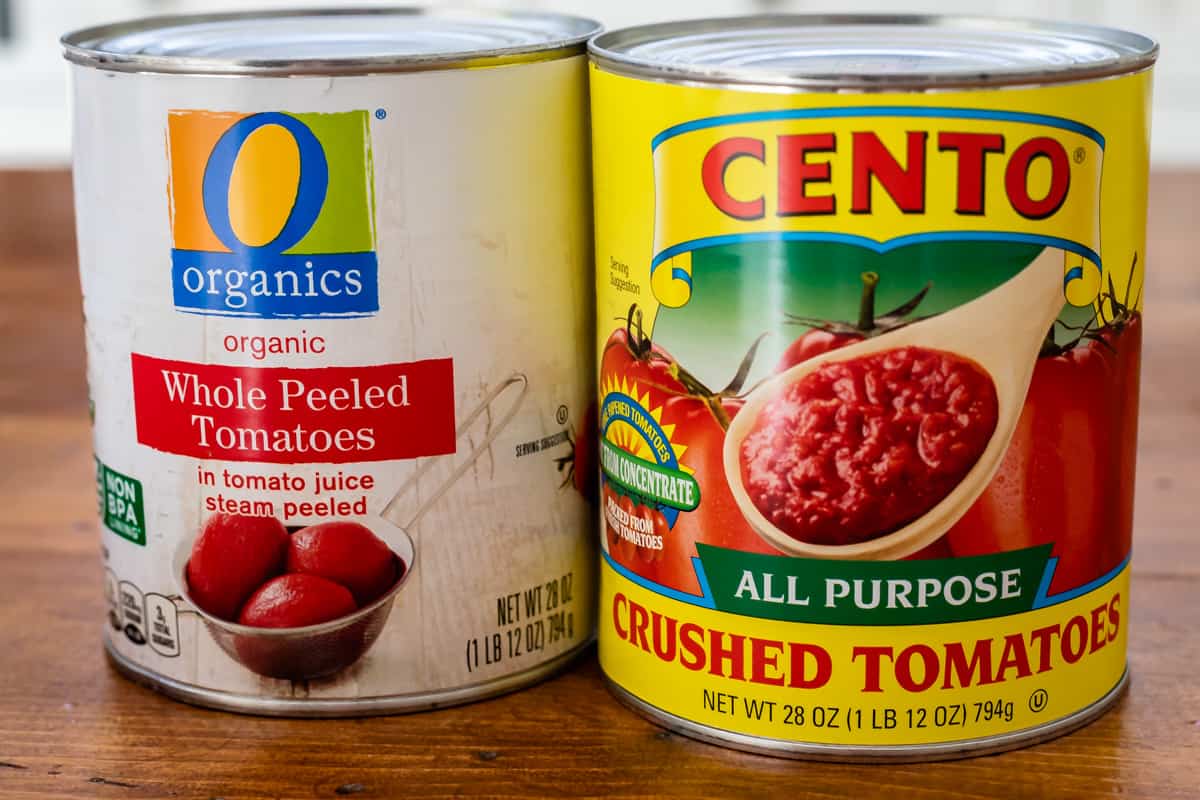 What kind of canned tomatoes should I use?
Head to the canned tomato section at the store and you will find so many products. Tomato sauce, tomato paste, diced, crushed, sliced…okay I've actually never seen sliced tomatoes. But it's overwhelming, right?
For this recipe, I like to use canned crushed tomatoes where the only ingredient is tomatoes. Cento is the brand I like best, and the only brand I have found where tomato is the only ingredient. Other brands often have citric acid (preservative) and/or calcium chloride (firming agent) added.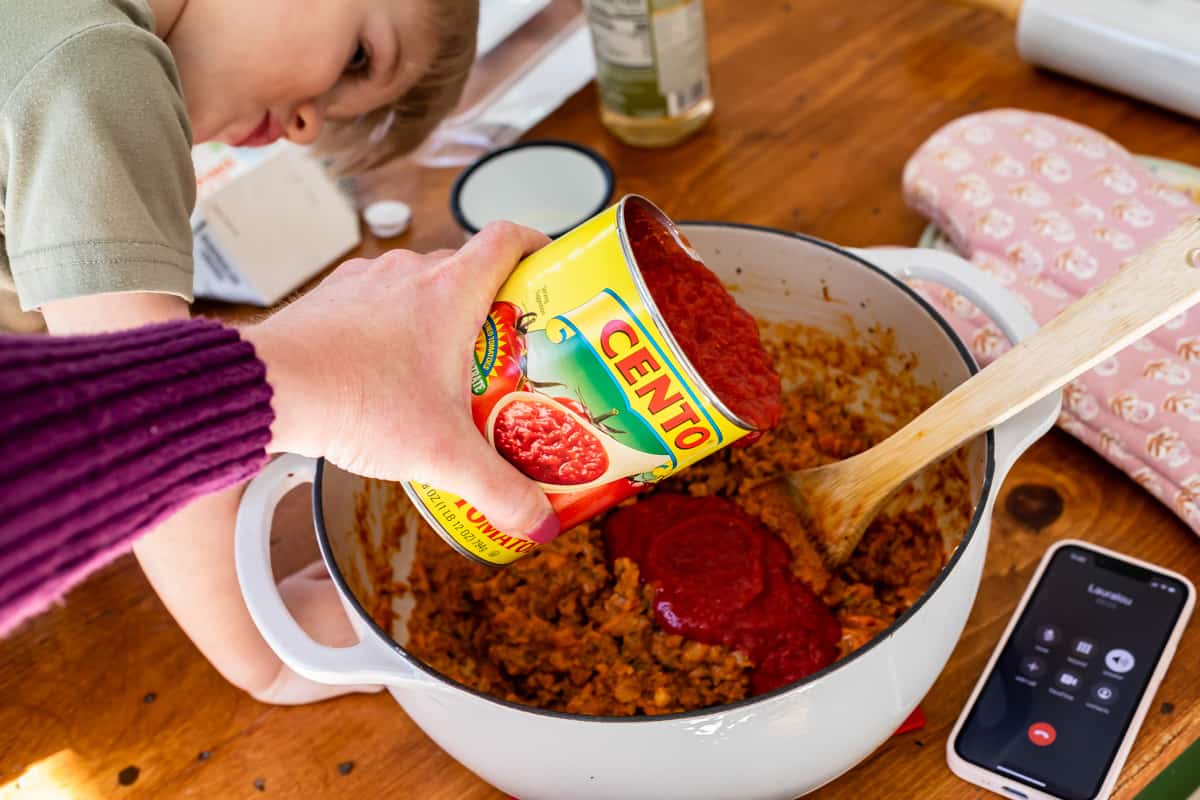 Here's me on an emergency phone call with Laura, who I deem the ultimate knower of all things tomato. If you don't have a tomato guru that you can call in a Bolognese emergency, what is life even? (Also, that's Edison in the background looking like he might try to dive into the pot. He knows this this is good stuff.)
The Simmer
Now that we've got the tomato decisions out of the way, we can get back to the rest of the recipe, which is literally so easy, you just have to wait at this point. You can even toss the whole thing in the slow cooker if you want. Simmering Bolognese long and slow is what gives all these ingredients a chance to meld together, taking each individual flavor and turning it into something new.
I like to simmer for at least 60 minutes, but you can go up to 90 or even a couple hours if you like. You want the heat to be pretty low, just a small bubble every now and then. If you plan to cook for a long time over a lazy afternoon, add a bit more beef broth every now and then to keep your sauce consistency from getting too thick.
Just before serving, add in some fresh herbs if you have them: parsley and basil. This adds a special punch of flavor and freshness. Serve over pasta with a grating of Parmesan cheese! Or save it to make in Lasagna, recipe coming soon!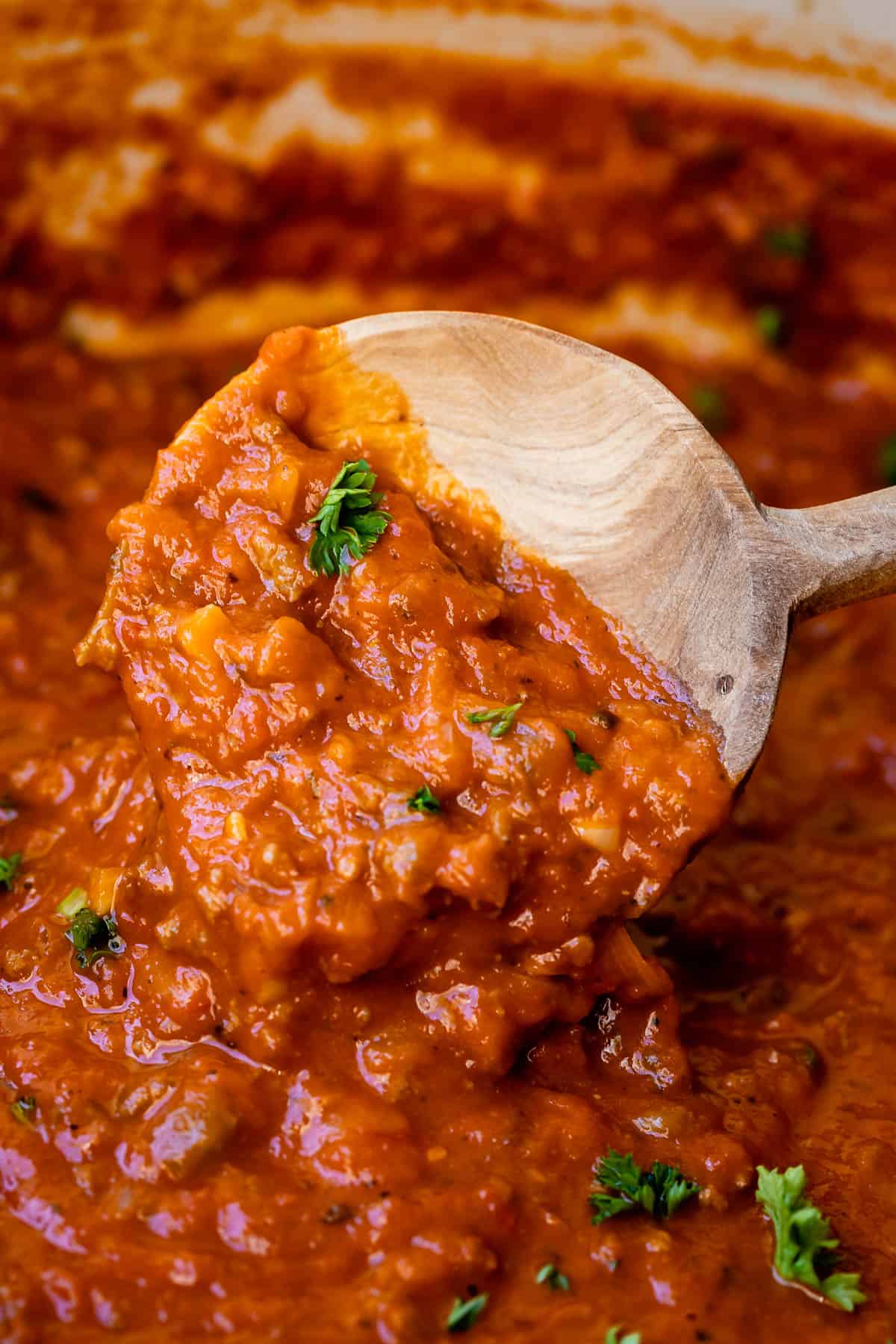 What to serve with Bolognese?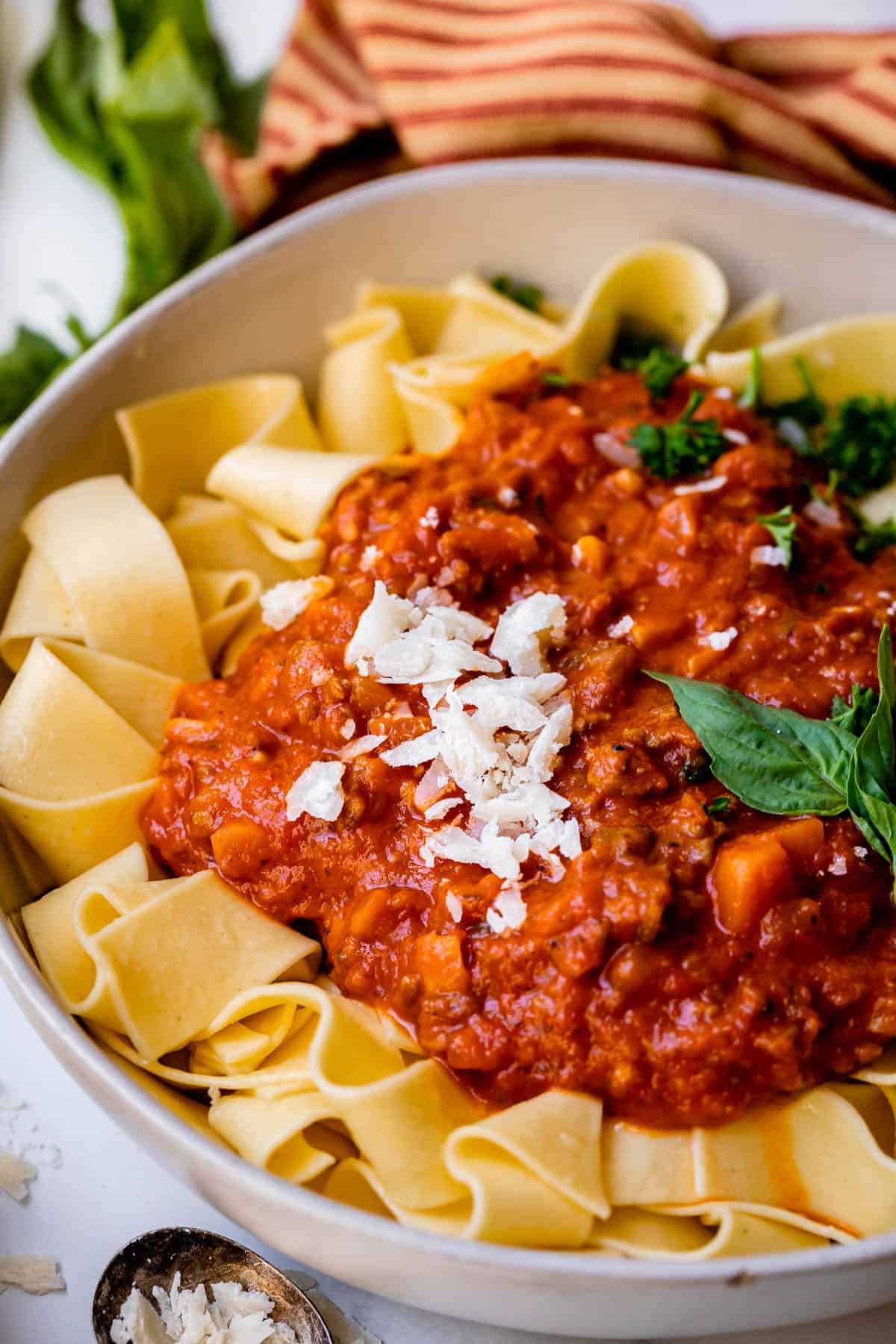 How do you store leftovers?
Super simple! Throw any cooled sauce you have left in an air tight container. In this case, glass is best because you don't run the risk of staining the tupperware, but any air tight container will work. It will last in the refrigerator for 4-6 days. To serve, warm in a saucepan over medium heat until hot, adding a little water or broth if it's thick. Similar to chili and other stewed dishes, Bolognese often tastes even better the next day as the flavors continue to marry. Since it is time consuming, it's a great idea to make the sauce the day before you need it!
Can you freeze Bolognese?
Yes, and it's SO easy. Let the sauce come to room temperature, add to a ziplock freezer bag of the appropriate size, label and freeze. Bolognese will easily last 4-6 months in the freezer and is such a great make ahead meal option. You could even double the recipe and freeze it in portions and have a few easy dinners in the future! To use after freezing, put the ziplock bag into the refrigerator and let thaw overnight. Once it's no longer frozen, add to a sauce pan and warm over medium heat.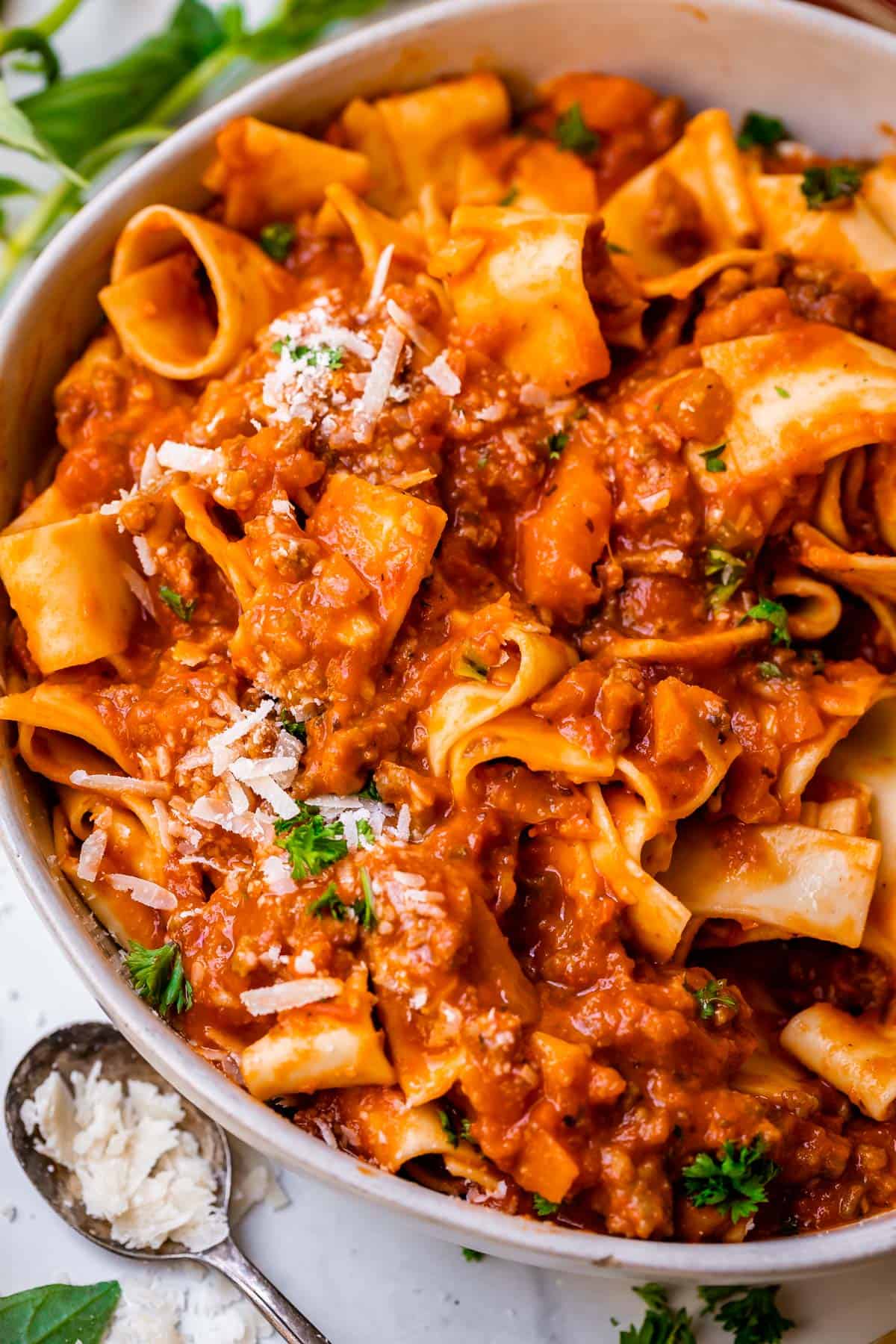 Frequently Asked Questions
what is bolognese Sauce?
Bolognese is a term that refers to Ragu alla Bolognese in Italian, which is a meat sauce particular to the area of Bologna. Over time in the United States (and quite different from a true Italian Bolognese), the word Bolognese has come to mean a cooked, thickened tomato sauce with meat in it.
How to make bolognese sauce easy?
Bolognese is not complicated to make, just time consuming. There are a few tricks you could use, such as using pre-chopped onions and carrots and using jarred garlic. You can brown the meat a day in advance to save a step. But, because the Bolognese must cook for a long time to get that luxuriously thick sauce, you'll still need to allow ample time to cook down the sauce. The other good news is that Bolognese is a great make ahead or freezer sauce, so you can make it on a day where you have more time and save it in the refrigerator or freezer until the day you need it.
how to thicken BOlognese sauce?
The best answer is simply time. The main idea behind Bolognese is that it makes a long, slow cooked, almost stew-like tomato sauce that just takes a while. The condensing of the tomatoes as the water in the fruit evaporates creates a thick, creamy, texture that becomes the base of the Bolognese.
how to make Bolognese sauce with fresh tomatoes?
Unless you are using homegrown tomatoes, I recommend using canned. (See the section above for an explanation.) If you do plan to use fresh tomatoes, Roma, Beefsteak, or other meaty tomatoes with little juice are the best option. You'll need to blanch the tomatoes in boiling water, and then peel, core, and seed them. Once the tomatoes are ready, simply blend them in a food processor or blender to make crushed tomatoes and add the amount called for in the recipe.
how to use bolognese sauce?
Soooo many good things to use Bolognese for. Of course, served over pasta like Tagliatelle, Spaghetti, Fettuccine, Rotini, or any other you prefer. Wider pastas hold up to the thick sauce better than thin noodles. Another great option is in traditional lasagna (recipe coming soon!) or Zucchini Lasagna. (I originally set out to make a Lasagna recipe and got sidetracked into developing this Bolognese to use as the sauce in the Lasagna, ha!)

It would make for a hearty (but delicious) pizza sauce on this Homemade Pizza Dough or could even be put in a Pizza Dip or eaten alone as a dip with some delicious Olive Garden Style Breadsticks. You could also try it over Zucchini Noodles, a baked potato, or even on toast!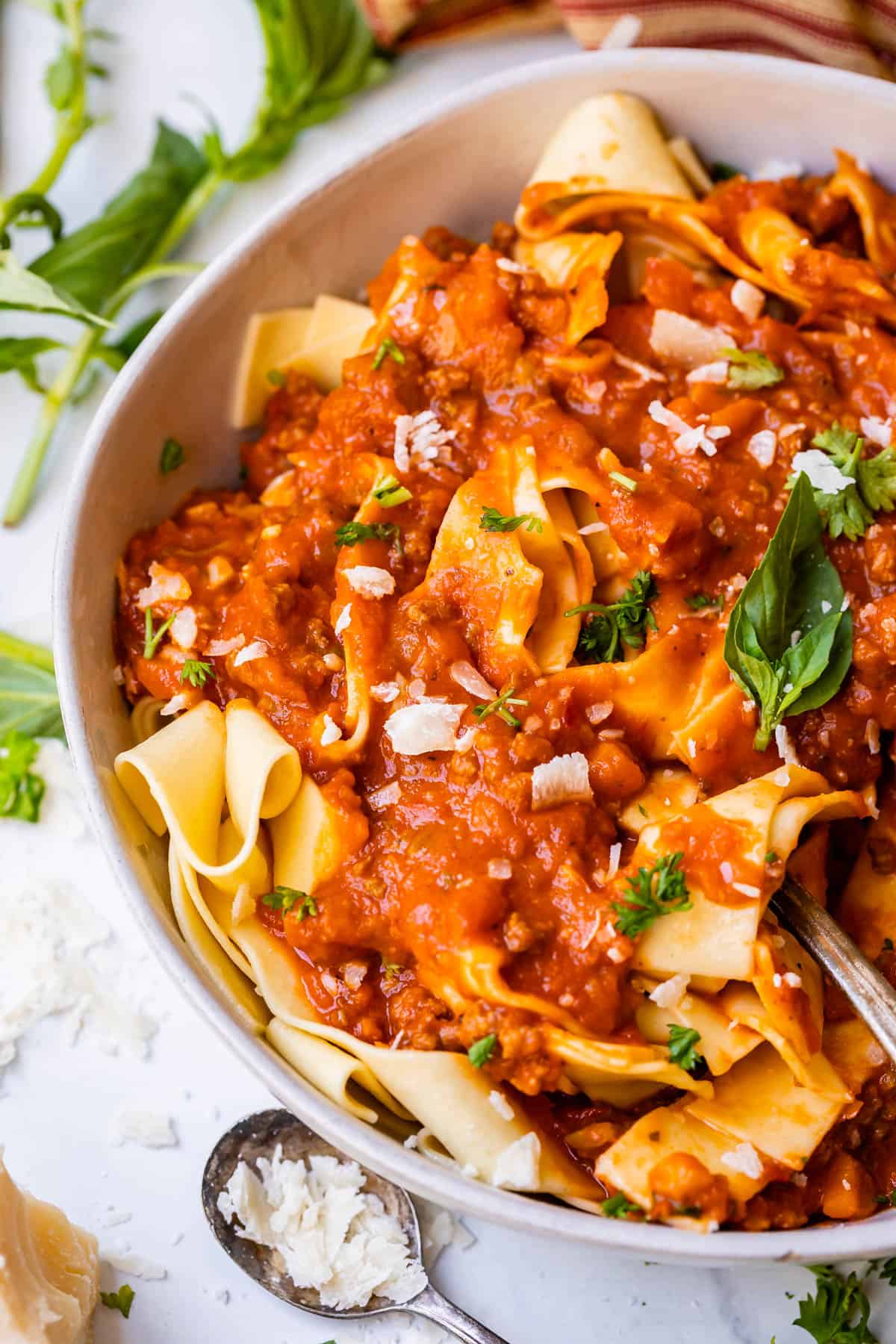 Italian obsessed? You'll love these recipes:
Facebook | Pinterest | Instagram

Bolognese Sauce Recipe
I thought I hated red "meat sauce." But this rich, luxurious Bolognese sauce recipe is the stuff of DREAMS, I tell you. My homemade sauce has freshly chopped carrots, onions, and celery, plus a long slow simmer with tomatoes and cream. The result is an explosion of creamy authentic Italian flavor, and has changed everything I thought I knew about red sauce.
Ingredients
2

tablespoons

olive oil

1

large

onion

,

chopped

1

cup

celery

,

chopped

3

medium

carrots

,

peeled and chopped

2

teaspoons

kosher salt

1

tablespoon

Italian seasoning

1/4

teaspoon

black pepper

1/4

teaspoon

crushed red pepper

1/2

teapoon

fennel seeds

,

crushed with a mallet, release your anger

5

sprigs

fresh rosemary

,

chopped (or 1/2 teaspoon dried rosemary)

6

cloves

garlic

,

smashed and minced

1/2

pound

mild Italian sausage

1/2

pound

ground beef

1

cup

white wine

1

cup

cream

6-

ounce can

tomato paste

2

cups

beef broth

28-

ounce can

crushed tomatoes

,

I like Cento brand

2

tablespoons

balsamic vinegar

1/3

cup

fresh parsley

,

optional

1/3

cup

fresh basil

,

optional

1 & 1/2

pounds

tagliatelle or pappardelle pasta

,

boiled in salted water (optional)

freshly grated parmesan

,

to garnish
Instructions
Start by chopping up your holy trinity: 1 onion, about 1 cup celery, and 3 medium carrots. You can use a food processor for this job, or regular ol' elbow grease. Make sure the carrots are chopped pretty small.

Heat a large pot or Dutch oven over medium heat. Add 2 tablespoons olive oil and swirl to coat. Add the chopped onion, celery and carrots.

Season the vegetables with 2 teaspoons kosher salt (use less for table salt), 1 tablespoon Italian seasoning, 1/4 teaspoon black pepper, 1/4 teaspoon crushed red pepper. Add 1/2 teaspoon fennel to a ziplock bag and use a meat mallet or rolling pin to pound it. Once crushed, add the fennel to the onions. (if you are not using fresh rosemary, add 1/2 teaspoon dried rosemary now.)

Saute the vegetables with the spices for about 5 minutes until they are getting soft.

Use a chef's knife to chop about 5 sprigs of fresh rosemary. Use the side of the knife to press and crush 6 cloves of garlic. Peel, then chop finely.

Add the rosemary and garlic to the onion mixture, making sure there is enough oil so they don't scorch (add more if needed.) Cook 1 minute until the garlic is fragrant.

Next add in 1/2 pound Italian sausage and 1/2 pound ground beef. (Save the leftover meat to make Italian Wedding Soup!)

Break up the meat with a wooden spoon and cook over medium heat until cooked all the way through, about 5 minutes.

When the meat is cooked, add 1 cup white wine, 1 cup heavy cream, and the 6-ounce can of tomato paste. Stir it all together and bring to a simmer over medium heat. Let cook down for about 5-10 minutes, stirring, until the liquid is mostly gone and it has formed a thick sauce with the veggies and meat. See photos.

Add 2 cups beef broth (I used 2 cups water and 2 teaspoons Better Than Bouillon Beef Base.) Add the 28-ounce can crushed tomatoes. Add 2 tablespoons balsamic vinegar.

Bring this mixture to a low simmer over medium or medium low heat. You want it to be bubbling occasionally, very gently.

Let the sauce simmer for about an hour, or two, or three. If you go past an hour, add some extra beef broth (1/2 cup at a time) so that it doesn't get too thick; use your best judgment for how thick you want your sauce. The longer this sauce cooks, the more flavorful it will become.*

Before serving, add 1/3 cup chopped fresh parsley and 1/3 cup chopped fresh basil to the sauce. Serve hot.

To serve this with pasta: In another large pot, boil several quarts of water with 2 tablespoons salt. It should taste as salty as the ocean, try it.

Add about 1 and 1/2 pounds pasta (tagliatelle is traditional but tough to find; I always sub pappardelle. That's what you see in the photos.) Add pasta to the boiling water and cook for 3-6 minutes, check your package. Drain immediately once it is al dente. Drizzle with olive oil, plate, and top with Bolognese sauce, grated parmesan, and extra fresh basil and parsley.
Slow Cooker Instructions
Make the recipe as stated up through adding the cream, wine, and tomato paste. Once it is done cooking down and you are ready for the next step, scrape it all into a crock pot with the remaining ingredients: 2 cups beef broth, 28-ounces crushed tomatoes, and 2 tablespoons balsamic vinegar. Stir and let simmer on low for 3 hours, or up to 8 hours (or cook on high for 2 to 4 hours), checking to add more beef broth if it gets thick.
Notes
*You can make this sauce a day or two in advance, then store in the fridge to marinate. It will only become more flavorful with time! Making ahead is a great idea when using this sauce for Lasagna, to break up the work.
Nutrition facts info does not include pasta, I did that to make it easier for people using this recipe for Lasagna. If you are making this with pasta, it should be easy for you to calculate separately and add it in!
Nutrition
Calories:
313
kcal
|
Carbohydrates:
12
g
|
Protein:
10
g
|
Fat:
24
g
|
Saturated Fat:
10
g
|
Polyunsaturated Fat:
2
g
|
Monounsaturated Fat:
10
g
|
Trans Fat:
0.3
g
|
Cholesterol:
60
mg
|
Sodium:
962
mg
|
Potassium:
557
mg
|
Fiber:
3
g
|
Sugar:
7
g
|
Vitamin A:
3859
IU
|
Vitamin C:
14
mg
|
Calcium:
87
mg
|
Iron:
2
mg