Perfectly cooked broccoli with tangy feta and crunchy fried almonds. I thought I hated broccoli until I tried this salad. For real.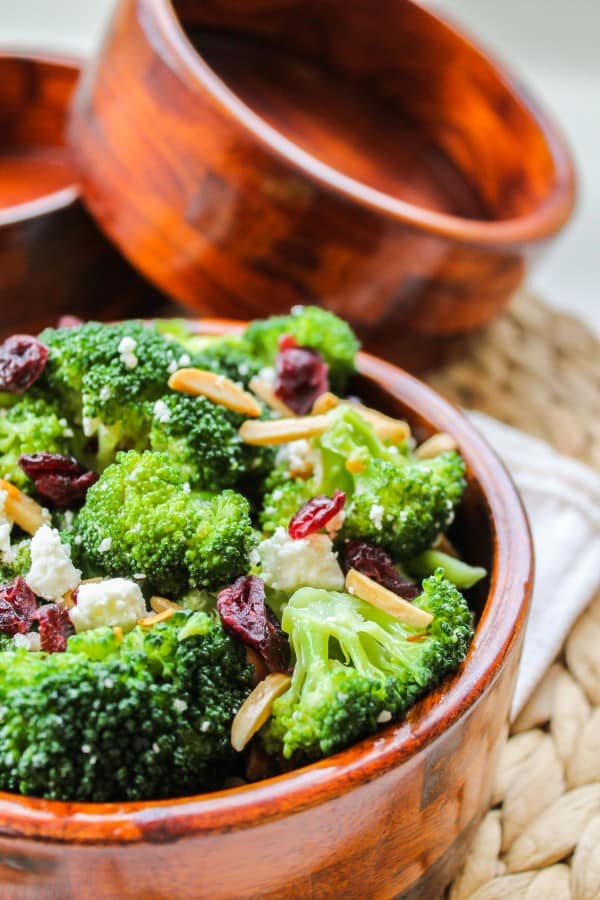 Tis the season to be thankful:
I'm thankful for conversations with grocery store clerks. They are always so cheerful. Or maybe it just seems that way because I am so cheerful about all the food I am buying.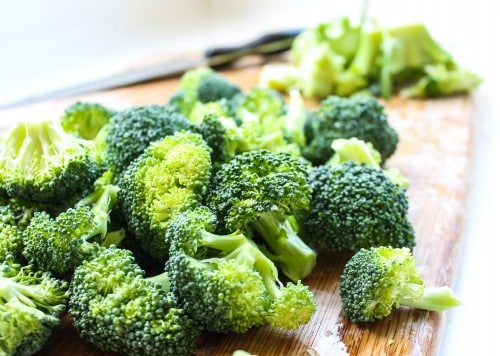 I'm thankful for cold spiced apple cider and red trees.
I'm thankful for Charlotte, who, when I prompt her during prayers, says in a muted voice, "It's not your turn."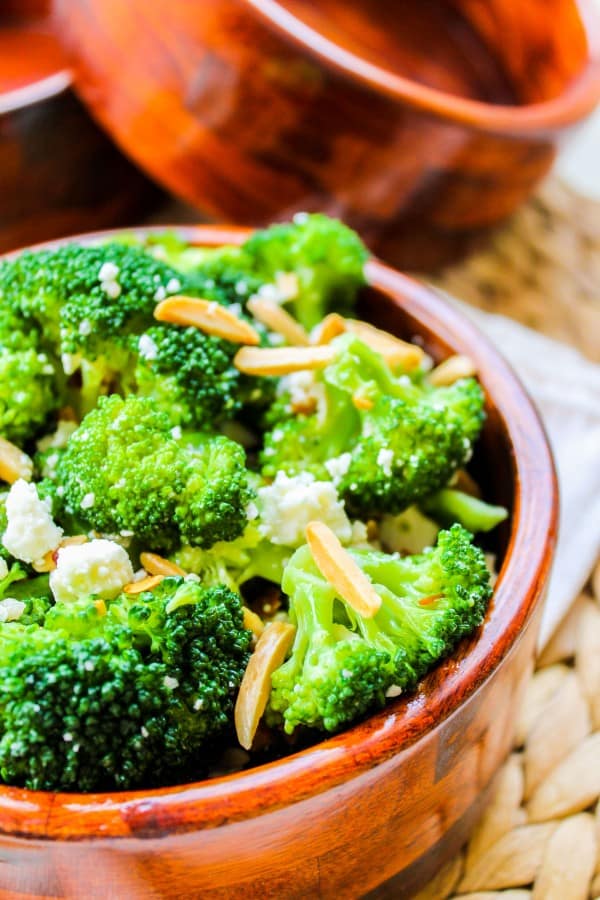 I'm thankful for women who are not afraid to unabashedly adore my baby when I am out and about.
I'm thankful for lightning-fast spiders who make me literally chase them across the living room carpet before I get enough leverage and blasting materials to squash them to smithereens. Oh wait, that belongs on my "Things That Make Me Squeal Like a Little Girl" list.
I'm thankful for dry shampoo. Nuff said.
I'm thankful for Target. It's where I can live all of my holiday dreams. Sometimes I walk in and tell myself that I can buy one less-than-$10-item. After walking all of the aisles, (maybe 3 times, maybe not) I decide that one item isn't enough. I need to buy Target. All of it. The whole store….And that's when I walk out empty handed.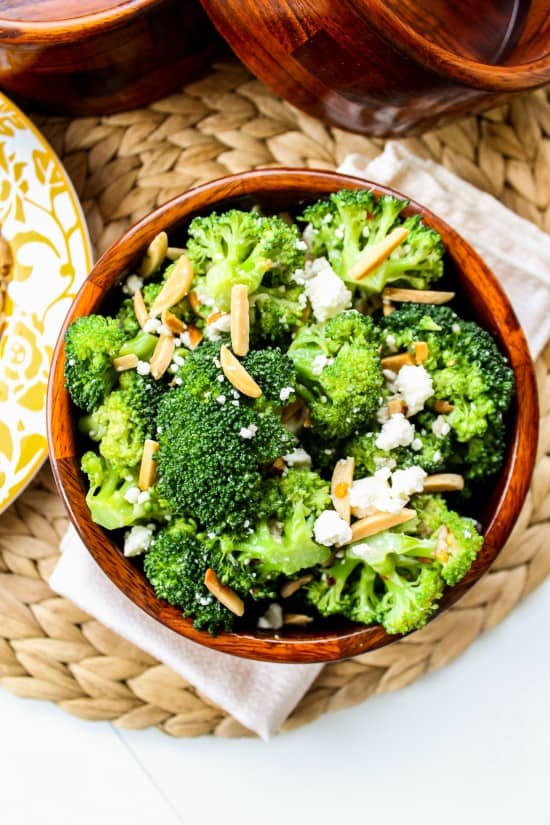 So what are you guys filling your plate with on Thanksgiving? Are you piling 75% of your plate real estate with mashed potatoes, or is it the stuffing? Don't tell me it's the sweet potatoes with the marshmallows on top, I might have to review our friendship.
Sometimes I don't even bother eating whatever token vegetable/salad is on the table. I mean, who has room for green beans when there is turkey and gravy and this cranberry tart to be had?
But I realize now that I just haven't been presented with the right vegetables. If it's going to be competing with all this other rich food, it's got to be exceptional.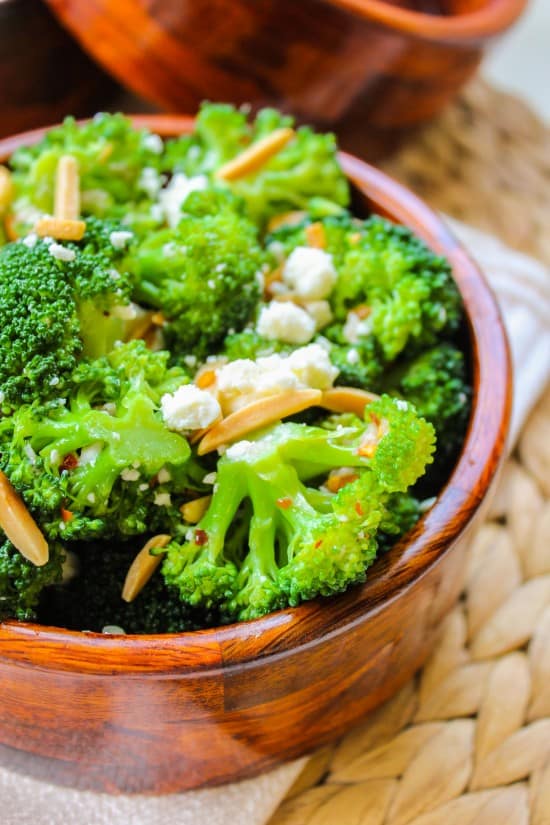 Enter this Broccoli Salad with Feta and Fried Almonds. I made this today. Then I ate half of it. Yes, that is a half pound of broccoli. Standing in my kitchen, with a fork, from the bowl I had stirred it together in. Then when Eric got home I made it again, an entire other batch, because I needed him to try it hot and fresh. I don't regret it. It was easy, because this only takes 20 minutes to make.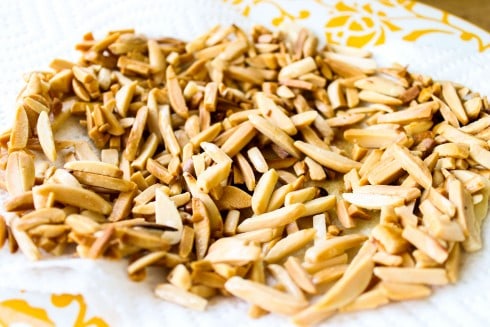 Am I the only moron who has never fried almonds before? SO GOOD. I couldn't stop eating them, there was barely enough to go in the salad. I made extra afterward just so that I could eat them. Usually I just toast almonds in a dry pan. You've got to try this.
The almonds add just the right crunch to the crisp-tender broccoli and the soft feta. The sauce is simple, but that means the flavors stand out. You can make this as spicy as you want. Even if you prefer your food mild, add at least a pinch of crushed red pepper, that way you still get the flavor but don't have to deal with too much heat. Add this to your Thanksgiving menu. Make the turkey jealous!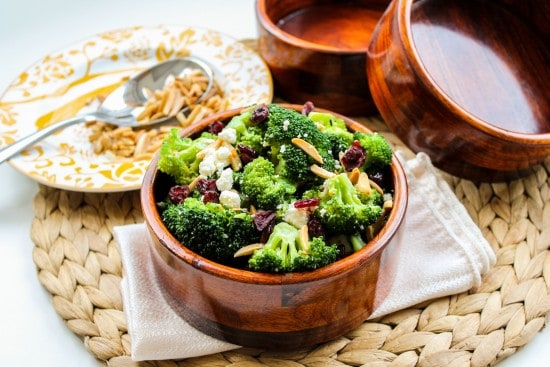 P.S. I almost forgot. You can add dried cranberries to this salad too. I don't love sweets in my salads (I would take pepperoncinis over strawberries any day.) But if that's you're thing, then by all means. It sure makes it pretty.

Broccoli with Feta and Fried Almonds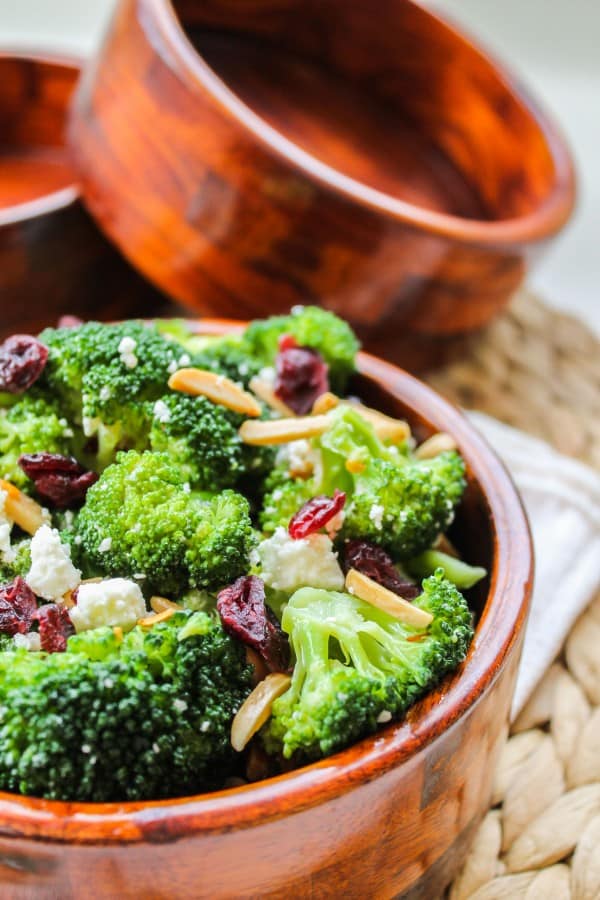 Perfectly cooked broccoli with tangy feta and crunchy fried almonds. I thought I hated broccoli until I tried this salad. For real.
Ingredients
1

teaspoon

salt

6

cups

water

1

pound

broccoli crowns

,

fresh, trimmed and broken into similar-sized florets*

1

large clove

garlic

1/4

teaspoon

salt

2

tablespoons

red wine vinegar

1/4

teaspoon

crushed red pepper

,

3 or 4 shakes of pepper, if guessing makes you nervous, start with 1/4 teaspoon. You can always add more.

5

tablespoons

olive oil

,

divided

1/2

cup

slivered almonds

1/2

cup

crumbled Feta cheese

1

handful

dried cranberries

,

optional
Instructions
In a medium-sized pot, add water until it looks like you have about 6 cups, or measure it out if you want. Add 1 teaspoon of salt. Put it on high, put a lid on, and bring it to a boil.

While the water boils, trim and break apart the broccoli. Try to make them the same-ish size so that they cook evenly.

Crush the garlic with the side of a chef's knife, then mince finely. Add 1/4 teaspoon salt and mash it all together. (You can use a mortar and pestle for this, or a garlic press. Whatevs. Just get it mashed)

Place the salted garlic in a small bowl, and then add the red wine vinegar. Add in a few shakes of crushed red pepper flakes, and then let that mixture sit for 10 minutes.

Once the water comes to a rolling boil, add the broccoli florets, cover it with a lid, and set a timer for 3 minutes. This is important! Do not cook longer than 3 minutes! They will get mushy and lackluster. Don't sneak a peek in the pot. Just set the timer.

When the timer goes off, immediately pour the broccoli into a colander in the sink, and let cool a bit.

Heat 1 tablespoon of olive oil in a small heavy frying pan. Add the almonds, and fry until they are lightly browned, about 2-3 minutes. Keep an eye on them, they burn very quickly. Put the almonds on a paper towel-lined plate and immediately sprinkle with a dash (or 4) of salt. Let almonds cool a few minutes.

Whisk the remaining 4 tablespoons of olive oil into the vinegar-garlic mixture. Stir together the broccoli, feta, and half the almonds in a mixing bowl; add cranberries if you are using them. Drizzle with dressing and toss to coat. Serve salad while it is hot, with remaining almonds sprinkled over the top.
Notes
* You can use frozen broccoli florets, but only if you must. The sauce still made them taste amazing, but they were slightly mushier than the batch that I made using fresh crowns. Thaw completely before blanching.
Nutrition
Serving:
1
cup
|
Calories:
346
kcal
|
Carbohydrates:
18
g
|
Protein:
9
g
|
Fat:
29
g
|
Saturated Fat:
6
g
|
Polyunsaturated Fat:
4
g
|
Monounsaturated Fat:
18
g
|
Trans Fat:
1
g
|
Cholesterol:
17
mg
|
Sodium:
396
mg
|
Potassium:
477
mg
|
Fiber:
5
g
|
Sugar:
8
g
|
Vitamin A:
823
IU
|
Vitamin C:
101
mg
|
Calcium:
185
mg
|
Iron:
2
mg